Introduction To Bikepacking
For bike enthusiasts, bicycle-touring is one of the best ways to see the world. Whether it's a day-trip from your hometown or a year-long adventure across continents, grabbing your bike and hitting the open road provides a completely unique way to travel, offering a deeper perspective of our place in the world!
However, bike-touring also requires a whole different set of considerations; from the bike and its components to the gear and technology required for a safe and comfortable journey. You don't want to be stuck in the middle of the Rocky Mountains during your tour of The Great Divide Trail with a broken frame from an overloaded and unsuitable bike.
All these questions can leave you with decision fatigue, potentially leading to delays, or worse, doubts that cause you to cancel your trip.
To help get you on the road with confidence, we've distilled down the myriad of resources available into the most important considerations. When it comes to applying the following recommendations, consider the particulars of your specific trip such as the terrain, duration, location, plus seasonal and personal preferences, as this will greatly influence your final decisions!
---
MENU
Basics
1. Bike & Components
2. Touring Gear
3. Clothing
4. Camping
---
Conditioning / Mechanics
General Recommendations
Conditioning
While it is not necessary to be at peak physical fitness to undertake a multi-day/week tour, you should be able to comfortably cycle a distance close to your planned daily average before setting off. You will build some fitness while on the road, as long as you're getting enough sleep, hydration, and nutrition.
Speaking of nutrition and hydration, always ensure you are eating and drinking on a regular basis, with plenty of carbohydrates and electrolytes in both your food and water. Load up on high energy snacks and consider adding glucose & electrolyte packets to your water. With long rides laden with gear, the last thing you want to do is run out of energy when you've got another 20 miles to go until the next stop.
Bike Mechanics
In advance of your trip, watch some videos and practice fixing basic mechanical issues that could arise while you're on the road. Knowing how to fix a link in your chain, patch or replace a burst tube, and adjust your brakes and gears, will be crucial skills to have when it happens on the road. Not if, when.
---
1. Bike & Components
The Frame
As we have explained briefly in our article outlining the 8 Best Touring Bikes for 2022, choosing a touring-specific bike is not an absolute necessity, but will ensure the best all-around experience when there is added weight and varying terrain to consider.
Touring bikes are built for comfort on many types of terrain, to handle and stabilize added loads, and for their durability in less than ideal conditions. For this reason, many touring bikes are made from steel which allows for smooth riding and, with proper care, long lifetimes. Having a steel-framed bike means you can easily have it welded should the need arise, and though welding is possible with aluminum, it is more difficult and may not be possible in more remote areas.
Panniers
Pannier racks are a vital element to bike-touring, allowing the bike to easily handle your packed gear. Many touring bikes come with pannier racks pre-installed, however, any bike shop will be able to add them on for you. Depending on how light you like to travel it may be possible to go for two bags on the rear pannier and only a handlebar bag or frame bikepacking bags. Optimizing your packed gear should take some focused time as well. In the case of packing for a trip where you have to physically lug it all for hours upon hours of cycling over the course of many days, less is definitely more. Adopting a minimalist attitude when going on long journeys will really add to the comfort and convenience of your trip.
Tyres & Wheels
The type of tour you plan on doing will also determine what size wheel and type of tire you opt for. Most multi-day tours will have some off-roading involved, so most touring bikes will have the appropriate wheels and tires for more challenging terrain. Consider your preference for your upcoming tour, and most bikes will have space for different sizes. Thinner wheels will do best on routes that are predominantly road or asphalt-based, while thicker, larger wheels will do better on a more trail or off-road environment.
650b (27.5″) Most common touring wheel size that's great for both on- and off the road
700c – Road bike wheels for faster on-road commutes
26″ – Old-school wheel size you can find tires all around the world, wherever you will be
Handlebars
Comfort is key over long distances, which makes the type of handlebar and saddle you opt for an important decision. Again, this comes down to personal preference and intended usage, but one consideration for handlebars should be the number of hand positions it offers you, helping to alleviate pressure on your wrists when you're spending several hours on the road on a given day. Drop style bars give a greater choice for hand positions and so are usually more common amongst touring bike models.
Saddle
Having a comfortable saddle will be down to your specific body type. Widely regarded as a worthwhile upgrade in the bike touring community is the leather saddle by Brooks, which molds to the shape of your sit bones after a few hours of usage, resulting in unparalleled comfort for long journeys. These saddles set the bar for comfort in bike touring and are usually a welcome upgrade to the stock saddle on any touring bike. This also means that you can ditch the lycra!
Pedals
Choosing pedals is quite subjective, but to maximize your efficiency and maintain an ideal foot position while cycling, clipless pedals are the winner. Opting for the mountain bike style clipless shoes is best, as you can walk regularly off the bike compared to road pedals that are not designed for ease of walking and thus not recommended for touring.
You can also get your standard platform pedals or a combination pedal with mountain bike clipless & platform options in the same pedal. One small caveat is that they can be difficult to get used to and may result in a hard fall if you don't clip out in time to put your leg out when stopping.
Mudguards & bottle cages.
Mudguards should be mandatory. You don't want mud and water splashing up all over you and all of your gear.
Have at least 2 bottle cages at a minimum with large 25/32oz (750ml/1L) water bottles. There are creative ways to install more but you can always carry a couple of bottles in your bags.
---
2) Bikepacking Gear
Having the right gear (and the right amount) can mean the difference between a string of wet & miserable days wrestling your bike over hills and mountain passes, to a joyous trip that you wish would never end.
Just like you pack an extra tube & a hand pump for your weekly rides (or at least you should), you need to prepare for the unexpected while out on the road or trail, potentially in remote areas with limited resources. Rain can be expected on most longer trips, unless you're taking a summer tour of southern California, or a dry season trip in the tropics, being prepared for a sudden downpour is wise.
Pannier Bags
Investing in quality waterproof pannier bags will save many headaches in the long run so it's advisable to do some of your own research into picking the right ones for you within your budget. The Ortlieb brand is a long time favorite due to its durability and waterproofing. Rockbros is a well-respected, but more wallet-friendly, pannier bag. But whatever you choose, ensure it's been highly- and well-reviewed: you don't want a wet tent and clothes to climb into after a long day in the saddle.
Dry bags
Having a large dry bag (50L or so) will give ample room to store your tent and other camping equipment, which can be secured to the top of your pannier racks at the front or back. Having some smaller sizes will also be helpful for dirty/wet clothes or electronics.
Locks
A good quality U-Lock is important for any urban biking. Abus & Kryptonite are two of the safest options out there. Having a shorter "U" will give less space to lock but also less space for potential thieves to get leverage to break it. A long & lightweight wire combination lock will be helpful for locking to trees or to your tent at night.
Bell
Essential for any urban cycling during your tour. Letting pedestrians know you're there not only keeps you safe but keeps them safe too. Don't be afraid to ding!
Front & backlights
Another non-negotiable safety component. Having good quality lights that are sufficiently bright and visible after all of your gear has been installed, are literal life-savers. Expensive dynamo systems exist for recharging on the go, but if you are traveling in the summer with long daylight hours, having battery-powered lights with some spare batteries is fine.
Repair tools
Be sure to have a basic tool kit for the maintenance and repair we talked about previously. A pump, multitool, a chain tool, and some spare links, tire levers, spare tubes, and a puncture repair kit should be the absolute minimum.
Directions
Planning your route in advance of your trip is very helpful and also a fun way to learn about possible sights & attractions along the way. Even looking at the map each morning before the day's riding to get a rough idea of the route will be of help once you're on your way.
> Find your next route through Aventure Cycling
Having a phone mount so you can easily read directions with a power bank charger for some extra juice in case you can't use an outlet saves a lot of possible hiccups. Should technology fail you, having a compass and/or a paper map as backup is good practice too.
---
3. Clothing
It's important to remember that at no stage on your bicycle tour should you be dressing for fashion. The name of the game is practicality, and to reiterate again: lightweight.
This will obviously vary depending on where you decide to tour, but a solid base will include:
2 sets of exercise or cycling clothes which are usually lightweight, dry quickly, and help to wick sweat. If you opt for cycling bib shorts, be sure to wear them without underwear underneath to avoid chaffing.
2 sets of normal day-to-day clothes. Something versatile, comfortable, and preferably quick-drying, in case you need to wash them on the go.
Your helmet is the most important piece of clothing while on the bike. Wear it always and with pride.
A quality rain jacket is going to be your best friend. You usually get what you pay for when it comes to rain protection & breathability, so investing in a good jacket will ensure you stay dry and warm/cool, especially important when traveling in especially hot or cold months. Bonus points if it's a bright color for nighttime visibility.
Shoe coverings for the rain and wind will help keep your shoes dry and are a nice addition to any kit.
Cycling gloves help prevent loss of skin in case of a fall, and in colder conditions, full gloves will help keep your fingers warm & nimble. Again, bonus points for an illuminous pair for extra visibility at night.
Sunglasses for the obvious reasons and also to prevent bugs from flying into your eyes.
Microfiber towel(s) are quick-drying and lightweight for travel. A minimalist's dream.
A swimwear in case you come across a beautiful lake or fancy a dip during your coastal tour.
There are many more possibilities when it comes to clothing and these will be subjective, but having these items as your base for any multi-day tour is a great starting point.
---
4. Camping
Having lightweight camping gear is key as to not overburden yourself with unnecessary weight. Lightweight tents, sleeping bags & camping mats are a little more costly but will mean a more enjoyable ride. Your camping gear needs vary somewhat depending on your destination & the season of your trip, so searching out a bike-touring forum for location- and season,-specific advice would be the best bet to making sure you're prepared for what's to come.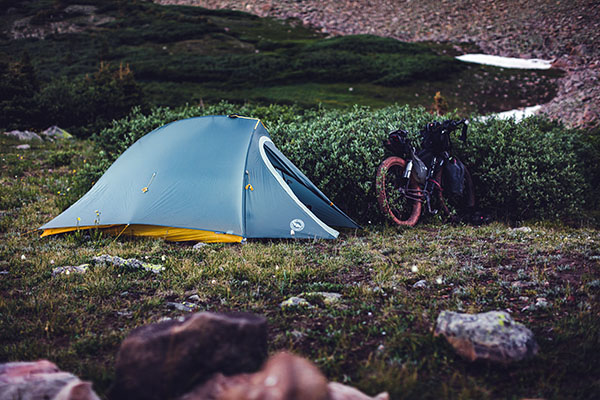 If you want to eat hot food on the road, having a portable camping stove is super helpful, as well as carrying extra water or a water purifier for cooking with.
A camping hammock is also another lighter alternative to tent camping. Having a waterproof cover and an underquilt (for colder weather) are important companions for this style of camping.
---
Happy trails!
Being prepared is the best way to ensure that your next bike tour is as enjoyable as possible. Mitigating headaches and surprises by thinking ahead will give you more energy to enjoy all of the amazing sights and experiences that the open road has to offer.
Keep your mind open to trying new things and diverging from the plan as that is where the magic of bicycle touring lies, as the perfect tool to help you see the world.
Image credit: Patrick Hendry @worldsbetweenlines
---
---
Related