These Are The Best Touring Bikes in 2021 To Buy Online
Bicycle touring is by far the best way to travel and experience the world on two wheels. Touring bikes allows you to carry all of the necessities you need for a fulfilling life on the road. Whether you go out of town on the weekends or looking for a comfortable bicycle for daily commutes to work – down here you'll find a brief selection of different types of touring bikes.
Best National Parks for Bike Touring
---
Table of Contents
How to Choose
---
How to Choose a Touring Bike?
---
What is a
touring bike

?

Touring bicycle is essentially designed to accommodate multiple racks for pannier bags and water bottles. Travel longer distances, usually overnight, is a place where a touring bike thrives.
Must-have components
650b or 700c wheels
Multiple eyelets for racks, panniers, and water bottles
Drop-bar handlebar
Relaxed fit
Rigid frame
Generally made of either aluminum or steel
2x or 3x front chainring for a wide variety of gears
Mechanical disc brakes for easy maintenance on the road
---
Commuter

/

Hybrid

/

Gravel

– Which is best for touring?

Apparently, many cyclists confuse the terms when they are trying to refer to the bike in mind. Touring bikes are generally bicycles with a rigid fork and plenty of mounts to add the gear on, while:
The commuter bike is widely known as a bicycle that's used for, yes you guessed it – for commuting. Other times are known as everyday around-town bikes.
Hybrid bikes on the other hand are bicycles that are a mixture of two worlds – most of the time a mixture between a road and a mountain bike while they are equipped with front suspension and lack the comfort for all-day cycling trips.
Gravel bikes are often related to touring bikes due to their wide range of use, geometry, and build quality. Although a

classic gravel bike

features more performance-based geometry, components, and set-ups (with 1x chainring, etc)
---
Related:  Gravel vs Touring vs Cyclocross
---
What are the
key features

a touring bike should have?
---
Is carbon fork good fork touring bikes?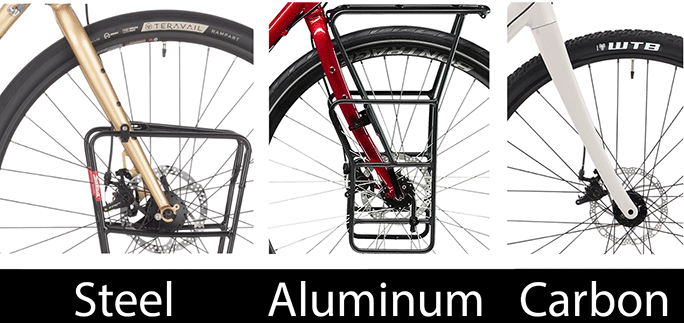 When talking about forks, which take the first beating in most cases, there are three options to choose from. Check out the pros and cons for each material:
Steel – Cheap, durable, good vibration qualities. Very common as steel forks on touring bikes can accomodate various accessories on the bike.
Aluminum – Affordable, durable with plenty of eyelets to add racks and water bottles on the fork.
Carbon forks are common for most road bikes at the sub-thousand-dollar mark, and nowadays some touring/commuter bikes come equipped with a carbon forks as well. The reason why most carbon forks don't have eyelets is that any direct vibration reduces against the fork reduces. Read more: Carbon fiber tips & tricks
---
Touring Bike Wheels And Tires
26″ x 650b vs 700c
26″ = Commonly used and tires are easily found all around the world.
650b (27.5″) Wide and sturdy, great size for gravel & touring bikes. Allows getting the pressure low for harder passes.
700c = Best for fast commutes on paved roads
The most popular choice of wheels for touring bicycles are 26″. The reason is that they are stable, comfortable, and easy to find even in the least developed countries in the world. On 26″ inch wheels – instead of 32 spokes, touring bike wheels usually have 36 spokes which make them sturdier.
650b wheels are better for off-roading, while 700c boasts better speed on paved roads. You can fit chunkier tires on a 650b wheel for better, while the selection for 700c is not as wide.
---
Chain

vs

belt

drivetrain

Touring means going out in the wild elements of nature for extended periods of time, so be prepared to keep the bike up to its best performance. In recent years, we've seen many globetrotters use a carbon belt drive instead of the classical sprocket & chain derailleur system. As belt drives don't need any lubrication and have a life expectancy of up to 19,000 miles / 30,000km, it is quite logical to think of it as a perfect alternative. We also recommend watching CyclingAbout's belt-drive explanatory YouTube video about it.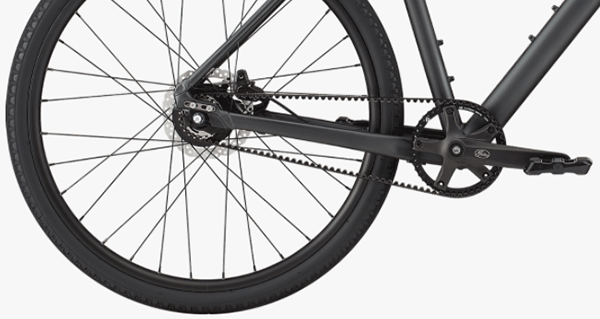 Related: Belt Drive Bikes Pros and Cons
---
Best Touring Bikes of 2021
---
1. SURLY Ogre $1,525
2. CO-OP CYCLES ADV 1.1 $1,549
3. Ride1UP 700 Series $1,595 (E-Touring/Commuter)
4. TOMMASO Sterrata $925
5. SALSA Marrakesh $1,799
6. MARIN Nicasio $939
7. MASI Giromondo $1,300
8. PURE CYCLES Gravel/Adventure $899
9. RIDE1UP – 700 Series – Ebike $1,595
10. NINER RLT9 2-Star GRX $2,200
11. PRIORITY – 600 $2,299
11. SALSA Journeyman Claris 650 $849
12. Fuji Touring Disc $1,200
Related: Best Touring & Cargo Bicycle Trailers
Related: Brooks Saddles Overview
---
1

. SURLY – Ogre

29er steel gravel bike
MSRP: $1,525
Jenson USA
The steel-frame/funky styling king of the market – Surly, has put on sale their all-new Ogre gravel/touring bikes. The Ogre is built around a very unusual tire size for touring bikes – 29″ (27.5″ available as well). Generally the touring/adventure market is dominated either 650b, or 700c wheels. Sometimes even a 26″ is represented . You'll get quite a unique frame color  and geometry. It is the 4130 ChrMoly steel that the brand is well known for.
The drivetrain (A.k.a the engine of the bike) is a 1×10 speed Shimano Deore with a 11-42T cassette, and a SRAM NX 32T cransket. Shifters are Shimano Deore M600. The bike has got Tektro HD-M275 hydro disc brakes which are more of a MTB-style than a road, or gravel inspired.
There's plenty of rack&fender mounts on the frame and fork, and then as a cherry on the top, the bike rolls on Surly's ExtraTerrestial tires! Look no further when you want a bike that's already got plenty of character and sentimental value before you have even touched it!
29×2.5″
10-speed
WTB i29 rims
---
2

. CO-OP CYCLES – ADV 1.1

Best value touring bike (REI Score: 4.5 / 5 out of 31+ ratings)
MSRP: $1,549
REI Co-op
This is a bicycle that could easily take you around the world (maybe even more than once) if you had the time to do it. With a touring bicycle like this, you can not only ride on any road and path that you come across, but you can carve your own as well. The ADV 1.1 gives you some incredible components for the money, so the spike in price is well justified. You'll get a drop bar handlebar with bar-end shifters which are easy to use on rugged downhills and rough terrain. You'll be also using them to control a pair of Shimano Deore LX derailleurs and shift through 30 gears. Plenty to hit any gravel climb.
Around the world companion. On downhills, finely control the amount of braking power you need with a set of TRP Spyre mechanical disc brakes that stop the 700c x 38mm tires from rolling. The maximum weight this bike can carry is 300 lbs, which is more than enough to take all of your necessities with you, including the pleasure items!
Double-butted Chromoly frame and fork
3×10 Shimano Deore LX derailleurs
Hydro disc brakes
700x38c
Weight: 30 lb
| | | | | | | |
| --- | --- | --- | --- | --- | --- | --- |
| Co-op Cycles | MSRP | Wheels | Frame | Gears | Group | Brakes – Disc |
| ADV 1.1 | 1,399 | 700c | Steel | 3×10 | Deore | Hydraulic |
| ADV 2.1 | 1,099 | 700c | Aluminum | 2×8 | Claris | Mechanical  |
| ADV 2.2 | 1,499 | 700c | Aluminum | 2×10 | GRX | Mechanical |
| ADV 2.3 | 2,199 | 700c | Aluminum  | 1×11 | GRX | Hydraulic |
| ADV 3.1 | 1,399 | 650b | Steel | 2×10 | Deore | Mechanical |
| ADV 3.2 | 1,799 | 650b | Aluminum | 2×10 | Deore XT | Hydraulic |
| ADV 4.2 | 2,099 | 27.5″ | Aluminum | 2×11 | SLX | Hydraulic |
All in All – Co-op bikes are known to offer one of the greatest value, so feel free to check out the rest of their Adventure/Touring bikes list. What's great is that
---
3

. Ride1UP – 700 Series

An electric touring & commuter bike

MSRP: $1,595
Ride1UP
The 700-series by Ride1UP is not your typical touring bicycle as it is an e-bike. Depending on your purposed field of use, it can replace a recreational cyclists' needs to carry pannier bags comfortably, and commute easily with a punch of electric assist which is available in both pedal-assist and throttle power.
Although this is not the bike to go for around the world trip, it is definitely something to consider. The reasons why it is not a as suitable for long-distance touring are the forks, which should be rigid, and a single-front chainring derailleur system. Other than that, we'd love to see more mid-drive electric touring bikes available in the future. Sure, those bikes would cover a tight niché market, which might actually be quite unacceptable to the touring bike communities, but seeing someone cycling around the world with an e-bike would be something to look out for!
Integrated rear rack
30-50mi range
750W rear hub
60Nm of torque
---
4

. TOMMASO – Sterrata

Best value touring road bike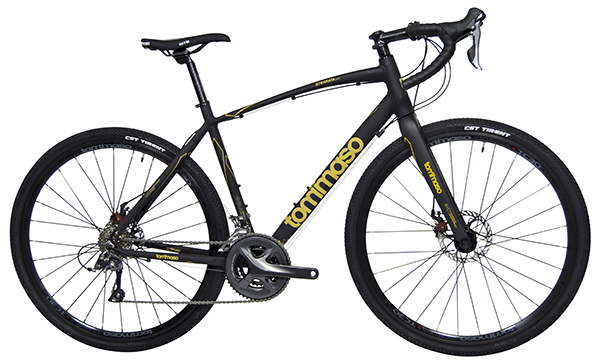 MSRP: $1,025
Tommaso Cycling
Tommaso is a company that is well-known for its valuable budget bicycles. They mainly specialize in road bikes, but with the gravel madness at its highest, Tommaso decided to give adventure cycling a try as well. The result is one of the most beautiful and budget-conscious touring bicycles we have. Tommaso Sterrata is an aluminum travel bicycle with a carbon fork and 40 mm tires.
Italian Design And Top-Notch Engineering. Tommaso Illimitate is one of the cheapest bicycles in this overview. Therefore, if the price is your only criterium, this is the obvious choice. However, it might be the obvious choice for some other reasons as well, such as:
Alloy frame & carbon fiber fork
3x crankset
Shimano Claris groupset
Avid BB5 disc brakes
700x40c tires
Weight: 25.4 lb
Obviously, thanks to the super-wide CST Tirent 40 mm tires, Tommaso Illimitate is capable of tackling all types of terrain. The Avid BB5 mechanical disc brakes help as well by providing lots of consistent braking power in all weather and road conditions.
The only setback is the 11-32T cassette, which might be too small if you plan to ride in very hilly areas. However, the 2x crankset provides some balance by offering you a wider gear ratio.
Read more - TommasoCycling.com
---
5

. SALSA – Marrakesh

Salsa knows their way around bikepacking
MSRP: $1,799
REI Co-op
Weighing in at 31lbs, the Marrakesh Sora is Salsa's vision of touring bikes. Equipped with mechanical disc brakes, 700c x 40mm tires, and a touring bike geometry – there's not too much to add or remove from the bike. It's ready to roam out of the box!
Steel Frame & Fork. Salsa Cycles, closely related to Surly bikes know their way around materials and components, hence the reason the frame and fork are made of steel! Besides that steel is one of the most bulletproof materials to use, there are multiple mounts for racks and/or water bottles: 3x on the frame and 2x on the front fork.
3×9 Alivio/Sora Drivetrain. When carrying a bunch of extra gear along, you really need to find the right gear and cadence to keep you motivated. Therefore Salsa has chosen the 3×9 Shimano Alivio derailleurs with Shimano Sora shifters. However, Shimano Sora is an entry-mid range groupset suited for all-rounder cyclists, they last up rather well when taken proper care of. The longevity of the crankset is provided by Shimano Alivio 48t/36t/26t
All-in-all, the Marrakesh is a great touring bike equipped with somewhat foolproof basics such as the steel frame and mechanical disc brakes – making it a great deal to consider. These are components that you wouldn't want to upgrade when getting a touring bike.
---
6

. MARIN – Nicasio+

Eye candy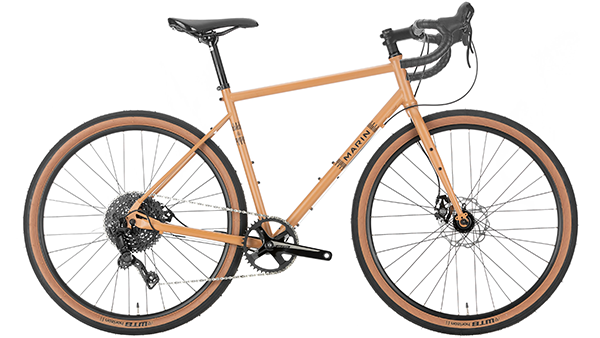 MSRP: $939
Jenson USA
Marin Nicasio is a brand-new bike coming off the production line of this California-based company. It's among the more affordable models on this list, offering fantastic value for the money. If you can afford just one bike but you want to do both on-road and off-road traveling, then this Marin model is a safe choice. Just like the previous bikes I've shown you in this review, it's built around a lightweight and bump-absorbing steel frame. More precisely, it's the Series 1 Double-Butted CrMo steel frame.
A Beauty That Rides Like A Beast. In terms of components, Marin Lombard 1 is very similar to other adventure bikes in this price range. However, it has some crucial differences that make it even more suitable for pulling lots of weight and covering great distances daily. For example, it's equipped with a 1×9 speed microSHIFT drivetrain that features a subcompact 42T crankset and an 11/46T cassette.
The microSHIFT groupset is a common sight on gravel bikes that cost around $900, so there are no big surprises there. It's a reliable shifting system that's easy and cheap to take care of. This Marin also comes with Tektro Road Mechanical Disc brakes and Marin's double-wall, tubeless compatible wheels that sport 650bx47mm WTB Horizon tires. They're ideal for gravel rides, but they're quite fast on tarmac and asphalt as well.
---
7

. MASI – Giramondo 700C
MSRP: $1,300
Jenson USA
Another great-priced adventure bike with all the classical elements to expect from a decent touring / adventure bike. The Giramondo by MASI features a steel frame and fork for best bump-absorption, front and rear fenders, and a drop-bar. There's also the 3×10 drivetrain Shimano Deore which is quite a decent choice at this price range.
Besides the numerous rack & fender mounts, the bike comes with 700x45c tires and TRP-Spyre-C mechanical disc brakes. Shifting is taken care of by the new name in the game – microSHIFT. The frame has a clearance for 29×2″ tires which is quite unusual for a touring bike like that!
---
8

. PURE CYCLES – Gravel Adventure Bike

MSRP: $899
REI Co-op

This is by far the best-value touring/adventure bike under $1,000! With 2x8speed Shimano Claris STI drivetrain, steel frame and fork, and mechanical disc brakes it has it all. The bike has plenty of rack and fender eyelets and the weight of ca. 32lb makes it an ideal 700c wheel tourer for sure!

Read more about Pure Cycles or check out REI store to find if you can fin a suitable size for you!
---
9

. NINER – RLT9 2-Star GRX
MSRP: $2,200
Jenson USA
Niner RLT 9 has a tried and true 6061 aluminum frame with an RDO carbon fork. Together, they keep the weight down, which is great if your intention is to travel as light as possible. Niner RLT 9 2-Star implores you to take it on an adventure over gravel and dirt road with every component fitted on it. The loudest of them is the Shimano GRX400 groupset. This is Shimano's brand-new gravel-specific groupset that's built for the roughest of terrains. It's incredibly reliable and shifts smoothly in dirt, dust, and sand.
Gravel Specific groupset for maximum performance. This RLT 9 model also has a pair of Schwalbe G-One Performance 700×40 tires which offer maximum traction even when the bike is fully loaded. If you find yourself racing the dark to find a place to camp, you'll be in good hands. The brakes are Shimano GRX400 as well, which means that they are optimized to provide the maximum amount of power and control in loose conditions, such as gravel or mud.
We'd recommend this bike to all travelers and adventurers out there who are looking for a foolproof bike touring choice to start their across-the-world travels.
---
10

. PRIORITY – 600

Commuter / Touring bike with carbon belt drive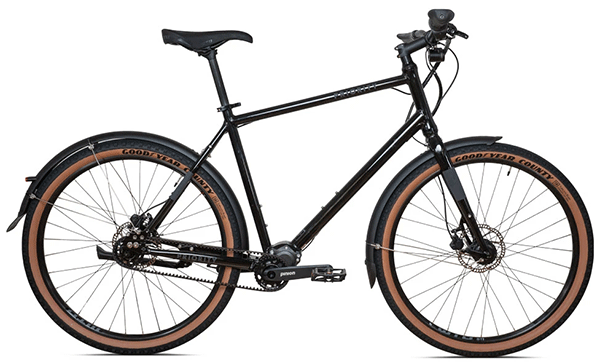 MSRP: $2,299
Priority Bicycles
If you want to get a quality touring bicycle that comes with some handy accessories that you will find useful when you hit the road, you should check out Priority 600. This bike comes equipped with front and rear fenders as well as front and rear lights powered by a front dynamo hub. Its frame and fork are made of lightweight aluminum which is the favorite material in the bicycle touring the world. It's incredibly strong and unbelievably light. The fork is rigid and the whole bike is bejeweled with a plethora of eyelets to fit all of your accessories.
Related: What to
Pinion Gearbox and Carbon Belt. The next reason why this is a great bike touring choice is the drivetrain and the components. Namely, Priority 600 comes with a sealed Pinion gearbox and a carbon belt, which don't require any maintenance. Pinion simplifies shifting quite a bit. The tires are WTB Horizon 650B, tubeless-ready, so you don't need to worry about punctures. Therefore, if you're planning to combine both off and on-road routes on your adventure, this is a great choice. Braking is done with Tektro hydraulic disc brakes, which are easy to adjust and maintain wherever you are. They offer excellent performance as well.
The conclusion is that you can't go wrong with the Priority 600, no matter what kind of adventure you have in mind, as it's a pretty much do-it-all companion.
Read more - PriorityBicycles.com
---
11

. SALSA – Journeyman Claris 650
MSRP: $849
REI Co-op
This adventure bicycle is optimized for long off-road rides on gravel and dirt roads that you would choose if you wanted to see the backcountry or the bush. All of the features listed above come together in Salsa Journeyman to create a bicycle that can navigate gravel roads, cobstones, and even some mild singletracks. This version of Salsa Journeyman comes with a 2×8 drivetrain made from an FSA 46/30T crankset and a Sunrace 11-34T cassette. That's a very decent range that will allow you to actually ride your bike most of the time instead of pushing it. To shift through the gears, this Journeyman uses the Shimano Claris groupset, which includes the front and rear mech and shifters.
Lightweight aluminum frame
650b x 2.1″ tires
Drop bars
Mechanical disc brakes
Wide-ratio 2×8 drivetrain
Choose the path less traveled. The tires are massive compared to other adventure bikes—2.1″ wide. Coupled with 650b wheels, they'll ensure comfort and grip at all times. They're tubeless-ready as well, so you can say goodbye to punctures. Finally, this bike comes with Promax mechanical disc brakes which provide swift stopping power.
More from Salsa. Apart from the Salsa Journeyman Claris 650, there are other models that you should consider that could save you money. The one I recommend is the Salsa Journeyman Flat Bar Claris 650 which is $150 cheaper and has the same specs apart from the flat bars. There are also 700c models you can choose which cost the same or Journeyman models with better components if you're willing to spend more money.
---
12

. FUJI – Touring Disc

MSRP: $1,200
Fuji

One of the most-searched touring bikes online – The Fuji Touring bike. This model comes in all possible frame sizes from XS to XXXL! On the mechanical side, it is obviously equipped with all the essentials for a long-distance bikepacking tour.
3×10 Shimano Deore
700x35c
Steel frame & fork
TRP Spyre C mechanical disc brakes
The quality of components is quite good for this price range so expect it to perform according to the stats. The pedals have straps for improved performance so you can easily use your standard shoes if you are not into pedal-clips. This bike is great for recreational cyclists who want the best bang for their buck so don't hesitate to look this bike up!
---
Didn't find what you were looking for? Try Trek Touring Bikes from your closest dealer. Or, check out Schwinn's cheap touring bike.
---
3

. FAQ
---
Touring Bikes Components
When it comes to the components on touring bicycles, less is always more. You should be looking for simplicity. The reason is that simple components are much easier to repair on the fly if something breaks down while you're in the middle of nowhere. Still, you should be aiming for quality Shimano and SRAM parts that won't give in that easily after thousands of miles of abuse.
---
Touring Bike Accessories
Finally, a touring bicycle is of little use without its accessories. The indispensable ones include racks, water bottle cages, and bike bags. Some travelers also like having a dynamo which allows them to charge their batteries while riding and power bike lights.
REI.com
---
Weight
The weight does not play such a significant role when it comes to touring bicycles.
That's why they are made from heavier materials such as steel and aluminum. Why spend thousands of dollars on lowering the weight of your bike by 500g when you're going to undo that by carrying a gas canister. When you're tugging 20-40 lbs of weight with you, a few pounds of weight up or down does not make a big difference.
---
Women's vs Men's touring bikes
Although we haven't listed any specific women's touring bikes in this list, you can check out our Best Hybrid Bikes for Women to get a broader view of what to expect.
---
Electric Touring Bikes
We strongly checking out Cannondale's Tesoro series on REI.com as they have often e-commuter bikes for men and women on sale, and with plenty of sizes for everyone.
---
Other Points to Consider
Apart from the aspects mentioned above, here are some additional points that you should consider when buying a touring bicycle. The beauty of bike touring is that there are no strict rules. You can go on a bike tour with a used $200 bicycle, or you can do it on a new $3,000 machine. It's up to you.
Touring Bike Frame
The most popular frame materials for touring bicycles are steel and aluminum. Steel is the strongest and the most comfortable material out there. Moreover, it is the easiest to repair in case of any problems. On the other hand, aluminum is not as strong and not as easy to repair, but it is significantly lighter.
Touring frames have longer chainstays and longer wheelbases. This makes them more stable and allows riders to fit them with bike bags and other accessories. They come with numerous eyelets that let you attach racks, bike bottles, and other equipment.
Gears
Even though touring bicycles look more like road bikes, they borrow gearing from mountain bikes. They often feature MTB groupsets and gear ranges which makes it easier for riders to climb steep hills under heavy loads. The most popular are 2x and 3x systems with 11-32T cassettes and higher.
Although, it's been proved that the 1×12 gearing is among the most optimized options for longevity, price, and gearing.
However, you'll see many belt-drive bicycles coming to the scene due to their internal gearing, and 19,000-mile belt life expectancy!
---
RELATED Reviews