Best Touring Bikes For 2020
Bicycle touring is by far the best way to travel and experience the world. On a bicycle, you can go just fast enough to cover meaningful distances every day, but slow enough to not miss out on important things along the way.
A bicycle, unlike what many might think, allows you to carry all of the necessities you might need for a fulfilling life on the road—your bedroom, kitchen, bathroom, playroom, and even your living-room if you like indulgences.
Trust me, I know this first-hand.
The reason is because I've worn and torn my fair share of bike tires traveling to different countries around the world by bicycle—17 and counting so far. Some of the countries I've visited that made a lasting impression on me include Sweden, Germany, Austria, Poland, Estonia, Russia, Belarus, Romania, Czechia, and many others.
Using The Right Tool For The Job...
I've enjoyed every single one of my travels even though none of them was 100% perfect. The truth is, I've made some mistakes when it comes to the bikes I've used. Luckily for me, mistakes are an exceptional way to learn new things and improve.
Luckily for you, I'll be sharing what I've learned about bike touring, especially touring bicycles, so you don't have to make the mistakes I've made.
In this article, I'll tell you what years of bicycle touring have taught me about touring bicycles and help you choose the perfect one for your travels. I'll also give you my opinion on the best touring bikes you can get in 2020, which can get you thousands of miles away from home and then back safely.
So, first things first, let's see what a touring bike actually is.
What Are The Main Elements Of A Touring Bike?
Everyone who knows what a bicycle is must have heard about mountain bikes and road bikes. Not that many people know much about touring bikes.
Touring bicycles have some features of both road and mountain bikes. They are optimized for comfort, strength, durability, and ease of maintenance.
Some aspects in which a touring bike is unique compared to other types of two-wheelers include the frame material and geometry, wheels, brakes, gears, and accessories.
The most popular frame materials for touring bicycles are steel and aluminum. Steel is the strongest and the most comfortable material out there. Moreover, it is the easiest to repair in case of any problems. On the other hand, aluminum is not as strong and not as easy to repair, but it is significantly lighter.
Touring frames have longer chainstays and longer wheelbase. This makes them more stable and allows riders to fit them with bike bags and other accessories. They come with numerous eyelets that let you attach racks, bike bottles, and other equipment.

The most popular choice of wheels for touring bicycles are 26″. The reason is that they are stable, comfortable, and easy to find even in the least developed countries in the world.
Moreover, instead of 32 spokes, touring wheels usually have 36 spokes which makes them sturdier. These are usually fitted with 32+ mm tires.
Even though touring bicycles look more like road bikes, they borrow gearing from mountain bikes. They often feature MTB groupsets and gear ranges which makes it easier for riders to climb steep hills under heavy loads. The most popular are 2x and 3x systems with 11-32T cassettes and higher.

Finally, a touring bicycle is of little use without its accessories. The indispensable ones include racks, water bottle cages, and bike bags.
Some travelers also like having a dynamo which allows them to charge their batteries while riding and power bike lights.
Apart from the aspects mentioned above, here are some additional points that you should consider when buying a touring bicycle.
The beauty of bike touring is that there are no strict rules. You can go on a bike tour with a used $200 bicycle, or you can do it on a new $3,000 machine. It's up to you.
The weight does not play such a significant role when it comes to touring bicycles. That's why they are made from heavier materials such as steel and aluminum.
Why spend thousands of dollars on lowering the weight of your bike by 500g when you're going to undo that by carrying a gas canister. When you're tugging 20-40 lbs of weight with you, a few pounds of weight up or down does not make a big difference.
As I've mentioned above, the price completely depends on you. If you're buying new, around $700 can get you far in terms of components, reliability, durability, accessories, and comfort.
If you want more in terms of components and technology, and you have a large enough bank balance, you can spend thousands of dollars on a much more sophisticated machine.

When it comes to the components on touring bicycles, less is always more. You should be looking for simplicity.
The reason is that simple components are much easier to repair on the fly if something breaks down while you're in the middle of nowhere.
Still, you should be aiming for quality Shimano and SRAM parts that won't give in that easily after thousands of miles of abuse.
Now that you know what you're looking for in a touring bicycle, here's a list of the best touring bikes you can buy in 2020. Whichever you choose from this list, you can rest assured that it will be able to take you to different countries, different continents, and allow you to live a life of adventure.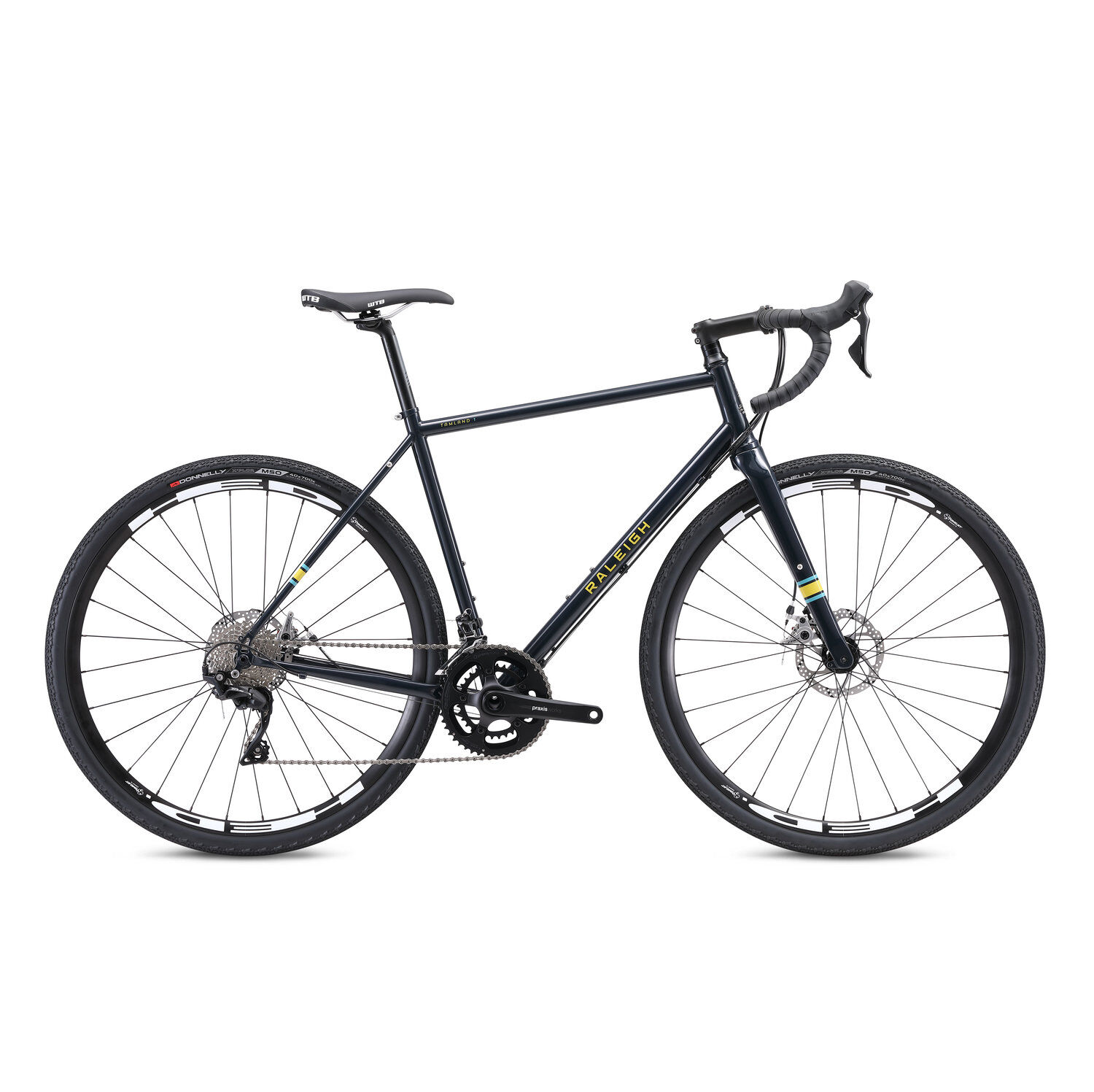 MSRP $1,999
Let's climb up the price ladder a bit more and take a look at another Raleigh adventure bike—Tamland 1. This is the kind of bike that can carry all of your camping and cooking gear and take you far away from urban areas, into the unexplored wilderness.
Raleigh Tamland 1 sports a well-known Reynolds 631 Chromoly custom-butted frame, with a tapered head tube, and flat mount disc tabs. In addition to that, it has a Carbon Monocoque tapered steerer which will make your pedaling more efficient.
Multipurpose Gravel Traveler
What I like the most about Raleigh bicycles is that they are mostly oriented towards practicality and not so much towards overall looks. Therefore, Tamland 1 is a bicycle that will not stand out at first glance, which is a good thing if you don't want to attract attention on your travels.
Regarding its capabilities, it touts a Shimano 105 groupset that provides you with a 2×11 drivetrain with a 11x32T cassette and a 48x32T crankset. That's a lot more than the other bikes in this overview.
The hubs feature 12 mm thru-axles and cartridge bearings, so they'll roll smoothly for thousands of dirty and muddy miles. I like the HED Tomcat tubeless compatible rims, even though they come with 28 spokes. They are clad in Donnelly X'PLOR MSO, 700x40c tires which excel in the amount of traction they provide.
Finally, let's not forget about the TRP Spyre-C Flat Mount Mechanical Disc brakes which stop on a dime when needed and are very easy to maintain on the road.
Therefore, Raleigh Tamland 1 is an easy choice that you can't go wrong with if you're looking to cover thousands of hard miles on your long travels.
MSRP $2,200
As it's right, I'm leaving the best for the end. Here we have the brand-new 2020 model of the Niner RLT 9 2-Star bike. It costs $2,200 but it's worth every cent. It's a bike that is intended for serious bike travelers who have thousands of miles behind them, or those who plan to achieve that status.
Niner RLT 9 has a tried and true 6061 aluminum frame with an RDO carbon fork. Together, they keep the weight down, which is great if your intention is to travel as light as possible.
Let's see what else this bike touring machine can surprise us with.
Gravel Specific Groupset For Maximum Performance
Niner RLT 9 2-Star implores you to take it on an adventure over gravel and dirt road with every component fitted on it. The loudest of them is the Shimano GRX400 groupset. This is Shimano's brand-new gravel-specific groupset that's built for the roughest of terrain. It's incredibly reliable and shifts smoothly in dirt, dust, and sand.
This RLT 9 model also has a pair of Schwalbe G-One Performance 700×40 tires which offer maximum traction even when the bike is fully loaded. If you find yourself racing the dark to find a place to camp, you'll be in good hands.
The brakes are Shimano GRX400 as well, which means that they are optimized to provide a maximum amount of power and control in loose conditions, such as gravel or mud.
I recommend this bike to all travelers and adventurers out there who are looking for a foolproof bike touring choice to start their across-the-world travels.

MSRP $799
If you are a price-conscious traveler and you want to leave as much money on the side to spend on the road but still get a quality touring bike, then Pure Cycles Gravel is my No. 1 choice.
As you can conclude from its name, this is a bicycle intended for gravel riding, but it doubles as a versatile adventure bike that can do many different things.
Its frame and fork are made of lightweight chromoly steel which is the favorite material in the bicycle touring world. It's incredibly strong and unbelievably light. The fork is rigid and the whole bike is bejeweled with a plethora of eyelets to fit all of your accessories.
Pure Cycles Gravel Features And Highlights
The next reason why this is a great bike touring choice is the drivetrain and the components. Namely, this Pure Cycles model comes with a 2×8 drivetrain made from a 48/32T crankset and an 11-34T cassette.
That's plenty to get you, your bike, and your panniers up some pretty steep hills. The groupset fitted is Shimano Claris, which is basic but good enough for relaxed touring.
The tires are Hutchinson Override 700c x 38 mm, which is wide enough for some off-roading, but not too wide for asphalt. Therefore, if you're planning to combine both off and on-road routes on your adventure, this is a great choice.
Braking is done with Promax mechanical disc brakes, which are easier to repair on the road than hydraulic brakes. Even though hydraulic disc brakes offer better performance.
The conclusion is that you can't go wrong with the Pure Cycles Gravel, no matter what kind of adventure you have in mind, as it's a pretty much do-it-all companion.
4. Salsa Journeyman Claris 650
MSRP $949
If doing a tour of European cities on a bicycle is not your thing and you prefer staying off the beaten path, then I recommend you consider the Salsa Journeyman Claris 650.
This adventure bicycle is optimized for long off-road rides on gravel and dirt roads that you would choose if you wanted to see the backcountry or the bush.
I feel confident saying this because of the following features:
Lightweight aluminum frame
650b x 2.1″ tires
Drop bars
Mechanical disc brakes
Wide-ratio 2×8 drivetrain
Choose the Path Less Traveled
All of the features listed above come together in Salsa Journeyman to create a bicycle that can navigate gravel roads, cobstones, and even some mild singletracks.
This version of Salsa Journeyman comes with a 2×8 drivetrain made from an FSA 46/30T crankset and a Sunrace 11-34T cassette. That's a very decent range that will allow you to actually ride your bike most of the time instead of pushing it.
To shift through the gears, this Journeyman uses the Shimano Claris groupset, which includes the front and rear mech and shifters.
The tires are massive compared to other adventure bikes—2.1″ wide. Coupled with 650b wheels, they'll ensure comfort and grip at all times. They're tubeless-ready as well, so you can say goodbye to punctures.
Finally, this bike comes with Promax mechanical disc brakes which provide swift stopping power.
Other Salsa Journeyman Models
Apart from the Salsa Journeyman Claris 650, there are other models that you should consider that could save you money. The one I recommend is the Salsa Journeyman Flat Bar Claris 650 which is $150 cheaper and has the same specs apart from the flat bars.
There are also 700c models you can choose which cost the same or Journeyman models with better components if you're willing to spend more money.
MSRP $789.99
Marin Gestalt is a brand-new bike coming off the production line of this California-based company. It's among the more affordable models on this list, offering fantastic value for money. If you can afford just one bike but you want to do both on-road and off-road traveling, then this Marin model is a safe choice.
Just like the previous bikes I've shown you in this review, it's built around a lightweight and sturdy aluminum frame. More precisely, it's the Series 2 Beyond Road 6061 aluminum alloy, with relieved head tube and BB, and compatible with 700c wheels.
A Beauty That Rides Like A Beast
In terms of components, Marin Gestalt is very similar to other adventure bikes in this price range. However, it has some crucial differences that make it even more suitable for pulling lots of weight and covering great distances daily.
For example, it's equipped with a 2×8 drivetrain that features a massive 50/34T crankset and an 11-34T cassette. That's a gear ratio that could get you up Mt. Everest if you had the lungs to support it.
The Shimano Claris groupset is a common sight on gravel bikes that cost around $700, so there are no big surprises there. It's a reliable shifting system that's easy and cheap to take care of.
This Marin also comes with Promax Render R mechanical disc brakes and Marin's double-wall, tubeless compatible wheels that sport 700Cx32 WTB Exposure Comp tires. They're ideal for gravel rides, but they're quite fast on tarmac and asphalt as well.
MSRP $839.94
Tommaso is a company that is well-known for their valuable budget bicycles. They mainly specialize in road bikes, but with the gravel madness at its highest, Tommaso decided to give adventure cycling a try as well.
The result is one of the most beautiful and budget-conscious touring bicycles we have. Tommaso Sterrata is an aluminum travel bicycle with a carbon fork and monstrous 40 mm wheels.
           Sterrata means "Gravel" in Italian, so you know what this bike is made for!
Let's check out the nitty-gritty of this bike, so I can show you why it is one of my top choices.
Italian Design And Top-Notch Engineering
Tommaso Sterrata is the cheapest bicycle in this overview. Therefore, if the price is your only criterium, this is the obvious choice. However, it might be the obvious choice for some other reasons as well, such as:
Carbon fiber fork
3x crankset
Shimano Claris groupset
Avid BB5 disc brakes
700Cx40 mm tires
Obviously, thanks to the super-wide CST Tirent 40 mm tires, Tommaso Sterrata is capable of tackling all types of terrain. The Avid BB5 mechanical disc brakes help as well by providing lots of consistent braking power in all weather and road conditions.
The only setback, in my opinion, is the 11-28T cassette, which might be too small if you plan to ride in very hilly areas. However, the 3x crankset provides some balance by offering you a wider gear ratio.
All in all, I like the design of this bike and its practicality. Fit it with racks, panniers, bags, and water cages and hit the road.
MSRP $1078.93 (Was $1,799)
I've showed you some budget touring bicycles, but I want to show you some more expensive models as well. The first one is the Co-op ADV 3.2. It costs around $1,800 which is not outrageous, especially considering what that money will get you in terms of raw performance.
This is a bicycle that could easily take you around the world (maybe even more than once) if you had the time to do it. If that's exactly what you have in mind, then keep reading.
ADV 3.2 reasons for vanity include:
Lightweight aluminum frame and fork
Shimano Deore XT derailleurs
A 20-gear drivetrain
Hydraulic disc brakes
650b x 50 mm wheels
25.5 lbs weight
Around The World Companion
With a touring bicycle like this, you can not only ride on any road and path that you come across, but you can carve your own as well. ADV 3.2 gives you some incredible components for the money, so the $1,000 spike in price is well justified.
You'll get a flared handlebar with bar-end shifters which are easy to use on rugged downhills and rough terrain. You'll be using them to control a pair of Shimano Deore XT derailleurs and shift through 20 gears. Plenty to hit any gravel climb.
On downhills, finely control the amount of braking power you need with a set of TRP Hylex hydraulic disc brakes that stop the massive 650b x 50 mm tires from rolling.
The maximum weight this bike can carry is 300 lbs, which is more than enough to take all of your necessities with you, including the pleasure items!