Best Folding Bikes in 2023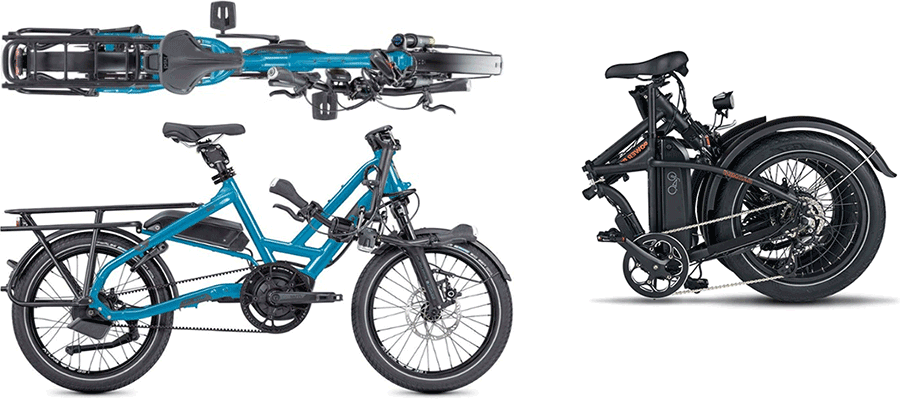 In the simplest of terms, a folding bicycle is a bike designed so that one or more of its components can be folded or tucked into one another.
The designs for these bicycles vary greatly, with some companies embracing an elliptical frame and small 12″ wheels, while others opt for more angular frames that can host wider tires and wheelsets on 27.5″ mountain bikes.
Anyway, these bicycles come in all sorts of shapes & sizes and have transformed many people's commutes & travel plans with their compact dimensions & functional characteristics like portability & lightweight components.
Folding bikes are popular among people who'd like to travel compact!
Why Get A Folding Bicycle?
There are quite a few benefits to owning a folding bicycle, some of them less obvious than others.
First & foremost is obviously the portability, with foldable bikes opening up entirely new options for those looking to ride from point A to point B. Say, for example, you're someone who takes the train to work, but you'd love to save the cost of the trip back. All you've got to do is bring the bike with you as a carry-on, and unfold the bike once you've finished your workday.'
Another plus to the portability factor is that thanks to the extremely compact design of certain models, you can sometimes even bring them with you onto an airplane/bus which makes bringing your bike along as you hop from country to country has never been easier. Forget about dismantling your bike & shipping it in the mail, instead take it along!
The second & less obvious benefit to a folding bicycle is safety regarding theft. Instead of locking up your bicycle traditionally outside of your home or office, you can actually bring the bike with you into your home or workplace. This dispenses with the need for heavy locks or chains and instead opens up a whole new world of convenience.
Another fun part of owning a folding bicycle is that they tend to be instant conversation starters, especially with bicycle enthusiasts.
An ideal solution for busy urban areas with limited storage spaces. Something where you'd really need a compact bicycle to get around with.
---
Best Folding Bikes of 2023
1. Schwinn – Loop
29.5″ x 29″ x 19″
2. Brompton – M6R
23″ x 22.2″ x 10.6″
3. Schwinn – Hinge
30″ x 32″ x 11″
4. Tern – Verge 9D
17.3″ × 31.5″ × 29.1″
5. Tern – Link C8
6. Dahon – Mariner
31"x 12" x 25"
7. EuroMini – Zizzo
27. 25″ x 33. 2″ x 13.5″
---
1

. Schwinn – Loop
Max rider weight: 230lbs
Folded dimensions: H x L x W – 29.5″ x 29″ x 19″
This folding bicycle is easy on both your eyes and your wallet, while still offering a pleasant & consistent riding experience, complete with cargo options & a smooth 20″ wheelbase. Comes in three different colors, it is hard not to recommend this bike after it has ranked in a rather positive score on Amazon.
PROS:
7-speed Shimano shifting makes it perfect for steep grades
Incorporated rear cargo rack
Very small when folded down, perfect for travel
CONS:
Shimano Tourney derailleur is among one of the cheapest on the market
Weight: 37 lbs is quite a lot for such a small bike
---
2

. Brompton – M6R

Handmade in London!

MSRP: $1,730

Here's one of the best folding bikes by the most iconic & historical folding bike brand – Brompton bikes. The M6R is a high-quality and super compact folding bike that folds up to a size of 23 x 22.2 x 10.6 which obviously fits pretty much anywhere.

Other key factors about the bike are the weight of 27 pounds, and the quality of components. The bike has 16″ wheels, fenders, the frame is made of hand-brazed Chromoly steel. You'll find rim brakes and puncture-resistant tires on the bike.

The question is, is there anything to add or remove the bike? No, definitely not. This is a high-quality hand-made fold-up bicycle that will seriously stand the test of time!
---
3

. Schwinn – Hinge

One of the best value foldable bikes of 2023

Another popular folding bike by Schwinn, the Hinge is one of the cheapest bikes by a big name brand, and this is not the only positive about it. The hinge also comes with fenders and a rear rack, also a chainguard. These three might seem cheap and obvious extras, but hey when you want to buy a bike and ride it the next day, this bike has got it all.

The frame is made of steel, and the wheels have a standard 20″ diameter. The bike folds down to a size of 30″ x 32″ x 11″, and it has managed to get a score of 3.9 / 5 out of 279+ ratings in Amazon which is great for a such a cheap foldable bike!
---
4

. Tern – Verge D9

MSRP: $1,149

Tern bikes are well known for their e-cargo, and e-folding bikes which means creating compact and convenient commuters is not a new task for the brand.

The Verge D9 is a well-made folding bike, a solid investment for years to come. Made of hydroformed aluminum, equipped with a wide range of gears and hydraulic disc brakes – the Verge D9 is a premium product for sure.

Whether you'd like to extend your commutes by traveling with a RV, sailboat, or any other means of transportation, a good-quality folding bike is irreplaceable for such occasions.

It takes 10 seconds to fold up the Verge D9, it packs down to 17.3″ × 31.5″ × 29.1″ (44 × 80 × 74 cm)
20″ x 37mm tires
9-speed Shimano Acera (11-36T cassette)
Hydro brakes
Weight: 28 lbs 3.2 oz
---
5

. Tern – Link C8
MSRP: $849
Tern bikes are well known for their e-cargo, and e-folding bikes, creating compact and convenient commuter bikes is not a new task for the brand.
The Link C8 is a well-made folding bike, a solid investment for years to come. Made of hydroformed aluminum and a comfortable steel fork, this bike is equipped with eight gears and v-brakes.
Whether you'd like to extend your commutes by traveling with an RV, sailboat, or any other means of transportation, a good-quality folding bike is irreplaceable for such occasions.
20″ x 50mm tires
8-speed Shimano Tourney TX
V-brakes
Weight: 28 lbs 3.2 oz
---
6

. Dahon – Mariner

This 8-speed, 38-pound aluminum-framed collapsible bike features 20″ wheels. Preferred by city dwellers and rural riders alike, the Dahon Mariner makes for a very versatile ride, satisfying the needs of most cyclists looking for a compact bike to get around with. Besides, getting Amazon's Choice badge doesn't come easy!

Dahon folding bikes are among the most searched bikes online, and there's a ton of options and positive feedback to rely on this brand!

PROS:
Aluminum, rust-resistant frame
Relaxed geometry makes for a comfortable ride
Folds in very compact
Shimano Altus derailleur
Super-comfortable saddle
CONS:
Entry-level components may not satisfy discerning riders
Linear-pull V-Brakes are the most basic brakes to get
---
7

. EuroMini – Zizzo
Suitable for riders: 4'8″ – 6'3″
Folded dimensions: H x L x W: 27. 25″ x 33. 2″ x 13.5″
This reasonably priced folding bicycle is packed full of features, including a 7-speed Shimano Tourney derailleur, thick 20″ tires, and a durable aluminum frame. Having a high rating on Amazon is just one fact to consider this as your next foldable bike.
PROS:
7-speed shifting for steep grades
Priced for entry-level commuters
Total weight of 28.5 lbs is something to look for
CONS:
Hardcore enthusiasts may find it lacking
Small size may deter larger riders
---
Folding Bikes Buying Guide
---
What are the alternatives to folding bikes?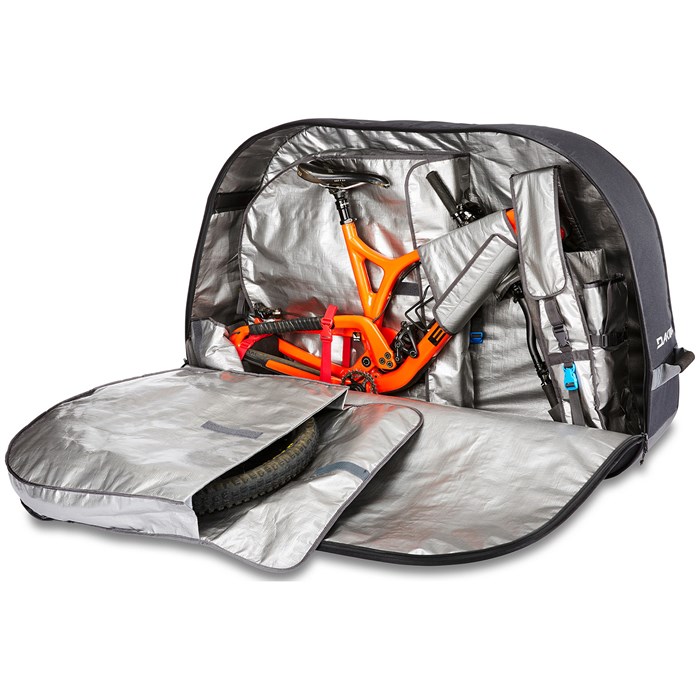 Popular among professional cyclists is the concept of a bicycle travel case. Although some foldable bikes come with a carry bag, it is never too much to have a cover over the foldable bike to protect it from the outside elements. Anyway, bike travel cases have come a long way to offer a decent amount of protection. You can either choose a soft-shell or a hard-case cover to protect the bike.
Travel case = Offers better protection, once put together – you'll be riding a full-size 'performance bike'.
Foldable bike= Quick fold/unfold
Origins: Folding Bikes History
Bicycles first began to rise in popularity during the late 1800s, with folks of all ages & abilities embracing the newest sporting craze. By the end of the 19th-century, these wonderful machines were being considered for other transport-minded applications, situations where people needed to get from place to place quickly while eschewing the use of complicated machinery, or beasts of burden like horses & camels.
Surprisingly, it wasn't modern convenience that drove folks to create the first folding bicycles. Instead, it was an incredibly unlikely scenario that pushed this innovation forward…war.
One of the first designs for a folding bicycle was created by the Danish inventor Mikael Pedersen, at the behest of the British army for use by their infantry soldiers.
Before this, there were limited French folding prototypes, but these were somewhat unreliable & tended to cause more trouble than they were worth. But it wasn't until a couple of years later, when Mikael took his patented Pedersen bicycle, stripped it of its components, cut it down, and reassembled it in his workshop, that the first truly stable & dependable nesting bicycles began to be seen.
This was the start of the first true military folding bike "boom," with several government entities licensing Mikael's designs & adding their own modifications before sending them into production, which was still popular even into the 1960s & 70s.
During this period the first commercially available folding bicycles also began to hit the public, but it wasn't until the early 1980s that the next evolution of these bicycles occurred, thanks to a little-known company (at the time), called Dahon.
That's right, believe it or not, folding bicycles were a wartime invention.
Formed by eccentric inventor Dr. David Hon, the company took cues from Hon's experience at the world-famous Hughes Aircraft Corp. in California. After Hon left the company, he was spending much of his time researching ideas related to "green" solutions for everyday, practical applications, including public travel.
It was this mission that eventually resulted in the 1982 Hon convertible, a bicycle that stayed more or less unchanged for the next decade as it sold and sold and sold.
Moving into the present day, several companies have carved out a niche for themselves in the folding bike world, including brands like KHS and Tern, while Dahon has continued to patent & release new designs up until the present day.
This pervasiveness of folding bicycles, along with their more recent innovations has all but guaranteed that just about everyone can find a folding bike that fits their price constraints & specific needs.
---
How Do I Find the Right Bike for Me?
There are plenty of questions to ask yourself when choosing the right folding bicycle for your needs, many of which aren't always the most obvious.
The first question you should be wondering is what this bike is mainly going to be used for. If you're someone who's looking to make longer rides, then comfort might be your primary concern. Alternatively, if you need something to get yourself down the street to your home or office, maybe the size of the bicycle or its weight are the features to focus on the most heavily. Folks who enjoy the outdoors and tend to do a lot of dirt track riding are going to be looking for suspension and chunky tires, like what the RadMini offers.
Once you know what specifications you're looking for, the next step is to make sure the model you're eyeing up is actually going to fit you. Not all folding bikes are created equal, and some can only accommodate riders up to 5'9″ or 5'10".
You'll also want to consider storage options. If you live in a small studio or loft apartment, it's possible that there are certain options that will fit much better than others. Perhaps you'll be taking your bike on a lot of airplanes, in which case a suitcase-ready option like the A-Bike would be perfect since it's designed to slip into a personal bag.
Price is also probably going to be a large factor in which bicycle you eventually choose. Not everyone is on the market for an expensive, top-of-the-line, feature-ridden beast that can handle every type of terrain being thrown at it. Research is key here, as many of the options out there cost around the same as a typical mid-range touring bicycle.
Lastly, are the rules regarding the areas you'll be riding your folding bike in & around. Depending on the city's regulations, you may want to choose a bike that's guaranteed to be allowed on public transit or one that is approved for riding on your local bicycle trails.
---
What are the best folding bike brands?
---
Different Wheel Sizes

So, while there are a few outliers, there are generally three different folding bicycle wheel sizes, which are 16″, 20″, and 24″.
Each type provides its own benefit, with smaller wheels providing a more nimble experience, with tighter turns and a smaller footprint, while larger wheels provide a longer distance per pedal push. Below, I break down the benefits of each of the three.
16″
One of the most obvious benefits here is the compact nature of the wheels, and therefore the smaller size of the bicycle in total. If you're trying to commute in the city, many consider 16″ wheels to be the standard.
One downside to this wheel size is that many manufacturers charge a bit more for bikes that include them, as they're a bit more of a specialty item. Also, it tends to be true that the smaller the size of the wheel, the less stable the bicycle. While many enthusiasts love these bikes, it's certainly something to keep in mind for any aspiring folding bicycle owner.
20″ – 'The standard'
20″ wheels are the happy medium when it comes to folding bikes, with their wider base providing a substantially more stabilized ride than their 16″ counterparts.
Many owners consider the 20″ to be the perfect medium, which is why they've been traditionally the most popular option. The portability of smaller wheels, along with a feel that's closer to more traditional bicycles are what keeps these a popular option.
24″
The largest of the three options is a 24″ wheel, is perhaps the most comfortable of the three sizes, with their larger size providing the perfect cushion for bumpy roads and "less than stable" terrain. While it may not be quite as compact, for those in more rural areas, it tends to be a perfect option.
6-8" Specialty Wheels
So, in a few cases, companies make their own specialty sizes. One great example is A-bike, which has both 6" and 8" tires for their various models. These wheels are exceptionally small, and as one might expect are rather wide to compensate for their minuscule footprints. These types of wheels provide a maximum level of portability while sacrificing a certain amount of stability.