Mountain bikes have developed a lot since we first started seeing them 50 years ago. From fat tire cruiser-type bikes made by Schwinn, or Klunker bikes to the capable modern machines we have today, a lot has changed!
In the 70s, Gary Fisher, who was the godfather of mountain bikes, introduced the first proper mountain bike.
Three Mountain Bike Frame Types
Rigid | Hardtail | Full-Suspension
---
Rigid Mountain Bikes
PROS:
Lighter – as there's no extra weight that suspension adds.
More efficient to keep the momentum of pedaling.
Lower maintenance cost.
CONS:
Bumpy, hard on the wrists
Rigid bikes are suggested for someone who wants to stick to the roots of mountain biking or prefers the rigidity to the ride.
A rigid mountain bike has a rigid frame which means there's no suspension whatsoever.
Although there's still a small following to this bike type in the mountain biking community, a rigid MTB has some advantages such as not losing any extra energy one would need on a suspension to work. There's little to no give to the ride, and it is the responsiveness that this bike type is preferred for.
All of the momentum is well carried over by the wheels, whereas you'd lose quite a bit of energy on the suspension.
The main reason people buy rigid bikes today is for the fun factor and retro feel. Rigid bikes require more attention for picking the right line compared to other types of mountain bikes, making a seemingly easy trail a more technical experience.
---
Hardtail Mountain Bikes
PROS:
Lighter and more efficient than a full suspension
Much more comfortable than a rigid MTB
Best all-rounder mountain bike
Good climbing capabilities
CONS:
Cheap hardtail mountain bikes have poor performance
On rough terrain, a hardtail mountain bike is not as comfortable as the full suspension
The term hardtail stands for mountain bikes with front suspension.
The same bike geometry is also found on many hybrid and electric bikes as it absorbs the bumps and makes the ride much more comfortable. In terms of mountain biking, the lack of rear suspension makes hardtail MTBs more efficient to pedal (extra cushion requires more energy).
Although not as efficient as rigid mountain bikes, and not as comfortable as full-suspension bikes, there's a large following to hardtail mountain bikes.
Suspension on the front also helps to prevent your hands from getting too sore on longer rides!
The average suspension travel on a hardtail mountain bike is between 80mm to 140mm, although the most common travel is 100mm to 120mm.
Types of Suspension Forks
The two main types of front suspension forks – Air fork and Coil fork.
Coil Spring is a rather cheap and basic technique in terms of the mountain bike fork industry. Most lower-end bikes come equipped with a coil-type fork. This type is often found on not as demanding cycling disciplines such as hybrids, e-bikes, etc. They are generally maintenance-free and basic, great for recreational cyclists
Downhill mountain bikes, which take the most beating on the mountains, almost always use a coil shock on the rear.
Air suspension tends to be lighter and easier to adjust.
Suspension Fork Features
Rebound – Higher rebound – faster return. Lower rebound – slower and cushier travel to its extended state. To properly set the rebound on a bicycle fork – it should be adjusted so that it wouldn't jump back up without a "clunk" when you lift the front end while riding.
Compression (Damping) – can be adjusted only on an air fork, a compression stands for the stability of the fork travel while riding. It basically adjusts the response.
Lockout – This allows you to lock out the fork which is useful when riding on paved roads. It is not advised to use the lock when riding on trails as it can damage the fork!
---
Full-Suspension Mountain Bikes

PROS:
Makes uneven terrain feel smoother
Great for riders with previous injuries
Suspension lockout for more efficient climbing
CONS:
Generally heavier than HT, and Rigid bikes
Pricier
A full-suspension bike is a bike that has both front and rear suspension. Sometimes they are also called dual suspension bikes.
These are meant for riders who regularly find themselves on rough off-road trails. Full suspension bikes are ridden for leisure and racing more than they are for transportation.
Travel length on front and rear can range from 100 – 200mm, depending on the riding preferences and mountain bike type.
Depending on the model, there are different ways to adjust the rear shock just like the front fork:
A rear shock can have rebound and lockout, as well as many other features such as high speed and low-speed compression.
---
Mountain Bike Types & Disciplines
---
Cross Country (XC) Mountain Bikes
70-100mm travel range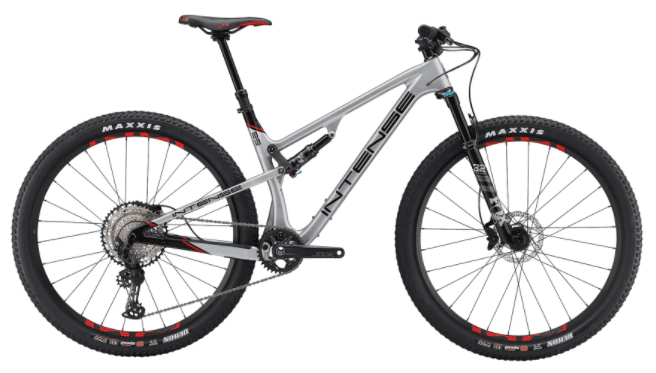 Available in hardtail, full-suspension or a rigid frame type
27.5" or 29" wheels
80 – 120mm suspension travel
Relatively steep head angles (69-degrees or steeper)
Prices range from $500 to $9,000+
Cross country bikes have the least amount of travel compared to other mountain bikes. XC bikes are preferred for their fast, zippy riding qualities. These bikes are designed to be ridden on anything from city streets, to intermediate mountain bike trails. They pedal well and usually absorb small bumps nicely.
These bikes are meant for fast trails where one would need the right amount of cushion and rigidity without losing on speed and energy.
---
Trail Mountain Bikes
100 – 140mm travel range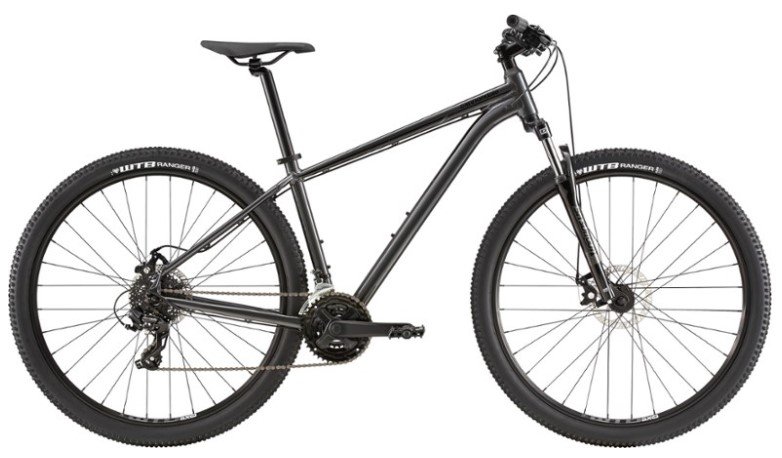 27.5" or 29" wheels
Slack head tube angles around 67 degrees
Prices start at $800 for a decent one
One of the most popular all-rounder mountain bikes to get – trail mountain bikes are basically cross country bikes with slacker geometry. Slightly heavier than XC bikes, Trail bikes have a longer suspension range which works well on rougher trails.
Trail bikes will handle small jumps and descents quite well. What plays a big role here is the comfortable geometry which allows riding long and short rides efficiently.
---
Enduro / All-Mountain Bikes
150 – 180mm of suspension travel front and rear
95% full-suspension, 5% hardtails
Mostly 27.5" wheels, sometimes 29" size as well
Tubeless wheels & tires
Slack geometry – head tube angle is generally less than 67 degrees
Enduro is one of the most advanced mountain biking disciplines.
Climbs, descents, fast and technical trails – the enduro bike can handle pretty much anything. Only a notch below the downhill bike, Enduro bikes have 1×11 or 1×12 speed drivetrains, fully adjustable suspension, and slack geometry. Enduro bikes thrive in trails that require maximum traction and customized suspension tune-up for the best possible performance.
Unlike a downhill bike, enduro bikes are designed to ride up the hill, and later down the hill as well. Only experienced riders will make the most of an Enduro bike.
Mullet bike is a type of mountain bike with mixed wheel sizes. Mostly the mixture is 27.5″ and 29″, although 26″ can be blended in some times as well.
---
Downhill / Freeride Mountain Bikes
180-210mm on the front, 170-250mm on the rear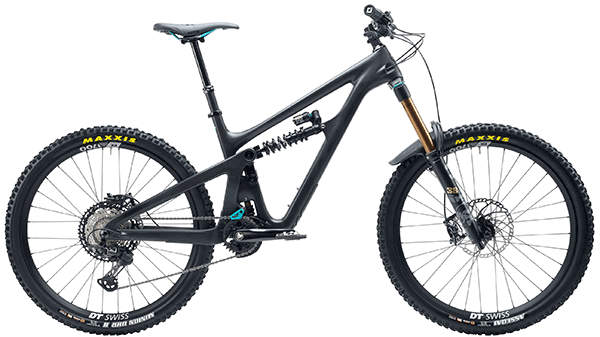 Always a full-suspension bike
Usually 27.5" wheels (rarely 26" or 29")
Slack head angle of less than 65 degrees
Single front chainring, 6 to 8-speed drivetrains are standard
Downhill and freeride bikes are designed to take the beating, full time! Steep drops, huge jumps, gnarly terrain, and all the previous at the highest possible speed.
These bikes are engineered to handle a mass amount of stress without a failure, for example, even downhill tires are made to be extra resilient to prevent punctures.
The geometry and parts on downhill bikes have been designed so that riders can go over obstacles with maximum traction.
To summarize, downhill bikes are only meant to go downhill, and on specific trails. They are not comfortably ridden as everyday all-around bikes.
---
Electric Mountain Bikes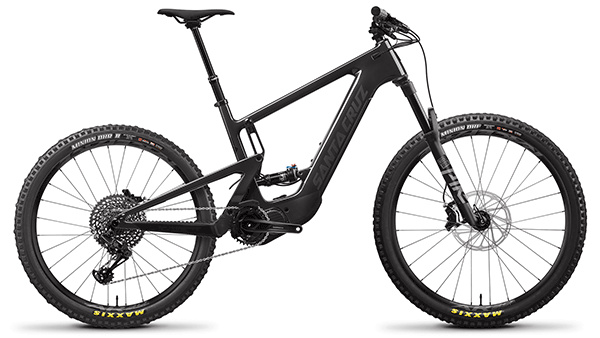 27.5″ and 29″ wheels
250W Mid-drive motors
Class 1 – Pedal-assisted to 20mph
1x front chainring, 1×12 is a standard drivetrain
Electric mountain bikes come in all sorts of forms and variations, but the majority of the rock is a full-suspension setup.
Although good-quality E-MTBs start from around $3,500, there are cheaper hardtail versions available as well. A mid-drive motor is a must, although cheaper electric MTBs come with a hub motor as well. Many of the eMTBs are built to offer better-assisted power when climbing or simply going for longer routes with some energy leftover.
If you aren't really sure of what to expect, we'd recommend looking at the bottom of the best-of article to get more information
---
Fat Bikes
Rigid frame, 26×4″ tires
3.8″ – 5.0″ wide tires
20″, 26″, 27.5″ wheels are around, although the 26″ is the most common
1x single front chainring
Mechanical or hydraulic disc brakes
Alloy / Steel / Carbon frames
Fat bikes were originally built to handle sand and snow, but the demand has widened the specter for many recreational cyclists.
Although those chunky tires and a rigid frame might give a false signal that they are hard to ride, it is actually the other way around. The large tires offer a lot of comfort, and the rigid frame helps to keep the momentum. These days more and more recreational cyclist have found their calling in the fat bike rides.
Typical fat bikes come with a rigid frame and 26″ wheels, but due to the large tires, it is equivalent to a 29″ wheel. Most fat bikes are light in weight and offer a ton of comfort on rugged trails which can't be passed by with standard-size mountain bike tires.
If a fat bike mountain bike isn't something for you, there are also many more variations of bikes on fat tire sizes, such as cruisers, folding, electric, and much more.
---
Gravel Bikes
Ideal mixture of road and mountain
650b wheels
Mechanical / Hydraulic disc brakes
1x drivetrain
Similar to touring bikes, gravel bikes are basically performance road bikes designed to tackle light to demanding trails. Most gravel bikes come on-road bike geometry and 650b wheels (27.5″) with knobby tires. You'll notice that most high-end mountain bike brands have also a gravel bike on their listing, as it truly is a perfect alternative for a 70% mountain-, and 30% road bike enthusiast.
Unlike cyclocross bikes, which are performance gravel bikes. gravel bikes also have eyelets for panniers and water bottles.
A gravel bike makes a perfect companion for commuter cyclists who are looking for speed, comfort, and accessibility to turn off the paved roads as well.
---
Dirt Jump Mountain Bikes
Dirt / Park / Freestyle
26 wheels
Single-speed
Aluminum = Lighter / Steel = More durable
Rigid or with front suspension
Super strong components, especially hubs, wheels, frame, etc.
Dirt jump bikes attract the bunch of adrenaline junkies who are looking to master jumps and tricks on custom-made parks and dirt jumps.
Whether it is a concrete skate park or custom-made jumps, dirt bike riding isn't for the faint-hearted, that's for sure! Dirt jump bikes are basically built to do the same tricks as BMX bikes while having a better reach and speed for certain descents, jumps, landings, and of course – tricks.
---
Trial Mountain Bikes
Bike trials are not very well-known as a mountain bike type, although it certainly is one. Trial biking consists of an obstacle course where the goal point is to make a certain trick or jump a gap without setting foot on the ground. The stunts generally start from standing still on a bike.
In this discipline, a cyclist has mastered bicycle control to a high degree.
Trial bikes might seem simple in their build, but they do cost a fortune! Every single detail about the bike is put together in order to offer minimum weight at the best durability.
Advanced balance, bike handling, and physical stamina is needed
Super durable components – every single one!
20″, 24″, 26″