Best City Bikes for Summer 2022
City bikes are designed for recreational cyclists who want to do short trips on paved roads.
Visiting friends, doing grocery shopping, or commuting to work or school, there are not too many requirements a city bicycle should have.
Those bikes generally have lightweight aluminum or steel frames with geometry designed to put the rider in an upright position that is less aerodynamic, but more comfortable. They typically have rack and fender mounts that allow for attaching pannier racks and mudguards for easier and cleaner commuting. The average cost of a city hybrid varies from $500 to $1,000 and $1,500 for electric city bikes.
How did we choose?
We looked up the best bikes on Amazon and REI based on their feedback and ratings. Also, most of the bikes and brands are found from the most-searched terms for a City Bike in Google search!
Almost all bikes in this list are chosen because you could order the bike online which gives a huge advantage of convenience. You can do plenty of research before buying the bike as well, and it obviously gets delivered to your door (or the nearest REI store).
---
Best City Bikes of 2022
1. Schwinn – Wayfarer
2. Electra – Loft 7D
3. Rad Power – RadMission 1
4. Co-op Cycles – CTY 2.1
5. Cannondale – Quick CX 3
6. Bianchi – Spillo Rubino Deluxe
7. Pure City – Classic Bike
8. Retrospec – Beaumont
9. Ancheer
10. Tommaso – Forza Disc
11. Cannondale – Quick Neo 2 SL
12. Pedego – City Commuter
13. Electra – Townie Go! 8D EQ
14. Specialized – Roll Sport EQ
15. Giant – Escape Disc
16. Trek – FX4 Disc
---
1

. Schwinn – Wayfarer
One of the best city bikes under 500 dollars due to their popularity, the Schwinn Wayfarer is a classic steel-framed city bike designed for short commutes. It comes equipped with fenders and a rear rack so you can carry luggage and stay clean and dry in bad weather conditions. The 7-speed drivetrain offers just enough gears for lightweight commuting or recreational cycling around towns and cities that have a few small hills.
You can choose from both a standard frame and a step-through frame for easy mounting, which is particularly useful for shorter cyclists. The swept-back handlebars provide a casual upright seating position and the soft, sprung saddle allows for all-day comfort. Schwinn bikes are an American icon, having provided cyclists with quality bicycles for over 100 years.
The 700c wheels and thick tires are perfect for quick cycling along the pavement or tarmac but also provide just enough grip and absorption for mild off-road terrain. For braking, you get standard alloy V-brakes which are sufficient for stopping in mild weather without heavy loads.
---
2

. Electra – Loft 7D

Lightweight & simple city bike!

MSRP: $600
Aluminum frame & hi-tensile steel fork
700x38c tires
7-speed Shimano Acera
Bike Weight: 31 lbs
Electra bikes, owned by Trek, focuses on making reliable bikes for casual commuters. Their 7-speed model Loft is an easy-going, lightweight city bike. Available in different designs for men and women, what keeps the same line are: upright riding position, chainguard, integrated fenders, comfortable cruiser bike type saddle, and pastel color schemes.
For stopping power you get a rim-brake. The Electra Loft 7D is the perfect bike for city commuters who just want to get going, each and every day.
---
3

. Rad Power – RadMission 1

Single-speed electric city bike
MSRP: $999
This Rad Power city electric bike is a tough powerhouse built to handle the rigors of rough city streets. It's packed with quality features like 650b wheels and 1.95 inch Kenda Kontact tires with K-shield puncture protection.
The massive 500W geared hub motor pushes out a huge 50Nm of torque, enough to power you up hills with ease and reach speeds of 20mph (32km/h). It draws power from a 48V Li-Ion battery that can take you 45 miles (72km) or more on a single charge.
The 6061 aluminum frame comes in both high step or mid-step versions, with a 31 inch or 28-inch standover, respectively. The Tektro Aries mechanical disc brakes provide decent stopping power in wet or dry weather but take note that this is only a single-speed bike so you will need the motor for hill climbing.
---
4

. Co-op Cycles – CTY 2.1

Best value hybrid city bike
MSRP: $749
The CTY 2.1 is more of a city mountain bike than a commuter, with thick knobbly tires and front suspension to swallow up big bumps and drops. Not only that, it comes with a massive 3×8 drivetrain, offering a wide enough gearing range to tackle steep inclines on loose terrain.
The aluminum frame is equipped with mounts for a rear rack and fenders, so you'll be able to carry extra luggage and brave wet weather days if needed. Add to that Shimano hydraulic disc brakes and you have one of the toughest, rough-and-ready city commuters on the market.
The CTY 2.1 is truly a city commuter for those who need to be ready for anything – from cycling through vacant lots and broken streets to battling snow and sleet, this bike will get you to work no matter what!
---
5

. Cannondale – Quick CX 3
MSRP: $825
Aluminum
700x40mm
Hydraulic disc brakes
63mm fork
2×8 speed
The CX is Cannondale's city bike from their hybrid bike fleet. What sets this bike apart from other models is obviously the front suspension fork which works wonders in uneven paths. There's just the right amount of gears to choose from for a recreational city dweller who needs a solid variation to gear up or down to, and the 2×8 drivetrain is ideal for that.
The CX series offers great value and an even better selection of bikes, and the CX 3 falls into the comfort-hybrid series which is light-trail ready while being a perfect choice for urban areas.
---
6

. Bianchi – Spillo Rubino Deluxe
The Spillo is a beautiful Bianchi city bike with a classic look and comfortable features. The iconic Bianchi color scheme combined with brown leather saddle and grips make for a stylish, head-turning appearance. It's a traditional aluminum bike with some classy features like a Selle Royale Rio saddle, Rapido mudguards, and front and rear lights.
The Shimano Tourney drivetrain offers a traditional 3×7 gear range, providing 21 speeds – more than enough for comfortable hill climbing. The Spillo comes with old-style V-brakes which means it isn't ideal for wet weather cycling but the 700×35 CST Xpedium tires have a decent grip.
The handlebars help to put you in a comfortable, upright seating position and are adjustable to fit riders of different heights and arm lengths. With a steel rear rack included you're ready to hit the town for shopping missions or commuting to work.
---
7

. Pure City – Classic Bike
MSRP: $499
The Pure City Classic is a modern commuter bike with new technology and old-style characteristics. The black hi-tensile steel frame with brown leather saddle and grips give it a timeless and sophisticated look with a solid, confident feel.
The Pure City Classic comes in both 3-speed and 8-speed so if you live in a very hilly city you have the option of a higher gear range. Shimano provides the groupset with a mix of Altus and Nexus components. Both include a single 44t chainring on the front and an internal rear hub, with drastically reduces the need for any extra cleaning or maintenance.
The thick-treaded 700c x 35c tires are perfect for smooth, soft cycling along rough city streets. You also get mudguards, a bell, and a kickstand, making this classic city bike ready to straight out of the box.
---
8

. Retrospec – Beaumont
The Retrospec Beaumont 7-speed lady's urban city commuter bike is a perfect example of what to expect in a simple bicycle. It's got all the features for a recreational cyclist – There's a single front cog drivetrain, fenders back and front, a side stand, and even a rear rack! The bike resembles a cruiser bike while its saddle is more suitable for longer rides as well.
---
9

. Ancheer
20inch wheels
36V 8AH lithium Ion battery
Lithium battery
7-Speed
Max load: 300lbs
25-50 km
Recommended for 5'1″ to 6'3″
This folding Ancheer Electric bike is the perfect city commuter for office workers who may need to use public transport in the event of rain. It uses a 36V removable battery to power you along at a sweet 20km/h and includes a front suspension fork for added comfort.
The small 20 inch wheels make the Ancheer Folding Electric ideal for easy storage and transport. The frame folds in the center and the handlebars drop down, making it easy to take onto a train or bus. On the rear, you get a convenient luggage rack to carry pannier bags, a backpack, or a briefcase.
With mechanical disc brakes for instant stopping and seven gears for easy hill climbing, you'll have no trouble scooting around any city, whether flat or hilly. The frame is made from tough, lightweight aluminum and includes an LED headlamp and horn for extra safety at nighttime.
---
10

. Tommaso – Forza Disc
MSRP: $849
700x32x tires
Mechanic disc brakes
3×7 speed Shimano Tourney
Tommaso bikes are known for their great value and decent set-ups for their price. You can find Tommaso bikes being sold on Amazon and Tommaso Cycling. We'd recommend buying from Tommaso Cycling directly as you'll get an already 95% assembled bike which has also been tuned so you'll be skipping the first maintenance that's needed to be done after 10-20miles on the bike.
---
11.

Cannondale 2020 Quick Neo 2 SL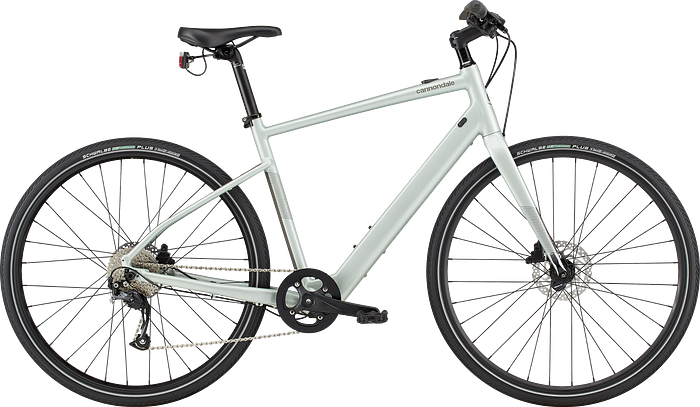 MSRP: $2,550
Range: up to 75km/47mi
Shimano 9-speed gearing
The Cannondale NEO SL 2 is a modern hybrid electric bike with a sporty look and feel. It's packed full of impressive technology, like a 250W MAHLE eBikeMotion X35 motor with battery and charger and an intelligent stem for smartphone mounting.
But the quality doesn't stop there – you also get solid Shimano hydraulic disc brakes, 38mm Schwalbe Energizer puncture-proof tires, and a 9-speed Shimano Altus drivetrain. The lightweight aluminum frame is complemented by a carbon front fork to help reduce weight and offer more precise steering.
You also get a speed sensor, ergonomic saddle and grips, rack and fender mounts, and 360-degree reflectivity for safer night cycling. It's quite possibly the last eBike you'll ever need!
---
12

. Pedego – City Commuter
350W motor
Range: up to 45miles
36V Lithium-ion battery
The Pedego Lite is a lightweight city commuter with a powerful 350W rear hub motor that provides hill climbing assistance and top-class acceleration up to 20mph (32km/h). With the removable 36V battery you'll be able to cycle up to 45 miles on a single charge. Simply slip it out and charge it overnight in your house, for the cost of about 10c worth of electricity.
The Pedego Lite has everything you need for commuting to work and back: a rear rack for carrying luggage or pannier bags, a comfortable sprung saddle, and puncture-resistant tires. The mechanical disc brakes combined with front and rear reflectors ensure you remain safe when cycling in bad weather or low light conditions.
The Shimano groupset includes a triple crank and 7-speed rear cassette to provide 21 gears – more than enough for even the steepest city streets. The upright handlebars include a convenient 2.5-inch screen, displaying your speed and remaining battery life.
---
13.

Electra – Townie Go! 8D EQ

City cruiser bike with a pedal-assist motor
MSRP: $2,200
For riders who like a bit of extra push, the Electra Townie Go! is the perfect city cruiser bike. Simply start pedaling and the 250W Bosch Active Line motor kicks in, helping you along with a cool 40Nm of torque. Reach speeds of up to 20mph (32km/h), powered by a 400Wh removable battery that recharges in only 6.5 hours. Depending on how much pedal assistance you require, the battery will take you up to 70 miles (112km) on a single charge.
For city commuters who want to get to work without sweat and strain, the Electra Townie Go! is the perfect vehicle. Not only that, it's comfortable and looks stylish with its laid-back seating position and extra-fat 2.35-inch balloon tires. Tektro mechanical disc brakes ensure you stop instantly when required and the 8-speed SRAM drivetrain means you have several options for how much effort you want to put in.
Pedal-assist range: 20-70 miles
26 x 2.35″
---
14

. Specialized – Roll Sport EQ
MSPR: $730
650b x 2.3″
A1 Premium Aluminum
Mechanical disc brakes
Shimano Tourney 7-speed
The Roll Sport EQ is a laid-back city cruiser bike with big, fat tires ideal for rolling along boardwalks or through central parks in sunny weather. The aluminum frame also has fender and rack mounts if you want to build this bike up to handle more long-distance commutes in bad weather.
Shimano provides a 21-speed Tourney groupset with a triple crank and Promax mechanical disc brakes, offering a wide range of gearing options and excellent stopping power. The 650b double-wall rims are fitted with large Nimbus Sport 2.3″ tires that swallow up bumps and vibrations while keeping you safe from punctures.
You also get a mini front basket for carrying small goods and a convenient kickstand for parking. The Roll Sport EQ is ideal for short commutes and recreational cycling in fair-weather cities.
---
15

. Giant – Escape Disc

Best city commuter bike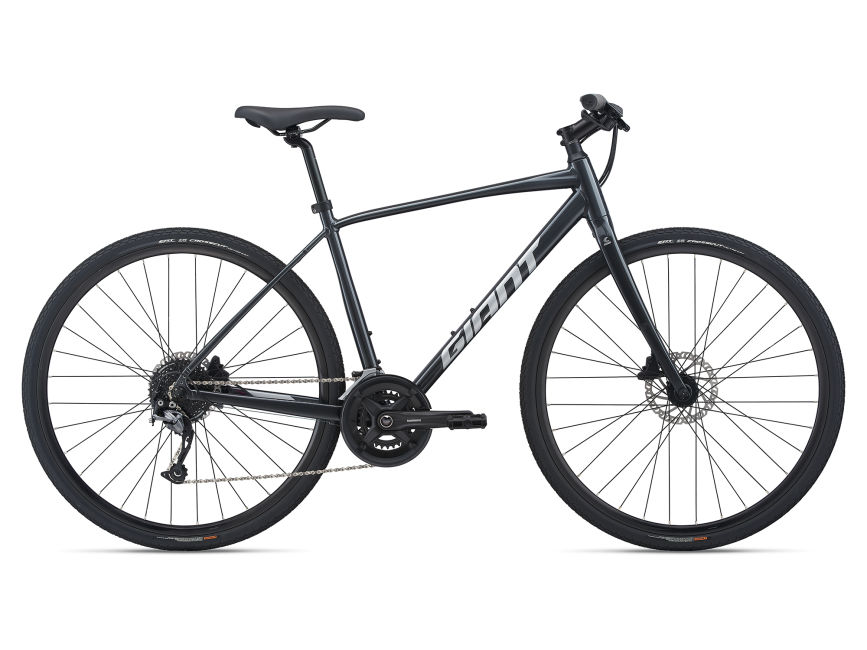 MSRP: $800
Aluminum frame
700x38c tires
Shimano Altus, Acera, Alivio
Hydraulic disc brakes
Giant is one of the largest bicycle manufacturers in the world and you'll see people riding on Giant's bikes on almost every continent. Here we have the mid-range commuter bike with a solid fork and hydraulic disc brakes. There are plenty of gears for a wide range of terrains, and also the geometry of the bike allows for both to ride recreationally or use it as a fitness bike too.
---
16

. Trek – FX4 Disc
MSRP: $1,000
Aluminum frame & carbon fork
Hydraulic disc brakes
Shimano Deore 11-speed derailleur
Trek is another large bike brand that has a ton of nice-looking and well-performing bikes on its list. Here you are looking at the thousand-dollar city bike that's ideal for an active pedaler who needs a set of components that are ideally suited for a more athletic individual.
The hydraulic disc brakes and 1×11 speed derailleurs are a treat for anyone who hasn't ridden a 'new bike' in a while, as the level of components is simply that great even compared to the set-ups 5 years ago.
---
FAQ
What is a city bike?
A city bike is any bike designed for use in built-up cities and towns. They usually don't have the features for off-road riding or fast cycling but are rather aimed at comfort and convenience.
City bike vs road bike
While road bikes are usually lighter and faster than city bikes, they don't offer the same level of comfort and often don't have mounts to attach a pannier rack and fenders. City bikes tend to have stronger frames for carrying the weight and thicker tires for a more comfortable ride with less chance of punctures.
As city bikes aren't intended for high speed and hill-climbing, they tend to have fewer gears and weaker brakes. This also makes them more affordable and accessible for amateur or casual cyclists.
City bike vs hybrid bike
Those two are quite similar, although the city bikes are more simple in a way, and built with cheaper components. Hybrid bikes are originally built to withstand both on- and offroad terrains, generally a mixture between a road and city, or a mountain and city bike.
City bikes are mostly equipped with either a basket in the front and/or a rack in the rear.
How much are city bikes worth?
A city bike can be one of the most affordable bikes but since the introduction of high-quality electric bikes, they range in price drastically. The cheapest basic city bike could cost as little as $200, whereas the top-of-the-range electric bikes go up to $5,000 or more. On average, you can get a decent non-electric city bike for around $500.
Different city bike frame materials
Steel – Aluminum – Carbon
Most city bikes are built on steel or aluminum frames. Steel is one of the cheapest selections and is known for its vibration-reducing qualities, while aluminum frames are lightweight and affordable, too. From mid-range bikes that cost around a thousand dollars also come with a carbon fork which is known to be super durable which won't fatigue over time, and absorbs the bumps really well, too.
There aren't many carbon city bikes around just yet because carbon frames are generally intended for advanced cyclists, and a city bike, in general, is best suited for recreational commutes.
Best place to find city bikes for sale?
REI – Cannondale, Co-op and Pure Cycles. Standard & Electric. Earn -10% member dividend.
Amazon.com – Most cheap city bikes represented.
Original manufacturers – Giant, Bianchi, etc.