Best balance bikes are an ideal way for children to master the essential skill of balancing, which is crucial for riding a two-wheeled bicycle.
Until recently, training wheels were the go-to choice for teaching kids how to ride. However, contrary to popular belief, they can complicate the learning process for children.
Instead, allowing kids to explore balance on their own with a balance bike often leads to more effective learning.
To help you choose the perfect model for your child, we have compiled a list of the best balance bikes available. These bikes are specifically designed to help your child develop their balancing skills and smoothly transition to a traditional pedal bike in no time.
For additional guidance, don't miss our comprehensive guide on teaching a child to ride a bike. In it, we discuss a proven step-by-step method that has been successful for many children.
---
1

. Prevelo Alpha Zero

Relaxed geometry and a modern design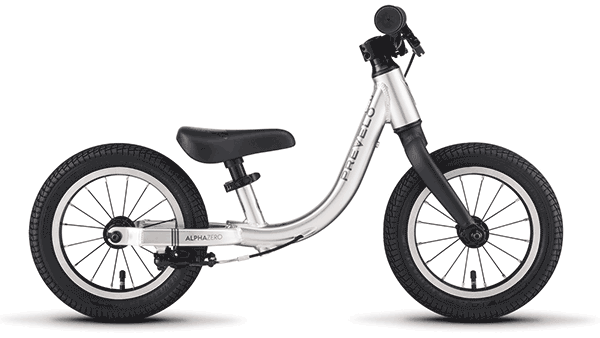 MSRP: $239
Fits: 12½" – 16½" Inseam length
Wheel size: 12″
Weight: 7.4 lbs
Prevelo Alpha Zero is one of the best-rated models in balance bike reviews online. It has a great ergonomic design which means it is a very comfortable balance bike for a toddler. It comes with 12″ air tires with good tread, so it will offer lots of grips if your kid turns the bars quickly.
What we also like (and your child will as well) is the paint job. There are four modern colors that you can choose from (Silver, blue, pink and red). So, this is both a girls' toddler bike and a boys' one. The brake cable on it is routed internally, which increases the safety and makes it more durable.
Related: Prevelo Bikes Full Review
If you want to invest a little bit more and make this a unique bike for a two-year-old, you can add custom color grips and a fun bicycle bell.
You can also write the name of your kid on the frame for an additional $20. To wrap it up, the Prevelo Alpha Zero is definitely one of the best balance bikes out there.
---
2

. Woom Original 1

Best balance bike for a toddler
MSRP: $249
Fits: 31 – 40″ tall kids
Wheel size: 12″
Weight: 6.6 lbs
Woom Original 1 is the definition of a well-designed toddler balance bike. It has a quality aluminum frame that weighs little and provides an upright geometry. The total bike weight is centrally distributed, which will make it much easier for your kid to develop a sense of balance.
To improve the safety features, this kids' balance bike by Woom Bikes has a reliable hand brake that slows down the rear wheel. It's much safer than a front brake, which can sometimes be the cause of a fall.
The Woom 1 is suitable for even the shortest kids because of low standover height. Therefore, children as short as 31″ can easily get on and off and start learning how to balance a two-wheeler.
Finally, this pedal-less bike has a steering limiter which will prevent the front wheel from oversteering. It's a safety feature that you can easily engage or disengage and that's very valuable for the youngest of riders.
---
3

. Shotgun Dirt Hero 14″

Balance Bike with a Hydraulic Disc Brake
MSRP: $459
Fits: 2-4-year-olds
Wheel size: 14″
Weight: 10 lbs. 4.5 oz.
The Shotgun Dirt Hero is one of the best-equipped balance bikes on this list, suitable for slightly older kids who are ready to practice some advanced skills.
It rolls on slightly larger 14″ wheels which makes it ideal for kids up to 4 years of age.
As you can see, this push bike is designed for off-road riding, so it's the perfect choice if you're a mountain biker and you want your child to join you on some tame trail rides and pump tracks.
It comes equipped with knobby tires and even a Magura MT4 rear hydraulic brake, which is not a common find on balance bikes.
The flip side is that the Shotgun Dirt Hero is a bit heavier than some other options on this list (10 lbs. 4.5 oz.), but it's still reasonably lightweight for young riders.
---
4

. Strider 12 Sport Balance Bike

Best-Selling Toddler Balance Bike
MSRP: $130 (on REI.com)
Fits: 18 months to 5 years, or a 12–20 in. inseam
Wheel size: 12″
Weight: 6 lbs. 11.2 oz.
Strider 12″ Sport is considered to be the best balance bike for a toddler by many experts and parents.
Its best selling point is the quality build, which means that you can pass this bike from one generation to another. It's designed to take all the abuse that toddlers put their bikes through.
If your kid is ready to start exploring their surroundings on two wheels, they can do it with the Strider 12 Sport model at just 18 months old. This toddler bike without pedals has mini grips, so even if your little one has tiny hands, they can still steer the bike confidently.
One thing that this model is unique for is the built-in footrests. Even though this is a pedal-less bike, your kid can still get a similar experience to riding a real bicycle and prepare for the real deal later on.
Best of all, toddlers can zoom around on this fun balance bicycle all day long thanks to the ergonomic seat, which will make the ride comfortable.
Buy from REI.com Buy on Amazon
---
5

. Co-op Cycles REV 12

Personalized Sticker Pack
MSRP: $139
Fits: 13.75 to 17.5 in. seat height range (for 2+ years)
Wheel size: 12″
Weight: 9 lbs. 0.3 oz.
Co-op Cycles makes great bikes for parents but does not let their toddlers down either.
Its Rev 12 model is a great example of that, as it has everything that the best balance bikes need to have. It's built with kids in mind, aiming to help them learn how to balance a bike quickly and transition to a real bike smoothly.
This Co-op balance model is suitable both for girls and for boys since it is available in two colors: Blue and Light Red. It's slightly heavier than some other choices here, but it's still light enough to be a great girls' balance bike.
All of the bolts on Rev 12 are secured with plastic safety caps, so there is no chance that your toddler will scrape their legs if they fall. Though, the air tires on this balance bicycle offer plenty of grip, so there's little chance of any major falls.
---
6

. Specialized Hotwalk

12-inch airless tires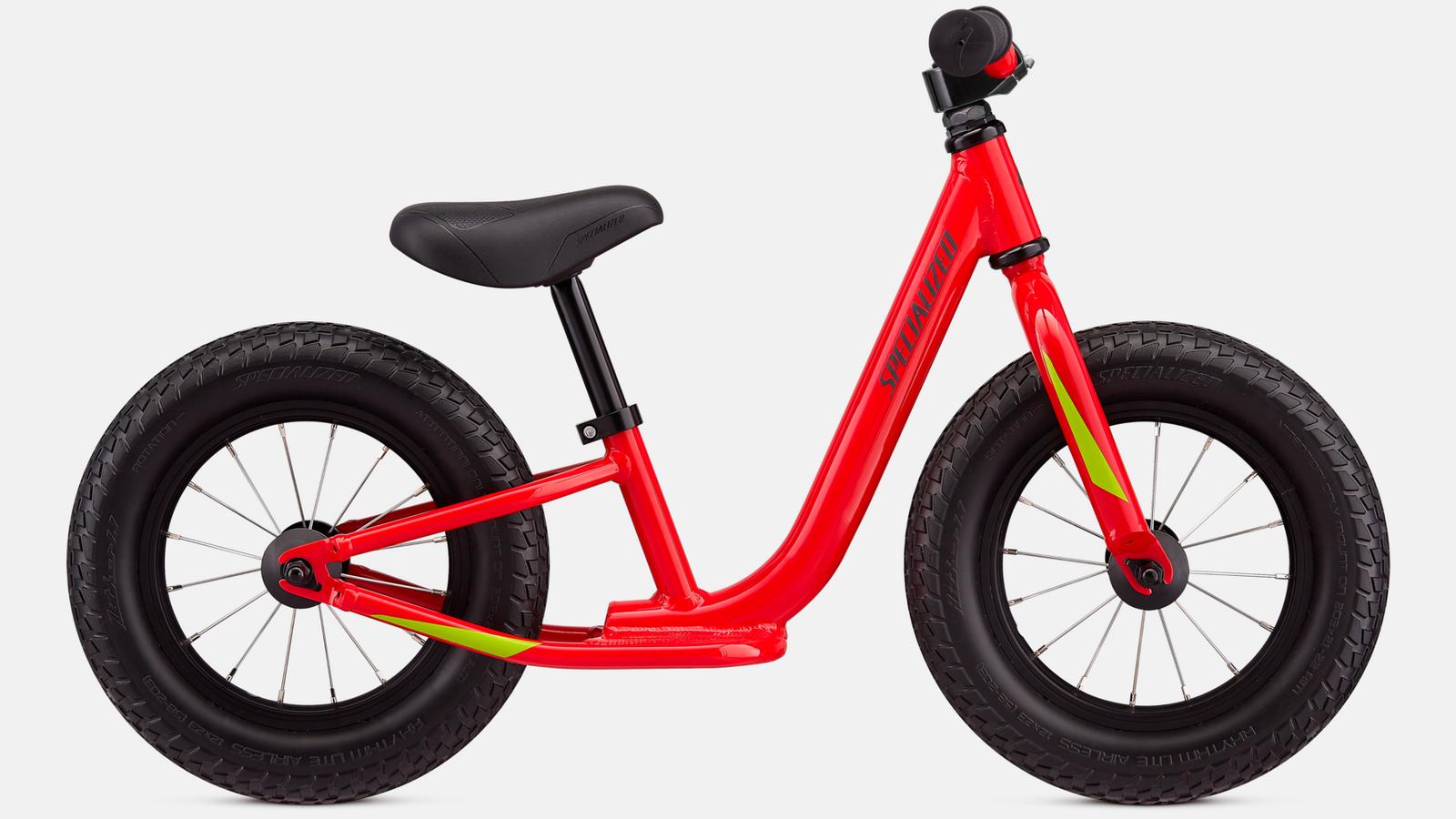 MSRP: $225
Fits: 11.06″ standover (18 months to 4 years old)
Wheel size: 12″
Weight: Not available
Specialized is one of the best and most famous bike brands in the world. They make high-quality bikes for adults, but they also make excellent kids' bikes, including balance bikes.
The Hotwalk is one of their best-selling models, because it keeps things simple and does exactly what it needs to do, without overcomplicating things.
This 12-inch balance bike will teach your toddler the basics of balancing on two wheels while preventing crashes and keeping the process fun.
It rolls on airless tires that cannot get punctured and has a place for kids to rest their legs while zooming around, preparing them for placing their feet on pedals.
Get it if you want big-brand reliability and a balance bike that could be used by generations to come.
Buy from Specialized.com Buy from JensonUSA.com
---
7

. Firstbike Cross

Coolest Design & Air Tires
MSRP: Check on Amazon
Fits: 12″ – 17.5″ seat height
Wheel size: 12″
Weight: 7.5 lbs
The Firstbike Cross can be best defined as a moto-style balance bike. It resembles a motorbike thanks to the unique frame and the knobby tires, but it still works as a great toddler push bike.
The first thing that will catch your eye is the weatherproof composite frame. It not only looks good, but it is durable and practical as well. It keeps the weight down, and it's quite flexible. This is great for lighter kids, but it might bend too much under heavier riders.
When it comes to safety features, the Firstbike Cross has a turning limiter, knobby tires, and a rear hand brake that's easy for toddlers to press.
If your kid is adventurous and loves riding on gravel and bumpy terrain, this motorbike balance bike can definitely keep up with them. On top of that, a Ski kit is available as well, so it can be a great solution for fun adventures on snow as well.
---
8

. Banana Bike LT

Great value for money
MSRP: Check on Amazon
Fits: 12. 2″ to 15.7" seat height (2-5 years)
Wheel size: 12″
Weight: 6.4 lbs
The Banana Bike LT is a great budget kids' bike without pedals for parents who do not want to break the bank.
If you buy it, you'll get a dependable two-wheeler that will be both fun and useful for your child. Regardless of the low price, it's a great medium for toddlers to fall in love with cycling.
This Banana model has a light frame shaped like a banana, which is the best shape for a balance bicycle. It ensures a very low standover height and keeps the rider in an upright position.
Another reason why this model would be a good purchase is the 12″ air tires that are much more comfortable compared to foam tires. They are also very hard to puncture, as kids don't weigh that much.
We also like the selection of colors, as you can surprise your toddler with a blue or green frame. The seat height is adjustable with a quick-release clamp, so no additional tools are required.
---
9

. Woom 1 Plus

Suitable for taller toddlers
MSRP: $299
Fits: 37″ to 43″ tall kids
Wheel size: 14″
Weight: 9.5 lbs
If your kid is already past the tiny toddler phase, then the Woom 1 Plus is the best choice for them.
It is the best balance bike for a 3-year-old due to its height and advanced features. This is a 14-inch balance bike, so your preschooler will not feel cramped on it.
When they get a hang of balancing, they can use a comfy wooden footrest to glide for longer. It will also help them understand how it feels to ride with pedals. However, this surfboard is removable, so if a smaller toddler rides it, you can quickly take it off.
On top of that, this is a balance bike with brakes, both front and rear. Older kids are usually more confident and like going faster, so there'll be no issues with stopping. Plus, the handlebars are adjustable, so you can easily find the right fit.
After practicing with the Woom 1 Plus for a few weeks, your preschooler will be riding a pedal bike without any issues.
---
10

. Public Sprout Mini

Fun Retro Design
MSRP: $220 (Mike's Bikes / Public Bikes)
Fits: 14.5″ – 21.25" seat height
Wheel size: 12″
Weight: 10 lbs
The Public Sprout Mini is a fun and stylish balance bike with a timeless retro design.
Apart from the looks, the Sprout Mini has quality knobby tires and eco-leather saddle and grips that feel comfortable with longer use.
This balance bike will certainly take a lot of abuse, and you can pass the bike on in your family from one toddler to another.
The geometry is nicely centered so that the balance point will be exactly below your little boy's or girl's hips.
Finally, the Public Sprout Mini features airless tires that will never go flat, so your child can keep riding and learning without any breaks.
Buy from Mike's Bikes Buy from Public Bikes
---
11

. Cannondale Trail Balance

With Cannondale's Lefty Fork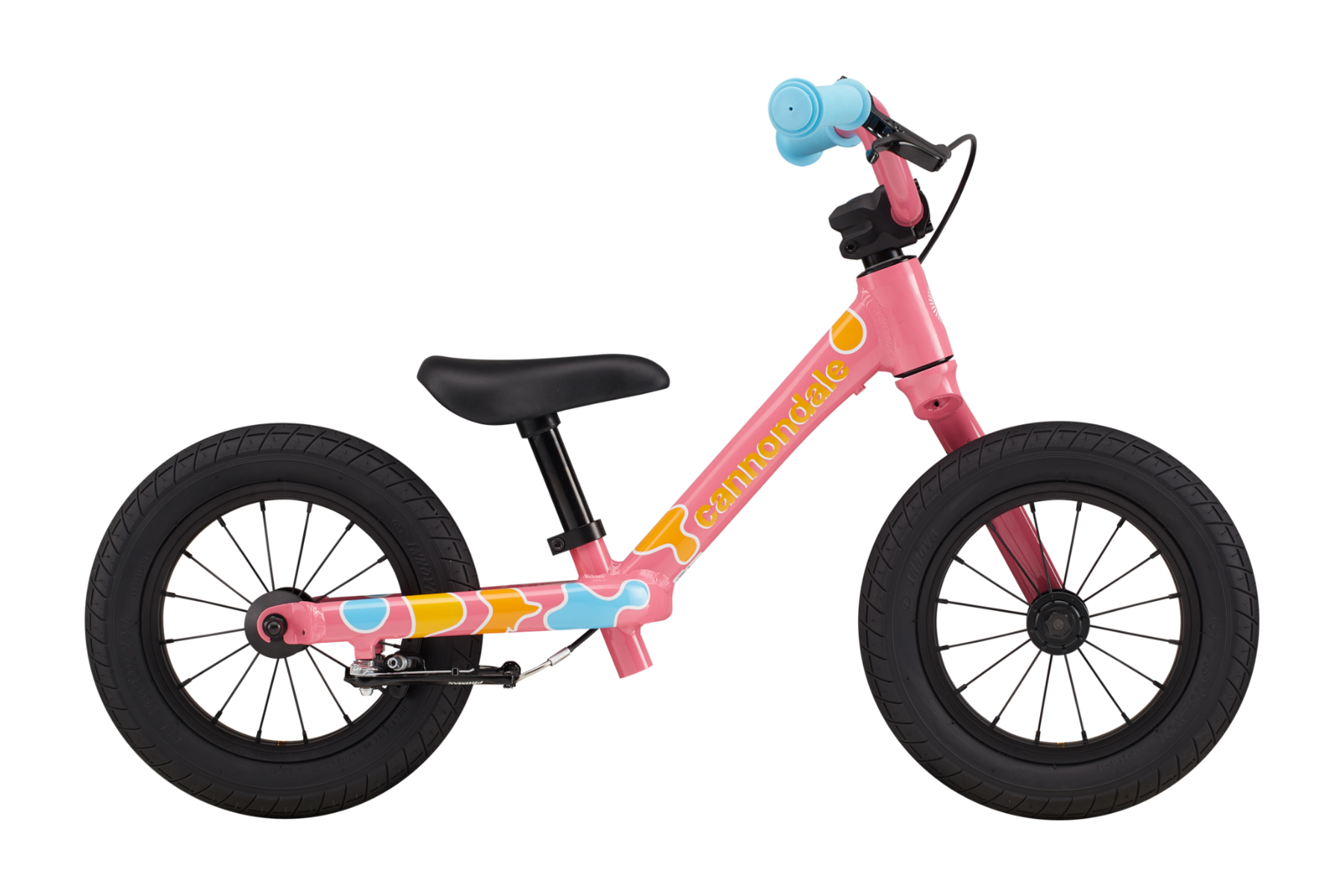 MSRP: $240
Fits: Kids 3'1″ – 3'6″ tall
Wheel size: 12″
Weight: Not available
If you want your toddler or your preschooler to have the most eye-catching balance bicycle on the block, you can't make a better choice than the Cannondale Trail Balance.
Cannondale is famous for their unique lefty fork found on its high-end mountain bikes, but that fork is now available on this kids' balance bike as well.
Apart from interesting looks and the originality factor, this fork also lowers the total weight of the bike, which is always a positive thing on two-wheelers designed for toddlers.
The Cannondale Trail Balance bike also has a rear brake, 12-inch puncture-proof foam tires, and a fun colorful paint job.
---
12

. Creme Cycles Micky
MSRP: $170
Fits: 34.5 – 41 inches tall kids
Wheel size: 12″
Weight: 10 lbs
From the point of the design, the Creme Cycles Micky might be the best-looking bike without pedals for toddlers on this list.
It has air tires instead of foam tires, which is a much better choice in terms of comfort and grip, even though they could get punctured if unlucky.
This bike has no hand brakes, but your toddler can easily slow down with their legs. The standover height is quite low, so this model is more suitable for shorter toddlers 34.5 – 41″ tall.
All in all, in our opinion, this is the most classy toddler bike with no pedals that you can surprise your kid with. A model with a basket is available as well, so you child can bring their favorite toy along for the ride.
---
13

. Strider 14X

Best Balance-To-The-Pedal Model
MSRP: Check on Amazon
Fits: 16 – 23″ inseam (3-7 years)
Wheel size: 14″
Weight: 12.5 lbs
Strider is one of the best manufacturers out there when it comes to making well-designed toddler bikes. This toddler balance bike can be easily transformed into a pedal bike with several simple tools and additions.
The Strider 14X model grows along with your child. If you have a wunderkind who easily learns new skills, this is a good solution to make a purchase last longer. The footrests can be switched for pedals with a pedal kit in several minutes, and there is also a chain guard to prevent any oil smears.
This is a 14-inch balance bike, so it's more suitable for preschoolers than for toddlers. The saddle height has a wide range, so your kid can have fun on this kids' balance bike until they are seven years old.
---
14

. The Croco Balance Bike

Fun Colors and Simple Design
Fits: 11-18″ inseam
Wheel size: 12″
Weight: 4.3 lbs
The Croco Balance Bike is an affordable choice that offers a lot of bang for the buck. First of all, it can work both as a baby balance bike for very young toddlers and as a bike for 5-year-old kids. The blue, green, pink, and orange colors are adored by both girls and boys.
The adjustment of both the saddle and the handle bar height is possible so that you can maintain the upright riding position at all ages. Most importantly, parents can assemble this bike in minutes thanks to the quick-release lever that this toddler push bike comes with.
We also love the padded saddle, and other balance bike reviews praise it as well. Overall, the Croco Balance Bike is quite long (33.5 in), which means it is more stable on uneven terrain. All of this makes it the best balance bike for toddlers according to many.
---
How to Choose the Best Balance Bike
---
Tire Size and Weight
If you're thinking about how to choose the best kids' bike, tire sizes and weight are the most important aspects to consider.
Balance bikes are usually available with 12″ tires. Sometimes, they also come with 14″ or 16″ tires. The 12″ wheels are most popular and are generally seen on baby balance bikes, which are suitable for up to 3 – 4-year-old kids.
Bigger wheels are better suited for preschoolers, who are up to 7 years old, as it's never too late to use a balance bike.
A good rule of thumb to follow is that the weight of a balance bike doesn't exceeed 25 – 30% of the kid's weight.
Weight is also very important. Most toddler bikes without pedals weigh less than 10 lbs. The lower the better because it will be easier for your kid to control the bike. In any case, if they fall, even 10 lbs is not enough to cause an injury.
---
What Age Is Appropriate for a Balance Bike?
If your toddler can walk, they can also ride a balance bike.
Some kids get on a pedal-less bike when they are one year old, others when they are seven. If a balance bike is too big for your child, you can also consider a pre-balance bike which is going to be good practice for learning to ride.
If your toddler can walk, they can also ride a balance bike.
The only limitation to using a pushbike is the inseam length and not age. So, if your kid has long enough legs to sit on the saddle and touch the ground comfortably, they can start exploring the world on two wheels without training wheels.
---
Frame Materials
Any of these three materials have both advantages and disadvantages. Aluminum is slightly heavier, but it is the most durable. Wood and plastic might last a bit shorter and be more difficult to repair, but they are reasonably lightweight.
But, all of these materials can be used to make a great balance bike for a toddler. For example, Chillafish balance bikes are made from plastic, and they are quite popular. Also, Wishbone Cruise is made from recycled wood, but it looks and performs excellently. It's hard to make a mistake whatever material you choose, but aluminum is the best one.
---
Air or Foam Tires?
Both air-filled rubber tires and foam tires have their advantages and disadvantages. There is no right answer regarding which one to choose.
Foam tires are intended for kids who are just starting out with balance bikes. Foam tires weigh less and can't get a flat. On the other hand, there is very little cushioning and traction.
Air tires allow more flexibility, but could get a flat, which would mean time off the bike until it gets repaired. Such tires allow setting different air pressures for various terrains. The cushioning and grip are better, but parents must check the tire pressure regularly.
---
Brakes
Many balance bikes don't have brakes. If your kid is learning to ride, it is crucial to teach this aspect of cycling as well!
You can find brakes on more expensive balance bikes, but kids can also use their feet to slow down a balance bike if they need to.
Brakes, however, can prepare a child to ride a pedal bike that already has hand brakes, though some kids' pedal bikes come with coaster brakes. Not to mention the fact that you can save your kids' footwear and prevent injuries.
There are very few manufacturers who offer front brakes. Make sure to first teach your kid how to use these.
Our tip: If your kids have younger siblings, consider buying a balance bike with brakes for the older one. That way, you can get a bike for the younger one and teach your older one to use brakes.