The Best Electric Bikes (of 2022) You Can Order Online
Are you in the market for a new commuter bike?
If so, why not read our list of the best electric bikes, a culmination of the most popular electric bikes that people have searched for and bought online in 2022.
Citius, Altius, Fortius
Proponents of electric bikes, or eBikes, believe they represent the next logical evolution in green transport. eBikes reduce fossil fuel usage and emissions from transport while simultaneously offering an enjoyable way for commuters to travel.
Electric bikes are the future – there's no doubt about that. And here are some of the main reasons people turn to electric bikes:
65% of riders use their electric bike to replace their car
66% of cyclists said that they preferred an eBike because of the hilly terrain, especially for their work commutes
Nearly 75% rode their eBike to different destinations than their standard bike
Not only this, but ebikes can also offer:
Extra power on hilly commutes
Extension of ride length
A way of cycling despite previous injuries such as knee or back pain
Comfort & convenience
Fun
Related: 11 Reasons Why NOT To Get an E-Bike
Most eBikes require some pedaling to power, therefore provide a modicum of exercise while not forcing the rider to break a sweat. While cycling has grown in popularity, many people still balk at the idea of showing up to work all sweaty!
---
What are the eBike classes?
Class 1 E-Bike

– Pedal-assist only – without a throttle.
Max assisted speed of 20mph, motor wattage up to 750W.

Class 2 E-Bike

– EBike with a throttle, and optional pedal-assist mode.
Max assisted speed of 20mph, motor limited to 750W.

Class 3 E-Bike

– Pedal-assist eBike.

Throttle option available

on some bikes.
Max speed of 28mph, motor limited to 750W.

Class 4 E-Bike

– An electric bike with the highest maximum speed of over 28mph /or motor wattage 750W or over. Considered a motor vehicle (electric moped).
---
Table of Contents
---
The 11 Best 🏆 Men's Electric Bikes of 2022
1. RAD POWER BIKES – RadRover 5 – $1,699
2. JUICED – CrossCurrent – $2,499
3. AVENTON – Aventure – $1,999
4. LECTRIC – XP 2.0 $999
5. RIDE1UP – 700 Series – $1,695
6. CO-OP CYCLES – eCTY – from $1,999
7. ELECTRA – Townie Go 7D – $1,499
8. QUIETKAT – Villager – $2,799
9. CANNONDALE – Canvas NEO SL 2 – $3,200
10. RAD POWER BIKES – RadRunner – $1,199
11. TERN – Vektron S10 – $3,699
Best Electric Mountain Bikes >
---
Rad Power Bikes
RadRover 5
Best electric fat bike on the list – over 3,700 ratings!
Weight – 69 lbs
Battery – 48V 14Ah (672Wh)
Motor – 750W
Range – 45mi
Torque – 80Nm
Price: $1,699
Rad Power Bikes

At less than $1,700, the RadRover 5 from Rad Power Bikes is one of the best value-for-money fat tire eBikes on the market. It comes fully equipped with wide puncture-resistant 4" Kenda K-shield tires, a 7-speed Shimano drivetrain and a front suspension fork with 80mm of travel. 
Tektro Aries mechanical disc brakes with 180mm rotors
Twist-grip throttle
Custom RST Rad Power Bikes front fork with 80mm travel – lockable and has an adjustable preload
750W Bafang geared hub motor
Integrated front & brake light
Puncture-resistant tires with reflective sidewalls
7-speed drivetrain
Max payload capacity: 275 lbs
The 750W Bafang geared hub motor makes this e-bike feel more like a motorbike as you tear up the mountainside. With integrated lighting, mechanical disc brakes, and reflective sidewall tires you'll feel safe in any weather conditions – just don't get lost in the mountains! 
---
Juiced Bikes
CrossCurrent X
Fully equipped commuter bike with with an extended range

Weight – 65 lbs
Battery – 52V 19.2Ah (998Wh)
Motor – 750W
Range – 80mi
Torque – 80Nm
Price: $2,499
Juiced Bikes
Juiced Bikes' CrossCurrent X is a powerful commuter e-bike optimized for comfort and safety on urban streets.
This bike's electronics are its most standout feature. Firstly, a 750W/80Nm rear-hub motor with torque and cadence sensing provides plenty of speed and acceleration. This is backed up by a huge 998Wh battery which can last up to 80 miles in ideal conditions.
Tektro HD-E350 Hydraulic Disc Brakes with 180mm Rotors
Thumb Throttle
Suntour NCX Front Suspension Fork – Hydraulic Lockout and Adjustable Spring Rate
750W Bafang Geared Hub Motor
Integrated LED Front & Rear Light
700x45c Schwalbe Marathon Plus Tires with Reflective Sidewall Strip
9-Speed Shimano Altus Drivetrain
Max Payload Capacity: 275 lbs
With the focus on safety, Juiced fitted the CrossCurrent X with a 1000lm front headlight and 'be seen' rear light. Additionally, you have powerful Tektro hydraulic disc brakes and high-grip 45c Schwalbe Marathon Plus tires with a reflective sidewall.
Finally, this bike also comes with the necessary components to make commuting convenient including a rear rack, fenders, a heavy-duty kickstand, and fork suspension.
---
Aventon
Aventure
Smartphone compatible

Weight – 73 lbs
Battery – 48V 15Ah (720Wh)
Motor – 750W
Range – 19-53mi
Price: $1,999
Aventon
The Aventure by Aventon is the company's most powerful and versatile model, yet is still sold at a very affordable price.
Comfort and convenience are two of the most important aspects of this e-bike. An 80mm travel front fork, large shock-absorbent 4″ tires, a plush Velo saddle, and upright geometry give this bike a smooth and comfortable ride quality on varied terrain.
The Aventure comes with a large 750W motor and a 720Wh high capacity integrated battery which makes taking on hills and soft terrain a breeze. Additionally, you can expect an average range of 45 miles with support from an 8-speed drivetrain.
Size Recommendation
S: 5'1″ – 5'7″
M: 5'7″ – 5'11"
L: 5'11" – 6'4″
Hydraulic Disc Brakes with 180mm Rotors
Thumb Throttle
Front Suspension Fork, 80mm Travel, Lockout
750W Brushless Geared Rear-Hub Motor
Backlit Color LCD Display
26×4″ Ebike Rated Tires
8-Speed Drivetrain
Max Payload Capacity: 300 lbs
Finally, integrated lights, fenders, and a smart backlit LCD screen which combines with the Aventon app mean that this bike performs well above its entry-level price tag.
---
Lectric
XP 2.0
Best Under $1,000 eBike 🏆
Weight – 63lbs
Battery – 48V 10.4Ah (500Wh)
Motor – 500W
Range – up to 45mi
Torque – N/A
Price: $1,099 $999
Lectric ebikes
The Lectric XP 2.0 is one of the most searched unisex electric bikes available online!
Whether you are after an all-around commuter to ride through mild trails or on city streets in comfort and style – here's your answer.
In essence, the XP 2.0 is a folding bike with a motor on it. The upgraded (2.0) version comes in three different designs, and it accommodates riders between 5'2″ and 6'2″ in height. The geometry is comfort-orientated, suitable for riders of all ages and experiences. At a surprisingly low price tag, this combination of features is definitely something that has stood the test of time.
Whisper silent!

ARRIVES FULLY ASSEMBLED

5 pedal assist modes
Integrated front and rear lights
Tektro 160mm mechanical disc brakes
CST

3″ x 20″

fat tires – max tire pressure

30psi

– 2bar
Charge time: 4-6 hours
Battery weight: 7lbs – 3.1kg
Folded dimensions: 37″ x 18″ x 27″ – 94cm x 46cm x 69cm
Unfolded Dimensions: 67″ x 18″ x 47″ – 170cm x 46cm x 120cm
Rear rack and fenders
Maximum rider weight: 275 lbs – 125kg
Rear rack max capacity: 55 lbs – 25kg
MAX SPEED

:

20

mph throttle only –

28

mph pedal-assist
The Lectric XP 2.0 is fun, versatile, affordable, and with an outstanding score of ratings & feedback! Upgrades from the previous model include a reduced tire width from 4″ to 3″, oil suspension instead of a rigid fork, front-basket eyelets, wider handlebars and a greater Waterproof Rating (IP65).
---
Ride1UP
700 Series
Great comfort at superb value!
Weight – 62 lbs
Battery – 48V 14Ah (672Wh)
Motor – 500W
Range – 30-50mi
Torque – 60Nm
Price: $1,695
Ride1UP
The 700-series electric bikes were among the most popular e-bikes of 2021.
As Ride1Up Bikes sells their bikes directly to the consumer without the middle man (Such as Priority Bicycles and Rad Power Bikes, too), they have managed to keep their prices affordable. Ride1UP has six bikes in their fleet, all of which you can choose different colors and frame types. The bikes start from as low as $995 and go up to $2,295, and the 700-series sits bang in the middle of their selection.
The 700-series e-bikes are built using an aluminum frame, 650b wheels, and are powered by a 500W (800W peak) motor. As it is a Class 3 electric bike, it has both throttle and pedal-assist modes which assist up to a speed of 20-28mp/h, with a range of 30-50 miles per charge! You can use this bike on both the city streets and light trails with comfort as this model is equipped with a 100mm fork that has a hydraulic lockout. Lock it in to save energy when riding on paved areas, and open up when riding off-road!
The 27.5×2.4″ tires are quite wide but are provided for ultimate comfort, and as a nice extra they have included hydraulic disc brakes instead of the mechanical, which are very common at this price range of eBikes!
---
Co-op Cycles
eCTY
Co-op Cycles are well known for their great value & positive feedback
Weight – 50.5 lbs
Battery – 36V 11.6Ah (418Wh)
Motor – 250W
Range – 50mi
Torque – 40Nm
Price: from $1,999
REI Co-op
Equipped with all the essentials you can expect from a hybrid eBike, you won't be dissatisfied with the eCTY's selection. With hydraulic disc brakes, e-bike specific forks, an upright riding position, and an integrated rear rack, these bikes indeed offer a ton of value considering the lack of ebikes of this type on the market.
---
Electra
Townie Go 7D
Best beach cruiser electric bike
Weight – 48 lbs
Battery – 309Wh
Motor – 250W
Range – up to 50 miles
Torque – 40Nm
Price: $1,499
REI Co-op
This full-sized town cruising bike from the Trek-owned Electra brand features a low seat angle and forward pedals for relaxed riding. It has wide tires for comfortable, smooth rolling over any surface and comes with a convenient rear rack for luggage. Power comes from a Hydrive 250w rear hub motor and 309Wh battery which provides decent speed.
Related: Best Beach Cruiser E-Bikes
The patented Flat Foot Technology allows riders to achieve fully-stretched legs while cycling and still have a flat-footed position on the ground when stopped. Shimano provides the 7-speed drivetrain and Tektro mechanical disc brakes ensure you have no trouble stopping in any weather conditions.
Lightweight aluminum 6061 frame
27.5″ wheels
7-speed Shimano Tourney TY rear derailleur
RevoShift shifters
LED Display shows battery charge/support level /
Mechanical disc brakes
Custom balloon tires
Chainguard
Internally cabled wires
Rear rack
---
Quietkat
Villager
A hunting & fishing eBike to rule the outback
Weight – 50 lbs
Battery – 48V 11.6Ah (557Wh)
Motor – 500W
Range – up to 40mi
Torque – N/A
Price: from $2,799
Quietkat
QuietKat E-Bikes are well known for their quality and durability, and the Villager is their urban E-Bike perfect for commuting and city riding.
The 500W hub drive motor is great for zipping around town without breaking a sweat. And anyone who has ever ridden in the rain for long enough will tell you how important good fenders are, which is why QuietKat made custom fenders that come stock with every Villager. An integrated rear rack makes it easy to bring anything you might need with you, whether it's picnic supplies or your laptop and paperwork.
For city riders who want a great feeling E-Bike that can also handle a bit of off-road, the Villager from QuietKat has you covered.
---
Cannondale
Canvas NEO SL 2
Men's electric commuter bike with a 60-mile range
Weight – 47 lbs
Battery – 400Wh
Motor – 250W
Range – 60mi
Torque – 50Nm
Price: $3,200
REI Co-op
This great-looking Cannondale electric bike is the most stylish commuter e-Bike in town. Turn heads when you show up to work on this slick and attractive piece of machinery. The Cannondale Canvas comes in a metallic 'Sage Grey' color that gives it a futuristic, metal look.
With extra-large Schwalbe G-One puncture-proof tires and Shimano hydraulic disc brakes, you'll feel perfectly safe scooting along busy streets or off-road trails. The durable Bosch engine and 400Wh removable battery will take you 60 miles on one charge, leaving you fresh and full of energy to start the day.
Lithium-Ion battery
Charge time: 4.5h
SmartForm C2 alloy frame
Ballistec carbon fork
29″ wheels
Drivetrain: Bosch 1×9
Shimano Acera shifters
Shimano Alivio rear derailleur
Max assist speed: 20mph
Shimano MT200 hydraulic disc brakes, 180mm rotors
WTB STX i29 TCS 32h rims
---
Rad Power Bikes
RadRunner
Over 2,200 reviews!
Weight – 65 lbs
Battery – 48V 14Ah (672Wh)
Motor – 750W
Range – 25-45mi
Torque – 80Nm
Price: $1,299
Rad Power Bikes
Rad Power bikes offer a wide selection of bikes in its Rad-eBikes range, with the RadRunner 1 being its flagship product. This little 750w electric bike is ideal for buzzing around town, visiting friends, grabbing groceries, or going to work. 
The Rad Runner 1 can do up to 45 miles or more per charge and has a simple, single-speed drivetrain to add power when needed. It's built around a strong aluminum frame with an integrated luggage carrier and can be fitted with a soft pad or carrier for a child or small passenger. At just over $1,000, it's easily our choice for the best value electric bike.
Puncture-resistant tires with reflective sidewall striping
Single-speed drivetrain
LED control panel
Integrated rear rack
Low-step frame design
Integrated brake light
Rigid front fork
Upright handlebars
Dual leg kickstand
Twist Grip Throttle
Max Capacity: 300 lbs
---
Tern
Vektron S10 Gen 2
The best value foldable electric bike that's suitable for the whole family. Fastest charge time of the bunch
Weight – 48 lbs
Battery – 400Wh
Motor – 250W
Range – 31-62mi
Torque – 50Nm
Price: $3,699
REI Co-op
If you're the kind of cycle tourist who likes to use trains and buses often, you can't go wrong with the Vektron S10. This folding electric bike has a large rear rack that folds up with the bike and is compatible with Thule and Nexxt child carrier seats. It's one of the few folding e-bikes that can carry passengers.
Related: Best Electric Folding Bikes
An adjustable seat and handlebars make it ideal for any size riders from 147 – 195 cm. (4'10" – 6'5" feet). Schwalbe Big Apple 20" tires are tough, puncture-resistant and water-shedding – so you'll only need to get on the bus or train when you want to. When folded, the bike fits conveniently under a desk, in a large suitcase, or neatly in a corner.
Folding Time: 10 sec / Folding Size: 16.1" x 33.9" x 26.8" – 41 x 83 x 68cm
Speeds: 1×10
20″ wheels / Weight: 48.8lb (22.1kg) / Max Load Capacity: 230lb/105kg
Magura MT 4 hydraulic disc brakes
Fenders in the front & back
Atlas rear rack with a max capacity of 59lbs/27kg. Suitable for Thule Yepp or Nexxt Maxi seat without adapters!
Bosch Purion Control Panel allows switching between five different riding modes. It shows battery level, distance and speed.
Bosch Active Line Plus – 20% lighter and 25% smaller than previous models
A heavy-duty updated OCL+ frame joint, hinge exceeds

ISO 4210 and EN 15194 testing requirements

!
Updated Vektron Frame – Improved comfort for taller riders
---
How To Choose
The best introduction on which electric bike to choose can be found on REI's Expert Advice
---
Electric Bikes Qs and As
Electrically Powered Bicycle = Electric Bike = eBike
Mid-Drive

vs

Hub Motor

Electric Bike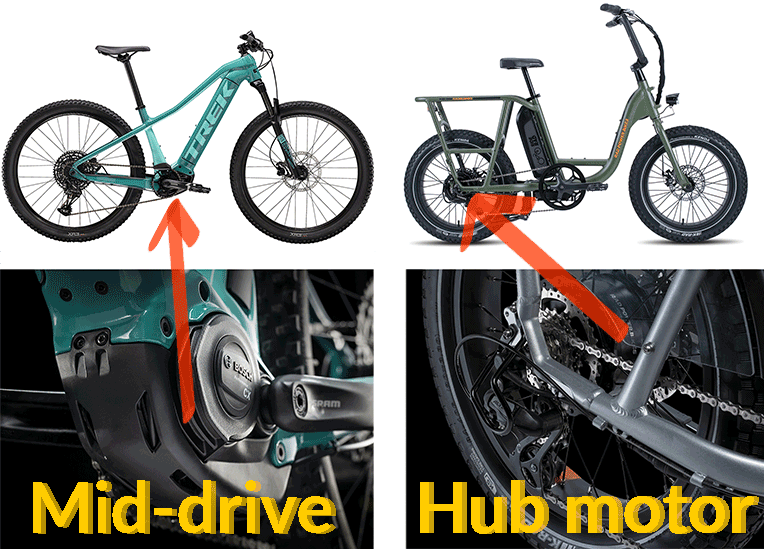 Related: Hub motor v mid-drive
Mid-Drive electric bikes PROS:
Better feel due to the balanced centre of gravity
Easier to change tires
Motors are smaller and lighter
Better gear ratio and more torque when going uphill with lower gears
Mid-Drive electric bicycle CONS:
Expensive
Difficult to maintain
Snapping a chain is more likely to happen due to excessive tension when going up steep hills.
---
Hub Motor e-Bikes PROS:
Affordable
Has a noticeable push
Best for off-roading as there's more weight over the rear end
Hub Motor e-Bikes CONS:
Extra weight on the rear wheel has an unevenly distributed central weight compared to a standard bicycle
Harder to change tires
---
Q

: Are Cheap E-Bikes Worth It?

Depending on which type of bike are you looking for – we'd say $1,000 for a road eBike is far too cheap to expect it to last and perform well, while $1,000 for a standard eBike that's built by a well-known brand can be a great bike for everyday commutes.
---
Q

: What Extras Do I need?

A kickstand will make things a lot easier for you, and front/rear lights come in handy in terms of safety as well.
---
Q

: Are Electric Bikes Eco-Friendly?

Short answer: Yes
Long answer: Electric bikes are the solution to the future of commuting. As each year goes by, eBikes improve and their performance and eco-friendliness are optimized which makes them a great alternative to cars and public transportation. The early days of trial-and-error are over so there's no need to worry about the beneficial factor of those bikes.
---
Q

: Why Are Foldable Bikes So Popular?
Bicycles may not weigh a lot, but they occupy a lot of space when not in use. Foldable bicycles are popular among cyclists who want to take their bikes with them, for example:
Out of town trips for a weekend by car
RV camping
Sailing trips
Living in tight spaces
They are fun to ride!
Currently one of the most popular foldable E-Bikes is the Lectric due to its affordability and versatility!
Q

: How should you properly upgrade the motor?

Some electric bike owners look to upgrade their electric motor to a 1,000W, which is obviously doable, but there are some limits to it. All new electric bikes come with a warranty and any modifications done to the motor will, unfortunately, conflict with the terms of the warranty. If you have a used eBike with a warranty that's due – you can find great deals from Amazon/Aliexpress.
Q

: What not to do/what to keep in mind with an electric bike?
Avoid leaving your bike out in the sun for extended periods of time
Avoid riding on the sand or in saltwater

Invest in a bell

to warn pedestrians on close passings

Obey

traffic rules
---
RELATED Reviews
Best Electric Bikes Under $1,000