Best Bikepacking Bikes: Top 14 Models We Recommend [Buyer's Guide]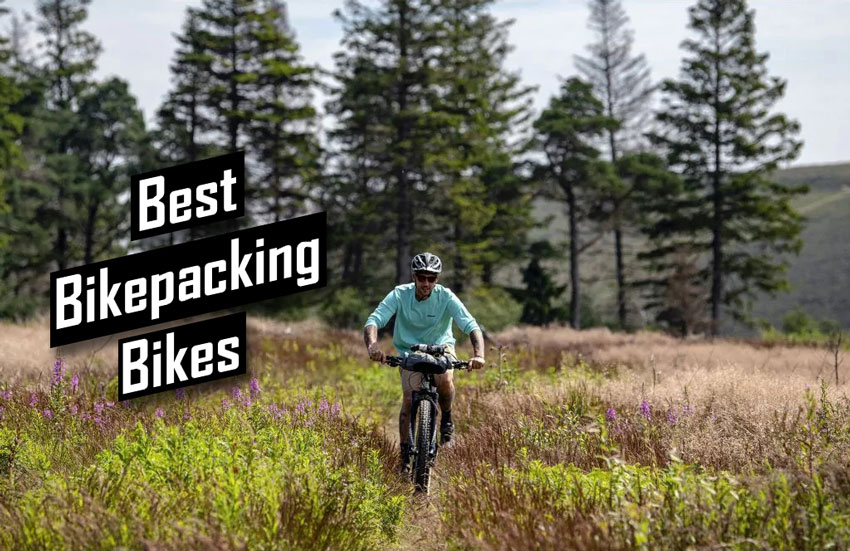 If we said it's possible to travel the world for under $60 a month while getting the experience of a lifetime, would you believe us? Well, you can, if you get one of the best bikepacking bikes below!
Bikepacking is one of the cheapest and most eco-friendly ways to travel the world and is gaining even more popularity with the global rise in inflation.
Many people will tell you that the best bike for bikepacking is whatever you currently have, but if you want to have a comfortable and successful trip, these few tips will save you from misery:
The overall bike build should be sturdy, with easily serviceable parts that are interchangeable with other brands. The last thing you want is to be stranded in a remote jungle unable to replace a vital component!

Keep in mind with all the heavy gear there is extra weight and stress on both you and the bike. The frame needs to be solid and the bike geometry needs to be ideal for long-distance travel, with a centered rider position and low center of gravity.

Most riders usually travel with all their belongings and so require a bike with the provision to mount multiple luggage carriers on the saddle, frame, fork, and handlebars.
To help you get started, we've investigated the best bikepacking bikes and compiled the Top 14 in 2023. Check them out!
---
1. Salsa Journeyer Sora 650b
Best budget bikepacking bike
MSRP: $1499.00
Frame: Aluminum
Suspension: No Suspension
Tire Size: 650b x 47mm
Reasons to buy:
Low-cost bike with parts readily available.

18 Gears for easier riding.

Most parts are manufactured by specialist OEM – Shimano.
Reasons to avoid:
Some components are inferior quality

Limited range of sizes

Aluminum frame may be difficult to repair.
The Journeyer by Salsa is one of the best bikepacking bikes under 2000, ideal for cyclists that want to get a feel for bikepacking on a budget.
The aluminum frame is light, weighing around 10.5kg, and available in 6 sizes – between 49cm and 60cm. Unlike most 11 or 12 speeds that are common these days, the Journeyer comes with a total of 18 gears, for the extra edge needed to conquer hills.
The frame design allows for extras to be mounted on the bike while making it easier for riders to push the extra miles they want to achieve. All cables are routed internally with the provision for a seat dropper post – an upgrade we highly recommend on every ride.
The green paint on this beast blends in with nature, allowing you to camouflage and be at one with the surrounding – especially if you are hitting forest-filled paths. This is one of the best bikepacking bikes in terms of the finished look.
The simplistic design and basic build make this one of the best options to go for in 2023. By purchasing the Journeyer Sora 650b, cyclists unlock the exciting world of bikepacking adventure.
---
2. Niner RLT 2-Star
Best beginner bikepacking bike
MSRP: $2209.15
Frame: Hydroformed Aluminum
Suspension: No Suspension
Tire Size: 700c x 50 or 650b x 2.0
Reasons to buy:
Budget bike – good for a first-time bikepacker.

Light but strong aluminum frame with 26 mount points.

Biocentric bottom bracket and interchangeable wheels give bikepackers the freedom to customize the bike.
Reasons to avoid:
Lack of suspension can cause rider fatigue and discomfort on rough terrains.

Not the best gearing when the bike is loaded on steep hills.

Hydraulic braking systems require some level of technical expertise. A small air bubble or leak can cause a complete failure.
The Niner RLT 2-Star is one of the best bikepacking bikes to get on a budget, especially if you are new to bikepacking and long distances cycling.
The frame is made entirely out of rigid hydro-formed aluminum, making it light yet strong enough to tackle lengthy trails with a full load. Niner has included 26 threaded mounts across the frame to carry additional luggage racks with all cables internally routed, which helps to prevent damage and wear and tear from the elements.
For rider comfort, the RLT 2-Star has longer chainstays and a lower bottom bracket, with the option of adding fenders to keep the mud and grime away. Buyers can choose between a 700cx50 or a 650bx2.0 tire size, depending on what path lies ahead and get a fork made entirely out of RDO carbon with the option to extra fit bottle cages or racks.
The 11-speed drivetrain is paired with Niner's highly versatile biocentric bottom bracket and includes an option to upgrade to an electronic shifter. The only problem some new riders might have with this bike is the lack of suspension, which makes for a bit of a bumpy ride when going along tough off-road dirt tracks.
---
3. All-City Gorilla Monsoon
Best steel bikepacking bike
MSRP: $2599 to $2649
Frame: Chromoly steel
Suspension: No Suspension
Tire Size: 27.5 x 2.4"
Reasons to buy:
Simplistic design with a stable geometry.

Wide range of sizes to pick from to suit almost every rider.

Cable-controlled disc brakes are easier to adjust and service.
Reasons to avoid:
The steel frame is a bit heavy.

The lack of suspension makes it a stiff ride.

Limited upgrade options on the frame.
Are you looking for one of the best bikepacking bikes in 2023? Look no further, the All-City Gorilla Monsoon is the companion needed on a long and treacherous journey.
This bike doesn't limit one to specific terrain and will comfortably take any path a gorilla can. All-City has gone for a classic Chromoly Steel frame designed in a very simple manner and painted in Charred Red, giving it a retro look.
With multiple mounting points and the option to run fenders and racks, this beauty is begging to be taken off the shelves and onto a wild adventure. The geometry of the bike is designed to offer a fun and stable ride while the materials used absorb vibrations very well.
The Gorilla Monsoon comes with an 11-speed shifter and a dropper seat post, enabling it to hit difficult mountain trails with ease. The design team has stuck to simple cabled flat-mount disc brakes for quicker response and easier adjustments.
There is enough clearance to fit 27.5×2.4" or 700cx42mm, both very wide and suitable for rough and unpredictable terrain. The extra width gives extra stability and improved handling while protecting the rider and gear in unfamiliar territory.
---
4. Salsa Warbird GRX
Best bikepacking gravel bike
MSRP:

$4,599.00

Frame:

Carbon

Suspension: No Suspension
Tire Size: 700c up to 45mm or 650b up to 51mm
Reasons to buy:
The first gravel bike in the industry.

Ample frame mountings for fenders, racks, and other gear

Compatible with 700c(maximum 45mm) and 650b(maximum 51mm) wheels and tires giving riders the freedom to pick according to the terrain type.
Reasons to avoid:
Costly bike especially if this is your first setup for bikepacking.

Hydraulic braking systems require maintenance and technical expertise. A small air bubble or leak can cause a complete failure.

Some essential costly components like pedals are sold separately.
The Salsa Warbird GRX is one of the best gravel bikes ever built and makes a great bikepacking bike, with the ability to tackle tough gravel trails and travel long distances.
The high-modulus carbon fiber gives it the extra strength needed to take on the weight of baggage and gear and the frame is guarded for extra protection to prevent fork damage on tough terrains.
Instead of a heavy suspension, Salsa has used the Class 5 Vibration Reduction System (VRS) to reduce rider fatigue. All cables are sleeved and routed internally with provisions for a dropper post (27.2mm) and a 40mm-travel suspension fork.
The Warbird GRX comes equipped with a 2×11-speed drivetrain. The original Warbird is widely considered the first gravel bike in the industry—built to be tough yet designed for speed in rough conditions. The hydraulic brakes and rotors provide excellent stopping power and work well in harsh conditions and wet weather. Overall weight is approximately 21 lbs.
---
5. Marin Headlands 2 700C
Best for Fast, Lightweight Bikepacking
MSRP: $3,099.00
Frame: Carbon Fiber
Suspension:
Tire Size: 650b x 50mm or 700 x 45mm
Reasons to buy:
Reasonably priced for a full carbon bike.

Symmetrical design that looks aesthetically pleasing.

Capable of handling light-backpacking and touring.
Reasons to avoid:
Carbon frame and hydraulic brakes may increase overall service cost.

Tapered downtube may buckle if overloaded.

Limited clearance between the frame and tire for fenders.
The Marin Headlands 2 is a carbon gravel and adventure bike, available in a striking orange/black two-tone color. This lightweight gravel bike with a well-designed geometry is what's needed on a light bikepacking trip.
It's a great all-rounder bicycle that can be used as a daily commuter for running errands and taking on long travels, making it one of the most versatile bikepacking bikes. Available in 6 sizes (between 49cm and 60cm), it comes with clearance to fit 650x50mm up to 700x45mm tires. With a tough Shimano GRX 11-speed drivetrain, you'll have no trouble tackling rough backcountry and mountainous terrain.
The generous number of mounting points can be used for mudguards, water bottles, racks, and other gear, while all cables are internally routed and kept out of the way. It even comes with a 70mm/105mm travel dropper seat post for adventurous riders who like tackling steep terrain.
Marin has opted to use Shimano GRX hydraulic discs on the Headlands 2, which perform well under most conditions but do require some technical expertise to maintain. The aluminum rims are tubeless-ready and come with WTB Byway tires which will handle pretty much anything you throw at them.
---
6. Orbea Oiz M10 TR
Best bikepacking mountain bike
MSRP: $5,999.00
Frame: Carbon OMR
Suspension: Full Suspension
Tire Size: 29 x 23.5
Reasons to buy:
Full suspension that can be controlled from the bar.

Well-designed geometry for optimum ride performance and rider comfort.

Quick and responsive handling.
Reasons to avoid:
Not fully weatherproof.

Hyper-sensitive steering needs a limiter.

You could get a similar spec bike for less.
Orbea is undoubtedly proud of its newest masterpiece – the Oiz M10 TR, a killer trail bike that serves as one of the best bikepacking bikes of this year! The futuristic design was achieved by a team of engineers and designers after countless months in R&D.
Thanks to a full suspension system with 120mm of travel on the front and rear, this masterpiece is ready to destroy any path riders take it on. The extra damping allows for a comfortable ride in rough terrain and is best enjoyed when charging through remote wilderness packed with all your camping gear.
Available in 4 sizes from small to extra large, it fits riders between 155cm and 198cm tall. The geometry is perfect for intense, long-distance rides even when carrying a lot of gear and luggage.
Orbea has chosen a top-quality Shimano XT M8100 drivetrain combined with matching hydraulic disc brakes to guarantee optimal performance with minimal issues.
Add a dropper seat post and fast-rolling Maxxis Rekon Race tires that perform well in extreme conditions with maximum traction, and you have a solid mountain machine that will take even the most adventurous bikepackers anywhere they want to go.
---
7. Priority 600X Adventure
Best for All-Purpose Riding
MSRP: $3,500.00
Frame: Aluminum
Suspension: Wren Inverted Suspension
Tire Size: 29 x 2.25"
Reasons to buy:
Pinion DS2 gearbox is efficient and requires low maintenance.

All-purpose bike fit for bikepacking and daily riding.

Well-designed geometry and excellent handling.
Reasons to avoid:
Limited space to mount gear and cargo.

Design could be more aerodynamic – wind resistance is felt while riding.

Heavy for an aluminum bike.
The Priority 600X Adventure features a simplistic design that has revolutionized the bikepacking world by using the Pinion DS2 shifter – tried and tested in every extreme condition and designed by engineers from Porsche.
The chain-free and derailleur-free design requires almost no maintenance and includes lightning-fast shifting but takes time to get the hang of. Priority added extra eyelets across the frame to cater to a mixed gear setup or up to six bottle cages with one mounted on the seat stay.
The front fork has a sufficient 110mm of travel and the 29×2.25" wheel and tire combo is ideal for tackling mountain trails with a full load. Braking power from the powerful Hayes Dominio A4 hydraulic brakes is impressive and includes Kevlar-reinforced pipes for extra protection – usually only seen on top-range bikes.
The 600X is a decent all-weather bike for cross-country adventurers looking to spend less but get more out of their purchase, although even with multiple mount points, there is a limited gap between the top and bottom tube which restricts carriage space.
While the components and geometry cater to the long-distance cyclists looking to explore new terrain, sizes are limited, with only small, medium, and large.
---
8. Salsa Cutthroat
Best All-rounder
MSRP: $3,599.00
Frame: Carbon
Tire Size: 29 x 2.2″
Reasons to buy:
Designed for all-around use.

Carbon frameset

Very well priced
Reasons to avoid:
Slows down considerably along hill climbs.
The Salsa Cutthroat is an all-rounder beauty available in a sleek charcoal color to fulfill the needs of an adventurous budget bikepacker.
The geometry is well designed to suit bikepacking and trail riding, go fast, and handle rough terrain and long distances.
This beauty features a full Shimano GRX drivetrain with an 11-speed gear setup and hydraulic disc brakes for optimum performance on rough terrain. This build is ideal for an ambitious rider who likes the idea of the bikepacker lifestyle.
The lightweight carbon frameset has multiple mount points across for luggage and gear, making it one of the best touring bikes out there.
The massive Teravail Sparwood 29 x 2.2" tires take on rough paths very well, even with added weight. At just 24 lbs, this is one of the lightest bikepacking bikes you'll find.
---
9. Niner RLT Steel 3-Star
Best for Serious, Long-distance Bikepacking
REi
MSRP
: $3,399.00
Frame: Steel
Suspension: No Suspension
Tire Size: 700c x 50 or 650b x 2.0"
Reasons to buy:
Well-kitted out bike for a steel frame.

Good for hill climbing due to the light weight.

Externally mounted cables are easier to access.
Reasons to avoid:
Good tires but may not be able to handle very rough and muddy terrain.

Less affordable than most bikepacking bikes.

No suspension
The simplistic design of this Niner RLT may fool some, but this lightweight steel gravel bike is an exceptionally well-designed piece of machinery.
Although marketed as a road bike, this powerful steel bike can fit several racks and is perfect for long-distance bikepacking, and will carry you miles around the world. It's also one of few road bikes these days with externally routed cables, making repairs and upgrades quicker and easier.
This versatile modern marvel features a well-laid-out geometry for comfortable riding on long distances and while tackling steep ascents. The hydraulic disc brakes let riders descend hills with control even with heavily weighted rigs, and the 11-speed SRAM Rival drivetrain has enough range to climb hills without trouble.
However, the lack of suspension or a dropper seat post means this isn't the ideal bike for serious mountainous bikepacking. The black paint with the green zigzag lines brings life to the build – the pattern looks like veins with fluids flowing in them. There are multiple mounting points with enough storage space over and under the top tube to ferry enough gear.
---
10. Marin Pine Mountain 2
Best for Trail and All-Day Riding
MSRP: $2,499.00
Frame: Steel
Suspension: Front 120mm Suspension
Tire Size: 29 x 2.6"
Reasons to buy:
All-purpose bike that can handle different terrain types.

Well-priced entry-level bike.

Solid and good-looking.
Reasons to avoid:
Limited size choices especially for taller riders.

Tire choice and specification are not the best.

Needs more upgrades to hit the right spot.
Marin's Pine Mountain 2 is one of the best hardtail mountain bikes with a simplistic design and modern amenities that also make it one of the best bikepacking bikes for short, fun adventures.
The externally routed cables are easily accessible for service and replacement and Marin has added multiple mount points all over the bike for gear and luggage.
The geometry design is suited for trail blasting and the 12-speed Shimano SLX drivetrain gives riders the extra power needed to conquer near-impossible climbs.
The oversized 29" rims fit chunky 66mm tires, making it easy to ride on rough and tricky trails while still maintaining grip and traction. A 50mm rise in the straight top bar adds room for bikepackers to mount small bags and equipment they need on the move.
Available in only four sizes, Marin caters to riders between 5'4" to 6'2", but anyone outside this height range may find it uncomfortable to ride the Marin's Pine Mountain 2.
The bike comes fitted with a dropper seat post allowing for 150mm travel on the Small and 170mm on the other three models. This beauty's made to handle any terrain type so bikers no longer need to meticulously plan their bikepacking routes and can take it anywhere.
Buy from Jenson USA Buy from GovVelo.com
---
11. Santa Cruz Chameleon
Best for fast and lightweight bikepacking trips
MSRP: $2,599.99
Frame: Aluminum
Suspension: Hardtail
Tire Size: 29" x 2.5"
Reasons to buy:
8th Generation bike full of new and exciting developments.

Reputable manufacturers offer a lifetime warranty on the frame.

High-performance rims, tires, drivetrain, and brakes combo.
Reasons to avoid:
Lacks the full suspension needed on the rough trails the bike is made for.

The small frame is not the best for a bikepackers needs.

Limited size options for taller riders.
Santa Cruz has a reputation for manufacturing high-quality endurance bikes to suit almost every terrain and rider, including some of the best bikepacking bikes on the market.
The Chameleon MX D is no exception – an aluminum trailblazer that sticks to any path while shredding at high speed. As the name suggests, this bike will blend into most environments and tackle any challenging terrain it comes into contact with. You can run it as a full 29er or use a mixed tire setup while still carrying a heavy load and not compromising ride stability or comfort.
Available in either bright Yellow or Navy Blue, it's attractive but features very few mounting points – making it best suited to lightweight bikepacking trips. It does, however, include a 12-speed drivetrain that can easily navigate challenging hills and SRAM hydraulic disc brakes with heat dispersion qualities that ensure the Chameleon stops quickly at all times.
You also get a dropper seat post for added performance and comfort, a lifetime warranty on the frame, and the DNA the 8th generation Chameleon shares with other models.
Buy from evo.com Buy from Mike's Bikes
---
12. Salsa Fargo
Best bikepacking endurance bike
MSRP: $2,649
Frame: Chromoly Steel

Suspension: No Suspension
Tire Size: 29×2.2″

Reasons to buy:
Reasonably priced for a carbon build.

53mm tire clearance for bigger and chunkier tires.

20 mounting points on the frame for gear and add-ons.
Reasons to avoid:
Does not perform very well off-road.

Tires have too much rolling resistance.
The Salsa Fargo was built to handle diverse terrain and heavy use by bikepackers on lengthy journeys.
The steel frame has got just the right amount of stiffness while being compliant and durable, allowing it to tackle long-distance rides without trouble. The frame also has tire clearance for 27.5 x 3.0″ or 29 x 2.4″ tires.

The geometry is slack and low for extra stability that caters to gravel riding and carrying luggage. With tons of mounting points, you'll be able to fit bottle cages, bags, fenders, and pannier racks you desire.
The beautifully smooth and intuitive 11-speed SRAM Apex 1 drivetrain is the clear selling point on this rig, although, at this price level, it's to be expected.
Unfortunately, it comes with disappointing TRP Spyre-C mechanical disc brakes and all cables are externally routed. The excessive 3″ tire clearance is a clear sign this bike was built for serious adventure, easily able to fit much chunkier tires for those extreme off-road conditions that ambitious bikepackers may encounter.
---
13. State Bicycle Co. 4130
Best cheap bikepacking bike
MSRP: $899.99
Frame: Steel
Suspension: No Suspension
Tire Size: 650b and/or 700c
Reasons to buy:
One of the cheapest bikepacking bikes on the market.

Good handling on and off-road.

Customizable wheelsets to suit riders' needs.
Reasons to avoid:
Buyers have to take many parts as add-ons to complete their build.

Drivetrain needs swapping every time riders interchange wheels between 650 and 700

The 650b tires are not rated tubeless.
The State Bicycle Company 4130 flat bar is one of the best budget bikepacking bikes on the market today. The simple steel design is compatible with on and off-road adventures, so for uncertain riders still considering getting into bikepacking, this is an ideal option.
While it may not immediately look like a bike for long-distance tours, the fully customizable design means it's easy to transform it into an awesome first-time bikepacking bike.
The tubeless-capable rims can be fitted with either Vittoria Terreno 700c or chunkier Barzo 650b tires, although the Barzo's aren't tubeless-ready. There's the option to purchase the bike with both wheelsets and all necessary parts, making it very easy to swap between your on-road and off-road adventures.
With a stiff steel frame and no suspension on either front or rear, some inexperienced riders may find the 4130 a little tough in off-road conditions – but that's an understandable sacrifice for the price.
The rest of the components are all proprietary State Bicycle Co, with fairly decent disc brakes and a Trigger Shifter 11-speed drivetrain, both of which get the job done. Coming off the shelves at $899.99, it's one of the best bikepacking bikes under $1000 that we've seen.
---
14. Rondo RUUT ST 2
Best bikepacking road bike
MSRP: 2,599.99
Frame: Tange Steel
Suspension: No Suspension
Tire Size: 700 x 40
Reasons to buy:
Reasonably priced bike for its kind.

Classic look in a matte Sharkskin finish.

Good all-rounder.
Reasons to avoid:
Requires more gears for best performance from this bike.

Limited size availability.

Lack of suspension can cause fatigue.
The Rondo Ruut ST2 is a sporty steel bike finished in a matte Sharkskin color, giving it a very elegant look. Rondo's design team has ensured the bike has enough space for bikepackers to load up on hydration by adding triple cargo cage mounts.
There's also a sufficient number of mounting points on the rear and upfront on the trademark TwinTip 2.0 fork, which includes space for both fenders and racks.
The 11×1 SRAM Apex drivetrain provides decent gearing even when paired with a somewhat entry-level Sunrace cassette. The combination works impressively well together and is supported by TRP mechanical disc brakes which lock on tightly and are easier to maintain than hydraulics.
The gravel-specific rims are tubeless compatible and paired with a set of WTB Nano tires – a great combination for intermediate bikepacking adventures.
At $2,599.99, the Ruut ST2 is well priced for a bike that features decent frame materials and a high build quality matched with a mix of decent and affordable components. Available in four sizes that range from small to X-large, finding the right fit shouldn't be too hard for most riders.
---
Choosing the best bikepacking bike for your trip
---
Unlike a daily ride, bikepacking bike setups will be a home for many days, months, or even years and shall undergo all the elements and extra stress from the added weight and long distances.
Your bike needs to be ready to take on anything from well-built urban roads to the rugged paths on the Cairo to Cape Town cycling route – and survive all the weather conditions along the way.
Bikepackers normally cover over 40 miles on riding days, with some reaching up to 100 miles if the climate and terrain are favorable. It's important to consider all the below factors when picking the best bikepacking bike – the only thing that should be taken lightly is the weight of your luggage.
---
Flat bar or drop bar?
Today we tackle the age-old question from almost every cyclist, what type of handlebars is better—flat or drop bars?
Although drop bars offer a competitive advantage and more holding positions, many bikepackers still prefer flat bars. While drop bars are more aerodynamic and compact to move through traffic, flat bars provide better control in rough conditions and have more space for navigation gadgets and bigger handlebar bags.
Handlebars are one of the three touchpoints on a bike, along with the saddle and pedals. Yet, despite significantly ...
While drop bars are usually more comfortable, the shifters and brakes aren't quite as easy to service and could be harder to find parts in remote areas. If you attach bar extensions to flat bars, you get additional hand positions and have more control off-road, especially for quick cornering.
Overall, the maintenance of flat bars is usually easier and cheaper, with less tape changes and fiddly wiring, but at the end of the day, it comes down to personal preference.
What Frame Materials Should Best Bikepacking Bikes Use?
Bike frame materials and build determine the overall performance, weight, and cost of a bike. Sometimes riders go over budget to get a better spec bike but may end up with a disaster waiting to happen.
Titanium is durable, strong and the most expensive frame to go for but keep in mind that it's not light. The cheapest, strongest, most tried and tested metal is steel, but it's the heaviest and bulkiest, so good for both budget and endurance.
As much as aluminum is a fairly strong, light, and affordable option, a decent carbon fiber frame could be your best option. It has a very high tensile strength and is the lightest option available, but the only disadvantage is any repair must be undertaken by a professional.
Gearing and Brakes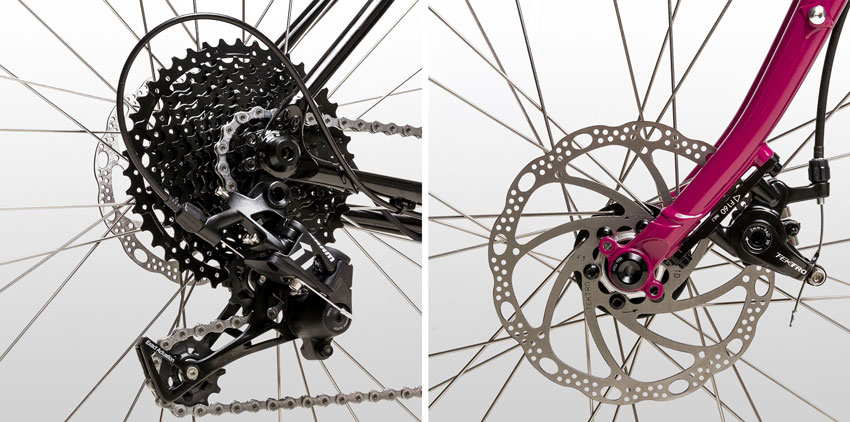 These days, most bikes come with a single chainring on the crankset combined with an 11 or 12-speed cassette with a wide gear range. This is usually sufficient, although some traditionalists like the added gearing options provided by a double chainring, particularly if you do a lot of heavy-loaded hill climbs.
Bike brakes have been subject to constant innovation and development down the years, with ...
Traditional caliper rim brakes are almost non-existent these days, as disc brakes have become more affordable and preferable both on- and off-road.
Disc brakes come in mechanical, which are cheaper and easier to service, or hydraulic, which are more expensive but provide excellent stopping power at the touch of a finger. If you have the money and are prepared to learn how to maintain them, hydraulic brakes are the best option by far.
Should Best Bikepacking Bikes Have Suspension?
When bikepacking, the best option is to have a full suspension on the rear to absorb all the bumps on rough terrain – especially if the intended use is mainly off-road. A more rigid bike tends to lead to rider fatigue and can also cause stress on your back and muscles, with increased chances of long-term sports injuries, such as lower back pain from cycling.
It's also advisable to get an adjustable suspension to tune it to the terrain type, preventing over or under damping for a smooth ride. The fork must also have a considerable amount of travel to tackle treacherous trails and the option to mount extra luggage, including fenders.
Wheel and tire size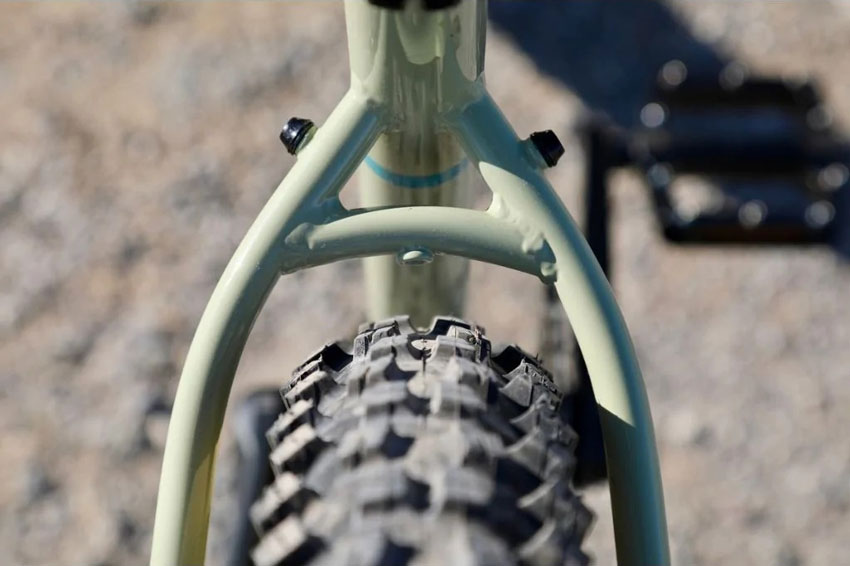 Wheel and tire size purely depends on preference and terrain – for rough and muddy trails, a chunkier tread is recommended, while faster cyclists want something thinner.
The ultimate goal is to get a fast-rolling tire that can handle changing conditions while maintaining grip and traction.
Most bikepackers typically run 650B or 700C tires with a width of between 42mm and 50mm, depending on the accommodation of the bike frame.
Running a tubeless setup allows you to run at low air pressure, creating a larger surface area that grips better without damaging the rubber or causing leaks.
Mounting options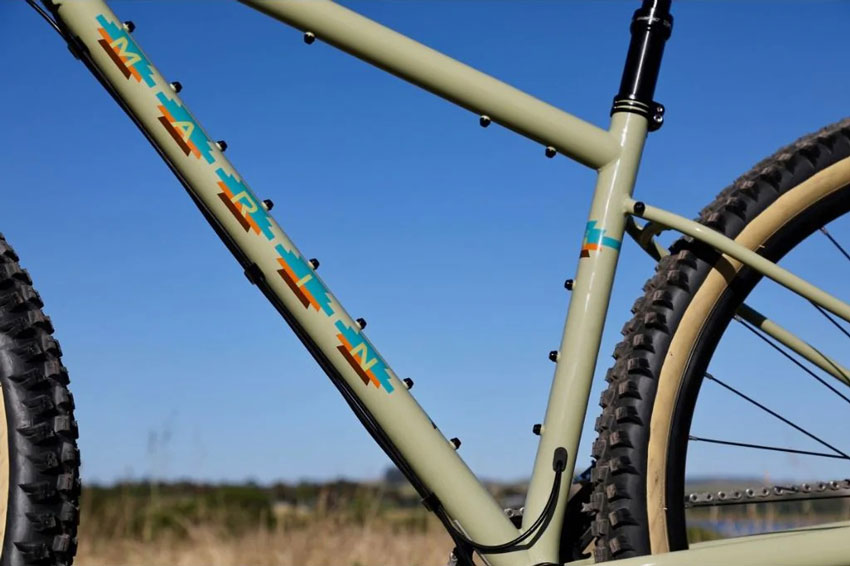 Having the option to carry more luggage and gear without putting extra stress on the bike is always good. Pack well and make sure all bags are mounted with the weight strategically distributed to balance out the ride.
We recommend lean layouts for better aerodynamics, which can be achieved by having everything tight and lined up. For that reason, the best bikepacking bikes typically come with a multitude of mounting points all over the frame, including the main triangle, the seatstays, top tube, and even the fork.
On a typical setup, you'll want to mount items like a large saddlebag or pannier bags, frame bags, water bottles, lights, satnavs, and other electronic gadgets.
Never try to make any additional holes to bolt on items as this compromises the structural safety and design of the bike. If mounting points are not available, stick to velcro or tie clips for a temporary fix.
FAQs
---