Best Beach Cruiser Bikes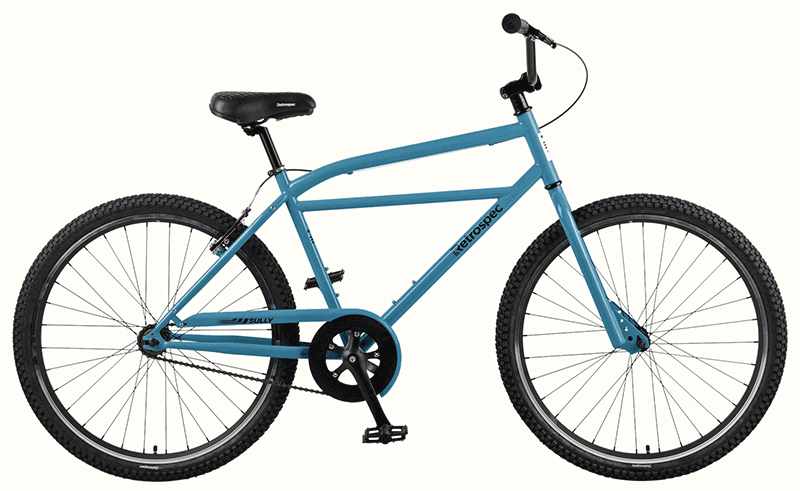 Cruiser bikes don't need much introduction besides the obvious fact that this type of bicycle is the most comfortable to ride with. There's nothing else like grabbing the cruiser and going with the flow. Time becomes irrelevant whether you are on your way to their 'natural habitat' – the beach, or simply pedal around town.
In this article, you'll find one of the most popular bikes one could order online – for men, women, kids, and even electric cruiser bikes!
The good news is that most cruiser bikes are built rather simply, which is the sole purpose of these bikes – to use them for light strolls. These bikes don't cost too much either.
How much does a cruiser bike cost mainly comes down to whether the bike has a derailleur or not. Also, the level of accessories a bike is equipped with. The average cost of a cruiser bike is between 300 – 400 USD.
Three Types of Beach Cruiser Bikes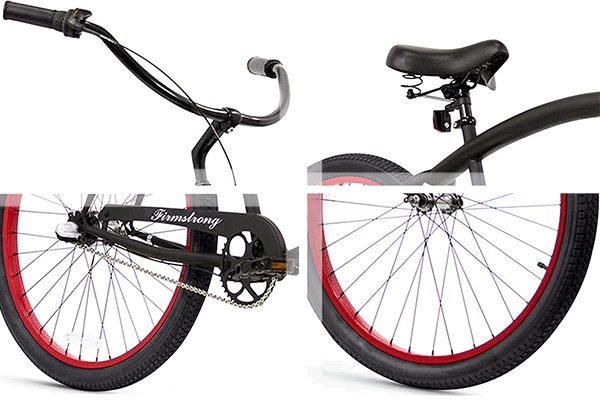 1. Classical Beach Cruiser – Most classical beach bike with a single-speed drivetrain, and a coaster brake only. Ideal around-town bike to enjoy the simplicity of commuting. Single-speed drivetrain and coaster brakes mean that basically all you've got to do is pump the tires and lubricate the chain every now and then. Maintenance wise – these are the easiest bikes to work on, while they might limit your capabilities on hilly mountains.
Low maintenance / Cheapest of the bunch / Easy to ride and maintain.to
2. Commuter Cruiser – A bike with front and rear caliper brakes, fenders, and gears on the back. Cruisers bikes usually come 3- or 7- speed drivetrains making them quite comfortable around town bikes. A cruiser with a basket in the front is common among this type.
Maximum mobility and convenience towards everyday commuting.
3. Electric Assisted Cruisers – As electric bikes have increased the market share for obvious reasons, in 2023 there is quite a selection of decent electric beach cruiser bikes to make your life even easier and extend the range with pedal-assisted motors.
Ride longer with battery-powered bikes.
Cruiser bike must-have components
Moustache Bar Handlebar
Rust-Proof Details
Comfy double-spring saddle
24″ or 26″ wheels and balloon-type tires
Steel or an aluminum frame
---
---
Best Men's Beach Cruiser Bikes
---
Schwinn – Mikko & Huron
Schwinn'sMikko & Huron men's cruiser bicycle comes in multiple colors and three different speeds – one, three, and seven. This way, you can speed up on flats and take it easier when going uphill. In addition, it features wide handlebars and a padded seat for extra comfort, plus stylish retro fenders to keep you clean when you have to cycle in wet weather.
Rather than common cruiser brakes, the Mikko & Huron is fitted with front and rear brakes to help you stop more easily at high speed and in wet weather conditions.
Available in one size to fit riders from 5'4″ to 6'2″.
---
Electra – Cruiser 1
Single-speed cruiser bike
MSRP: $400
This steel-framed city cruiser bike from Electra offers smooth, comfortable single-speed cycling on 26″ wheels with a relaxed seating position. It's the perfect bike for short trips into town, Sunday rides along the beachfront, or even commuting into work and back – so long as it's not up a steep hill!
The frame benefits from classic cruiser-style geometry and an attractive black paint job with bullhorn handlebars, leaving you in a laid-back seating position and taking the pressure off your knees. In addition, the thick, knobby tires absorb vibrations and ensure you maintain a strong grip on the road in any weather conditions.
---
State Bicycles – Klunker
New-style urban cruiser

MSRP: $500
The Klunker is an off-road cruiser with some extra tire width and more clearance to handle more extreme conditions than typical cruisers. The 2.3″ tires and 27.5″ wheels provide a MTB-like feeling, while the laid-back riding position and wide handlebars offer the same smooth, comfortable ride that cruisers are accustomed to.
Also featured in – Best Klunker Bikes
The single-speed drivetrain connects a 42-tooth crank to a 22-tooth freewheel cog, using a simple coaster brake for stopping. The retro color scheme will appeal to young and old riders alike, and the one-size-fits-all frame accommodates riders from 5'5″ to 6'3″.
---
Micargi – 26" Vancouver
For those beach cyclists who want a truly laid-back cruising experience, the Micargi Vancouver is the bike for you! This chopper-style cruiser bicycle is stretched out like a limo, with an extremely relaxed seating position and super strong, hi-tensile steel frame.
The traditional coaster-style brakes make stopping a breeze, with the thick 26″ wheels driven off a 44-tooth crank and 22-tooth sprocket, ideal for beach cruising. Combine this with the ultra-long, retro-style chrome handlebars and you got yourself the king of cruisers!
26×4″
Available in various speed variations
---
Cannondale – Treadwell EQ Remixte
MSRP: $1,100
Here you have an urban cruiser utility bike designed to handle any job in comfort and style.
The integrated front basket and fenders give this bike its 'EQ' label, while upright geometry, cruiser handlebars, a step-thru frame, and wide 47mm tires ensure a high comfort level.
Other notable features of the Treadwell include Tektro hydraulic disc brakes, a 9-speed Shimano Altus drivetrain, an integrated wheel sensor for ride tracking, and a step mount for your smartphone.
---
sixthreezero – Around The Block
Sixthreezero's Around the Block is a single-speed cruiser with some added abilities for extra comfort and cargo, including a large rear luggage rack, thick-treaded tires and a soft, dual-spring saddle. This makes the bike not only an ideal cruiser but also perfect for commuting to work or collecting groceries.
1 / 3 / 7-speed
26×2.125
The one-size frame is suitable for riders 5'4″ to 6'5″
The upright seating position takes the pressure off your knees and keeps your shoulders back and straight for long, comfortable days in the saddle. The black paint job and white-rimmed tires make for an attractive design, with bullhorn handlebars finishing off the classic coaster style.
---
sixthreezero – EVRYjourney
The 'EVRYjourney' is a hybrid cruiser bike from premier beach cycle brand sixthreezero, offering a relaxed, low-profile feel and frame geometry that's perfect for comfortable coastal cruising.
The aluminum frame has a carefully engineered pedal position and upright geometry to maximize comfort and runs on 26″ wheels. For this bike, you can choose from a 1, 3, 7, or 21-speed Shimano drivetrain.
The oversized 2″ balloon tires are large enough to comfortably absorb any big bumps and vibrations on the road, ensuring a smooth, pleasant ride all day long. Rim brakes allow easy stopping in dry conditions, while the fully-equipped setup enables you to use the EVRYjourney as a comfortable utility bike.
---
Firmstrong – Bruiser
The Firmstrong Bruiser is a tough, steel framed beach bicycle with a single-speed drivetrain and large 26″ wheels with wide balloon tires for a soft, smooth ride. In addition to soft tires, you also get a dual-sprung saddle plus super wide handlebars with soft, synthetic leather grips for added comfort.
Single or 3-speed
Steel frame, 26×2.125″ tires
Ideal for 5'4″ to 6'4″
By having no complex gearing mechanisms and no brakes or shifters on the handlebars, there is minimal cabling, which means everything is kept simple and the bike is much easy to maintain. The convenient one-size-fits all frame will accommodate all riders from as little as 5' 4" to as tall as 6' 4" feet.
---
Firmstrong – Urban Man
This single-speed beach bike from Firmstrong is built for comfortable boardwalk cruising, with a classic curvy frame and stylish matte black paint job. The oversized dual-spring saddle, 26" wheels and fat balloon tires provide the ultimate cushioning for long days rolling along winding coastal roads while the sunsets.
You'll be able to stop quickly and easily with the simple 'back-pedal' coaster brake design that avoids any unnecessary cabling or shifting mechanisms. The wide bullhorn handlebars allow you to sit comfortably, relaxed, and laid-back, taking the pressure off your knees and back. The Urban Man is everything a man needs in a solid coastal cruiser bike.
---
Tracer – Beach Cruiser
The beach cruiser hybrid bike by Tracer has a unique frame design, is built from strong materials like hi-tensile steel, and incorporates a comfortable, upright seating position. In addition, it features coaster brakes, plush 2.125″ tires, and a padded saddle with seatpost suspension for extra comfort.
This single-speed bike provides an authentic beach cruiser feel for those looking for pure comfort. Go into the wild and explore the surrounding neighborhood, slinking down countryside lanes and along the promenade. The Tracer cruiser bike is for those who enjoy a relaxed and stylish ride.
---
Best Women's Beach Cruisers
---
Schwinn – Perla Women's
The Schwinn Perla is a classic women's cruiser bike, available in three attractive colors and fitting female riders from 5'4″ to 5'9″ tall. The steel frame puts the rider in a healthy, upright position and comes with a convenient rear rack for carrying luggage.
With a 7-speed drivetrain, uphill cycling is a breeze, and front and rear caliper brakes ensure fast stopping in any weather conditions. The double-sprung, quilted seat and soft grips provide a comfortable ride for long days in the saddle.
---
Electra – Cruiser 1 Step-Through
MSRP: $400
The Electra Cruiser 1 step-through is a women's beach bike similar to the standard Cruiser 1 but with a lowered top tube to make it easier to mount. It features a steel frame with 26″ wheels and a single-speed drivetrain that provides simple, hassle-free operation with minimal chance of breakdowns.
Stopping power comes from a simple coaster brake, which, along with the lack of gears, reduces the need for extra cabling and maintenance. The wide mustache handlebars and the low, relaxed seating position are perfect for lazy days cruising along the seaside or beach boulevard.
---
Priority – Coast
MSRP: $599
The step-through version of the Priority Coast is a classic 26″ women's beach cruiser bike, available in both single and 3-speed versions. Like the original Coast, the step-through version runs on a Gates Carbon Drive belt system and is built with extra strong materials, so it's more resistant to rust, sand, and water.
The 26″ wheels are wrapped in safe and convenient puncture-proof tires, and the drivetrain uses a Shimano internal hub for easy gearing and maintenance-free upkeep. Although a bit more expensive than some other cruisers, the high-quality Priority Coast Step-through promises the rider years of fun, hassle-free cycling.
---
Firmstrong – Urban Lady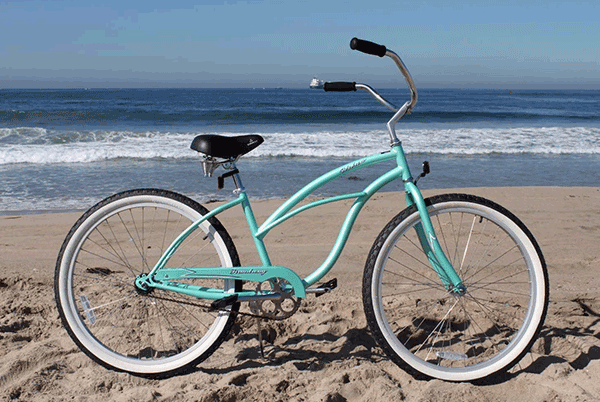 The Firmstrong Urban Lady beach cruiser bicycle is one of the most popular models among ladies' beach bikes.
It features a durable 15″ steel frame that accommodates women between 5′ to 6′ comfortably. Firmstrong is a trusted brand and this bike no exception in quality. This single-speed cyan beach cruiser is indeed one durable and simple beach bike for ladies. As the model name 'Urban Lady' suggests – it thrives on urban areas as well it rides by the beach!
---
Electra – Townie 7D Step-Through
MSRP: $630
This low-slung Schwinn beach cruiser bike comes with a 7-speed Shimano Tourney drivetrain and front and rear caliper brakes, making it ideal for longer trips and town commutes. It maintains the comfortable, classic cruiser-style seating position but is a bit more feature-packed for longer journeys.
REI Score: 4.5/5 out of 93+ ratings 🏆
The 26″ wheels and 2.0″ Semi-Slick tires are great for fast city riding, with lots of smooth central road contact and side tread for wet weather. It's a great bike for commuting to work during the week and cruising the beachfront on the weekends.
---
sixthreezero – Around the Block Women's
The sixthreezero women's beach cruiser bike is perfect for commuting around town, carrying groceries, or enjoying recreational weekend rides. It has thick, treaded tires with front and rear caliper brakes to handle off-road riding and a rear pannier rack, so you can even use it for short tours.
24×2.125″ wheels
7-Speed Shimano Tourney derailleur
The wide, bullhorn handlebars and low-slung saddle put the rider in a comfortable position for slow, relaxing riding along the beachfront or city streets. With the expansive 7-speed Shimano drivetrain, you won't have any trouble cycling uphill or exploring more varied terrain, even when carrying a heavy load.
---
Priority – Classic Plus
Maintenance-free belt drive
MSRP: $599
The Classic Plus from Priority Bicycles is a classic belt-drive cruiser, combining modern technology with a nostalgic appearance. The 3-speed Shimano Nexus hub with Gates Carbon Drive belt provides smooth, efficient gearing without the need for messy maintenance jobs as it doesn't use oil and can last for many years without giving any troubles.
High-quality, rust-proof materials and components ensure that the Priority Classic Plus can handle coastal ocean conditions and avoid sand and salt build-up. In addition, with alloy wheels and puncture-resistant tires, you won't be left stranded on the roadside trying to fix a flat in the rain!
---
Best Electric Cruiser Bicycles
---
Electra Townie Go! 8D EQ Step-Over
A mid-drive motor cruiser bike
MSRP: $2,200
The Townie GO! is an excellent beach cruiser electric bike, perfect to take the effort out of lazy days rolling down the boulevard. The extra-thick tires absorb vibrations and, along with a padded, sprung seat, provide a smooth, comfortable ride.
Electric bikes have exploded in popularity in recent years due to their versatility, affordability, maximum ...
Naturally, the added motor and battery make this bike considerably more expensive than normal cruisers, at slightly over $2,000. However, it means you will be able to go further, for longer, and without breaking a sweat. The 250W motor will take you 70 miles at a top speed of 20mph, enough for a full day of effortless cycling.
Weight: 50lbs
Pedal-assist range: 20-70mi
26×2.35″
Charge time: 6.5h
8-speed derailleur
---
Electra – Townie Go! 8D EQ Step-Thru
MSRP: $2,200
The Townie GO! Step-Thru is an electric cruiser bicycle that is easier to mount for shorter female riders. It boasts thick, absorbent tires on 26″ wheels with an 8-speed drivetrain and four levels of electric assistance.
The 400w Li-Ion battery will take you up to 70 miles on one charge, and the 250W pedal-assist Bosch motor can push you along at a maximum of 20 mph. This is a great bike for easy cruising around town for those who need a bit of extra help or simply don't want to break a sweat.
---
Best Kids' / Youth Cruiser Bikes
---
Electra – Kids Cruisers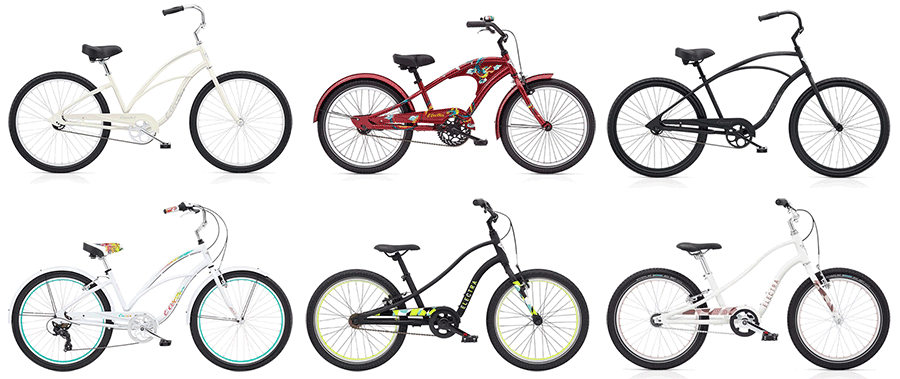 ---
COEWSKE- Fantasy-Style Bike
The COEWSKE Fantasy-style bike is a beautiful kids' cruiser bike with a steel frame and 20″ wheels, perfect for kids aged between 6 to 9 years old. Your child will love the swept-back handlebars that give a laid-back feel and the comfortable seat with a suspension seatpost.
This single-speed cruiser comes with front and rear reflectors, a kickstand, chrome fenders, a front basket, and v-brakes for safe stopping. Your young one will be the most popular kid on the street rolling up in this stylish, laid-back cruiser!
---
Final Thoughts
Single-speed, or geared? If the cruiser is going to be your only bike, and you are planning to cycle more often than regular trips to the shops or the beach, a cruiser bike with multiple speeds is a more practical choice. If you'd like a cruiser bike as your relaxed second bike to simply cruise around – there's nothing better than the classical hustle-free cruiser bike.
Do you need fenders? You most likely do as fenders are a cheap alternative that makes a huge difference.
Baskets. Cruiser bicycles, especially women's bikes are known for having the basket in the front. This makes the beachgoing process way easier once you can stuff all the belongings out of your hands and back and simply cruise down to the beach!
Best beach cruiser bikes for sale can be found online from:
Best beach cruiser bike brands