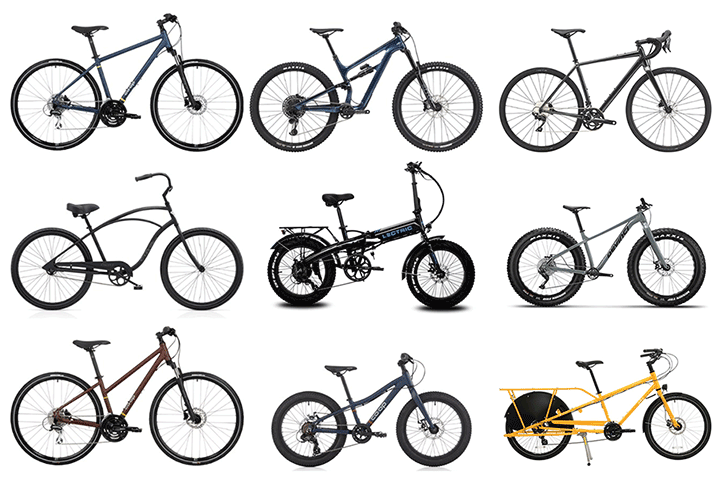 The world of cycling offers a plethora of choices when it comes to bikes—from speedy road bikes to rugged mountain bikes.
In this blog post, we'll show you 20 popular types of bikes, each designed for different riders and specific riding styles.
Before deciding which type of bike is right for you, you should first ask yourself a few important questions to determine your needs:
What type of riding do I want to do?
How often do I ride?
What's my budget?
Do I want to compete or ride recreationally?
Can I afford more bikes or do I need a do-it-all bike?
Once you have an answer to these questions, you will have a much easier time determining which type of bike to go for.
So let's see what are the 20 most popular types of bikes out there and what makes each one unique.
1

. Road Bikes
---
Main Features:
Lightweight frame
700c wheels with narrow tires
Drop bar handlebars
2X drivetrain
Road bikes are one of the oldest types of bicycles, and while they have adopted advanced technology over time, they maintain much of the same design. Frames are usually lightweight aluminum or carbon, sometimes even titanium, with aggressive geometry that places the rider in an aerodynamic position suitable for long-distance riding.
These bicycles are defined by their narrow tires and drop-style road bike handlebars that offer several hand positions, ideal for long days in the saddle and racing.
Shimano is the most common supplier of road bike groupsets, from the highly affordable Claris and Sora gear sets to the expensive top-of-the-range Ultegra and Dura-Ace wireless groups. SRAM and Campagnolo are another two popular manufacturers of gears and brakes for road bikes.
Different categories of road bikes include endurance, racing, triathlon, TT bikes for time trials, and so on.
Some of the most popular road bike manufacturers are Trek, Scott, Bianchi, BMC, Cannondale, Cervelo, and Colnago, though dozens of other brands make fantastic road bikes as well.
2

. Mountain Bikes
---
Main Features:
Front and/or rear suspension
27.5″ or 29″ wheels with Knobby tires
1x or 2x front chainring
Hydraulic or mechanical disc brakes
Mountain biking is arguably the most popular form of cycling these days that has exploded in popularity over the past decade. Nowadays you get a wide variety of mountain biking styles, each requiring a unique bike design with specific features.
Some of these different types of mountain bikes include Cross-country bikes, Trail bikes, Enduro bikes, Downhill bikes, and Mullet bikes.
The most notable difference between mountain bikes and other bicycles is the inclusion of suspension. MTBs typically come with a front suspension fork only (hardtail bikes) or with both front and rear suspension (full-suspension mountain bikes). But there are some rigid mountain bikes without any suspension at all as well.
Mountain bikes also have wide tires that improve traction for off-road riding and all modern models come with hydraulic of mechanical disc brakes.
3

. Gravel Bikes
---
Main Features:
650b or 700c wheels with wide tires
Relaxed geometry
Drop-style handlebars
Disc brakes and wide gear range
Suitable for off-roading
Gravel bikes are lightweight racing-style bikes designed for use on mild off-road terrains like dirt roads, fire roads, country lanes, and smooth singletrack. The idea is to provide a lighter, faster way of cycling in the great outdoors without the clunkiness of mountain bikes.
Gravel bikes have upright frame geometry that makes them more comfortable when riding long distances on loose, rocky ground.
Some gravel bikes are specifically designed for racing, with lightweight frames and more aggressive geometry. Other gravel bikes are intended for bikepacking and light touring, with a more relaxed geometry, stronger frame, wider tire clearance, and rack mount points.
In general, gravel bikes come with relatively thick tires in the 40+ mm range, with medium tread so that they feel comfortable on the pavement but can also handle loose dirt and mud. This makes them great all-around bikes for recreational riders who find themselves riding on a mix of off-road and on-road surfaces.
4

. Cyclocross Bikes
---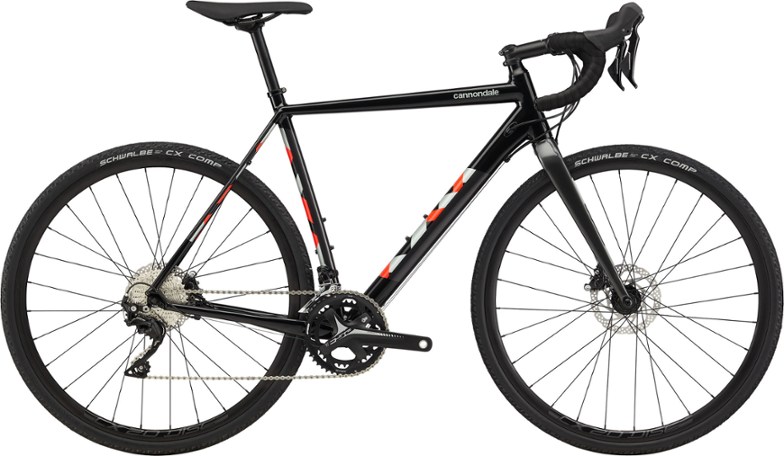 Main Features:
Road-bike geometry
Designed for off-road racing
700c wheels and 33 mm tires
Lightweight aluminum or carbon frame
Drop bars and road components
Cyclocross is a lesser-known cycling discipline popularized in France during the early 1900s when cyclists would race to the next town using any route possible. Today, a cyclocross race takes place around an off-road course that includes muddy sections and obstacles, often required to dismount and carry their bikes over obstacles or up hills.
Cyclocross bikes are similar to road bikes but with wider tire clearance and stronger frames. Unlike gravel bikes, cyclocross bikes have more aggressive racing geometry, making them less comfortable for long-distance riding.
They typically have tires in the 700x33c range with a medium grip, able to handle dirt and grass without creating too much drag on hard surfaces. Modern cyclocross bikes also have hydraulic disc brakes and are usually built with lightweight carbon framesets.
5

. Hybrid Bikes
---
Main Features:
650b (27.5″) or 700c wheels
Flat bar handlebar
A rigid fork or a short travel suspension
Aluminum frame
Disc brakes and wide-range drivetrain
Hybrid bikes gained popularity during the 90s after old-style utility roadster bikes had fallen out of fashion.
Recreational cyclists and commuters wanted the convenience of a sturdy mountain bike with the reduced weight and additional speed of a road bike. Manufacturers began redesigning road bikes with stronger alloy frames, upright geometry, and straight handlebars.
Over time, hybrid bikes have given rise to several variations, including commuter hybrids, cross bikes, city hybrids, and comfort bikes. Although all are similar in frame design, wheels, and handlebars, each variation is slightly tweaked toward a specific use case.
6

. Electric Bikes
---
Main Features:
Motor in the rear hub or bottom bracket
Powered by a lithium-ion battery
Numerous types available
Come with pedal assistance and/or throttle
Electric bicycles (e-bikes) have recently exploded in popularity, but that doesn't mean they're a new invention. In fact, the very first electric bicycle patent was put forward by Ogden Bolton Jr as far back as 1895.
Luckily, the number of different types of electric bikes is almost as wide as the variation of bicycles. They are available in different types of bike styles, suitable for all riding purposes.
Modern e-bikes typically have powerful motors that can achieve speeds of up to 28 mph (45km) and small, removable lithium-ion batteries that last the entire day on one charge.
Some bikes have special frame designs to accommodate motors integrated into the bottom bracket between the cranks (mid-drive), while others have a motorized hub in the rear wheel (hub drive).
E-bikes come in three specific classes labeled Class 1, Class 2, and Class 3, depending on the top speed and type of assistance (throttle or pedal assist).
>>> Read more: Electric Bike Laws
7

. City Bikes
---
Main Features:
700C wheels
Swept-back handlebars
Integrated fenders, and mounts for racks & baskets
Upright position
Single-speed drivetrain and rim or disc brakes
City bikes are the go-to choice for those who simply need a bike to get from A to B with not too much of a hassle. Often the cheapest selection compared to other bike types, city bicycles are best suited for city riding.
Those bikes are focused on comfort and practicality, so they provide an upright riding position and lots of comfort. The frame is usually made from aluminum or steel, and the handlebar is often curved and positioned higher than the saddle, which is typically soft and cushiony.
City bikes often come with multiple accessories such as fenders, racks, a basket, lights, a dynamo, a bell, hub gearing, and so on. They usually have a low number of gears or come with a single-speed drivetrain.
8

. Fat Tire Bikes
---
Main Features:
26 wheels and 3.8″ – 5″ wide tires
Rigid fork
MTB geometry frame
Disc brakes and 1x drivetrain
As the name suggests, fat bikes have fatter than usual tires that can ride over soft terrain like snow and sand without sinking. During the 80s when mountain bikes became popular, some adventurous riders modified single-speed balloon-tire cruisers to venture into the deep backcountry, giving rise to the precursor of fat bikes.
In the early 2000s, specialist bike brand Surly introduced one of the first real fat-tire bikes, the Pugsley, which had a custom-built frame and fitted specially designed wide rims. Despite its popularity amongst expedition cyclists, the fat bike fad only really took off much later in the 2010s.
Popular fat bikes include the Specialized Fatboy, Salsa Mukluk, Trek Farley, and Rocky Mountain Blizzard. Due to the heavy extra weight from the large tires and wheels, fat bikes are not ideal for fast cycling on hard surfaces. You should only get a fat bike if you specifically intend on spending a lot of time in snow or sand.
9

. Cargo Bikes
---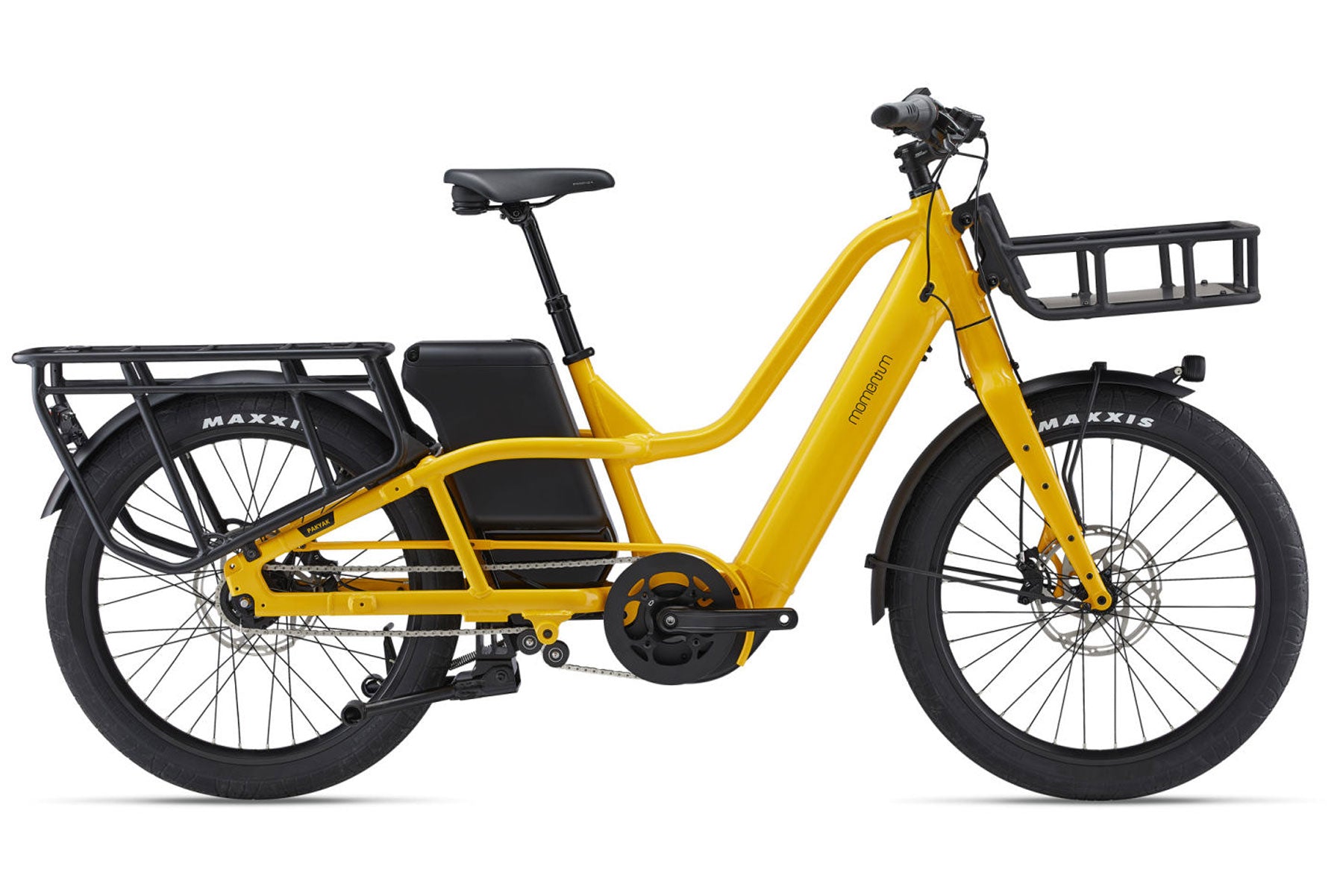 Main Features:
Long front and/or rear racks
High load-carrying capacity
Practical accessories for urban riding
Room for child seats
Smaller wheels
If you need to haul a lot of cargo but don't have access to a car or prefer not to use one, then a cargo bike might be the solution.
Many people don't realize just how much stuff can be transported with a bike, and cargo bikes come in all different shapes and sizes to suit any requirements.
Various different cargo bikes include front-loading bikes, rear-loading bikes, cargo trikes, Long John/Bucket Bikes, commercial cargo bikes, and so on.
Most models can carry heavy loads of over 400 lb, which means you can transport two or more kids on the rear rack, haul groceries, or use a cargo bike for your business.
Electric cargo bikes are especially useful because they help you haul all of that weight by providing assistance with the motor and battery, which is why they are becoming more and more popular.
10

. Folding Bikes
---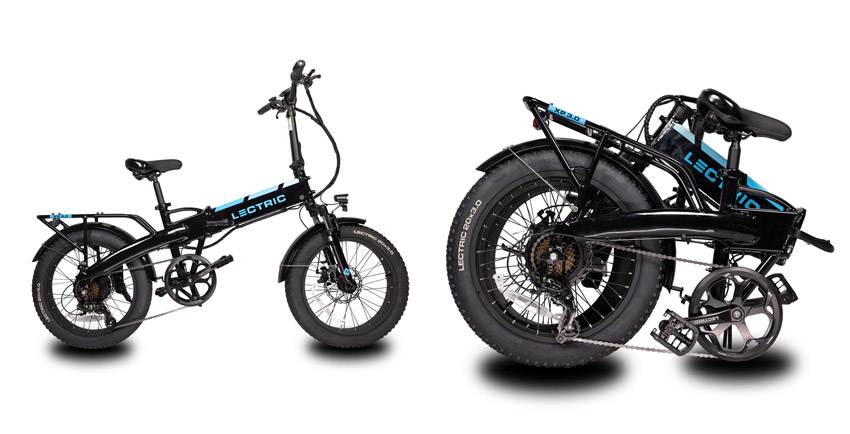 Main Features:
Foldable frame
Small wheels (14″ – 20″)
Compact geometry
Ideal for public transport and storage
Foldable bikes are bicycles that can be folded into a compact size and easily transported on trains, buses, and airplanes. This also allows riders to store them or carry them around easily. Foldable bikes use various folding mechanisms, some of which are better than others.
These bikes are ideal for someone who does not have a lot of storage room at home for a full-size bicycle. Moreover, if you often travel by plane, bus, train, etc. a folding bike will make your life a lot easier.
These bikes typically fold in the middle of the frame, while the handlebar and the pedals collapse inward as well. They have smaller wheels than regular bikes—usually between 14″ and 20″ in diameter—which makes them compact when folded.
Brompton is one of the best-known brands making foldable bikes, but there are other popular brands as well, including Tern, Lectric, Engwe, and so on.
11

. BMX Bikes
---
Main Features:
20″ wheels
Reinforced frame & hubs
Suitable for tricks
Steel or aluminum frame
Rim brakes and no gears
BMX bicycles were first designed in the late sixties, taking inspiration from motocross motorcycles. They are usually based around 20″ wheels, but 24″ wheels can be found as well. 'Real BMX' bikes are always made with a single-speed cassette and a rigid frame. They also have high-rise handlebars which make maneuverability easier.
Two main types of BMX bicycles are designed for either racing or freestyle riding. They are very similar, but there are some tiny differences between the two. Freestyle models often have rear and front stunt pegs which make doing tricks easier. Besides the two main types, other subtypes include Flatland, Street, Vert, Park, Trail, Dirt jump, and so on.
As always, prices vary from one shop to another and from one model to another. Entry-level models cost around $300, mid-range models usually cost less than $1,000, whereas pro models cost between $1,000 and $1,500.
12

. Recumbent Bikes
---
Main Features:
Reclined riding position
Bikes and trikes available
Ideal for riders with back or hip pain
More expensive than regular bikes
A recumbent bike, also known as a 'bent' is a bicycle that allows the rider to be in a laid-back position while cycling.
This position allows for the weight of the rider to be better distributed, so it reduces low back pain and other problems. It is also believed to be the most efficient way for a human being to cycle on two wheels as this is the most ergonomic position of the human body that balances comfort and power output.
Apart from recumbent bikes, recumbent trikes also exist, with two wheels in the front or in the rear. This subtype is ideal for riders who struggle to maintain balance on two wheels.
Recumbent bicycles are generally more expensive than regular bikes because of the technology, time, and effort that goes into making them. Average models cost around $1,500, but some high-end models can cost upwards of $5,000.
This type of bike is best suited for those who have been experiencing back or knee pain when cycling.
13

. Kids' Bikes
---
Main Features:
12″ to 26″ wheel size available
Balance bikes available for learning
Single-speed bikes available for younger kids
Specialty models available for older kids
Sized based on the wheel diameter
Kids bikes have come a long way from the old days of basic single speeds with training wheels, now accommodating kids of all ages and skill levels.
The most basic of kids' bikes is the Balance Bike, a simple two-wheeled bike with no pedals, gears, or brakes. When seated, the child can keep their feet firmly on the ground and push to get going or to stop. This is ideal for beginners in the 2-3-year age group who still need to learn how to balance.
Kids who already know how to balance on two wheels can choose from a variety of kids' pedal bikes, including kids' mountain bikes, kids' hybrid bikes, and even kids' electric bikes.
Kids' bikes are typically sized based on the wheel diameter, with sizes starting from 12″ (suitable for toddlers) and going all the way to 26″ (suitable for school kids and teens).
14

. Women's Bikes
---
Main Features:
Women-specific geometry
Different types available
Women-specific touch points
Discontinued by many brands
Traditionally, bike manufacturers designed women's bikes with a lowered top tube to accommodate long dresses and make it possible to step through the frame rather than swing a leg over the rear wheel when mounting.
These days, most women typically cycle with similar clothing to men and don't require a lowered top tube to step through, so women's bikes come in all shapes and types.
Women-specific bikes typically have a shorter reach and wheelbase and a lower step-over clearance. They often also have a wider and shorter saddle and the colors are sometimes more appealing to women.
However, these are minimal differences, so most brands have stopped making women-specific bikes and make unisex models instead.
Juliana Bicycles and Liv Cycling are women-specific bicycle brands dedicated to manufacturing bikes with characteristics specially designed with the female form in mind.
15

. Cruiser Bikes
---
Main Features:
26″ wheels with balloon tires
Single-speed with coaster brake
Mustache-type handlebar
Double-spring saddle
Cruiser bikes are designed almost exclusively for casual recreational riding. They are most popular in beachside towns where cyclists use them to cruise along the boardwalk on lazy summer days.
Typically, they have a laid-back, relaxed frame geometry that places the rider low down and far back on the bike. This allows for comfortable cruising but makes it more difficult to go fast or cycle uphill.
Cruisers are commonly built from inexpensive materials like cheap steel or aluminum and often have a single-speed drivetrain with a simple coaster brake. This cuts down on the number of components required, making cruiser bikes cheaper and more attractive to recreational cyclists.
They usually have very large, soft tires that swallow up any vibrations on the road and include a basic 3-speed rear hub to give the rider a few more options if they live in a hilly town.
16

. Adventure / Touring Bikes
---
Main Features:
Strong wheels with more spokes
A wide range of gears
Drop-style handlebar
Front and rear racks
Upright geometry
Touring bicycles are built for longevity and durability as well as for carrying front and/or rear panniers packed with everything you'll be needing on the road.
A touring bike, also known as an adventure bike, typically has a rigid steel or aluminum frame with a relaxed geometry, strong wheels, and a drop-bar handlebar. Of course, they also come with front and rear racks to allow you to carry your gear.
A recent update that the touring bike world has seen is the introduction of belt drivetrains as they offer a silent, clean, and pretty much maintenance-free ride. However, models with a chain and traditional drivetrain are more popular because it's easier to source parts in remote areas.
Touring bicycles usually have a large number of gears (up to 30) and simple rim brakes or mechanical disc brakes, as they are easier to fix on the road than hydraulic disc brakes.
A popular subtype of the touring bicycle are bikepacking bikes. They resemble gravel bikes and are designed for off-road touring in remote areas, also known as bikepacking.
17

. Fixie / Single-Speed Bikes
---
Main Features:
Single-speed drivetrain
Fixed or freewheel hub (or flip-flop)
700c wheels
Coaster brake
Narrow flat handlebars
Fixie and single-speed bikes are bicycles that have no gears, just one rear cog running off a single crankset.
The term fixie is short for 'fixed gear' and was made popular by bicycle couriers in cities like New York and London. Nowadays, there is a thriving underground fixie scene, particularly among young urban people and students.
Fixies differ from single-speed bikes in that their rear cog is fixed rather than free-wheeling, so you can't coast along without the pedals turning. The advantage of this is that you can brake by pushing back on the pedals, the disadvantage being that when going very fast downhill you have to keep your legs turning.
Many fixie riders prefer the simplicity and low maintenance of having no caliper brakes, although this is illegal on the roads in most major cities.
18

. Klunker Bikes
---
Main Features:
Cruiser frame
BMX handlebar
MTB tires
Single-speed drivetrain
Klunker bikes are a unique fusion, combining elements of retro cruisers, fixed-gear bikes (fixies), and BMX bicycles. They were created in the early 1970s in Marin County, California.
They are characterized by having a cruiser-style steel frame, BMX-style handlebars, wide mountain bike tires, and a simple single-speed drivetrain.
These bikes are built for adventurous cyclists looking for an exciting ride on dirt trails, rocky paths, and backcountry adventures. Despite their straightforward design, klunker bikes offer exceptional comfort and a one-of-a-kind riding experience.
With their distinct character and captivating aesthetics, klunker bikes capture the essence of laid-back, fun-filled cycling adventures.
Over the years, klunker bikes have developed a devoted following among cycling enthusiasts who cherish their heritage, timeless design, and the pure thrill of pedaling through the wild.
19

. Tandem Bikes
---

Main Features:
2-person bike
24″ – 26″ wheels
Increased weight capacity
Synchronized or independent pedaling
A tandem bicycle is generally a 2-person bicycle with two saddles and two pairs of pedals.
The most typical tandem bicycle is equipped with a freewheel and a single derailleur which means that both riders can contribute the effort at the same time, or individually.
Although the majority of tandem bikes are built in the way pictured above, there are also parallel tandem bikes where the bikes are welded together side by side, and tandem bikes where the cyclist sitting on the back is facing backward.
People use tandem bicycles mainly for fun, and there's a very small portion of followers who also take part in bike races. Tandem bikes are also a popular choice for bike tourists who travel in pairs, as they can share the entire trip together.
Tandem bikes can also be built for three or more riders, though these are more rare.
20

. Swing Bikes
---
Swing Bikes are unique bicycles that bring a new element to traditional riding. What makes these bikes special is their distinctive frame, designed with a pivot in the middle.
This pivot allows the front and rear wheels to move independently, giving the bike its "swinging" motion. When you ride a Swing Bike, you can make cool, swaying movements, almost like dancing on two wheels.
Swing Bikes offer an exciting and unique riding experience, but they require a bit of practice to master. As you pedal, you'll discover how to control the bike's swing, allowing you to perform tricks and maneuvers that are simply impossible on regular bikes.
The challenge of mastering a Swing Bike makes it a fantastic choice for thrill-seekers and those looking to improve their balance and coordination while having a ton of fun.
Whether you're an aspiring stunt rider or just looking for an exciting biking adventure, Swing Bikes are sure to provide a ride like no other.