Cannondale is one of the leading companies in the bike industry. Over the years, they have provided us with a wide variety of bikes to choose from. A train station in Wilton, Connecticut is known as the Cannondale Metro-North is the inspiration behind the name of the company.
The company has built a reputation for coming up with innovative frames and other fresh features. Below is a review of everything you need to know about this company, its reputation, and the different bikes it has to offer.
About Cannondale
Founded in 1971

The first racing bike made in 1983
Production of mountain bikes started in 1984
The Cannondale Bicycle Corporation is an American branch of Canadian conglomerate Dorel Industries. One of its main products is bicycles.
The Cannondale Corporation was founded in 1971 by Joe Montgomery and Murdock MacGregor to manufacture precast concrete housing. It hit its stride a couple of years later when it incorporated polymath engineer Ron Davis into its ranks.
Once a privately held company, Cannondale became publicly held after a $22 million IPO in 1995. Today, Cannondale offers high-end bicycles. Several of its bicycle frames were manufactured with materials such as steel or titanium.
Cannondale is considered a pioneer in carbon-fiber technology and one of the first companies that started to play with the material for bike production.
Cannondale's Technologies
Cannondale was the pioneering company of the Lefty fork.
So what is the lefty? This is a unique suspension fork that has been designed by Cannondale; it's quite unorthodox because it only has a left side or blade.
It is certainly weird at first but many users have confessed that it indeed helps in pinpoint control and cornering precision. Leftys can be used on almost all mountain bikes because of the many adapters available in the market.
Dual crown assembly means that the Lefty fork has the advantage of being stiffer and lighter. The more responsive feel of the Cannondale Lefty is because it doesn't use conventional fork bushings but instead uses needle bearings.
It is also possible to replace the tire or inner tube while the wheel is still mounted on the bicycle, unlike a traditional front fork.
Cannondale is also the pioneering bike company in carbon fiber frame technology. The company has ignored steel or titanium and instead focuses on aluminum. Since 2001, the company has been using Hollowgram; a crankset and bottom bracket technology used for its high-end bikes.
Cannondale Bikes Model Range
Cannondale has a broad target market and hence it has been creating bikes meant to suit different consumers' needs. The company offers different kinds of models which include:
Mountain
Electric
Road
Women's
Gravel
Cyclocross
Urban/Hybrid
Fitness
Kids'
2021 Color Code – Alpine
---
Cannondale Mountain Bikes
Cannondale Mountain bikes are built to deal with rough terrains with relative ease. They offer great performance and come with a promise of reliability and consistency. These mountain bikes offer some of the best options for off-road adventurers and competitors.
The company makes many different types of mountain bikes:
Trail
All-mountain
Enduro
Cross country (XC)
Sport
Fat bikes
Electric
Like all models in the line, Cannondale Mountain bikes are designed to perfection. They are intricately crafted to satisfy the most daring mountain bike enthusiast out there. Its range of mountain bikes includes race xc bikes, gravity bikes, e-mountain bikes, and trail bikes.
They are built from a full carbon frame, in many cases, it's a high-grade low-drag BallisTec composite. Riders come in all shapes and sizes, as do Cannondale bikes. Each mountain bike is crafted to the needs of its riders and offers a proportional response to said needs. Their suspension system is tailored to a specific desire and layout and affords its owner optimal traction, suppleness, and absolute control.
There's a model of mountain bike for everyone in Cannondale's catalog, no matter the circumstances or the peculiar desires out there.
Related Mountain Bike Reviews:
Cannondale Jekyll AL4 – Full-suspension MTB
Cannondale Catalyst 4 – Hardtail mountain bike review
Cannondale Trail 7 – Value mountain bike review
Cannondale Trail 8 – Entry-level mountain bike review
---
Cannondale Road Bikes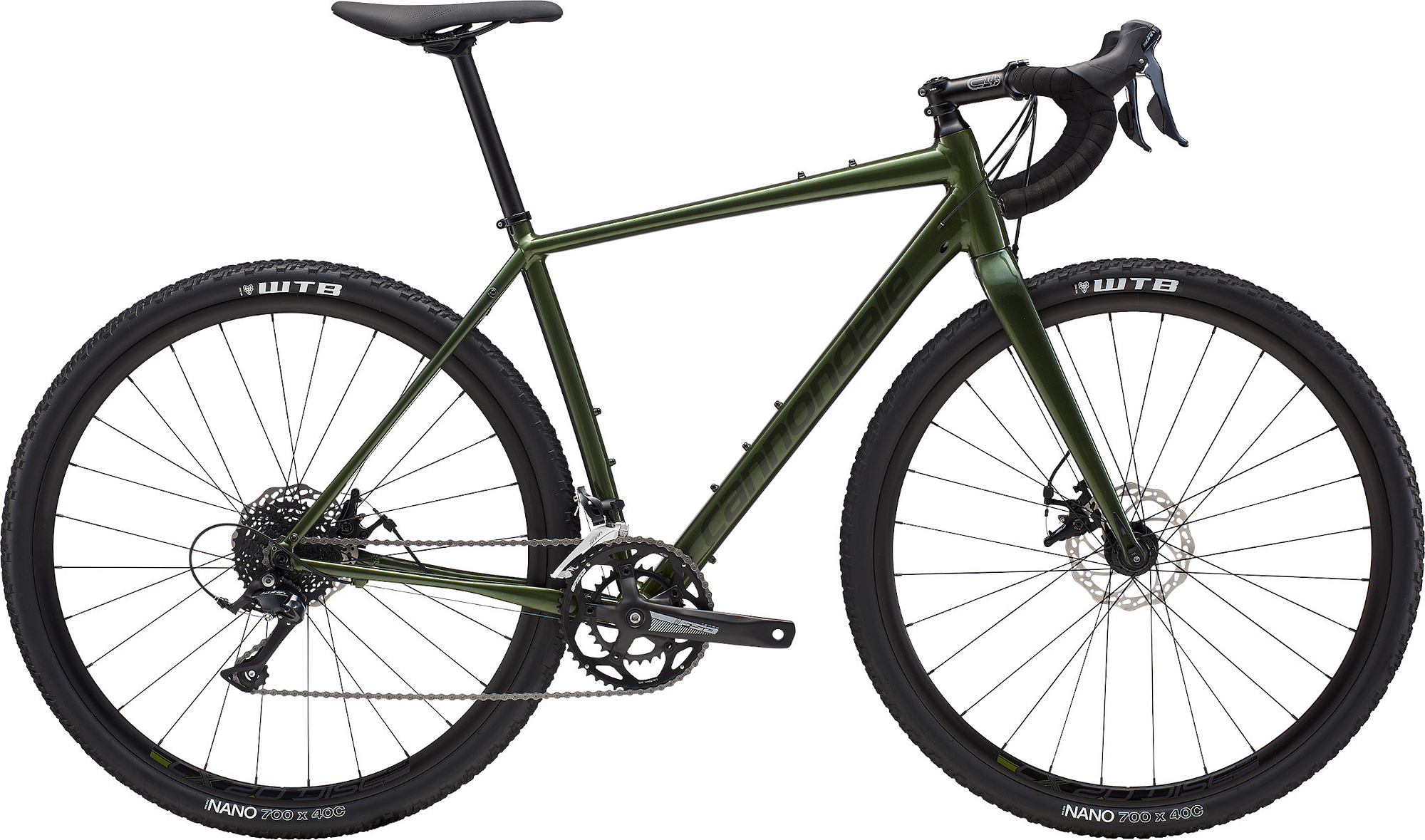 Cannondale has a massive road bike range, with over 5 base models that can be upgraded. Most are made from a high-grade low-drag BallisTec carbon frameset. One of the lightest in the market as of today. Higher-end models, like the SystemSix, are outstripped of almost every component that might create drag or add on a millisecond or more to an athlete's time.
It's a machine that's made to sprint, and climb hills faster, conserving energy and gifting its driver maneuverability and comfortability. The bike's truncated airflow tube shape offers the same weight, and a better stiffness, but reduces drag by 30%.
Each bike is holistically designed to be the most aerodynamic and lightweight in the market. Its only real pursuit and reason for being is its pursuit of speed and podiums.
Race
Endurance
Cyclocross
Gravel
Related Road Bike Reviews
Cannondale CAADX 105 – Cyclocross bike
Cannondale Topstone – Gravel bike series review
Cannondale Synapse Carbon Disc 105 – Endurance Road Bike Review
---
Cannondale Hybrid Bikes
Cannondale is renowned for its aluminum hybrid bikes that can be used for commuting, recreational riding, or fitness cycling.
There's a huge selection of models available, so any type of rider can choose a build that fits their specific needs.
Cannondale's hybrid bikes are light, streamlined, and equipped with high-quality brand-name components. Some models come with handy accessories, whereas others are minimalistic and focused on speed and performance.
Hybrid Bike Related Reviews
Cannondale Quick 3 Review – Fitness hybrid bike for speedy commutes
Cannondale Quick CX3 – Hybrid cross bike with suspension
Cannondale Bad Boy 1 – Fitness bike with a belt drive
Cannondale Bad Boy 3 – Fitness bike with a lefty fork
---
Cannondale Electric Bikes
Cannondale loves their press and truly believes they are "the chosen one" as far as e-bikes are concerned – to what extent? Their line of e-bikes is called NEO, and their company logline is:
E-Mountain
E-Fitness
E-Road
E-Touring
E-Urban
"Neo. The power for more – more rides, more speed, more distance, more fun. Neo means electric."
Some of their award-winning bikes in this field really cement their place and hold true to their marketing campaign. Most bikes in this field, whether it's a cruiser, a hybrid, a mountain, or a racer, are carefully crafted with BallisTec carbon frame technology and materials.
For over ten years the company has used, in collaboration, Bosch state-of-the-art EBike Systems. A next-level design that's constantly being upgraded to include better readouts, better response, and more horse-power.
In celebration of that partnership, Cannondale has even composed a limited edition Bike – the award-winning Topstone Neo Carbon Lefty LE – that showcases all its innovations and next-level breakthrough in the field. The Topstone highlights an all-new Bosch Nyon display, an anniversary-edition Bosch Performance Line CX drive unit, and bump-taming full suspension from the Kingpin system and Lefty Oliver fork.
---
Cannondale Kids' Bikes
From age 1 to 12, Cannondale's kid's line is meant to inspire a love and passion for bicycles. From helping your kid get their balance and hitting the pavement, to that tentative moment when they decide it's time to scrape their knees and slip into the forest to get muddied. Cannondale's kid's bikes are constructed with kid-correct features and with a child's anatomy in mind.
For the youngest riders, they offer balance push bikes with optional and detachable training wheels. For the budding cyclist, that wants to start trailblazing, Cannondale has a great catalog of simple gear optional mountain bikes, smartly equipped for kids that are just getting their bike legs.
Each bike has what Cannondale calls "Kid-Correct fit features", the Goldilock's ratio of "just right." Everything is perfectly situated so that the tiger can reach the brake levers, handlebars, and grips. As for the weight, Cannondale's policy will always be: the lighters it is, the easier it is to ride… and with kids, they double down on that rule of thumb. Most kid's bikes in its line are beautifully crafted aluminum frames with lightweight alloy bars, stems, and rims.
---
Where to shop Cannondale online?
Shop on REI.com Shop on Aventuron.com