Cannondale Trail 8 Review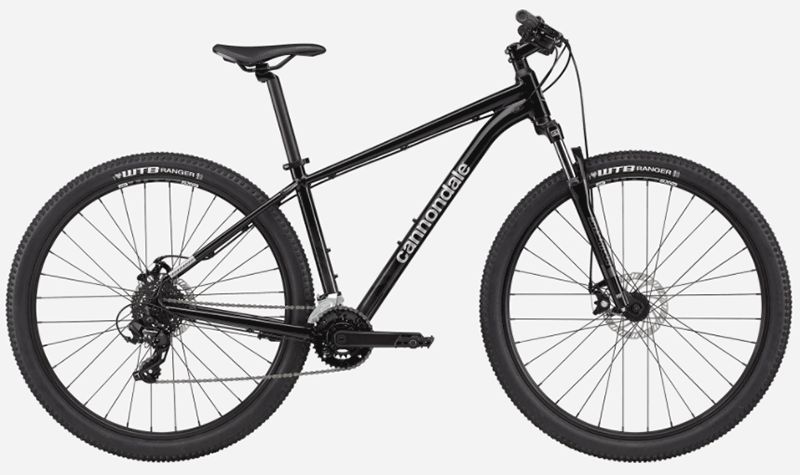 The new Cannondale Trail 8 is the cheapest mountain bike by Cannondale.
It features all the modern features to get the beginner cyclist on two wheels and out on the trails. Sure, $600 for a mountain bike is pretty much the lowest you can go and still expect a solid ride out of it, but the Trail 8 is definitely here to show that it is worth every dollar of it!
Cannondale Trail 8 Quick Specs
The Trail 8 is part of the hugely popular Cannondale Trail series. This is an entry-level mountain bike that offers excellent value for the money, reflected in the following specs:
Frame: SmartForm C3 alloy aluminum
Fork: SR Suntour, 75mm travel
Bottom Bracket: Sealed Cartridge
Front Derailleur: Shimano Altus 2-speed
Rear Derailleur: Shimano Tourney, 7-Speed
Number of Gears: 14
Brakes: Tektro mechanical disc, 160/160mm rotors
Rims: WTB SX19, 32h
Tire Width: 2.25″ (F), 2.20″ (R)
Saddle: Cannondale Stage 3
Weight: 32 lbs. 15 oz. (15 kg)
Cannondale Trail 8 Full Review
Cannondale Trail 8 is a phenomenal mountain bike that doubles as an everyday commuter. It has everything a beginner rider would be looking for — low price, dependable components, durable build, and good looks! Even though Trail 8 has wide tires that make it suitable for off-road riding, it is not intended for extreme trail rides and abuse. Its entry-level components wouldn't be able to take it for very long.
Trail 8 is a bike made for casual riders who wish to have some fun on dirt roads, explore unpaved routes, and take short commutes in the city.
One of the things that owners of Cannondale Trail 8 praise the most is handling. This is neither a light nor a small bike, but its geometry makes it swift and efficient both on and off trails. The variable wheel size (27.5″ or 29″) ensures the best possible fit. Short people find it easier to control smaller and lighter 27.5″ wheels, whereas taller riders will get to enjoy the more functional benefits of the huge, 29-inch trailblazers.
Aluminum Frame & Fork
Aluminum frame that Cannondale uses on many of its bikes. The SmartForm C3 alloy, as the material is called, is light and feels nimble on trail rides.
Semi internal derailleur cable routing, rear rack, and fender mounts, and two water bottle mounts. The geometry is comfortable and upright and the design is sleek and simple.
The SR Suntour fork with 75 mm of travel, which is enough to eliminate vibrations, help you jump curbs, and conquer potholes.
Entry-Level Components
The reason why Trail 8 costs just $575 is due to entry-level components, but that does not necessarily mean they're bad. Those level of components is intended for beginners cyclists or intermediate commuters who go easy on the bike. Shimano Altus derailleur on the front and Shimano Tourney on the rear make up 14-speeds. They're excellent for weekend adventures, casual commutes, and easy-going workouts. If you plan to use them for a lot more than that, you'll find them lacking in precision and durability.
Disc Brakes
The Cannondale Trail 8 is equipped with mechanical disc brakes which are not fancy by any means, but the performance and stopping power they offer is much better compared to V-brakes. Disc brakes ensure excellent braking in all conditions, which is especially important if you plan to ride in wet weather, snow, and mud.
Wheels and Tires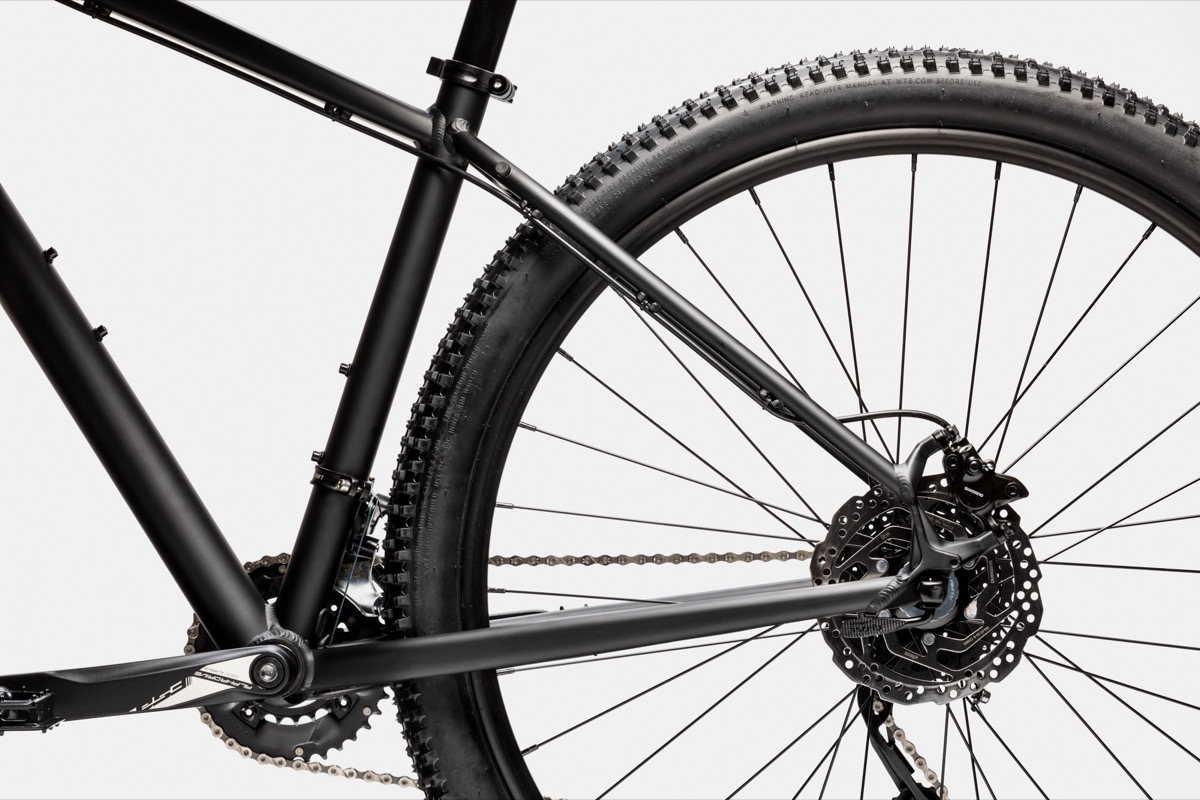 The burly wheels and knobby tires are the most important parts of the Trail 8 bike. They give it versatility and make it suitable for off-road riding and ready to tackle some serious terrain. The smallest frames (XS, S) come with 27.5″ wheels, whereas larger frames are built on 29″, 32-hole rims. The tires on all wheels are WTB Ranger Comp, 2.25″ wide. These wheels are a bit heavy, but they are durable and roll well over obstacles. The tires are quite knobby, so you should expect plenty of grip.
Cannondale Trail 8 Frame Size Recommendation
---
Cannondale Trail 8 is available in five distinct frame sizes, which is enough to find the right fit no matter your height.
XS: 4'6″ – 5'2″
Small: 5'1″ – 5'4″
Medium: 5'4″ – 5′ 8″
Large: 5'7" – 6'0″
X-Large: 6'0″ – 6'3″
Cannondale bikes are well-known for their long top tube, so whenever you fall in-between two sizes – it is recommended to go for the smaller than you'd get with any other bike. Larger bikes are better for long-distance riding, while smaller mountain bikes have better handling on off-road trails.
Cannondale Trail 8 2020 vs New Trail 8 – What has changed?
+

Suspension Travel. The new model has a reduced 75mm of travel instead of the previous 100mm.

+

Chainrings. Cannondale has changed the x3 front chainring to an x2 chainring which is a great improvement in terms of maintenance.

+

Design. The previous model didn't have any visible brand markings on the frame.

+

7-speed cassette instead of the 8-speed on the previous model.

+

Tires. Cannondale is now using WTB Ranger tires instead of Schwalbe Rocket Rick on the previous model.

–

Brakes. Cannondale has downgraded the hydraulic disc brakes from the new model to mechanical disc brakes.
Trail Series Comparison Chart
Cannondale Trail-series Comparison Chart

Cannondale
Wheels
Price
Travel
Speeds
Front Derailleur
Rear Derailleur
Brakes
Trail 1
27.5″ / 29″
1,850
100mm
1 x 12
x
NX Eagle
Hydraulic
Trail 2
27.5 / 29″
1,600
120mm
1 x 11
x
SLX GS
Hydraulic
Trail 3
27.5″ / 29″
1,300
120mm
1 x 12
x
SX Eagle
Hydraulic
Trail 4
27.5 / 29″
1,000
100mm
1 x 10
x
Deore GS
Hydraulic
Trail 5
27.5″ / 29″
750
100mm
1 x 10
Deore
Deore
Hydraulic
Trail 6
27.5″ / 29″
7100
100mm
2 x 9
Altus
Alivio Shadow
Hydraulic
Trail 7
27.5″ / 29″
675
100mm
2 x 9
microSHIFT
microSHIFT
Hydraulic
Trail 8
27.5″ / 29″
600
75mm
2 x 7
microSHIFT
microSHIFT
Mechanical
Cannondale Trail 8: What Can Be Better?
---
Although this is a hell of a bike for this amount of money, let's not forget that it is the cheapest mountain bike by Cannondale
The Trail 8 is best suited for those who tackle light trails or simply need a bicycle for urban commuting. Don't get me wrong, this bike is very capable of cross-country/marathon-type riding.
Rear Derailleur – Needs adjustments every now and then, not the smoothest nor the most durable of the bunch.
Grips – Cheapest, might not be the most comfortable for long-distance riding.
Saddle – You kind of get to feel the steel rails after 30mins of riding.
Fork adjustments – Unclear how to adjust the forks by the dials.
Weight – Even though the bike is on an alloy frame, it is quite heavy.
Chain slap – You might want to get a neoprene cover to protect the paint and stop the chain-slap noise.
Low bottom bracket – Look out for pedal strikes when cornering.
After all – this is a personal opinion from an experienced mountain biker. It costs about $100 to get rid of those downsides to enjoy the bike where it is best suited for! For recreational mountain bikers, there's a lot of bike for the money!
Should You Buy the Cannondale Trail 8?
---
Trail 8 is a safe buy for beginners, casual riders, and first-timers on the trails. If you recognize yourself in any of these three categories, we believe this bike would be a good fit for you.
Cannondale Trail 8 is a versatile two-wheeler that can complete different types of tasks and handle a variety of terrain. Plus, it costs less than $500, which is a big plus.
Its entry-level components are more than good enough for average cyclists who are just looking for a way to get from point A to point B or spend more time outside!