Best Full-Suspension Mountain Bikes Under $3,000 in 2023
Full suspension trail bikes are ideal for long-distance trail or enduro racing, which involves a lot of rough, downhill riding. Trail bikes usually have larger 29″ wheels which make them faster over long distances, whereas smaller 27.5″ or 26″ wheels are easier to handle on the downhill and technical sections.
But is $3,000 enough for a proper full-suspension mountain bike?
We wouldn't recommend anything below $2,000 new when it comes to rideable dual-suspension trail MTBs, therefore $3,000 is somewhat great for beginners, or intermediate riders looking for a comfortable ride on tougher terrains!
First Things First: What is a full-suspension mountain bike?
Full suspension mountain bikes are bicycles with both front and rear suspension, as opposed to only front suspension like that found on 'hardtail' mountain bikes. The key advantage is a smoother ride and softer landing when coming off of big drops or landing jumps in bike parks.
Depending on what kind of cycling you intend to do, full-suspension bikes may have several advantages or disadvantages. Full suspension bikes are usually a bit more expensive and heavier due to the added mechanics on the rear, which can make them less ideal for fast or uphill riding.
However, when it comes to downhill riding, full-suspension bikes are often a necessity. With steep, tricky descents it is far easier and more comfortable, not to mention safer, to ride a full-suspension bike.
---
---
1

. Marin – Alpine Trail 7
HEAD TUBE ANGLE: 63.5° SEAT TUBE ANGLE: 78° CHAINSTAY: 430mm
MSRP: $2,999
Jenson USA

Starting off with a 2023 Alpine Trail 7 model from Marin, this bike includes Shimano Deore 12-Speed gearing and RockShox Yari RC 160mm fork with a 150mm travel Deluxe Select+ RT rear shock. This is a 29″ full suspension enduro/ trail bike built for rough terrain and hard riding. You'll be taken care of by the known and proven combinations in the MTB scene.
The slack head tube angle balances control on descents with a solid climbing position from a steep seat tube angle.
The Vee Tire Flow Snap, 29 x 2.6″ tubeless-ready tires roll nicely but lack some grip in corners. With the right frame geometry and large wheels, some descents can feel a bit sketchy when things get really steep but the TranzX YSP23JL dropper seatpost and instant, one-finger braking certainly help.
This bike boasts a decent set of bikes for beginner and intermediate riders and sits on the low of the selection in terms of price!
Fork –

RockShox Yari RC 160mm

Rear Shock – RockShox

Deluxe Select+ RT 15

0mm
Frame – Series 4 6061 aluminum
Derailleur – 12-speed Shimano Deore
Brakes – Shimano MT420 4-Piston Hydraulic
Seatpost – TranzX
Saddle – Marin Speed Concept
Frames available: S
---
2

. GT – Sensor Sport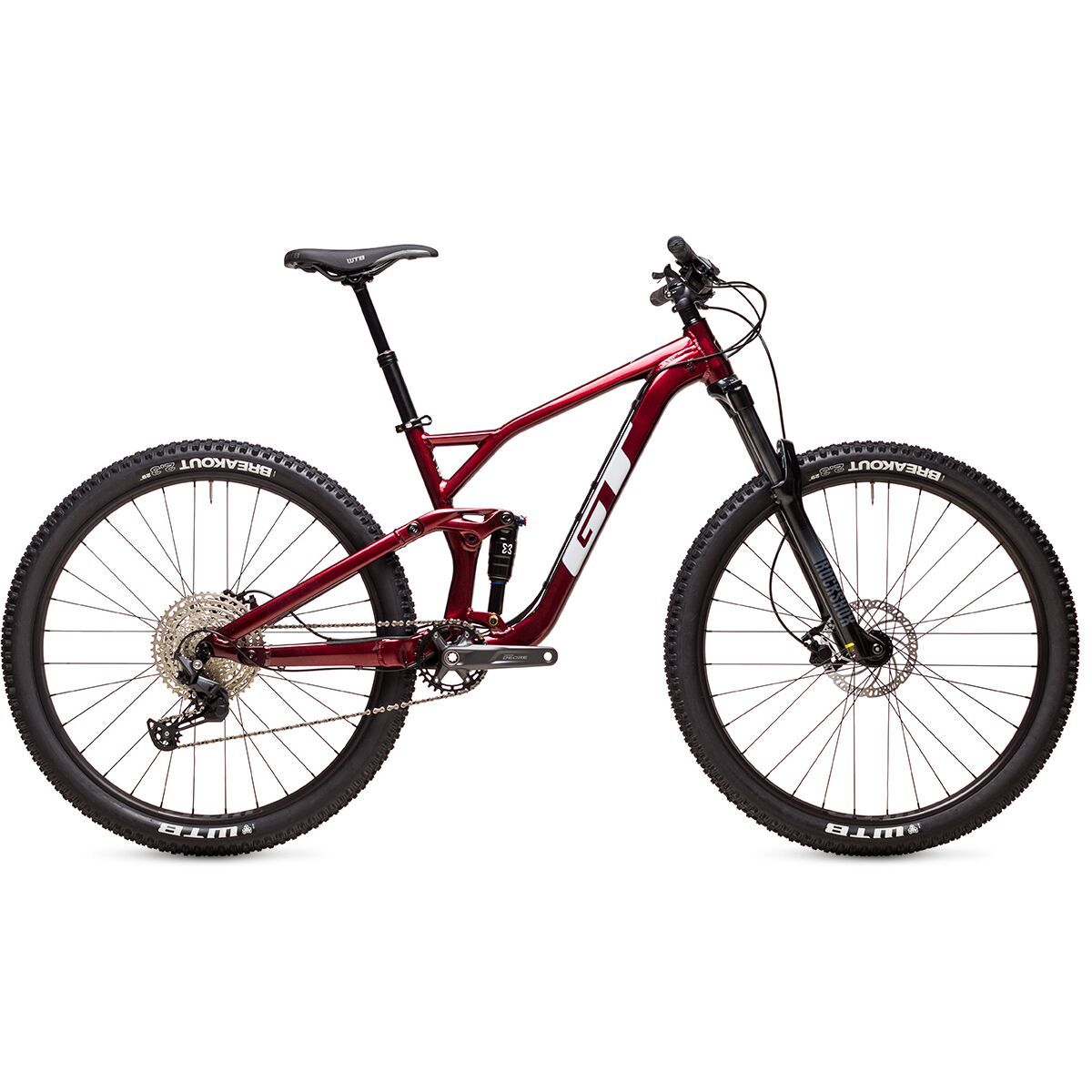 MSRP: $2,375
Backcountry
The Sensor Sport by GT is an affordable full-suspension trail mountain bike with advanced components for this price range. This build version comes equipped with all the essentials to hit the trails with:
Fork: RockShox Recon Silver RL 140mm
Rear Shock: XX-Fusion 02 Pro RL 130mm
Shimano Deore M5100 11-speed
TranzX dropper post
WTB Breakout 29×2.3″ tires
The level of components is often found on $3,000 bikes. Mountain bike brands have worked hard to release full-suspension mountain bikes at a more affordable range, and GT is no exception here!
GT isn't a boutique-type brand so it might not hold the second-hand selling value as well as other brands on this list. However, there's more than enough to customize the bike according to your needs, all the extras are there to get you through whatever the road throws at you. If you are thinking of upgrading the bike, there's literally nothing to swap out at the first glance.
Available frames – S-XL
---
3

. Rocky Mountain – Element Alloy
29″
HEAD TUBE ANGLE: 65° SEAT TUBE ANGLE: 76° CHAINSTAY: 436mm
MSRP: $2,559
With its large and thick tires, mid-travel, and slack geometry, the Rocky Mountain Element makes for a surprisingly powerful trail bike that also flows freely on demanding trails. It takes on technical offroad riding with impressive confidence, sailing over obstacles, and shredding terrain of all kinds.
The tubeless-ready rims fit nicely with the 2.4″ WTB Trail Boss Comp tires that take on the sand and slippery surfaces with ease while rolling more than adequately cover the tarmac. Add a Shimano Deore 11-speed drivetrain, and you have a fully-fledged competitive trail bike that offers excellent value for money.
After all, many intermediate/expert cyclists prefer Rocky Mountain, a bike brand specializing in all types of off-road riding.
Number of Gears – 11
Fork – RockShox Judy Silver 130mm
Rear Shock – RockShox Deluxe Select 120mm
Frame – FORM Alloy, RIDE-4 Adjustable Geometry
Shifters – Shimano Deore
---
4

. Diamondback – Release 29 2
MSRP: $3,400
REI.com | Backcountry
This 29er full-suspension trail mountain bike is the perfect intermediate option for all-around riding over varied trails. It benefits from a Shimano SLX M7100 drivetrain coupled with Diamondback's Level Link suspension technology for a highly efficient system.
With a medium 140mm of front travel and 130mm on the rear, the Release 2 can tackle the steepest descents with comfort and confidence. There's a lot to be adjusted according to the rider to make ascending as suitable as possible. Fox Rhythm 34 fork and Float DPS EVOL LV Performance rear suspension combine with Shimano SLX for a highly-competitive choice.
Number of Gears

–

12
Fork –

Fox Rhythm 34

140mm travel
Rear Shock – Fox

Float DPS EVOL LV Performance

130mm travel
Brakes – SLX Hydraulic disc, 180mm rotors
Buy from REI.com Buy from Backcountry.com
---
5

. Co-op Cycles – DRT 3.3
27.5″ / 29″

REI Score: 4.8 / 5 out of 18 ratings
HEAD TUBE – XS, S: 66° / M-XL: 67° SEAT TUBE: 75° CHAINSTAYS: XS, S: 433 / M-XL: 441
MSRP: $3,299
REI.com

The DRT 3.3 is the newest addition to the Co-op Cycles DRT family with tons of durable components to rely on. With size-dependable wheels, travel, and dropper-post sizes, Co-op has always managed to squeeze a lot of bikes into the best-value price tag.
With a remote-control dropper seat post included and deep-treaded WTB 2.4″ tires, you'll be ready to hit the mountains right out the box with the DRT 3.3. At under $3,000, it represents one of the best value aluminum full suspension mountain bikes available today. DRT-series full suspension mountain bikes start as low as $2,199!
Number of Gears – 12
Wheel Sizes – XS – S: 27.5″ / M – XL : 29″
Fork – RockShox Revelation – Motion Control RC (120-130mm)
Rear Shock – RockShox Monarch R Solo Air – Rebound adj. (120-130mm)
Frame – Co-op Cycles 6061 aluminum
Shifters – Shimano SLX 12-speed
Rear Derailleur – Shimano SLX
Brakes – Shimano SLX hydraulic
Rims – WTB ST light i30 – tubeless-ready
Tires – Maxxis High Roller (2.4″ width) – tubeless ready
Seat Post – X-fusion Manic dropper with remote; 100mm/150mm (XS – S / L – XL)
Saddle – Giant
The maximum weight limit is 300 lbs. total, including rider + gear
---
6

. Devinci – Troy Carbon GX
HEAD TUBE ANGLE: 65.5° SEAT TUBE ANGLE: 78.1-76.9° CHAINSTAY: 443-438mm
MSRP: $4,600
Gravity Coalition
Devinci has never messed around when it comes to serious mountain bikes, and won't be doing that even when it comes to the 'cutting corners' price range. They have managed to combine a much of a beast at such a limiting price tag, as the brand is known to be making bikes on carbon frames by using the most compatible components in the range.
Built for the trails, Devinci Troy is well suited for demanding cyclists who know how to push through the trails with the least amount of effort. 150mm/140mm suspension by Fox Float, a carbon frame rolling on 29″ wheels that get powered by SRAM GX Eagle 10-52t drivetrain should be quite a funky mixture! There's a lot to look into in that deal!
Number of Gears – 12
Fork – Fox Float 36 Performance 150mm travel
Rear shock – Fox Float DPX2 P.Elite 140mm travel
Frame – Carbon DMC-G
Drivetrain & Shifters- SRAM GX
Brakes – SRAM Code R 200mm rotors
SDG Tellis 34.9mm Dropper Seatpost
Tires – Maxxis Minion DHF 2.5″ and DHRII 2.4″ MaxxTerra Exo+ TRf
---
7

. Marin – Rift Zone 2 27.5″
MSRP: $2,349
Jenson USA
The Rift Zone 2 is another great example that some decent large bike brands, like the Marin, know how to reel in new mountain bikers on a limited budget. No, it is not a cheap bike, it will definitely stand the test of time most beginner and intermediate mountain bikers have the courage and skill to push this bike through.
In essence, the Rift Zone 2 is a decent deal packed in a surprisingly attractive price tag. The main features that stand out are the Vee Tire Flow Snap, 27.5 x 2.35″ tires, boost spacing, internal cable routing, and all the specs listed down below.
Gears – 11-speed Shimano Deore, 10-51T cassette
Fork – RockShox Recon Silver RL, 130mm Travel
Rear Suspension – RockShox Deluxe Select R 120mm Travel
Brakes – Shimano BR-MT200 Hydraulic
TranzX dropper post
To conclude, this is an awesome bike at an unbeatable value by a decent brand that knows its way around mountain biking.
Buy from JensonUSA.com Buy from GovVelo.com
---
8

. Rocky Mountain Instinct
MSRP: $2,899
Jenson USA
Rocky Mountain's mountain bikes range is well-known for its performance-focused builds.
The Instinct is based on the latest trend among mountain bike brands that are producing high-quality bikes at a more affordable rate.
It is nice to see such an awesome bike with decent components during the shortage of entry- and mid-range bikes. Take a look at Jenson USA's page to see more.
Fork – RockShox Recon Silver RL, 150mm travel
Rear Suspension – RockShox Deluxe Select
Derailleur – Shimano Deore 11-speed
Brakes – Tektro hydraulic disc brakes
---
9

. Norco – Fluid FS 3
29″

Best under $2,500 full-suspension MTB
HEAD TUBE ANGLE: 65° SEAT TUBE ANGLE: 77.3° CHAINSTAY: 425-445mm
MSRP: $2,499
Jenson USA
The Fluid FS 3 is a well-priced trail mountain bike with striking looks and some strong features. The RockShox and X-Fusion suspension is particularly impressive on a bike in this price range, with the air-sprung fork a noticeably better choice.
Another great feature is the SRAM SX Eagle drivetrain and cranks, which together provide super smooth transitions with a broad range of gears. The 6061 aluminum frame is slightly heavy but is clearly strong and holds up very well to all kinds of abuse.
Number of Gears – 12
Fork – Rockshox 35 Silver TK, 140mm
Rear shock – X-Fusion 02 Pro R AV, 130mm Travel
Frame – Aluminum
Rear derailleur – SRAM SX Eagle
Brakes – Tektro HD-745 Hydraulic discs
Wheelset – Stan's NoTubes Flow D Rims
Tires – Vittoria Mazza 29×2.4″ / Martello 2.35″ Trail G2.0
Saddle – Norco Trail
---
10

. Orbea – Oiz H30
29″

Best value entry-level dual suspension bike by a big name brand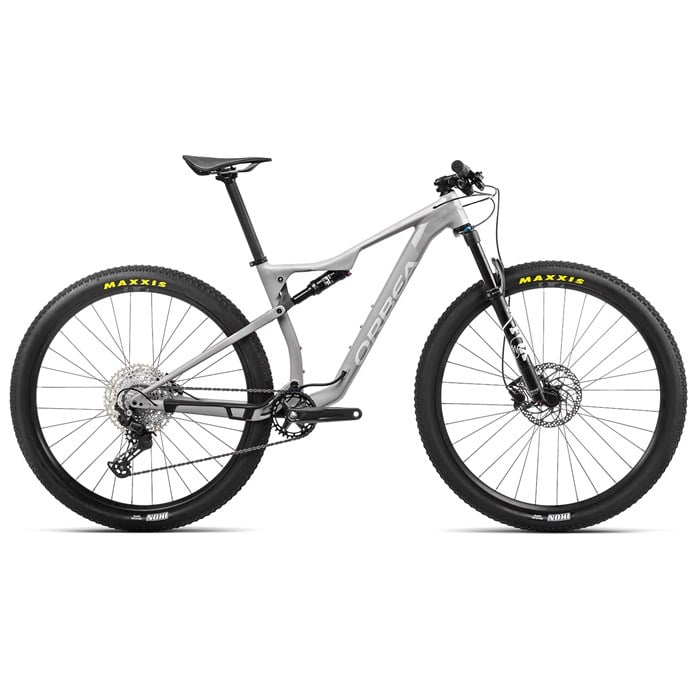 HEAD TUBE ANGLE: 68° SEAT TUBE ANGLE: 74° CHAINSTAY: 435mm
MSRP: $3,299
Jenson USA
It is always the case that the grass seems greener on the other side. Especially when it comes to mountain bikes, where paying that little bit of extra gets you to a whole new dimension of the equipment. Ever since the Oiz was created, it has been a huge hit in the full-suspension trail bike communities.
Although the Deore is on the entry-level of the whole Oiz full-suspension range – many reviewers on Youtube just can't say enough about how good this bike really is.
What stands out most about the new Oiz H30 is that it is a perfect bike for both climbs and descents. There are Oiz owners who have only been riding carbon frames for the past 10 years but have chosen the H30 version due to their lightweight and zippy characteristics.
There's hardly anything to add or remove the bike as the stock model is equipped with well-above-average components!
Orbea is a very tight-knit bike brand in the mountain bike community, and the Oiz is a revolution on its own little section of trail riders!
Number of gears 12
Fork Fox 32 Float Rhythm 120mm
Rear Shock Fox i-line DPS Performance 120mm
Wheels – Orbea OC1 25c Tubeless Ready
Tires – Maxxis Ikon 2.20″ FB 60 TPI Dual
Brakes – Shimano MT201 Hydraulic
Rear Derailleur – Shimano Deore M6100 SGS Shadow Plus
Saddle – Selle Italia Model X Fec
---
11

. Devinci – Marshall
HEAD TUBE ANGLE 66.5° SEAT TUBE ANGLE 76.8-77° CHAINSTAY: 430-435mm
MSRP: $2,700
Gravity Coalition
This trail/all-mountain beast is one of the best full-suspension mountain bikes you can get in the $3,000 price range. The new model features a decent 140mm of travel on the front and 130mm on the rear, making it an ideal all-mountain bike for sure.
Designed to satisfy the needs of many riders, you know Devinci doesn't cut any corners. With top-quality parts including RockShox suspension, Shimano Deore drivetrain, and Deore hydraulic disc brakes, this is a machine built to tame the harshest mountain trails.
Number of Gears– 12
Fork – RockShox 35 Silver TK 140mm travel
Rear shock – RockShox Deluxe Select R Debonair 130mm travel
Frame – Optimum G04 aluminum
Rear derailleur – Shimano Deore
Brakes – Deore hydraulic disc
Wheelset -V2 Comp 29″
---
12

. Ghost – SLAMR 2.9
29″
HEAD TUBE: 66.5° SEAT TUBE: 77.5° CHAINSTAY: 438m
MSRP: $2,399
REI
Designed by Ghost to match bikes double the price and inspire confidence during aggressive trail riding, the SLAMR 2.9 is hard to beat. This is an impressive full-suspension aluminum trail bike.
The 29″ wheels help to keep things quick and stable, adding control and momentum. Additionally, the SRAM SX Eagle drivetrain is a strong addition. Other notable components include the Shimano BRMT-400 hydraulic discs and RockShox Judy Silver 130mm fork.
Number of Gears – 12
Fork – RockShox Judy Silver, 130mm
Rear Shock – RockShox Deluxe Select+ 130mm
Frame – Aluminum Alloy
Rear Derailleur – SRAM SX Eagle
Brakes –

Shimano BRMT400 hydraulic

Rims – Alex MD30
Tires – Maxxis Minion 2.5/2.4″
Saddle – Ergon SM10 Stealth
---
13

. Devinci – Django A 29″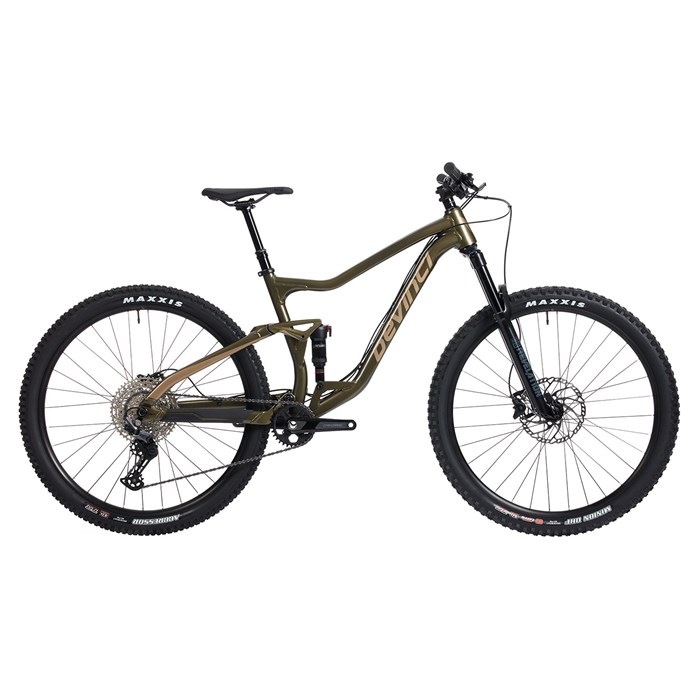 HEAD TUBE ANGLE: 66.5° SEAT TUBE ANGLE: 77.1°-77.6° CHAINSTAY: 435-445mm
MSRP: from $2,799
Jenson USA
Devinci's full-suspension Django series for the 2021 year is extensive, and this is the most affordable model. This 29″ trail bike is built for blasting along mountain trails just like the Django bikes before.
Firstly, it uses a 140mm suspension on the front and back including a RockShox Revelation RC fork and a RockShox Deluxe Select+ RL optimized with a Split Pivot suspension system that provides one of the smoothest rides possible without sacrificing power and efficiency.
This bike easily meets the growing needs of competitive trail riders who aim to push the boundaries of mountain biking. Add a Shimano Deore 10-speed groupset with Maxxis Minion/Aggressor tires and you have a top-quality MTB trail bike that takes no prisoners.
Number of Gears – 10
Fork –

RockShox Revelation RC fork 14

0mm Travel
Rear shock –

Rockshox Deluxe Select+ RL 140

mm Travel
Shifters – Shimano Deore M6100
Rear Derailleur – Shimano Deore M6100
Crankset – Shimano Deore M6130, 32t
Cassette – Shimano M6100, 10-51t
Rotors – 203mm Front / 180mm Rear
Saddle – SDG Fly Mtn
Front Tire –

Maxxis Minion DHF EXO | 29 x 2.5″

Rear Tire –

Maxxis Aggressor EXO | 29 x 2.5″
---
3 Best Women's Full-suspension MTBs
---
14

. Cannondale – Habit 4
29″
HEAD TUBE: 66° SEAT TUBE: 66.3° CHAINSTAY: 435mm
MSRP: $3,025
REI.com
Cannondale never fails to impress with groundbreaking new designs and the Habit 4 bike is no exception. At first look, the aluminum frame seems almost bizarre with its sharply indented downtube but after one ride everything starts to make sense.
A trail bike with its priorities straight: progressive design, playful agility, and killer capability – all in the name of fun.
This trail-focused bike tears through singletrack and over rocky trails with reckless abandon, making short work of small and large obstacles alike. It's certainly better suited to fast trail riding than mountainous descents but although it wobbles a bit, it can take on the downhills with a degree of success.
Habit 4 is also equipped with a reversible chip that allows riders to tweak the geometry by raising the bottom bracket (which steepens the head tube angle by a half degree).
Where it thrives? Light trails, going up and down hills
What it's built for? Traction, handling, durability
Number of Gears – 12-speed. SRAM SX Eagle
Fork – 140mm, RockShox 35 Gold RL, Coil, 15×110 thru-axle, tapered steerer, 46mm offset
Rear Shock – 130mm, RockShox Deluxe Select+, adjustable rebound
Brakes – Shimano MT200 hydro
---
15

. Marin – Rift Zone 1
27.5″

Best under $2,000 full-suspension mountain bike!
HEAD TUBE ANGLE: 65.5° SEAT TUBE ANGLE: 76° CHAINSTAY: 425
MSRP: $1,899
Jenson USA
We'd recommend going through the list of components and looking at the price tag again! Not sure where and how Marin has succeeded to cut corners here, but they sure have put together a great value full-suspension trail bicycle for those who had been pushed away by the humongous prices before.
Although the new 'Rift Zone' doesn't come with a dropper seat post, it's still a decent choice who likes to explore trails – up and downhill.
Marin's previous under $2,000 full-suspension mountain bike has received great feedback and has upgraded its weak spots. After all, the bike's suspension can be tuned to a fine degree that suits you the best, but the MT201 hydraulic disc brakes might hold back your full potential.
For $1,599, this is one of the best mountain bikes under $2,000 with dual suspension!
Number of Gears – 11
Fork – RockShox Recon Silver RL, 130mm Travel
Rear shock – X-Fusion O2 Pro R, Custom Tune, 210 x 50mm
Frame – Series 3 6061 Aluminum
Shifters – Shimano Deore, 11-Speed
Rear Derailleur – Shimano Deore SGS, Shadow Plus
Brakes – Shimano BR-MT201 Hydraulic
Wheelset – Marin Aluminum Double Wall Rims, Shimano MT200B/MT400B Hubs
Tires – Vee Tire Crown Gem, 27.5 x 2.3″ TR
Buy from JensonUSA.com Buy from GovVelo.com
---
16

. Diamondback Catch 1

Best value women's full suspension trail mountain bike
MSRP: $2,550
Backcountry
The Diamondback Catch 1 features intricately detailed frame geometry that allows for aggressive downhill riding without sacrificing power on ascents, making for an ideal all-around mountain bike. The custom-tuned 130mm of front travel combined with 27.5+ wheels and tires results in smooth riding on descents and exciting speed over flatter terrain.
The stiff and strong Hydroformed Aluminum frame has a slack head tube angle for control on descents and a steep seat tube angle that creates an efficient riding position for climbs
While the Catch 1 is marketed as an all-rounder, it clearly finds its feet best in the park or on a trail-racing course. Its quick response and excellent SRAM SX Eagle components make it ideal for jumps, drops, and general rock-hopping activities.
Number of Gears – 12
Fork – SR Suntour Aion, 130mm Travel
Rear Shock – Suntour Edge R, 200 x 57mm
Shimano SX Eagle / Aluminum frame / Diamondback Blanchard 38R Rim / KS EXA Form 900i Internal Dropper
---
Where to look for the best Full-Suspension MTB deals online?
Jenson USA – Yeti, Ibis. Rocky Mountain, Orbea, Evil 🏆
REI – Cannondale, Co-op, Ghost, Salsa
Aventuron – Salsa, Surly, Cannondale, Pivot, Yeti, All-City
Backcountry – Santa Cruz, Yeti, Juliana…much more

Gravity Coalition – Great variety of last-size models
---
Other Popular Mountain Bike Types
XC vs. Trail vs. All-mountain
XC Mountain Bikes
70-110mm fork travel with a 70-71 degree head angle.
Fast trail riding & racing.
Best Short Travel Mountain Bikes
Trail Mountain Bikes
120-140mm suspension travel, 67-69 degree head angle. The most universal and affordable MTB.
Best Trail Mountain Bikes
Enduro / All-Mountain Bikes
140-180mm fork travel, 65-68 degree head angle. For steeper climbs/descends and advanced trails, faster and rougher terrains
Best Enduro Mountain Bikes