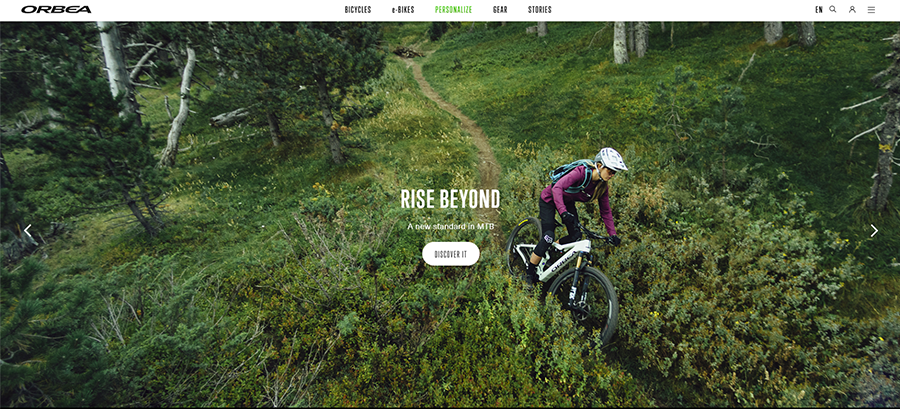 Orbea is a massive name in cycling, producing bicycles for almost a century and sponsoring professional cyclists on the mountain and the road.
The Basque Country in northern Spain is where the brand began and continues today. This area is steeped in cycling tradition and home to some of the world's most successful riders. The passion for cycling in the area is evident in Orbea's bicycles, their quality, and their commitment to excellence.
Today, they are most famous for their broad, innovative mountain bike range, including five distinct models covering the various off-road disciplines.
Orbea sells a large percentage of its bikes in Europe and Spain, where the bikes are assembled after manufacturing parts in their overseas factories.
Orbea Bikes History
---
Orbea was established in 1840 by siblings Juan Manuel, Mateo, and Casimiro Orbea in Eibar, Basque Country, Spain. As of today, the company's headquarters is based in Mallabia, Spain. Most of its bikes are assembled there, while frame-sets are manufactured in China.
The company began as a rifle and gun producer and was quite the hit during WWI. In 1930, it switched from making weapons into producing bicycles. By 1934, Orbea was participating in the Tour de France; the company managed to snag road cycling legend, Mariano Cañardo, as the team's lead.
Founded in 1840
By three brothers Juan Manuel, Mateo, and Casimiro Orbea
In Eibar, Basque Country, Spain.
In 1969, after more than 30 years of excellent products but dwindling profits, Orbea was treading water; it was way in the red. Swamped by debt, the employees formed a co-operative and purchased the brand from the Orbea family. A huge overhaul was put into place and the company was relocated to Mallabia. It shifted from a boutique outlet into a fully formed bicycle factory. For the next 20 years, its primary focus was on creating leisure bikes for consumers in Spain and around Europe.
Finally, in the early 1980s, after clawing their way out of debt, the company once more started sponsoring teams in both the Tour de France as well as Vuelta an España.
In 1989, Orbea began manufacturing mountain bikes.
Orbea produces and builds a variety of road, mountain, triathlon, and urban bikes. They are rather proud of their Orca, Avant, Rallon, Occam, and Ordu models; all famously seen in a variety of competitions. In 2017, Orbea took the dive and started to produce an e-bike model called Gain. The model is available in both road as well as hybrid.
The first Orbea bikes were produced from the discarded material used during gun production. The manufacturers were experts at shaping and joining round tubing for weapons. That same round steel tubing was the initial material from which Orbea crafted its bikes and baby carriages.
Orbea frames are carefully designed to be long-lasting, efficient, and easy to maintain. Its bikes are built out of aluminum or carbon depending on the model, make, and price.
Orbea is a top-shelf manufacturer that produces all manner of bikes. Each one is carefully customized and hand-assembled at a factory owned by its workers. There's a bike for every type of consumer. Leisure, racer, triathlon enthusiast, rugged trail-blazer.
---
Orbea Mountain Bikes
---
Rallon
Enduro/All-Mountain, Park, Trail
29″ / 170mm front / 160mm rear
The Rallon is an all-terrain vehicle built to last. It has a dialed-up suspension and the newest models are even more aggressive and technologically advance. They sport a 160mm redesign linkage assembly that supposes to improve, among other things, stroke sensitivity. The Rallon also has a groundbreaking suspension system that was developed not only with Orbea engineers but with CEIT scientists; the platform was created in conjunction with one of the most prestigious technological institutes in Europe and is constantly being upgraded through the use of advanced computer mapping.
---
Occam
All-Mountain, Trail
29″ / 140 or 150mm front – 140mm rear travel
The Occam is built for those thrill-seekers that see a canyon and instantly wonder: "how long will it take me to skirt that razor's edge." It's a customizable mountain bike crafted to get you there and back again.
The specs' on all the Occam's are quite impressive and the Occam H10 doesn't disappoint. It has a Hydro High Polished Triple Butted 140mm frame, a standard Fox 34 Float Performance 140 3-Position QR15x110 that can be upgraded up to a Fox 36 Float Factory 150 Grip2 RC2 QR15x110 Kashima. The base model comes equipped with a Shimano M6120 Hydraulic Disc and for a few more dollars you can also boost it to a Shimano XT M8120. Almost all the components of the Occam can be improved or personalized right from the factory floor; tires, saddle, seat post, etc. It's an impressive machine right from the get-go and with a few personalized quirks, it gets even better.
Buy on Jenson USA Read Our Full Review
---
OIZ M-Team
XC / XC Race
29×2.35″ / 10-51T 12-speed / 100m front travel
The Oiz is Orbea's thoroughbred. It's the brand's golden child, having reached summits, podiums, and leaderboards in dozens of competitions. The Oiz is a serious cross-country bike that is both stiff and efficient where it matters. A bike whose pedigree has two Wold Cup championships under its belt. The newest model comes with a carbon OMX frame that's stiffer, more nimble, and 5mm shorter than the previous models. Another great feature of this racer is the internal cable routing and a patented long-fiber injected Fiberlink that blends low-weight and impressive rigidity.
---
Orbea Laufey
Trail / Enduro
29×2.6″ / 10-51T 12-speed / 140m front travel
The Laufrey high-travel hardtail is the company's most versatile and clever mountain bike. They have designed it to suit a massive range of riders that want a fun and flexible ride. The Laufrey's geometry isn't optimized for one specific domain; however, it can tackle any trail with confidence and comfort thanks to giant 29″ x 2.6″ tires, slack angles, and big-hit ready fork suspension. Another benefit of this bike is it is affordable and suitable for both newbies and seasoned mountain veterans.
---
Orbea Alma
XC
29×2.4″ / 10-51t 12-Speed / 100m front travel
Orbea's Alma is a lightweight cross-country hardtail with a stylish integrated finish and position that is both comfortable and aggressive, not to mention fast. This bike is precise and responsive with progressive geometry that optimizes efficiency for each frame size. This bike's other notable features include the universal frame hanger for easy replacement, a 27.2mm race dropper post, and extra tire clearance. You can find this beautiful XC bike in a wide range of specs with either monocoque carbon fiber (OMX/OMR) or hydroformed aluminum.
---
Orbea Road Bikes
---
Orca
Road race
700c / OMR Carbon
The Orca is one of Orbeas' lightest and most capable racing bikes. It has become the cornerstone of the company's many achievements in championships. Professional athletes all around the world use this bike in all types of events. Like all Orbeas it has an internal cable routing system with a monocoque carbon frame. The Orca also offers a free-flow aerodynamic fork that offers, that's optimized for directional movement through the wind. The Orca is a lightweight, stiff, comfortable full carbon reliable bike.
---
Terra
Gravel, Cyclocross, Road
700c / OMP Carbon
The Terra is a road bike that's built for more. You're stuck on gravel, and the fancy hits you, you're suddenly jolted into some off-the-road shenanigans, the Terra has you covered. It's a bike designed to be at home on dirt, gravel, and just about everywhere else. It's a road bike designed to be tough as nails and that never backs down from a challenge. The Terra M20i has a carbon frame that's decked out with high-end components and hydraulic disc brakes. It's a great bike designed for commuters, adventures, and speedsters; a versatile bike, that's sleek and incorporates many personalities.
---
Gain
E-Road
700c / Carbon / 250W @ 40Nm torque
The Gain was Orbea's first incursion into the field of E-bikes. The general idea was to maintain the autonomy of the rider, giving them the feel of a bike, and not dominating the ride. It's a lightweight sport-bike crafted with everything tech' gizmo integrated into its interface and carbon frame. It has a patented Internal Cable Routing system and a proprietary headset that allows for smooth airflow and offers easy adjustments. Unlike other E-Bikes in the market, the Gain has everything housed within its structure; integrated lights and covers, hidden clamps, an X35 internal motor with a high output battery that's not bulky, and a user interface that's discreet and at the tip of your fingernails.
---
Where To Buy Orbea Bikes?