Best Women's Mountain Bikes of 2022
Women's mountain bikes have been around since 1999 when Juli Furtado designed the first-ever women's specific mountain bike under the umbrella of the Santa Cruz brand.
Female mountain bikers had been riding long before that, however, with Furtado herself being the most successful XC racer in history until her early retirement. Since the launch of the Juliana brand, other manufacturers have taken note and have slowly come around to the idea of producing women's mountain bikes.
In this article, we'll talk through what the differences are in women's mountain bike frames compared to men's, and some of the best ones you can get started on in the different disciplines and categories. That way you can decide whether you need a female-specific mountain bike or not.
If there's a bike you'd like to see that you think we've missed, drop us a comment below!
Women's vs Men's bikes
Shorter reach
Smaller handlebar & grips
Different saddle design
---
Table of Contents
Hardtails
Full-Suspension MTBs
FAQ & How To Choose
---
Best Women's Hardtail Mountain Bikes
Hardtails are a great way to get into mountain biking without the maintenance requirements of a full-suspension setup.
They have front suspension forks usually up to around 120mm of travel, and rigid rear triangles. They are fantastic for learning tricks and getting the basics of your riding down before you progress to a heavier and more hardcore full-suspension bike.
Have a look at some of the best women's hardtail mountain bikes we've listed below.
Cannondale – Trail 5 Women's
Co-op Cycles – DRT 1.1W
Liv – Tempt 2
Devinci – Riff Deore 10s
Trek – Marlin 6 Women's
Marin – Wildcat Trail 3
Roadmaster – Women's Granite Peak
---
Cannondale
Trail 5 Women's
MSRP: $950
REI Co-op
Look no further when you are looking for one of the best value women's mountain bikes.
The Cannondale Trail 5 Women's is an ideal choice for mixed-terrain commuting, and as a fitness tool. It is ready to hit the trails with its newly upgraded parts from the drivetrain department. We usually don't get too much into details when it comes to the look of the bike, but we can't overlook its pure beauty. There light silver & pink just go so well with the matte black drivetrain & wheels.
If you are new to mountain biking, or Cannondale, we'd recommend to take a closer look at the whole Trail Series. There's literally nothing to add or remove about the bike at this price range.
Aluminum frame
Frame Size Dependant Geometry – XS, S – 27.5″ / M – 29″
1×10 speed microSHIFT Advent X derailleur
Tektro M275 Hydro disc brakes
100mm SR Suntour XCM fork
Weight: 31.2lbs

The GOOD – 1x front chainring, hydro brakes, dropper seat post compatible.
The BAD – Relatively heavy and basic coil fork.
The SUM – Cannondale provides awesome value MTBs and this is a great MTB for beginners and intermediate riders alike.
Frame Size Recommendations
XS – 4'6″ / S 5'1″ – 5'4″ / M 5'4″ – 5'8″
---
Co-op Cycles
DRT 1.1W
Customer rating: 4.8 / 5 out of 26+ reviews
MSRP: $549
REI Co-op
The Co-op Cycles DRT 1.1W is a hardtail women's trail bike.
Designed completely around the female body, Co-op Cycles have built a hardtail with a shorter top tube and stem than the male equivalent. They've also included narrower handlebars and a female-specific saddle to enhance your comfort on the bike.
With 100mm of travel, this bike is ideal for zipping around the bike park or a leisurely trail ride with family and friends.
Frame – 6061 Aluminum
Fork – 100mm, SR Suntour XCT 27.5
Tires – 27.5 x 2.1″
Drivetrain – 24-speed Shimano Altus/Acera
Weight – 30 lbs
Frame Size Recommendations
XS – 5'0″ – 5'3″ / S – 5'3″ – 5'6″ / M – 5'6″ – 5'9″
---
Liv
Tempt 2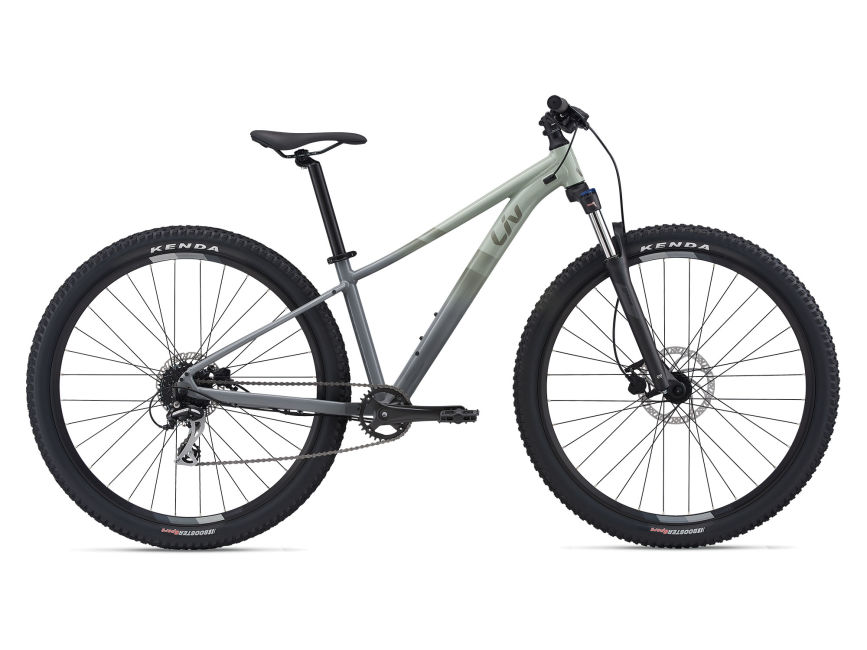 MSRP: $720
Liv-Cycling.com/
Liv is another women-specific bike brand, and the Tempt is their solution to hardtail mountain biking. The Tempt 2 sits right at the middle of the selection and offers awesome value for recreational cyclists. Check out the specs, as this is is one of the best builds at its price range.
100mm SR Suntour XCT 30 fork
Wheel Sizes
Hydraulic disc brakes
XS, S – 27.5″
M, L – 29″
9 speed microSHIFT Advent 1X
Frames XS to L fits riders
from 4'8″ to 5'9″
---
Devinci
Riff Deore 10s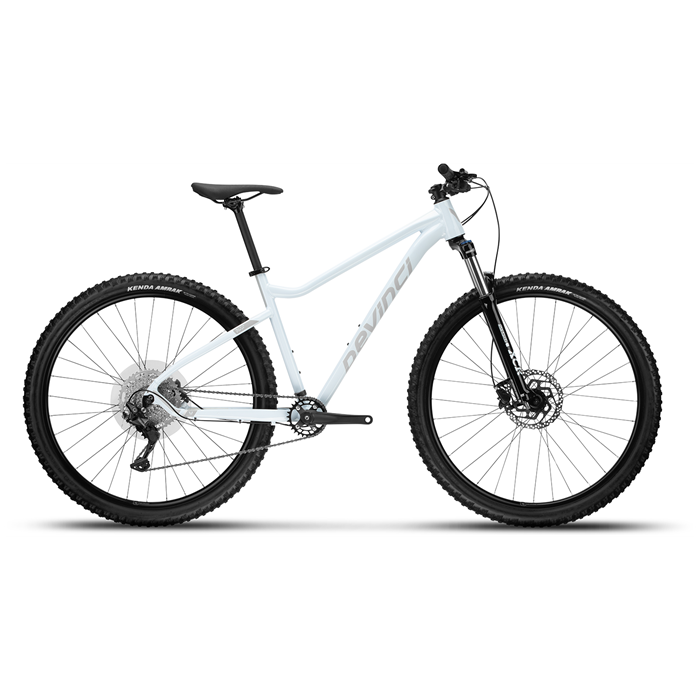 MSRP: $1,099
evo
The Riff Deore 10 is an ideal women's first mountain bike. 1x front chainring drivetrain, 2.4″ wide tires and 29-inch wheels coupled with hydro disc brakes are a truly great bang for the buck. More known by their high-end mountain, and e-MTB's, Devinci is a well-known brand who specializes in mountain biking and have managed to successfully produce differnt kinds of mountain bikes for demanding riders.
Is there's anything to add or remove from the bike? Probably not.
We are surprised to see mountain bikes at this price range which offer a nice set of components which were unseen just five years ago. For $1,100, you'll get a bike that's got everything to get on the trails without the worry of swapping something out after the first 500 miles. Some bikes at this price range offer a fork lockout on the handlebars, but we wouldn't consider this as a turn-off. After all, its got an air fork, and 1×10 Deore drivetrain which are a sweet surprise at this price range, and hey – the nice look of this bike is something we can't underestimate as well.
Aluminum Optimum G02 frame
SR Suntour XCR Air Fork
Shimano Deore 1x10sp drivetrain
Shimano MT200 hydro disc brakes
29×2.4″
Weight: approx 31lbs
The Good
Air fork, nice design, 29er wheels, hydraulic brakes, 10-speed drivetrain
The Bad
Couldn't think of any at this price range besides the fact that its not women's specific.
The SUM
Great looks, trusted MTB brand, nice set-up. Ideal bike for intermediate riders.
Frame sizes from S to XL
Size Recommendations can be found HERE
---
Trek
Marlin 6

Women's

A cross-country hardtail with an efficient ride
MSRP: $700
Trek Bikes (in-store only)
The Marlin 6 is one of many Trek women's mountain bikes the brand produces.
The American brand is a sponsor of a world-class XC team and thus knows exactly how to produce a bike suitable for females whether they are racers or leisure riders. Although built for mountain biking, it's perfectly capable as a bikepacking rig or commuter bike as it has plenty of mounting points for luggage and bottles.
With 100mm forks and a lightweight aluminum frame, this is a versatile female-oriented bike that is a perfect introduction to the world of mountain biking.
Frame – Alpha Silver aluminum
Fork – 100mm, SR Suntour, oil spring
XS, S – 27.5″ wheels / M, L – 29″ wheels
16-speed Shimano Altan
Saddle – Bontrager Ajna Women's
Weight: 32lbs
Frames from XS to M/L fit riders
4'10" to 5'11"
---
Marin
Wildcat Trail 3
A hardtail designed for the female trail enthusiast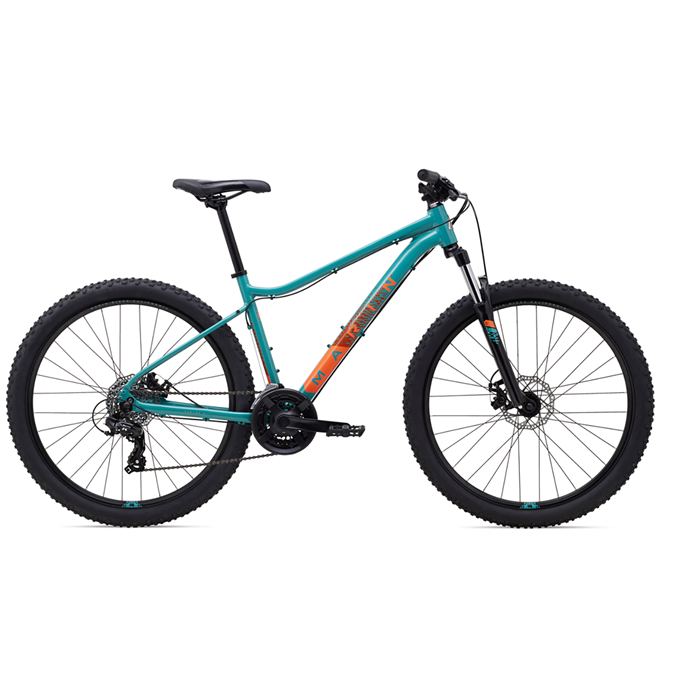 MSRP: $499
evo
Another fantastic example of a women's hardtail mountain bike is the Marin Wildcat Trail 3.
The 3 and 5 in the series are dedicated to the female rider, with slightly altered geometry to suit the female shape better on the bike. Hydraulic brakes and 100mm of travel make this an extremely capable bike on the rough stuff while keeping it comfortable and accessible.
With 27.5″ wheels, this bike is agile, handles well, and makes a perfect bike to ride on the trails or with family.
Frame – 6061 aluminum alloy
Fork – 100mm, SR Suntour
3×7-speed Shimano Tourney
Power CX7 mechanical disc brakes
Frame sizes – XS to L
4'8″ to 5'9″
---
Roadmaster
Women's Granite Peak
A budget bike with 26″ wheels, a great entry-level option
Not particularly the best, but it has received a noticeable score on Amazon. Best suited for those who are looking for a mountain-inspired MTB at the lowest possible budget.
The only 26″ women's mountain bike on our list is the Roadmaster women's Granite Peak mountain bike.
As we said before, 26″ wheels are less common than they used to be on new mountain bikes, but only because the industry is moving towards bigger and slacker. A 26″ wheel bike is still extremely capable it just won't be best suited to a black diamond trail.
This particular bike has a steel frame and a suspension fork to smooth out any bumps and lumps you might come across whether you're on the trail or out riding with family and friends.
Frame – Steel
Front fork suspension
18-speeds
---
Best Women's Full-Suspension Bikes
Full-suspension bikes are extremely versatile and can range from XC bikes to hard-wearing downhill bikes.
There's definitely something for everyone with a full-suspension bike and thanks to brands such as Juliana there are more and more women's bikes available in these categories. They may not all have obvious differences in their geometry, but with a women's specific bike you'll get a finishing kit like a saddle or handlebars that are more tailored to the female body.
Have a look at some of the best full-suspension women's mountain bikes we've picked out.
Juliana – Maverick C S
Cannondale – Habit 5 Women's
Liv – Intrigue
Cannondale – Jekyll Carbon Women's 1

---
Juliana
Maverick C S
A trail and all-mountain carbon-framed beast
MSRP: $5,749
evo
First on the list of our best full-suspension MTBs is the Juliana Maverick C S.
With 140mm of rear and 150mm of front travel, this carbon bike is an all-mountain and trail beast. The 29″ wheels eat up obstacles and technical trails so you can focus on your speed. Using Santa Cruz's patented VPP suspension system it's easy to tune the bike to your needs.
The geometry is adaptable and can be changed using the flip-switch to make the headtube slacker and drop the bottom bracket height for extra stability. Overall, it's a fantastic women's specific full-suspension bike that will take you from the bike park to winning races.
Frame – Carbon
Fork – Fox 36 Float Performance
Rear Shock – RockShox Super Deluxe Select+
Brakes – SRAM Code R
Dropper Seat Post – RockShox Reverb Stealth
29 x 2.4″ Maxxis Minion DHR II 3C MaxxGrip EXO TR
12-speed SRAM GX Eagle
Frame sizes from S to L
5'1″to 6'1″
---
Cannondale
Habit 5 Women's
One of the best Cannondale women's mountain bikes by the value
MSRP: $2,300
REI Co-op
Featuring the long, slack geometry we've all come to love over recent years, the Cannondale Habit 5 is a great example of a women-specific trail bike.
With plenty of travel for trail riding, Cannondale uses its clever Proportional Response technology to set up the suspension on each bike specifically to the weight of the rider. This optimizes performance on the bike by allowing you to tailor your experience and soak up the bumps yet keep it responsive.
At home on the trails or off-piste, this is one gnarly yet stable trail bike for women.
Frame – Aluminum
Fork – 140mm, RockShox 35 Silver, coil
Rear Shock – RockShox Deluxe Select
XS – 27.5″ / S, M – 29″ wheels
11-speed Shimano Deore
Weight: 33lbs
Related: Cannondale Habit series
Frame sizes from XS to MD
5'0″ to 5'9″
---
Liv
Intrigue
A blisteringly fast trail bike designed for women who want to go fast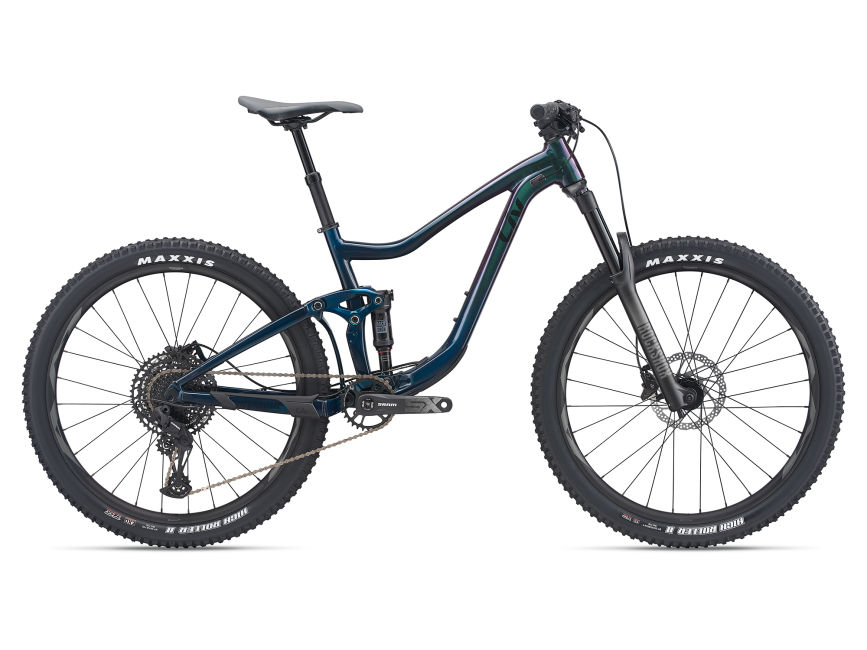 MSRP: $2,450
Liv-Cycling
Liv is a well-known women's specific bike brand and has been producing bikes for over ten years under the umbrella of their male/unisex brand Giant.
The Liv Intrigue is a fast and agile trail bike designed around suspension that has been tuned for female riders over a wide data set provided by female athletes so you can get the most out of your trail bike. The 140/150mm travel and 27.5″ wheels provide a fantastic platform for you to blast through the trail center or whip the bike around the natural landscape. 
This aluminum framed full-suspension bike is a great all-rounder for women who want to get more out of their mountain biking. 
Frame – ALUXX SL-grade aluminum
Fork – RockShox 35 Gold RL
150mm
Rear Shock – RockShox Deluxe Select
140mm
12-speed SRAM SX Eagle
Brakes – Tektro HDM735 hydro brakes
Frames from XS to L fit riders
4'10" to 6'0″
---
Cannondale
Jekyll Carbon Women's 1
Women's carbon enduro mountain bike
MSRP: $5,000
Gravity Coalition
The Cannondale Jekyll is a fine example of a women's enduro bike.
The carbon-framed beauty features 150mm of front and rear suspension making a perfectly balanced bike that's not only superbly quick downhill but is lightweight enough to climb on too – no longer will you need to use the uplift after doing the black run.
A lightweight yet powerful bike built for performance and racing, the Cannondale Jekyll is a great enduro bike for those looking to get into racing, or for those who want to get the most out of their riding.
Frame – Carbon
Fork – 150mm, Fox Float Performance
Rear Shock – Fox Float Performance
12-speed SRAM GX Eagle
---
Differences Between Men's and Women's Bikes
Women's MTB Geometry (vs Men's and Unisex)
Although the introduction of women's specific bikes and geometry somewhat ballooned in the early 2000s, many brands are now moving away from that viewpoint and suggesting that a bike should be chosen based on the rider, not the gender.
The typical women's MTB geometry was designed around the idea that women have shorter torsos but longer legs than male riders. This led to several brands building bikes with a shorter reach but taller front end, or a shallower fork angle.
Although this more upright riding position can help get people comfortable on a mountain bike, the more technical and fast the trails, the more of a racing position you want to adapt to be able to handle the bike well and keep it stable.
In recent years, men's bike geometry, in particular, has embraced progressive frame layouts and in many cases lengthened the wheelbases and slackened the headtubes for more stability (of course, this depends on the bike and desired riding purpose). But have women's bikes kept up? The Juliana brand no longer believes there should be a discrepancy between men's and women's frames, and instead, designs the frame based on smaller differences such as weight. The finishing kit is also tailored to the smaller rider with narrower bars and suspension setups for lighter riders.
Is the term "Women's Bike" Still Relevant?
What you may find is that the higher-end female-specific bikes look remarkably like their male or unisex counterparts. Many brands are abandoning the idea of female-specific geometries altogether, and have increased their frame size range to suit a wider breadth of rider heights. Of course, at the lower end of the scale, there still are noticeable differences including sloping top tubes and a shorter reach.
Whether or not you think you need a female-specific bike is down to your individual geometry, but we'd always recommend trying a test ride if possible before purchasing, or at the very least, accurately measuring yourself to find the correct sized bike – unisex or female-specific.
Bike Wheel Sizes
Just like men's or unisex bikes, there are several wheel sizes you might find on a women's specific mountain bike.
These are:
26″

 – Uncommon on adult bikes now, but popular until the late 2000s

27.5″

 – Great size for agile riding, usually found on bikes up to downhill specs

29″

– Common size on men's bikes but not as much on women's. Faster rolling speed and helps get over obstacles without as much maneuvering as 27.5″ wheels

Mullet bike

 – 27.5″ up front and 29″ rear
Travel Range & Disciplines
As with men's bikes, women's mountain bikes come in several categories, and within each category is a typical amount of suspension travel you can expect to find on the bike. 
We've listed them below and explained the differences:
XC –

 Travel usually between 120-130mm. Cross Country racing prioritizes fitness and skill over descending. Races are usually over an hour, and racers often choose

hardtail

bikes, although full-suspension bikes are becoming more popular as components become lighter. 

Trail –

 Travel usually up to 140mm. Trail bikes are usually

full-suspension

and somewhat blur the lines between enduro and XC. They can handle the rough stuff and are great for natural trails on mountains as well as playing at the bike park.

All-Mountain –

 Generally between 130-160mm travel.

Full-suspension

bikes that sit between trail and enduro bikes. They can handle a lot of the same stuff as an enduro or downhill bike but without the added weight. 

Enduro –

 Usually between 140-180mm travel. These

full-suspension

bikes can tackle some of the gnarliest tracks but are still usually light enough to pedal back up the hill.

Downhill –

 Usually around 200mm travel.

Full-suspension

bikes with the most travel and the heaviest duty of all the disciplines. These are built to descend and fast. Climbing is not the most comfortable on these, this is why uplifts are available at some bike parks.
---
RELATED Reviews
Different Types of Mountain Bikes