Best Dropper Post of 2023: 15 Dropper Seat Posts We Recommend [+Buying Guide]
Dropper posts have revolutionized the world of mountain biking, gifting cyclists with the ability to adjust their saddle height while in motion. No more clambering off the bike at the bottom of a hill to fiddle about with an Allen key – just pull a lever and power on up that hill with one of the best dropper posts below!
What Is a Dropper Post?
A dropper post is an ingenious piece of cycling equipment that helps you adjust your saddle height without having to stop and jump off the bike.
It allows you to make micro-adjustments to your saddle height with just the click of a button from a controller mounted on the handlebars.
While most dropper posts are manipulated via a frame-routed cable, some of the more modern, pricier versions feature a wireless controller.
How Does a Dropper Post Work?
A dropper post works by moving the saddle up and down using mechanical power or hydraulic power, controlled via a switch on your handlebar or saddle.
Best dropper posts come in three different installation methods: internal mounting cable, external mounting cable, and a motorized wireless option.
They can be installed into any bicycle frame with the correct seat post diameter and are compatible with most saddles.
---
Best Dropper Posts in 2023
---
PNW Components Ridge 125 Dropper Post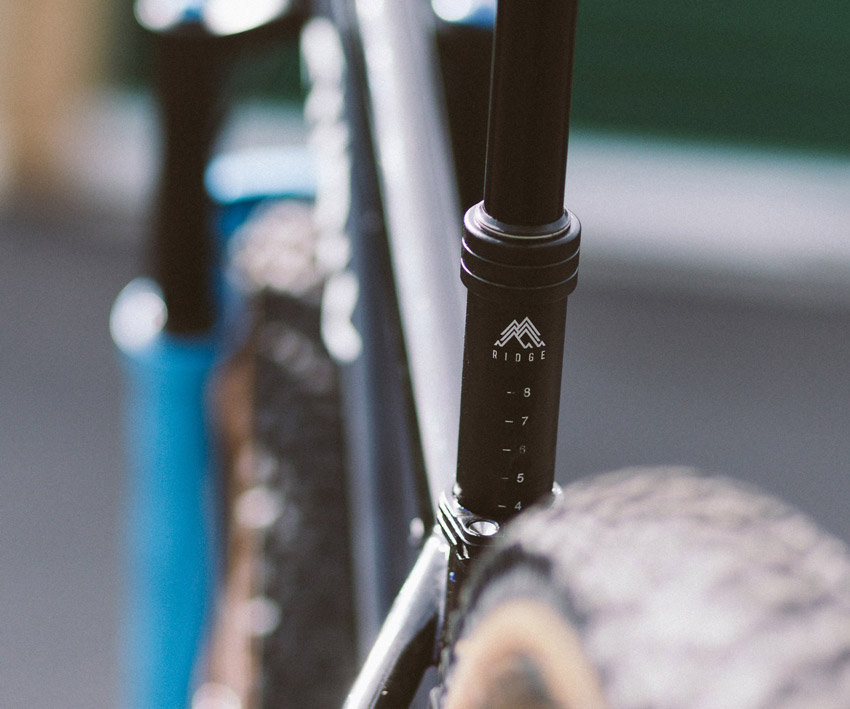 Price: $139
Travel: 125mm
Weight: 590 grams
Diameter: 30.9mm/31.6mm
Post Length: 406mm
If you are new to riding or want to try out dropper posts on a budget, this is the best dropper posts for you to begin with.
The recommended type of application for this dropper post is MTB, but cycling enthusiasts have recommended it for dirt jumping bikes as well. You have an option of two diameters to choose from; 30.9mm and 31.6mm
The design is fairly simple and any inexperienced rider can fit and install this dropper on their favorite saddle and frame.
The light yet rigid material combined with a coil-sprung and sealed hydraulic cartridge improves performance, response, and ride comfort.
---
One Up Components Dropper Seatpost V2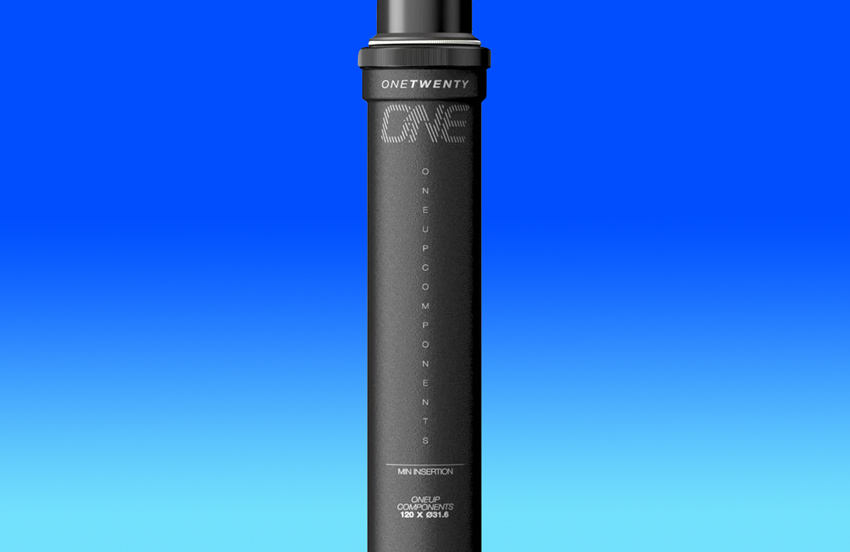 Price: $229.50
Travel: 120mm to 240mm
Weight: 435 grams
Diameter: 30.9mm/31.6mm/34.9mm
Post Length: 345mm to 610mm
This One Up dropper post is a second edition dropper and comes with a new and improved design catering to experienced, thrill-seeking riders who want the shortest possible height stack and overall length.
Besides this, you also get the option to shim down the travel by an extra 10mm or 20mm, making this one of the best options out there for discerning riders.
It's available in 120mm, 150mm, 180mm, 210mm, and – surprisingly – an extra-long 240mm version! Installation is easy, and the manipulation is purely cable-based, so there's no need to bleed the system.
This best dropper post from One Up includes options for 30.9mm, 31.6mm, and 34.9mm diameter posts and is recommended for trail, all-mountain, and enduro riding.
---
Crank Brothers Highline 3 Dropper Seatpost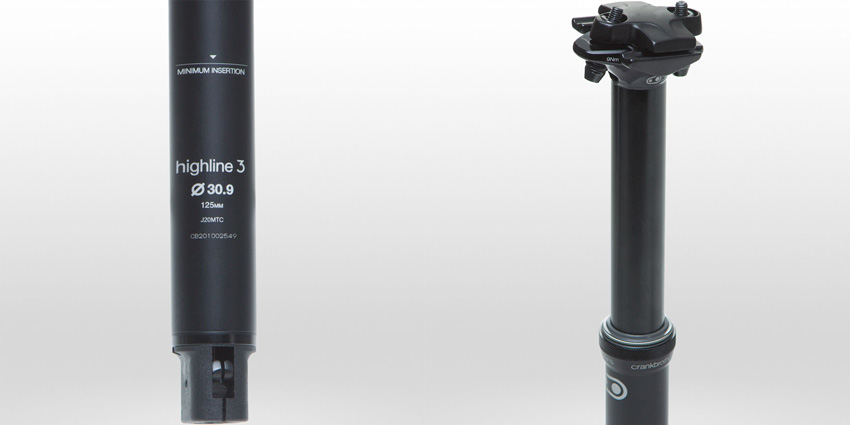 Price: $159.99
Travel: 60mm to 170mm
Weight: 565 grams
Diameter: 27.2mm/30.9mm/31.6mm/34.99mm
Post Length: 270mm to 505mm
In this 3rd edition of the Crank Brothers Highline, you get a more reliable and better-performing dropper with similar features to the more costly models being offered.
The addition of a simplified hydraulic cartridge and head keeps costs down when compared to the previous model, which had an internal floating piston.
Best suited to MTB and gravel biking, this is one of few 27.2 dropper posts available, making it compatible with most bicycle frames and reducing the need for modifications.
The construction is pure aluminum and comes in a variety of travel options between 60mm and 170mm. With a Jagwire cable and housing included, the setup is easy compared to many other dropper posts.
---
Tranz-X Jump Seat Cable-Less Dropper Post
Price: Check on Amazon
Travel: 100mm
Weight: 620 grams
Diameter: 27.2mm/30.9mm/31.6mm
Post Length: 365 to 390mm
If you are looking for a budget dropper post seat with an easy installation, this one's for you. With no cables, a hardy and well-designed hydraulic cartridge, and no technical installation requirements, this simple dropper post is easy to fit.
Travel can reach up to 100mm and it's best suited to dirt jumping or park riding.
Stand up and pull the lever under the saddle to raise the height and sit down and pull the same lever to lower it back down.
No fancy hardware means fewer mechanical components required and minimal maintenance – plus, it takes less than 10 minutes to get it off the bike to get it serviced.
---
Race Face Aeffect R Dropper Post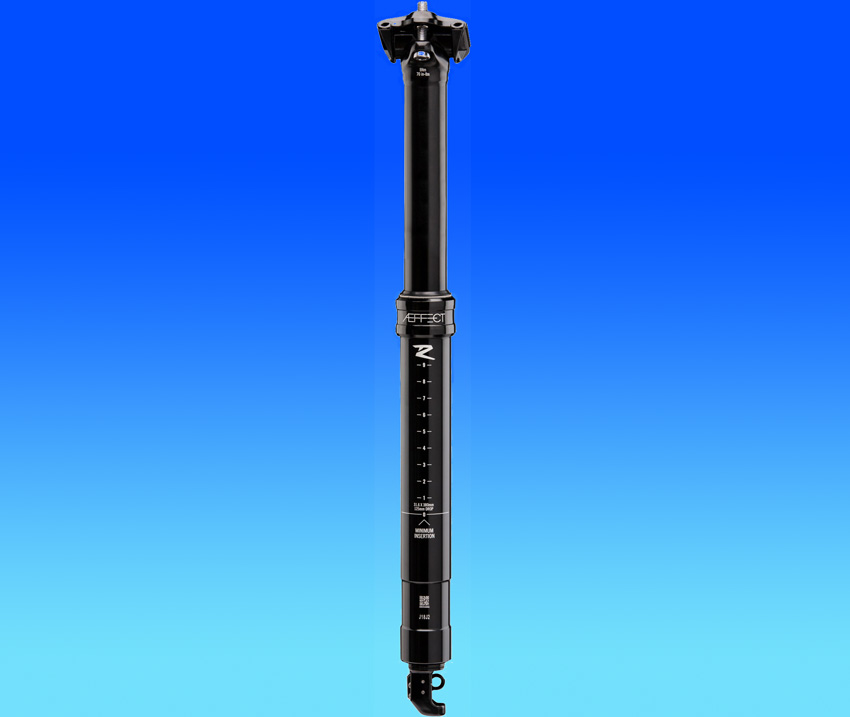 Price: $215
Travel: 125 – 170mm
Weight: 602 grams
Diameter: 30.9mm/31.6mm
Post Length: 378 to 465mm
Designed to fit most bike frames with internal routing and minimal service, this is a must-see if you are looking for a cable-actuated hydraulic MTB dropper post with travel between 125mm to 170mm.
The clamp system is 2-bolt and the installation process is more or less self-explanatory, even for new users who haven't used dropper posts before.

The material used to construct the body is an alloy composite of zinc and aluminum, which results in a tough body that is resistant to heavy strain and ideal for cross-country, touring, trail and e-bikes.
No lever is included with this best dropper post but it's compatible with Aeffect R, Turbine R universal and 1x levers.
---
Fox Transfer SL Performance 2022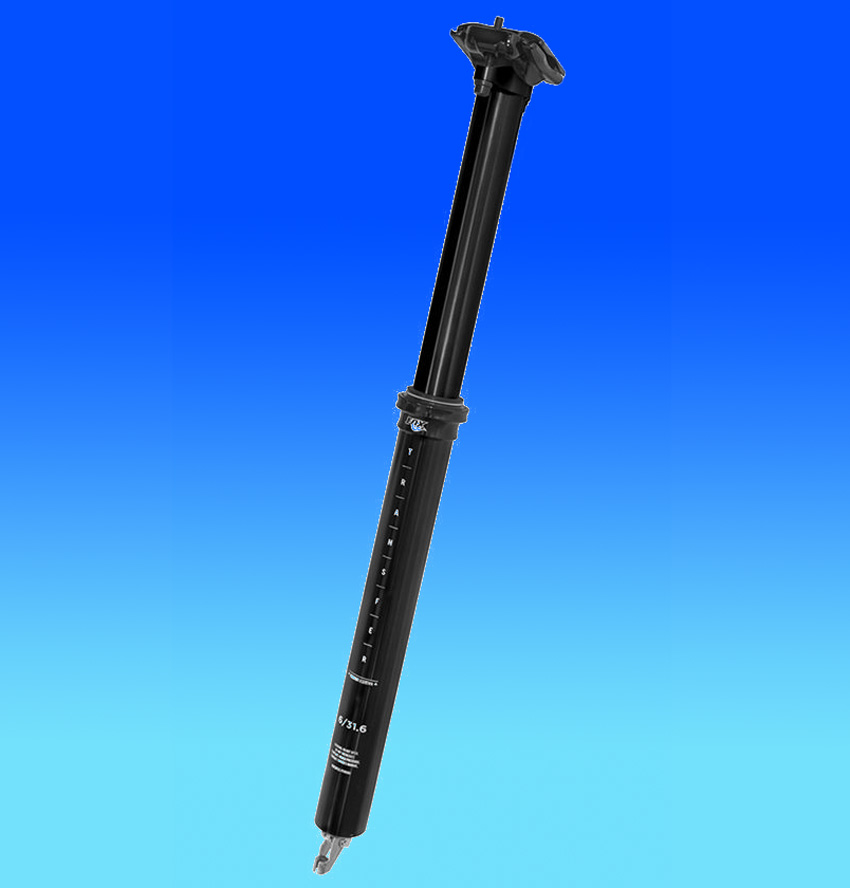 Price: $329
Travel: 50mm to 100mm
Weight: from 327 grams
Diameter: 27.2mm/30.9mm/31.6mm
Post Length: 350mm to 430mm
If you are looking for a gravel, XC, or lightweight trail dropper post that simplifies things and saves you precious grams, this is the right post for you.
This Fox Transfer SL Performance dropper features internally routed cabling so everything is tucked away neatly and you can focus on blasting down the trails, with minimal service and no bleeding required.
If you ever need to connect or disconnect the system, don't stress – this can be done with little or no prior knowledge of droppers as it requires no tools or technical experience. You can quickly and easily pop it off or on and be on your way in no time.
---
Bike Yoke Revive Dropper Seatpost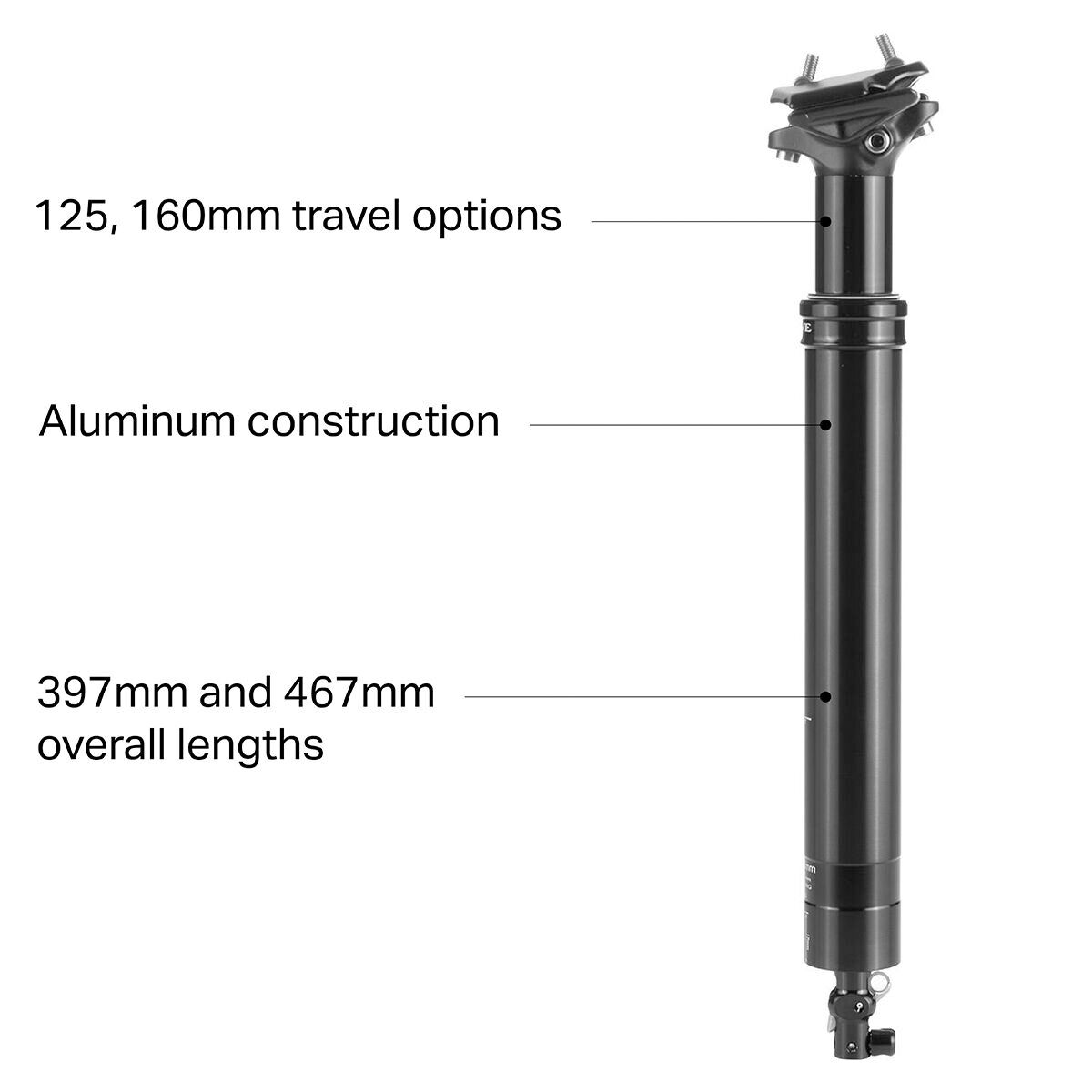 Price: $350.00 to $455.00
Travel: 125mm to 160mm
Weight: 696 grams
Diameter: 30.9mm/31.6mm
Post Length: 397mm to 467mm
This dropper post setup, unlike other brands, is slightly on the heavier side in terms of weight and on the pocket.
Don't let this put you off though – it offers a far superior design to most dropper posts, with half the number of seals which significantly reduces the cost and frequency of service.
This also means that, unlike some less advanced dropper posts, it's more resistant to malfunction and has the option to bleed the system with a simple 4mm Allen key.
The construction is mainly from milled aluminum and some of the items can be serviced without dismantling the body.
If you want to treat yourself, this is definitely a well-deserved mountain bike dropper post for your favorite bike.
---
PNW Components Rainier Gen 3 Dropper Post w/ Travel Adjust
Price: Check on Amazon
Travel: 125mm to 200mm
Weight: 450 grams to 804 grams
Diameter: 27.2mm/30.9mm/31.6mm/34.9mm
Post Length: 402mm to 555mm
Catering to a wider range of bicycle frames and cyclists, this dropper post allows you to adjust your height by fractions of 5mm and has one of the shortest insertion depths on the market.
Being internally routed, you have fewer loose cables hanging off your frame, reducing maintenance with less chance of damaging the cabling.
This makes it one of the best options for riders who plan to get wet and muddy!
The zinc and aluminum construction combined with a sealed cartridge makes PNW Components' Rainier Gen 3 very resistant and durable.
It's also compatible with the majority of levers available, therefore making it one of the best dropper posts to those on a budget.
---
ethirteen Vario Infinite Dropper Post – 180 mm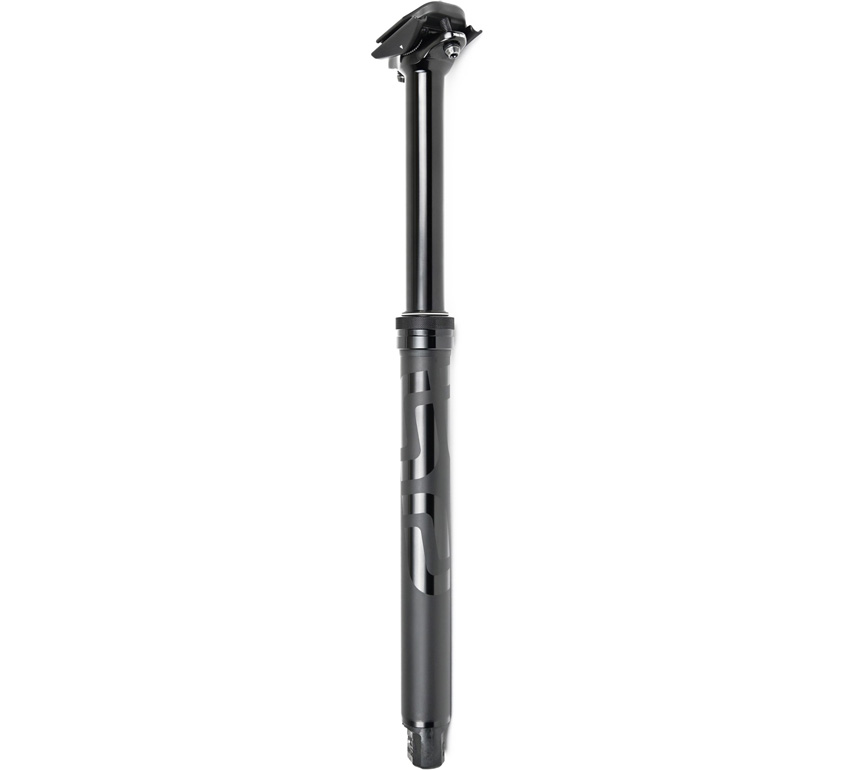 Price: $197
Travel: 180mm
Weight: 591 grams to 618 grams
Diameter: 30.9mm/31.6mm
Post Length: 535mm
If you are looking to purchase a dropper post that is easy to fit and doesn't need too much TLC, the Ethirteen Vario Infinite is an excellent choice.
Engineered with a combination of gas and spring, it provides an infinite amount of travel tweaking within the 30mm range, making it ideal for cyclists who want a smooth ride with minimal adjustments.
The clamp design provides an extra 12mm of travel and makes it possible for you to adjust your saddle by up to 20 degrees.
Overall, it's a very well-constructed dropper that needs very little upkeep and can be easily serviced from the comfort of your home, helping to keep costs to a minimum.
---
KS Eten Remote Dropper Seatpost
Price: $105.00
Travel: 65mm to 125mm
Weight: 727 grams
Diameter: 27.2mm/30.9mm/31.6mm/
Post Length: 300mm to 445mm
The KS Eten Remote is one of the cheapest options in the dropper world, especially for cyclists who ride trails and want a change to their setup.
The simple build means fewer mechanical components to go wrong, but the air-sprung hydraulic cartridge delivers a slightly slower rise when compared to other brands.
It's one of the fewer droppers that needs to be externally routed, which makes for a simple and time-effective installation and can be quickly dismantled if needed.
Do not let the price fool you – this simple dropper post for mountain bikes may be very basic but is well constructed and built to last.
---
FOX Racing Transfer Factory Dropper Seatpost – Internal Routing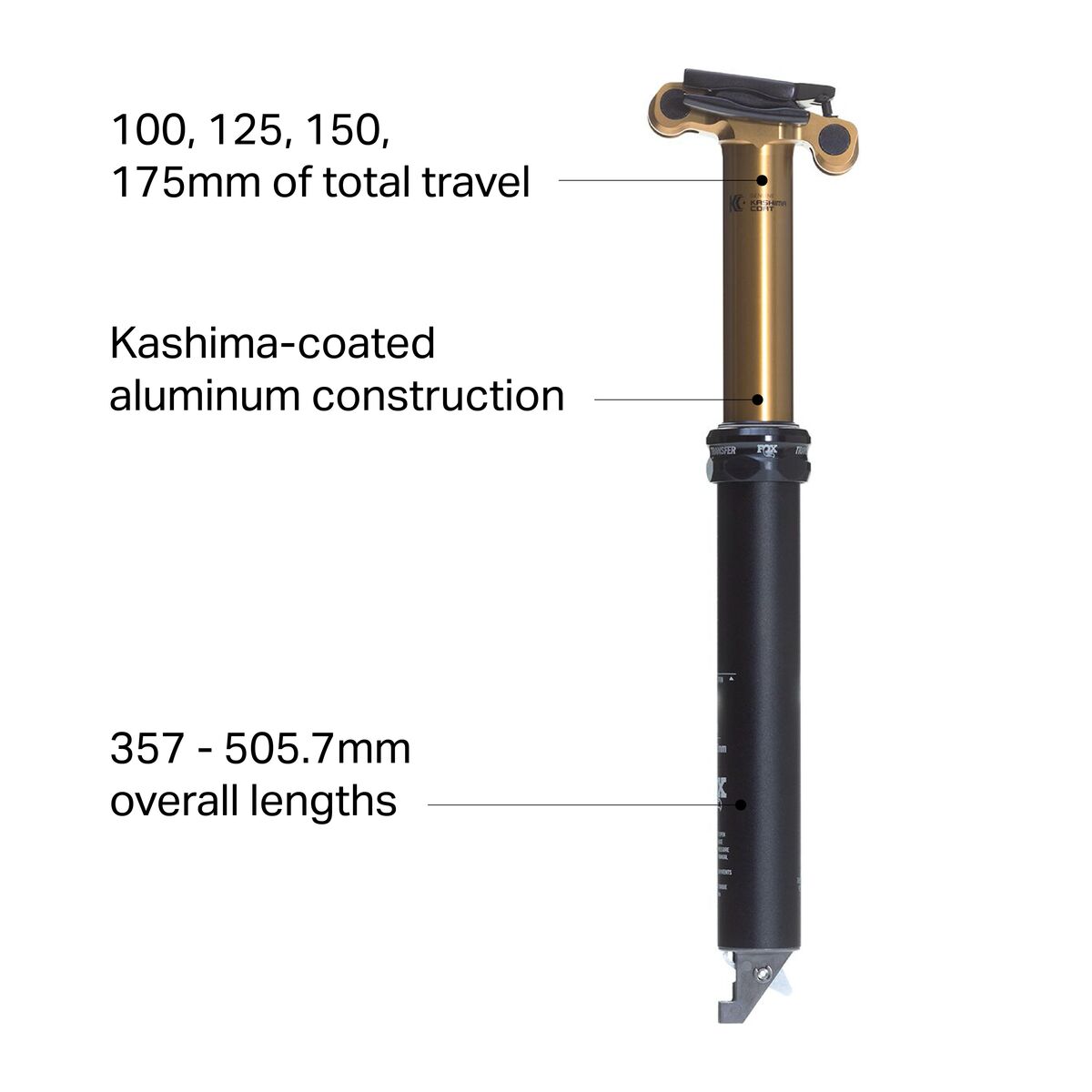 Price: $359.00
Travel: 100mm to 175mm
Weight: 516 grams
Diameter: 30.9mm/31.6mm
Post Length: 357mm to 505.7mm
The FOX Racing Transfer Factory is lightweight, internally routed and reasonably priced for what you get overall.
The specially engineered Kashima coating gives not only a funky look but offers up to four times more strength compared to standard aluminum—reducing the need for constant lubrication and improving durability.
You are, however, limited to only two diameters; 30.9mm and 31.6mm, which gives you fewer options of frames to mount it onto.
Still, this is the best dropper post on offer by Fox in this price range and is a decent upgrade from the previous Fox Transfer, with less service time and effort required.
---
RockShox Reverb AXS Dropper Seatpost
Price: Check on Amazon
Travel: 50mm
Weight: 3.25 lb
Diameter: 27.2mm
Post Length: 350mm
This wireless 27.2 dropper post from RockShox has been specially designed and created for the more techy gravel cyclists that want to customize their ride from their phone while on the go.
That's right – the motor-driven dropper is battery-operated and can be controlled using an app on your mobile phone! The unique design also makes it easier to service, and the installation is extremely simple.
Unfortunately, all this tech comes with a cost and it will increase your overall weight by a considerable amount, although the overall performance improvement you achieve is worth it.
And while the wireless set-up means fewer components to fiddle with on your frame, it's quite heavy on the pocket – especially if you are on a tight budget.
---
SDG Components Tellis Dropper Post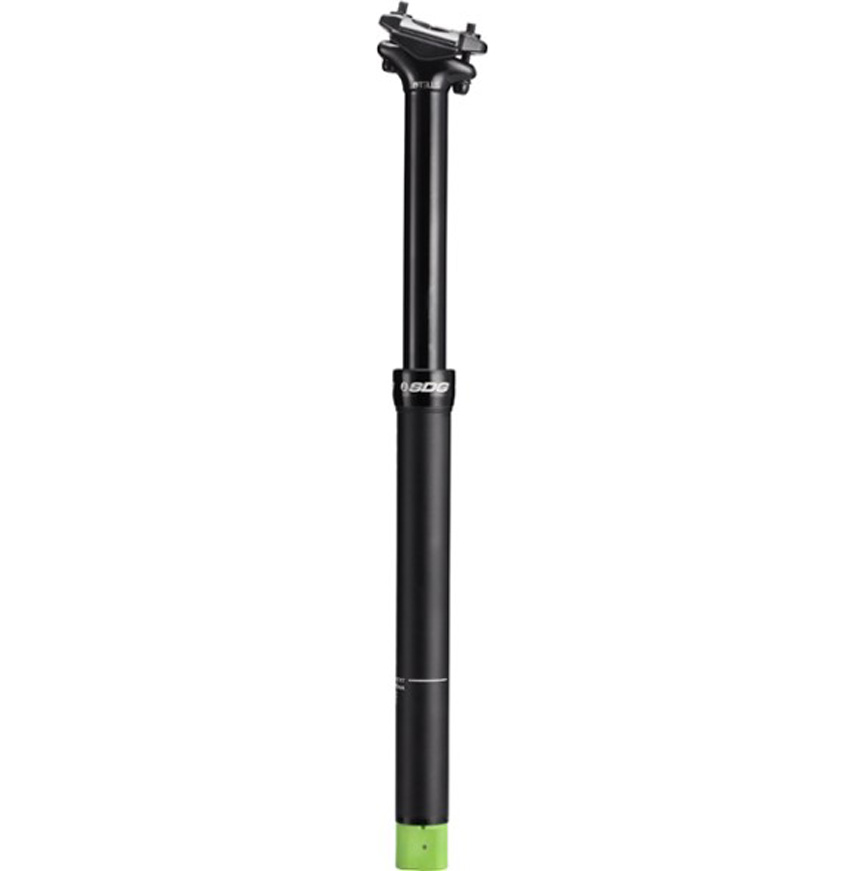 Price: $270.00
Travel: 100mm to 170mm
Weight: 600g
Diameter: 30.9mm/31.6mm/34.9mm
Post Length: 340 to 540mm
If you're looking for a simple yet slick design for frequent use in all types of weather and nature, this is the best dropper post for you.
Adjusting your ride height to meet terrain changes while cycling is now easier than ever with the SDG Components Tellis dropper.
The design is so solid, you can take it 20 degrees below freezing on winter bike rides and it'll still operate perfectly.

The internally routed cabling attaches to the base of the post and can be run through the bike frame with ease, making the installation smooth and hassle-free on any compatible frame.
The design also makes use of 3D technology, resulting in a flawless build that incorporates new and improved seals to ensure no grease escapes and the system remains well lubricated at all times.
---
Tranz X Kitsuma External Dropper Seatpost
Price: $159.00
Travel: 125mm to 170mm
Weight: 580 grams to 600 grams
Diameter: 30.9mm/31.6mm
Post Length: 341mm to 494mm
This TranzX dropper post is an affordable all-rounder option available in both external and internal mounting, depending on your personal preference and budget.
It's a decent dropper post that'll suit most people, whether you are going for a leisurely ride on the trail on a hot summer day, or hitting the muddy mountain tracks on a rainy afternoon.
Designed to cater to the general cycling community, this convenient dropper seat post can adapt to fit both modern and older bicycles alike.
No matter what type of bike you like to hit the trails on, you'll have no trouble fitting and enjoying this well-designed and lightweight alloy all-season dropper seatpost.
---
KS Rage-I Dropper Post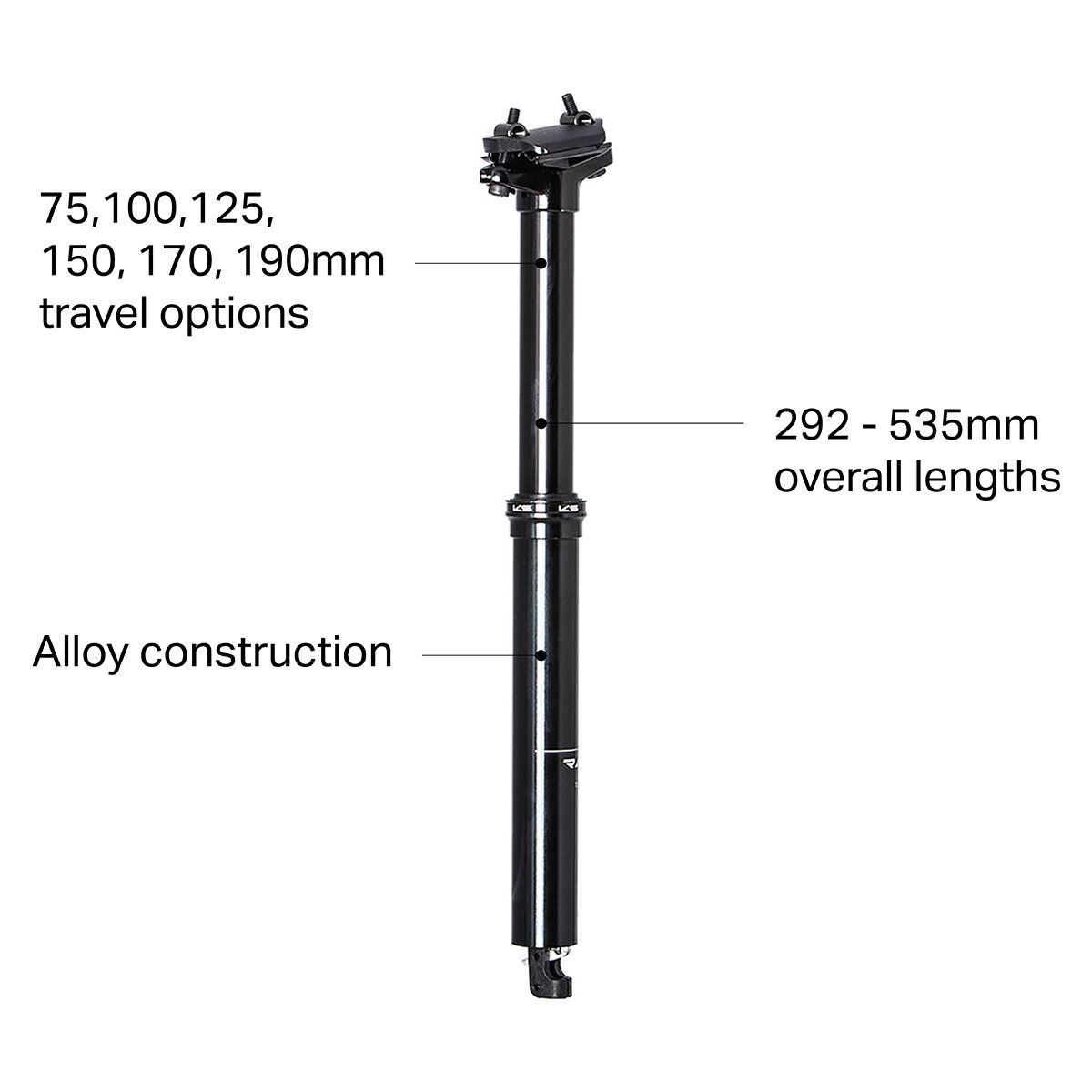 Price: $159.00 to $179.00
Travel: 75mm to 190mm
Weight: 549 grams
Diameter: 30.9mm/34.9mm
Post Length: 495mm
The KS Rage-I offers an open cartridge system featuring an air sprung chamber, which results in more easily serviceable components compared to most closed-system hydraulic droppers.
With a broad spectrum of travel options ranging between 75mm and 190mm, you get a wide selection of sizes to pick from each with several different options based on post diameter.
While the installation is fairly simple, it does include an internally-mounted polycarbonate cable which is great for keeping costs down but means you'll have to like getting your hands dirty while completing the installation.
It's one of the best dropper posts that's compatible with many of the best bike brands and several variations of remotes.
---
How to Choose the Best Dropper Post
Choosing the right dropper post can spell the difference between riding with peace of mind and struggling through uncomfortable hell.
There are several things to consider before making your decision, so think it through and don't rush the process.
Some of the key considerations are:
the overall length of the dropper post

internally or externally mounted cables

wired or wireless dropper posts

cycling style and terrain

the inner diameter of your seat tube
Another very important piece of the puzzle you shouldn't forget about is the installation and serviceability of the dropper post and the mechanical components involved.
Of course, it's always wise to check if the product you are choosing is compatible with your current bicycle setup.
Why Do Mountain Bikers Need a Dropper Post?
---
Mountain bikers face a variation in topography and terrain on their rides, much of which benefits from a specific saddle height that requires dismounting and manual adjustments to the length of their seat post.
On climbs, you want the saddle positioned high, so you can sit comfortably and get full leg extension while powering down on the pedals; conversely, when descending, the saddle should be as low as possible and out of the way so you can shift your center of gravity backward to descend faster and with more confidence.
A dropper post makes it possible to adjust your saddle height by simply flicking a switch rather than having to stop and change the height manually.
This constant flow in the ride keeps your adrenaline pumping and doesn't interrupt the fun.
Infinite or Multi-Positional Travel
---
Different dropper posts come with variable options for travel, some that have set positions and some that just flow freely.
Deciding which one to choose is purely down to your type of ride requirements and how you like to ride.
Infinite travel is best-suited to a more intense ride, where you may need to keep altering your travel in very specific increments while still on the move.
Multi-positional travel, on the other hand, provides you with the option to set the height where you want it and the repositioning will return to the same place every time you pick it.
Infinite travel is more suitable on terrain with a significant and frequent change in the angle of attack, whereas multi-positional travel is more suited to minimal changes in topography.
How Much Travel Do I Need?
---
The amount of travel you need on your dropper post depends largely on your cycling style and your bicycle's frame size.
The idea is to get super low on your bike for the more difficult terrains, you therefore ideally need a travel of between 80mm and 150mm, to make the most out of your dropper.
Remote Dropper Post Levers
---
When selecting a remote dropper post lever, you must check the compatibility with your dropper and make sure it triggers whatever mechanism is contained within the dropper post. The last thing you want is the remote not doing the job it is meant to do and making your dropper useless.
With motorized droppers such as RockShox Reverb AXS Dropper Seatpost, you now have the option of a wireless dropper post. The technology on board is so advanced that you can control the battery-operated dropper using a mobile app.
Finally, you need to ensure the material used to make the lever is of premium quality and is fail-proof. If the moving components fail to work, you will be back to square one.
Internal or External Cable Routing
---
The decision between internal and external routing cable depends on the design of your bicycle frame and whether it can accommodate internal routing.
Not all bicycle frames have the provision for internal cable routing but it's always best to use it if‌ you can.
Internally-routed cables not only look much cleaner but are far less likely to get damaged in an accident or through regular wear-and-tear.
Can You Put a Dropper Post on Any Bike?
---
You can put a dropper post on pretty much any bike, as long as the post width is compatible with the seat post of the frame you are using.
Wherever possible, it's wise to test the dropper on the diameter of your frame and ensure it's a snug fit.
The most common diameter is 30.9mm and most droppers accommodate it, but you should confirm this before making a purchase.
You also need to make sure the dropper you choose is ideal for the use—for instance, you shouldn't use a standard trail dropper on a park track as this will minimize its life and the performance will not be optimum.
You may also want to read our guide to find out if your gravel bike needs a dropper post.
Is the Extra Weight Worth It?
---
In short, yes, go for the extra weight. The average weight you add to your setup is 550 grams, but it is well worth it in the long run.
Once you get used to riding with a dropper post on your bike, the whole dynamics, control, performance and overall experience of your ride changes.
If you compare the weight ratio to the change in your ride, it is a very nominal addition to your beloved bicycle.