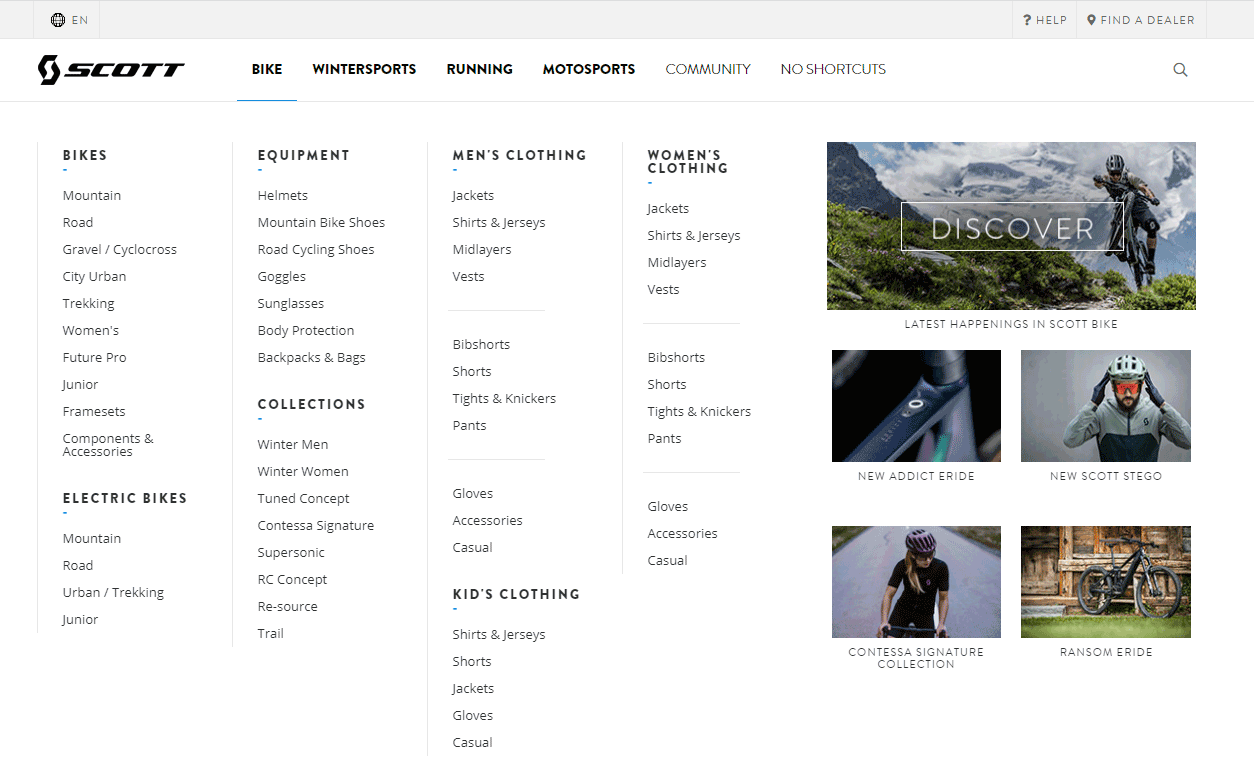 The company now known as Scott Sports was founded in 1958 by Ed Scott, a keen skier and engineer, who developed the sport's first aluminum ski pole.
As the brand grew, they began to venture into different sports – in 1970, Scott manufactured motocross-specific goggles, the first of their kind. It wasn't until the 1980s and Greg LeMond's era that Scott USA branched out into the cycling market, with an aero bar – used by Greg LeMond in his infamous 1989 Tour de France victory.
They didn't stop there, and by the 1990s Scott began manufacturing mountain bikes, and mountain bike parts – thus becoming known as Scott Bicycles USA. Although the company's headquarters are now based out of Switzerland, Scott cycles have continued to innovate and be at the forefront of cycling technology.
After launching their first road cycle in 2007, they have been a prominent brand in the professional peloton as well as sponsoring several professional mountain bike riders and teams.
---
Scott Sponsorships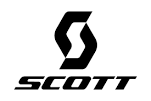 Since they first began manufacturing cycling products, Scott has sponsored professional athletes – from Greg LeMond in the 1989 Tour de France, to the present day, Scott is a familiar brand name in the pro ranks.
In MTB racing, they currently title sponsor a team of professionals known as Scott-SRAM MTB Racing. The squad includes professional cross-country racers such as multiple world champion Nino Schurter, world champion Kate Courtney, European champion Lars Forster, and Andri Frischknecht.
Scott also sponsors riders and teams in other mountain biking disciplines. In Enduro racing, Scott sponsors the Scott SR Suntour team which includes riders Remy Absalon, Elliot Trabac and Hugo Pigeon. They all ride the Ransom Tuned. The brand also sponsors Freeriders Kyle Jameson and Vincent Tupin.
In road cycling, Scott sponsored the WorldTour squad Team BikeExchange (formerly Mitchelton-Scott) until the end of the 2020 season. They now sponsor Team DSM who ride their Addict RC for hilly races, Foil for flat/sprint races, and the Plasma for time trials. The team also uses some of Scott's equipment including their helmets.
The Scott bikes are also used by professional triathletes. Sponsored athletes include the Brownlee brothers, Sebastian Kienle, Luke McKenzie, and Annabel Luxford.
---
---
Scott Bikes Model Range
Since the development of their first bike in the 2000s, Scott has gone on to design and develop tens of bikes across different disciplines.
The 2023 Scott bikes range includes bikes from the following categories: mountain, road, gravel/cx, city, kids, and electric. This is on top of all the other sporting equipment they manufacture both in and out of cycling. Scott bike prices are somewhat in keeping with industry averages. They do, however, offer hierarchies of models for each bike so that you can choose the component level best suited to your budget.
You'll find their bikes available to purchase from Scott dealers across the globe, as well as from the brand directly on their website.
---
1

. Scott Mountain Bikes

The brand currently sells a range of Scott MTBs, from cross-country to enduro and downhill bikes – there's a Scott bike for everyone. With tens of bikes sometimes in each category, we've listed a few of the most popular models, but it's by no means an exhaustive list. For a full representation of what bikes are available in your country, visit the Scott Sports website.
---
Scott Cross-Country mountain bikes
Spark RC / Scale RC / Scale / Contessa Spark RC / Contessa Scale
Cross-Country bikes usually come with the least amount of suspension travel (bar hardtails) and primarily focus on weight saving.
In previous years professional cross-country mountain bikers have begun using full-suspension on their XC race bikes as components become lighter, and as courses become tougher. Scott currently offers three models of cross-country bike, with two women's specific versions.
---
Scott Spark RC/Contessa Spark RC
Price Range: $2,999 – $12,999
29″ wheels
Carbon fiber frame
110mm front, 100mm rear suspension
The Scott Spark RC is the brand's cross-country race machine.
The Contessa Spark RC is the Scott women's mountain bike option for cross-country racing, although both male and female specific bikes are full-suspension with 110mm forks and 100mm rear suspension, as well as full carbon frames making them lightweight and race-ready.
There are two configurations for the Contessa Spark RC, that is the 900 WC bike, which has an MSRP of $6,799 and comes with a 12-speed SRAM x01 Eagle groupset and 29″ wheels, and the 900 Comp bike, which has an MSRP of $2,999 and comes equipped with a SRAM NX Eagle 12-speed groupset. The male version comes in several configurations at different price points, starting at $2,999 for the 900 Comp version, and increases to $12,999 for the 900 SL AXS version which comes with a SRAM XX1 AXS Eagle groupset and a power meter.
---
Scott Scale/Contessa Scale
Price Range: $1,199 – $2,199
Hardtail
Alloy or Carbon Fiber frame
100mm front suspension
The Scott Scale mountain bike is one of two hardtails the brand produces.
The Scott Scale RS is their 'race' cross-country hardtail, whereas the Scale, and Contessa Scale are for more training purposes – however, they are still extremely capable MTB bikes. All variations come with a 100mm front fork suspension and are complemented by either an aluminum or carbon fiber frame depending on the model.
Prices start from $1,199 and increase to $2,199 for the 925 version making this an accessible bike for most budgets. The 925 comes with a carbon frame, FOX 32 Float Rhythm 100mm forks, and a Shimano 12-speed XT-SLX groupset. The colorways are dependent on the model version, from bright red to a more subtle grey.
The wheel sizes are also dependent, available in either 27.5″ or 29″.
---
Scott Trail mountain bikes
Spark / Genius / Contessa Spark / Contessa Genius
Trail bikes are typically the middle ground between cross-country and enduro bikes.
They are full-suspension bikes but with more travel than cross-country, and less than enduro bikes. Scott currently produces two trail bikes, the Scott Spark mountain bike, and the Scott Genius mountain bike, both with female (Contessa) variations.
---
Scott Spark/Contessa Spark
Price Range: $1,999 – $8,999
Choice of groupsets
Alloy or Carbon Fiber frame
130mm front, 120mm rear suspension
The Scott Spark mountain bike is Scott's race-ready trail bike.
It's one of the most successful bikes they make, with their riders taking victories in the world cup. As one of the Scott full suspension bikes, it comes with 130mm of front suspension and 120mm of rear, making it a bike on the cusp of cross-country territory, and a great way to ease into full-suspension riding.
The Scott/Contessa Spark comes in several variations, from the 970 Granite which costs $1,999 and comes with lower-end components, to the 900 Ultimate AXS which costs $8,999 and comes with top-end components. The colorways depend on the model variation.
---
Scott Enduro mountain bikes
Ransom / Contessa Ransom
Enduro bikes are the middle ground between trail and downhill.
They're full-suspension bikes with more travel than a trail bike, usually sitting between 140-160mm, and are often heavier and a bit less fun to ride if you do a lot of climbing. There is one main Scott enduro bike, the Ransom/Contessa Ransom.
---
Scott Ransom/Contessa Ransom
Price Range: $2,999 – $8,999
29″ wheels
Alloy or Carbon Fiber frame
170mm front and rear suspension
The Scott Ransom/Contessa Ransom is one of the Scott 29er mountain bikes aimed at enduro riding.
Each variation comes with 170mm of front and rear suspension meaning it can soak up the lumps and bumps on the trails. The bike comes in several variations for different budgets, so it can appeal to the masses. Prices start at $2,999 for the 930 version, which comes with a SRAM NX Eagle 12-speed groupset, and increases to $8,999 for the 900 Tuned AXS version which comes equipped with a SRAM x01 AXS Eagle 12-speed groupset.
As one of the Scott MTB bikes, it is available in a choice of colorways, from a striking blue and white to a more subdued purple fade, but this is dependent on the model you choose to purchase. This is an exciting enduro machine and will be great company if you're racing or riding at an uplift park.
---
Scott Downhill/Dirt mountain bikes
Gambler / Voltage YZ
There are two Scott downhill bikes on offer, the Gambler, and the dirt jump bike, Voltage YZ.
Downhill bikes are typically the most sturdy and robust mountain bikes you can buy, with suspension often exceeding 200mm of travel. Dirt Jump bikes on the other than are usually hardtail, steel or metal framed bikes with minimal suspension in the forks.
They are easy to whip around and get up to speed so you can get the most air time possible.
---
Scott Gambler
Price Range: $3,999 – $8,499
7 or 8-speed groupsets
Alloy or Carbon Fiber frame
203/200mm front and 200mm rear suspension
The Scott Gambler is the bike that downhill professionals such as Brendon Fairclough and Neko Mulally use in their races.
With 203/200mm (depending on model) of fork travel and 200mm of rear suspension, it's guaranteed to promote a smooth, fast, and exhilarating ride down the mountains. The higher-end models come with 4-pot brakes for ultimate control and stopping power, allowing you to push your limits on the bike.
Prices start from $3,999 for the 930, which comes with a SRAM X5 8-Speed groupset and a black Digi-camo colorway. The most expensive is the 900 tuned bike, which costs $8,499 and is what the pros use. It comes with a carbon frame and a SRAM XO1 DH 7 Speed groupset.
---
Scott Sport/Hardtail mountain bikes
Aspect / Contessa Active
The Scott sport bikes are designed for more leisurely riding and training as well as light trail use.
They currently offer two sport bikes, the Aspect, and the women's Contessa Active. These bikes are designed to be lightweight and agile, for the budget-conscious rider or someone looking to dip their toes into the world of mountain biking – although they are a great option for seasoned riders alike.
---
Contessa Active
Price Range: $460 – $1,000
Disc brakes
Alloy frame
100mm front suspension
The Contessa Active is designed to be a comfortable, affordable, and easy to ride bike for women who want to ride off the beaten path.
Featuring 100mm of front suspension to smooth out any bumps in the road or trail, the bike also features an aluminum frame for strength. The Contessa Active series is a great selection of starter bikes for those who want to cycle to work, or get fit, and allow riders to not have to worry about where they want to ride thanks to the suspension and wide tyres.
Prices start at $459.99 for the 60 version which features a Shimano Tourney 21-speed groupset and increases to $999.99 for the 10 version which comes equipped with a mixed Shimano XT/Deore 22-speed groupset. Each version has its own colorway.
---
2

. Scott Road bikes

Lightweight/ Aero/ Endurance

From lightweight to endurance, to TT and aero bikes, Scott has been producing road bikes since the early 2000s.

Their current crop of bikes are well-known within the WorldTour and pro ranks of both road cycling and triathlon, so you can be sure they're top quality machines. There are plenty of Scott carbon road bikes for you to choose from, as well as aluminum.

So whether you're wanting to fly up the climbs, or win a triathlon in Kona, Scott has got a road bike for you.
---
Scott Lightweight road bikes
Addict RC / Contessa Addict RC
Currently, Scott offers one lightweight road bike: Addict RC and the female equivalent, the Contessa Addict RC.
Both are extremely lightweight and Scott utilizes carbon construction methods to produce strong and agile bikes that will fly up the climbs, but also keep you stable on the descents.
They are both disc brake bikes and come in several configurations and colorways, with prices starting at $3,999 for the 30 Prism Green/Blue model, and rising to $11,999 for the professional spec Ultimate bike.
---
Scott Aero road bikes
Plasma / Foil
Scott manufactures two aero road bikes currently, the Foil, and the TT/Triathlon bike, the Plasma.
Whether you like to tear it up at your local crit circuit or want to stay fast but comfortable on the club rides, the Foil is an aerodynamic bike that will help you stay happy on the bike mile after mile. Team DSM often use this bike in their flatter races, so you know it has race pedigree. Prices start from $3,999 and rise to $8,999 for the Pro edition.
The Plasma is the brand's only TT/Triathlon specific bike and is extremely aerodynamically focused. Prices start from $8,999 and rise to $14,999 for the Premium edition, but with its hefty price tag comes a winning pedigree, powering the Brownlee brothers among others to multiple triathlon victories.
---
Scott Endurance road bikes
Addict / Speedster / Metrix / Contessa Addict / Contessa Speedster
The Scott bikes endurance road bikes are designed for those who love spending long days in the saddle and want the best out of their bikes.
The current lineup includes the Addict, the Speedster, the Metrix, and then the female-specific Contessa Addict and Speedster. The Addict promises a less race-oriented geometry than the Addict RC, promoting a more comfortable ride with less extreme angles to reduce fatigue. The new Speedster includes internal cable routing and a carbon fork with a more race-oriented geometry, but still, endurance-focused. Finally, the Metrix is more of a day-to-day road bike, for those who want to ride a road bike to work, or the shops, as well as on the club run with your friends.
Most are available in several variations to cater for a wide array of budgets, and the colorways match the variation you select.
---
3

. Scott E-bikes

MTB/ Hybrid/ Road/ Junior

Scott bikes branched out into manufacturing electric bicycles quite recently.

They currently produce an array of E-Bikes from mountain bikes, to kid's E-Bikes, there will be one for every member of the family, and for every type of terrain and riding, you want to do.

Whether you want to ride to work and arrive there less sweaty (and quicker) than on an unassisted bike, or you want to shred the trails without wasting energy climbing back up to the top, Scott bike's wide selection is a great place to start.
---
Scott Electric Mountain bikes
Strike eRide / Aspect eRide / Contessa Strike eRide / Contessa Active eRide / Ransom eRide / Genius eRide / Contessa Genius eRide
Whether you want to shred the trails or take a leisurely ride off the beaten track, there is a Scott electric mountain bike for you.
The brand produces E-MTBs across trail and sports categories with both male and female-specific bikes. The trail bikes all use Bosch motors and battery systems and are full-suspension so you can take them on just about any trail that allows electric mountain bikes on.
The sport E-MTBs come in both hardtail and full-suspension setups, so you can choose how much suspension you need for the type of riding you want to do. Prices start at $2,599 for an electric mountain bike and increase to $6,599 so there are configurations for most budgets.
---
Scott Electric Hybrid bikes
Axis eRide / Silence eRide / Sub Sport eRide / Sub Active eRide
The Scott electric hybrid bikes are designed to help you ride through urban and city spaces faster and more comfortably on a bike than ever before.
There are several male and female-specific bikes in this range, including the Axis eRide, the Silence eRide, the Sub Sport eRide, and the Sub Active eRide. The main difference in the male or female-specific bikes is the frame shape, with the female-specific having a more angled top tube, although the unisex Sub Active eRide USX has a completely step-thru frame.
Prices start at $2,399 and increase to $3,599. All the bikes use Bosch motors and batteries, enabling a longer mileage range and lowering the frequency of charging the batteries. All bikes come with front fork suspension so the journey will be smoothed out whether you decide to stay in the city or travel further afield for an adventure.
---
Scott Electric road bikes
Addict eRide / Contessa Addict eRide
Scott's foray into electric road bikes includes the Addict eRide and the female-specific Contessa Addict eRide.
With a carbon fiber frame, the Addict eRide is a lightweight road bike, the same as its unassisted namesake. Designed to encourage you to ride the hills you couldn't before, and keep you riding for longer along more challenging terrain, the Addict eRide is a high-end electric road bike that barely looks like an E-Bike.
Using an almost hidden Mahle motor that can produce up to 40Nm of torque, the bike will get you up to speed quickly and with much less effort than an unassisted bike. Prices start from $4,499 for the 20 version and increase to $9,299 for the Premium edition.
---
4

. Scott Hybrid bikes

Sub Cross

The Scott Hybrid range has one main bike, the Sub Cross.

Each is a flat-bar bicycle with capabilities both on and off-road, designed for the needs of the commuter, the leisure cyclist, or a rider who wants to use the bike for everyday adventures. The Sub Cross 50 comes with rigid forks, where the higher models use suspension forks to soak up and bumps in the road.

There are different frames for female and male-specific bikes. The female-specific bikes have a lower standover height and a more aggressively sloped top tube. All bikes are made using aluminum to keep the overall weight down, but the strength of the bike up. All bikes also use disc brakes for ultimate stopping power even in the wet.

The bikes are priced between $499 and $699 making them affordable and accessible to most.
---
5

. Scott Gravel/CX bikes

Addict Gravel / Speedster Gravel / Addict CX RC / Contessa Addict Gravel / Contessa Speedster Gravel

Gravel and CX bikes have seen somewhat of a resurgence in popularity in recent years, and Scott has capitalized on this by expanding their repertoire of both.

They currently offer several gravel bikes and one CX bike, all at different price points so there is a bike for everyone. The Addict Gravel and Contessa Addict Gravel are high-end go-anywhere bikes. With carbon fiber frames and hydraulic discs, these bikes are made to ride for longer and further than your average gravel bike. Prices start at $2,999 for the Contessa or 20 models and rise to $5,499 for the 10 models.

The Speedster Gravel and Contessa Speedster Gravel is a bike designed to be a bike to do it all but at an affordable price point. It's constructed with aluminum and prices range from $1,349 to $2,499.

The only CX bike they make is the Addict CX RC. It's a race bike made from carbon fiber and is designed to be put to the test by racers on the cyclocross track. It has an MSRP of $3,499 and comes with a Shimano GRX RX810 1×11 Speed groupset.
---
6

. Scott Kid's bikes

Future Pro/ Junior

Scott has a wide selection of children's bikes on offer, and they split them into two categories: Future Pro, and Junior.

Junior bikes are usually small-wheeled but can often be manufactured to grow with the child, for example with different stem lengths and an adjustable seat post.

Scott's Junior bikes spare no technology, and lots of the same tech you see on the adult bikes have trickled down into the kid's bikes.
---
Scott Future Pro kid's bikes
Ransom / Scale RC
Scott currently produces two models of Future Pro kid's bikes – Ransom, and Scale RC.
The Ransom is a smaller version of the adult's enduro bike. With 140mm of front travel and 130mm of rear, this bike is more than capable of tackling the rough stuff. The bike comes with 26" wheels but you can change these to 24". Made with aluminum so it lasts, prices start at $1,699 for both the 400 and 600 models.
The Scott Scale RC kid's bike is a rigid fork bike for juniors who want to go fast. It comes with 24" wheels and an aluminum frame so it can handle being thrown about. Prices start at $899 for the 400 models and it comes with an 11-speed Shimano Deore groupset.
---
Scott Junior kid's bikes
Scale / Roxter / Contessa
The Scott Junior kid's bikes are the first bikes your child will have.
The range includes everything from balance bikes to small mountain bikes for little shredders. Prices start from as low as $159 for the Contessa and Roxter Walker bikes, and several configurations across the range are available.
Scott has included several different colorways for these bikes so your child can truly personalize their riding experience. Sizes go up to 26″ wheels so there is something for every age in the Scott Junior kid's range.
---
Scott Bikes Size Chart
Please refer to the Scott sizing chart on their website for details. Scott also has a handy 'Find your size' guide to help you find the right size for your height before you purchase a bike.
---
Conclusion
Since their inception, Scott has been at the forefront of sports technology innovation, from ski poles to aero bars, they've made a mark on not only the professional peloton but worldwide cyclists.
Scott bikes can now be purchased across the globe from affiliated Scott bicycle dealers, as well as directly from the brand's website.
Their prices are competitive with the market and they offer some of the most successful bikes ridden by professional mountain bikers, road cyclists, and triathletes. Their wide range of bikes goes to show they have the expertise and are loved for a reason.