Santa Cruz has been in the business since the early 90s.
They started out, like most revolutionary companies, in a single-car garage in California. Back in those days, full-suspension bikes were far from the norm, and all-terrain, do-it-all, bikes were considered taboo.
If you wanted something different, you had to go to an expert and have your chain-hog tricked out. One garage, one passion, and a founder that was a skateboarding legend; that's the story of Santa Cruz in a nutshell.
Since that epoch, the boutique store has upped its game. They now manufacture a wide range of high-performance bicycles, with all the bells and whistles, for true cycling aficionados that don't disappoint.
Carbon fiber to aluminum; hardtails to 200mm travel downhill machines. Each was carefully calibrated and hand-assembled at their California factory. Each with a purpose and with a unique personality.
The first Santa Cruz bicycle was known as Tazmon. It was manufactured in a garage located in Santa Cruz, California back in 1993. It earned that name owing to its single pivot dual suspension technology.
As a pioneer brand, Santa Cruz paved the way for other upcoming brands in the market. The company is one of the biggest advocates for green energy. As a result, it uses elements such as carbon fiber or aluminum for both hardtails and full-suspension bikes.
Santa Cruz sells bicycles from their online shop after the assembly process is done in California.
Thriving on the idea of creating better bikes to meet every rider's expectations has been their main philosophy. Their philosophy against tough competitors is using high-end features to their advantage. Even though they are fairly pricier than other brands, testers still find them quite convenient when accomplishing various mountain biking disciplines.
---
Latest News
The New 2023 Santa Cruz Mountain Bikes are now available on evo.com
---
History of Santa Cruz Bicycles
Santa Cruz Bicycles was formed in 1993 by Rob Roskopp, Mike Marquez, and Rich Novak. Initially, Mr. Roskopp was a professional skateboarder who partnered with Novak to establish this brand.
The two decided to add Marquez as a partner who was already conversant with the creation of bicycle suspensions. Together with renowned designer Tom Morris, they came up with the unique Santa Cruz bikes.
In 1994, they created the first bike —Tazmon. They managed to use the single-pivot technology to create the 80mm travel mountain bike. With time, they founded their second prototype travel Heckler.
In 1999, it obtained full patented rights over Outland's Virtual Pivot Point (VPP). On July 3, 2015, the company was bought by a family-owned company known as Pon Holding. Other brands were born, including; Cervelo, Focus, and Royal Dutch Gazelle.
This has not hindered its performance in any way. In fact, it has managed to make great sales owing to the enormous introduction of high-end bikes.
---
Santa Cruz Model Range
The company is responsible for the manufacture of numerous bikes specifically made from carbon fiber and aluminum. They import ready to assemble frames from China and Taiwan. Santa Cruz bike values range between $1,500 and $10,000+.
FULL-SUSPENSION
V10 – Gravity, down-hill bike from $5,999
Nomad – 170mm travel all-mountain bike from $3,599
Megatower – 160mm travel bike, prices from $4,499
Heckler – 150mm travel electric mountain bike, starting from $7,399
Bronson – 150mm travel 27.5″, starting from $3,499
Hightower – 145mm travel 29er, starting from $2,999
5010 – 130mm travel 27.5er bike, starting from $4,099
Tallboy – 120mm travel 29er, starting from $2,799
Blur – 100mm travel 29er, starting from $3,799
HARDTAIL
Highball – 29er bike starting from $2,799
Chameleon – 27.5″ or 29er, starting from $1,949
Jackal – 26″ dirt jump bike, starting from $799
GRAVEL / CYCLOCROSS
Stigmata – 650b/700C, starting from $3,499
---
Santa Cruz Mountain Bikes
27.5″ / 29″ / Mixed-wheel
---
V10
The V10 is designed for those looking for a win. It's for racers, for competitors, for folks with their eye on the prize. Each year or so, the V10 gets an in-depth review and fine-tuning by the Syndicate for the World Cup.
It is the most gracious of Santa Cruz's suspension performance bikes outside a World Cup pit. Easy to tune and service due to its trademark setup.
The V10 wheel sizes are optimized and customized to your needs, to your size, to your complex tastes; 27.5 (front and rear) in the smallest size up to a size large, both 29-inch (front and rear) and mixed in medium and large frame sizes.
---
Nomad
Santa Cruz labeled the Nomad as the kind of bike that "can take a beating and keep on ticking." In their catalog, the Nomad is their go-to bike for people that like to get into scrapes; it's their most abused bike in their lineup.
Sealed bearing in all pivots, a tough as hell carbon fiber frame, shuffle guards, lower link grease port, 27.5 wheels, 64-degree head angle, and 77-degree seat angle, 170mm of 38mm diameter fork and 170mm of VPP rear suspension compatible with both coil and air shocks.
To put it bluntly, the plane goes down and your bike is in the cargo hold. When the FAA does its investigation, your bike will be intact; if there's a scratch, the government officials can call up Santa Cruz, cause this puppy comes with a lifetime warranty and crash support.
---
Heckler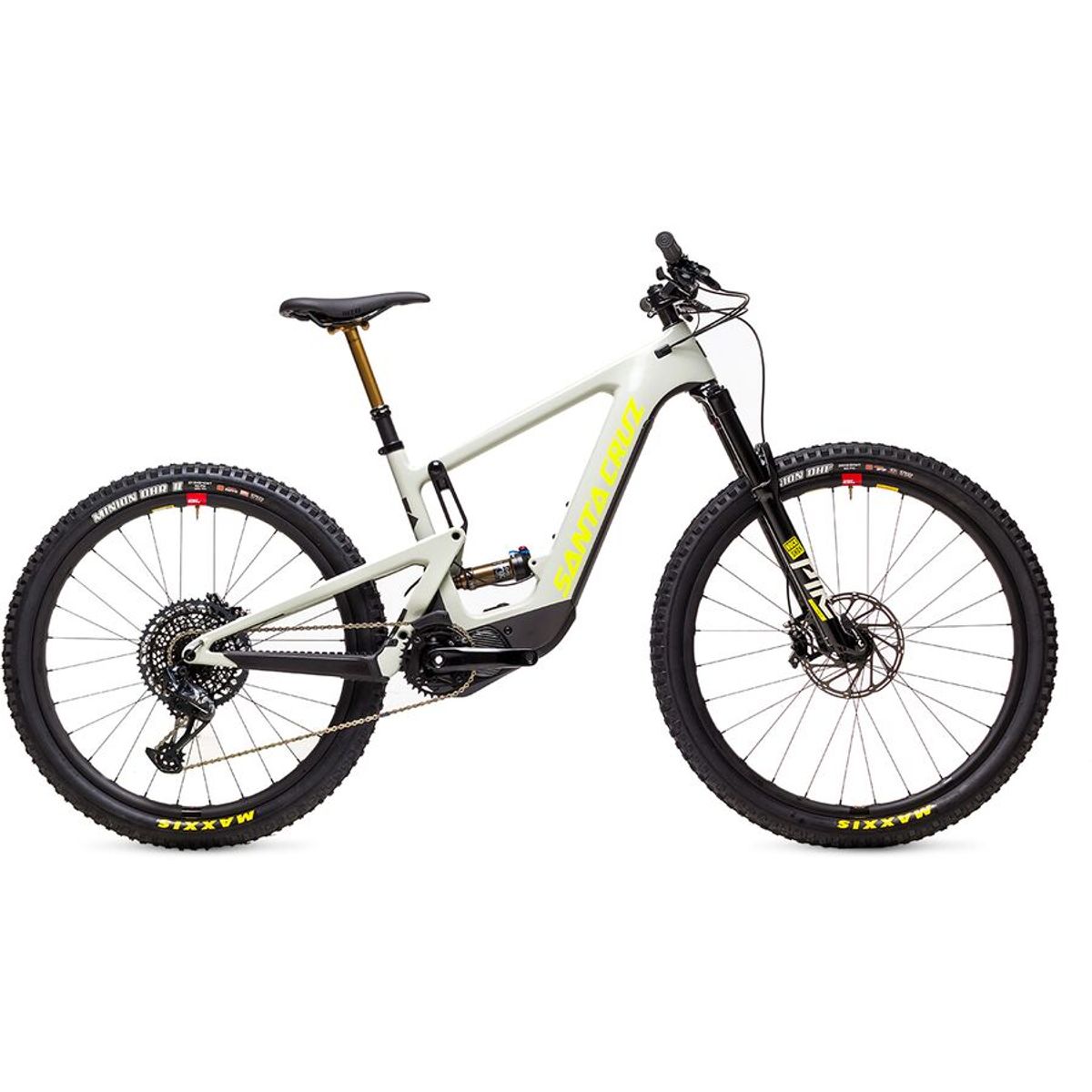 The Santa Cruz Heckler e-bike is designed for those that want the "oomph" of technology without having to sacrifice the fun of a good-old mountain bike. The full carbon frame and interchangeable 504watt battery are meant to keep the weight down.
The concept is simple: push your riding to new levels, trail new paths, maintain maneuverability while also having a bit of fun with the new tech popping out in the field. Mixed wheel option and a chainstay length of 445mm; never compromising the geometry of the cycle.
The new Shimano EP8 motor is lighter than the previous unit (380g), has more power (85nm versus 75nm), smaller size (-10%), less drag (50%), and more heat resistant.
---
Bronson
Santa Cruz's branding of the Bronson sort of tells it all, simple and to the point: "From flat out on the trail to fully flat over a table." The beauty of the Bronson is its compatibility and the fact that its benchmark qualities transform it into the equivalent of a skeleton key for those that simply want a great bike for unlocking trails.
The Bronson rewrites expectations for what a 150mm bike can do. 27.5-inch wheels, 160mm fork travel and 65-degree head angle, one-piece swing-arm. It's an ideal bike for negotiating hard edges, tough terrains, and fast-flowing surfaces.
Santa Cruz Bronson Full Review
---
5010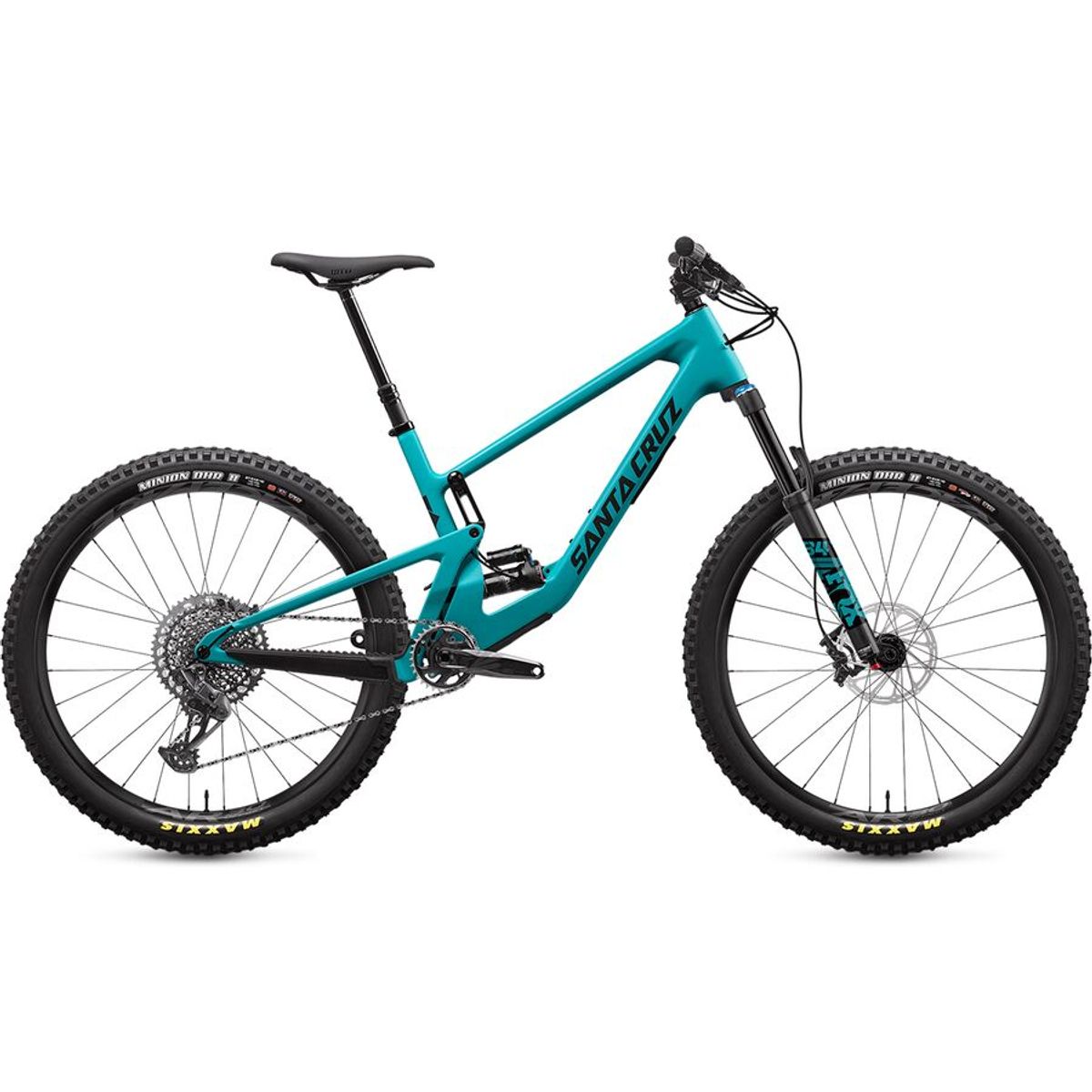 The 5010 is designed for those that look at a bike and see a plane. It's loaded with features and design tweaks for the inner daredevil that simply wants to grab a bike and start hopping, skipping, or jumping over obstacles. 27.5 is the fun-sized wheel size; tough, agile, and light enough to take flight.
This little baby, carefully crafted for the gravity-defying enthusiast and the backyard trail weaving desperado, has tiny hacks that allow it to ride harder than it's vital stats may suggest.
A 140mm-travel fork is paired with 130mm at the rear, the structure fits all sizes and types of rear shocks, and a tailored geometry so frame size is matched to your size. Feels almost like the BMX you cherished as a kid.
---
Hightower
You're the type of person that buys only the greatest hits albums. No time to waste on the dynamics and specifics of Bob Dylan, just want a tape that gives you a couple of great tunes that sound familiar.
Well, if you apply the same philosophies to bikes, then this crafty fella' was built for you. The Hightower is the "does it all well." If you're not too keen on the intricacies of the bike world, you just want a bike that hits all the sweet spots, then that's the Hightower.
Lower-link-mounted shock, 145mm of rear travel complemented by a 150mm front end, 65-degree head tube angle, advanced composite chassis, refined cable routing, tailgate shuttle guard, and a lot more. Hell, it even has room for a water bottle in the mainframe.
Santa Cruz Hightower Full Review
---
Megatower
Big wheels, big suspension, Megatower is the sort of bike that has an inferiority complex and compensates like a man caught in the grip of a midlife crisis and stuck in Key West; caution to the wind, let's go all out, damn the consequences.
Megatower is a bike with a swagger. Great for diehard racers as well as raiders wanting to conquer hometown trails. The Megatower was crafted from the same line as the Hightower, only with a lot less grace and way more punch.
It's was designed for both air as well as coil shocks in mind. It's packed to the gills with hidden adjustment features in its bones; making it ideal for all manner of trails and surfaces. Robust mechanics, great reliability, and excellent durability.
---
Tallboy
The new model 120mm Tallboy has over 10mm more travel than its ancestor. Not much but for people in the know, it's a game-changer. It's a bike with a radical geometry and frame. The Tallboy has a responsive lightweight chassis, 130mm fork, a 65.5-degree head angle, a short-short 430mm chainstays, and a relatively low BB.
It's a bike for long hauls and, more importantly, built for sprints; the Tallboy is the sort of bike that begs its rider to open her up, feel the wind on her chassis.
Full Santa Cruz Tallboy Review
---
Blur
"Thrust on demand," that's the Blur in 3 simple words. It's the sort of ride fast, ride hard, XC race bike that might as well come with one of those warnings rollercoasters are so fund of. The Blur is a light bike (2060gr) with a 100mm full suspension frame.
One-piece carbon rear triangle, paired with another one-piece front-end. This 29-inch speed demon was crafted for the inner Dominic Toretto in all of us.
---
Highball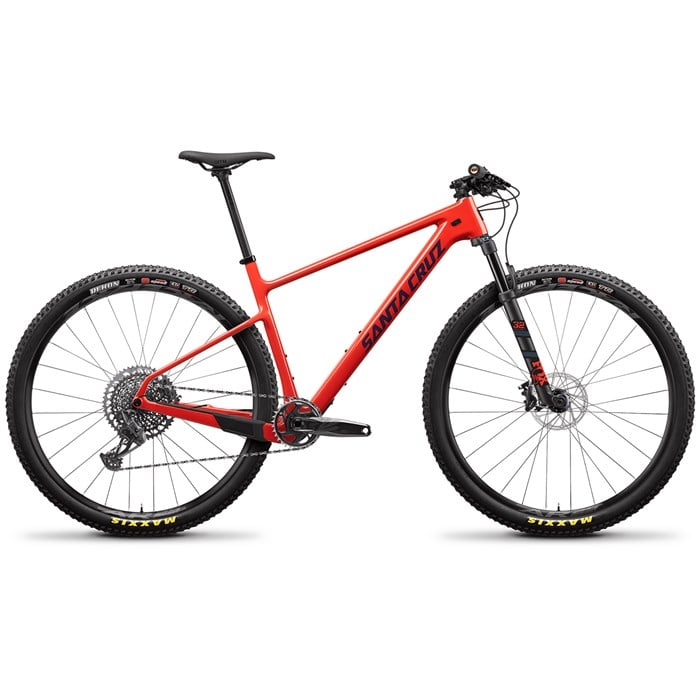 The Highball is Santa Cruz's flagship carbon hardtail bike. More competent than an endurance bike, yet more confident than most XC race-rigs. The idea behind its concept and make was to create an easy to ride with a fine-tuned carbon blueprint and low angle, bridgeless seat stays.
The Highball was crafted around a 27.2mm diameter seat post, with the idea of taking the "hard" out of hardtail riding. Great for races, but built for way more. Three bottle cages, reliable threaded BB, and a lifetime warranty.
---
Stigmata
The Stigmata was dead. It was one of Santa Cruz' standards back in the heydays and after-a-while, the execs decided to mothball it. A couple of years went by, and suddenly nostalgia took its toll; 2015, new life was pumped and like a zombie, the Stigmata, rose.
Only, this time around, it got a complete overhaul. Santa Cruz fused MTB standards and design features and created a modern CX bike. And how did they try out their design tweaks? By signing the bike onto the legendary Three Peaks competition right out of the gate. The clincher? It won and continued racking up trophies in elite cyclocross races around the world.
The Stigmata, with all its gadgets and doodads – internally routed disc brake, threaded bottom brackets, three bottle cage mounts, a frame that clears up to a 45mm 700c or a 2.1" 650b tires, carbon layup, etc – is a bike that can't be classified because it more or less defies labels and ever widens its scope of purposes.
---
Chameleon
The Chameleon, like the name suggests, has an uncanny ability to adapt to its surroundings. It's Santa Cruz's most versatile bike. Over the year, this lizard has been worked and reworked and scraped down to its bone, and then built from scratch, until it reached its evolutionary peak.
A carbon fiber, fun-loving, adjustable creature no longer maintained by its forefathers aluminum bones. It's lighter, faster, and more durable than its predecessors. What's remarkable about the chameleon is its flexible nature; a couple of adjustments and you can convert this adaptable hardtail from a speed racer to a bike-packing horse.
Capable of wide-range of terrains, speed, maneuverability, and traction.
---
Jackal
Quick, dirty, and efficient., the Jackal is just a dirt jump, track-ready, all-purpose bike. It is an off-the-road, all-terrain vehicle that checks up every box on a bike MTB lover's list of priority. Santa Cruz just sells the frame and it's up to the enthusiast to fill in the gaps.
The Jackal runs on 26-inch wheels, it's built to outlast the Apocalypse, and weighs no more than 5lbs. It's a great set-up at a killer price and its novel sliding rear dropouts provides for a geared as well as single speed set-up.
---
Santa Cruz Electric Bikes
Santa Cruz electric mountain bikes are some of the best on the market. With base models starting at over $7000 and reaching prices of over $13,000 for the top-spec version, Santa Cruz bikes are not for the faint of heart.
Santa Cruz eBikes are performance machines coming with the best of the best in everything from components to design technology. This attention to detail and commitment to excellence from the company being the riders can expect each bike to deliver exceptional ride quality and durability.
As a first e-bike, the Heckler or Bullit may be excessive, for those with the budget, you won't find a more responsive, smooth, and fun ride.
For mountain biking professionals or veterans, these bikes provide opportunities to tackle mountain trails like never before with unparalleled power output and silky smooth power transfer from premium electronics.
Heckler E-Bike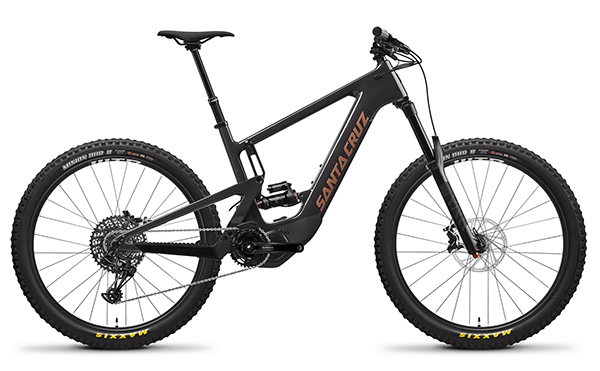 The Santa Cruz Heckler 160mm full-suspension e-MTB comes in four distinct models each with slightly different components and prices ($7699 – $12,099).
That being said, the core of the bicycle remains the same. Santa Cruz has built this bike with the singular purpose of "expanding your own trail map".
The Heckler uses an ultra-lightweight and responsive carbon fiber frame and removable 504Wh battery that delivers great range and allows riders to swap in a new battery for long days in the saddle.
This bike has maneuverable 27.5-inch wheels which pair well with the Heckler's geometry to make it easy to handle on technical trails.
Finally, a new Shimano EP8 motor weighs just 380g, has 85Nm of torque, is 10% smaller, and is more efficient meaning you can take on tougher rides easily.
Heckler 27.5″ vs MX
The Santa Cruz Heckler eBike comes in an MX version which uses a 29-inch wheel up front and a 27.5-inch wheel in the back compared to two 27.5-inch wheels on the regular model.
This mixed-wheel design provides extra traction and roles-over on more technical trails giving riders a confidence boost. Aside from the wheels, both bikes are identical in their components and design.
---
Bullit
The Bullit Santa Cruz e-bike is a 170mm travel all-mountain beast designed for tackling the steepest climbs and most technical descents with ease.
In comparison to the Heckler which is optimized for agility and handling, the Bullit knows no limits and allows riders to reach previously unreachable heights.
This mixed-wheel race bike provides extra confidence to riders by simultaneously boosting handling and maneuverability. This wheel choice ensures optimal chainstay length which further improves climbing traction and handling.
Finally, the premium Shimano EP8 motor and huge 630Wh battery provide unparalleled power and range so you never have to worry about where the trail will take you.
---
Santa Cruz Bikes Technologies
Santa Cruz relies on Virtual Pivot Point (VPP) to create state-of-art brands. As a patented initiative, it used two short links rotating in opposite directions.
Consequently, it depends on regulating shock rates to facilitate a good riding experience.
You need to understand the relationship between VPP and shock, drivetrain, size of the wheel, and travel requirements to attain stability for the user.
The company has made a name for itself using super-efficient features to facilitate the bike's riding experience.
---
Customer Reviews
According to most online shoppers, Santa Cruz bikes have displayed a superb performance. They argue that they are fun to handle and can manage through the harshest of terrains.
On the other hand, some of them were disappointed in their limited dealer shops even though they have a reach of over 30 countries. Santa Cruz feels that it has established itself a leader in the market thanks to its innovative technologies and top-notch materials they use to make bikes. Below are some comments by consumers.
"My favorite thing about Hightower is its incredible versatility. The geometry, suspension, and weight really straddle the line between the trails and Enduro, making for a bike that is more fun and agile on easier trails but certainly has no problem with fast and scary stuff too. It is the bike you can take on pretty much any trail and be happy," said Ryan Cleek.
Angie had this to say about the Highball 27.5 "Thank you Santa Cruz bikes, you folks make great bikes. My Highball 27.5 is the fastest bike I have ever ridden and it is also very comfortable and fun. You rock."
---
Where To Buy Santa Cruz Cycles?
Buy from Mike's Bikes Buy from Competitive Cyclist