Santa Cruz Chameleon Review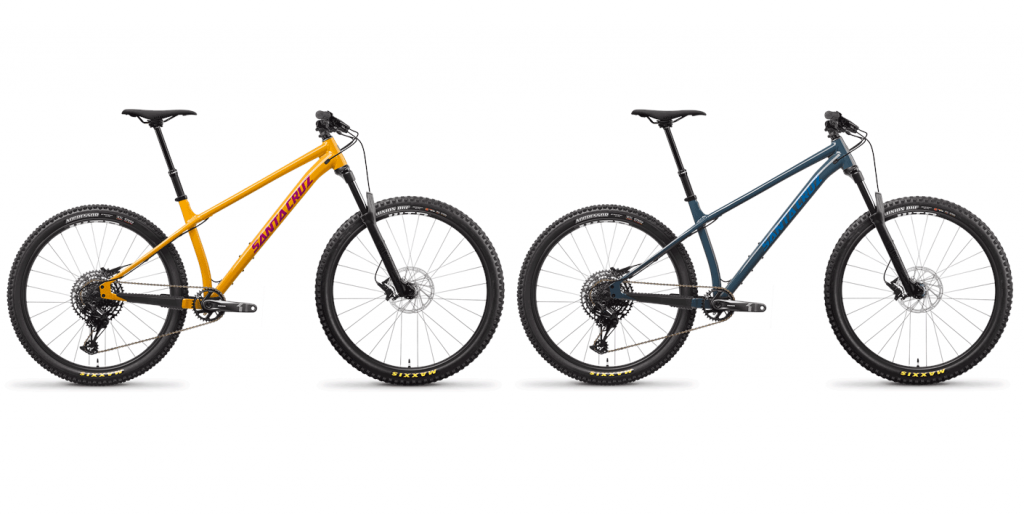 Californian-based Santa Cruz Bicycles has been one of the world's leading mountain bike manufacturers for several decades now. Founded in 1994 by Rob Roskopp, Mike Marquez, and Rich Novak, the brand has grown to become hugely popular amongst downhill, trail, and all-country MTB riders.
Popular Santa Cruz bikes like the Hightower and Tallboy are firm favorites, commonly found in shredding trails and mountain passes all around the world. Since the early 2000s, Santa Cruz has been revolutionizing the downhill mountain biking scene with its patented Virtual pivot Point (VPP) technology.
While you might not find such groundbreaking technology on the hardtail Chameleon, you won't be left disappointed by the incredible stability and speed of this lightweight trail bike.
---
---
Santa Cruz Chameleon Quick Specs
Builds from $1,949 / Frames from $799
Trail geometry
Aluminum / Carbon
Single / 12-Speed
Travel – 120mm (29″) / 130mm (27.5″+)
Clearance – 27.5×2.8″ / 29×2.6″
Geometry – Head tube angle: 67.2 / Seat tube angle: 72.7
The Chameleon has long been a favorite of aggressive trail riders and represents Santa Cruz's flagship hardtail MTB. It's available in both aluminum and carbon, with 27.5″ or 29″ wheels, and several different build specs ranging from $1949 to $2699 in price.
The full-carbon versions come in at just under 13kgs, making them some of the lightest MTBs available but even the 29″ aluminum Chameleon weighs only an impressive 13.6kg. The original Chameleon got the nickname Tin Lizard, serving as a compatible freeride hardtail and single-speed XC bike but several upgrades have occurred since then.
Now, the Chameleon is an exciting but well-balanced all-rounder, designed for high-speed trail riding. The geometry is unique, providing excellent maneuverability upfront even on relatively steep descents – something seldom found in hardtails. It's in no way a downhill bike but you'll feel confident enough weaving between rocks on medium descents.
---
Our Opinion
Santa Cruz has always been a boutique brand that, despite moving much of its frame manufacturing to China and Taiwan, still has all its bikes assembled in California. Recently, Santa Cruz has upped its game in the carbon world, introducing its own carbon wheels in 29, 27.5, 700c, and 650b sizes.
This has helped reduce weight across the board as Santa Cruz introduces lightweight carbon-wheeled models in its downhill, trail, gravel, and all-mountain models. The new 'Reserve' line-up promises to catapult Santa Cruz even further into the limelight as one of the leading mountain bike brands in the world.
The Chameleon Reserve SE is just one such example of how Santa Cruz is dedicated to constantly improving and pushing the boundaries of what's possible on a mountain bike. We hope to see this trend continue as riders demand stronger, lighter, and more aggressive bikes from the world's top manufacturers.
---
Aluminum Chameleon Builds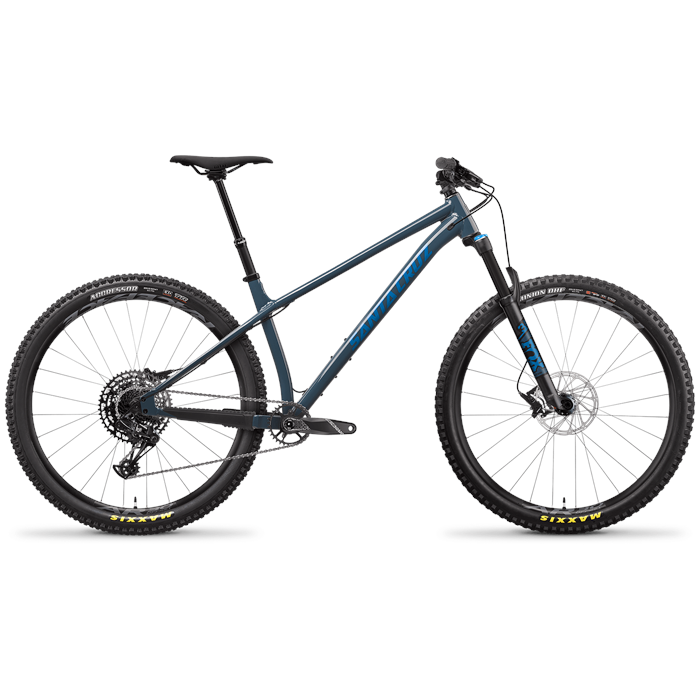 MSRP $1,949 – 29×2.3″ & 2.35″ / SRAM SX Eagle / 120mm RockShox Recon RL / SRAM Level brakes / 30lbs (13,6kg)
MSRP $1,949 – 27.5×2.8″ / SRAM SX Eagle / 130mm RockShox Recon RL / SRAM Level brakes / 32lbs (14,5kg)
MSRP $2,399 – 27.5×2.8″ / SRAM NX Eagle / 130mm Fox Rhythm 34 / SRAM Guide T brakes / 29lbs (13,2kg)
MSRP $2,399 – 29×2.3″ & 2.35 / SRAM NX Eagle / 120mm Fox Rhythm 34 / SRAM Guide T brakes / 28,2lbs (12.8kg)
The aluminum Chameleon frame retails for $799
---
Carbon Chameleon Builds
MSRP $2,699 – 27.5×2.8″ / SRAM NX Eagle / 130mm Fox Rhythm / SRAM Guide T brakes / 28.75lb (13,0kg)
MSRP $2,699 – 29×2.3″ & 2.35″ / SRAM NX Eagle / 120mm Fox Rhythm 34 / SRAM Guide T brakes / 27.5lb (12,5kg)
---
Santa Cruz Chameleon Overview
Carbon C
12-Speed SRAM NX Eagle drivetrain
Brakes – SRAM Guide T
TLR rims & tires
SDG Tellis dropper post
29×2.3″ Maxxis Minion DHF front
29×2.35″ Maxxis Ardent Race rear
WTB Silverado Race saddle
The Chameleon 7 C 29er R-Kit is another version of Santa Cruz's killer carbon hardtail, fitted with SRAM NX Eagle drivetrain and available with both 27.5″ and 29″ wheels. Just like previous versions, it features aggressive geometry designed to take on rougher terrain than hardtails can typically handle.
The R-Kit version is fitted with SRAM's Guide T hydro disc brakes – slightly more affordable than Guide R but still four-piston with Bleeding Edge technology and a Direct Link lever. They lock on to WTB ST i25 rims with SRAM Boost hubs and Maxxis Minion 2.3″ tires.
Like other Chameleon's, the 7 C R-Kit comes with 120mm of travel, this time courtesy of Fox's mid-range Rhythm 34 fork. Like all Fox forks, it's smooth on press and snappy on the release but you might need to fine-tune the air compression to your specific needs. Overall, it's a good choice for a more affordable option in the Chameleon range, plus you get some decent Race Face finishings along with an SDG Tellis dropper post.
---
Chameleon Special Editions (SE)
Carbon C
12-Speed SRAM GX Eagle
Brakes -SRAM Guide R
27.5×2.8 Maxxis Rekon 3C/EXO/TR
Weight: 26lb 4oz
The Chameleon Reserve SE is a full carbon hard-tail, ideal for riders that like a solid, aggressive ride but don't need – or want – rear suspension. It has the kind of stiff, lightweight carbon frame usually reserved for top-of-the-range downhill bikes, and yet here it is on a hardtail MTB.
This will please pro trail riders who like to charge singletrack with speed and confidence, knowing they won't be taking on any large drops.
The Reserve SE version of the Chameleon takes things up a notch with a top-class SRAM GX Eagle drivetrain combined with an X1 Eagle carbon crankset. And they're not slowing down there, keeping the quality rolling with SRAM Guide R hydraulic disc brakes with 180mm Avid rotors.
This is clearly not your standard hardtail but rather a rock-solid, lightweight beast intended to compete with the best full-suspension bikes out there.
Speaking of suspension, the Chameleon Reserve SE comes with a Fox 34 Performance fork providing a decent 120mm of travel – just the right amount to soften vibrations and swallow up heavy impacts without dampening the ride.
This gets even more support from the excellent Maxxis Minion tires running on Santa Cruz's own Reserve 27 carbon rims, keeping the weight down even more. Best be careful on this bike or you might just float away!
---
Santa Cruz Chameleon Frame Specs
Recommended use: XC, Trail
Accommodates: 27.5″ / 29″
Recommended fork travel: 120-140mm
Clearance for 27.5 x 3.0in or 29 x 2.5in tires
Frame Material – Carbon fiber
Head Tube Diameter – IS41/IS52
Bottom Bracket Type: English threaded, 73mm
ISCG Tabs – ISCG05
Internal Cable Routing
Brake Type – Post-mount disc
Compatible Components – Mechanical, electronic drivetrains
Seatpost Diameter – 31.6mm
Front Axle – 15mm thru-axle
Rear Axle 12 x 148mm thru-axle
Lifetime Manufacturer Warranty
---
Chameleon Frame Size Recommendation
S – 5'0″ – 5'5″ / 152 – 165cm
M – 5'5″ – 5'10" / 165 – 178cm
L – 5'10" – 6'1″ / 178 – 185cm
XL – 6'1″ – 6'6″ / 185 – 198cm
---
FAQ
What is a faster hardtail by Santa Cruz bikes?
The Highball is a faster version of the Chameleon with smaller travel and XC spec.
Chameleon vs. Trek Roscoe
Trek Roscoe is an aluminum 650b with 120mm travel, while the Santa Cruz Chameleon offers a larger variety of set-ups.
Chameleon vs. Salsa Timberjack
Salsa Timberjack comes with pretty much the same specs with a better price tag! Aso, the Timberjack comes also in titanium.
27.5″ or 29″ Santa Cruz Chameleon?
Chameleon comes in two different settings and with adjustable chainstays.
27.5″+ is more suitable for technical tracks, extra cushion
29″ offers better speed and rollability
---
PROs and CONS based on owner reviews
LIKE
Short chainstays
Superb climbing, and handling
Plus-size tires offer tons of vibration-reduction
Swing-in dropouts – 27.5″ and 29″ availability
Can be run as single-speed without a chain tensioner
Can be run as a mullet bike
NOT SO MUCH
The steep head angle seems to be the #1 problem for shredders who are used to 120-130mm range capabilities.
– This isn't an issue among regular or recreational trail riders
---
Buy from evo.com Buy from Mike's Bikes