Diamondback Mountain Bikes Review
Diamondback bikes have international recognition for their reliable quality and durability and also because of their work in the competitive cycling world.
Although it started as a BMX brand, the company is most famous for its mountain bikes and increasingly so for its excellent e-bikes. In addition, they sell bikes across a broad spectrum of prices and purposes, which are very popular among recreational cyclists alike.
The company sells other styles of bikes aside from mountain bikes including road, gravel, adventure, city, kids' bikes, and e-bikes.
About Diamondback
---
Since its founding in California in 1977, the company has ended up with its primary headquarters further up the coast in Kent, Washington.
In 1999, Derby Cycle Corporation, one of the largest manufacturers in Europe, purchased the brand and other popular brands such as Haibike and Raleigh.
For the most part, Diamondback's bikes are mid-range or entry-level, with a couple of higher-end bikes available too. They have developed a suspension system called "Level Link" in recent years, similar to the renowned Virtual Pivot Point system from MTB specialists Santa Cruz Bicycles.
This suspension system has given their newer mountain bikes a considerable boost over previous models and has generated lots of excitement for their bikes moving forward.
---
1

. Diamondback HARDTAIL Mountain Bikes
Hatch > Lux > Overdrive > Hook > Line > Mason > Sync'R > Sync'R Carbon
27.5″ – Hook, Hatch, Line, Mason, Lux, Sync'r
29″ – Hatch, Overdrive, Sync'r Carbon
Aluminum – Hook, Hatch, Line, Mason, Lux, Overdrive, Sync'r
Carbon – Sync'R Carbon
---
Diamondback Hatch
MSRP: from $575
The Hatch (1, 2, or 3) is the brand's most affordable hardtail MTB starting a just $575 and going up to $775. This bike is the perfect entry-level mountain bike for those with an interest in cross-country style riding.
This versatile bike can do many jobs and rides well off-road on dirt or gravel and asphalt. Diamondback chose a custom-formed 6061 aluminum on all three models and varied wheel sizes depending on the frame size.
In addition, each Hatch has a 100mm fork suspension, a Shimano Tourney 3×7-speed drivetrain, and knobby 2.25″ Vee Tire Co. Rubber Rail Escape tires, whereas the Hatch 1 is the only one with V-brakes compared to hydraulic discs on the others. Finally, the Hatch 3 has a better cassette range.
Aluminum
100mm Suntour fork
27.5″ / 29″ x 2.25″
Head tube: 68° / Seat tube: 73.5° – 73°
---
Diamondback Lux
Women's specific geometry
MSRP:
LUX 1 – $750
LUX 2 – $1,000
LUX 3 – $1,400
The Lux is built for control, speed, and traction and comes in three distinct models. Although it has female-specific geometry, it could easily be a men's Diamondback mountain bike.
Each of these models has a durable double-butted 6061-T6 Aluminum frame, while the 2 and 3 have 9mm quick release boost dropouts. The suspension used on each bike varies. The suspension travel increases with the price on this bike, with the Lux 3 using a 120mm Rock Shox Judy Silver fork.
Likewise, the drivetrain improved from Shimano Altus, 8-speed, to Shimano Alivio 9-speed, with the best model using a 12-speed SRAM SX Eagle.
Each Lux uses nimble and high-traction Vee Tire Co 27.5″ x 2.35″ tires, Shimano disc brakes (mechanical or hydraulic), and a DB Performance MTB saddle.
Aluminum frame
27.5 x 2.35″
80mm, 100mm, 120mm travel
27×2.35″
Head tube: 68° / Seat tube: 73.2-73.4°
---
Diamondback Overdrive
MSRP:
29-1 – $750
29-2 – $1,000
29-3 $1,400
The three Diamondback Overdrive 29 models come at the same prices as the Lux mentioned above. However, this solid and lively ride flourishes on technical terrain where a light touch and fitness are needed to succeed.
As with the Lux, each Overdrive has a different price-based drivetrain, including the Shimano Altus, 8-speed, to Shimano Alivio 9-speed, with the best model using a 12-speed SRAM SX Eagle.
The fork is either Suntour or RockShox with 100mm of travel. Vee Rubber 29″ x 2.25″ tires provide lots of control and smooth-rolling ability on rough terrain.
Finally, Overdrive 2 and 3 have powerful hydraulic disc brakes while the base model has mechanical discs.
Aluminum frame
29x.2.25″
100mm fork
Headtube: 71° / Seat tube: 73°
---
Diamondback Hook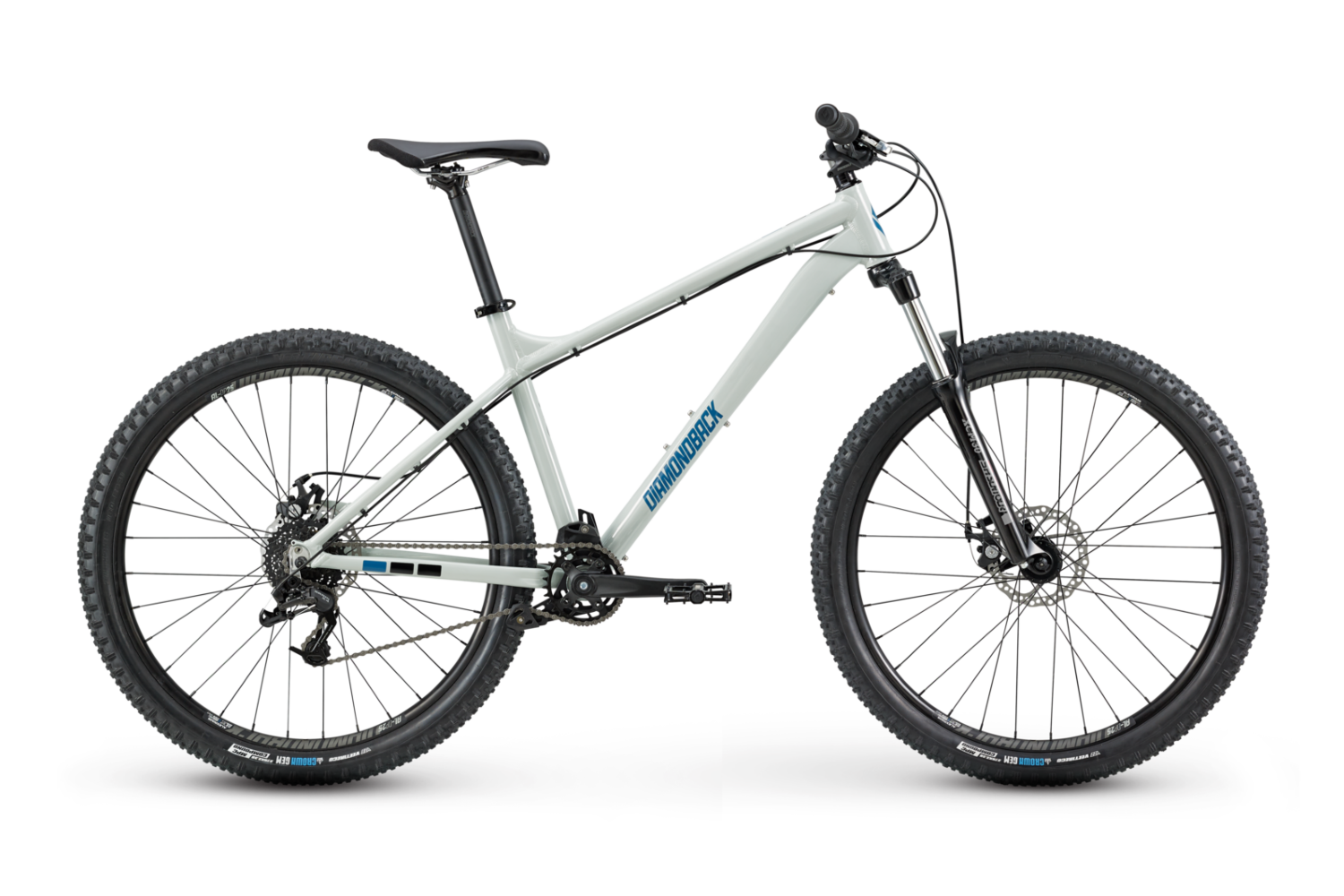 MSRP: $815
Diamondback's Hook hardtail mountain bike entry-level choice with the versatility to tackle almost anything you throw at it.
This bike has the same modern frame design using 6061-T6 double-butted aluminum alloy like with the higher-end Line and Sync'r models. The geometry is relatively low, which, along with the 27.5″ wheels, considerably boosts maneuverability.
Other notable components on this affordable mountain bike include the 120mm travel SR Suntour XCM fork, low-maintenance SRAM X4 8-speed drivetrain, Tektro mechanical disc brakes, and Vee Rubber Crown Gem 2.35″ tires. These components ensure a comfortable and controlled ride on light to moderate mountain trails and urban roads.
Aluminum frame 6061-T6
27.5 x 2.35″
120mm SR Suntour XCM
8-speed SRAM X4
Mechanical disc brakes
---
Diamondback Line
MSRP: $900
The Diamondback Line MTB is an all-around hardtail with impressive components, and a smooth ride feel for the low price of $900.
This bike uses a lightweight 6061 aluminum frame with progressive geometry to enhance stability, responsiveness, and agility in varied terrain.
This bike is kitted with a 120 mm travel Suntour XCR fork, Shimano hydraulic disc brakes, and high-traction Vee Rubber Crown Gem 2.35″ tires to ensure confident control and smooth-rolling on the trail.
The Line has a reliable yet straightforward 1×9-speed Shimano Acera setup with a sufficiently wide gear range for climbing for the drivetrain. Finally, diamondback also added a chain guide with a roller to boost protection for demanding trail riding.
6061-T6 aluminum frame
120mm SR Suntour XCR
27.5 x 2.35″
Hydraulic disc brakes
9-speed Shimano Acera
Weight: 32lbs
---
Diamondback Mason
MSRP:
Mason 1 – $1,060
Mason 2 – $1,700
The Mason hardtail trail bike comes in two distinct models with a significant price difference stemming from notable component upgrades in the drivetrain, suspension, wheelset, and brakes.
That said, both models have high traction, control, durability, and equal ability to go up or downhill. The frame used is a Plus 6061-T6 Weapons Grade Aluminum. For suspension, you have an air or coil spring 120mm fork.
The Mason 1 uses a Shimano Deore 1×10-speed drivetrain and Tektro mechanical disc brakes, whereas the Mason 2 uses powerful Shimano hydraulic disc brakes and a slightly more efficient 11-speed SRAM NX setup.
Finally, both bikes use nimble 27.5″ wheels, of which the Mason 2 can run tubeless. Finally, plus-sized Vee Rubber T-Fatty 2.8″ (Mason 2) or Bulldozer 3″ tires significantly boost control.
Aluminum
120mm fork
27.5 x 2.8″ – 3.0″
10 / 12 – speed
Head tube: 68° / Seat tube: 74°
---
Diamondback Sync'R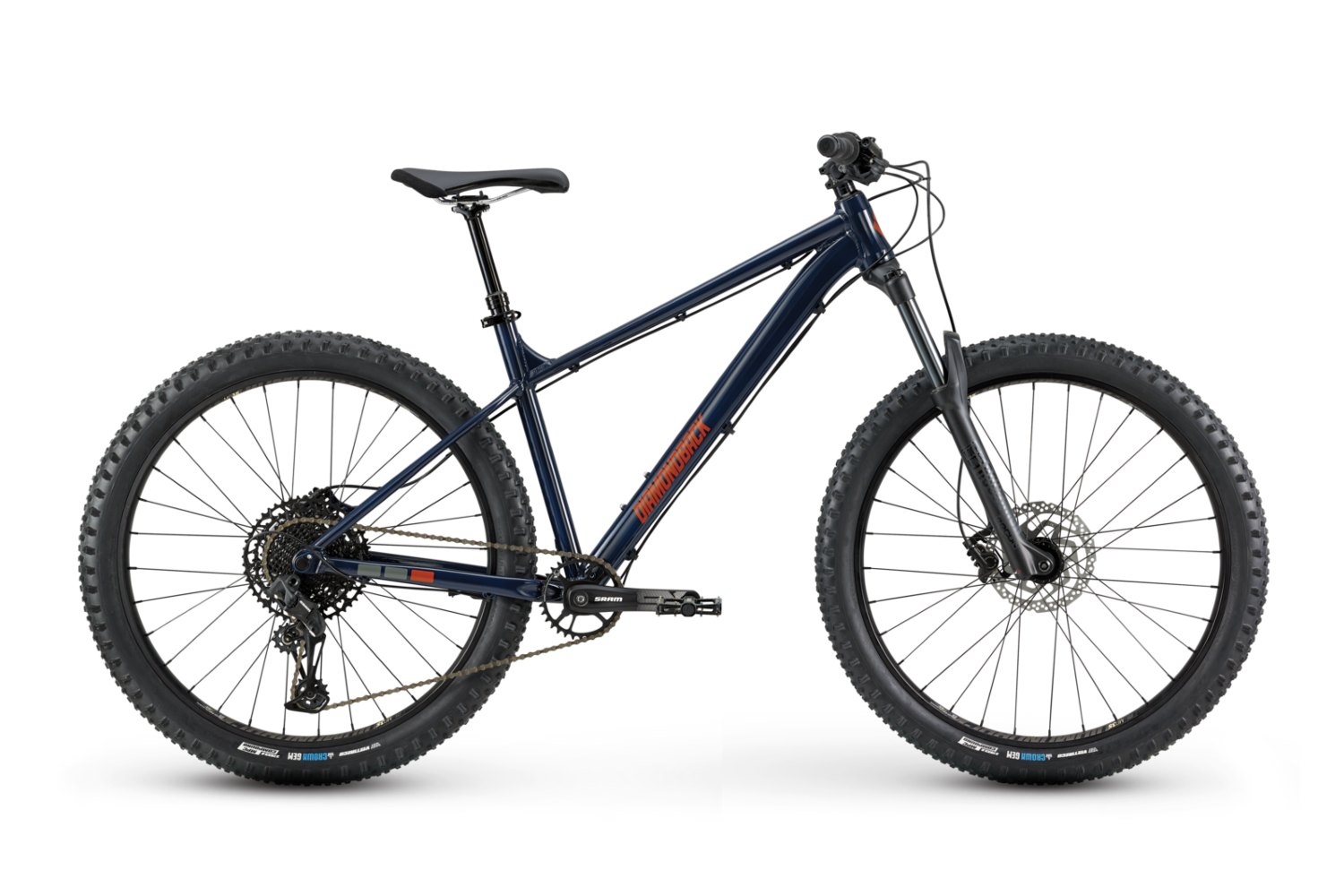 MSRP: $1,500
The Sync'R is a Diamondback 27.5 mountain bike recognized for its versatility and ability to perform alongside full-suspension mountain bikes, thanks to carefully chosen components and attention to detail in the design.
This bike is the company's top aluminum hardtail and shows off great features starting with a 6061-T6 butted aluminum frame, and 140 mm travel RockShox Recon RL fork suspension. In addition, Vee Rubber Crown Gem 2.8″ large volume tires offer excellent driving and braking traction with comfort and damping for a high level of control.
This bikes groupset is an SRAM SX Eagle 1×12 with a massive 11-50t gear range that ensures excellent climbing ability. Finally, the Sync'R has powerful Shimano hydraulic disc brakes and Diamondback's AL35 tubeless-compatible wheelset to round out a comprehensive component list.
6061-T6 aluminum
27.5 x 2.8″
140mm RockShox Recon RL
SRAM SX Eagle
---
Diamondback Sync'R Carbon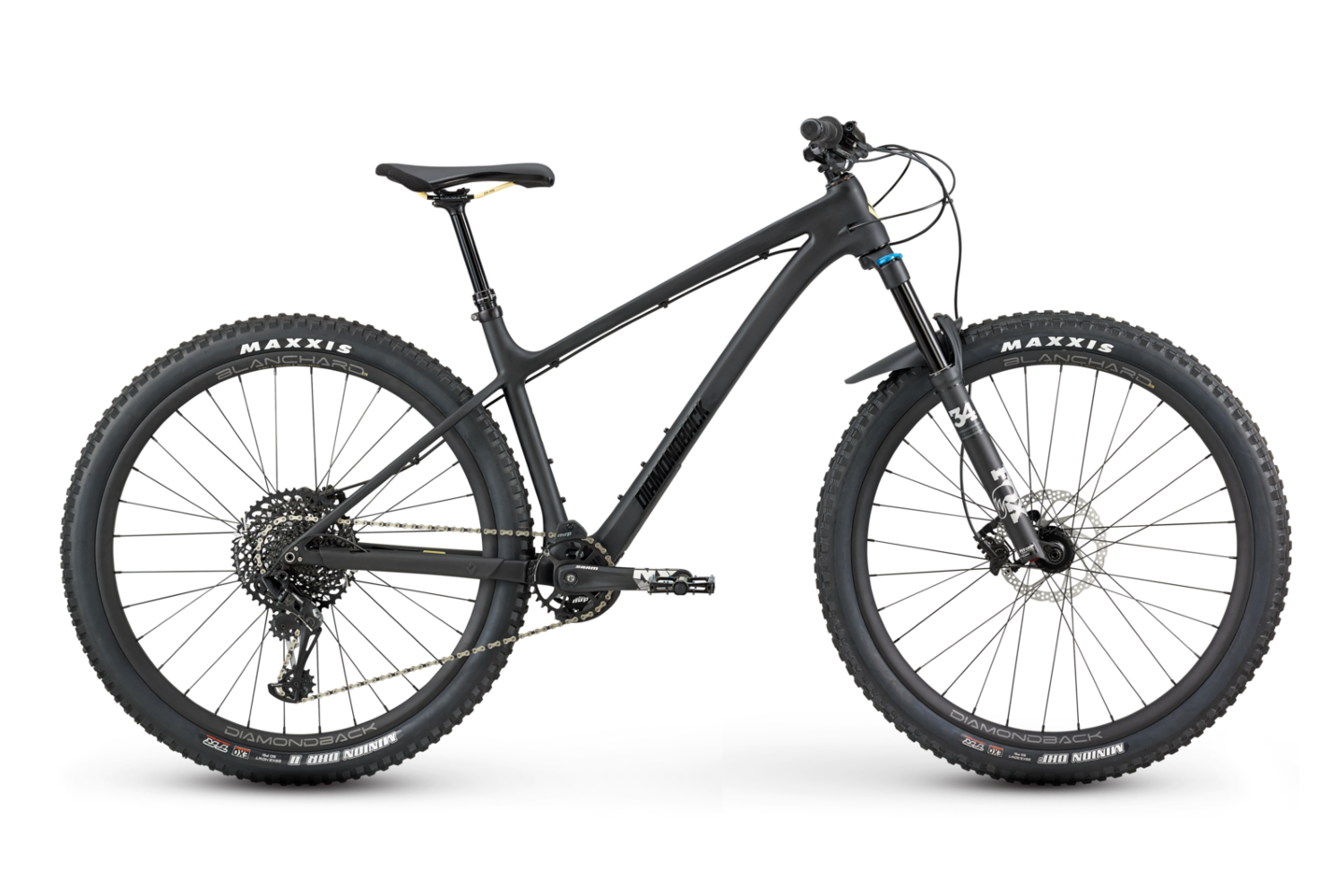 MSRP: $3,650
The Sync'R Carbon is a sleek and high-performance Diamondback hardtail mountain bike. The brand has taken the standard Sync'R to the next level with component upgrades across the board with this model.
This bike has a different approach using less maneuverable but faster and smoother rolling 29″ wheels, narrower 2.5/2.4″ tires, and even more progressive geometry on the premium monocoque carbon frame.
On the Sync'R Carbon, you have a 140mm travel Fox 34 Float Performance fork that performs brilliantly with aggressive riding. In addition, Maxxis Minion DHF tires provide excellent traction in corners and wicked speed, while Shimano hydraulic disc brakes ensure premium stopping power.
Finally, the drivetrain chosen by Diamondback is a precise and reliable SRAM GX Eagle 1×12-speed with a huge 10-50T gear range for climbing efficiency.
Sync'r Moncoque Carbon
29 x 2.5″ & 2.4″
12-speed SRAM GX Eagle
X-Fusion Manic dropper seat-post 125-150mm
Brakes – Shimano MT501 180/160mm rotors
---
2

. Diamondback FULL SUSPENSION Mountain Bikes

Atroz > Release > Catch > Mission
27.5″ – Atroz, Catch
29″ – Mission Carbon, Release Carbon, Release 29
Aluminum – Release, Catch, Atroz
Carbon – Release, Mission
---
Diamondback Atroz
MSRP:
Atroz 1 – $1,075
Atroz 2 – $1,375
Atroz 3 – $1,950
The Atroz Diamondback full suspension mountain bike is the brand's most affordable and performs perfectly for any entry-level all-mountain rider.
Each model comes with a 6061 T-6 butted aluminum frame with 100mm optimized single-pivot suspension and aggressive geometry. The Atroz 1 and 2 have 120mm travel Suntour forks in the front, while the premium model comes with a 130mm RockShox Recon RL.
For gearing, these bikes progress from a basic but reliable Shimano 9-speed to an SRAM SX Eagle 12-speed with a 10-50T range.
Finally, the Atroz has a solid wheelset featuring durable 27.5″ double-wall DDM rims fitted with versatile VEE Rubber 2.35″ tires. In addition, the Atroz 2 and 3 come with powerful Shimano hydraulic disc brakes, while the basic model comes with Tektro mechanical discs.
6061-T6 aluminum
Fork – RockShox Recon RL 130mm
Rear shock – RockShox Monarch R 100mm
27×2.35″
---
Diamondback Release 29
MSRP:
Release 29-1 – $2,550
Release 29-2 – $3,400
Release 29-3 – $4,100
The Release full-suspension bike is one of Diamondback's best aluminum frame models. This all-mountain bike is perfectly equipped to tackle technical singletrack and challenging climbs in the same ride.
Most notably, each release has a 130mm travel hydroformed aluminum frame with the company's innovative Level Link Suspension system. Level Link isolates your pedal stroke from the suspension, enhancing ride efficiency and maximizing traction.
Each of the three models uses a high-travel 140mm fork. The Diamondback Release 1 has SR Suntour Aion, while the 2 and 3 have more efficient Fox 34 forks. In addition, a 12-speed drivetrain with optimized climbing gearing is consistent across the range. The premium Release 3 uses a race-ready Shimano XT setup.
Finally, powerful Shimano hydraulic disc brakes and Maxxis Minion 2.3″ tires ensure high-level control and handling.
Frame – 6061-T6 aluminum
Fork – Fox 34 Performance 140mm
Rear shock – Fox Performance Float DPX2 130mm
Brakes – Shimano XT M8100
Tires – 29×3″
Headtube: 67.7° / Seat tube: 73°
---
Diamondback Catch
MSRP:
Catch 1 – $2,550
Catch 2 – $3,400
The Catch by Diamondback is a plus-sized (2.8″ tires) trail MTB that comes in two distinct models, both designed to boost rider confidence and enhance performance when tackling technical terrain and surfaces.
With the combination of wide 2.8″ tires and agile 27.5″ wheels, the Catch gives you the ability to maneuver wicked descents while maintaining a high degree of traction. Notably, the Catch 2 has premium Maxxis Minion DHF/DHR high-performance tires.
The highlight of the Catch is the utilization of Diamondback's Level Link Suspension system with a 130mm fork and rear shock, significantly boosting ride efficiency through isolated pedaling.
Both models have a 12-speed groupset with excellent climbing ability, Shimano SLX setup or SRAM SX Eagle. Finally, hydraulic disc brakes and tubeless-ready Diamondback Blanchard 38R rims round out an impressive component list.
Frame – 6061-T6 aluminum
Fork – Fox Rythm 34 130mm travel
Rear shock – Fox Float DPS Evol LV 130mm travel
Tires – 27.5 x 2.8″
Brakes – Shimano SLX
12-speed Shimano SLX
Headtube: 68.0° / Seat tube: 73°
---
Diamondback Release Carbon
MSRP:
Release 4C – $4,350
Release 5C – $5,200
The Release Carbon is a mid to high-end trail bike with a sleek, integrated design that shows off all of Diamondback's innovative technology.
The Release has a super-lightweight monocoque carbon fiber frame with integrated Level Link suspension to significantly increase pedal stroke efficiency and traction. The 4C and 5C have a Fox 36 Performance Float fork (the Elite version on the 5) and a Fox Performance rear shock.
An SRAM GX Eagle 12-speed (10-50T) drivetrain on the premium 5C delivers ultra-precise and efficient shifting, while the SRAM NX Eagle on the 4C is perfectly adequate and reliable.
The 5C wheelset is a high-performance e*thirteen LG1 EN rims fitted with reinforced TRS Race SS 2.35″ tires, while the 4C uses Diamondback Blanchard rims with Maxxis Minion tires. Finally, both bikes have powerful SRAM G2 RS hydraulic disc brakes.
Frame – Release Carbon
Fork – Fox 36 Performance Elite Float 150mm travel
Rear shock – Fox Performance Elite Float DPX2
Brakes – SRAM G2 RS
Tires – 27.5 x 2.35″
Head tube: 66 / Seat tube: 73
---
Diamondback Mission Carbon
MSRP:
Mission 1 – $4,000
Mission 2 – $,5000
The Mission is a Diamondback 29er mountain bike with a carbon frame design optimized for smooth descending thanks tothe 29″ tires and high-travel suspension.
Both the Mission 1 and 2 use a lightweight monocoque carbon with 160mm of travel in the rear shock and 180mm forks and Diamondback's Level Link suspension system. RockShox SuperDeluxe R and Rockshox Yari RC change out on the premium model for improved Fox Float X2 Performance Elite and Fox 36 Performance suspension.
The most impressive component on the Mission 2 is the Sram XO1 Eagle 12-speed groupset which is incredibly efficient and precise all over the mountain. Comparatively, the Mission 1 uses a reliable SRAM GX Eagle version. In addition, SRAM Code R and Guide R hydraulic disc brakes ensure excellent stopping-power.
Finally, both bikes use a Maxxis DHF 2.5″ and DHR 2.4″ setup, balancing traction and speed.
Frame – Mission Monocoque Carbon
Brakes – SRAM Code R
Fork – Fox 36 Performance 180mm
Rear shock – Fox Float X2 Performance Elite 160mm
Derailleur – 12-speed SRAM X01
Rear shock – 160mm
Tires – 29 x 2.5″ & 2.4″, Fits 27.5 x 2.6″
---
3

. Diamondback KIDS' Mountain Bikes

El Oso Nino > Line 24″ > Sync'R 24″
---
Diamondback El Oso 20″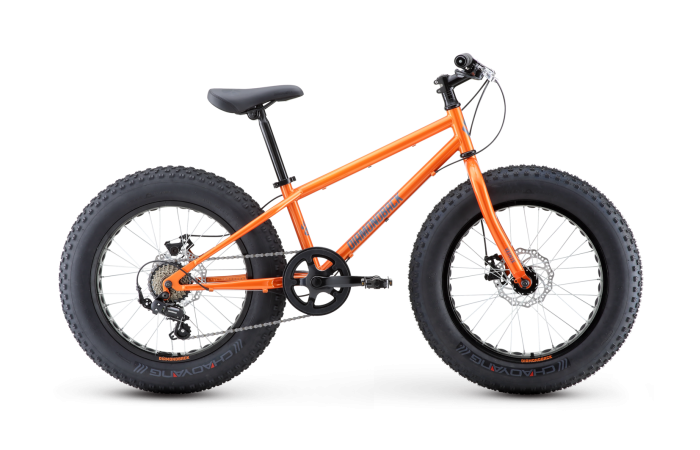 MSRP: $650
The El Oso Nino is an affordable kids' fat-tire mountain bike that inspires confidence through a fun and durable design.
20″ x 4″ Chaoyang tires allow this bike to roll over almost anything in its path while being maneuverable and having a high level of traction, even on soft or wet terrain.
The high-tensile steel frame balances comfort and toughness as it absorbs shock and resists the wear and tear expected with children's bikes. This durable frame provides added benefit as this bike will last and fit children 44″ -55″ tall, aged approximately 4-9 years old, so that they can get several years of enjoyment out of the El Oso.
Other notable features include powerful disc brakes for safe control in varied conditions, a child-specific Padded Jr. Diamondback saddle, and a Shimano Tourney 7-Speed, giving them lots of options when they join you on the trails.
Frame – Steel
Brakes – Mechanical
7-speed Shimano Tourney
20×4″ tires
Fits riders – approx. 4-9yo / 44″ – 54″
---
Diamondback Line 24″
The Line 24 hardtail MTB is a kids' version of the popular adult model. This bike is perfect for light to moderate trail rides or daily use around local roads and bike paths.
Like the full size, the 24″ has a durable 6061 T-6 Aluminum frame. The suspension is from an SR Suntour fork with 80mm of travel to smooth out bumps and make riding more enjoyable.
The 24″ Diamondback double-wall rims and Vee Crown Gem 2.25″ tires ensure excellent traction, stability, and roll-over ability, ideal for navigating tricky trails. Additionally, mechanical disc brakes provide ample stopping power in varied conditions.
Finally, the Line 24 has a wide-range SRAM 1×8 drivetrain, offering plenty of gearing options for climbs and descents. This bike is suitable for kids 53″ to 62″ tall (approximately 8-12 years old).
24×2.25″
Mechanical disc brakes
8-speed SRAM X4
80mm travel
Head tube: 69° / Seat tube: 71°
Fits riders – 53″ – 62″
---
Diamondback Sync'R 24″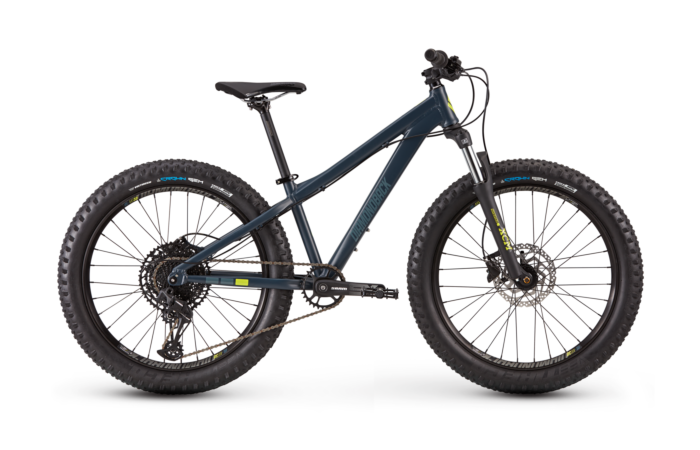 MSRP: $1,050
The Sync'R Diamondback 24 inch mountain bike is another great kids' hardtail choice that will help them take their riding to the next level while enjoying every moment.
This bike has top-end components for children, including an SRAM SX Eagle 1×12-speed drivetrain with an extensive 11-50T gear range for climbing and powerful Tektro Auriga hydraulic disc brakes.
24″ wheels and low geometry deliver excellent handling characteristics to ensure your kid is confident and as safe as possible. In addition, a Suntour XCM Boost 80mm travel fork provides plenty of trail performance.
Finally, this 6061 aluminum bike has high-traction, super-stable Vee Tire Crown Gem 2.6″ tires that perform well on varied terrain and unfavorable conditions.
Frame – 6061 Aluminum
Fork – 80mm SR Suntour
12-speed SRAM SX Eagle
Brakes – Hydraulic
Tires – 24 x 2.6″
Head tube: 69° / Seat tube: 71°
Fits riders – 53″ – 62″, approx. 8-12yo
---
4

. Diamondback ELECTRIC Mountain Bikes
---
Diamondback Response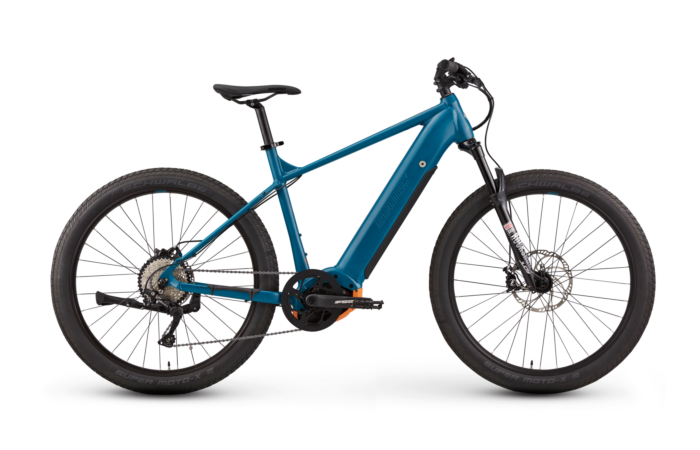 MSRP: $4,100
Motor – 250W Bosch Performance Line Speed, 85Nm
Battery – Bosch PowerTube 500Wh
Diamondback Response mountain bike is a trail hardtail with excellent components and a stylish integrated design.
This high-power electric bike can take on technical descents or wicked inclines equally, making long days in the saddle feel easy. Its hydroformed 6061-T6 aluminum frame uses Diamondback's Trail Speed Geometry for improved handling and performance at speed.
For electronics, you have a seamlessly integrated 500W Bosch Powertube battery which powers the smooth torque-sensing Bosch Performance Line Speed 3.0 mid-drive motor with a punchy 85Nm of torque.
To maximize the range up to 65 miles, take advantage of the reliable 10-speed Shimano drivetrain. Finally, large rotor hydraulic disc brakes, wide 2.8″ Schwalbe tires, durable 27.5 double-wall rims, and a 120mm travel RockShox Judy Gold fork ensure confident handling and control in all conditions.
6061-T6 alloy frame
120mm RockShox Judy Gold RL
27.5×2.8″
10-speed Shimano Deore
Brakes – Magura Fifty4, 203/180mm rotors
---
5

. Choosing a Mountain Bike — Buying Guide
---

Wheel size
29er
+ More suitable for taller riders
+ Better rollover capabilities
+ Stable on faster speeds
27.5″
+ Great for shorter riders
+ Faster acceleration
+ Best for technical riding
Brakes
Hydraulic discs are the most powerful and fast-stopping types but they are the most expensive and hardest to maintain
Mechanical discs are a step down from hydraulic in ability but they are easier to maintain and cheaper
Rim brakes are cheap and super easy to maintain, however, they provide less stopping power, especially when it rains
Frame material: Aluminum vs Carbon
Well manufactured carbon fiber is the best material for bikes for a balance of performance and comfort. It is more susceptible to damage, though, and currently the most expensive to produce.
Aluminum is easy to use, cheap to buy, and can make durable, light, and affordable frames that perform better than cheap carbon frames when manufactured well.
Diamondback's 6061-T6 aluminum – Durable, affordable, lightweight.
Carbon – Lightweight, great vibration dampening.
Suspension: Hardtail vs full-suspension
Depending on your preferences, needs, and budget, you will choose between hardtail and full-suspension when buying an MTB. Hardtails are cheaper and better for those who plan to ride on the road and the trails.
Full suspension is more expensive and is ideal for pure trail riding. These bikes handle better and feel smoother when on moderate to challenging trails.
Suspension Travel Range & Field of Use
XC – 70-100mm travel
Trail – 100-130mm
All-mountaiDKIM ja SPFn – 130-160mm
Enduro – 160-180mm
---
FAQ
Is Diamondback a good mountain bike brand?
Yes, Diamondback bikes are recognized among the MTB community for their high-quality, affordable entry to mid-level bikes. In addition, they have lots of experience in the industry and have the advantage of being part of a large bicycle conglomerate.
Are Diamondback bikes any good?
Yes. Diamondback designs bikes with high-quality frame manufacturing processes, innovative technology, and popular components from top companies like Shimano, RockShox, Maxxis, and more.
Where to Buy Diamondback Mountain Bikes?
Buy from Jenson USA Buy from REI