Although the thousand dollar mark is considered an entry range among seasoned cyclists, there is still plenty of high-quality yet affordable bikes on the market.
Many of us recreational cyclists are looking for a new bike in 2022, and this is the amount we are willing to pay.
By today, the selection of bikes and components has increased drastically over the past decade, and down here you'll find a selection of the best entry-level mountain bikes for just under the thousand dollar mark!
Best Mountain Bikes Under $1000
---
10 Best Mountain Bikes Under $1,000

BRAND
MODEL
MSRP
TIRES
FORK
DRIVETRAIN
BRAKES
Diamondback
Line
$900
27.5×2.35″
120mm
9sp Shimano Acera
Cannondale
Trail 6
$850
27.5″ or 29″
100mm
2x8sp Shimano Altus & Acera
Marin
Bobcat Trail 3
$819
27.5″ or 29″
120mm
2x8sp Shimano Altus
Co-op Cycles
DRT 1.2
$999
27.5″ or 29″
120mm
2x9sp Shimano Altus
Tektro Hydro
Norco
Storm 4
$719
27.5″ or 29″
100mm
3x7sp Shimano Tourney
Cannondale
Trail 8
$625
27.5/29×2.25″
75mm
2x7sp Shimano Altus
Marin
Bobcat Trail 4
$735
29x 2.25″
120mm
2×9 Shimano Altus
Co-op Cycles
DRT 1.2
$999
27.5-29×2.4″
120mm
9sp Shimano Alivio/Altus

Tektro hydraulic

Specialized
Rockhopper
$1,000
29×2.3″
100mm
9sp microSHIFT Advent

Tektro HD-M275

Giant
Talon
$720
27.5″ & 29″x2.2″
100mm
9sp microSHIFT Advent

Tektro TKD143, hydro
---
1.

Diamondback Line 27.5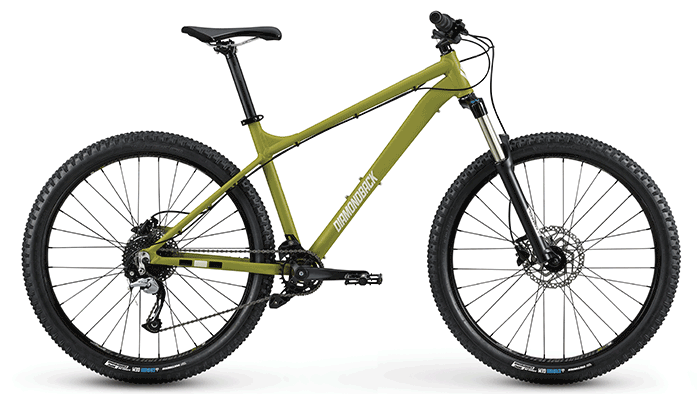 MSRP: $900
The Diamondback Line 27.5 is an entry-level mountain bike with a versatile build, perfect for new off-roaders.
The Shimano Acera 9-speed single-chainring drivetrain is a great addition at this price. It simplifies the shifting process and reduces maintenance needs. Another great inclusion at this price is the powerful Shimano hydraulic disc brakes.
The wheelset includes Diamondback's own double-wall alloy rims wrapped in Vee Rubber Crown Gem 27.5 x 2.35″ tires. This is a heavy but durable setup that provides plenty of traction in varied trail conditions.
Finally, you have an SR Suntour XCR 120mm travel fork that will provide enough shock absorption for XC trails and pump track riding.
Fork: SR Suntour XCR, 120mm travel
Frame: 6061-T6 Aluminum frame
Drivetrain: Shimano Acera 9-speed
Brakes: Shimano hydraulic discs
Tires: 27.5″ x 2.35″
---
2.

Cannondale Trail 6 2021
MSRP: $850
Cannondale Trail 6 is the epitome of a straightforward trail bike. Great for beginners and casual off-road riders. It's a bike that does well on aggressive XC rides, moderate downhills, and also climbs nicely. All that thanks to its versatile geometry and clever design solutions. Although this is far cheaper than you'd normally go for – it still does a great job for the price!
SmartForm C3 Alloy frame
2×8-speed Shimano Acera & Altus
XS,S 27.5″ / M-XL 29″ wheels
100 mm fork travel
Hydraulic disc brakes
68.0° head tube angle
Frame Sizes XS to XL fit riders 4'6″ to 6'3″
Cannondale Trail 6 is on this list not because it is much better than all the other bikes shown here, but because it is a tried and true choice. Cannondale's Trail line has been around for a while and has been pretty much perfected to smash XC routes and trails. The head tube angle is 68.0° on the S frame and 68.5° on larger frames, which is slack enough to let you approach obstacles more aggressively.
However, a longer stem will still center you over the bike and give you a good overview of the trail ahead. Trail 6 brakes with Shimano's MT200 hydraulic disc brakes and 160mm rotors and shifts its 16 gears with the done & trusted Shimano Altus (f) & Acera (r) derailleurs.
Tires are 2.25″ wide on all versions, while the wheel size varies from XS, S – 27.5″ and 29″ for M, L, and XL frame sizes. If you're in the market for your first XC or trail bike and you want an affordable option, Cannondale Trail 6 is a safe choice by a huge bike brand!
---
3.

Marin Bobcat Trail 3 29″

2022 Release – a massive 120mm fork for serious trails!
MSRP: $819
Best for recreational mountain bikers, this nice and glossy Bobcat Rail 3 is a sweet deal during this time when cheap mountain bikes are hard to come by online.
Marin bikes is a large bike brand like Cannondale, Trek, Scott, and Merida, and this is their version to hook up new mountain bikers. By looking at the specs, they have managed to succeed on their approach rather well!
The Bobcat thrives on lighter trails by offering a nice and smooth ride, both on the hills and in urban areas alike. Best for beginner or intermediate mountain bikers, this truly is a catch if you are looking for a new 29er mountain bike to get out on the trails.
The best features about the bike are the lightweight aluminum frame, 29er wheels, and hydraulic disc brakes. The 2×8 drivetrain is standard at this price tag, and Shimano Altus is a more advanced technology than the commonly used Shimano Tourney. Long story short, for $800, there is more than enough of an XC/Trail mountain bike on the budget!
Shimano Altus 2×8 drivetrain
120mm SR Suntour XCM HLO coil fork, Hydraulic lockout
Tektro M275 hydraulic disc brakes, 180/160mm rotors
6061 aluminum frame
29×2.25″ tires
---
4.

Ghost Kato Base
MSRP: $950
The Ghost Kato Base is one of the best choices, thanks to the progressive wheel sizes that ensure a great fit for all riders. Its affordability is just one of the reasons why we opted to include it in our top 10 rosters.
The Kato Base offers possibly the most bang for the buck in several areas, such as components, tires, and the overall design! Thanks to its shorter travel and wide-range gearing, this bike will enable you to ramp up the speed on the flats and climb efficiently as well.
One of the highlights of the Ghost Kato Base is its capable Maxxis Rekon tires. They are 2.25″ wide, which gives you plenty of grip when tackling tight bends and loose surfaces. The wheels are 27.5″ on sizes XS through M and 29″ on larger frames. Finally, you have the SR Suntour XCM front suspension with 100 m of travel.
Aluminum frame
2×9 Shimano drivetrain
27.5″/29″ wheels
100 mm fork travel
69° head tube angle
The drivetrain comprises Shimano Altus and Alivio components, and braking is provided by MT200 hydraulic discs. There are 18 gears on disposal, which is an excellent range for all terrains. The Kato Base is a remarkable choice for performance-oriented riders who are getting back into the trail racing game or are just taking their first steps.
---
5.

Norco Storm 4

Best value mountain bike
MSRP: $719
Besides the strict looks, the Storm 4 is equipped with everything to get you from A to B through the varied terrains!
It's got the essential mountain bike components such as the 27.5″ or 29″ wheels, which depends on the frame size—XS through M frames come with 27.5″ wheels, whereas larger sizes roll on 29ers. The bike is also equipped with a 100mm travel SR Suntour XCE28 front suspension, Shimano Tourney/Altus derailleurs, and hydraulic disc brakes!
Whether you are looking for an all-rounder bicycle or simply a commuting 'tool' to get you through the rougher surface, the Norco Storm 4 is well equipped for great multi-purpose use for sure.
The only downside is the 3×7 drivetrain which is not the best compared to 1×10, or 2×8 speed drivetrains.
---
6.

Cannondale Trail 8 2021

Budget hardtail with Cannondale's excellent Smartform C3 frame
MSRP: $625
Bikes like this Cannondale are very hard to come by at tight times like now – early 2022.
At under $1,000, they have managed to squeeze a nice set of components into a nice-looking hardtail mountain bike. You'll get an SR Suntour M3030 fork, 2×7 Shimano Tourney/Altus groupset, and mechanical disc brakes which are a must-have for any entry-level mountain biker.
There's nothing to add or remove from the bike if you are looking for an off-road commuter that has the capability to tackle most trails, hills, descents, and ascents alike.
The drivetrain choice is not as common as Deore, but it can be trusted for sure. As it is an entry-level 2x drivetrain, the rear derailleur and chain won't stress out the derailleur too fast which improves the longevity of the components as well. A perfect choice for recreational mountain bikers, two thumbs up!
SR Suntour 75mm fork
2×7 speed Shimano Tourney/Altus
Tektro Mechanical disc brakes
WTB SX19, 32H rims
---
7.

Marin Bobcat Trail 4
MSRP: $919
Another serious tool for the trails at under $1,000. Marin is known for its broad range of MTBs for entry/mid-range cyclists, and the Bobcat is definitely a mountain bike to consider. What stands out is the 2×9-speed drivetrain compared to the other 2×8 or 1×11 gear ranges.
29 = Better speed and roll-over ability, great for rolling tracks and taller riders.
Series 2, 6061 aluminum frame
SR Suntour XCM HLO DS fork, 120mm travel
2×9-Speed Shimano Altus
Tektro M275 hydro brakes
29×2.25″
Buy from JensonUSA Buy from GovVelo.com
---
8.
Co-op Cycles DRT 1.2
A reliable hardtail with solid components
MSRP: $999
Co-op Cycles DRT 1.2 is a well-built mountain bike that you can ride around town or take to the local trails. It is rocking a solid geometry and components that will definitely stand the test of time, though the 120mm SR Suntour XCR fork is quite heavy.
This Co-op Cycles model has an aluminum frame with either 27.5″ or 29″ wheels that are wrapped with 2.4″ wide WTB Volt tires. It also boasts Tektro hydraulic disc brakes and a 9-speed Shimano Altus/Alivio drivetrain.
Whether you need a bike for fitness, exploring mountain trails, or simply commuting through urban areas, the DRT 1.2 will meet your needs and provide you with lots of fun.
---
9.

Marin Palisades Trail 2
MSRP: $1,019
Marin Palisades Trail 2 is one of the most popular bikes in this price range. The bike is perfectly suited for recreational cyclists who are looking for a reliable mountain bike with the latest technologies.
Well suited for those who want a bike that's capable of tackling light trails with comfort, while having the capacity for demanding trails – the Palisades Trail 2 is specced for anything. Although we'd say that serious trail-ready hardtail bikes start from around $1,500, this Marin is equipped with everything you need.
Shimano Altus/Alivio 2×9-speed
Tektro HD-M275 hydraulic disc brakes
RockShox Judy Silver TK, 100mm Travel
Series 2 6061 Aluminum
WTB Trailboss Comp, 27.5 x 2.25″, TR tires
For around $1,000, it sure is a steal – especially at times right now when most bikes have been sold out! An 18-speed drivetrain by Shimano and 100mm suspension is something that puts this bike at the top of this price range.
---
10.

Diamondback Overdrive 2

Best affordable mountain bike by a big mountain bike brand
MSRP: $1,000
Diamondback Overdrive 2 is a bike that deserves to make it on our list due to the excellent features it packs at a very low price. You most certainly won't win the DH Championship with it, but you might win all of the challenges against your trail friends.
The aluminum frameset that the Overdrive is built upon can be seen on much more expensive bikes because it is hand-built and offers the perfect balance between strength and low weight.
A good frame is the prerequisite of a good trail bike as it allows you to upgrade the bike in the future. That way, you can extend its life span significantly.
Diamondback Overdrive is simple, affordable, and very fun. It has a RockShox Judy TK Coil fork with 100mm of travel, so you can ride it on flowy XC trails.
The Vee Rubber Rail Escape tires are 29″ in diameter and 2.25″ in width. These are dimensions that offer nimble and responsive steering, as well as fast and grippy cornering. Radius hydraulic disc brakes will help in this area as well.
6061-T6 Aluminum frame
2×9-speed Shimano Alivio
29″ wheels
100mm fork travel
The 2×9–speed drivetrain with an Alivio rear derailleur gives you enough gears to ride like a granny or stomp the pedals. If you have just $1000 to spare and your requirements are fantastic looks, high-quality frames, and reliable components, you'll be happy with this bike no matter if you are a beginner or an enthusiast.
---
Final Takeaways
---
What to expect from a mountain bike under $1,000 in 2022?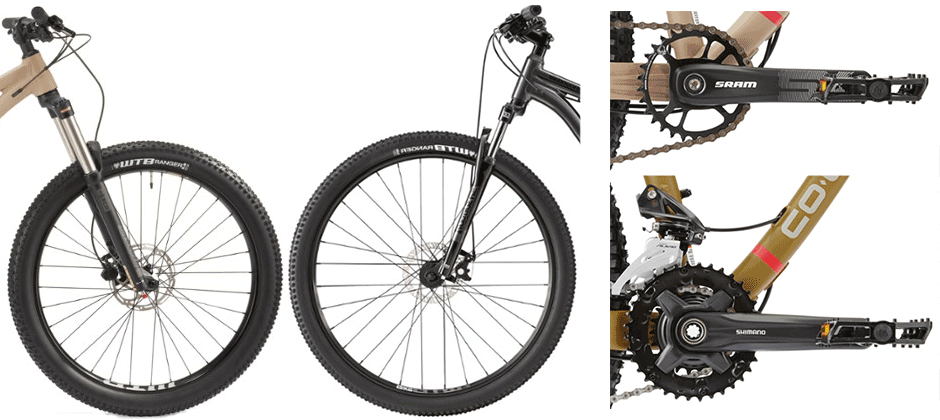 This list of components was not as common just five years ago!
Aluminum frame.
Clean and modern design.
Wheels – 27.5″ or 29″ – Depending on frame size & bike model.
Suspension – Coil fork – Generally 100-120mm travel.
Front Chainring – Preferably 1x. 2x front cogs are a standard.
Disc Brakes – Hydraulic – Mechanical brakes are not as common anymore.
27.5″ vs 29″ wheels: Which are better for beginners?
When choosing a new mountain bike, make sure to adequately process your needs and skills. A thousand dollars is a large sum of money that gets you a nice bike for years, so take your time to choose the one that suits your needs best.

27.5″ (650b) mountain bike wheels are more suited for technical tracks. The geometry of the 27.5-wheel bike is best suited for shorter, or average-height riders.
29er wheels are best suited for faster trail riding. The geometry of 29-inch wheel bikes is designed for taller riders.
How much to pay for a mountain bike in 2022?
Although entry-level mountain bikes start as low as $500, remember that these bikes are equipped with super basic components and often a rigid fork. You'll find cheaper hardtail MTBs on Amazon, but we wouldn't personally recommend anything below the $500 – $600 mark.
For $1,000, there are many decent MTBs that are equipped with a nice set-up that can be taken out to meet some rough trails as well. Check out the Merida Big Nine 400 Review which is a $999 single front chainring, hydraulic disc brake 29er MTB.
Overall, mountain bikes under $1,000 are great for recreational riding on gravel roads, or competing on XC races alike.
The process of buying a new bike:
Know your skills & limits – Check out the Type
Evaluate your budget
Study the market – see what can you get for the budget, and what's hot
Seek out a bike and do a research
Commit to a one
Make sure to get the right size by looking up each bikes size chart
Enjoy
What size mountain bike to buy?
Check out each bikes' size recommendation charts to find you the most suitable model. If you fall in-between two sizes, it is recommended to choose a size larger when your legs are above average and a size smaller when your arm span is shorter than your height.
27.5″ wheels, also known as the 650b, are well known in the mountain bike scene by having slightly better acceleration, and this wheel size is also better for technical tracks whereas the 29″ wheels are known to have better roll-over capabilities, therefore more stable on higher speeds.
Shorter riders find 27.5″ better than the 29″ wheels.
What are the different types of mountain bikes & travel range?
XC – up to 100mm travel
Trail – 100-130mm travel
All-Mountain – 130-160mm travel
Enduro – 160+ travel
Downhill/Gravity – 180mm+ travel
Tube vs tubeless MTB tires & wheels
The thousand-dollar mark allows us to look into some bikes that come with TLR (Tubeless-ready) wheels. The main goal of mountain bike tires is to offer the best possible traction, which is achieved by having the right amount of pressure inside the tire.
High-performance & advanced cyclists prefer to use TLR wheels & tires set-up.
Beginner, recreational and intermediate cyclists don't mind using tubes.