Evil bicycles have somewhat of interesting history. The American company is located in Bellingham, Washington, and has been since its inception.
Founder Kevin Walsh had an interesting background in design and art across BMX, snowboarding, and eventually mountain biking. In 2006, downhill mountain bike brand Iron Horse asked Walsh to come on board and help re-design their bikes. Unfortunately, the Iron Horse brand didn't survive much longer, but the team that had come together for the redesign did, and thus Evil cycles were born.
The Revolt was their first bike creation, downhill MTB which although surpasses sales expectations, the warranties came rolling in quickly. The factory in Taiwan began to send frames with cracked welds, and poor craftsmanship. Almost overnight, Evil MTB was left with only Kevin Walsh to decide whether to reincarnate or dissolve the company.
The Undead was born. A carbon downhill bike that helped to save the brand. Although the past ten years or so have not been plain sailing for Evil, they have built their brand upon supporting the people who support them, and now have a fine selection of mountain, and gravel bikes in their stable.
Sponsorships
---
In 2019, Evil launched their 'team' of sponsored riders, the Black Collars. Largely a freeriding group of riders, Evil has brought names such as Kurt Sorge, Bubba Warren, Kyle Norbraten, Paul Genovese, and Mike Giese.
Rather than focus on typical sponsorship models where wins and followers are most important, Evil prefers to sponsor riders based on their love of bikes, and passion for fun.
Evil Bikes Range
---
Gravel
Trail
Enduro
Dirt Jump
Although they began as a downhill mountain bike builder, Evil mountain bikes have extended their range beyond that to Trail, Enduro, Dirt Jump, and most recently, Gravel. Alongside their range of bikes, Evil sells a range of riding and casual gear. This includes beanies, shirts, socks, caps, and hoodies and is all available on their website.
Electra's suspension system is known as DELTA, aka Dave's Extra Legitimate Travel Apparatus.
It is designed to allow fine-tuning of the suspension for riders who need to alter their progression and leverage for each individual track. The whole bike is made with every attribute in mind, so you can be sure that Evil has thought about and designed the geometry and components specifically for the bike's intended use. Personalization is important to Evil, and they want each rider to find the perfect set up on one of their bikes. They are often at the higher end of the price brackets, but they build their bikes to last, so you can consider one of their bikes an investment that will last for a long time.
---
1

. Evil Gravel Bikes
---
In 2020 Evil entered the Gravel bike market.
The bike was the Evil Chamois Hagar, and it was received with great interest by gravel enthusiasts. The company has clearly taken inspiration from their mountain bike range and created a long, slack, and low gravel bike as nobody had done before.
They've created a gravel bike that crosses typical classifications and rides like one too. It's designed for those who love riding off-road but want to go further, faster than a typical mountain bike would allow. Evil bike dealers will be stocking this bike for 2021 now, so if you're interested, the latest model will be out now.
Evil Chamois Hagar
The only Evil Gravel bike model available is the Chamois Hagar. Available as an Evil bike frame or a full build, this gravel bike is created with multiple options in mind for customers to spec their own ride. It's available with 1x and 2x groupsets, including SRAM Force AXS, and Shimano GRX. It is limited to a max width of 50mm for tires, although this is wide enough for most situations gravel riders encounter and gives riders plenty of options for wheels.
It's biggest selling point is the slackness of the frame, and the low bottom bracket drop, keeping you grounded. With a 66.8º headtube angle, you won't catch your feet on the front wheel either.
Evil Chamois Hagar Size Recommendations
Small – 5'0" – 5'8" / 152cm – 172cm
Medium – 5'7" – 6'0" / 170cm – 182cm
Large – 5'10" – 6'4" / 177cm – 193cm
X-Large – 6'3" + / 190cm +
---
2

. Evil Trail Bikes
---
Evil bikes have three trail centred bikes in their line-up.
Evil Following, Evil Offering, and the Evil Calling. Trail bikes are typically full-suspension bikes with shorter travel than Enduro bikes, but more than XC (cross-country) bikes.
The Evil trail bikes all utilise their DELTA suspension system which, as previously discussed, allows riders to fine-tune their rides. The Trail range can be considered expensive, but the bikes are made to last and should be considered an investment. Across the range, carbon is used, as well as the traditional black Evil paint job, although there is flexibility in the colours.
Evil – The Following
Evil bikes' The Following is a 120mm full suspension trail bike, designed around 29-inch wheels for extra obstacle manoeuvrability. As well at the traditional black colour, it's also available in 'protein powder' white.
Evil Following the price starts at $3,299 for the frame alone, and from $5,799 for the full bike with GX 19 Hydra. The frame is tidy as all the cables are internally routed. A 77º seat angle means you'll be comfortable riding uphill, no matter how steep or how long the incline. The Following is a bike with a geometry slack enough to tackle descents with confidence, but it really comes to life when you're riding back up to the trailhead.
Evil The Following Size Chart
Small – 5'3" – 5'8" / 160cm – 172cm
Medium – 5'8" – 6'0" / 172cm – 182cm
Large – 6'0" – 6'4" / 182cm – 193cm
X-Large – 6'4" + / 193cm
---
Evil – The Offering
The Evil bikes Offering is proclaimed to be the 'Lord of the singletrack' and delivers this with its 140mm suspension travel and 29er wheels.
With a shorter offset fork, the handling is kept tight but not twitchy, and the steeper seat tube allows better climbing capabilities. This really is a do-it-all bike and can be ridden from trail centres to jump lines. You will find the Evil Offering for sale across the globe at registered dealers, as well as directly from Evil online.
It starts at $3,299 for the frame and $5,799 for the GX 19 Hydra edition. It's available in traditional 'blackout drunk' black, and 'wasabi shadow' colourways.
Evil The Offering Size Chart
Small – 5'3" – 5'8" / 160cm – 172cm
Medium – 5'7" – 6'0" / 170cm – 182cm
Large – 5'10" – 6'4" / 177cm – 193cm
X-Large – 6'3" + / 190cm
---
Evil – The Calling
Evil bikes' The Calling is the brand's 27.5" wheel trail bike offering. It offers 130mm full-suspension travel using Evil's DELTA system making the climbing just as enjoyable as the descending. Changing from other models they offer the bike in a 'muddy waters' or 'angry dolphin' paint scheme, stepping away from the traditional black.
The Evil Calling frame alone costs $2,439 and with SRAM GX Eagle, prices start from $6959.
It's positioned as The Falling's 'little brother' presumably because of the wheels, but that doesn't make this bike any less capable. Ideal for trail centres as well as natural long-distance trail riding, this bike has the capabilities to be a really fun riding partner no matter your style.
Evil The Calling Size Chart
Small – 5'3" – 5'8" / 160cm – 172cm
Medium – 5'8" – 6'0" / 172cm – 182cm
Large – 6'0" – 6'4" / 182cm – 193cm
X-Large – 6'4" + / 193cm
---
3

. Evil Enduro bikes
---
Enduro bikes are the bridge between trail and downhill bikes.
They usually have suspension travel between 140-160mm and are full-suspension bikes. They are usually constructed in aluminium or carbon fibre. They are two Evil Enduro mountain bikes in that category and they are both designed to excel in slightly different ways, so there's a bike for everyone. Evil tend not to focus on dropping their bikes into specific categories but make the best out of all the categories to make a bike that is superior in certain ways, making the ideal Evil Enduro bike.
Evil Wreckoning
The Evil Wreckoning is the brand's 29er Enduro bike.
It features 166mm of suspension travel front and rear. The 29" wheels are great for gathering speed and momentum while being able to move over obstacles quickly and with less force needed than on smaller wheels. The Evil Wreckoning frame colour choice is between black, 'blackout drunk' or a pink-red colour called 'coral reefer'. You'll find the Evil Wreckoning for sale directly on their website and from dealers across the globe.
Prices start from $3,299 for the frame only and $5,799 for the GX I9 Hydra edition.
Evil The Wreckoning Size Recommendations
Small – 5'3" – 5'8" / 160cm – 172cm
Medium – 5'6" – 6'0" / 167cm – 182cm
Large – 5'10" – 6'4" / 177cm – 193cm
X-Large – 6'2" – 6'4"+ / 187cm – 193cm+
---
Evil Insurgent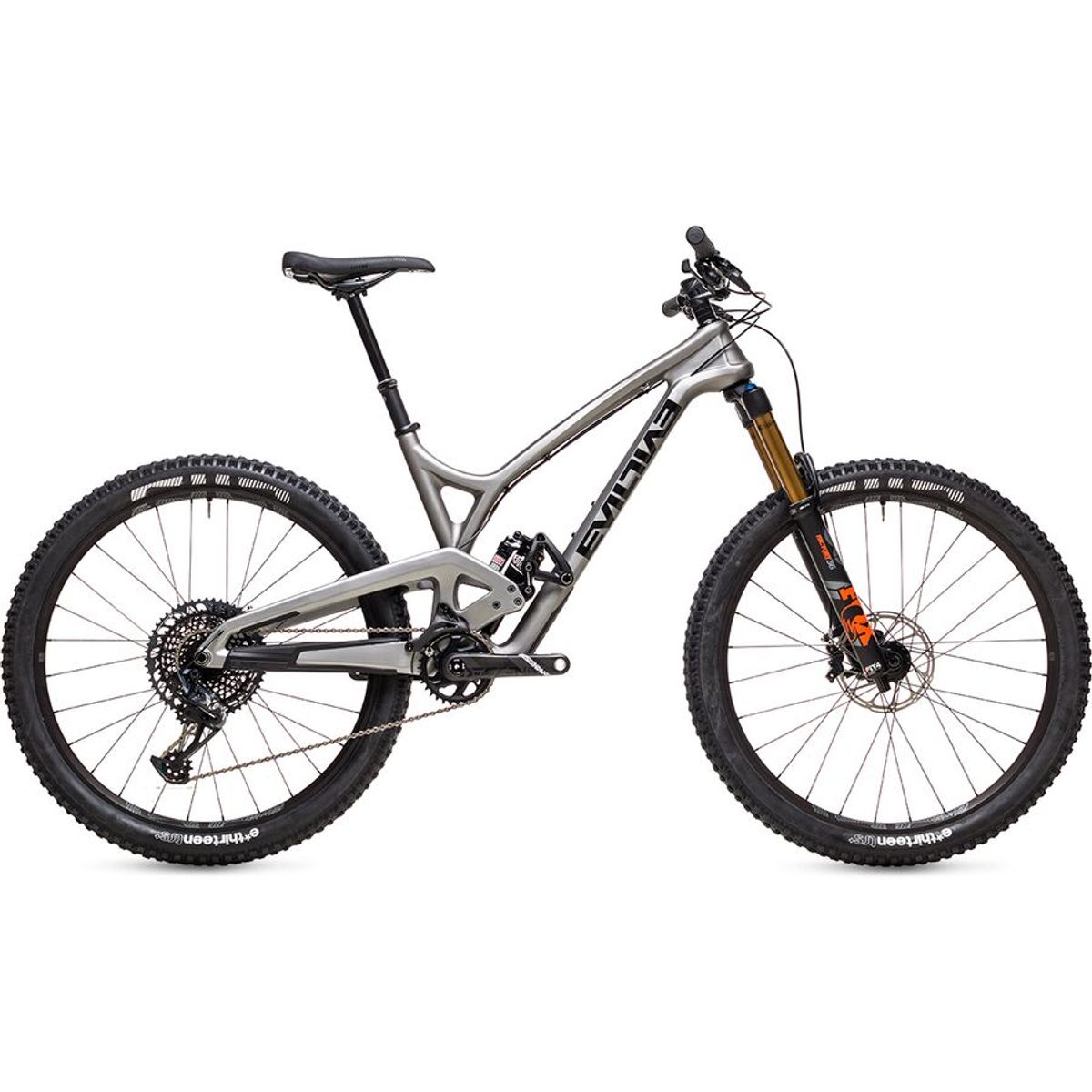 The Evil Insurgent is Evil's Enduro bike with 27.5" wheels. Rather than make one frame and stick any size wheel on, Evil develop their bikes around the wheel size, matching the components and suspension design to suit. The Evil Insurgent headset is FSA Integrated Tapered No. 57/68 Upper 44mm Lower 62mm Tapered OD, similar to that of other models in Evil's range. It's available in two colourways, 'Freddy Mercury' and 'Yoghurt Truck'. You'll find Evil bikes for sale direct from them or in dealers across the world. The Insurgent starts at $2,499 for the frame.
Evil Insurgent Size Recommendations
Small – 5'3" – 5'8" / 160cm – 172cm
Medium – 5'8" – 6'0" / 172cm – 182cm
Large – 6'0" – 6'4" / 182cm – 193cm
X-Large – 6'4" + / 193cm
---
4

. Evil Dirt Jump bikes
---
Dirt Jump bikes are typically similar to that of hardtails. They usually have small amounts of front suspension to soften the blows when riders are landing tall jumps. Evil has just the one bike in their Dirt Jump arsenal, the Faction. They often use smaller wheels such as 26" as it's easier for riders to build up the speed necessary to jump, as well as making the bikes more nimble and agile.
Evil Faction
Evil has created the Faction as their stand-alone dirt jump bike. They describe it as a hardtail workhorse, which is at home on dirt jumps as well as on the trail or at the bike park. Constructed out of Reynolds 520 steel which provides incredible strength and durability for the bike. Currently, you can only buy the frame from Evil directly, although there may be pre-built bikes available elsewhere, from authorised dealers. Evil has designed this bike to be used with 26" wheels for ultimate agility.
Evil Faction Size Recommendations
Small – 5'0" – 5'7" / 152cm – 170cm
Medium – 5'7" – 6'1" / 170cm – 185cm
Large – 6'1" – 6'4" / 185cm – 193cm
---
Conclusion
---
After their rocky start to business in the early 2000s, Evil bikes have now established themselves as manufacturers of successful and desirable mountain bikes. They have stuck with their DELTA suspension system on the Evil frames since inception due to its adjustability which allows riders to individualise their ride.
Although they could be considered expensive, if you read any Evil bikes review, you will find that this is for good reason.
Unlike other brands that churn out new iterations of models every year with often minor changes, Evil tend to wait until there is a vast improvement needed of their bike before launching a new version. This makes their bikes investments, and now that they've fixed their warranty issues, you can be sure you're buying a bike for a long time.
FAQ
---
Where are Evil bikes made?
Evil bikes are made in Taiwan. Most USA-based manufacturers nowadays build their frames and bikes overseas in order to reduce production costs and lower the final price of their complete bikes. That does not mean these bicycles are of lower quality compared to the few USA-made brands.
Are Evil bikes good?
Evil bikes are considered to be among some of the best out there. They are high in quality and produced by riders who know what they want from a bike, so do their best to purvey that to consumers. If you want a high-performing bicycle that you can use to ride seriously or even race professionally, Evil is the way to go.
Where can I buy an Evil bike?
Buy from Jenson USA Buy from evo.com