Bianchi has been building bicycles in Treviglio, Italy, for over 130 years, making it one of the oldest surviving bike brands in the world. Nowadays most of the parts and frames are produced in Taiwan but the Treviglio factory remains the brand's headquarters and ensures quality control.
Bianchi bikes have become famous for their popular color scheme, a turquoise paint named 'Celeste #227'.
"Bianchi bicycles are traditionally painted Celeste, a turquoise is also known as Bianchi Green, (and sometimes, incorrectly Tiffany Blue, a trademarked color)." – Wikipedia
Although available in many other colors, the vast majority of Bianchi riders choose this color due to its recognizable affiliation with the brand. The true origins of the color remain a mystery, but some say it was designed to match the eye color of Queen Margherita of Savoy for whom founder Edoardo Bianchi was commissioned to build a bicycle.
First and foremost, Bianchi produces competitive-level aerodynamic road bikes like those used in world-famous races like the Tour de France. However, its full range does include several top-quality mountain bikes, e-bikes, and hybrids.
The Origin and History of the Bianchi Celeste

The origin of the unique and recognizable Bianchi Celeste color has intrigued the world for more than a century.
There are several theories behind the origin of the Bianchi Celeste color. Some of them are romantic, others pragmatic; however, few seem to be 100% true and based on facts.
The most popular and most romanticized theory says that Edoardo Bianchi, the founder of the company, made a special bicycle for Regina Margherita of the Savoia Royal House. He chose the Celeste color as he was mesmerized by the Queen's striking blue eyes. However, historic facts show that the Queen did not actually have blue eyes.
Some claim that the color was made to reflect Milan's clear blue skies, which is where the color got its name from. In Italian, Celeste roughly translates to "sky blue."
Another more pragmatic theory claims that the color was created out of necessity, due to a surplus of light blue and white military paint after World War I. Allegedly, Bianchi combined these two colors to deliver its iconic Celeste shade. The problem with this idea is that the first mentions of the color date back to 1912, before the war had even started.
The real truth could be that Bianchi just wanted to stand out from the pack. Most bicycles at the time were painted black, so the peloton looked boring and uniform. If this is true, it has definitely succeeded.
Interestingly, Bianchi Celeste has changed multiple times over the years, sometimes leaning more toward green and other times more toward blue. In the 1980s, Bianchi even considered discontinuing the color, calling it "ugly," but gave up on the idea after polls showed that riders loved it and wanted to keep it.
We might never know the real story behind Bianchi Celeste, but it will certainly keep inspiring stories and myths and continue to be the most recognizable color in the peloton and the cycling industry.
---
Bianchi Bikes Range
---
Bianchi Road Bikes
Most Bianchi road bikes come in both disc brake and caliper brake varieties and with several different groupset options, including:
Campagnolo Super Record EPS (12-speed)

Shimano DuraAce Di2, Ultegra, or 105 (11-speed)

SRAM Red ETAP AXS (12-speed)
Oltre XR4
The Bianchi Oltre XR4 is the brand's premier full-carbon road racing bike, built with Bianchi's 'countervail' (CV) viscoelastic fiber architecture to absorb 80% of road vibration. All Oltre XR4 bikes feature a Bianchi full carbon aero fork with internal cable routing.
---
Specialissima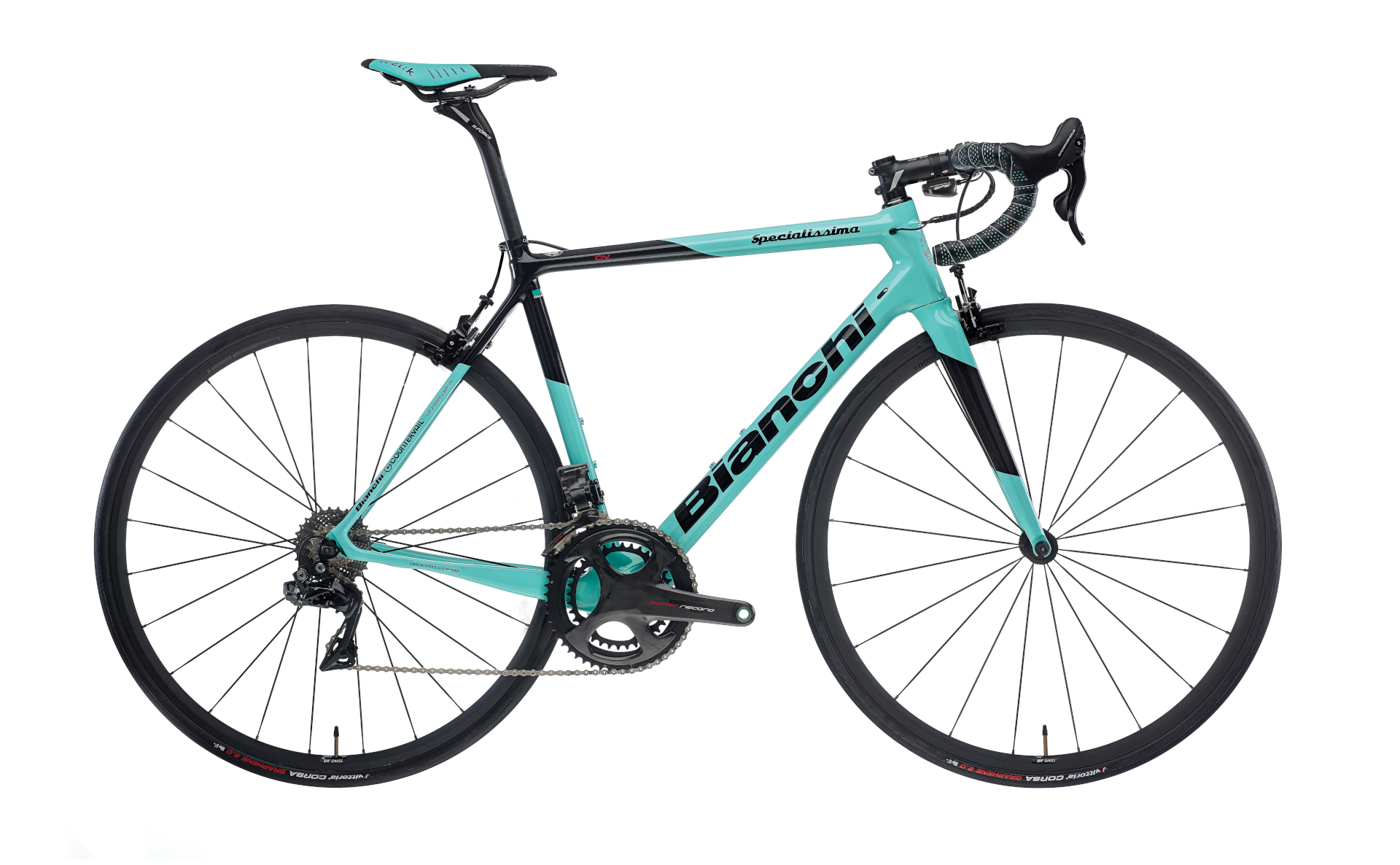 The Specialissima is a bike built for mountain climbing and features the same Bianchi CV carbon frame and fork technology with DT Swiss PR 1400 graphite wheels.
---
Aria and Sprint
The Aria features a more rigid, performance-orientated carbon frame built for speed and the Sprint is Bianchi's traditional competitive road cycling bike with a carbon monocoque frame.
---
Bianchi Mountain Bikes
---
Bianchi's top-range Methanol and Nitron MTB models come with groupset options that include:
Shimano XTR (12-speed)

SRAM Eagle XX1, X01, GX, NX (12-speed)
Methanol
The Methanol comes in both full suspension and hardtail varieties all with full carbon CV monocoque frames, 29" wheels, and 1x drivetrains. Wheels variations include DT Swiss XR1501 or Crankbrothers Cobalt 2 with Kenda Booster Pro or Nevegal tires.
---
Nitron
Bianchi's Nitron range of 29" carbon fiber hardtail mountain bikes are built for fast trail riding. The frames feature a 12×148 Boost Thru-axle for increased stiffness and durability and WTB KOM Light i25 wheels.
---
Magma and Duel
Bianchi's more cost-effective Magma and Duel aluminum hardtail MTBs come with either an SRAM Eagle SX or Shimano Deore/Alvio/Altus groupset. Front suspension is Rockshox or SR Suntour and wheels are Alexrims DP2.5.
---
Bianchi E-Bikes
---
Aria E-Road
This electric Aria carbon road bike comes with Ultegra Di2 gears and a 36V/250W rear hub motor that produces 40Nm of torque.
---
Impulso E-Allroad
This all-terrain aluminum e-bike is great for single-track and gravel trails, with 700×32 Vittoria tires, Ultegra gears, and a 36V/500W motor.
---
Bianchi e-SUV
Bianchi has four versions of its e-SUV electric mountain bike all with a Shimano E8000 250W motor with 70Nm torque.
29" Racer XTR: Fox 160mm fork, DT Swiss rims, Kenda Hellkat tires

27.5" Rally XTR: Fox 150mm fork, DT Swiss rims + tires
27.5" Adventure GX: RockShox 150mm fork, DT Swiss rims + tires
29" Performer NX: Carbon/Alu mix, Fox 160mm, DT Swiss rims, Kenda Hellkat tires
---
T-Tronik Sport
The T-Tronik sport is an aluminum hybrid/MTB mix with Shimano Deore gears, front suspension, and 29×2.2 WTB Slick tires.
---
E-Spillo
The E-Spillo commuter comes in Classic, Active, City, and Luxury styles, with male and female versions for each model. All have comfortable, upright positions, straight handlebars, fenders, and luggage racks, and an Ergoing 36V/250W motor with 80Nm of torque.
---
Bianchi Hybrid Bikes – City/Fitness
---
C-Sport
Aluminum hybrid bike with hydro-disc brakes, Shimano Acera/Alivio gears, 700c Alex Rims, and Kenda Kwick tires.
---
Spillo
Comfortable, upright commuter bikes with fenders, pannier racks, Shimano Altus gears, V-brakes, and CST 700×35 tires.
---
Turismo
Old style cross terrain steel/aluminum touring bikes with Acera 8sp gears, V-brakes, and Kenda 700×38 tires.
---