Best Full-Suspension Mountain Bikes Under $4,000

A $4,000 price tag is the maximum many of us are willing to pay and expect a good ride for upcoming years. The good news is – you can get a great mid-range bike made by high-end MTB-specifc brands in this price range.
Although carbon frames seem to be one step away here, you can still expect to get incredible value for the $4,000 price.
Let's take a look at what to expect in this range.
---
Best Full-Suspension Mountain Bikes Under $4,000
Ibis – Ripmo Deore AF
Diamondback – Release 29 2
GT – Force 29 Comp
Santa Cruz Bicycles – Tallboy
Santa Cruz Bicycles – Hightower
Cannondale – Habit 3
Devinci – Django GX 12s
Giant – Trance X 29er
Transition – Scout
Juliana – Joplin
Scott – Ransom 920
Co-op Cycles – DRT 3.3 Bike
Diamondback – Catch 2
---
Ibis Ripmo Deore AF
MSRP: $3,399
Frame – Aluminum
Fork – DVO Onyx, 160mm
Rear Shock – DVO Topaz T3 Air, 147mm
12-speed Shimano Deore
Tires – 29 x 2.5″ Maxxis Assegai
Brakes – Shimano Deore 4-piston Hydraulic disc
The Ripmo-Deore AF by Ibis Cycles is a sleek full-suspension enduro bike with carefully designed geometry and suspension integration.
With this all-mountain model, you can take on steep, technical descents and challenging climbs equally well. Using DW-link suspension technology, climbing efficiency and downhill performance experience a significant boost.
This lightweight aluminum frame has 147mm rear shock travel and 160mm of fork travel from DVO. In addition, this bike has smooth-rolling 29″ wheels, 2.6″ tire clearance, long dropper post compatibility, and modern frame geometry.
As the name suggests, this Ripmo AF has a Shimano Deore M6100 12-speed drivetrain with a comprehensive 10-51T gear range. Finally, Ibis S35 tubeless-ready rims pair with Maxxis Assegai tires to deliver a comfortable and controlled ride with fewer flats.
---
Diamondback Release 29 2
MSRP: $3,400
Frame: Hydroformed aluminum
Shimano SLX drivetrain, brakes
TLR wheels & tires 29 x 2.3″
Fork – Fox Rhythm 34 140mm
Rear shock – Fox Float DPS 130mm
Diamondback's Release 2 demonstrates all of the brand's expertise in MTB design with an all-mountain bicycle that performs best when tackling a combination of fast technical singletrack and steep climbs in the same ride.
The lightweight hydroformed aluminum frame provides a responsive base for the high travel suspension, including 130mm Fox Float on the front and 140mm Fox Rhythm on the rear. Additionally, you have Diamondback's Level Link Suspension, which isolates pedaling from the suspension to boost ride efficiency and maximize traction.
Finally, this bike has a Shimano SLX 12-speed setup for the drivetrain, with wide gearing that gives you excellent climbing ability. Combined with that, you have Shimano SLX hydraulic disc brakes, durable Blanchard 28R rims, and 2.3″ Maxxis Minion DHF and DHR tires for smooth, controlled riding.
---
GT Force 29 Comp
MSRP: $3,150
Fork – Fox Float Performance 38, 170mm
Shock – Fox Trunnion, 150mm
Drivetrain – 12speed Shimano Deore
Brakes – Shimano MT420
Tires – 29 x 2.5″ & 29 x 2.4″
The GT Force 29″ Comp is an Enduro MTB built for balanced performance and aggressive riding all over the mountain.
To ensure great performance going downhill, this bike has a very high travel suspension system including a 170mm Fox Float Performance 38 fork and a 150mm travel Fox Trunnion shock.
The drivetrain used is Shimano Deore which is reliable but provides sub-optimal performance compared to other bikes in this price range. However, the cassette does have a 10-51T gear range which boosts climbing ability.
For brakes, you have Shimano MT420 4-piston hydraulic discs that ensure precise and rapid stopping power. Finally, the wheelset chosen by GT delivers great traction and smooth riding. This includes Stan's NoTubes Flow S1 rims and 2.5″/2.4″ Maxxis Minion tires.
---
Santa Cruz Bicycles Tallboy A D '2022
MSRP: $3,349
Fork – RockShox Recon RL 130mm
Shock – Fox Float DPS 120mm
Groupset: SRAM NX 12-speed
Wheels – WTB ST i30 TCS 2.0
Tires – 29 x 2.3″ Maxxis Minion DHR 2, DHF 3C
Santa Cruz Bicycles' Tallboy A D Complete 2022 is unapologetically modern and full of great technology.
By fully utilizing their experience in high-level bike design, Santa Cruz has built this budget-level XC mountain bike with a ride feel well above its price tag.
Most notably, the Tallboy has the same Lower-Link Mounted VPP suspension that you see on their world championship-winning bikes. The suspension comes from a 120mm Fox Float DPS Performance Series shock and a 130mm RockShox Recon RL fork for suspension.
The drivetrain chosen is an SRAM NX Eagle 1×12-speed with a wide range of gear choices that ensure simplicity and durability. Additionally, SRAM Guide 4-piston hydraulic disc brakes with Avid CentreLine rotors ensure a quiet and responsive braking performance.
Finally, the wheelset includes Maxxis Minion DHF/DHR 2.3″ tires built for speedy downhill riding and WTB ST i30 rims that are highly durable.
---
Santa Cruz Bicycles Hightower '2022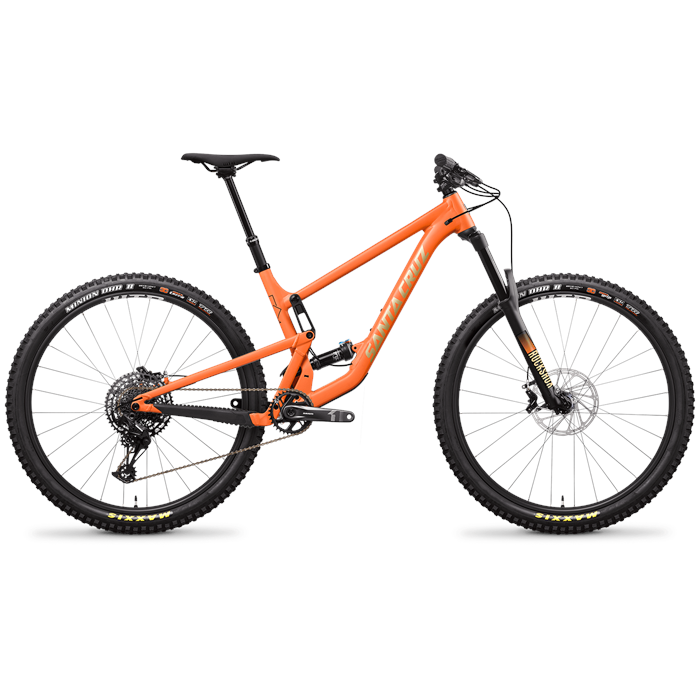 MSRP: $3,549
Frame – Aluminum
Groupset – SRAM SX Eagle 12-speed
Fork – RockShox 35 Gold RL 150mm
Shock – Fox Float DPS 145mm
Brakes – SRAM Guide T, 180mm rotors
WTB rims, Maxxis Minion 29 x 2.4″ tires
Santa Cruz' Hightower is another affordable trail MTB option from the famous high-performance brand that uses some key technology from their pro-level bikes.
With aggressive cross country riding in mind, Santa Cruz chose high travel suspension, including a 150mm RockShox 35 Gold RL fork and a Fox Float DPS 145mm rear shock. The performance of these individual pieces multiplies with the use of the Lower-Link Mounted VPP system that you find on their World Championship winning bikes.
The Hightower's drivetrain is an SRAM SX Eagle 1×12-speed setup with an NX shifter for more precise shifting. The brakes used are SRAM Guide T hydraulic discs with CentreLine 180mm rotors.
This bike's other notable features include an integrated flip-chip, molded rubber downtube protection, and sleek internal cable routing. Finally, WTB ST i29 TCS 2.0 rims and 2.4″ Maxxis Minion DHR II Tires provide confidence-boosting control on varied terrain.
---
Cannondale Habit 3 '2022
MSRP: $3,120
Fork – 140mm, RockShox Pike Select+
Rear Shock – 130mm, RockShox Deluxe Select+
Frame – SmartForm C1 alloy
Drivetrain – 12-speed SRAM NX Eagle 11-50T
Brakes – SRAM G2 R 180/180mm
Wheelset – 29 x 2.5″ & 2.4″
Weight – 35 lbs
Cannondale's Habit 4 full-suspension trail MTB boasts many of the company's innovative design technologies and a solid level of components to match.
The frame on the Habit 4 is an aluminum SmartForm C1 alloy, which is highly responsive using Cannondale's progressive geometry to deliver the most effective riding position. The suspension system features a plush 130mm travel RockShox Deluxe Select+ rear shock suspension and a 140mm RockShox Pike Select fork and has size-specific center-of-gravity. Cannondale chose 29″ WTB ST i25 tubeless-ready rims and, for tires, a front Maxxis Minion DHF 2.5″ with a Maxxis Dissector 2.4″ on the back. This wheelset ensures a smooth-rolling ride feel with high traction at all times.
The drivetrain on this bike is an SRAM NX Eagle 1×12-speed and pairs perfectly with a wide cassette range to deliver the perfect gearing on steep climbs. Finally, Habit 3 uses powerful SRAM G2 R hydraulic disc brakes to maximize your control.
---
Devinci Django GX 12s '2021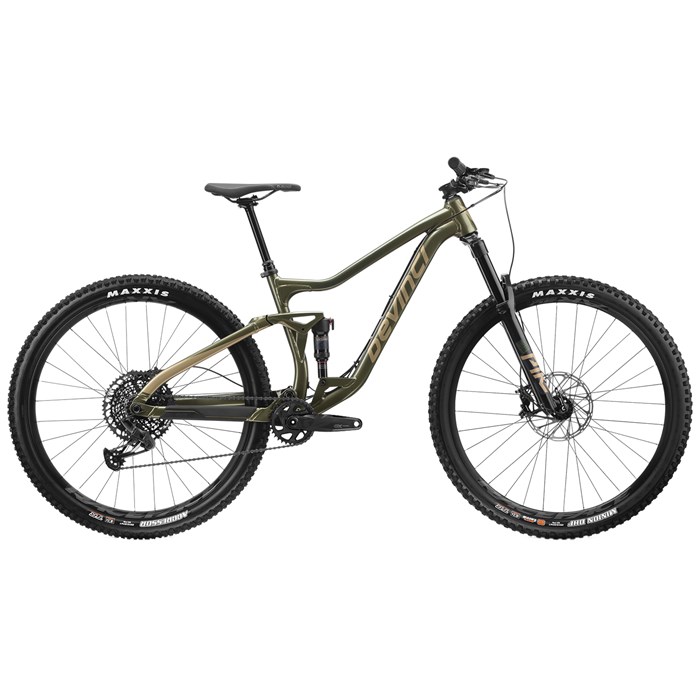 MSRP: $3,699
Frame – 6061 aluminum T6 | Fork – RockShox Pike Select+ Charger 140mm | Shock – RockShox Select+ 120mm | Drivetrain – SRAM GX Eagle
Brakes – SRAM Centerline
Handlebar – RaceFace Aeffect
Rims – 29″ RaceFace AR30
Dropper post – TranzX
Tires – 29 x 2.5″ Maxxis
Devinci's Django GX 12s trail bike is a beautifully balanced product with reliable components at a very reasonable price.
This 29″ full-suspension MTB uses a lightweight Aluminum 6061-T6 frame with the Geo Adjust Flip Chip for mid-ride fine-tuning of the bike's geometry. This flip-chip, combined with modern trail geometry, allows riders to climb and descend confidently without breaking the bank.
The Django's Split Pivot Suspension smartly augments the performance of the individual components through increased small bump compliance, better traction, and higher pedal stroke efficiency. In addition, you have a 120mm RockShox Deluxe Select+ Rear Shock and a 140mm RockShox Pike Select+ fork with Charger 2.1 damper technology for suspension.
Finally, this bike has a 520% range SRAM GX Eagle drivetrain, making long days in the saddle feel easy, SRAM CentreLine hydraulic disc brakes, Maxxis Minion/Aggressor 2.5″ tires, and a TranzX dropper post to round out in its comprehensive component list.
Buy from Backcountry Buy from evo
---
Giant Trance X 29er 2 '2021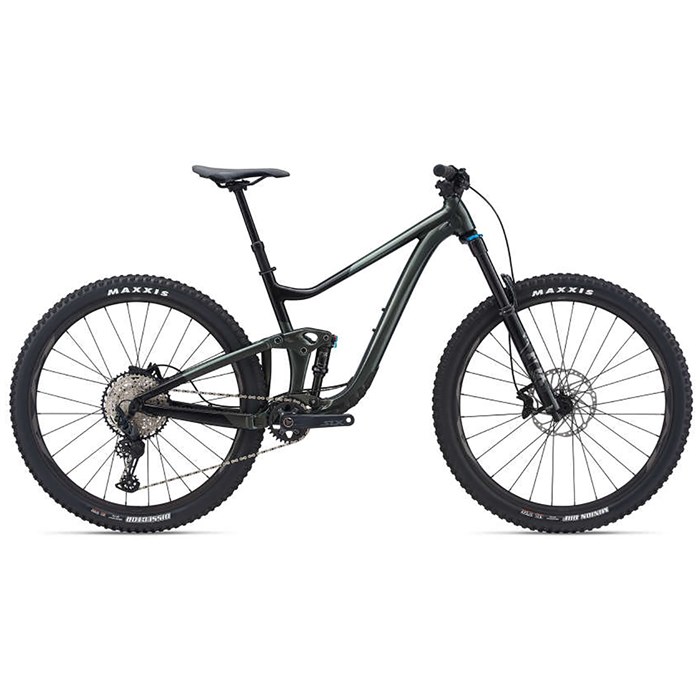 MSRP: $3,550
Frame – ALUXX Aluminum SL
Fork – Fox 36 Float Rhythm, 150mm
Rear shock – Fox Float DPS Performance, 135mm
Drivetrain – SRAM SX Eagle 1×12
Tires – Maxxis Minion/Dissector 29 x 2.5 / 2.4″
Rims – Giant AM
Giant's Trance X 29er trail MTB is another excellent mid-range choice that features some of the brand's innovative design technology seen in their more advanced bikes.
The Trance X uses Maestro Suspension Technology on its lightweight ALUXX Aluminum SL Frame with single-butted tubing. This technology creates an unbeatably efficient and independent suspension system, maximizing your performance while climbing or descending.
The suspension includes Fox's Float DPS Performance 135mm rear shock and 150mm 36 Float Rhythm fork. In addition, you have a flip-chip for on-the-fly adjustments and Overdrive tech, which provides super-precise front-end steering performance.
Giant chose an SRAM SX Eagle 1×12-speed drivetrain to keep this bike simple, light, and pocket-friendly. Additionally, Shimano 4-piston hydraulic disc brakes provide plenty of stopping power.
Finally, the Trance X's wheelset includes Giant AM 29″ rims, a Maxxis Minion 2.5″ front tire, and a 2.4″ Maxxis Dissector rear tire to ensure a careful balance of control, traction, and rolling speed.
---
Transition Scout 2022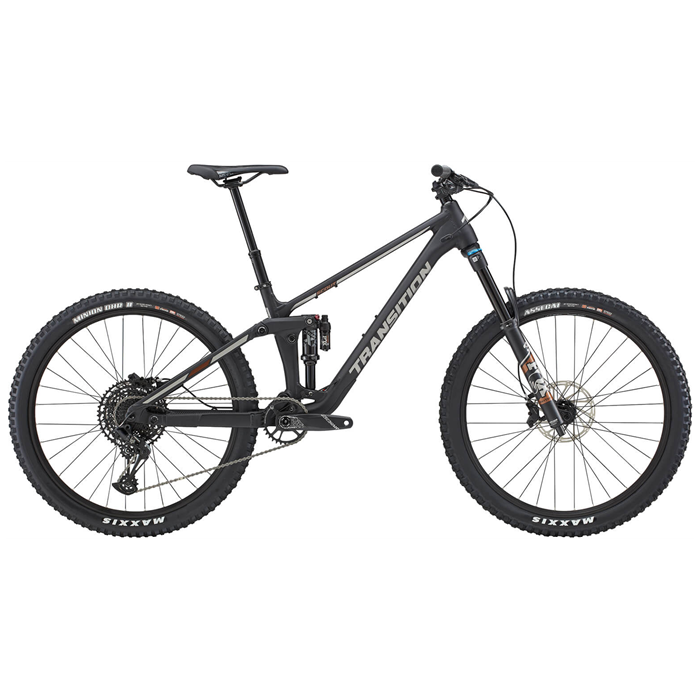 MSRP: $3,899
Frame – 6061 Aluminum
Fork – Fox Rhythm Performance 36, 150mm
Rear shock – Fox Float X, 140mm
SRAM NX Eagle 1×12
29″ Flow D rims
Maxxis 29 x 2.5″ & 2.4″ tires
The Transition Scout full-suspension trail MTB is a stylish and versatile choice designed to perform well in almost any situation that arises on the mountain.
To maintain an affordable price, Transition chose a 6061 aluminum frame with innovative Speed Balanced Geometry that delivers low-speed agility and traction while simultaneously boosting its ability on steep terrain and at high speed.
The Scout has a Fox Rhythm Performance 36 150mm travel fork and a Fox Float X Performance 140mm rear shock. The GiddyUp 2.0HH system augments this pair by ensuring more efficient peddling and improved handling through additional bottom-out support.
For the drivetrain, you have an SRAM NX Eagle 12-speed with a 520% gear range to help you maximize your climbing potential over long days on the trail. In addition, the brakes are SRAM Code R 4-piston hydraulic discs with CentreLine rotors.
Finally, this bike has an impressive wheelset comprising robust Stans Flow D all-mountain rims and Maxxis Assegai 2.5″/Minion 2.4″ tires for their reliable confidence-boosting traction.
---
Juliana Joplin A D '2021
MSRP: $3.099
29 x 2.3″ Maxxis Minion DHF & DHR
Fork – 130mm RockShox Recon RL
Rear shock – 140mm Fox Float DPS Performance
SRAM SX derailleur / NX shifters
Read more in our Juliana Bikes Review.
---
Scott Ransom 920 '2021
MSRP: $4,000
6011 SL Alloy
Fork – Fox 38 Float Performance
Shock – Fox Nude T EVOL Rear Shock
SRAM NX Eagle
Syncros Duncan Dropper Post 2.0
29 x 2.6″ wide – no wheel size marked by evo.com
---
Co-op Cycles DRT 3.3 '2021
XS / S – 27.5″ | M / L / XL – 29″
MSRP: $3,299
Frame – 6061 Aluminum
Drivetrain – Shimano SLX 1×12-speed
Fork – RockShox Revelation Motion Control RC, 120mm
Rear Shock – RockShox Deluxe Select+, 120mm
Brakes – Shimano hydraulic disc
Wheelset – WTB ST Light i30, Maxxis High Roller 29×2.4″
Co-op Cycles DRT 3.3 is a mid-range trail MTB with versatile components and the quality expected from this reliable REI brand.
The DRT's 6061 aluminum frame comes with 120mm travel RockShox air-sprung suspension on the front and back. Both shocks have external rebound adjust to ensure a high level of traction and smooth riding.
Depending on which model you choose, you will get 27.5″ (XS and S) or 29″ wheels (M-XL). Either size comes with wide 2.4″ Maxxis High Roller tires, which ensure excellent traction and comfort.
The drivetrain on this bike is a precise-shifting Shimano SLX 12-Speed which performs great for this price range. In addition, the DRT 3.3 has SLX hydraulic disc brakes and a remote control X-Fusion Manic dropper seatpost with 100 or 150mm max travel.
---
Diamondback Catch 2 '2022
The Only 27.5″ wheel MTB
MSRP: $3,400
Frame – Hydroformed aluminum
Fork – Fox Rhythm 34 GRIP, 130mm travel
Rear shock – Fox Float DPS EVOL 4, 130mm travel
Brakes – Shimano SLX M7100
Wheelset – 27.5 x 2.8″
The Catch 2 by Diamondback is a plus-sized trail mountain bike designed to give you a boost in confidence and performance when taking on the most challenging terrain and surfaces.
As a plus-sized MTB, the Catch 2 has wide 2.8″ tires and nimble 27.5″ wheels. This combination allows you to maneuver technical descents and maintain traction through sharp corners on loose singletrack.
Diamondback's Level Link Suspension system multiplies the performance of the 130mm Fox GRIP and EVOL shocks, significantly boosting ride efficiency through isolated pedaling.
The Shimano SLX setup includes a 12-speed drivetrain that provides reliable and precise shifting, while the SLX hydraulic disc brakes deliver excellent stopping power.
Finally, Diamondback Blanchard 38R rims, high-quality Maxxis Minion tires, and a KS Rage-I Dropper round out a comprehensive component list.