Road Bike vs Hybrid Bike Guide: Which One to Get?
When comparing a road bike vs. a hybrid, the differences in look are apparent; less clear are the different strengths and weaknesses.
Road bikes have a narrow list of uses compared to hybrids. They are built for speed, covering large distances (as seen in professional bike racing), and for fitness or training rides. These characteristics mean a trade-off in versatility and comfort.
Conversely, a hybrid bike is highly versatile, comfortable, and has a broad range of uses, meaning a sacrifice in performance in a narrow sense of the word.
A hybrid bicycle is a blend of road and mountain bike components, making it a highly versatile and broadly ...
A mountain bike or a road bike performs in one discipline, whereas a hybrid will perform fine anywhere you take it, making it a practical bicycle suitable for a broad range of riders.
This article will cover, in detail, the pros and cons of each style so you can decide which is best for you.
Now the question remains, road bike or hybrid?
---
What is a hybrid bike?
A hybrid (also known as a crossover bike) is a blend of road and mountain bike components. Depending on the model, they can slightly favor one discipline.
For example, some use 700c (29″) wheels with narrow(ish) tires, while others use smaller 26″/27.5″ wheels with wider, knobby treaded tires.
In general, hybrids have all, or a combination of, the following characteristics:
Upright geometry
Flat handlebars
On & off-road riding capability
26″ / 27.5″ / 700c tires
Front suspension or rigid fork
Steel or aluminum frame (carbon is an exception)
Wide triple chainset
Availability for internal gearing or a belt drive system
Suspension fork
Fender and rack compatibility
What is the most common hybrid bike drivetrain?
Most popular hybrid bicycles run either a single front cog with a 10/11-speed cassette or a triple chainset (three front cogs) with a 7/8-speed cassette, two chainring drivetrains are less common.
1×9, 1×10
2×7, 2×8, 2×9
3×7, 3×8
---
What is a road bike?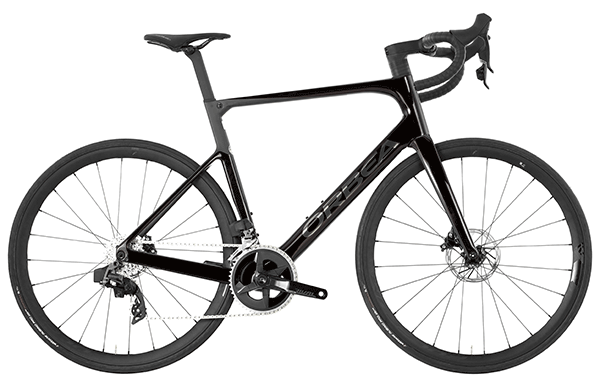 Road bikes are easier to define. They are built for speed and performance on paved surfaces like tarmac and asphalt, i.e., the road.
Their design means they are limited in where they can go, but they excel at going long distances, fast. Here's a list of typical road bicycle features:
Race or endurance geometry options
700c wheels
Tires between 23mm and 34mm wide
High-pressure tires around 120psi
Drop handlebar
Unique road bike shifting (STI/SRAM Double Tap/Campagnolo)
Aluminum or carbon frame (steel or titanium are exceptions)
Double chainset with a 10/11/12-speed cassette
Hard saddle for use with bib shorts
What is the most common road bike drivetrain?
A road bike's most typical gearing setup is a double chainset (two front cogs) and a 10, 11, or 12-speed cassette.
Cheap models may have a 2×9-speed or even a 3×7-speed setup. However, triple chainset road bikes are pretty uncommon today.
1×11, 1×12
2×9, 2×10, 2×11, 2×12
3×7, 3×8
Hybrid bike vs. Road bike – Key Differences
---
The primary differences between these styles are:
Handlebars – riser bar on a hybrid vs. drop bar on a road bike.
Shifters & shifting.
Gearing – wide vs. compact.
Tires – wider and treaded vs. narrow and smooth.
Position – upright and relaxed vs. aggressive.
Hybrid bike fork suspension vs steep and rigid fork on a road bike.
Frame – Aluminum hybrid vs carbon fiber road bikes.
Usage – All-terrain vs. road-only.
What is a hybrid road bike?
A hybrid road bicycle essentially has all of the characteristics of a road bike (speed, lightweight, narrow tires) with flat handlebars and bike accessory compatibility (rack, fenders).
These bikes offer a more comfortable, upright position than drop handlebars and the added versatility of being used as touring bikes or commuters.
Should I get a road bike or hybrid for fast city commutes?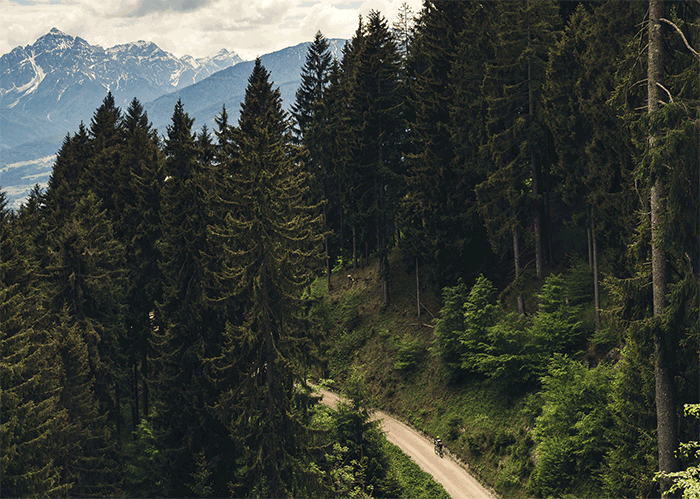 It depends. A road bike is an excellent choice for fast commutes in the city if these two criteria are met:
The commute is only on roads, no off-road terrain
Your work cargo fits in a backpack
A hybrid may be more suitable if you want to use your bike off-road (gravel/light trails) in the evenings and weekends or to run errands.
For beginners, a hybrid is generally a better choice. They are more comfortable, easier to control (more traction and ability to roll over bumps and curbs), and versatile for other jobs aside from road riding.