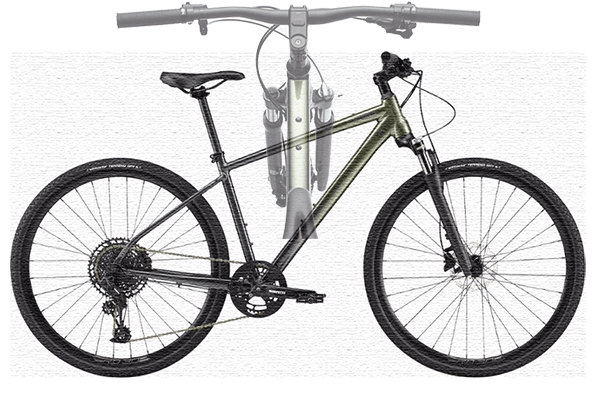 A hybrid bicycle is a blend of road and mountain bike components, making it a highly versatile and broadly appealing style.
With a full list of components from two disciplines to choose from, hybrids can vary quite a bit from manufacturer to manufacturer; some are great for off-road riding while others lean towards fast road riding.
No matter the manufacturer's design, a few consistent characteristics define this popular category. This article will give a detailed look at their commonalities and the different choices for each component so that you can choose the perfect one for your needs.
What Is a Hybrid Bike?
A hybrid (a.k.a, a dual sport bike) combines road bike and MTB characteristics to achieve a diversely-functional alternative.
The phrase "jack-of-all-trades, master of none." perfectly describes this bicycle style.
A hybrid bicycle is a bike that combines all the best features of road and mountain bikes.
Standard hybrid bike components include flat handlebars, upright geometry, wide gearing, and medium-width tires, which offer added comfort and improved traction over narrow road tires.
Nevertheless, hybrid bikes differ significantly and may look like a mountain bike, a flat-bar road bike, or even a touring bike, depending on the model. For example, some hybrids use a suspension fork while others favor rigid forks.
What Is a Hybrid Bike Good For?
A hybrid bicycle doesn't have a single area where it performs best. Instead, it performs well in many environments, including:
Rural roads
City commutes
Light trails
---
Hybrid Bikes 101
Advantages & Disadvantages
PROS:
All-terrain bike
Comfortable
Durable
Can be used for commuting, fitness, touring, and leisure
Inexpensive
Good traction and easy handling
CONS:
Not very fast
Not capable of serious off-road riding
Can be heavy
Limited hand positions on flat bars
What is not considered to be a hybrid bike?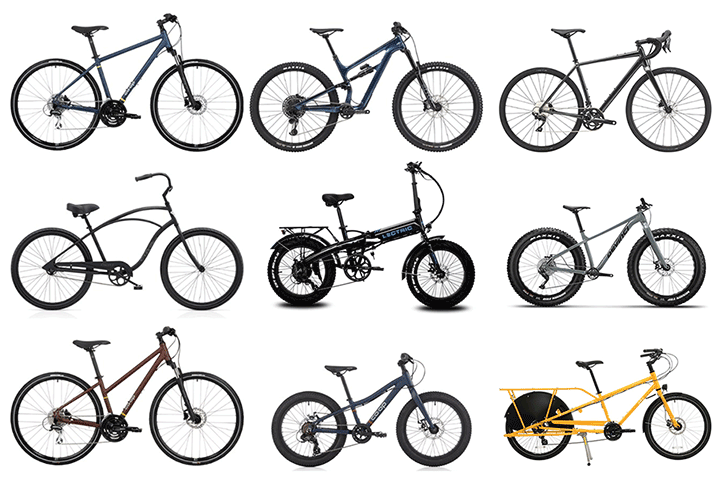 If you found a bike with one of the following components/characteristics, it's probably not a hybrid:
A bike with 26″ wheels
A bike with fenders (although you can add fenders for all-weather riding)
A bicycle with an integrated rear cargo rack (that would probably be a city, touring cargo, or any utility bike)
A bicycle with a front basket (city or a cruiser)
Any cruiser-style bike
A bike with rear suspension
A bicycle with drop handlebars
What is the best hybrid bike for beginners?
There are no distinctly best hybrid bikes for beginners. However, the hybrid category is an outstanding category for beginners because the bikes are versatile, relatively comfortable, have a good balance of components, and are pretty durable.
If you are a beginner, you could ride a hybrid for a few weeks or months, allowing you to test out various disciplines without committing fully to one. Then, if one discipline stands out, you can choose your next bike based on that or continue enjoying the flexibility of your hybrid.
Top Features Every Hybrid Bike Must Have
---
As mentioned above, there are a few non-negotiable hybrid bike components:
Riser bar or flat handlebars
Hydraulic or mechanical disc brakes (rim brakes are uncommon in 2023)
700c (29″) or 650b (27.5″) wheels
Wide gearing
Flat Handlebars
Hybrid bike handlebars are the most consistent component across models. They don't vary from the riser or flat bars.
Is there a hybrid bike with drop-bar handlebars?
A hybrid-style bike with drop handlebars is most likely a touring bike.
Frame Types
Step over / cross-over (XR)
Step-over frames are the most common for hybrid bikes. This design is less convenient and comfortable for mounting and dismounting. Although, this means they are generally lighter, stronger, and preferable for performance-optimized bikes.
Step-through / Step-thru (ST)
The step-thru frame style is less common on hybrid bicycles and more often found on cruisers, city bikes, and dutch style bikes. The advantages of these frames are the extra convenience and comfort they offer. However, the focus on comfort generally means a performance trade-off.
Presta vs Schrader Valves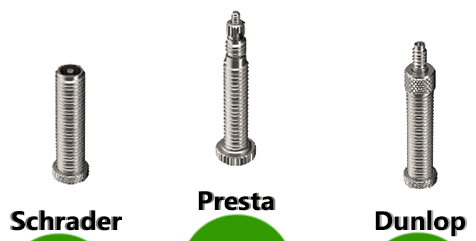 Generally, narrow tires (such as road bikes) use Presta, while thicker tires for heavier usage come with Schrader valves.
Presta is the tall, narrow valve one sees on thin 700c tubes. The locking mechanism on the Presta valve makes it slightly more inconvenient to use. However, the pump needed to inflate these tires is less complex and lighter than the Schrader.
Schrader valves are short, thick, and easier to use. They are also durable and more common thanks to their use on cars and bikes. In addition, they require you to screw the pump head onto the valve to inflate, which is also more secure. Another great advantage is the removable core which allows these tubes to add puncture resistance.
For more information, check out this detailed article comparing the two.
Brakes
A hybrid bike with disc brakes is the most common setup in 2023. However, some budget hybrids will use rim brakes to keep costs low. In general, coaster brakes only come on fixie bikes and some kids' bikes. Here's a breakdown of the four main types:
Rim (V-Brake) – These brakes work by a cable pulling two calipers together, pressing the two opposing brake pads against the rim of your bike wheel. The brakes are mounted on the fork and the chainstay. The advantages are the low price, they're lightweight, easy to maintain, and cheap to replace. However, they eventually wear down your rims and do not perform well when your rims are wet.
Coaster – These brakes require no cables as they function by backpedaling, which engages a brake built into the hub on the rear bike wheel. Coasters perform slightly better than rims in wet weather conditions but are more challenging to use and not as powerful.
Mechanical disc – Mechanical discs are the cheaper of the disc brake types, they work through cables, like rim brakes, which pull calipers to close pads together on rotors in the center of the bike wheels. You must periodically adjust their position as the pads wear to achieve the correct pad-to-rotor contact. Mechanical discs are more powerful than rim brakes, perform better in wet weather but are heavier.
Since their popularization in mountain biking, disc brakes have slowly edged into the other disciplines. Mechanical ...
Hydraulic disc – They use hydraulic fluid in the brake line to create pressure that moves the caliper and thus the pads to close on the rotor. They are the most expensive and most complex to maintain but are the best in terms of power, consistency, and reliability.
Saddle Types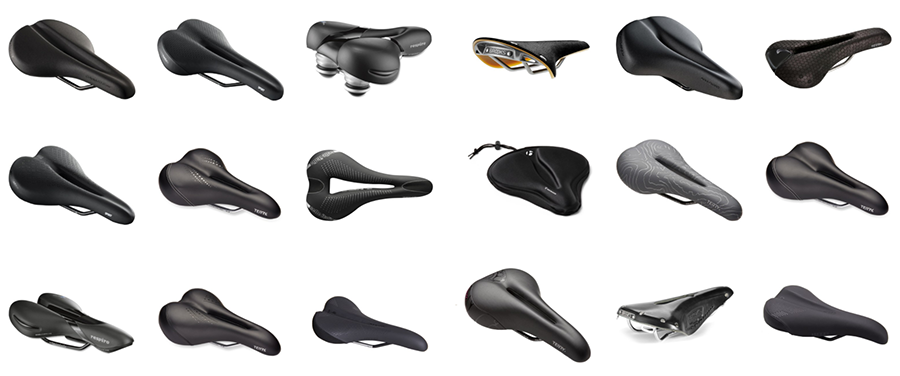 Hybrid saddles vary quite a bit depending on the manufacturer. Choosing the perfect saddle for your body can be tricky, so it may be necessary to purchase an aftermarket saddle if the hybrid you select doesn't have one that fits.
Most hybrid bikes come with a lightly padded saddle from that specific manufacturer's entry to mid-level road or mountain bike line. However, finding a hybrid bike with something closer to a comfort bike saddle is also possible.
Wheels & Tire Sizes

Like adult road bike rims, hybrid rim diameters are mostly 700c (29″). Although, some models have smaller, 650b (27.5″) wheels that are better suited to wider tires.
A 700c hybrid bike will have tire sizes between 35mm and 45mm, whereas a 650b wheel may have tires as wide as 2.4″ (roughly 61mm).
As we mentioned before, some manufacturers want their hybrid to be more similar to a MTB than a road bike, or vice versa. A 700c x 35mm setup is faster than 650b x 2.2″, for example. However, they sacrifice comfort, durability, and some traction.
A 650b x 2.2″ setup is slower but very comfortable and performs well in wet conditions and when cornering.
700c x 35 – 45mm
650b x 2.2″ – 2.4″
It is very uncommon to see a 24″ hybrid bike or a 26-inch hybrid bike, although some 26″ fat-tire bikes could be considered hybrids.
Suspension or Rigid Fork?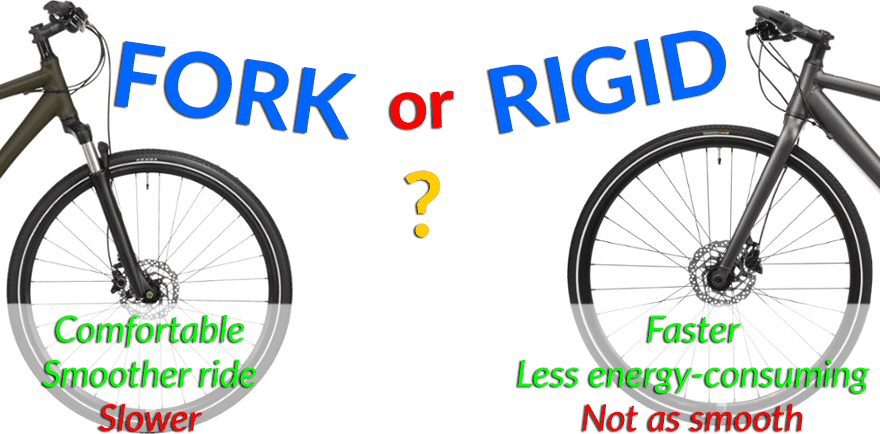 Most hybrids come with a rigid fork, but it's also possible to find a hybrid bike with suspension, although much less common. An example of a suspension hybrid is Cannondale's Quick CX. Their characteristics include:
Easier on the wrists
Most comfortable on bumpy surfaces like cobblestones
Better off-road
Inefficient means they're slower
Rigid fork
In general, manufacturers favor the performance gains of a rigid fork over a hybrid suspension fork as the suspension only does enough to boost comfort on bumpy roads and gravel paths and doesn't perform well on mountain trails. Some of the benefits of a rigid fork include:
Efficiency means better on-road performance

Less maintenance and longer-lasting
Cheaper (unless carbon fiber)
Less comfortable
How to Choose the Right Fork Design
To choose the correct fork for your riding needs, consider how you will be riding your hybrid. For example:
Rigid fork: City commutes, bike paths, and road riding
Suspension fork: Mixed terrain rides, rough surfaces like gravel or light trails
Alternatives to a suspension fork that make a bike more comfortable include:
Wide, low PSI tires
A steel frame
A carbon fiber fork
Differences in Hybrid Bike Types
Hybrid / Hybrid Commuter / Fitness Hybrid / Electric Hybrid / City Hybrid
Hybrid bikes serve various functions thanks to the varying components and designs between individual models.
Above, we mentioned a few must-have components, however, many components vary, and this can change the purpose of the bike, for example from a fitness bike to a commuter bike.
Wheel size 650b vs. 700c
Wide or narrow tires
Suspension fork vs. rigid fork
Steel frame or aluminum frame
Fenders and rack compatibility
Here are some stats about hybrid bikes we've discovered from our research over the past two years:
Frame Materials
80% of hybrid bikes have aluminum frames.
10% of hybrid bikes have alloy frames.
5% of hybrid bikes have steel frames.
5% of hybrid bikes have carbon frames.
As you can see, a steel or carbon fiber hybrid bike is hard to find these days.
Drivetrains
Chain vs belt & internal gearing
Belt drives – This is a carbon fiber/nylon belt on a single front and rear cog made of stainless steel. This system is expensive upfront, quieter, tidier, requires less maintenance, and is more efficient over time. Belt drives are paired with internal gearing, which is more durable and easier to maintain but offers fewer gears.
Chain – Cheaper bikes (under $1,000) come with a 2x or 3x front chainring with two derailleurs. More advanced bikes come with a 1×10 or 1×11 speed drivetrain. Some chain & sprocket hybrid bikes also have internal hub gearing.
Optional Extras
Fenders – A helpful component for commuters and riders using their hybrid for transport, like touring.
Pannier Rack – Great for anyone who carries cargo regularly
Compared: Hybrid Bikes vs. Other Types
Adult vs. Kids' Hybrid Bike
A hybrid bike for kids is very similar to the adults' version we've just described. The main differences relate to the size and shape of the components. These may include the following: wheel size, frame geometry, standover height, brake lever design, and saddle shape.
Smaller 24″ or 26″ wheels
A lower frame height (so the rider can sit on the saddle with a foot on the ground)
Brake levers optimized for children's hands
Shorter reach measurement
Kids' saddle
Hybrid Bike vs. Commuter Bike
A commuter bike is a broad category of bikes, any of which you can use for commuting, like a road, hybrid, cruiser, fitness, city, or mountain bike.
A hybrid bike can be a commuter bike. You can use almost any bicycle type as a commuter, it just depends on the rider's preference. However, some bikes are more typical for commuting, such as a city bike.
Hybrid vs. Mountain Bike
A hybrid trail bike is limited in its off-road capabilities, even though it can ride on trails and gravel paths. Because these bikes are also for use on the road, the suspension and tires are generally only for light trail riding.
Most mountain bikes are designed to ride off-road as their primary function, meaning they perform much better on challenging mountain trails.
Mountain bikes have slacker geometry
Hybrid bike fork travel ranges from 40 to 80mm
Mountain bike travel ranges from 100-200mm
Hybrid bikes have 700c or 650b wheels
Mountain bikes have 27.5″ or 29″ wheels with wider tires
Road Bike vs. Hybrid Bike
A road bike has a few key distinctions:
Drop handlebars
Compact gearing
Thin and smooth tires, 23 – 32mm
Aggressive riding position
Never suspension
Carbon fiber frames are common
For use only on roads
Road vs. Hybrid Full Comparison
Hybrid or Touring Bike
A hybrid bike could be used for touring. However, touring bikes have some components that you do not regularly see on hybrids, including:
Steel frames and rims to support high payload capacities, increase durability, and for added comfort

Pre-installed pannier rack(s) and fenders, or mounts for both at a minimum

Very wide gearing for tackling hills with a loaded bike

Drop handlebars for wrist comfort
Fitness vs. Hybrid Bike
A fitness bike is a type of hybrid. These bikes are lightweight, road-optimized hybrid bikes, which are great for exercise thanks to their simplicity, weight, and speed.
Fitness bicycles don't have any of the extra hybrid components like suspension, wide tires, or step-thru frames. They have:
700c wheels with narrow tires
A light aluminum frame
Aggressive geometry
Rigid fork (maybe carbon)
Gravel vs. Hybrid Bike
While both gravel and hybrid bikes are known for being able to tackle paved and unpaved roads, they have some major differences. Gravel bikes are more akin to road bikes, with some characteristics taken over from mountain bikes.
Gravel bicycles also have drop bars, allowing riders to be more aero, which makes them more performance-oriented.
Some of the main ways in which gravel bikes differ from hybrids:
Wider 700c or 650b wheels (40mm and up)
Drop bars
Often available with carbon frames
Much wider gear ranges
More aggressive geometry on racier models
Related reading: Gravel vs. Cyclocross vs. Touring Bikes