This rather small, but successful bicycle company has had one dream — to make cycling as simple as it can be! They are on a good path to doing this, as their bikes are characterized by a fuss-free approach that allows you just to get on and start riding in the morning.
They specialize in hybrids, commuters, and cruisers, ideal for both men and women, with some kids models on the line as well. The two main features of their bikes are the internal, Pinion gearboxes, and Gates Carbon Drive Belts, which require absolutely no cleaning or lubricating.
Priority Bicycles: History and Overview
The company started in July 2014, after a very successful Kickstarter campaign. The goal was to collect $30,000 to fund the manufacturing and shipment of the first bike.
His friends wanted a bike that was light, good-looking, comfortable, easy to maintain, and affordable. So, naturally, he decided to build one himself.
Priority Bicycles has a rather interesting story of how it began. Most bike companies usually start harsh, with little to no funds, and then struggle to make ends meet for the first couple of years.
However, that was not the case with Priority Bicycles. Customers instantly recognized the hidden potential and decided to back up the idea.
The idea that we're talking about was first created in the mind of Dave Weiner, the founder of the company.
The problem he observed was that he was unable to recommend a bicycle to his friends even though he was working in the cycling industry for the majority of his life.
After one month, the campaign grossed around $565,000! The rest is history, and the bikes you will see below are the result of this uplifting, crowd-funded project.
Priority Bicycles Model Range
At the moment, Priority Bicycles has fifteen models on their bikes range. All of these are quite diverse, aimed towards different customers, accommodating a large variety of needs. There is even one electric model for anyone looking for some additional help on the road. Let's learn more about them so you can choose the one that meets your needs best.
| | | | | | |
| --- | --- | --- | --- | --- | --- |
| PRIORITY | TYPE | MSRP $ | FRAMES | SPEEDS | TIRES |
| Coast | Cruiser | 499 – 549 | M / W | 1 / 3 | 26×2.125 |
| Classic Plus (2.0) | City | 499 | M / W | 3 | 700 x 35 |
| Classic Plus Gotham | City | 499 | M / W | 3 | 700 x 35 |
| Brilliant L Train | City | 650 | M | 7i | 700 x 32 |
| Ace | City | 499 – 799 | M | Single | 700 x 28 |
| Apollo | Gravel | 1,499 | Uni | 11 – 409% | 700 x 40 |
| Turi | Step-through | 899 | F | 330% range | 700 x 35 |
| Continuum Onyx | Hybrid | 1,099 | M | 380% range' | 700 x 32 |
| 600 | Hybrid | 2,299 | M | 12 | 650b |
| 600X | MTB | 3,500 | Uni | 600% | 29×2.25″ |
| Embark | Electric | 3,999 | Uni | 380% range | 650b |
| Current | Electric | 2,999 | Uni | 380% range | 650b |
| Start 24″ | Kids' | 399 | Uni | 1 | 24″ |
| Start 20″ | Kids' | 369 | B / G | 1 | 20″ |
| Start 16″ | Kids' | 329 | B / G | 1 | 16″ |
Priority Ace
The brand new Priority Ace is an innovative new take on the ever-popular fixie/single-speed bike. Not only do you get a unique flip-flop hub to switch between single-speed and fixed-gear, but the Ace also runs on the quiet and clean Gates Carbon Drive belt system.
Gates Carbon Drive uses a belt rather than a chain for the drivetrain, meaning no more oily shins or caked-black fingers when you flip the hub. With a clean, oil-free nylon belt you simply pop it off and back on with ease, and the lack of moving metal parts means no rattling or noise while cycling.
The unique flip-flop rear hub on the Priority Ace is threaded with a fixed track cog on one side and flips over to use a cassette-style freehub on the other. The simple design means you can easily flip the cog over using basic bike tools.
Clubs and Spades
The Priority Ace comes in two different varieties, the Ace of Clubs and the Ace of Spades. Both use the Gates Carbon Drive system with flip-flop hub on a 6061 aluminum frame with wide, straight handlebars and 700×28 WTB ThickSlick tires
The Ace of Clubs is a toned-down, traditional single-speed bike designed for trips around town, visiting friends, or commuting to work. It has a loose ball-bearing front hub with a Gate S150 crankset and 22T rear cog.
The Ace of Spades is a lighter, performance-focused single-speed designed for velodrome track or crit racing events. It has a sealed bearing front hub with a Gates S300 crank and a 20T rear cog. Both bikes are available in four sizes, from small to extra-large, with inseams ranging from 28.5 to 32.5.
>>>Related: Best Belt-Drive Bikes
MSRP $499 – $799
Priority Current

The Priority Current is a very well-priced, highly comfortable electric commuter bike with a surprising amount of power. Rather than most e-bikes, which only provide mild pedal assistance, the Priority Current has five variable levels of pedal assistance, going from mild to extremely powerful.
Speed
The large Gates Carbon Drive 500W motor packs out a massive 140Nm of torque, more than double that of standard electric bikes. This means you can comfortably cruise along fully loaded with luggage at up to 28mph (45km) with the Class 3 option or 20mph in Class 1.
Twist the convenient handlebar-mounted speed controller down to 1 or 2 if you want to save battery and feel the burn in your legs. If you get tired or reach a steep incline, simply push it up to 5 to effortlessly cruise up any hill.
Comfort
For extra comfort and convenience, the Priority Current uses a clean and maintenance-free belt drive system and rolls on thick 650B tires. The aluminum frame is designed to keep the rider in an upright position to avoid stiffness and keep you pedaling all day long.
You also get a plush gel-padded saddle to sit on and an adjustable handlebar stem with ergonomic grips to keep your hands and wrists pain-free. Every element of the Priority Current is designed around maintaining the highest levels of comfort and support for the rider.
Power
Integrated into the frame is a 48V removable battery that will take you up to 60 miles (96km) on a single charge, more than enough to spend the day exploring. It also powers the built-in front and rear lights and provides power to a USB charging port for your mobile devices.
Included on the handlebars is a digital display unit where you can view important information like speed and remaining battery life.
Overall, the Priority Current doesn't boast top-of-the-range components but rather offers a fast, well-designed, and comfortable e-bike at an affordable price.
MSRP $3,299
Priority – 600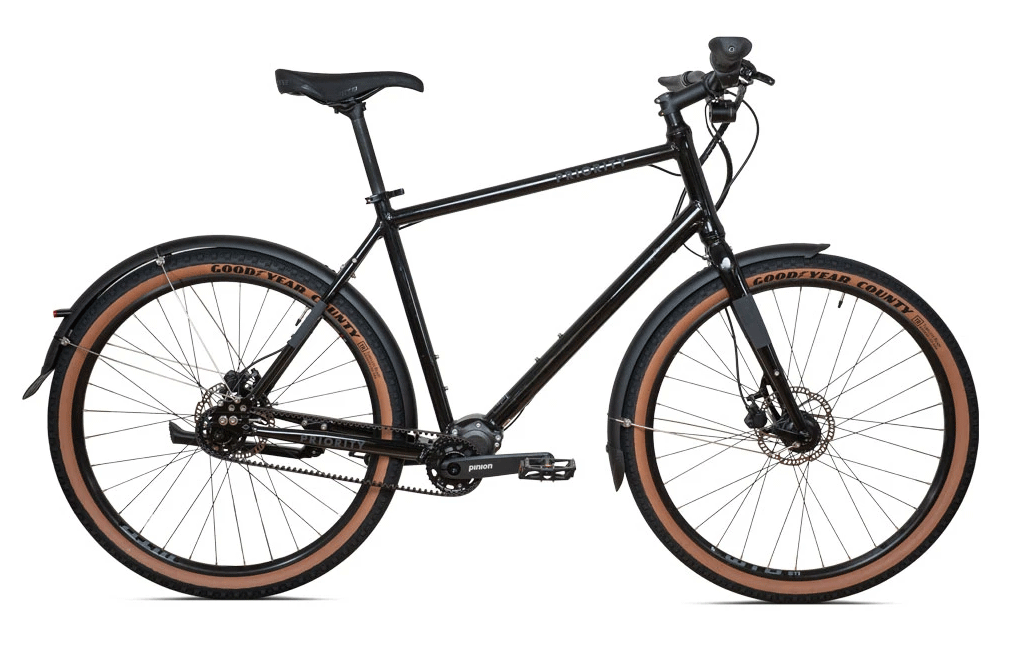 The Priority 600 is a bicycle for all-terrain commuting.
It's designed to go on all types of roads, including gravel and hard-packed dirt. It costs $2,199, which is a great price considering all of the features that you get. The Priority 600 is called that way because it features a Pinion 600% gear range, inspired by Porsche's transmission set. It has 12 gears that are equivalent to 30 gears on a standard bicycle. The internal gearbox is completely sealed and controlled with one twist shifter, so it's easy to use.
650b x 47mm(1.85″) tires
Ultralight aluminum frame
A geometry for an upright position
Tektro hydraulic disc brakes
Platform pedals
WTB Pure saddle.
To make city riding easier, you also get front and rear fenders, dynamo-powered front and rear lights, and a kickstand!
This bike is the logical choice for commuters who like to explore and take the longer route home. It can also serve as a recreational bike or be used for weekend fitness rides.
MSRP $2,299
Priority 600X Adventure
Mountain bike manufacturing is most likely one of the most competitive among the whole bicycle industry, and it truly is quite hard to fit in there. Especially, when you have been mainly making hybrid bikes for the past 7 years, and you have a following who's expecting a lot from you. Well, here is Priority Cycle's rather untraditional, to say the least, approach to mountain cycling.
The 600X is an awesome mountain bike, most likely one of the most unique alternatives to traditional mountain bikes. While a typical bike ride with a mountain bike consists of cycling through dusty and muddy areas, which obviously means more cleaning and maintenance – the 600X will save you from that.
600% Gear Range
Gates Carbon Belt (Maintenance interval: 19,000mi)
Aluminum Frame
RockShox Reba RL forks, 100mm travel
29 x 2.25″ tires
Tektro HD-M745 Four-Piston 160mm hydraulic disc brakes
This is a bike for those who are looking for a silent, pretty much maintenance-free, and chain-free mountain bike. The only maintenance you will be doing is really clearing out the dust from in-between the drivetrain with water. It is that simple!
MSRP $3,500
Priority Classic Plus
Diamond or step-through, black and white frames
The Priority Classic Plus is one of the most affordable models made by the brand. It costs just $549, but for that money, you will get a low-maintenance, belt-drive bicycle that will last you for a long time. Its got just three speeds, which are contained in an Internal Shimano Nexus Hub, which requires no maintenance and is controlled with a shifter on the handlebar.
The Priority Classic Plus is ideal for those who want to commute shorter distances on relatively flat terrain. It's great for daily rides around the block as well.
This bike is built around a lightweight aluminum frame that weighs just 25 lbs. It puts your body in a comfortable upright position, so it's great for long daily commutes. Like all other Priority bikes, it's powered by a rust and grease-free Gates carbon belt. It also has a coaster brake, combined with a dual-pivot front brake.
MSRP $549
Priority Classic Plus 'Gotham Edition'
The Priority Classic Plus Gotham edition is similar to the Classic Plus shown above but has a lot more style. If style and elegance are something you care about, you will have to pay $549 for it, but it's well worth it if you ask me.
In terms of components and build, the Classic Plus and Gotham are pretty much the same. The Classic Plus Gotham has a 3-speed Shimano Nexus internal gear hub and the same ultralight aluminum frame available in the diamond and step-through shape.
However, it has a beautiful all-black paint job, complete with a pair of puncture-resistant tires. Gotham edition has two V-brakes ideal for city rides and commutes.
The Priority Classic Plus Gotham Edition is the ideal choice for people who want to ride their bike to work or school, but also be able to take it on a date or a casual weekend city cruise.
MSRP $549
Continuum Onyx
The Priority Continuum Onyx is a model that has been featured in numerous high-profile magazines, including Wired and Gizmodo. It costs $1,199 and gives you a hard-to-believe value for your money. Looking at the components and the build, we can see that this is an all-weather, four-season commuter.
It touts a Nuvinci CVT Rear Hub with a 380% gear range which allows riding in the rain, snow, or sleet without worrying about skipping gears or mis-shifting — it's completely enclosed.
Of course, we know the benefits of carbon belt drive systems, so you can feel free to ride in your best pair of pants. You do not need to worry about smearing them with chain grease. The Continuum Onyx has the advantage of being safer than some other Priority models because it has a pair of Tektro hydraulic disc brakes.
Other than that, with the Onyx you'll get front and rear dynamo-powered lights with USB charging capabilities, fenders, reflective tire walls on puncture-resistant 32mm-wide tires on 700c wheels, and a kickstand.
It's best for urban commuters who do not see bad weather as an obstacle, but as a challenge that could make their day more fun and more fulfilled.
MSRP $1,199
Priority Brilliant L Train
The Priority L Train is the result of a collaboration between Priority Bicycles and Brilliant Bicycles Co. For $700, it will get you anywhere you need to be with ease and without any fuss. It's a unique bike in many regards compared to other models built by this brand. This price tag comes with a lightweight and durable Chromoly steel frame with a simplistic and retro design. The rear hub contains the enclosed 7-gear system which can work for years without needing any adjustments.
You can make it suit your personality and your style better by choosing one of the two attractive color profiles. These include Subway Gray and Hudson Blue. I prefer the latter as it can go longer without needing a wash. The tires on the L Train are 32mm wide, which is ideal for fast city rides. This bike also comes with two V-brakes which are easy to maintain and brake well in most conditions.
The Brilliant Trail L is a perfect choice for a rider looking for a simple bike that allows them to ride on different terrains and get quickly wherever they need to be.
MSRP $700
Priority Apollo
Gravel bike
Shimano Alfine Internal Hub
At its core is the excellent Shimano Alfine 11-speed internal hub, with a 409% gear range so you'll have no trouble climbing even the steepest of hills. Shimano's Alfine is one of the most popular internal gearing systems available with a long history of performance, durability, and efficiency.
The gears are controlled by a shifter integrated into the right-hand brake lever. All it requires is a simple press with one finger to smoothly change the gear up or down. With only rear gears and no derailleurs or external moving parts, the simple Alfine system greatly reduces the possibility of mechanical failure.
>>>Related Reading: Best Gravel Bikes
Gates Carbon Drive
Connected to the Alfine system is a Gates Carbon Drive, a carbon fiber reinforced belt that is the first choice for thousands of belt drive enthusiasts. It can handle the strain and pressure of tough, long-distance cycling better than traditional steel chains, ensuring you are never left stranded on the roadside with a broken drivetrain. In addition, the belt doesn't require any grease meaning it attracts far less dirt and is easier to clean.
WTB Byway Tires
To handle rough offroad terrain, the Apollo Gravel has wide 700c x 40mm WTB Byway tires. The tires provide an excellent combination of slick road contact down the center with deep tread on the sides to handle gravel. This makes the Apollo Gravel an ideal commuter or touring bike for both off-and-on-road uses.
MSRP $1,699
Priority Coast
The Priority Bicycles Coast is a beach cruiser bike like no other. It costs just $549 if you choose the single-speed option and $600 if you opt for the 3-speed version. The ideal beach cruiser needs to be easy to ride, easy to maintain, and be resistant to salt, sand, and rust. This is exactly everything that the Coast model is.
Thanks to the carbon belt drive, you will never again need to deal with a dropped chain and get grease all over you. Since you will probably be riding near water, it's good to know that all bearings are sealed, which extends the life of the bike. This bike is also available with a diamond and a step-through frame, so it's ideal both for men and women. All models come with a coaster and a front V-brake, as well as a double kickstand.
You should buy the Priority Coaster model if you are a hedonist and know how to enjoy the ocean breeze. It's perfect for cruising along the beach without worrying about sand, salt, and water.
MSRP $549
Priority Embark E-bike
The Priority Embark has an amazing framework for $3,299 allowing you to go further than you thought was possible before. This is Priority Bicycles' only e-bike, so they put all of their knowledge into it. It's built around an ultralight aluminum frame, which is fitted with a Bosch pedal-assist motor.
It's got a battery with a capacity of 400Wh which should allow cycling as far as 50 miles on one charge. That's more than enough to get you where you need to be and explore a bit more.
380% Gear ratio
700-Lumen front light
4-Different pedal-assist modes
The Embark uses powerful Tektro hydraulic disc brakes to stop, so don't be afraid of the descents. The rear hub contains Enviolo Trekking gears, whereas the front hub has a dynamo that powers front and rear lights. Therefore, you can ride well into the dark without any sweats (literally and figuratively).
>>>Related Reading: Best Electric Belt-Drive Bikes
You should choose the Priority Embark e-bike if you want to commute without breaking a sweat or you need some assistance up those steep hills that have been keeping you from riding for years. After all, we live in the 21st century where electric bicycles have become the norm for a reason!
MSRP $3,299
Priority Start 24″
Recommended for 7-13-year-olds
The 24″ Start is great for kids before getting a 26″ or an adult bike. This is basically the bike you buy and need only to worry about pumping the tires from time to time. Another great factor is the unisex frame and side stand – which make it an ideal kids hybrid. It's got multi-terrain tires with 3 internal gears, V-brakes, and a composite chainguard. What else could you ask for, besides the price is so underrated for the quality and field of purpose?
MSRP $399
Priority Start 20″
Simplicity in cycling should not be reserved just for adults; it should be available to kids as well! You can make your kid's childhood much more memorable for just $350 that this bike costs. It's built to be ridden comfortably on city streets, bike lanes, as well as hard-packed dirt and gravel roads.
You can take your kid anywhere with you or let them roam and explore on their own. They won't need to worry about dropped chains and start disliking cycling because of that.
The Start 20″ has a lightweight aluminum frame, all-terrain tires, and three gears to familiarize your little one with shifting as well. This bike comes with dual brakes for confident and reliable stopping power in all conditions. It will spark your kid's imagination and interest with a wide palette of colors, including charcoal, blue, and ultraviolet purple.
The Start 20″ model is perfect for kids 6-12 years of age who have outgrown and outridden the Start 16″ model and need something a bit more serious to satisfy their curiosity.
MSRP $350
Priority Start 16″
The Priority Start 16″ is a bike that's waiting for your little guy or gal to hop on it and start making unforgettable childhood memories. It costs just $300 and comes with a super lightweight aluminum frame and a maintenance-free carbon belt instead of a chain. This bike has a freewheel instead of a coaster brake like most other bikes with 16″ wheels. Priority says that the reason for this is that kids who graduate from a balance bike have the need to move their legs in both directions, which Start 16″ allows them to do.
This model is the perfect choice to help your child transition to a big kids' bike since it comes with two V-brakes. Like the Start 20″, this model is also available in a large variety of colors that include white, charcoal, sky blue, and turquoise. Thus, it's suitable both for boys and girls.
The Start 16″ model is ideal for children aged 3-8 who are transitioning from a balance bike to a bigger one and are still learning the basics of riding.
MSRP $329
Priority Balance Bicycle
Few things are as good for the development of children's motor and cognitive skills as riding a bike. You can introduce your kid to cycling as soon as they start walking for just $150 (even less when there's a discount).
This bike has 12″ pneumatic tires, which makes it easy for your kid to touch the ground and balance the bike properly. It weighs just 11 lbs, so even if they fall, there is little chance that they will get injured by it.
This Balance bike will easily become both your boy's and your girl's best friend and a favorite toy. It's available in pretty pink and blazing blue, so boys and girls love it alike. The recommended minimum inseam for this bike is 13″, whereas the maximum seat height is 15″.
The Priority Balance Bicycle is the ideal purchase for kids aged 2 and above. It will help them learn how to ride a bike and make them fall in love with cycling.
Accessories
Apart from these awesome ten bicycles, Priority Bicycles also makes handy bike accessories. You can fit them on your bike to make the ride safer, easier, or just more fun. Find these funky add-ons on the official website, on the Accessories page.
You can really find everything here! They make a stack packable helmet, which you can easily fit in your backpack or purse, bicycle mirrors, different types of locks, lights, bags, carts, baskets, studded tires, fenders, saddles, carbon belts, and so on. The list is just too long to mention everything.
A nifty little trick allows you to filter these accessories by your bike. You can then see only those that fit on your Priority Bicycles model. The prices are very affordable, in tune with the average price tags on the market. So, it's a good way to get everything that you need in one place.
Priority Cycles Bike Size Chart
Priority recommends choosing their bikes by the length of your inseam. Each Priority Cycles bike has the frame size recommendations under the review of each of their bikes!
Priority Bicycles has done its best to make choosing the right size as simple as possible. The biggest problem for most people when buying a new bike is getting the right fit. So, this is part of their dream of making cycling as simple as possible.
They use the inseam approach to help you find the right size. Thus, all you need to do is measure your inseam length and compare it to their charts. The sizes in the charts are marked in inches, so the measuring is quite precise. Most of the bikes are available in three sizes, which does not sound like a lot, but they cover a wide range of riders.
The best way to measure your inseam precisely is to start by taking your shoes off. Then measure the length between your crotch to the floor. Voilà! You now know which frame size to go for!
How to Get One?
If you have set your mind on one or more of the Priority bikes, you have two delivery options to choose from when ordering.
At-home assembly means that your bike is shipped to your address 95% assembled. The last 5% need to be done by you or someone else who is knowledgeable. However, this 5% is kept as simple as possible. Thus, you should be able to do it yourself even if you are inexperienced. All of the necessary tools are included in the box, and there is also an instructions page online where you can watch simple assembly videos and follow along. Shipping to the continental USA costs just $30.
Velofix home delivery works in select areas. This allows some customers to have their bikes delivered fully assembled to their door. A certified mechanic from Velofix will come to your door and assemble your bike. They will also do a bike fitting procedure, new bike orientation, and install any accessories that you order with the bike. It costs a bit more than the first option, but it's well worth it if you are not experienced with bike assembly.
Where to Buy Priority Bicycles?
One hundred percent of Priority Bicycles are sold through their official website. Their choice of selling their bikes online allows them to keep the price down while providing a lot of value for the money.
The company is based in New York, so if you find yourself there, you can feel free to visit their headquarters. If you set up an appointment, you can check out their line of bicycles, learn more about the process of building them, and test-ride them as well.