Best Electric Hybrid Bikes
Hybrids bicycles are among the most convenient bikes around, no questions there. Add an electric-powered motor, and you've got one of the most convenient means of transport in the world of bicycles. In 2021 there's a nice variety of e-Bikes available as there are many newcomers who specialize in making e-Bikes only. Large bike brands are working harder than ever before to stay competing with the new e-Bike-specific brands.
So, which one should you prefer?
An electric hybrid made by large bike brand vs specific e-bike brand
Although we are big fans of both traditional, long-standing bike companies and relatively new & small brands alike, we've noticed that more and more people are choosing a product made by a company that specializes in a certain niché. Again, we are staying unbiased and by the end of the day, it is the price and looks that matter, right?
That's the reason why we've created this post is to guide you through the seemingly endless sea of electric hybrid bikes – and point you towards the selection that can be trusted!
Electric bike = E-Bike = Electric E-bike
Hybrid E-Bike = All-Terrain Electric Bike = Electric Commuter Bike = Fitness Commuter E-Bike
---
1

. Rad Power Bikes – RadCity 5 Plus

One of the legends in the e-bike industry – 5th version
MSRP: $1,799
Rad Power Bikes
The fifth generation of the RadCity is one of the longest-running electric hybrid bike series out there. Over time, the brand and each of its models have gathered a ton of positive feedback from every possible angle, which is something every new buyer wants to rely on.
At this price range, the RadCity by Rad Power Bikes is comparable to the 700-Series Ride1UP bike as both of the bikes share similar specs on the overall build quality and the mileage range. The RadCity is a great electric hybrid due to its very comfortable seating position, front fork, and full fender set. There's also a front light and a kickstand to maximize convenience.
Bike Weight: 65lbs
Hydraulic brakes – 180mm rotors
7-speed Shimano Altus
750W hub motor
40% more efficent & powerful than RadCity 4′s
Step-through fits riders 4'8″ – 6'0″
Step-over fits riders 5'4 – 6'5″.
---
2

. Ride1Up – 700 Series

Best value electric hybrid bike

MSRP: $1,595
Ride1UP


If you are looking for the best-priced electric hybrid bike with all the bells and whistles, here you have it!

The Ride1Up 700-Series deserves to be on the top of this list for numerous reasons.

First. The brand has a trusted background in the making of E-Bikes, and they have managed to still produce and put on sale a large number of bikes even though the pandemic shortages.
Second. The bikes look good and perform well. No questions there. Matter of fact, the performance, and durability of those bikes are among the best-valued two-wheelers on the current market.
Third. Ride1Up has become one of the main competitors to other E-Bike brands that sell their bikes without the middleman. This is the reason they've managed to keep the prices as low.
Fourth. This is a simple bike that looks good with all the extras, no need to upgrade any level.
750W Hub-drive @60Nm torque
Range: 30-50 mi
Class 3 (28mp/h pedal assist, 20mp/h throttle)
Weight: 62lbs
The few downsides about this bike might be the bulky weight and the rear-hub motor. Although, this shouldn't be a concern for the recreational cyclists who are looking for a decent bike at this price range.
Size Recommendations
XR (Men's) – 5'5″ – 6'4″
ST (Step-Through) – 5′ – 6'2″
---
3

. Co-op Cycles eCTY 🏆
eCTY 2.1 – MSRP $1,999
eCTY 2.2 – MSRP $2,399
> Read the full review + comparison
---
4

. Quietkat – Sherpa

Made by the high-end hunting e-bike brand
MSRP: $2,999
Quietkat bikes
Equally, at home on the commute to work and over dirt trails, the Sherpa offers some of the best technical performance available in a hybrid E-Bike.
This QuietKat electric bike is powered by a 750W hub drive motor for fast-paced riding.  A low standover height makes it easy to get on and off the bike, and the Sherpa also has a strong double kickstand that makes parking a breeze. A massive integrated rack allows for serious luggage carrying potential.
The Sherpa offers a bit of everything, perfect for the cyclist who needs an electric hybrid with multiple utilities.
---
5

. Electra – Townie Go! 7D

Beach Cruiser Electric Bike

MSRP: $1,500
REI Co-op

The Townie Go! 7D by Electra is actually more of an e-cruiser than a hybrid, but due to its large wheels and ultra-comfortable riding position, we can't leave this laid-back bike out of the list.

Electra is owned by Trek, which any cyclists SHOULD be aware of, and the Townie series offers a bunch of good-looking bikes with a reasonable price tag. Large saddle, tires, mustache-type handlebar, a side stand, mechanical disc brakes, and the chainguard are enough most cyclists are looking at.

Although this might not be the most traditional hybrid in terms of front suspension and a rather rectangular frame, this bike eats bumps well due to its large 27.5×2.25 cruiser-type tires.

It is great for anyone who is looking for a simple electric bike to get around and prefers the ultimate comfort over versatility you'd want to expect from a hybrid.

Also featured on – Best Electric Cruiser Bikes
---
6

. Priority Bicycles – Current E-Bike

Maintenance-free, clean & silent drivetrain

MSRP: $3,299
Priority Bicycles

Mid-drive motor, Gates Carbon Belt-Drive, Hydraulic Disc Brakes, 140Nm of torque – What else do you need?

Whoever is not familiar with Priority Bicycles should know that their main motto has been to create as low-maintenance and silent e-Bike as possible.

Here you have it,   the Current,   Priority Bicycles' one and only E-Bike. Go with the flow, and leave out the unnecessary. Equipped with all the bells and whistles to expect from a bike at this price range, what we like the most (Besides the whole build, obviously) is the powerful yet smooth mid-drive motor, run on a belt-drive instead of a chain&drailleur drivetrain. Large 650b(27.5″) puncture-resistant tires compensate for the lack of suspension for anyone who prefers the extra speed over extra comfort.
Which one do you think it is?
Current – As an Electric current?
Current – As an Ocean current?
Current – A state of time?
---
7

. Orbea – Vibe H30 EQ Complete eBike 2021

An e-bike that looks like a regular hybrid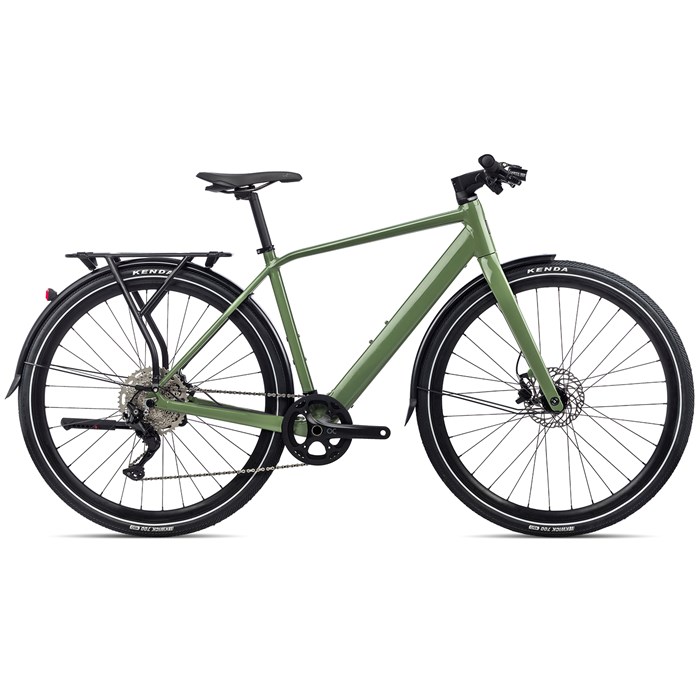 MSRP: $2,999
evo
Orbea, a brand that is more known for its performance-level bikes has come up with a fresh and fast commuter – the Vibe.
More and more bike buyers are after an electric bike that doesn't resemble an obvious e-Bike, and here is the perfect example of what to look out for.
There are many performance-based parts and geometry that are carried over to this bike. For example, even the stock model comes without pedals (Just as most mid and high-end road & mountain bikes) The 250W EBikmotion mid-drive motor is of a higher degree due to its quality, longevity, and obviously light weight.
Long story short, the Orbea has managed to come up with a bike that's well suited at its price range, although bear in mind, that it has an internal battery that can't be removed.
Hydraulic disc brakes
Shimano Deore 1×10 speed
Magura MT30 hydro disc brakes
Rear carrier with a max capacity of 33lbs (15kg)
---
8

. Diamondback – Union 1 e-Bike
Looks like a beast, rides like a powerhouse
MSRP: $3,500
Backcountry
Here's a solid beast by Diamondback, a 27.5×2.4″ tire 85Nm torque commuter.
Although the Union does not come with a front suspension, it is a mixture of a city and a commuter bike.
Diamondback has well established their brand in the league of bicycles, and they have successfully put out a number of electric bikes as well. This model may cost above average what people are willing to pay, but with Diamondback you can rest assured on their bikes' longevity. This is a full-aluminum e-Hybrid with above-average parts, blended into one hybrid bike.
Diamondback has also great electric trail bikes on their list that have been quite popular, so this commuter hybrid is not an exception.
Shimano Deore 10-speed
Hydraulic disc brakes
400Wh integrated battery
---
9

. HaiBike – Trekking

A modern looking electric hybrid bike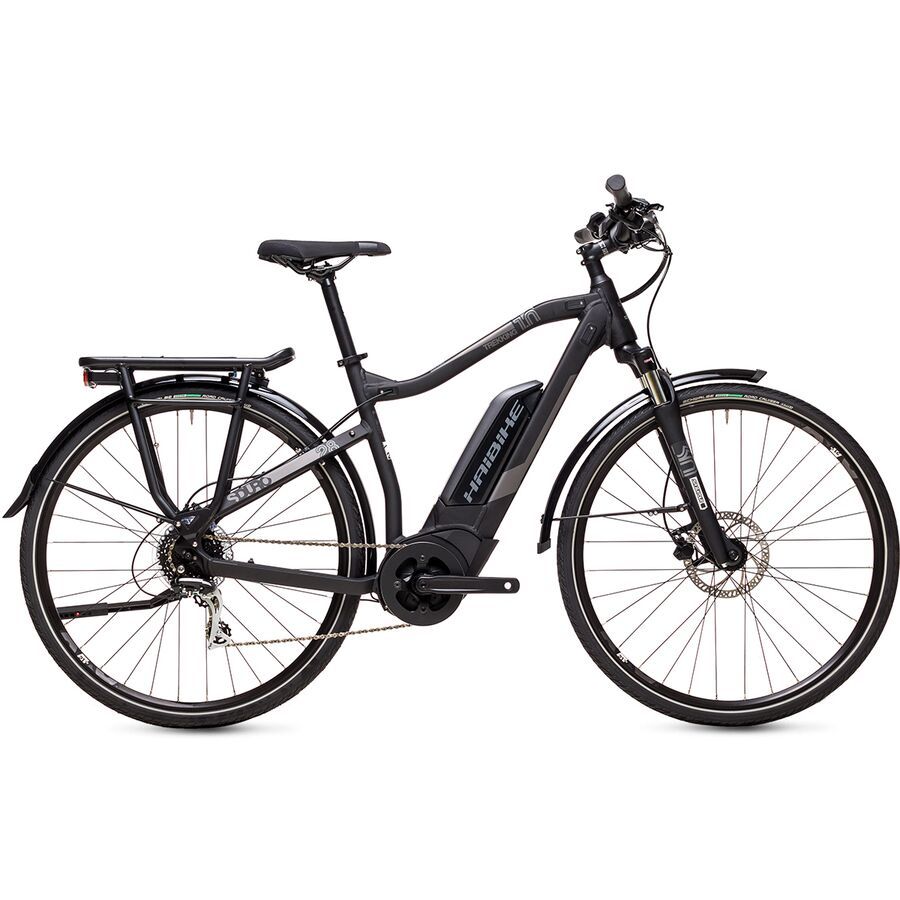 MSRP: $2,600
Backcountry
The Haibike Trekking has a classical hybrid look, although it is equipped with the necessary e-bike and e-hybrid-specific parts.
With 63mm travel on the fork, Shimano Altus & Avera 8-speed drivetrain, this model is categorized as a mid-range bike due to its mid-drive "engine".
You'll also find hydraulic disc brakes, quick-release wheels, 700x40c wheels, fenders, and lights that are a nice addition to any eHybrid. The electronic side is well-made as well, represented by the Bosch Active Line Plus motor, 250W Bosch Lithium-Ion battery.
We would love to see more bikes at this price range anytime soon, and the Trekking model has set a bar to compare future bikes from!
---
10

. Cannondale – Canvas NEO 2

One of the best electric commuter bikes
MSRP: $4,200
REI Co-op
One of the more high-end eHybrids with a nice, glossy finish.
Cannondale's NEO series has a quite good selection of mid-drive electric bikes, and the Canvas is one of the top on their range. Why the name Canvas? Well, we suppose it is due to the fact that everywhere you park it, it automatically creates a nice canvas that fits everywhere.
After all, this is a city hybrid electric bike with some nice corks and features. Integrated rear and front lights, fenders, hydraulic disc brakes, and Shimano 10-speed drivetrain. What makes this bike so expensive is the top-line Bosch Performance Line Speed 250W motor with 75 feet pound of torque, and the Ballistec carbon fork which works well absorbing any bump on the road.
The overall weight of the bike is just 44 pounds, which makes it one of the lightest eBikes on this list!
---
11

. Trek – Verve+ 3

A sporty and versatile choice
MSRP: $3,150
Trek bikes (Available in-store only)
Trek is known to produce a large number of bikes for the masses. The reason why their bikes sell so well worldwide is that the design and durability which is suitable for simply anyone. The Verve+ 3 is one of them, a bike that doesn't scream out a certain stereotype, instead, keeping it subtle. Matter of fact, the build of the Verve+ 3 is as official and durable as it looks. The bike is powered by a Bosch Powertube 500W battery, Bosch Purion Display, Bosch Active Line mid-drive motor, and a bunch of trusted components.
Shimano MT200 Hydraulic disc brakes, 700x45c tires, Shimano Alivio drivetrain, the bike is fast at accelerating, braking, and obviously holding the stable speed on every commute.
Equipped with all the extras, there's no need to upgrade at this price range anytime soon.
---
How To Choose?
Hybrid E-Bike Must-Have Components in 2021
What is a hybrid electric bike?
*Hybrid Bike is a mixture of two or more disciplines combined into one. Ideal to be used on various occasions.
An electric hybrid bike is generally a bicycle designed to be used on both city streets, and light trails with an assisted electric motor. Those bikes have a pedal-assisted mileage of up to 50mi per charge. The main focus of those bikes is to give an extra boost on hilly areas, or for anyone who likes to explore further routes.
Electric bikes also feature puncture-resistant tires on some bikes to make riding as hustle-free as possible.
When to get a hybrid e-bike?
Cycling, in general, is one of the most underrated ways to get around, and e-Hybrids are one of the most comfortable for both short- and long distances commuting.
Hybrid bike vs commuter bike
In the cycling world, the term for commuter biker is widely known as any bike that's mainly used for commuting either work or leisure activities to get around, a hybrid bike is designed to be used on both urban and country roads. Therefore, hybrid bikes are slightly more versatile, while a commuter bike is best suited for casual trips with no special purpose.
Hybrid bike vs touring bike
Electric touring bikes are best for long-distance touring, whereas e-hybrids are designed for urban commuting. The main difference in geometry is that e-hybrid often come with a front fork that is unseen among touring bikes. E-hybrid bikes have a more upright seating position compared to a drop-bar design on touring bikes.
Touring bikes have multiple eyelets for racks & water bottles
Hybrid bikes are commuting-orientated, not as convenient for long-distance touring.
Motor – Hub vs mid-drive?
Mid-drive electric hybrids

are often found on above-average e-bikes. Mid-drive bikes have a better weight ratio and tend to have more expensive and durable parts.
Hub-drive electric hybrids are usually cheaper and easier to make. Changing the rear wheel for punctures can be slightly complicated.
Read more: Hub drive vs Mid drive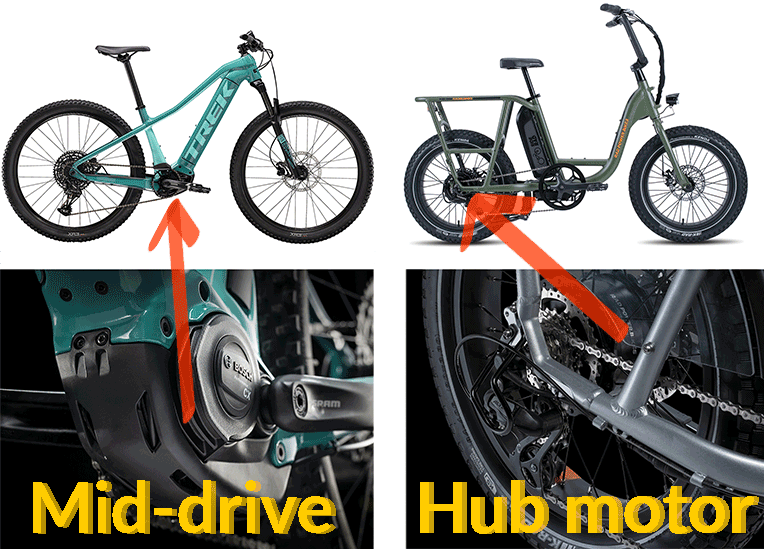 E-Bike Classification
What is a Class 1 E-Bike? Pedal-assist only with no throttle. Max speed of 20mp/h
What is a Class 2 E-Bike? Throttle assisted ebike with a max speed of 20mp/h. Some bikes have pedal-assistance as well.
What is a Class 3 E-Bike? Pedal-assist (& some bikes with throttle) Pedal-assistance up to 28mp/h. (Throttle assist up to 20mp/h) From 16+ of age and older. Wearing a helmet is compulsory.
What is a class 4 E-Bike? Motor wattage over 750W. An electric bike with the highest max speed – 28mp/h and over.  Considered as a motor vehicle.
*Class 1-3 motors are limited to 750W and 28mph.
Read more: EBike Classes
Cheap vs mid-range electric bikes
Cheap electric bike motors are not as smooth, which means you can feel the 'pull' quite noticeably. Also, the set of features are not as durable in the long run.
Mid-range bikes on the other hand are equipped with longevity in mind. The quality of components are more durable which end up offering a way better experience
Is expensive always better?
– In the world of electric bikes where the competition is quite intense, the price usually equals the quality.
Looking for a cheap electric bike?
Best Electric Bikes Under $1000
Ancheer Bikes Ancheer electric bike – Ancheer bike – Hybrid folding electric bike – best budget commuter bike – best budget electric bike
---
RELATED
Co-op Cycles eCTY overview – Best Value eMTBs on the market (If available)