Best Electric Hybrid Bikes
Hybrid bicycles are one of the most convenient styles you can buy. Add an electric-powered motor, and you've got an unbeatable means of transport in the world of bicycles.
In 2023, there's a nice variety of e-Bikes available as many brands specialize in making e-Bikes only. Large bike brands are working harder than ever to stay competitive with the new e-Bike-specific brands.
We've created this post to guide you through the seemingly endless sea of electric hybrid bikes and point you towards a selection that you can trust!
What is a hybrid electric bike?
A hybrid bike is a mixture of two or more bike types combined. They're ideal for use in various conditions, but they don't excel in any specific area.
An electric hybrid bike is generally a bicycle designed for anything from city streets to light trails with electric motor assistance. Those bikes have varied pedal-assisted ranges, and the focus is to give an extra boost in hilly areas, to pull cargo, or for anyone who likes to explore longer routes.
Electric bikes often feature puncture-resistant tires to make riding as hassle-free as possible.
---
Best Electric Hybrid Bikes
---
1

. Rad Power Bikes – RadCity 5 Plus

One of the longest-running in the e-bike industry – a 5th version
MSRP: $1,999
Rad Power Bikes
Bike Weight: 65lbs
Hydraulic brakes – 180mm rotors
7-speed Shimano Altus
750W hub motor
40% more efficient & powerful than RadCity 4's
The fifth generation of the RadCity is one of the longest-running electric from Rad Power Bikes. Over time, the brand has utilized user feedback on each model to make incremental improvements, something great to hear for any Rad Power rider.
At this price range, the RadCity by Rad Power Bikes is comparable to the 700-Series Ride1UP bike as both of the bikes share similar specs on the overall build quality and the mileage range. In addition, the RadCity is an excellent electric hybrid due to its very comfortable seating position, front fork, and fender set. There's also a front light and a kickstand to maximize convenience.
Step-through fits riders 4'8″ – 6'0″
Step-over fits riders 5'4 – 6'5″.
---
2

. Co-op Cycles eCTY 🏆
MSRP $1,799
REI.com
REI's proprietary brand, Co-op Cycles, is growing in popularity thanks to its affordable, durable range of standard and electric bicycles.
The eCTY is their urban electric range consisting of two 9-speed Shimano Alivio/Acera models, the 2.1 and 2.2. Both models come fully equipped with fenders, a rear rack, a kickstand, and a choice between a step-over or step-through frame in sizes S, M, or L fitting riders 5′ to 6′ 3″.
Despite the low(ish) prices, both eCTYs have Shimano mid-drive motors with 40Nm of torque for the cheaper e5000 and 60Nm on the e6100 and 50 miles of PAS range. These bikes also maintain a low weight of roughly 50lbs making them the perfect choice for almost any rider, especially considering the full-equipped design and low price,
---
3

. Ride1Up – 700 Series

Best value electric hybrid bike

MSRP: $1,695
Ride1UP

750W Hub-drive @60Nm torque
Range: 30-50 mi
Class 3 (28mp/h pedal assist, 20mp/h throttle)
Weight: 62lbs
If you are looking for an affordable electric hybrid bike with all the bells and whistles, here you have it! The Ride1Up 700-Series deserves to be high on this list for numerous reasons.
Firstly, Ride1UP has a trustworthy background in making and marketing e-bikes, and they have managed to produce and put on sale a large number of bikes despite the pandemic shortages.
Next, the bikes look good and perform above the price tag. The performance and durability of the 700 Series bikes are among the best in the sub-$2,000 e-bike market.
Additionally, Ride1Up has become one of the main competitors to other e-bike brands by selling their bikes without the middleman, another reason they've managed to keep the prices as low. This bike doesn't require that you upgrade anything.
The few downsides about this bike might be the bulky weight and the rear-hub motor. Although, this shouldn't be a concern for recreational cyclists looking for a decent bike at this price range.
Size Recommendations
XR (Men's) – 5'5″ – 6'4″
ST (Step-Through) – 5′ – 6'2″
---
4

. Cannondale Treadwell Neo 2 Remixte

Made by the world's best bike brand
MSRP: $1,925
Equally, at home on the commute to work, and over light trails, Cannondale Treadwell Neo 2 Remixte offers some of the best technical performance available in a hybrid e-bike.
This Cannondale electric bike is powered by a 250W hub drive motor for fast-paced riding. A low-step frame makes it easy to get on and off the bike, and the Treadwell also has a solid kickstand that makes parking a breeze. In addition, front and rear racks can be added and allow for huge luggage carrying potential.
It's also equipped with a 7-speed microSHIFT derailleur, mechanical disc brakes, and grippy 650b x 47mm tires. That's all you need for urban and light off-road rides.
Cannondale Treadwell offers the perfect setup for the cyclist who needs an electric hybrid with multiple utilities.
---
5

. Electra – Townie Go! 7D

Beach Cruiser Electric Bike
MSRP: $1,750
REI.com
The Townie Go! 7D by Electra is more of an e-cruiser than a hybrid, but we can't leave this laid-back bike out of the list due to its versatility and ultra-comfortable riding position.
Electra is owned by Trek, of which any cyclists should be aware. The Townie series includes many good-looking bikes with a reasonable price tag. A large saddle and tires, a mustache-type handlebar, a side stand, and mechanical disc brakes are enough to make this bike appealing to a broad range of riders.
Although this might not be the most traditional hybrid, it eats bumps well due to its large 27.5×2.35 cruiser-type tires. Anyone looking for a simple electric hybrid bike that offers ultimate comfort, look no further than the Townie Go! 7D.
---
6

. Priority Bicycles – Current E-Bike

Maintenance-free, clean & silent drivetrain

MSRP: $3,299
Priority Bicycles

A mid-drive motor, Gates Carbon belt-drive, hydraulic disc brakes, and140Nm of torque are some of the Current's standout features.

Whoever is not familiar with Priority Bicycles should know that their main motto has been to create as low-maintenance and silent e-Bike as possible.

Priority Bicycles' Current is equipped with all the bells and whistles to expect from a bike at this price range. What stands out for us is the powerful yet smooth mid-drive motor, powering a belt drive instead of a standard chain drive. In addition, the large 650b (27.5″) puncture-resistant tires provide plenty of comfort for anyone who prefers a smooth ride.
---
7

. Orbea – Vibe H10

An e-bike that looks like a regular hybrid
MSRP: $3,599
Jenson USA
Shimano Deore 1×12 speed
Magura MT5 hydro disc brakes
Brooks Cambium saddle
Orbea, a brand known for its performance-level bikes, has developed a stylish and fast commuter, the Vibe.
More and more bike buyers are after an electric bike that doesn't resemble an obvious e-Bike, and here is the perfect example of this.
Many performance-based parts and geometry from electric MTBs and road bikes are found on this bike. For example, Orbea chose the 250W Ebikemotion mid-drive motor to its quality, longevity, and lightweight design.
Orbea has managed to develop a bike that's excellent at its price range, although bear in mind that it has an internal battery that you can't remove.
---
8

. Aventon Level.2
Looks like a beast, and rides like a powerhouse
MSRP: $1,799
8-speed rear derailleur
Hydraulic disc brakes
672 Wh integrated battery
Here's a solid hybrid ebike by Aventon that features a 750W rear hub motor and a high-capacity 672 Wh battery.
Aventon is a well-established brand in the direct-to-consumer market, and the Level.2 is one of their top-selling ebikes.
This ebike boasts an excellent accessory package with front and rear fenders, front and rear lights with turn signals and brake lights, a kickstand, front suspension, and more.
It boasts a 28 mph top speed on PAS and 20 mph top speed on the throttle, along with a torque sensor and 5 PAS levels to choose from.
All things considered, the Aventon Level.2 is one of the best hybrid ebikes out there, especially considering the $1,799 price tag.
---
9

. Charge City

A modern-looking electric hybrid bike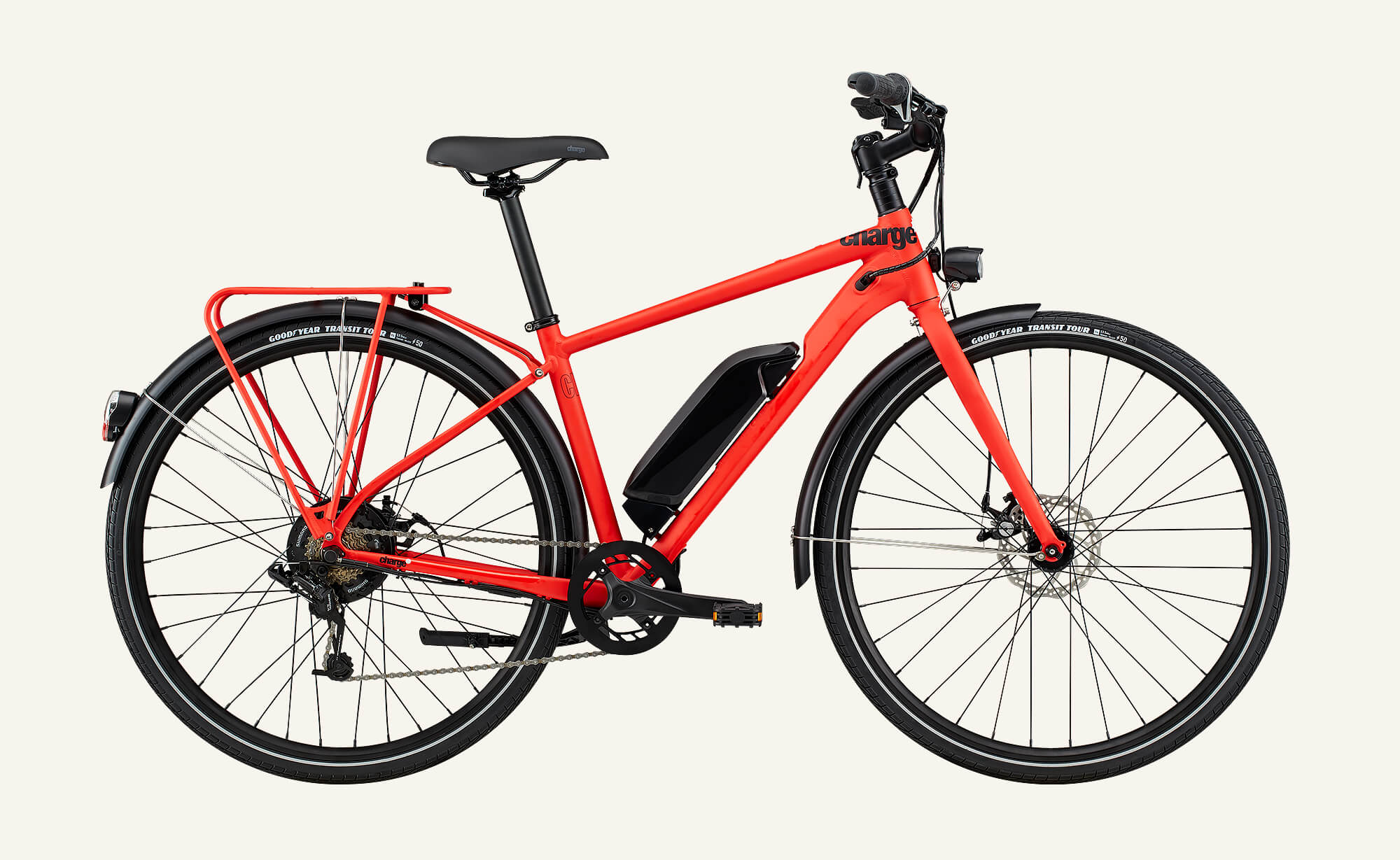 MSRP: $1,799
The Charge City ebike has a classical hybrid look, equipped with essential e-bike and e-hybrid components.
This model falls into the mid-level category with a 7-speed drivetrain, mechanical disc brakes, and a 250W rear hub motor.
You'll also find 700x40c tires, fenders, a rear rack, and lights that are an excellent addition to any urban e-bike.
The electronics are also well-made, including a 418 Wh battery that promises 50 miles of range and a motor that delivers a 20 mph top speed on PAS and on the throttle.
We would love to see more bikes in this price range soon, and the Charge City model has helped set the bar for the category.
---
10

. Cannondale – Quick Neo SL 1 Remixte

One of the best sporty electric commuter bikes
MSRP: $2,950
REI.com
The Quick Neo SL 1 Remixte is a mid-level e-hybrid with a sleek, integrated finish.
Cannondale's Neo series has a selection of electric bikes, and the Quick SL 1 is one of the best value choices in the range. After all, this is a city hybrid electric bike with some excellent features.
Most notably, there are integrated LED lights, fenders, hydraulic disc brakes, and a Shimano 10-speed drivetrain. The price of this bike is higher because of the lightweight MAHLE ebikemotion X35 250W motor with 40Nm of torque and the Quick Neo SL carbon fork, which reduces any vibrations from the road.
Finally, the bike's overall weight is just 34 pounds, making it one of the lightest eBikes on this list!
---
11

. Marin – Sausalito E1

A sporty and versatile choice
MSRP: $2,479
Jenson USA
Marin is known to produce a large number of bikes with a specialization in off-roaders. Their bikes sell worldwide because of their high-quality design and durability.
The Sausalito demonstrates Marin quality perfectly. It is powered by a Shimano STEPS 418Wh battery, an E5000 mid-drive motor, and many trusted components.
Tektro HD-M275 Hydraulic disc brakes, 650b x 47c tires, and a Shimano Deore 10-speed drivetrain ensure this bike is fast at accelerating and braking and comfortable on every commute.
Buy from JensonUSA.com Buy on GovVelo.com
How to Choose an Electric Hybrid Bike?
---
Electric Hybrid Bikes Must-Haves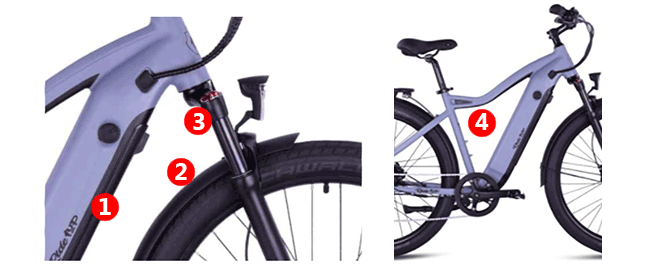 1. A battery – either integrated or removable. Removable batteries are more convenient.
2. Fenders for all-weather commuting. Adding them later isn't expensive, but most models come equipped with front and rear fenders to keep you and the bike dry.
3. Front suspension – It's always a nice plus as it improves comfort and lets you ride off-road.
4. A comfortable and upright riding position.
Hub vs. mid-drive motor?
Mid-drive electric hybrids are typical on above-average e-bikes. Mid-drive bikes have a better weight-to-power ratio and have more expensive and durable parts. On the other hand, hub-drive electric hybrids are usually cheaper and easier to make. However, changing the rear wheel for punctures can be slightly complicated.
Cheap vs. mid-range electric bikes
Cheap electric bike motors are not as smooth, which means you can sometimes notice a jerky sensation when pedaling. Also, the set of features is not as durable in the long run. On the other hand, mid-range bikes are equipped with longevity in mind. In addition, the quality of components is better, making them more durable and resulting in a way better riding experience.