Best Fitness Bikes 2021
Biking is a great way to meet your fitness goals and improve your health overall. If you're interested in a fun way to burn calories while also getting around town, a fitness bike is the perfect type of bicycle for you.
Imagine a cross between a sleek road bike and a more utilitarian urban bike, that's a fitness bike (also known as a hybrid, flat-bar road bike or performance hybrid bike).
It has the classic advantages of a road bike; it's fast, lightweight, and fun to ride. However, fitness bikes are also optimized for comfort and have a geometry that allows you to ride more easily in an upright position. Fitness bikes are good for those who want to have a fun bike to get around town but don't necessarily need the speed-oriented features of a road bike. They work really for commuters looking for a reliable bike that is fast and also easy to ride. They are also great for folks who want to exercise on a bike but don't want to be hunched over as they ride.
---
Table of Contents
Fitness Bike 101
FAQ
↓
---
Fitness Bikes 101
Fitness vs Stationary Bikes
Stationary bikes are machines that simulate the experience of riding a bicycle from the comfort of your own home. Also known as "exercise bikes," they can be used to get and stay fit. Included below are a few recommendations of good stationary bicycles for those looking to get a workout from home.
What to Expect From a Fitness Bike?
Flat bar – A flat handlebar (as opposed to drop bars) gives you a

more upright position for comfort

.
700c wheels – Road bike style wheels make for

fast and fun riding

on city streets.
Disc brakes – Modern brakes offer

more control

and

precision

, especially in wet conditions.
Wide gearing – Enough gear range to handle varied inclines as well as flats and descents.
A lightweight frame – A road bike style frame usually with a rigid fork, optimized for city riding.
---
Best Hybrid Fitness Bikes for Men & Women
---
Cannondale – Treadwell 3 LTD
Cannondale fitness bike, funky and reliable 
Price: $850
REI Co-op
Cannondale is known for engineering its bikes in new and innovative ways.
The Treadwell 3 doesn't have any revolutionary components, but it is a new and interesting approach to hybrid bikes that ride superbly. Things like the BMX-style riser bars and a quilted saddle are both stylish and extra comfortable. It even comes with a WiFi-enabled sensor that can track your ride and tell you when tune-ups are in order.
With a thoughtful approach to design aesthetics, the Treadwell 3 LTD from Cannondale is a winning bike that puts a big emphasis on both fun and durability.
27.5-inch wheels
7-speed Shimano shifter
Mechanical disc brakes
Weight: 27 lbs
REI.com/
---
Specialized – Sirrus X 4.0
Best Specialized hybrid fitness bike – 100% gravel ready!
Price: $1,450
Mikes' Bikes
The Specialized Sirrus X 4.0 is a performance hybrid bike that can easily take on some gravel when city riding isn't enough.
Specialized decided to kit this bike out with one of their Future Shock stems, which gives riders 20mm of suspension on the handlebars and helps keep things under control on bumpy rides. Other parts of this bike have been optimized for comfort, including the ergonomic saddle and grips. The carbon fork and aluminum frame are lightweight and definitely inspire speed in its rider. For the drivetrain, Specialized fixed the Sirrus X 4.0 up with a 1×11 Shimano Deore groupset, which makes the bike even lighter.
With so many great features that allow you to do more and go further, the Specialized Sirrus X 4.0 is a fitness bike that is fit to take you on any adventure.
Carbon Monocoque 12x100mm fork
Shimano hydraulic disc brakes
11-speed Shimano shifter
700x38mm tires
Mikes' bikes
---
Tomasso – La Forma
One of the best value hybrid bikes on the market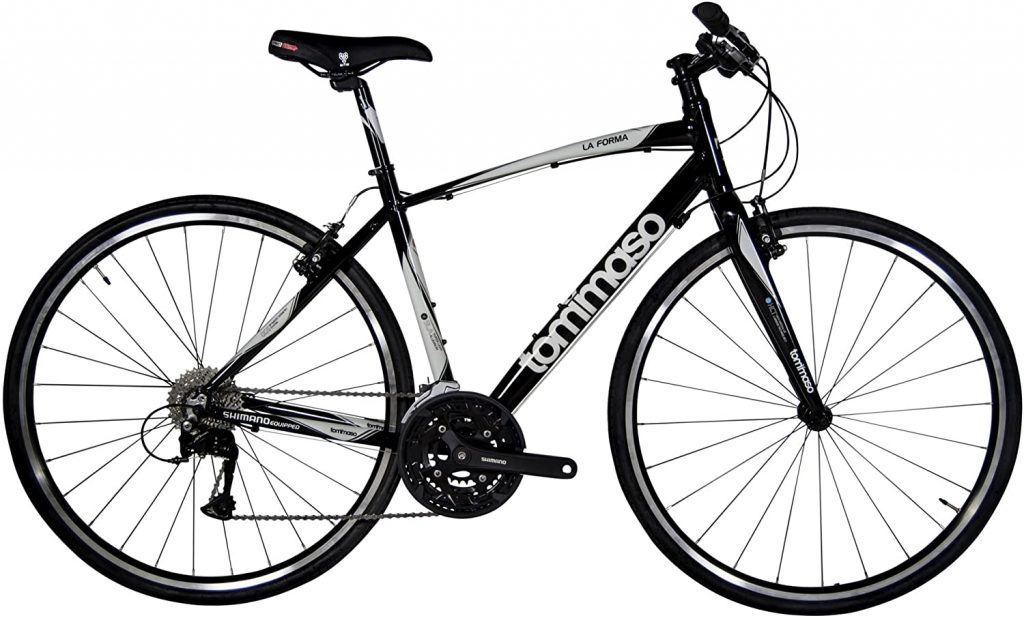 Price: $875
Tommaso Cycling
The Tomasso La Forma has a decent variety of features at a value price, making it a great pick for those who want a fitness bike without too much investment.
It comes with a 3×9 Shimano Acera groupset, providing a wide range of gears and durable shifting performance. This bike uses rim brakes, which are easier to work on at home, and also lighter than most disc brakes. With a carbon fork, it feels a bit more like a road bike than many other hybrid bikes. The La Forma is made with classic style components that are time tested for strength and reliability. It's a great value bike that's built to last.
Weight: 25.1 lbs
3×9 speeds
Tektro RX1 V-brakes
700x32c Kenda tires
Tommaso Cycling
---
Specialized – Sirrus 3.0
Best fitness bike under $1,000
Price: $999
Mikes' Bikes
If the Sirrus X 4.0 is the most gravel-ready fitness bike available, then the Sirrus 3.0 is the city version, offering a more upright geometry with less performance-oriented components.
It shares the same ergonomic saddle and handlebar grips as the X 4.0 and has a 1×10 Deore transmission (one less gear than the X 4.0). The Tektro hydraulic disc brakes are an awesome feature, they add to the quality of the ride-feel, as well as provide extra insurance in situations where you need to stop quickly.
The Specialized Sirrus 3.0 is one of the highest quality fitness bikes for under 1000 USD available today.
Carbon fork
700x32c tires
9-speed microSHIFT shifter
Hydraulic disc brakes
Mikes' bikes
---
Co-op Cycles – CTY 1.1
Best value fitness hybrid bike
Price: $599
REI Co-op
The CTY 1.1 is REI's flagship fitness bike, equipped with all the right components to keep you going for years to come.
The aluminum frame has mounts for both racks and fenders and has the ability to run extra wide 700c tires for added vibration dampening. Small touches like a Selle Shadow Plus saddle and ergonomic handlebar grips make the CTY 1.1 stand out, both in terms of style and riding comfort.
REI offers free in-store tune-ups for a year after purchase, making it a great option for beginning commuters who want extra confidence on their way to the office.
Wheel size: 700c
Number of gears: 24
Mechanical disc brakes
Weight: 27.8 lbs
REI Co-op
---
Trek – FX 1
Best fitness bike under $500
Price: $500
Trek bikes (Available in-store only)
The FX 1 is an entry-level fitness bike from Trek, one of the largest bike brands on the planet.
Trek equipped the FX 1 with a host of parts from their satellite brand Bontrager, and it allowed them to make an entry-level bike with an unbeatable price. A 3×7 Shimano drivetrain keeps the bike capable on many different grades. You can track your rides via the Bontrager Duotrap WiFi-enabled sensor, a deluxe feature on such an inexpensive bike.
The FX 1 comes in both rim and disc brake versions, with a slightly higher price tag for the disc. As far as budget fitness bikes go, nothing comes close to the FX 1.
Alpha Gold aluminum frame
700x35c tires
7-speed Shimano Altus shifter
Weight: 27.7 lbs
Trek bikes
---
Co-op Cycles – CTY 2.1 Step-Through
Best women's fitness bike
Price: $799
REI Co-op
Are you bummed out that most fitness bikes don't allow you to ride wearing a skirt or dress with ease? Do you find most step-through bikes to be too basic in terms of technical performance features?
The Co-op Cycles CTY 2.1 Step-Through is the bike for you. It has a low crossbar, but it also has a 63mm travel fork and hydraulic disc brakes. It comes with REI's 1-year unlimited tune-up guarantee. For women wanting an extra capable step-through that can commute like a champion, the CTY 2.1 will have you back on the road and even through park trails.
Wheels: 700c
Number of gears: 24
Aluminum frame
Hydraulic disc brakes
REI Co-op
---
Best Fitness Bikes for Home
You might be looking for a stationary bike to maintain your fitness, after all, that is their main purpose. Indoor bikes are great for anyone living in a colder climate, where going outside to bike involves unpleasant precipitation and it can be very difficult to stay motivated. With a stationary bike, you can get a full session from home where you're able to watch TV or listen to the radio.
---
Schwinn – 170 Upright Bike
One of the best Schwinn exercise bikes available 
Check Price at Amazon.com
A best-in-class home exercise bike, the Schwinn 170 is fully programmable stationary with a wide variety of functions to keep your workouts varied and interesting.
You can set calorie goals and connect to the most popular fitness apps available to track your progress. A USB port for charging phones and tablets makes it easy to watch Netflix during a ride, and the bike even comes with an audio jack and built-in speakers. You can turn the fan on mid-workout to cool off.
The Schwinn 170 is the Cadillac of stationary bikes, with an impressive list of features and exceptional quality.
Weight: 58.4 lbs
Dimensions L 41.3″ x W 21.4″ x H 55.6″
Telemetric heart rate sensors
DualTrack blue backlit LCD screen display with 29 workout programs
---
YOSUDA – Indoor Stationary Cycling Bike YB001
Best budget stationary exercise bike
Price: $338
Yosuda bikes
A more budget-friendly option from the Amazon marketplace, this YOSUDA stationary utilizes a simple yet effective design that allows for a range of intensities.
The 45-pound flywheel can be changed to different levels of resistance from an adjustable clamping mechanism. The belt drive makes this bike quiet enough to be used without alerting everyone at home. A simple LCD monitor displays your stats, and you can put your phone or tablet on the bracket below.
The YOSUDA sets the benchmark for a simple and effective stationary bike at an attractive price.
Weight: 40 lbs
Bike dimensions LxWxH:L 44.5 x W 21.7x H 45.3″
Digital monitor and iPad holder
Transportation wheels
Adjustable resistance
Yosuda bikes
---
FAQ
What is the difference between a fitness bike and a hybrid bike?
In theory, fitness bikes are lighter while hybrids are more focused on comfort. In reality, the terms are often used interchangeably, and different brands market different bikes as either hybrid/fitness at their own discretion. We did cover the best comfort hybrids in a separate article, which you can read here.
Is a hybrid bike good for fitness?
Hybrid bikes are definitely a great way to stay in shape. Many people find cycling to be more enjoyable than going to a gym or running, and are therefore more motivated to do it on a regular basis.
Can you lose belly fat by riding a bike?
The short answer is yes. Aerobic exercise is the best way to burn off fat from around the belly and other areas of the body. Check out our guide on cycling nutrition to make sure you're getting the most out of your workouts.
Does biking slim your legs?
In the long run, yes. There may be a period where your legs don't appear much slimmer because you are building up the muscles underneath so it is getting bigger at the same time that it's shrinking. Over time, your legs will appear more toned and slim.
Are 30 minutes on a stationary bike enough?
30 minutes of daily exercise is a great goal for weight loss or maintaining your fitness level. Over time, it is helpful to vary your exercise routines to activate different muscles. This can be as simple as switching up your route (or program if using a stationary bike).
---
RELATED Reviews
Wahoo Fitness Product Overview