Co-op Cycles CTY Series Review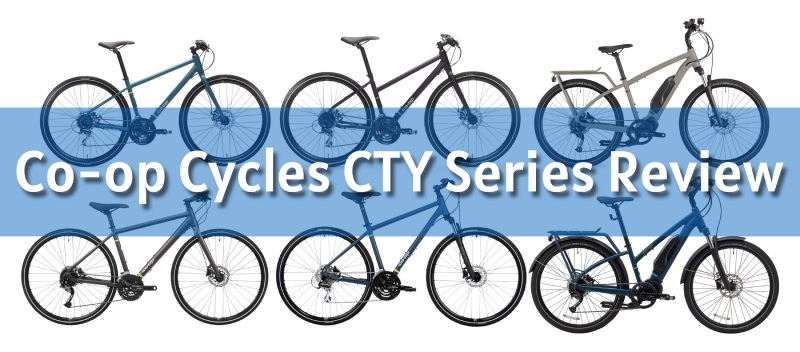 Online bicycle retailer REI has developed its own line of products under the brand name Co-op Cycles. Co-op bikes cover all genres of cycling from road bikes to mountain bikes and everything in between. The range includes bikes for all skill levels from amateur to pro and age groups from kids bikes to adults.
With its many years of experience in the cycling world, REI has managed to assemble a list of high-quality yet affordable bikes that have garnered excellent reviews from customers. Co-op bikes utilize components from top manufacturers such as Shimano, SRAM, SR Suntour, Tektro, Maxxis, and Alexrims.
CTY is the name given to the Co-op Cycles hybrid range of bikes for town and city use. They typically feature straight handlebars, medium-size wheels, and frames to support pannier racks and fenders.
Co-op Cycles CTY Model Range
| | | | | | | | |
| --- | --- | --- | --- | --- | --- | --- | --- |
| MODEL | MSRP $ | Gears | Wheels | Brakes | Frame | Fork Travel | Drivetrain |
| CTY 1.1 | 599 | 3 x 8 | 700c | Mechanical | Alu | x | Chain |
| CTY 1.2 | 999 | 3 x 9 | 700c | Hydraulic | Alu | x | Chain |
| CTY 1.3 | 1,349 | 1 x 8 | 700c | Hydraulic | Alu | x | Belt |
| CTY 2.1 | 799 | 3 x 8 | 700c | Hydraulic | Alu | 63mm | Chain |
| CTY 2.2 | 1,199 | 3 x 8 | 700c | Hydraulic | Alu | 63mm | Chain |
| CTY 3.1 | 1,099 | 1 x 11 | 650b | Hydraulic | Steel | x | Chain |
| CTY e2.1 | 1,799 | 1 x 9 | 650b | Hydraulic | Alu | 75mm | Chain |
| CTY e2.2 | 2,199 | 1 x 9 | 650b | Hydraulic | Alu | 75mm | Chain |
| CTY REV | 349 | 3 x 7 | 24″ | Rim | Alu | x | Chain |
The CTY range of bikes is best suited for city commuters, short distance tours, and weekend recreational rides
---
Best Picks
REI's Best Seller: CTY 1.1
Best Women's Hybrid Bikes: CTY 1.1 and 2.1
The Most Advanced (With Belt Ride): CTY 1.3
Most Durable Men's Hybrid: CTY 3.1
---
Co-op Cycles CTY 1.1
Best-seller of the CTY range

Price: $599
REI.com
6061 Aluminum frame. This bike has a double-butted 6061 aluminum frame that is lightweight and stiff to provide a smooth ride. It includes full fender and rack mounts and a lowered crossbar for easy mounting.
24 gears. The Co-op CTY 1.1 Step-Through bike has a 3×8 Shimano drivetrain with a mix of Tourney, Acera, and Altus components. Together they provide an enjoyable riding experience.
Mechanical disc brakes. Braking on the CTY 1.1 is provided by Tektro M300 mechanical disc brakes. They offer good braking power in both wet and dry weather.
Kendra tires. The CTY 1.1 hybrid is fitted with 700×40 Kendra K-1024 tires with a protective shield. The larger tires swallow up bumps to provide a smooth ride over cobblestones and rough terrain.
The Cons
Although this is a good beginner bike for short trips around town but lacks quality components for longer rides. Yes, you can use it for bikepacking, but the parts might not be made of the highest grade out there.
Unisex S / M / L / XL
Step-Through XS / S / M
---
Co-op Cycles CTY 1.2
Price: $999
REI.com
Shimano Alivio 3×9 Drivetrain. This city bike is a significant upgrade from the CTY 1.1 with an improved Shimano Alivio 27-speed drivetrain. The wide range of gears makes hills a breeze and gives the rider speed over flat sections.
Aluminum Frame. The strong 6061 aluminum frame includes fender and rack mounts to carry additional weight and handle heavy riding. It even includes neat internal routing for the rear brake cable for a neat finish.
Shimano Disc Brakes. Shimano's M315 hydraulic disc brakes ensure safe braking in any weather conditions. Hydraulic disc bikes make a nice touch over mechanical brakes on a bike of this price and definitely increase its value for money.
Wheels. The 700c Weinmann rims are fitted with Kenda Kwick Trax 700 x 35 tires which give nice grip and decent puncture protection. It's a smaller choice of tire size for a hybrid bike but works well and can be easily upgraded to 700 x 40.
Low Light Safety. For night riding, the CTY 2.1 features reflective decals and tire sidewalls for easy visibility in low-light conditions.
The Cons
While the frame is nice and strong, the paint chips very easily which results in a worn look fairly quickly. Riders will need to be careful what they lean the bike against.
---
Co-op Cycles CTY 1.3
Price: $1,349
REI.com
8-speed Belt Drive Shimano hub. The CTY 1.3 is a significant step up in quality and features a modern belt-powered 8-speed Shimano Alfine drivetrain with an internal hub. This significantly reduces the cleaning and maintenance required while ensuring your components last longer.
Hydraulic disc brakes. Shimano's M315 hydraulic disc brakes give you great stopping power on this REI hybrid bike. The high-quality brakes make a huge difference from mechanical or caliper brakes, especially when riding in wet weather.
Kenda tires. Kenda provides a safe and comfortable ride on the CTY 1.3, with their large 700×35 Kwik Trax tire. The tires a perfect for urban riding, with medium tread, reflective sidewalls, and extra puncture protection.
Lightweight aluminum frame. The 6061 aluminum frame on the CTY 1.3 is both durable and lightweight, ensuring an enjoyable ride and longterm usage. The frame includes mounts for fenders and pannier racks should you wish to carry luggage or go touring.
Selle Royal saddle. This extra soft gel saddle from popular manufacturer Salle Royal will ensure a comfortable ride over long distances.
The Cons
It would be nice to see a carbon fork on a bike in this price range.
---
Co-op Cycles CTY 2.1
360-degrees reflectivity, smooth suspension, and precise stopping!
Step-through and standard unisex frame available!
Price: $799
REI.com
SR Suntour Nex HLO. This upgrade from the CTY 1.1 Step-Through is a bit pricier and includes an SR Suntour front suspension fork. While the addition is nice, it might leave you asking: do I need front suspension on my hybrid bike? Possibly, but only if you're planning to tackle rougher terrain than the city streets. Otherwise, it just adds unnecessary weight.
Shimano drivetrain. As with the CTY 1.1, the drivetrain on the 2.1 is made up of Shimano components, including Altus shifters, an 8-speed cassette, and an Acera derailleur. There is also a triple crankset with an FD-M191 front derailleur, making up 24 gears in total.
Kenda Kick-Back tires. The extra-large 700×40 Kenda Kick-Back tires will let you sail smoothly over pavement cracks and bumpy roads. They also include puncture-proof lining and reflective sidewalls for extra protection.
Shimano M315 disc brakes. For excellent stopping power, the CTY 1.2 features Shimano's M315 hydraulic disc brakes. They are a significant improvement on the 1.1's mechanical brakes and certainly make the higher price tag more justified.
The Cons
The front suspension fork adds weight and reduces riding ability on tarmac so you should really only get this bike if you intend to cycle off-road quite often.
---
Co-op Cycles CTY 2.2
Price: $1,199
REI.com
27-Speed Shimano Alivio groupset. The Co-op Cycles CTY 2.2 is a serious hybrid bike with some mountain bike features that make it ideal for long-distance touring over varied terrain. Not least of all, it has a massive 27 gears so you'll have no trouble handling steep hills or long flats alike. Shimano's Alivio gearing system is a strong and reliable mid-range drivetrain that is popular amongst mountain bikers.
SR Suntour Front Suspension. To complement its off-road features, the CTY 2.2 includes front suspension so you can better tackle rough trails. The SR Suntour NRX fork gives a decent 63mm of travel and includes a lockout.
Kenda Flintridge tires. These thick 700×40 Kenda Flintridge tires will swallow up any vibrations and provide extra grip and puncture protection in wet weather.
Shimano Hydraulic disc brakes. The full Shimano groupset is finished off with M365 hydraulic disc brakes that are easy to clean and provide excellent stopping power. They incorporate one-way bleeding and have internal routing for a cleaner appearance on the bike.
Aluminum 6061 frame. The aluminum 6061 frame features rack and fender mounts for riders planning to do some touring in all weather conditions. The lightweight but strong frame can hold up to 300 lbs (136kg) in total weight.
The Cons
The CTY 2.2 is a bit expensive if you just plan to commute around town or go to work and back. However, it's good value-for-money if you intend to do longer rides in the countryside with luggage
---
Co-op Cycles CTY 3.1
Price: $1,299
REI.com
Steel Frame. The Co-op Cycles CTY 3.1 is a bit of a change from the rest of the CTY range. Most notably, it features a Chromoly steel frame that hardcore traditionalists will appreciate. Steel frames have long been lauded for their smoother ride when compared to the more modern and stiff aluminum frames.
SRAM NX 11-speed drivetrain. Another key change is the move to SRAM for gearing. The CTY 3.1 features an 11-speed SRAM NX system with a single front ring and 11-42t rear cassette.
WTB STP i23 650b tires. For the CTY 3.1, REI has chosen to go with 650b size tires, a medium tire size that falls between 700c road tires and 26″ MTB tires. These 27.5″ tires are 47mm wide, giving the stability and traction of 700c wheels but with better comfort and acceleration.
Hydraulic Brakes. The 3.1 comes with Shimano M315 hydraulic disc brakes, a strong and reliable choice that won't let you down in any weather conditions.
The Cons
With only 11-speeds, some weaker riders might find this bike a struggle when tackling hills, especially if carrying luggage.
---
Co-op Cycles CTY e2.1 – NEW!
Price: $1,799
REI.com
Co-op Cycles has released their first electric bike and it's great to see that they've used a bunch of super reliable components you'd expect to see on a good-quality electric bike. Equipped with a reinforced eBike chain, the 250w mid-drive engine power assists up to 40Nm of torque which is enough for both flat and somewhat hilly terrains.
The bike is designed for urban commuters, and it can easily ride through parks, cobblestone streets, and mild gravel roads as well.
Another essential factor:
A kickstand you'd expect from a 50lb bike
Front and rear lights
Rear rack
Unique look
Lockable forks
---
Co-op Cycles CTY e2.2 – NEW!
Price: $2,199
REI.com
This is an upgraded version of 2.1, check out the main difference between CTY e2.1 and CTY e2.2: Co-op CTY E-Bikes Comparison
60Nm torque
Charge time: 4 hours
Better battery
Comes with fenders
---
Co-op Cycles CTY REV – Kids'
Price: $349
REI.com
See all the kids bikes: Co-op Cycles REV series overview
21-speed Shimano drivetrain. This specialized Co-op Cycles kids' bike gives lots of gearing options so young riders can easily tackle hills without getting too tired. The Shimano Tourney 21-speed drivetrain has three front rings and a 7-speed rear cassette.
24″ wheels. The 24″ wheels and tires are the perfect size for young children. The CTY KIDS has 24″ x 1.5″ Kenda Cosmos tires for safe and comfortable riding. The thick tires offer good grip, comfort, and puncture protection.
Weight. At only 26lbs (11.7kg) the CTY Kids is lightweight enough for young children to handle without trouble. It has a strong aluminum frame that can take the extra abuse that could be expected from a young rider.
Rim brakes. Braking is provided by Logan linear-pull V-brakes. They don't have the instant stopping power of disc brakes but are lighter and easier to maintain and repair. Young riders will have no trouble stopping efficiently with them.
The Cons
The CTY Kids bike does have some lower-quality parts but they are appropriate for the price.