Best Hybrid Bikes Under $1,000 in 2023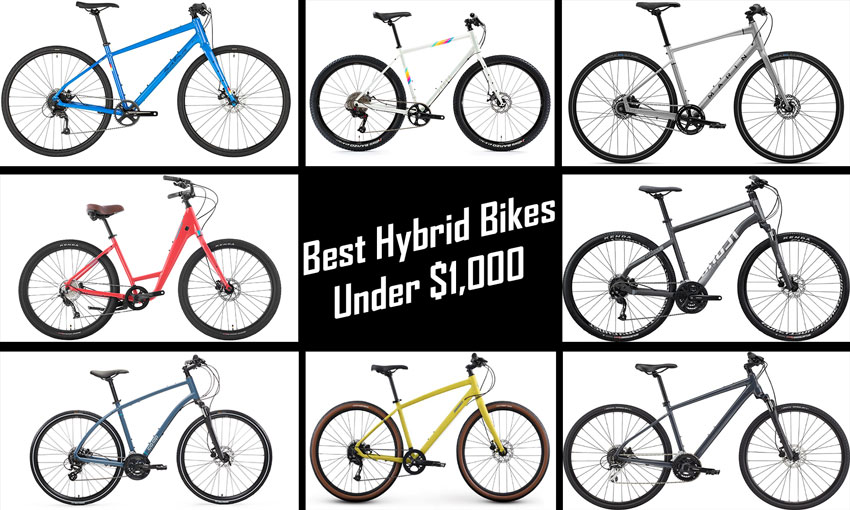 The hybrid category blends a mix of mountain and road bike characteristics, resulting in a do-it-all bicycle style.
Because hybrids lean toward utility over specialization in competition and sport, they are typically more affordable than the average road or mountain bike. As a result, you can find some excellent hybrids below the $1,000 mark.
Another great feature of this category is the wide range of designs, some favoring off-road use and others optimized for speed and agility.
This article will highlight the must-have features for hybrids at this price range and cover twelve of the best hybrid bikes under $1,000 (with an additional e-hybrid as a bonus!).
Must-Have Features for Best Hybrid Bikes Under $1,000
---
Hybrid bikes are the most common style of bike you'll see in urban environments. Their versatility makes them an excellent option for leisurely mixed-terrain spins, commuting, light fitness riding, and general urban transportation. Now, let's look at the must-have and some nice-to-have hybrid features.
Shared Hybrid Features
One of the defining features of the hybrid category is flat handlebars. Most hybrids use a mountain bike-style riser bar or flat handlebar that's slightly narrower to suit urban riding. However, some manufacturers opt for a swept-back handlebar to create a more relaxed ride position.
The other key characteristic of hybrid bikes is the relatively upright geometry. This position means hybrids are comfortable to ride for cyclists of all ages with a normal range of motion.
Disc brakes are another essential feature of modern bikes in this category, and all the best hybrid bikes under $1,000 in 2023 should have them. Likewise, these bikes typically have broad gearing that allows you to tackle a range of gradients.
All hybrid bikes use 650b or 700c wheels. The smaller-diameter wheels are better for riders who ride a lot on gravel or light trails and prefer comfort over speed for urban riding. In contrast, 700c wheels with narrower tires aren't as comfortable or grippy.
A final important feature to look out for is compatibility with a rear rack, fenders, and accessories. Although most hybrids don't automatically have these components, many riders want the option to add them.
Bonus Hybrid Features

Depending on your riding style, you can look for some of the following extra features on your next hybrid.
Off-road-optimized hybrids sometimes use fork suspension to increase stability and comfort on bumpy roads, gravel, and light mountain trails. Suspension for a hybrid usually has 50 to 70mm of travel but adds a lot of weight. Alternatively, you can look for a steel or carbon fiber fork to improve comfort (carbon forks start above $1,000).
Belt drives and suspension forks are not a must on hybrid bikes under $1,000, but they are a nice addition if you're looking for maximum comfort and minimal maintenance.
A belt drive with internal gearing is another excellent feature to look out for on hybrids. This drivetrain design lasts much longer than a standard chain drive. In addition, they require almost no maintenance, are silent, and stay clean. For this reason, many commuters and urban riders appreciate belt drive bikes.
Commuters may also want to choose a hybrid with a pannier rack and pre-installed fenders. Plenty of city hybrids have these components to make urban riding more convenient. Finally, puncture-resistant tires are invaluable for urban riders as they significantly reduce the number of flats you'll experience.
Best Hybrid Bikes Under $1,000 in 2023
---
Marin Presidio 2
The Marin Bikes Presidio 2 is an entry-level hybrid bike with some of the best components in the sub-$1,000 range.
This bike has Marin's Series 2 Commute 6061 aluminum frameset with integrated cabling. Like many of their bikes, the Presidio 2 has plenty of mounts for adding fenders, a rear rack, and accessories, perfect for commuters.
The most impressive feature of this bike is the groupset. It's a full Shimano setup with a 7-speed Nexus internally geared hub and Shimano flat-mount hydraulic disc brakes. This drivetrain is low maintenance and reliable, and the brakes are plenty powerful. The only downside is the limited gear range (244%) and the clunky twist grip shifters.
The tire choice by Marin is perfect for quick city rides. You have Vee Tire Co. Baldy 32mm tires with puncture protection on a set of Marin's alloy double-wall rims. Finally, the grips and saddle on the Presidio are also comfortable for a bike of this price.
Overall, this is one of the best hybrid bikes under $1,000. It's fast, comfortable, and has all the versatility you need for urban riding.
Buy on JensonUSA.com Buy on GovVelo.com
---
Pure Cycles Urban Commuter
The Pure Cycles Urban Commuter is a cheap hybrid bike that would make the ideal run around for commuting and urban transport.
This steel frame and upright position are an integral part of the comfort-focused appeal of this hybrid. In addition, they make it easy to see what's happening in the road ahead.
In addition to the frame, you get fast-rolling WTB Slick Comp 32mm tires, a plush WTB Comfort saddle, and swept-back handlebars.
The Urban Commuter is a solid option as a city bike as it has mounts for accessories, a rack, and fenders. The groupset comprises Tektro M280 mechanical disc brakes and a SRAM X4 8-speed drivetrain with a 42t chainring and an 11-32t cassette.
Consider the Pure Cycles Urban Commuter if you want a comfortable and dependable hybrid bike.
---
Cannondale Treadwell 2 Remixte
Cannondale is one of the industry's leading brands, and the Treadwell 2 Remixte is their version of a hybrid bike designed for comfort and functionality.
This affordable bike has Easy-Ride geometry that allows you to reach the handlebars and get a foot down when stopped. To support these features, Cannondale chose wide 47mm tires on 650b wheels, allowing you to tackle gravel and keep the pace high on the road.
The groupset chosen is a simple MicroSHIFT Avent 9-speed setup. This drivetrain pairs with Tektro hydraulic disc brakes with 160/140mm rotors for all-weather stopping power, which is impressive for a sub-$1,000 bike.
Other unique features of this Cannondale hybrid bike include the integrated wheel sensor that tracks your ride metrics, Straight Shot internal cable routing, and frame scratch protection for locking your bike at a rack.
Choose the Treadwell 2 Remixte hybrid if you want comfort, functionality, and reliability.
---
Tommaso Forza
The Tommaso Forza is another solid option for commuters who need a versatile yet fast hybrid for zipping around the city and local bike paths. This is one of the best hybrid road bikes under $1000.
Tommaso's frames are known for being durable and lightweight. This particular frame is compatible with accessories to make commuting easier. In addition, the aluminum material is manipulated for a superior strength-to-weight ratio.
The Kenda 32mm tires, Avid mechanical disc brakes, and shock-absorbent steel fork also mean you can tackle gravel paths on mixed-terrain commutes.
The drivetrain on the Forza is a full Shimano Tourney 3×7-speed setup with a 48/38/28t chainset and a 12-32t cassette. This ratio provides plenty of gearing for climbs but requires more maintenance and is heavy.
Overall, Tommaso's Forza is a reliable bike with components from reputable manufacturers. Add it to your shortlist if you want a fast commuter with a lifetime guarantee on the frame!
Buy on TommasoCycling.com Check Price On Amazon.com
---
Schwinn Discover
The Schwinn Discover is the cheapest hybrid bike on this list of the best hybrid bikes under $1,000 for 2023.
Despite the low price and budget components, this bike has a smooth and comfortable ride quality. To achieve this, Schwinn fitted it with fork suspension, a plush suspension saddle, an upright riding position, and a swept-back handlebar.
In addition, the Discover is ready for use the moment it arrives at your doorstep. The final assembly takes just a few short minutes, and the bike has a rear rack, a kickstand, and fenders as part of the package.
The drivetrain is a Shimano 3×7 speed with RevoShift twist shifters. The brakes are simple v-brakes that are fine for dry weather riding but don't perform well in the rain. Additionally, the Discover only comes in one size that fits a limited group of riders between 5'5″ and 5'9″.
Overall, the Discover is a comfortable and reliable hybrid with everything you need for urban riding. If you have a limited budget and fit the height range, add it to your shortlist.
---
Priority Classic Plus – Gotham Edition
The Priority Bicycles Classic Plus Gotham Edition is a sleek, affordable commuter hybrid and the only belt-drive bike on this list.
The Classic Plus uses a premium Gates Carbon belt drive and a Shimano Nexus 3-speed internally geared hub. This is an almost maintenance-free combination that runs smoothly and quietly. In addition, it doesn't require any messy grease for lubrication.
Another great feature of this bike is its low weight (26bs), with just a kickstand and bottle cage for accessories. However, if needed, the minimalist aluminum alloy frame is compatible with extra components like a rack and fenders.
Finally, the Classic Plus by Priority has a relatively upright and comfortable riding position and narrow puncture-resistant tires that allow you to ride fast without worrying about flats.
All in all, this is an excellent value hybrid with plenty to offer to the convenience-minded urban rider.
---
Co-op Cycles CTY 2.1
The new Co-op Cycles CTY 2.1 is among the best men's hybrid bikes under $1000. This model is a welcome upgrade to the older model while maintaining the same versatile spirit.
For 2023, Co-op changed to a Shimano Altus 2×9-speed drivetrain instead of a 3×8-speed setup. This change reduces gearing complexity and is lighter and easier to maintain. For gearing, you have a 46/30t chainset and an 11-34t cassette, providing plenty of climbing range.
The frame is a standard aluminum alloy with an impressive payload capacity of 300lbs. Riders can take advantage of this by adding a rack and fenders and loading up for a light bikepacking or touring adventure. In addition, the 40mm Kenda Kick-Back tires ensure you can tackle a variety of surfaces, including gravel and forest trails.
The CTY 2.1 also has a 63mm Suntour suspension, Selle Royal Shadow Plus gel saddle, riser handlebar, and ergonomic grips. These components combine to make this bike comfortable for mixed-terrain riding.
Overall, the CTY 2.1 is a competitively priced hybrid bike that is reliable and versatile.
Buy on REI.com Buy Step-Through Model
---
Cannondale Quick Disc 4
The Cannondale Quick Disc 4 is a cheap hybrid with some useful features for the urban rider.
The Quick Disc 4 performs well on bumpy roads thanks to frame-integrated SAVE micro-suspension. The Schwalbe Spicer 35mm tires roll fast and have K-Shield puncture-protection to make your life more convenient.
The drivetrain is a microSHIFT Advent 9-speed, providing plenty of gearing for climbs and decent shifting performance. Tektro hydraulic disc brakes complete the groupset with all-weather stopping power.
The SmartForm C3 aluminum frame is compatible with fenders and a rear rack, allowing you to turn this bike into a commuter. In addition, the frame has sleek internal cable routing to keep things tidy.
Another impressive feature of this bike is the wheel sensor that connects to the Cannondale app to provide you with accurate metrics like speed, route, distance traveled, and service reminders.
Don't look past this versatile Cannondale bike if you want a big-name brand with an affordable price tag.
---
State Bicycle Co. 4130 All-Road
The State Bicycle Co. 4130 All-Road is a steel hybrid bike with gravel biking DNA, perfect for those who like to ride on and off-road.
The 4130 All-Road has a Chromoly steel frame and fork, which is heavy but offers more comfort for bumpy gravel trails. This frame also has mounts for two water bottles, a rack, and fenders. In addition, it can run either 700c x 38mm or 650b x 2.1″ wheelset. All of these characteristics mean this is equal parts gravel and hybrid bike.
The drivetrain is a simplified 1×11-speed setup from State Bike Bicycle Co. with a 42t crank and an 11-42t cassette. This pairing provides a solid range, only with bigger gaps between the gears. Additionally, it's easier to maintain and less susceptible to wear.
The tire size varies depending on the wheelset you choose. For example, the 650b bike gets Vittoria Barzo 2.1″ mountain bike tires, perfect for the off-road inclined rider; fast-rolling all-terrain Vittoria Terreno Zero 38mm tires come on the 700c wheels.
Finally, thanks to the gravel bike design and the MTB-style handlebars, you can be confident in a stable ride.
All things considered, this is a solid off-road-optimized hybrid bike designed to last, perfect for riders who like to take the road less traveled.
Buy on StateBicycle.com Buy the Black Model
---
Breezer Midtown 17 Step-Through
The Breezer Midtown 1.7 step-through is one of the best women's hybrid bikes under $1000 with its comfortable touchpoints and easy-to-mount frame.
Breezer Bikes uses a typical aluminum frame and fork with custom dropouts that are lighter and stiffer than the standard design. In addition, this frameset has mounts for two bottles, a rack, and fenders.
The wheelset is one of the standout features of the bike, consisting of WTB SX19 27.5″ rims and Kenda Kwick-Seven5 2.4″ puncture-resistant tires. These tires are versatile enough for mixed-terrain riding and comfortable on bumpy roads and light gravel trails.
The relaxed, upright hybrid geometry of the Midtown 1.7 is complemented by ergonomic grips and a Breezer comfort saddle to deliver a comfy ride quality. Finally, a simple 1×8-speed Shimano Altus drivetrain performs well for this price but has clunky twist shifters.
Add the Breezer Midtown 1.7 to your shortlist if you want a comfortable urban hybrid with plenty of versatility.
Buy on JensonUSA.com Buy the Step-Over Model
---
Diamondback Division 2
The Diamondback Division 2 is one of the best hybrid fitness bikes under $1000 thanks to the sporty geometry and low weight of 26lbs.
This hybrid has a solid set of components for the price range. Firstly, you have a low-maintenance Shimano Alivio 9-speed drivetrain with trigger shifters and a Shadow derailleur. Shimano Shadow is a modification that's better for hard riding. Unfortunately, the 11-34t cassette and 40t crank ratio aren't ideal for steep gradients.
The 6061 aluminum frameset is heat-treated and custom-formed for a better stiffness-to-weight ratio but doesn't have any rack or fender mounts which may deter commuters. This Diamondback aluminum frame pairs with powerful Tektro HD-T275 hydraulic disc brakes and Vee Tire Co. Zilent tires on 27.5″ rims. These components allow you to ride on light off-road terrain confidently.
Overall, this is a strong choice among fitness hybrid bikes, perfect for riders who want a fast run-around for the city.
---
Salsa Journeyer Flat Bar 700C
For us, the Salsa Journeyer is the best hybrid bike under $1000 in terms of its versatility and capability.
Firstly, the Journeyer has clearance for 700c x 50mm and 650b x 50mm tires, giving you the option to swap your wheelset for different seasons and terrains.
The 700c model of the Journeyer comes with 38mm Teravail Washburn gravel tires that have tread optimized for grip when cornering off-road and low rolling resistance on smoother surfaces.
The frameset is a 6061 aluminum and features internal cable routing and tons of mounts for all the accessories you could imagine. These allow you to transform your Journeyer into a bikepacking or touring machine.
The groupset combines a MicroSHIFT Acolyte MTB 8-speed cassette and Tektro mechanical disc brakes. This drivetrain has a 40t crank and 12-42t cassette to provide a decent climbing range.
Pick the Salsa Journeyer hybrid if you want a flat bar gravel machine to handle anything from urban commutes to weekend adventure rides.
---
Bonus: Ride1UP Roadster v2 E-Bike
The Ride1UP Roadster v2 is slightly too expensive to be the best electric hybrid bike under $1000, but it's worth mentioning for its exceptional value.
The second generation of the Roadster by Ride1UP is a lightweight, streamlined e-bike designed for speed and agility on busy urban roads. It uses road-style Kenda Kwest 700c x 28mm tires that prioritize speed over comfort.
The aluminum frame is lightweight and has fully integrated electronics, meaning the Roadster doesn't look like an e-bike. The motor chosen is a 350W/40Nm Shengyi with a max speed of 24mph on pedal assistance. This pairs with a small 252Wh battery to deliver up to 30 miles of range.
The most impressive feature of this bike is the belt drive system which drastically reduces maintenance needs and increases the bike's durability. Unfortunately, the Roadstar only has dual-pivot rim brakes, which aren't very powerful for an e-bike.
Choose this entry-level hybrid electric bike if you want an extra boost from a motor to support your fast urban commutes.