The Best Electric Bikes Under $2,000
Over the past decade, electric bicycle technology has rapidly progressed and is now fast and highly affordable, resulting in the mainstream adoption of eBikes around the world. More and more people are realizing the health benefits of cycling on eBikes, with aged and injured people specifically benefiting from electrical assistance.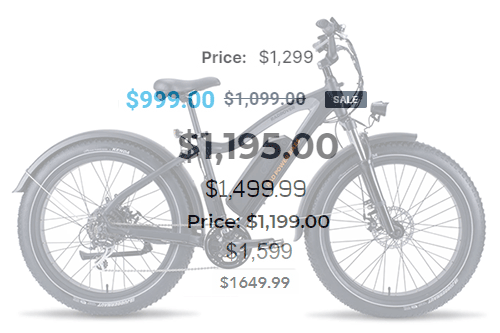 If you enjoy cycling but don't want to arrive to work sweaty and out of breath, an electric bike could be for you. Not only are they environmentally friendly, but they're also much cheaper and healthier for you than driving a car. With a small initial investment, you could save thousands of dollars on fuel by commuting to work on an eBike rather than in a car. For as little as $1,000, you can buy a decent entry-level eBike, or upgrade to $2,000 for a more powerful, longer-lasting machine. 
In this electric bike review, we investigate several good quality and affordable eBikes that cost less than $2,000.
---
$1,000 vs $2,000 vs $3,000 eBike
$500 – $999 | Entry level hub motor eBikes
$1,000 – $1,500 | Mid/entry hub motor eBikes
$1,500 – $2,000 | Mid-range hub-motor, entry level mid-drive eBikes
$2,000 – $3,000 | Mid-range hub & mid-drive eBikes
$3,000 – $4,000+ | High-end hub motor, and mid/high-end mid-drive eBikes
In the $1,000 to $,2000 range, you're really looking at entry-level eBikes – but that doesn't mean they're bad. Even eBikes under $1,500 should be sufficient for work commutes, collecting groceries, or visiting friends. They will typically have low-powered, Class 1 pedal-assist motors that can handle flat roads fine but might struggle a bit on hills. Gears, brakes, and other components should work fine but won't be of high quality.
Around $2,000, you'll find some eBikes have upgraded motors with added torque, enough to push you and your luggage up hills more easily. The brakes, gears, and components will be noticeably better and some of these bikes will handle off-road conditions better. It's difficult to find a decent electric mountain bike under $2,000, so if you plan to do a lot of MTB riding, prepare to spend closer to $3,000.
At $3,000 and above, you should be able to get a high-quality eBike, including electric mountain bikes, touring bikes, and other specialties. These bikes use high-powered motors with durable components, long-lasting batteries, and strong frame materials.
---
Table of Contents
---
How much are electric bikes worth in 2021?
While some eBikes are specifically built to purpose, others are simply standard bikes with an added motor and battery. This is because eBikes are very similar to normal bikes, with the same kinds of gears, brakes, wheels, and frames.
However, there are some features that should be included on an eBike to improve the performance, aside from the motor and battery. These include disc brakes, thicker tires, and more durable frame material. 
Most electric bike prices fall between $1,000 and $5,000. A cheap electric bike under $1,000 is probably of very low quality and won't provide good value for money.
---
Best Electric Bikes Under $2,000
---
Rad Power Bikes

RadRover 6 Plus
The previous, RadRover 5 has scored: 4.8/5 out of 3,700 ratings! 🏆
Best fat tire electric bike under 2,000$
Weight – 69 lbs | Battery – 48V 14Ah (672Wh) | Motor – 750W | Range – 45mi | Torque – 80Nm
MSRP: $1,999
Rad Power Bikes
If you like riding fat bikes and want some added power in your pedals, the RadRover 6 eBike could be just what you're looking for. With massive 4″ Kenda Juggernaut tires (max 4.5″), this beast of a machine comfortably takes on mountains, beaches, forests, or snow with no trouble and little effort from you. The one-size frame comes in both step-through and standard design, for riders from 5'4″ to 6'2″ / 5'2″ – 6′" on the Step-thrpugh frame.
However, at a hefty 72.5 lbs (31kg), you certainly feel the weight of the rock-solid design and tough materials. Like the Ride1UP, the RadRover 6 also features a powerful 750W brushless geared hub motor, although this one has slightly less torque at only 80Nm. Still, you'll have no trouble getting yourself up a steep dirt track with a heavy bag on your back.
The 48V 14Ah battery provides 672Wh of running time, which should give you around 45 miles (72km) on one charge if you pedal sufficiently. As a Class 2 electric bicycle, you can reach a maximum speed of 20 mph (32km/h), on the pedal-assist mode or the throttle. The RadRover 6 drivetrain is supported by a 7-speed Shimano Altus derailleur.
This is more of an electric off-road bike designed mixed terrain, so it's ideal for those planning to spend a lot of time riding in nature rather than cities. At under $2,000, it's an absolute steal!
Tektro 180mm hydraulic brakes
7-speed Shimano Altus derailleur
6061 aluminum frame
26″ x 4″ Kenda Juggernaut tires
Backlit LCD
Class 2 eBike
More from Rad Power Bikes
| | | | | | | |
| --- | --- | --- | --- | --- | --- | --- |
| MODEL | TYPE | MSRP $ | FRAMES | SPEEDS | TIRES | FORK |
| RadMission 1 | Fixie | 1,099 | ST & Standard | Single-speed | 700c | Rigid |
| RadRunner 1 | Utility | 1,299 | ST & Standard | Single-speed | 20×3.3″ | Rigid |
| RadRunner Plus | Utility | 1,799 | ST & Standard | 7 | 20×3.3″ | 80mm |
| RadWagon 4 | Cargo | 1,899 | Step-Through | 7 | 22×3″ | Rigid |
| RadMini 4 | Folding | 1,499 | ST & Standard | 7 | 20×3″ | 80mm |
| RadRover 5 | Fat Hybrid | 1,699 | ST & Standard | 7 | 26×4″ | 80mm |
| RadCity 4 | Hybrid | 1,599 | ST & Standard | 7 | 26×2.3″ | 100mm |
Related: RadRover 5 Full Review
RadPowerBikes.com/
---
Ride1UP

 LMT'D

Best electric bike under $2,000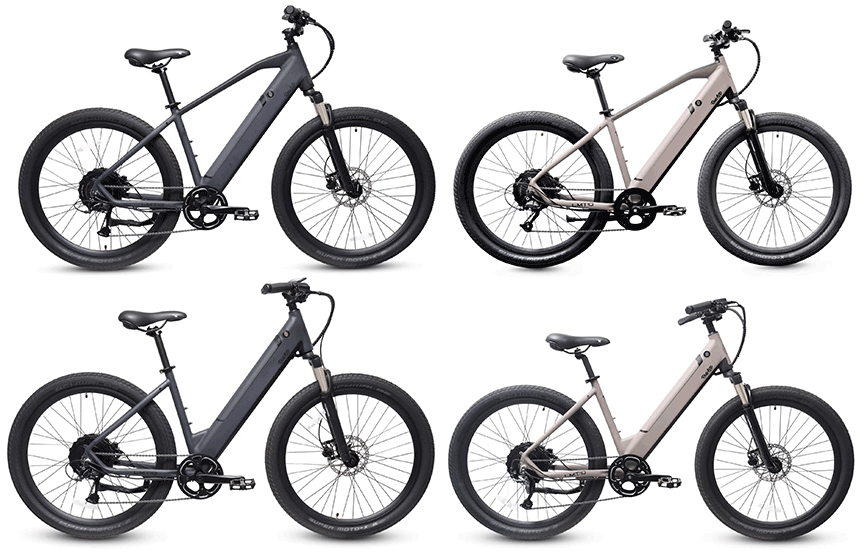 Weight – 53 lbs | Battery – 48V 14Ah (672Wh) | Motor – 750W | Range – 30-50mi | Torque – 100Nm
MSRP: $1,895
Ride1UP
Despite its tongue-twisting name, The Ride1UP LMT'D is probably our favorite eBike for under $2,000. The powerful 750W motor is something seldom seen on even more expensive bikes, punching out an incredible 100Nm of torque. You almost certainly won't find a more powerful eBike under $2,000.
Score: 4.7 / 5 out of 74+ ratings
Despite the added power, the Ride1UP LMT'D is surprisingly light for an eBike, weighing in at only 53 lbs (24kg). This is thanks to its lightweight alloy frame and high-end components, like the RST fork and Schwalbe Super-Moto tires.
The MXUS Geared Motor is powered by a 48V 14ah battery that provides up to 50 miles (80km) of cycling on a single charge. As a Class 3 electric bike, you can go up to 28 mph (45km/h) on the Ride1UP LMT'D, making it seem more like a motorbike at times.
To swallow up any bumps and vibrations in the road, you get an RST Asteria fork with 80mm of travel and Tektro Auriga hydraulic brakes to quickly stop in both wet and dry conditions. Overall, this is a really fun bike to ride and, at under $1,900, offers incredible value-for-money!
Available as a normal or step-through electric bike.
Class3 eBike
Tektro Auriga hydraulic brakes
80mm RST Asteria it suspension
Lightweight alloy frame
Adjustable display
More from Ride1UP
| | | | | | | | | |
| --- | --- | --- | --- | --- | --- | --- | --- | --- |
| RIDE1UP | TYPE | MSRP $ | FRAMES | SPEEDS | TIRES | WEIGHT | COLORS | TORQUE |
| Roadster V2 | Fixie | 1,095 | S-L | 1 | 700x28c | 33lbs | 3 | 40Nm |
| Core-5 | City | 1,195 | XT/ST | 7 | 27.5″x2.2 | 49lbs | 2 | 60Nm |
| 500 Series | City | 1,395 | XT/ST | 8 | 27.5×2.2″ | 55lbs | 2 | 60Nm |
| 700 Series | Hybrid | 1,595 | XT/ST | 8 | 27.5×2.4″ | 62lbs | 2 | 60Nm |
| LMT'D | Hybrid | 1,895 | XR/ST | 8 | 27.5×2.4″ | 53lbs | 2 | 100Nm |
| Prodigy | Mountain | 2,195 | XR/ST/XC | 9 | 27.5×2.0″ | 48lbs | 1 | 90Nm |
Ride1UP.com/
---
Co-op Cycles

 CTY e2.1

Best electric bike under $2,000 for urban cycling
Weight – 50.5 lbs | Battery – 36V 11.6Ah (418W) | Motor – 250W | Range – 50mi | Torque – 40Nm
MSRP: $1,999
REI Co-op
If you're looking for a quick way to zip about town, visit friends, or commute to work, the CTY e2.1 is made for you. This high-quality electric commuter bike from Co-Op is a Class 1 pedal-assist bike, providing up to 20mph (32km/h) and 40Nm of torque from the 250W Shimano mid-drive motor.
With thick tires, a comfortable upright seating position, and an integrated rear rack, this bike is clearly designed for comfort and convenience. It has a 418Wh removable battery that charges overnight gives you up to 50 miles (80km) of assistance – more than enough for a day of cycling.
The super-tough 1.95″ Schwalbe Big Ben tires are specifically built to take on city street debris like glass, nails, and broken concrete – so you won't have to worry about punctures. In addition, the Shimano Altus hydraulic disc brakes supply exceptional stopping power – come rain or shine, you can cycle with confidence knowing that you're safe.
Upright riding position
27.5″ x 1.95″ Schwalbe tires
Shimano Altus hydraulic disc brakes
Charge time: 6.5 hours
Class 1 eBike
Integrated rear rack
Related: Co-op Cycles EBikes Full Review
Co-op CTY e2.1 size recommendations
S – 5'0″ – 5'6″
M – 5'3″ – 5'9″
L – 5'6″ – 6'3″
REI.com/
---
BUZZ Bikes
Electric Bike
A mid-drive eBike under $1,500 – Score: 4.5 / 5 out of 45+ reviews
MSRP: $1,499
BUZZ Bikes
BUZZ is a simple electric bike brand as they have only two bikes in varied color-schemes in their listings. Besides the trike, the Buzz Electric Bike (above) is a great commuter eBike at under $2,000. For $1,500 you'll get a mid-drive motor which is quite unseen at this price range, 24″ wheels that fit the whole family, and provide an easy on/off the bike thanks to the step-through frame.
Their bikes are also distinguished by the integrated front basket that speaks for the main purpose of its design – an eBike for commuting.
BuzzBicycles.com/
---
Ride1UP

700 Series

Best electrical comfort bike under $2,000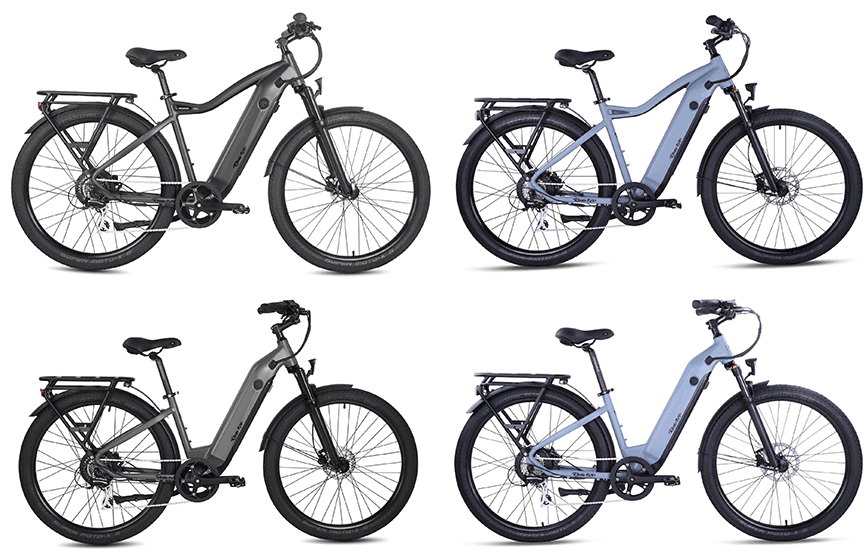 Weight – 62 lbs | Battery – 48V 14Ah (672Wh) | Motor – 500W | Range – 30-50mi | Torque – 60Nm
MSRP: $1,695
Ride1UP
Like the LMT'D, this electric assist bicycle from Ride1UP is a steal at under £2,000. It's slightly heavier than the LMT'D but benefits from a rear rack and an aluminum frame that feels slightly more solid. As a Class 3 pedal-assist bike that can reach up to 28mph (45km/h), this would make an excellent electric touring bicycle.
Score: 4.9 / 5 out of 376+ ratings
The 750W Shengyi geared-hub motor pumps out 60Nm of torque so you'll feel a nice kick when twisting the throttle and needn't pedal too hard when going uphill. This is all powered by a removable 48V battery that delivers up to 50 miles (80km) on a single charge, tracked by an integrated sensor that informs a handlebar-mounted display.
For better off-road handling, you get a full 100mm of travel on the Mozo Hydraulic fork plus excellent traction and absorption from the Schwalbe Super Moto-X tires. This really gives you a lot of confidence when tackling rough terrain on the 700 series, particularly when you factor in the Tektro dual-piston hydraulic disc brakes.
With an 8-speed Shimano Acera drivetrain, front and rear lights, fenders, and kickstand, this eBike ticks all the boxes. Just pack your bags, hop on, start riding, and discover a whole new world of electrically charged adventure.
8-speed Shimano Acera
Mozo hydraulic suspension
27.5″ x 2.4″ Schwalbe Super Moto tires
Tektro hydraulic brakes
Adjustable speed color display
Class 3 eBike
Related: Ride1UP 700 Series Full Review
Ride1UP.com/
---
sixthreezero

AroundtheBlock 500W

Best electric beach-cruiser bicycle under $2,000

Weight – 65 lbs | Battery – 48V 10Ah (480Wh) | Motor – 500W | Range – 20-40mi | Torque – N/A

MSRP: $1,850
sixthreezero

Beach cruiser bikes are ever-popular amongst holiday goers or seaside dwellers, offering a comfortable way to slowly meander along the coastline enjoying the salty sea breeze. Now, beach cruising is easier than ever, with this awesome electric beach cruiser from boutique Californian brand sixthreezero. Don't let the cruiser design trick you though – as a Class 3 electric bike, this baby can reach up to 28 mph (45km/h) in pedal-assist mode.

With a powerful 500W motor, mid-range 480Wh battery, and thick cushioned tires, you'll have no trouble enjoying a full day out in the saddle. Admittedly, it's not the lightest electric bike on the market at 60lbs (27.2kg), but the AroundtheBlock has a strong aluminum frame and steel fork that can carry up to 300lbs (136kg) of total weight.

The drivetrain and brakes are made up of a 7-speed Shimano Tourney gearset and mechanical disc brakes, which aren't top-class but do the job sufficiently. The main draw factor with this bike is the simple operation, classic eye-catching design, and laid-back seating position. In each and every way, it's designed to provide an enjoyable, relaxing ride.
Mechanical disc brakes
26″ x 2.125″ tires
7-speed Shimano Tourney
Class 3 eBike
sixthreezero.com/
---
Pedego

City Commuter: Lite Edition

Best Pedego electric bike under $2,000
Weight – 62.8 lbs | Battery – 36V 10Ah (360Wh) | Motor – 350W | Range – 45mi | Torque – 35Nm
MSRP: $1,995
Pedego
Pedego is a well-known producer of recreational pedal-assist ebikes, popular for their powerful bikes and long-life batteries. The 36V battery can take you a full 45 miles (72km) on a single charge, costing less than 10c in electricity. The 350W rear hub motor is smooth and quiet, injecting a decent 35Nm of torque while carrying you along at up to 20mph (32km/h).
Pedego has chosen the reliable Shimano Acera groupset for gearing and braking capabilities, offering 7-speeds and fast-locking mechanical disc brakes. A strong aluminum frame and rigid steel fork provide a solid foundation that responds rapidly while absorbing road vibrations. A bit weighty at 62.8 lbs (28.5), you'll find this ebike performs better on flat roads rather than long, uphills slogs.
On the rear, you'll find a convenient pannier rack that doubles a docking bay for the removable battery. A variety of pannier bags, baskets, or carriers can be added to this rack for transportation of goods or luggage, making this an ideal utility and commuter bike. With the wide handlebars and upright seating position, in our Pedego bike review, we found the City Commuter a joy to ride around town through the day.
Shimano mechanical disc brakes
2.5″ backlit LCD screen
7-speed Shimano
26″ x 1.95″ Kenda tires
Pedego City Commuter size recommendations
26″ Step-Thru – 5'2″ – 5'8″
28″ Step-Thru – 5'6″ and up
28″ Classic – 5'10" and up
PedegoElectricBikes.com/
---
Best Electric Bikes Under $1,500
---
Ride1UP

Core-5

Best electric bike under $1,500
Weight – 49 lbs | Battery – 48V 10.4Ah (500Wh) | Motor – 500W | Range – 20-40mi | Torque – 60Nm
MSRP: $1,195
Ride1UP
The Ride1UP Core-5 is our best electric bike under $1,500, offering a very similar but more affordable version of the LMT'D. It's also a Class 3 pedal-assist bike with a 750W geared hub motor and a top speed of 28mph (45km/h). However, the Core-5 has a solid fork and a smaller battery more suited to short missions around town, achieving up to 40 miles (65 km) per charge. The torque on the Core-5 is a bit lower, topping out at 60Nm – still more than enough to attack hills with a heavy load.
Score: 4.9 / 5 out of 101+ ratings
At only 49 lbs (22.2kg), the Core-5 is one of the lightest aluminum framed electric bikes available, making it ideal for home storage or public transport. Despite the low cost, the Core-5 makes use of a decent 7-speed Shimano Altus drivetrain combined with Tektro mechanical disc brakes, making for a relatively good groupset.
The standard-issue Kenda Kwick tires are sufficient for most surfaces and you get a kickstand included but otherwise, extra features are limited. All in all, the Core-5 is an affordable, lightweight hybrid electric bicycle that does what it says on the box. It'll get you around town and then some, but I wouldn't take it for long weekends camping in the woods.
Shimano 7-speed shifters
Tektro mechanical disc brakes
Adjustable LCD display
27.5″ x 2.2 Kenda tires
Class 3 eBike
Core 5 Size Recommendations
XR – 5'6″ – 6'4″
ST (Step-Thru) – 5'0″ – 6'1″
Ride1UP.com/
---
Rad Power Bikes

RadMission 1

Best budget electric bike – under $1,000!
Weight – 48 lbs | Battery – 48V 10.5Ah (504Wh) | Motor – 500W | Range – 45mi | Torque – 50Nm
MSRP: $999
Rad Power Bikes
At just over $1,000, you'll struggle to find a more affordable electric bike on the market than the RadMission 1. This neat bit of machinery from industry leader Rad Power Bikes is quite impressive for the price. A 500W geared hub motor combined with a 48V lithium-ion battery makes up the engine, giving you up to 45 miles (60km) of pedal assistance at 20mph (32km/h). 
Score: 4.7 / 5 out of 500+ ratings
However, there are some caveats that keep the price so low: the single-speed drivetrain means you don't get any easier options when you hit the hills or high range for speed. Maybe that's fortunate though: with only caliper disc brakes, you have slightly less stopping power on the RadMission than most other eBikes.
On the plus side, the Kenda Kontact puncture-resistant tires are great for city streets, providing excellent grip in wet or dry weather. You also get an impressive RadPower Bikes custom LED display on the handlebars, listing all necessary info like speed, mileage, and battery power. Overall, the RadMission 1 is an excellent budget electric bike that's great for work commutes and short missions around town – so long as you're happy to take it slow and steady.
Tektro Aries mechanicaldisc brakes
27.5″ x 1.95″ Kenda Kontact tires
Single-speed
Rad Power Bikes custom LED display
Related: RadMission Full Review
RadMission Size Recommendations
Mid-Step: 5'2″ – 6'2″
High-Step: 5'10" – 6'4″
RadPowerBikes.com/
---
Electra Bikes

Townie Go! 7D Step-Thru

Best electrical comfort bike under $1,500
Weight – 48lbs | Battery – 309Wh | Motor – 250W | Range – 20-50mi | Torque – 40Nm
MSRP: $1,500
Trek Bikes (Available in-store only)
This new version of the popular Townie GO! is a convenient step-through ebike, making it easier to mount for shorter people or those who aren't frequent cyclists. The Class 1 pedal-assist bike has a 250W Hydrive motor powered by a 309Wh removable rack-mounted battery, delivering up to 50 miles (80km) worth of cruising energy throughout the day.
The designers of the Townie GO! 7D put a strong focus on comfort, including an ergonomic shock-absorbing saddle and thick, 26″ tires that swallow up vibrations. Electra bikes, the creator of the Townie GO!, has also included its patented Flat Foot Technology. This clever frame geometry ensures a healthy upright seating position without sacrificing the ability to plant your feet squarely on the ground when stopped.
If you need a bit more speed or some added power on the hills, the 7-speed Shimano drivetrain provides a decent range of gears with a 14-34T cassette. The Tektro mechanical disc brakes are relatively basic but they certainly do the job, instantly locking onto the steel rotors even in wet weather. 
For people who are new to cycling, the Townie Go! 7D Step-Thru is a great bike that almost everyone will enjoy. What's more, it only weighs an incredible 48 lbs (21 kg), making it feel more like a normal, lightweight bicycle than a typically heavy eBike.
Ergonomic shock-absorbing saddle
Class 1 eBike
7-speed Shimano Revo
26″ x 2.35″ tires
Mechanical disc brakes
Townie Go! 7D size recommendations
M – 4'11" – 5'11"
Trekbikes.com/
---
Rad Power Bikes

RadRunner 1

Best utility electric bike under $1,500

Weight – 65 lbs | Battery – 48V 14Ah (672Wh) | Motor – 750W | Range – 25-45mi | Torque – 80Nm

MSRP: $1,299
Rad Power Bikes

The RadRunner 1 may not be the cheapest but it's probably the best value electric bike from Rad Power and provides excellent utility. The extra-strength frame and rear rack can be fitted with a multitude of accessories, allowing you to carry children, passengers, or luggage in many different ways.
Score: 4.8 / 5 out of 970+ ratings
As a single speed, the RadRunner 1 doesn't include any extra manual gears, so you have to rely on the power of the motor to tackle hills. 
Fortunately, the 750W motor kicks out 80Nm of torque, so you can transport your family or friends around town without trouble. The 48V battery has a 672Wh life, lasting 800 charge cycles and delivering up to 45 miles (72km) from a single charge. 
Some nice extras include both front and rear headlights, a kickstand, and an intuitive LED display showing you pedal assist level, charge level, and light indicator. The Tektro Aries mechanical disc brakes are a popular addition on eBikes, delivering sharp and quick braking power to the 20″ wheels. Plus, the puncture-resistant 3.3″ Kenda K-Rad tires will ensure you won't be left repairing inner tubes on the roadside very often. 
For small families, market stall owners, or weekend campers, the RadRunner 1 is a great utility eBike that will solve all your transport requirements.
Tektro Aries mechanical disc brakes
Rigid steel fork
Single-speed gearing
20″ x 3.3″ puncture-resistant Kenda K-Rad tires
Related: RadRunner Full Review
RadPowerBikes.com/
---
Bikes Recommended by Commentators
$1,500 KBO – Breeze (500W rear hub motor, 768Wh battery with a Step-Through / Standard frame, 300lbs weight limit)
---
FAQ
What is an eBike?
An eBike, or electric-assist bike, is a bicycle with an added motor that helps you to cycle. On most eBikes, the motor isn't powerful enough to carry you along on its own, so you do still need to pedal a bit. The more power you put into pedaling, the longer the battery will last – so you should still get a bit of exercise out of eBikes. However, if you reach a steep hill or you're feeling a bit tired, you can keep going without breaking a sweat.
How much should I spend on an electric bike?
Electric bicycle prices vary greatly, from as little as $500 to over $10,000. However, you shouldn't spend less than $1,000 on an ebike. In our experience, bicycles below $1,000 are made from cheap materials that break quickly. You also needn't spend more than $2,000 unless you want a specialty eBike like a high-quality mountain bike or touring bikes.
Are cheap electric bikes any good?
Although you can get good quality cheap electric bicycles, you should read lots of reviews first and do your research. For every good cheap eBike available, there are ten low-quality copies – so make sure you're getting the real thing! All the bikes we have listed here are from trusted manufacturers with a track record of high quality.
Which is better – mid-drive or hub motor eBike?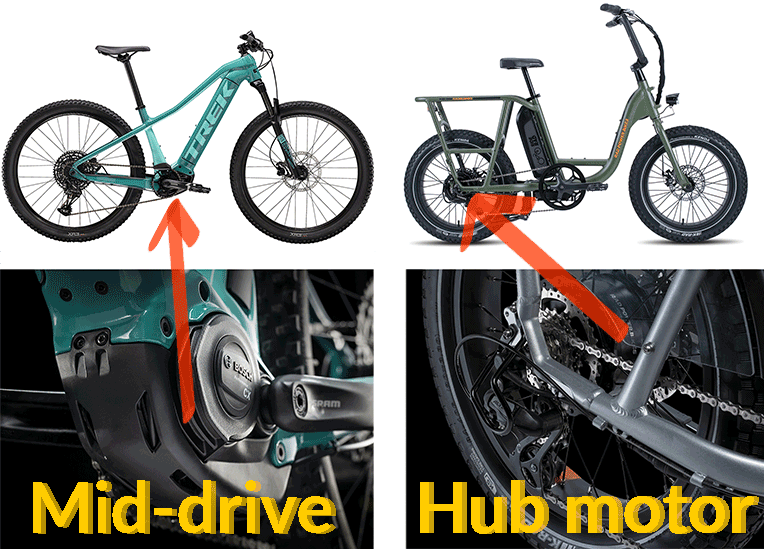 Mid-drive motors are placed at the pedal crank of the bike, while hub motors are in the rear wheel. Mid-drive motors are more expensive and more efficient, offering a better gear ratio and more torque.
Hub motors are cheaper but less powerful and the extra weight in the rear wheel makes the bike feel a little unbalanced. For most people, this isn't a problem but it is noticeable.
Do electric bikes go without pedaling?
The majority of eBikes on the market are pedal-assist electric bikes, meaning you still have to pedal a bit for them to operate. However, there are also available Class 2 electric bikes that have throttle installed. With those, you don't need to pedal at all and can use only a throttle.
There are also some Class 3 eBikes that have Class 3 pedal assistance combined with Class 2 throttle. Those electric bicycles have 28 mph pedal assistance and 20 mph throttle. 
Do electric bikes without pedals exist?
Although you do find some electric bikes with no pedals, they are not very popular because the batteries don't last long. Until battery technology can be improved to provide long-lasting power with low-weight batteries, pedal assistance will remain a necessity.
Torque vs Range
Depending on the purposed field of use, there are two key points when making a decision to buy an electric bike.
Torque

– Great for heavier riders, or riding on harsh terrains (i

ncluding off-road trails, steep hills

). Usually rear hub motors have better torque compared to mid-drive motors.

Range

– If you are planning to ride for commuting, the torque is not as important since even the simple eBikes offer plenty of assistance. Mid-drive motors tend to be more economical when it comes to long-range riding.
---
RELATED
Best Electric Bikes Under $1,000