Rad Power Bikes RadMini 4 Review — Affordable Folding Electric Bike
Rad Power Bikes is North America's largest electric bike manufacturer. They are recognized by TIME Magazine as one of the 100 most influential "Pioneer" companies in the USA, driving forward the growth of the e-bike market.
The brand prides itself on delivering exceptional price and quality, leading to thousands of happy customers and 17,000 positive reviews across their selection of e-bikes. The company's overall mission is to design bikes that can do every job, sold at prices that everyone can afford.
In the RadMini 4, the company has created a bike that balances convenience, versatility, and power to create a "rugged space-saver" that is ready to accompany you on any adventure.
This folding fat tire electric bike is one of a kind in this price range.
It packs in a long list of useful features and components and a huge motor and battery combo onto a mini folding frame. This bike is optimized for commuters and urban riders, while also having what it takes to go off-road in comfort and style.
RadMini Quick Specs
---
Fits Riders:
5'2″ – 6'2″ – RadMini
4'10" – 5'10" – RadMini Step-Thru
Motor: 750W Direct Drive Hub Motor, 80Nm Torque
Battery: 672Wh Lithium-Ion, 48V, 14 Ah
Range: up to 45+ miles
Max speed: 20mph
Brakes: Mechanical Disc Brakes, 180mm rotors
Weight capacity: 275 lb
Fork: 80mm travel, Coil suspension
---
Rad Power Bikes RadMini Review
---
The RadMini bike is perfectly suited to cyclists who, above all, value convenience and versatility.
The RadMini allows you to commute for long distances (up to 45 miles), and quickly store the e-bike in a securely folded unit when you reach your destination. Folding is especially helpful for anybody who needs to take additional public transport for their commute, store their bike in the office, or put it in the trunk for a weekend adventure.
Along with power and convenience, the RadMini has full fenders to keep you dry and clean from road/trail spray, a helpful LCD bike computer with controls, puncture-resistant tires, and integrated lights on the front and back. All of these components help to keep you safe and make your life easier day-to-day.
Additionally, Rad Power Bikes made this electric bicycle super comfortable to ride. They include fork suspension, shock-absorbent fat tires, upright geometry, and soft, ergonomic touchpoints.
Finally, the premium 750W motor and 14Ah battery combination, along with wide tires, and powerful disc brakes, means the RadMini performs well in almost any terrain or weather conditions. You will struggle to find a folding e-bike that beats the RadMini 4. It's cheap (for an e-bike), portable, functional, and powerful enough for most e-bikes, experienced or not.
Main Features
---
Class 2 Electric Bike
The RadMini 4 is considered a Class 2 e-bike because it has a throttle and max speed of 20mph, meaning the motor stops when the speedometer reaches this speed.
There are two ways to operate this e-bike's motor, by pedaling or the throttle, which works independently of the pedals. The throttle on this bike is a twist-grip, placed on the righthand side handlebar and rotating a half-turn toward the rider.
The pedal assistance mode has five different levels. When you turn it on, a magnetic cadence sensor detects how fast you're pedaling and generates power to assist you.
750W Bafang Geared Hub Motor
The RadMini has a high-power 750W brushless geared hub motor that drives from the rear of the bike, reaching the max speed of 20mph in only a few seconds.
Rear-drive motors are not as quite as powerful as mid-drive alternatives, however, they are significantly cheaper, reducing the sale price of the bike. That being said, this motor is powerful enough and is the lightest type of hub motor you can buy.
The term "brushless" means that it requires less maintenance, has a longer lifespan, makes less noise, and is more efficient than "brushed" motors.
25 to 45 Mile Range
The RadMini 4's battery is the same one they use across their selection of bikes. On this model, a single charge will give you a range of roughly 25 and 45 miles. This is with top speeds of 20mph using pedal assistance or throttle.
There are several variables that contribute to the total range you get from one charge. These include rider weight, the gradient of the route, how much you rely on the motor to move (throttle or pedal assistance level), the road/trail surface, and others.
For riders who want to ride extra distances, extra batteries and chargers are available to buy from the online store.
275 lb Payload Capacity
The payload capacity is the total weight the bike can support safely and comfortably including the rider.
275lbs is a huge amount for such a small bike. This high capacity allows riders to comfortably load the RadMini with gear using front and/or back racks to carry their cargo without stressing the motor or components.
Electronics
---
48V, 14Ah Lithium NMC Battery
Rad Power Bikes use a 48V, 14 Ah Lithium-Ion battery in each of their bikes. In general, similarly priced e-bike competitors use batteries with smaller capacity, giving this bike a huge advantage.
Lasting up to an impressive 800 charge cycles this battery gives the RadMini a 45-mile range at power outputs of up to 20mph on a single charge. Additionally, it takes roughly 5 to 6 hours to charge from empty.
The battery weighs 7.7lbs making it one of the lightest batteries for the size (14Ah).
Backlit LCD
One great feature of this e-bike is the large LCD display panel with an adjustable backlight brightness. The screen has a USB connection allowing you to conveniently charge your electronics.
On the screen, riders can see their speed and toggle between max, average, or current speed by holding the up button. Other metrics include an odometer (total distance traveled), trip meter, and wattmeter.
The display also indicates battery level and current pedal assist mode (1 to 5). To control the lights, hold the up and mode button at the same time, or hold the down button to activate walk mode. Finally, hold up and down simultaneously to enter the settings.
Bright Integrated Lights
Another feature that stands out considering the price of this e-bike is the integrated LED headlight and taillight. These are "be seen" lights, bright enough to make you visible to other road users in urban areas.
Additionally, the rear light has a number of extra safety features. These include brake activation (when you brake, this light will activate), strobe mode for extra visibility, and automatically adjusts its brightness for the ambient light.
Drivetrain and Brakes
---
Tektro Mechanical Disc Brakes
The RadMini 4 comes with Tektro mechanical disc brakes and 180mm disc brake rotors. Tektro is one of the most recognized manufacturers of disc brakes for their quality, reliable products.
Although mechanic disc brakes are not as powerful as hydraulic brakes, they do offer the advantage of being easy to fix and maintain without the need for a bike mechanic.
Additionally, in order to improve the power of the brakes, Rad Power chose large 180mm rotors, which reduce stopping time. This is helpful when riders are traveling at the top speed of 20mph or when the bike is loaded to the payload capacity of 275lbs.
Shimano Altus 1×7 Groupset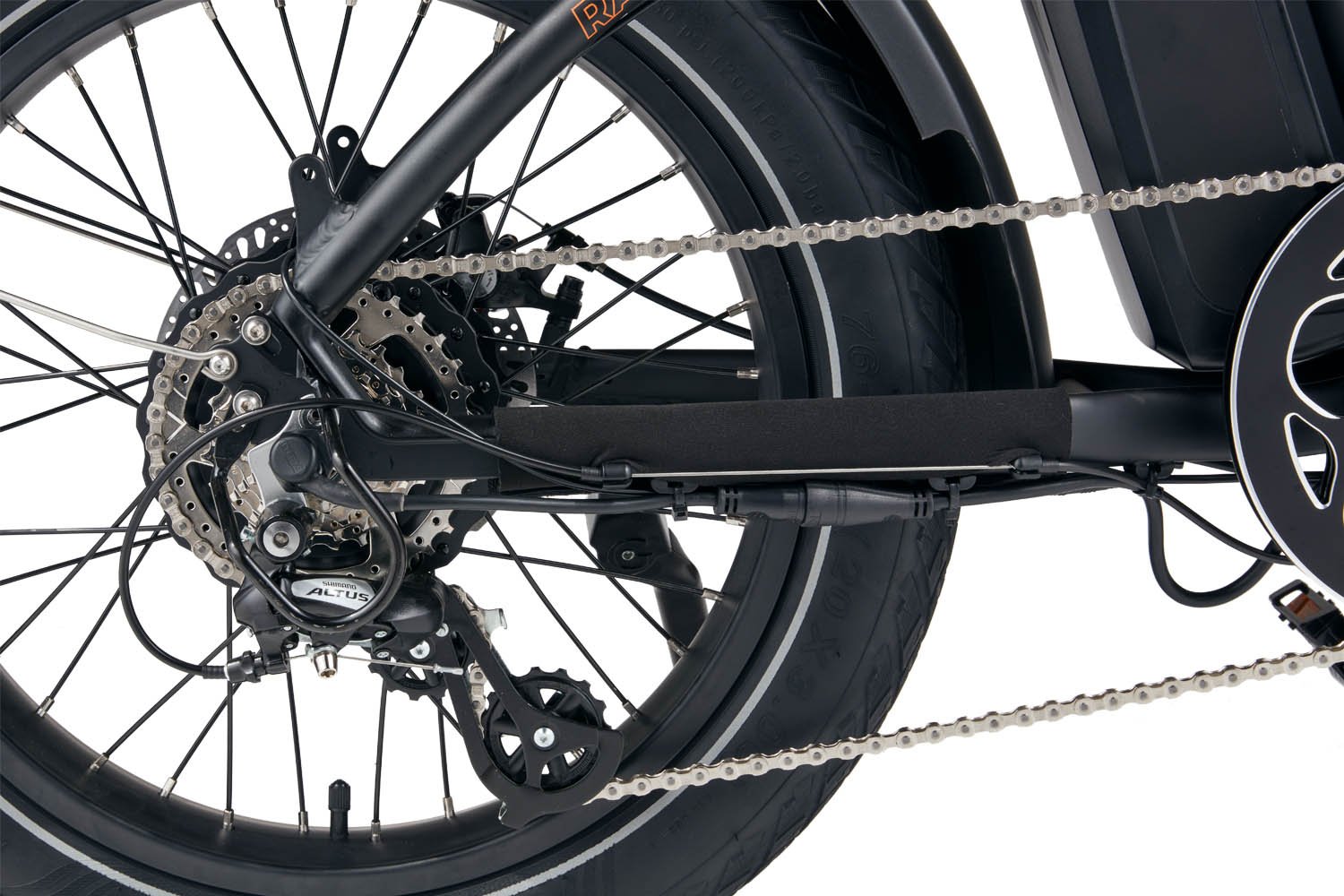 To give riders more enough gearing options for climbing hills or when they reach top speed, Rad Power has chosen a 1×7-speed drivetrain. This means that riders can maintain a consistent cadence (pedaling RPM) on descents and climbs, instead of relying solely on the power of the motor.
Shimano Altus is a reliable and well-respected mid-tier groupset that is easy to repair or replace in the case of damage or wear. Also, as this drivetrain only includes one front plate, there is just a rear derailleur which cuts down on maintenance and repairs.
Wheels and Tires
Rad Power Bikes puts a lot of thought into their choice of tires for each bike. The RadMini uses CST Big Boat 20″ x 3″ tires with a puncture-resistant liner.
These fat tires give riders exceptional control and stability over a variety of soft and rough terrains, with the comfort of added protection from sharp debris on the road or trail.
Additionally, this bike has double-wall rims for extra strength, making this tire and rim combination highly durable and long-lasting.
Easy to Fold
The RadMini's main feature is its ability to fold, creating a small package that can be transported or stored easily.
This ability to fold makes it convenient to take the bike in your car, on public transport, or store it at home or in the office. For this reason, urban cyclists and commuters are the ideal riders for the RadMini 4.
The bike can be folded in just a few seconds and has a derailleur guard to keep it protected once folded. The RadMini is very secure and solid when folded because of the hinge locking mechanisms that keep them from opening up during transport or storage.
---
The New RadExpand 5 – RadMini's 2022 Update
---

Rad Power Bikes' latest folding e-bike, the RadExpand 5, is a fifth-generation update to the hugely popular RadMini. This model includes various additions and upgrades at a lower total weight, even better for transportation and carrying.
With the RadExpand, the company focused heavily on improving comfort and versatility. Beginning with the tires, you have a move from 3″ to 4″ fat tires, significantly improving smoothness on rough surfaces and the ability to tackle snow, sand, and mud.
Additionally, the RadExpand has an upgraded saddle and grips and adjustable riser handlebars, which improve the ergonimics of the bike as the RadMini's handlebars aren't adjustable. Finally, the brand also swapped out the suspension fork for a rigid steel fork which offers excellent shock absorption and reduces the total weight, so this bike is almost 5lbs lighter than the RadMini.
---
RadMini Accessories
---
Rad Power Bikes offer a huge variety of accessories conveniently from their online store. This allows riders to completely personalize their e-bike for a specific purpose such as commuting with cargo or bike touring. In the store there are 35 compatible accessories to choose from in nine different categories:
Fenders
Locks
On-Bike Storage
Passenger Comfort
Pet
Rear Racks
Rider Comfort
Safety
Upgrades
Let's take a look at some of the accessories more closely.
Rad Mirror
Boost the safety of your bike with an easy-install clamp-on rearview mirror. This mirror is designed for left-side mounting but can also be used on the right side. Additionally, be aware that objects in the mirror may be closer than they appear.
RadMini Rear Rack
Turn your e-bike into the ultimate commuter machine with a RadMini Rear Rack. This allows riders to carry gear (up to 55lbs) to use pannier bags to replace your backpack. The pannier rack is also compatible with other accessories including the large or small basket and the large platform.
The rear rack comes with all the hardware required for mounting it and a brake light extension cable for mounting the integrated brake light onto it.
Front Rack
Rad Power's Front Rack is perfect for carrying any cargo out front. It weighs just under 3lbs and can hold up to 30lbs. It mounts conveniently to the frame with a flat mounting point and is compatible with other cargo carrying accessories.
This rack is highly stable and doesn't move when you turn the handlebars. It is almost 12 inches long.
Small Basket
For those with extra carrying needs, the small basket would be a lightweight and compact addition to your RadMini 4. It's suitable for carrying things such as groceries, small bags, or work equipment. The basket weighs 2.4lbs and requires a front or rear rack to be used.
Basket Bag – Small
The reflective Small Basket Bag is the perfect accessory to combine with the small basket described above. It's made from a waterproof ripstop outer shell and will keep the contents clean and dry on the road. The bag also has an internal pocket to make your essentials easy to reach.
The bag has four mounting straps which keep the bag firmly in place while riding over rough terrain. Finally, note that the purchase of a small basket and rack is required separately.
Hyban Helmet 2.0
The Abus Hyban helmet is an excellent helmet for urban riders, featuring a breathable, robust shell with a bright integrated rear light and reflectors to keep visible and safe on busy city roads.
Other features of this helmet include ponytail compatibility and fully adjustable sizing for a custom fitting and comfortable feel. This helmet comes in two sizes, medium and large.
---
Lectric XP 2.0 vs. RadMini
---
Main differences between RadMini and Lectric XP 2.0
Choosing between these two e-bikes is a difficult task. While the RadMini has slightly better components, the Lectric XP 2.0 is cheaper ($400) and folds up more compact, making it hard to justify the price difference for many people.
However, the notable difference between these bikes is the power of the motor and battery. The RadMini 4 has a 750W motor and a 14Ah battery, which will produce far more power for longer rides than the 500W motor and 9.6Ah battery on the Lectric.
Additionally, Shimano Altus is slightly superior to Tourney, and the 180mm rotor on the RadMini's disc brakes adds a little more stopping power. All that said, these differences are relatively slight, and should be weighed up against the price savings by each person.
We think that the RadMini would be best for somebody who wants a little more power for longer rides or commutes whereas if your rides are shorter with less intense gradients, then the Lectric XP may be more than sufficient.
| | | |
| --- | --- | --- |
| | RadMini 4 | Lectric XP 2.0 |
| Weight | 67 lbs | 63 lbs |
| Payload Capacity | 275 lbs | 330 lbs |
| Folded Dimensions | 41″ x 22″ x 28″ | 37″ x 18″ x 27″ |
| Fork | Spring suspension, 80mm | Oil suspension |
| Motor | 750W | 500W |
| Torque | 80Nm | 60Nm |
| Battery | 48V, 14Ah (672Wh) | 48V, 9.6Ah (460Wh) |
| Range | up to 45mi | up to 45mi |
| Brakes | Tektro 180mm mechanical disc | Tektro 160mm mechanical disc |
| Gearing | 1×7-speed Shimano Altus | 1×7-speed Shimano Tourney |
| Tires | 3″ x 20″ CST | 3″ x 20″ CST |
| MSRP | $1,499 | $1,099 |
RadMini vs. RadMini Step-Thru Geometry Differences
Each of the RadMini e-bikes can be adjusted to fit a wide range of rider heights. The Step-Thru 2 is slightly better suited to smaller riders or those who want the added comfort and convenience of a step-through top tube.
Although both bikes are very similar in size when folded, the RadMini 4 folds slightly more compact because of the shorter handlebar reach.
| | | |
| --- | --- | --- |
| | RadMini 4 | RadMini Step-Thru 2 |
| Recommended Rider Heights | 5'2″ – 6'2″ | 4'10 – 5'10" |
| Frame Size | 16″ | 14″ |
| Handlebar Reach | 14″ | 16″ |
| Seat Height (from the bottom of the pedal stroke) | 26″ – 35″ | 24″ – 31″ |
| Bike Length | 68″ | 68″ |
| Handlebar Width | 26″ | 26″ |
| Max Tire Width | 4″ | 4.25″ |
| Folded Dimensions (LxWxH) | 41″ x 22″ x 28″ | 42″ x 23″ x 30″ |
---
Customer Feedback
---
Rad Power Bikes RadMini Reviews
"Makes me feel like a kid again."
"Exceeds the miles I expected from the battery."
"Great experience all around. Love the bike!"
"Love the bike! Had some problems upon delivery but support made it alright."
Rad Power Bikes RadMini Step-Thru Reviews
"With two bad knees, long walks and hiking are difficult. I'm loving my RadMini ST2!"
"This bike is a complete joy."
"The bike arrived in perfect condition. Assembly was a breeze."
"I am 5'4″ and I fit just right on my bike."
FAQ
---
How fast does the RadMini go?
The top speed of RadMini is limited to 20mph, which makes it a class 2 electric bike. You can achieve this maximum speed either by using one of the several pedal-assist levels or by relying on the throttle. If you wish to go faster than that, you will have to do it with your own power.
How heavy is the RadMini?
RadMini 4 weighs around 67 lbs, whereas RadMini Step-Through 2 weighs about 69 lbs. Rad Power Bikes are not famous for being lightweight, the reason being that they feature large batteries and numerous accessories. Though RadMini's weight is average for this type of e-bike.
What class is the RadMini?
RadMini is a class 2 electric bike because it comes with pedal assistance and throttle and has a 20 mph maximum assisted speed. Class 2 e-bikes are completely legal in the entire USA, so RadMini complies with all e-bike regulations.
Conclusion – Is the RadMini Worth Buying?
In the RadMini 4, Rad Power Bikes has created an exceptional value folding electric bike. This e-bike is perfect for anyone who wants comfort, convenience, and versatility rolled into one.
You can ride this e-bike on almost any kind of ride on any terrain. It's conveniently compatible with numerous accessories for optimizing its functionality, and when you're done riding, you can transport it or store it in a neat and secure folded package.
All things considered, we believe the RadMini is an excellent choice for anybody in the market for a folding electric bicycle. There aren't many areas where this bike doesn't perform and Rad Power offers excellent customer support to back it up.
The e-bike market is very competitive, with most costing several thousands of dollars, so at only $1,499, this budget-friendly e-bike well worth the investment.