Ride1UP Roadster Review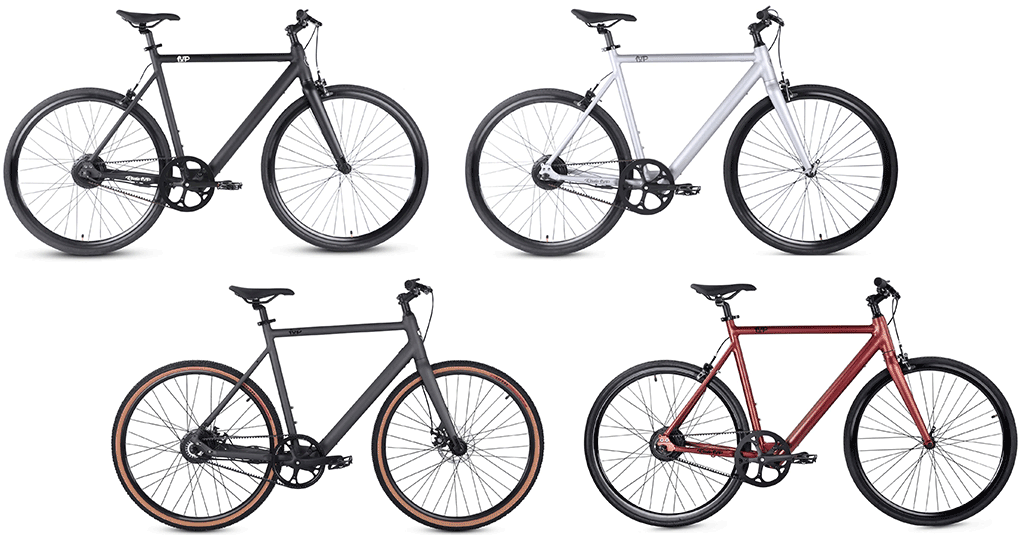 Ride1UP is a new manufacturer of electric bicycles based in the US, priding itself on delivering high-quality bicycles at affordable prices.
The company operates without physical stores, selling direct-to-consumer, which allows them to sell their bicycle at more competitive prices than their competition.
Additionally, they are committed to offering world-class support for their customers, including warranty and free shipping across the continental USA.
With the Roadster v2, Ride1UP has built a fixie-style e-bike that balances performance, maneuverability, and convenience, with a sleek and subtle look.
This e-bike features a hidden motor and battery as well as premium belt drive technology to make it one of the most lightweight and easy-to-maintain e-bikes that money can buy.
Ride1UP Roadster V2 Quick Specs
Price: $1,095
Weight – 33 lbs (Ultra light with a max payload capacity of 275 lbs)
Belt-Drive (Silent, clean, maintenance-free)
Motor – 350W, 40 Nm Torque
Range – 20-30mi
Top Speed – Pedal assist up to 24mph, Class 3 eBike
Battery: 36V, 7Ah, totaling 252Wh
Tires – 700x28c Kenda Kwest
Brakes – Tektro R315 dual pivot V-brakes
Frame – 6061 aluminum
Also featured in: Best Single-Speed E-Bikes and Best Belt-Drive e-Bikes
---
Ride1UP Roadster v2 Review
The Roadster v2 is a modern update of the classic style v1 by Ride1UP.
The Roadster is optimized for use on busy urban roads. It comes with fast 700Cx28C road tires, a lightweight 6061 aluminum frame, and a small, but punchy motor.
The 350W/40Nm motor can assist riders with speeds up to 24mph over 20 to 30 miles. It does so with 5 levels of pedal assistance, using only a small 7Ah battery. This considerable range is possible due to the low base weight and performance components.
As mentioned above, the minimalist style and belt drive system make this bike super easy to maintain and last much longer than one with a regular derailleur drivetrain. The Roadster v2 really is the perfect entry-level e-bike for urban riders.
Evolution of Roadster
---
The Roadster v2 electric commuter bike has changed quite drastically from the original version.
Ride1UP has stripped away much of the excess components (rack and fenders) while also moving to a hybrid geometry. This has resulted in a much more lightweight and performance-focused e-bike, weighing only 33lbs, half of most other e-bikes.
Although the retro look has been mostly done away with, we think that the bike is better off for it.
It has allowed this company to really focus on performance instead of sacrificing speed for the classic cruiser build.
Above all, the Roadster is still quite comfortable, using an ergonomic saddle and grips and upright geometry. However, riders are now limited in their ability to transport cargo.
Electronics
---
36V 7Ah Lithium-Ion Battery

The 36V 7.0ah Samsung eBike battery is perfectly suited to the Roadster. It is completely hidden in the frame and charges quickly in 2 to 3 hours.
This battery is only designed to be removed when users are experiencing issues or for replacement purposes, meaning it stays inside and is charged as so. The most impressive thing is this battery provides power for ranges of 20 to 30 miles, a really excellent return for such a small battery.
350W Shengyi Geared Hub Motor
The Roadster comes with a 350W geared hub Shengyi electric hub motor. This motor has a peak power of up to 500W and easily allows riders to ride assisted at speeds of up to 24mph.
The motor also has 40Nm of torque, giving you enough acceleration potential to get up steep gradients when necessary. While pedaling on assistance level five, riders can still use this motor to take on tough climbs.
Because it is a little less powerful, riders who enjoy some exercise will get the most benefits from this motor. Although, you won't break a sweat using it on your flat-ish commute to work.
LCD Display
The LCD display follows the sleek, discreet overall look of the bike. It is barely noticeable when looking at the bike, but the screen is still big enough to see the important information.
On it, riders can see important metrics like their speed, the trip time elapsed, and distance, as well as the remaining battery and pedal-assist level (PAS). Using the buttons below, you can switch between a number of different screens, as well as control the PAS level.
Frame and Geometry
---
Aluminum Frame
The frame is made from a durable 6061 aluminum alloy, which is resistant to exposure and rides quite smoothly.
Because Ride1UP has focused on performance with the Roadster, the frame has road-like geometry and enough stiffness to boost power transfer and speed. This choice balances all of the above well while also keeping the price down.
2 Different Frame Sizes
As the Roadster has changed from cruiser style to a more racy style, the rider height range for each frame size is smaller, spanning about half a foot.
The large size (58cm) will fit riders between 5'7″ to 6'2″, while the small (52cm) fits riders 5'3″ to 5'8″.
Large vs Small Frame Size Geometry Chart
| | | |
| --- | --- | --- |
| | Small (52cm) | Large (58cm) |
| Recommended Rider Height | 5'3″ – 5'8″ | 5'7″ – 6'2″ |
| Handlebar Height | 36″ | 38″ |
| Handlebar Reach | 25″ | 26″ |
| Max Seat Height | 41″ | 43″ |
| Min Seat Height | 33″ | 36″ |
| Stand-Over Height | 30″ | 33″ |
| Seat Tube | 20″ | 22″ |
Kenda Kwest 700x28c Tires
The Kwest tires are a great tire for this bike because they are lightweight, fast, but still have some thread to provide grip on corners or in wet weather.
They are designed by Kenda as a commuter/urban tire. To do so, they balance the speed of a road tire with the durability and traction of a 650b hybrid tire, matching the style of the Roadster v2 perfectly.
Gearing and Braking
---
Single-Speed Drivetrain
The Roadster's single-speed belt drive system is one of the standout features, which is almost unheard of on bikes in the $1,000 price range.
This type of system is very long-lasting, requires almost no maintenance, and removes the need for chain grease, keeping your legs and pants free from stains.
One downside however is the huge gear ratio (64Tx20T). For a single-speed commuter bike, this ratio can make it difficult to ride on steeper gradients without standing up.
Tektro Dual Pivot Brakes
Ride1UP chose to rely on Tektro dual-pivot rim brakes on the Roadster v2. This decision is down to the bike being very lightweight and not extremely powerful.
These brakes perform quite well on this bike and provide more than enough stopping power. Additionally, they come with the benefit of being easy and cheap to maintain or replace.
---
Ride1UP Roadster v2 Cons
With such a low price tag as far as e-bikes go, as well as the focus on performance, Ride1UP has had to make some concessions in the design of this bike. Although the bike is excellent in many ways, the following exclusions stand out.
Most notably, although being marketed as an urban or commuter bike, the Roadster doesn't have common commuter components like a rear rack and fenders. Additionally, the discreet frame and lightweight design require a smaller motor, battery, and more compact drivetrain, limiting the bike's effectiveness on more challenging terrain.
No Kickstand
A kickstand is a heavy, bulky component that adds unnecessary weight to a performance-style bike. This type of component is more important for bikes with a rear rack to carry cargo.
V-Brakes
The Roadster V2 must be one of the only electric bike that still uses V-brakes. This type works as it used to for the past 40 years or so, but rim-brakes will wear out the rims in the long run, and in overall, they are not as efficient as disc brakes. The good part about is that it is easy to maintain rim brakes.
No Fenders
A key component for many commuters and urban riders is front and back fenders. They help keep you dry and clean from road spray on your way to work or while running errands. Thankfully, Ride1UP added fender mounts on the frame for post-purchase installation if wanted by riders.
No Lights
One of the most common features of new e-bikes is integrated front and rear lights. They are essential for safe riding in urban environments, increasing your visibility and keeping you and other road users safe. They should be bought additionally. Check out our article on choosing the best lights for your bike.
---
Ride1UP Roadster v2 vs. Rad Power Bikes RadMission
These two single-speed electric bikes are very close competitors but have a slightly different user appeal. The RadMission is more powerful, with a larger range, but we're not sure that this is an advantage over the Roadster.
The Roadster really stays in line with what is needed from a fixie commuter bike. It's the prettier bike, it's super light (15lbs less than the RadMission!), sufficiently powerful with enough range for any urban ride, and takes all of the hassles out of drivetrain maintenance with the belt drive system.
Because the RadMission has a bigger battery and motor, it needs more powerful disc brakes. It also has wider 650b tires which make for a smoother ride, but detract some performance. The question is, does an urban single-speed bike really need all of this?
Finally, with a large downtube battery, and a standard chain drive, the RadMission doesn't compete on looks or convenience of use. In our opinion, both bikes would be a good choice, but the Roadster fits better its intended purpose.
| | | |
| --- | --- | --- |
| | Roadster v2 | RadMission |
| Weight | 33 lbs | 48 lbs |
| Payload Capacity | 275 lbs | 275 lbs |
| Motor | 350W | 500W |
| Torque | 40Nm | 50Nm |
| Battery | 252Wh | 504Wh |
| Range | 20-30mi | 25-45mi |
| Brakes | Dual pivot V-brakes | Mechanical disc, 180mm |
| Tires | 700x28c Kenda Kwest | 27.5″ x 1.95″ (650B) Kenda Kontact |
| MSRP | $1,095 | $999 |
---
Conclusion – Is the Ride1UP's Roadster v2 Worth Buying?
The Ride1UP Roadster v2 is discreet, lightweight, fast, and agile, allowing you to traverse busy city roads easily, and in style.
Additionally, it is difficult to overstate how useful a belt drive system is for a single-speed bike. It virtually eliminates the need for maintenance and has a huge life expectancy, not to mention removing the chance of getting chain grease on your clothes or skin.
Roadster v2 does everything a single-speed urban e-bike should do.
For anyone who has ridden an e-bike, this one will feel featherlight, and although this means it doesn't have some important commuter components like lights, a rack, or fenders, it does everything else great.
If you need more power or versatility from your bike, you may need to continue your search. However, if you want a low-cost, durable, and effective urban e-bike, look no further than the Roadster v2.