Ride1UP LMT'D Review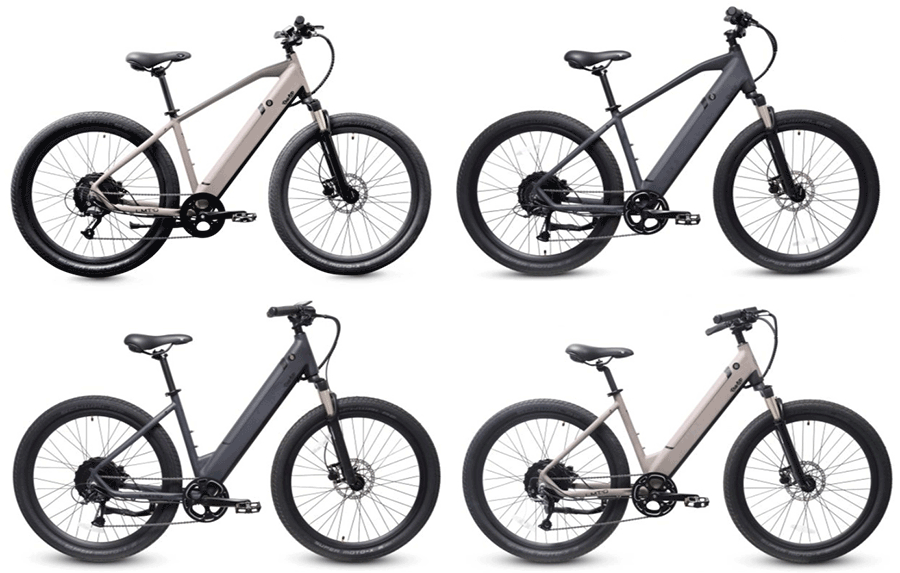 With the design of the LMT'D hybrid e-bike, Ride1UP has found great success once again.
The bike comes in two distinct styles XR and ST, The XR being the more sporty MTB geometry, while the ST is optimized for comfort with upright geometry, a convenient step-through frame, and rider-facing handlebars. That being said, both bikes have identical components which allow them to perform similarly, just with a slightly different ride feel.
Because of the two frame options to choose from, the range of riders who would enjoy the LMT'D is quite wide. Both young and old, men and women, and anybody who values high performance and comfort at an affordable price.
Ride1UP LMT'D Quick Specs
Motor – 750W Hub, 100Nm torque
Battery – 672Wh, 30-50mi range
Class – Class 3 eBike, 20mph throttle / 28mph pedal-assist
Fork – 80mm travel, RST Asteria Air fork
Tires – 27.5 x 2.4″, Schwalbe Super-Moto X
Drivetrain – 8-Speed Shimano Altus
Brakes – Hydraulic Disc, Tektro Orion
Weight – 53lbs
---
What We Like About Ride1UP LMT'D
All-in-all, the LMT'D fits in well at the very competitive $2,000 range
1. 27.5 x 2.4″ tires – A perfect commuter bike
Fun size to ride on all sorts of urban roads by a wide variety of users.
2. 80mm air fork
A nice addition compared to simple coil forks found on most e-Bikes at this price range.
3. Four-piston hydraulic disc brakes
Those are some really good brakes compared to 2-piston brakes.
4. Sleek looks
The frame-integrated battery does give the bike a clean look.
5. Powerful motor
100Nm of torque is very high – the half-twist throttle is quite convenient
6. Bike weight
55lbs is right about right for this price range
Points of improvements
1. It lacks helpful commuter components
A rear rack and fenders would make the bike much more appealing to commuters.
---
Ride1UP LMT'D Overview
---
LMT'd Step-Thru
Best for: Women, Men, Elderly, Riders with limited movement
The LMT'D ST model is a low-step eBike built with a focus on comfort, maneuverability, and power. The level of components on this bike makes it ideal for any type of urban riding whether it is on roads, bike paths, or light rural trails.
This affordable comfort-focused electric bike gets its ability from careful design and component choice. The frame is a lightweight alloy designed with a low step-through to make mounting and dismounting easy and convenient. Additionally, the electronics are integrated seamlessly into the frame giving it a sleek finish.
As a step-through eBike with these components, the LMT'D is perfectly suited to women who like to wear dresses, those with movement limitations, seniors, and anybody who wants a comfortable ride without sacrificing power.
Other components that add to the comfort of this bike include the rider-facing handlebars, 80mm travel air suspension fork, shock-absorbent 2.4″ tires by Schwalbe, and the plush gel Selle Royal saddle.
Finally, the 750W/100Nm motor and 14Ah battery provides riders with max-assisted speeds of 28mph for distances ranging from 30 to 50 miles while the 4-piston hydraulic disc brakes ensure safe stopping power at these high speeds. Because of the high power and range, this bike makes any ride feel flat and short.
---
LMT'D XR
To Whom – Men, Riders who enjoy a more performance-specific geometry
The LMT'D XC urban eBike has a completely different look and feel to the ST version despite having exactly the same components.
The frame of this bike uses MTB geometry which switches the focus to performance instead of comfort. Because of this geometry change, rider position is less upright (4″ or 20% longer reach) and therefore it handles better off-road and can reach higher speeds without assistance.
The choice of 27.5×2.4″ Schwable Supermoto eBike touring tires limit the XC's performance off-road as these tires are mainly suited to urban riding and lighter trails. However, they do this job extremely well, are backed up by Green-Guard puncture protection, and are frequently mentioned by reviewers for their quality.
This city eBike has electronics that could compete with some of the best off-road electric bikes. The 750W rear-hub motor has an enormous 100Nm of torque which makes any hill feel flat. Additionally, the 14Ah battery lasts 30 miles on fully electric mode with the throttle, and up to 50 miles when using the 8-speed Shimano drivetrain. Thankfully, you can rely on 4-piston hydraulic disc brakes for control with this powerful motor.
Finally, although the XC isn't as comfortable as the ST, it's still more comfortable than average. The 80mm travel air suspension fork, plush tires, and padded contact points ensure a great base ride quality.
---
Ride1UP LMT'd Size Recommendations
XR – 5'6″ – 6'4″
ST – 5'1″ – 6'2″

---
About Ride1UP
Ride1UP is a new and increasingly popular manufacturer of electric bikes in the USA. They were founded in 2019 in California and have grown rapidly as a direct-to-consumer brand.
Since their creation, the company and their bikes have received hundreds of positive rider reviews spanning the range of their bikes. To use it's clear they are fulfilling their mission to remove the price barriers to e-bike with efficient and reliable products.
Their range of e-bikes is sold at extremely competitive prices between $1,095 and $2,295.
Their bikes go from a lightweight, single-speed roadster, all the way to a versatile hybrid in the Prodigy that is fully equipped to take on urban riding or mountain trails depending on which of the two builds you choose. Because of this diversity, there is a Ride1UP bike for almost any type of rider.
Ride1UP Bikes Range

| | | | | | | | | |
| --- | --- | --- | --- | --- | --- | --- | --- | --- |
| RIDE1UP | TYPE | MSRP $ | FRAMES | SPEEDS | TIRES | WEIGHT | COLORS | TORQUE |
| Roadster V2 | Single-sp | 1,095 | S-L | 1 | 700x28c | 33lbs | 3 | 40Nm |
| Core-5 | City | 1,195 | XT/ST | 7 | 27.5″x2.2 | 49lbs | 2 | 60Nm |
| 500 Series | City | 1,295 | XT/ST | 8 | 27.5×2.2″ | 55lbs | 2 | 60Nm |
| 700 Series | Hybrid | 1,695 | XT/ST | 8 | 27.5×2.4″ | 62lbs | 2 | 60Nm |
| Cafe Cruiser | Cruiser | 1,595 | XR/ST | 8 | 26×3″ | 65lbs | 3 | 60Nm |
| Prodigy | Hybrid | 2,295 | XR/ST/XC | 9 | 27.5×2.0″ | 48lbs | 1 | 90Nm |
---
Conclusion – Why is it an underrated eBike?
After a detailed look at the LMT'D, its components, and user reviews, we think it is a unique choice for the sub-$2,000 price range.
The most notable features for us are as follows:
The choice between the two different style frames
Powerful 4-piston hydraulic disc brakes
High-torque 100Nm motor
Air fork suspension instead of coil
Stylish, integrated look thanks to internal cabling and electronics
Another thing worth mentioning which is commonly noted by reviewers is that Ride1UP has a whole range of bike accessories on their online store which you can use to customize your LMT'D for any type of job or ride that you like.
Given the price of just $1895, this bike still has a lot to offer in the e-market. As of right now, it is not as well-known as some of the other bikes from Ride1UP, but it won't be long before it is recognized for what it has to offer.
Where it thrives?
Urban commuting, light trail rides, and gravel riding.
Not as great for
Aggressive off-road riding.
Considerations
At $2,000 this bike could have a mid-drive motor which would boost ride quality.