Rad Power Bikes RadRover 5 Review: Fat-Tire Commuter Ebike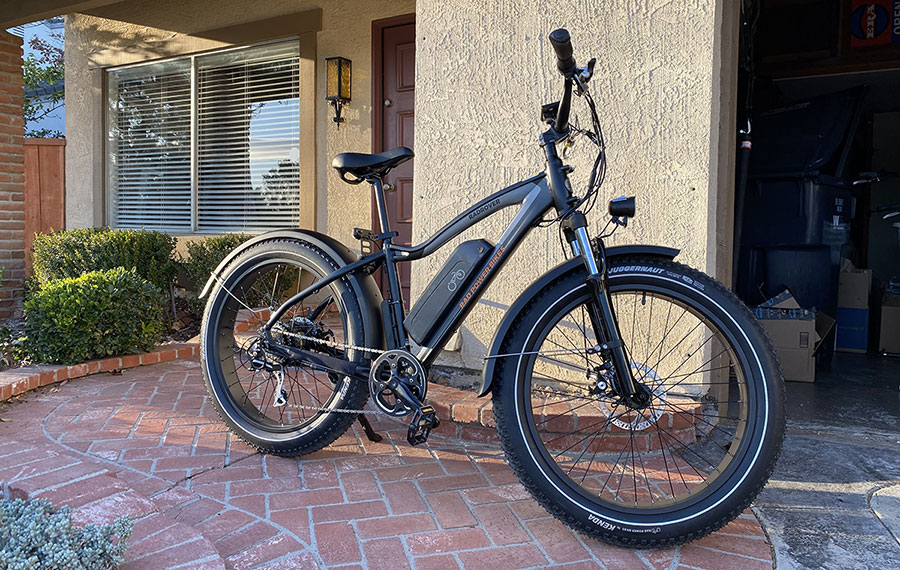 If you're looking for a rugged electric bike that can tackle city streets and mountain trails with equal accomplishment, look no further than the RadRover 5. This beast of an e-bike can take on the most daring of off-road trails, cruising down rocky mountain passes, along sandy beaches, or through snowy fields with ease.
The extra fat tires, front suspension, and tough 750W motor make light work of any terrain and the long-range battery will last you all day. It's built to last with a tough aluminum frame, puncture-resistant tires, sealed cabling for wet weather, and integrated lights for night riding.
Standard & Step-Thru Frames Fits Riders 5'4″ – 6'2″
Price: $1,699
---
---
Rad Power Bikes RadRover 5 Review
---
750W Geared Hub Motor
The powerful geared hub motor on the RadRover bike puts out 80 Nm of torque, enough to power you uphills and along any surface at speeds up to 20mph (25 km/h).
The internal brushless motor provides 5:1 planetary gear reduction, which increases torque and provides greater power and grip on uphills and over loose ground.
180 mm Mechanical Disc Brakes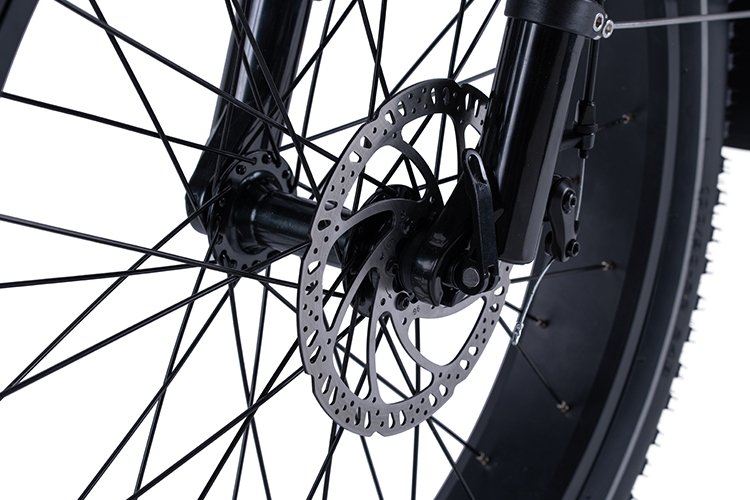 When using an e-bike, safety is a number one concern – so it's important to ensure that your brakes are of the best quality possible. Disc brakes are particularly important on an e-bike as it's faster, heavy and requires greater force to stop quickly enough.
With Tektro Aries mechanical disc brakes and 180mm rotors on the RadRover 5, you'll have no trouble stopping in dry or wet weather. The brake pads use sintered metal for extra strength and feature aluminum alloy comfort grips with a motor cutoff switch for added safety.
RadRover Battery and Charger
The RadRover is powered by a 48V (672 Wh) Samsung NMC Lithium-Ion battery that can be conveniently removed to charge indoors overnight. Simply click it out, take it inside and plug it into the 2 Amp smart charger that runs of a standard 100-240V AC power outlet.
The battery is rated for 800 charge cycles and should last at least three years even if used very frequently. New batteries are easy to replace and can be ordered from the RadPower online store.
Display
With the handlebar-mounted RadRover LCD display, you can see all the important information right in front of you while cycling. The display has the following features and provides all the statistics you need, including:
Remaining battery life

Pedal-assist level (1-5)

USB charging

Odometer

Speedometer

Wattmeter
Lights
The RadRover 5 comes equipped with two integrated lights that run off the battery, with an LED headlight upfront and a rear taillight with a braking signal.
The lights can be easily removed and reattached to various front and rear racks to ensure clear visibility at all times.
Wiring and Ports
There is a 5V USB port included on the LCD display unit for adding extra devices or charging your phone. All electronics are water-resistant, including connectors and the wiring harness.
Puncture-Resistant Tires
The first thing you'll notice about this e-bike is the fat 4″ Kenda Juggernaut tires. These thick-treaded tires are fitted with a K-shield puncture-resistant liner ready to take on street debris or thorny backcountry.
Built from a solid layer of aramid and ceramic particles, this shield is tough enough to resist thorns, glass, and any other small objects you may encounter. Naturally, this makes them a bit heavy but the impressive electric motor means you'll barely notice the weight.
Frame and Geometry
The RadRover 5 is a big, solid bike with an aluminum frame and 80mm front suspension travel. It comes in one frame size (18″), ideal for people of 5'4″ to 6'2″ height and with 31 – 34″ leg length.
The standover height is 30.5″ and the bike's total length is 75″. It weighs 69lbs (32kg) and can carry up to 275lbs (125kg) in total, including rider and cargo.
Seat height (measured from the bottom pedal stroke) can be adjusted from 28″ to 36.5″ and the handlebar reach is 16″. It's best suited to teenagers and adults who want to do more than simply ride around town and enjoy exploring nature and the outdoors.
Gearing and Braking
In addition to the pedal-assist motor, the RadRover 5 features a 7-speed Shimano Acera freewheel gearing hub. This gives you the option to reduce or increase tension when cycling and makes it easier to cycle if the battery dies.
To change gears, you get Shimano thumb shifters located on the handlebars, along with the Tektro Aries brake levers that power the mechanical disc brakes. For excellent stopping power in any weather conditions, the RadRover 5 has 180mm Tekro front and rear rotors.
---
RadRover 5 Full Specifications
| | |
| --- | --- |
| Brand | Rad Power Bikes |
| Model | RadRover 5 |
| Type | Electric, Fat, Commuter |
| Model Year | 2020-2021 |
| Price (USD) | 1,699 |
| Designed For | Urban, Light Trails, Commuting, Sand, Snow |
| Frame Types | Standard / Step-Thru |
| Frame Size & Recommendation | 5'4″ – 6'2″ |
| Wheel Size | 26″ |
| E-Bike Class | Class 2 |
| Max Speed | 20mph |
| Range (mi) | 20 – 45 |
| Motor | 750W – 80Nm |
| Motor Type | Hub motor |
| Battery | 48V 14Ah, 672Wh Lithium NMC Samsung 35e (Rated for 800 charge cycles) |
| Controller | 48V, 750W |
| Charger | 48V 2A, 100V-240V |
| Throttle | Half twist grip throttle |
| Display | Backlit LCD – Charge indicator, speedometer, odometer, trip odometer, pedal-assist levels, wattmeter, etc |
| Derailleur | Shimano Acera 7-Speed |
| Wiring | Water resistant connectors and wiring harness |
| Frame Material | 6061 aluminum |
| Front Suspension | 80mm, lockout & preload adjustments |
| Rear Suspension | – |
| Brakes | Tektro Mechanical |
| Rotors (mm) | 180mm |
| Tires | 26″ x 4″ Kenda Juggernaut, K-Shield puncture resistant liner |
| Max tire width | 4″ |
| Saddle | Velo Plush with lifting handle |
| Grips | Ergonomic leather imitation |
| Weight | 69 lbs / 71 lbs |
| Max weight (lbs) | 275 |
| Warranty | 14 Day Free Trial / 1-Year Warranty |
---
Accessories
Although RadRover electric fat bike already has everything to completely enjoy riding with it, there are so many accessories that can make it even better.
Front rack
$69
This front rack from RadPower Bikes fits securely to the frame below the handlebars on the RadRover 5, providing a convenient place to strap small parcels, bags, or other cargo.
Additional accessories like the small or large basket can be fitted to the front rack for extra cargo space. RadPower has included a headlight extension so you can mount your front headlight to the rack.
RadRover rear rack
$79
The RadRover rear rack provides the perfect platform to strap on a bag or attach pannier bags to carry excess luggage. With a weight capacity of up to 55lb (25kg), you'll be able to carry everything you need for long-distance tours or weekend getaways.
All hardware to mount is included and you get an extension cable for mounting the brake light. Additional accessories like the large basket can be fitted to the rear rack for extra cargo space.
Large basket
$79
The large basket attaches to the RadRover rear rack to expand the cargo capacity, fitting objects of 31cm x 49.5cm. The sidewalls rise up a full 14cm, making it possible to carry small cargo without needing to strap it down.
The basket weighs 4.2lb (1.9kg), so take this into account when calculated the max payload of the rear rack it's mounted to.
Rad mirror
$29
If you often cycle busy streets, you'll know the pain of always looking over your shoulder. With the Rad mirror, you can see behind with a simple glance and will feel much safer during rush hour traffic.
The mirror is designed for left side attachment but can be adapted for the right side too. It fits on any handlebar from 21-26mm in diameter.
Fremont Pannier Bag
$89
This tough, water-resistant pannier bag from RadPower is the perfect accompaniment for those work commutes or long weekend trips. With RF welded seams, urethane-coated nylon, and heavy-duty hooks, it'll survive the harshest of conditions.
Also included is a zippered outer pocket for quick access and an over-the-top compression strap for tighter securing. Dimensions are 31 cm x 30.5 cm x 15.75 cm and it can carry up to 1000 cu in (16L).
GUB PRO-3 phone mount
$19
Most bicycle phone mounts are made from cheap plastic clips that drop your phone at the first bump – but not so with the GUB PRO-3. Built from CNC alloy with 18mm claws, it tightly clasps around any mobile from 3.5″ to 6.5″ in size, ensuring your device is safe from even the roughest roads.
The mounting clasps tighten securely around your handlebars, placing the phone in an easily accessible and visible position.
Front-mounted basket
$89
This deep and wide front-mounted basket fits directly to the frame, ensuring it stays straight even when taking corners. It's 4.75″ deep with a solid wood base and aluminum sidebars, capable of carrying up to 22lb (10kg) of cargo.
The length and width is 11″ x 15″, big enough to carry a backpack or two shopping bags and it comes included with all mounting hardware.
Thule Yepp Maxi child seat
$229
This high-quality child seat from Thule features adjustable footrests and straps, so as your child grows it can adapt to fit. With built-in shock absorption and a padded 5-point harness, your child will be as comfortable as possible even over rough surfaces.
The seat benefits from highly secure straps and a safety buckle along with reflectors and water repellent materials. Designed and tested on kids from 9 months to 6 years old and up to 40lbs (18kg), the Thule Yepp Maxi is highly versatile and should fit children of almost any size.
Water bottle holder
$20
"Remember to always stay hydrated!" I bet you hear it all the time but do you actually do it? With this simple steel water bottle holder, you no longer have any excuses. Comes with all the tools needed to install, just pop in a cold bottle of water and get riding! The bottle holder's dimensions are 6.5″ x 3″ x 3.5″.
Hyban helmet 2.0
$79
The Hyban Helmet 2.0 is a full-ring helmet made from a hard ABS outer shell and EPS foam inner with an added 'bug mesh' for extra insect protection. The Zoom Ace Urban adjustable ring system ensures the entire helmet fits snugly on your head and includes 5 air inlets and 8 outlets for excellent ventilation.
You also get an integrated LED light on the back with 180-degree visibility and highly visible reflectors on both sides. Sizes come in Medium (20″-23″)(52cm-58cm) and Large (22″-24″)(56cm-61cm).
Hollywood Racks Sport Rider Ebike Hitch Rack
$450
Mount this solid bike rack on your car's tow hitch, strap on two ebikes and escape for an enjoyable weekend away cycling in the countryside The patented "No-Wobble Hitch System" ensures your bikes are solidly secured at all times, including a locking hitch pin, security frame, and locking frame hooks.
The rack can hold a maximum individual bike weight of 80lbs (36.2kg) with a wheelbase of up to 60″, perfect for the RadRover 5. When not in use, the rack folds down flat against the car and tilts down from the cargo door for easy access.
Also featured in – Best Electric Bike Racks
Enhanced Comfort Saddle
$49
Do you get saddle sores from long days of riding? Chaffing and bruising from bouncing along a rocky mountain trail? This enhanced comfort saddle is the perfect solution. The extra-wide, super-soft gel-padded seat is made from nylon reinforced waterproof plastic and includes springs for extra shock absorption.
It's 10.6″ long, 10″ wide, and 6.1″ high with 7mm steel rails to fit most standard seat posts.
Premium headlight
$49
If you expect to do a lot of night riding you'll definitely want to get a brighter light to guide your way. This excellent LED Halo headlight gives off a powerful 500 lumens, twice as bright as an average light.
For rough, offroad riding you also get a removable rock guard and heavy-duty mounting bracket to attach directly to the front fork arch.
Reflective safety sticker
$15
Night riding can be dangerous but sometimes, it's a necessity. If you plan to spend a lot of time riding after dark, put your mind at ease with these reflective safety stickers.
Each pack includes 12 shiny white stickers designed to attach to various parts of the bicycle, ensuring you remain highly visible from all directions.
Water bottle
$15
Staying hydrated is the key to a successful and enjoyable day out cycling. Even on an e-bike, some effort is required and you will get thirsty on hot days!
This 22 oz plastic water bottle is BPA-free and branded with the Rad Power Bikes logo. It's easy to clean and features a soft bite nozzle in the common style of sports bottles.
Rad Colored grips
$25
Spruce up your RadRover 5 with these colorful Velo Comfort Rubber Ergo grips that come in RadPower's signature orange or a choice of blue or green. Match them with your pedals to make your RadRover 5 color-coded and easy to spot in a bike parking lot.
Both left and right grips are included in a single package and are simple to install with just a screwdriver and isopropyl alcohol (not included).
Rad Colored pedals
$29
Combine these Wellgo forged aluminum pedals with your colored grips to make a stylish and unique bike. Just like standard RadRover electric bike pedals, they include reflectors and use standard 9/16″ x 20 TPI threading.
Removable and installation are simple, requiring just a 15mm pedal wrench (or crowfoot torque wrench) and some bicycle grease (not included).
Pet basket carrier
$109
This attractive and practical fully-enclosed pet basket is made from soft washable polyester fabric and features breathable mesh windows, an internal leash ring, and a velcro door. With a tarpaulin base and reflective trim for extra safety, it fits securely onto the RadPower large rear rack and is ideal for any small dog or cat.
For better airflow and ventilation on fair weather days, you can also completely remove the top section and leave it at home. The dimensions of the RadPower Pet Basket Carrier are 13.3″ x 19.7″ x 12″ (34 cm x 50 cm x 31 cm).
Large insulated delivery bag
$69
If you need to deliver food by bicycle you'll need an insulated bag designed to keep hot items hot, and cold items cold. RadPower has created this excellent food-focused carrier bag specifically for delivery people in the catering industry.
The extra-large, fiberglass-reinforced delivery bag is built from durable nylon material with a thermally reflective liner. It weighs only 2kg when empty and uses 6 hook and loop straps to mount securely to almost any standard rear bicycle rack.
Includes reflective safety strips, an external right side pocket for small items, a hook-and-loop top flat, and a zippered front flap. The box resembles a large cube, with dimensions of 40.3 cm x 40.3 cm x 43 cm.
Saddlebag
$25
Every cyclist should carry a saddle bag for small important tools, spare tubes, and a repair kit. This compact bag from RadPower fits neatly under your seat, out of the way but always ready for an emergency.
The seat post requires at least 135mm of height for it to fit under and the dimensions are 6.6″ x 4.7″ x 4.3″ (17 cm x 12 cm x 11 cm).
Handlebar mitts
$79
If you live in a cold climate and often cycle through winter, you'll know the importance of good, warm gloves. These convenient handlebar mitts attach permanently in place of your bicycle grips, making it easy to slip your hands in and out without needing to take gloves with you.
Made from neoprene with a ripstop microfleece hinge, these excellent waterproof gloves are one-size-fits-all, allowing perfect control of the handlebars, brakes, shifters, and throttle while riding.
Pet water bowl
$19
The excellent team at RadPower Bikes always has the safety and happiness of your furry friends on their minds, as is reflected by this convenient foldable pet water bowl.
Simply fold it flat and pop it in your bag or basket, ready to unfold and fill with water at any rest stop. No more thirsty pets or hassles with clumsy plastic bowls – this lightweight solution is the perfect pet-friendly solution.
---
Other Rad Power Bikes Models
| | | | | | | | | |
| --- | --- | --- | --- | --- | --- | --- | --- | --- |
| RAD POWER BIKES | PRICE | TYPE | MOTOR | FRAMES | SPEEDS | TIRES | BRAKES | FORK |
| RadMission 1 | $999 | Single-speed | 500W | ST / Standard | 1 | 27.5 x 1.95 | Mechanical | Rigid |
| RadRunner 1 | $1,299 | Utility | 750W | ST / Standard | 1 | 20 x 3.3″ | Mechanical | Rigid |
| RadRunner Plus | $1,899 | Utility | 750W | ST / Standard | 7 | 20 x 3.3″ | Mechanical | 80mm |
| RadExpand | $1,499 | Utility | 750W | ST | 7 | 20 x 4″ | Mechanical | Rigid |
| RadMini 4 | $1,499 | Folding | 750W | ST / Standard | 7 | 20 x 3″ | Mechanical | 80mm |
| RadWagon 4 | $1,899 | Cargo | 750W | Step-Through | 7 | 22 x 3″ | Mechanical | Rigid |
| RadCity 4 | $1,599 | City/Hybrid | 750W | ST / Standard | 7 | 26 x 2.3″ | Mechanical | 100mm |
| RadCity 5 | $1,799 | City/Hybrid | 750W | ST / Standard | 7 | 27.5 x 2.0″ | Hydraulic | 50mm |
| RadRover 5 | $1,699 | Fat | 750W | ST / Standard | 7 | 26 x 4″ | Mechanical | 80mm |
| RadRover 6 | $1,999 | Fat | 750W | ST / Standard | 7 | 26 x 4″ | Hydraulic | 60mm |
---
Conclusion
The RadRover 5 is a high-quality electric bicycle with a powerful motor and a surprisingly low price tag that results in excellent value for money. Unlike some other low-cost electric bike manufacturers, Rad Power Bikes doesn't resort to using cheaper parts to keep down costs. With components from well-trusted manufacturers like Shimano, Tektro, and Samsung, you can rest assured this is a professional piece of equipment.
However, its large wheels and heavy frame mean it might not be the ideal electric bike for everybody. Rad Power Bikes makes lighter, faster electric bikes for city riding only, so you should only consider the RadRover 5 if you intend on venturing offroad. In that respect, however, it's the perfect pedal-assisted vehicle for adventurous explorers.
Everything on the bike feels strong and solid, giving you the confidence to head out into nature on extended trips with the knowledge that you won't be left stranded with a broken bike.
---
FAQ
How fast does a RadRover go?
RadRover 5 top speed is 20 mph with both throttle and pedal assist mode. That makes this a class 2 e-bike, which is the same as all other Rad Power Bikes models. The bike is completely street legal and does not require any registration or licensing in order to ride on city streets.
How far can you ride with RadRover on a single charge?
On average, the range for RadRover is rated for 20-45 miles per charge. But you must take into account that it depends on the rider's weight, power usage, terrain, and the amount of cargo you are carrying. If you want to maximize the range, stay in low pedal assist levels and pedal more.
Which Rad Power Bike is the best?
All Rad Power Bikes models are good, so it's hard to choose just one. The decision depends on your needs and expectations since each model can serve a different purpose and is aimed at different types of riders. You can read about all Rad Power Bike bicycles in our brand overview.
---
All-New RadRover 6 Plus
Rad Power Bikes has recently discontinued RadRover 5. Instead, the company has released a new and improved model called RadRover 6.
Click on the links below to buy it or read our full review and learn more about it and all the updates the new model has received!
Buy RadRover 6 Plus Buy RadRover 6 Plus Step-Thru