Best Class 3 E-Bikes You Can Buy in 2022
Class 3 e-bikes or speed pedelecs (short for "pedal electric cycles") are the most powerful class of electric bicycles on the market. These bikes support riders with varying levels of pedal assistance up to 28mph (45km/h).
The best class 3 e-bikes have large battery capacities and range, extra accessories such as LCD screens and lights, lightweight components, powerful hydraulic disc brakes, and good weight distribution for optimal handling. Depending on the type of riding you do, you can look for a style that suits your needs.
What Is a Class 3 eBike?
To summarize what we briefly touched on above, Class 3 eBikes have the following characteristics:
The motor is activated through pedaling (although some have a throttle too)
Max speed is limited to 28mph
Equipped with a speedometer
The motor stops assisting when you reach the maximum speed
The motor also stops when you stop pedaling
All electric bikes use pedal assist sensors to control the amount of power that the motor gives while riding. These sensors can work off a number of things including pedal speed (cadence sensor), pedal pressure (power) or torque (torque sensor), and or just bicycle speed with a speedometer.
How Do Class 3 E-Bikes Work?
All Class 3 e-bikes are speed pedelecs, meaning you must pedal to activate the motor. Although, some versions do come with a throttle that can be used to engage the motor without pedaling. Once the speedometer senses you have reached 28mph, the motor then cuts off until you fall below that speed again.
In the USA, most Class 3 electric bikes are limited to 750W power (one horsepower). However, this is not the only factor that influences speed and acceleration. Torque, which is measured in "Nm", is a factor that isn't limited by regulations and is generally higher in premium "mid-drive" motors, compared to rear-drive, giving these bikes better acceleration off the mark.
---
Best Class 3 eBikes with a Throttle
---
A class 3 e-bike may or may not come with a throttle. This throttle is similar to what you can find on a moped or scooter and activates the motor independently of pedaling making it fully electric.
Throttle speed is limited to 20mph on class 2 bikes and this also applies to class 3 models that incorporate a throttle.
Ride1UP – 500 Series
Best value Class 3 electric bike with a throttle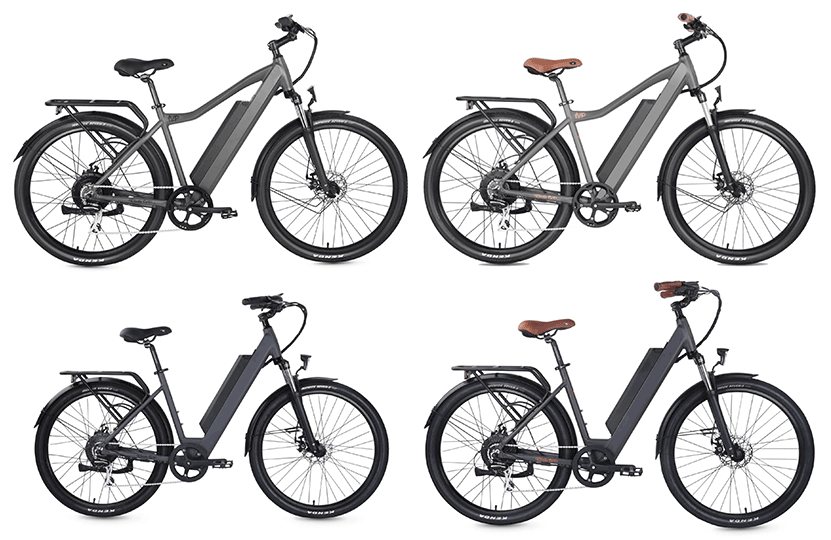 MSRP: $1,295
Ride1UP
Weight – 55 lbs | Battery – 48V 13Ah (624 Wh) | Motor – 750W | Range – 25-45mi | Torque – 60Nm
Affordable electric bikes don't get much better than the Ride1UP 500 Series. This bargain e-bike performs way above its price, delivering a ride quality that is comfortable and powerful on varied terrains.
The 500 Series has an excellent set of components. Most notably is the front fork suspension, powerful mechanical disc brakes, Kenda Kwick Seven.5 puncture-resistant tires, and a powerful 750W/60Nm motor on a lightweight and maneuverable frame that weighs just 53lbs.
Riders can choose from two models, the XR is more performance-focused using a mountain bike style geometry. Whereas, the ST version uses cruiser-style geometry and handlebars with a step-through top tube to maximize comfort. Additionally, both models come with all of the essentials for convenient city riding including rear racks, fenders, and lights.
Lightweight 6061 alloy frame
Left side thumb throttle (up to 20mph)
Tektro Aries mechanical disc brakes
650b Kenda Kwick Seven.5 tires
1×8 Shimano
---
Rambo – Prowler
High-performance Class 3 hunting eBike
MSRP: $6,499
Rambo Bikes
Weight – 70 lbs | Battery – 816Wh | Motor – 1000W | Range – 40mi | Torque – 160Nm
The Prowler is one of the best Rambo Class 3 e-bikes you can buy. It is a performance-style hunting electric bicycle that flourishes in extreme backcountry environments.
This Rambo e-bike features a large 816Wh down tube integrated battery, Tektro 4-Piston hydraulic disc brakes, front fork suspension, and premium Maxxis Minion 3.8″ tires. All of these components combine to make the Prowler powerful, smooth, and easy to handle.
Finally, this bike also conveniently comes with an Enviolo CVT internal gear hub which is durable and efficient in extreme conditions.
6061-aluminum frame
GT860 Air fork
Maxxis Minion 27.5 x 3.8″ tires
Enviolo CVT
Selle Royal A027HEO saddle
Tektro 4-piston hydraulic disc brakes
---
Ride1UP – Core-5
Most affordable Class 3 e-bike with a throttle
MSRP: $1,195
Ride1UP
Weight – 49 lbs | Battery – 48V 10.4Ah (500W) | Motor – 500W | Range – 20-40mi | Torque – 60Nm
The Core-5 by Ride1UP is the company's most affordable electric bicycle. It still packs a surprising punch due to its light base weight and quality components.
This cheap electric bike has an entry-level price without sacrificing ride quality. It uses a comfortable geometry along with ergonomic grips and a plush Selle Royal saddle, road-smoothing Kenda Kwick Seven.5 tires to deliver a great ride feel on urban and rural roads and paths.
The Core-5 has a powerful 500W motor that can reach speeds of 28mph and offers pedal assistance for up to 40 miles using a 10.4Ah battery.
This battery is quite small but sufficient for short to medium rides and can be upgraded to a 14Ah version with an extra purchase.
Look no further than the Core-5 if you want a sleek budget-friendly e-bike that lasts!
Smooth welded 6061 alloy fork
Tektro mechanical disc brakes
Ergonomic rubber grips
Shimano 7-speed shifter
Standard rack mounting points
---
Juiced Bikes – CrossCurrent S2
Class 3 electric bike with a throttle
MSRP: $1,999
Juiced Bikes
Weight – 59 lbs | Battery – 52V 13Ah (676Wh) | Motor – 750W | Range – 65mi | Torque – 80Nm
Juiced Bikes CrossCurrent S2 is a great urban and commuter e-bike that has premium components comparable to its more expensive competitors.
This electric bike uses an industry-leading 52-volt battery delivering high speeds at ranges up to 65 miles. Using the throttle riders can reach 28mph in seconds with the 750W/85Nm motor. While pedaling, take advantage of Shimano 9-speed gearing and advanced torque and cadence pedal assistance to make riding up hills or against the wind a relaxed experience.

Additionally, the S2 has premium hydraulic disc brakes and a high-power 1000+ lumen headlight, giving you control and visibility in any conditions.
Hydraulic disc brakes
Thumb throttle
9-speed transmission
700c tires
LCD display
---
Best Class 3 E-Bikes—Pedal-Assist Only
---
Cannondale – Tesoro Neo X 2
Best Class 3 touring eBike
MSRP: $4,100
REI.com
Weight – 55 lbs | Battery – 500Wh | Motor – 250W | Range – 52mi | Torque – 65Nm
Cannondale's Tesoro Neo X 2 is top of the bunch when it comes to all-around electric touring bicycle performance. It offers unbeatable ride quality for long hard miles off-road, with a fully loaded bike.
This Cannondale class 3 e-bike features mountain bike geometry and front fork suspension, along with large 29″ wheel and 2.25″ tires, making it ride smoothly on or off-road. Additionally, it comes with premium Shimano hydraulic disc brakes that provide the best stopping power available.
To make long touring trips convenient, this bike comes fitted with rattle-free fenders, integrated head and taillights, a handy kickstand, and an integrated wheel sensor to keep track of all of your trips through the Cannondale app.
Finally, the Tesoro Neo electric uses a huge 500Wh down tube integrated battery, with wiring capacity for an additional battery. This powers a 250W premium mid-drive motor that provides 85Nm of torque to deliver excellent power and acceleration for up to 52 miles of pedal assistance.
Frame Material – C1 Aluminum
Dual battery ready
Weight – 55lbs
SR Suntour XCM 34 Boost coil fork
1×11 Shimano Deore 5100
Shimano MT200 hydraulic disc brakes
---
Diamondback – Current
Class 3 electric gravel bike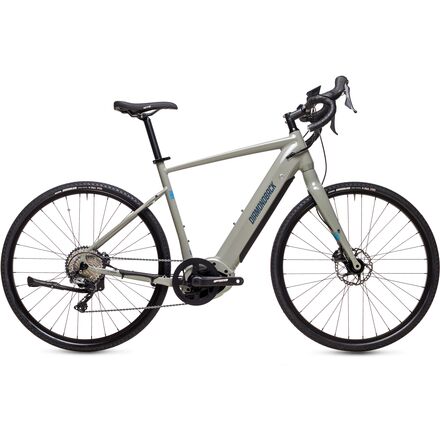 MSRP: $4,100
Backcountry
Weight – 46.8lbs | Battery – 36V 13.4Ah ( 500Wh) | Motor – 350W | Range – 35-65mi | Torque – 85Nm
The Current electric gravel bike by Diamondback is the perfect choice for a range of bikers looking for the benefits of a huge range and power to assist them on trails or tarmac.
This Class 3 e-bike comes with a durable T6 aluminum frame and fork, Maxxis Rambler 700c x 40mm tires, and powerful hydraulic disc brakes. This combination makes the Current one of the most effective e-gravel bikes on the market.
You can rely on the supreme Bosch Performance Line Speed motor to power it, delivering 85Nm of torque and 350W. Paired with an integrated 500W Bosch battery, riders can achieve speeds up to 28mph with pedal assistance for up to 65 miles of range.
Additionally, riding is easy when you have a precision Shimano GRX 11-speed drivetrain to rely on with plenty of gearing options using an 11 – 42t cassette.
6061 T6 aluminum frame with a lifetime warranty
Hydraulic disc brakes
Maxxis Rambler 700c x 40mm tires
Bosch e-bike system
---
Stromer – ST Series
Premium range of urban electric bikes with unbeatable connectivity

MSRP: from $4,590
Mikes' Bikes
| | | | | | |
| --- | --- | --- | --- | --- | --- |
| | ST1 SPORT: OMNI C | ST1 COMFORT: OMNI C | ST2 SPORT | ST3 COMFORT | ST3 SPORT |
| Weight | 62 lbs | 62 lbs | 58.5 lbs | ca 70 lbs | ca 70 lbs |
| Motor | 550W | 550W | 570W | 600W | 600W |
| Torque | 35Nm | 35Nm | 40Nm | 44Nm | 44Nm |
| Battery | 48V 10.4Ah (500Wh) | 48V 10.4Ah (500Wh) | 48V 12.9Ah (618Wh) | 48V 17Ah (814Wh) | 48V 17Ah (814Wh) |
| Range | up to 55mi | up to 55mi | up to 75mi | up to 90mi | up to 90mi |
| MSRP | $4,590 | $4,590 | $5,700 | $7,500 | $7,500 |
Swiss eBike manufacturer Stromer is the leading manufacturer specializing in speed pedelecs. The whole Stromer range showcases the best of Swiss engineering that is evident in the ride quality and durability of their urban e-bikes.
Their bikes come in three levels ST1 to ST3, with two distinct styles to choose from, Sport or Comfort. Each one of these bikes is considered class 3, offering ride assistance up to 28mph with motor power between 550W and 600W.
The main distinction between their range comes in the battery size and range, the motor power, total bike weight, and drivetrain. The higher range models have arguably better components, however, the ST2 Sport is the only one to incorporate a belt drive system, offering distinct advantages in durability.
Stromer optimizes all of their bikes for connectivity, allowing partial or full connectivity with features such as GPS localization, Smartlock, over-the-air updates, customizable motor settings, statistics, and more.
Finally, buyers can opt to customize their ride position before purchase, making changes to the handlebars, the top tube, and even adding suspension to the bike if wanted.
Stromer has clearly put a huge amount of thought and design into their premium range of e-bikes, covering absolutely everything to make their bikes the perfect companion for urban travel.
Class 3 eBikes (up to 28mph)
Flat handlebars
Aluminum frame and fork
Hydraulic disc brakes
Large-volume 27.5" tires
Integrated Headlight & Taillight
---
Priority Bicycles – Current
Best mid-level class 3 e-bike
MSRP: $3,299
Priority Bicycles
Weight – 48 lbs | Battery – 500Wh | Motor – 500W | Range – 20-50mi | Torque – 140Nm
Priority Bicycles is a new manufacturer of premium quality electric bikes at great prices. The Current is their best e-bike and comes with powerful electronics and smooth, maintenance-free belt-drive technology.
This bike is designed to excel in urban environments and hilly rural roads. Comfort and control are of utmost importance. This model differs cuts back on the nice-to-have rack but has mounts if you want to retrofit one. The Gates Carbon belt drive and internally geared hub allow this bike to last much longer than chain-drive bikes.
The Current uses upright geometry, soft grips, a comfy gel saddle, plush 650B tires, and a mid-step frame. Using a mid-drive 500W motor, this bike is powerful and smooth. A large 500Wh battery lasts between 20 and 50 miles, delivering excellent torque of 140Nm, allowing riders to tackle any hills with ease.
500w mid-drive torque-sensing motor, 140Nm
Hydroformed 6061 aluminum frame and fork
Shimano Inter-5 internal hub or Enviolo Sportive hub
Hydraulic disc brakes
---
Diamondback Union 1
The best affordable electric hybrid bike on the market

MSRP: $3,750
Jenson USA
Battery – 400Wh | Motor – 250W | Range – 35-55mi | Torque – 85 Nm
Diamondback Union 1 is the pinnacle of this brand's electric hybrid bikes. This bike focuses on comfort, practicality, and versatility, delivering one of the most enjoyable ride experiences a cyclist could ask for.
Union 1 features a 6061-T6 aluminum frame, the best on the market, helping to make it one of the toughest class 3 e-bikes around. The frame also has internal routing and comes equipped with fenders and a rear rack for daily commutes.
This Diamondback e-bike has a 1×10 Shimano Deore drivetrain, allowing riders to achieve smooth shifting and pedal efficiency. The Bosch motor provides pedal assistance for up to an incredible 55 miles using a fully integrated 400 Wh battery.
Finally, Diamondback used Schwalbe Super Moto tires, a custom ergo saddle, and endurance geometry to make this bike unbeatable in almost every way for commuters and fitness riders alike.
Aluminum frame
Tektro 4-piston hydraulic disc brakes
1×10 Shimano Deore
27.5 x 2.4″ tires
Fenders and rear rack
---
Specialized – Turbo Vado SL 4.0
Best urban/fitness Class 3 eBike
MSRP: $3,769
Mike's Bikes
Weight – 36.9 lbs | Battery – 320Wh | Motor – 240W | Range – 35-75mi | Torque – 35Nm
The Specialized Turbo Vado electric bikes are consistently top of the market for quality and durability. The SL 4.0 is their second to best e-bike but offers much better value coming in a $1000 less than the SL 5.0.
This lightweight electric bike was designed with supreme ride quality, range, and power at the forefront of thought.
It integrates a custom lightweight motor and E5 aluminum frame, premium Tektro hydraulic disc brakes, and a 320Wh integrated downtube battery to deliver an unbeatable range of up to 75 miles.
The SL 4.0 comes perfectly suited to urban travel or long-distance rides. It comes with clean internal cable routing, fender/rack mounts, and battery-powered extra-bright head and taillights. Additionally, the Specialized Pathfinder Sport 700x38c tires are super fast making for a great fitness bike.
All this and more make the Turbo Vado SL 4.0 the ideal bike for any road riding, urban or rural.
Frame Material: E5 Aluminum
Tektro hydraulic disc brakes
700x38mm Specialized Pathfinder Sport tires
1×10 Shimano Deore
Buy at Mike's Bikes
Mikesbikes.com
---
Niner – RLT E9 RDO
Best electric gravel bike
MSRP: $5,695
Aventuron
Weight – ~39 lbs | Battery – 500Wh | Motor – 250W | Range – ~32mi | Torque – 85Nm
The RLT E9 RDO electric gravel bike by Niner is uniquely gorgeous in its design, while also being exceptionally versatile and durable.
This premium gravel e-bike is ready for absolutely anything. It comes with a full carbon fiber frame, Shimano hydraulic disc brakes, and a powerful Bosch performance line motor, assisting riders to 28mph in seconds for an average distance of 32 miles, using a 500Wh battery.
The RLT E9 RDO is highly customizable. It's ready to take either 700c or 650b tires, is fork suspension ready, and can take MTB handlebars and a dropper seat post. Niner also provides custom integrated racks and fenders for those with bike touring aspirations.
Finally, this lightweight e-bike uses premium Shimano GRX 2×11 gearing to provide precise shifting across a perfect range of gears.
Frame – Niner RDO carbon
Weight – 40lbs
Tires – Schwalbe G-ONE Speed Performance
Brakes – Shimano GRX 400 hydraulic
Drivetrain – SHIMANO GRX 2×11
---
E-Bike Classification
With the explosion in the popularity of e-bikes in recent years, manufacturers and legislators have developed a classification system. This system helps legislators distinguish between the different power outputs (W), max speeds, and the presence of a throttle, thus allowing different legislation to apply to each class.
In Europe, class 3 e-bikes have been assigned to the same motor vehicle class as mopeds/scooters, limiting these bikes to 500W. However, as of 2022, in the USA, none of the states have yet made this designation, although there are some variations in regulations by state, which we cover later.
Class 1 bikes are not fully electric, don't have a throttle, and rely on pedaling in order to activate the motor. The motor stops assisting at 20mph, meaning these bikes have greater ranges than classes 2 and 3.
Class 2 models have a throttle, this means they can be used as fully electric bikes without pedaling. They also have a top speed of 20mph at which the motor stops assisting the rider.
Class 3 e-bikes may or may not have a throttle, have max speeds of 28mph, and have the most legal restrictions such as age limit and helmet requirements.
>> Related: Electric Bike Rules & Regulations in the US
Are Class 3 eBikes Legal?
Yes, Class 3 e-bikes are legal in the USA. However, the regulations on this type of bike vary by state and area. Electric bikes are not currently subject to any licensing, registration, or insurance requirements in the USA, although they are in Europe.
In general, Class 3 electric bicycles can be ridden on streets and roads where traditional bicycles are permitted, including bike lanes. However, there are possible restrictions in areas such as multi-use paths. Additionally, Class 3 electric bicycles also have additional requirements including a minimum age for users and helmet requirement.
---
Conclusion—Class 3 E-Bikes Are Fun, Fast and Practical
The decision of whether or not to buy a Class 3 e-bike versus Class 1 or 2 bikes is mostly down to what you need it for and your preferences as a cyclist.
This type of bike, especially models with a throttle, is perfectly suited to those who want power and speed. Because they are so powerful, many people can seriously consider swapping their car for a Class 3 electric bike, potentially saving you a lot of time and money, and arriving to work dry.
The speed of 28mph is also considerable. Any cyclist who enjoys a fast ride without having to be super fit to do so will enjoy this type of bike too. Finally, you can load up a Class 3 e-bike with groceries or other cargo without even stressing the motor.
In the end, these bikes are usually a considerable investment, but we believe they provide a unique function by making exploring and commuting on two wheels accessible to almost any person at any age (above 17 of course).
So if you're considering a Class 3 e-bike as your next bike, we're sure you won't be disappointed with any of the excellent options we've described above.