Rad Power Bikes RadWagon 4 Review: Ditch the Car for Good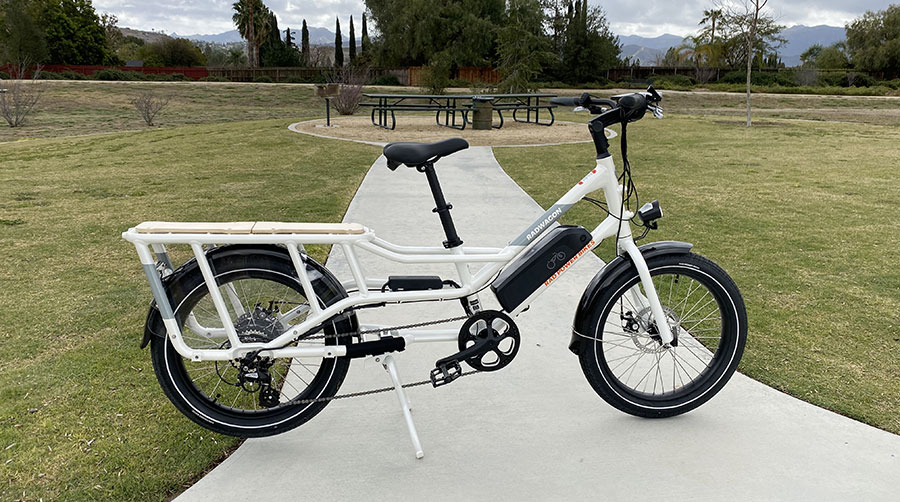 RadWagon is a Rad Power Bikes electric cargo bike, and in this post, we are going to review the fourth, also the latest version of the model they have on offer.
RadWagon Quick Specs
Price: $1,999
750W Hub Motor, Geared hub motor
Range: Up to 25-45 miles
22×3″ tires, Puncture resistant, reflective sidewall
7-Speed, Shimano Acera derailleur
Pedal-assist & Half-twist Throttle, Class 2 eBike – Speed Limited to 20mph
Samsung 35E 672Wh Battery, 48V, 14 Ah, Lithium-Ion. Rated for 800 charge cycles.
One Size Frame, Recommended Rider Heights Range – 5'1″ – 6'4″
Max Weight Capacity – 350 lb,
RadWagon Weight: 77lbs
Accessories – Dual side stand, fenders, chainring protection, front & rear lights + a brake light
Also featured in: Best E-Cargo Bikes of 2023
---
---
1

. Rad Power Bikes – RadWagon Review
The RadWagon is the ideal utilitarian cargo bike for urban or rural commuters who need to deliver packages, transport goods, run a weekend market, or ferry the kids about town. It only comes in one frame size but has an adjustable seat and handlebars to fit riders of all heights.
The extra-long rear rack can fit two child seats or carry one adult passenger, making it great for family outings or lifting friends. The inclusion of both a throttle on the handlebars combined with pedal assistance on the drivetrain means you have an easy take-off plus battery-saving benefits.
The quiet direct-drive motor will help you along at up to 24 mph (38km/h) with the e-assist boost, and take you an average of 35 miles (56km) on a single charge.
Rad Power manufacturers a ton of accessories to go with the RadWagon, including child seats, pet carrier baskets, pannier bags, and front racks. At $229, the Thule Yepp Maxi child seat integrates perfectly with the RadWagon and comes in two color options.
You can also get large Ballard Cargo bags for $119, a Basket Bag for $59, or a large insulated Delivery Bag for $69. Rad Power also sells a range of upgrades, including enhanced comfort saddles, better grips, replacement parts, and several pet accessories.
Tech Specs
---
Mileage: Up to 45mi+
The RadWagon has a 48V, 14Ah lithium-ion battery that can take you 45 miles or more per charge depending on weight, hills, and how much pedal assistance you provide. Pop the battery out overnight so you can conveniently charge it inside your house close to a power source.
Payload Capacity: 350 lb
The RadWagon can carry a massive 350 lbs (159kg) – easily enough for two average-size adults, an adult and two kids, or an adult and a serious amount of luggage. Weight can be distributed evenly around the bike using a large front rack that connects solidly to the steering column.
750W Geared Hub Motor
The 750W direct-drive rear hub motor is quieter than most other ebikes that use mid-drive motors and slightly less powerful on steep hills. However, you can still get up to 14 mph (22km/h) on hills at the highest pedal-assist mode. The speed is limited to 20mph (32km/h) but if you switch the settings to 28″ wheels you can trick it into going 24mph (38km/h).
Rad Power Bikes' max speed is limited to 20mph.
Twist-Grip Throttle
Using the throttle gives you a break from pedaling, although even the lowest pedal assistance gives you enough so that you wouldn't have to break a sweat.
The half-twist grip throttle gives you a bit of extra boost over traditional pedal-assist ebikes that require quite a hard push to get going. With the twist-grip throttle, you can effortlessly take off like a scooter before you have to start pedaling.
Electronics
---
RadWagon is equipped with water-resistant connectors and a wiring harness, and a 5V 1Amp display.
672Wh Samsung 35E – 48V 14Ah Lithium-Ion Battery
The electronics on the RadWagon are connected via water-resistant connectors with a wiring harness and a 5V 1Amp display. Everything is powered off the 672Wh Samsung 35E Lithium-Ion Battery that runs at 48V, 14Ah, rated for 800 charge cycles.
For charging, the battery comes equipped with a 2 Amp charger that operates on 100V-240V AC power outlets. On the LCD display, you get a charge indicator, speedometer, odometer, trip odometer, pedal-assist level, and wattmeter. The motorized hub has an intelligent five-level pedal-assist system with 12 magnet cadence sensors to relay all info to the display.
The 2 Amp charger operates on 100V-240V AV Power Outlets
LCD Display
Charge Indicator
Speedometer
Odometer, Trip Odometer
Pedal-assist level
Wattmeter
Pedal Assist
RadWagon controller under the left hand allows you to use intelligent 5 level pedal assist with 12 magnet cadence sensors.
Frame & Geometry
---
The RadWagon electric cargo bike is built on a durable and lightweight 6061 aluminum frame with a steel fork for best-reduced vibration qualities.
Payload Capacity: 350lbs
Rear Rack Capacity: 120lbs
Integrated Brake Light & Front LED Light
20lux = 200 Lumens in the front.
Integrated Rear Rack
The integrated rear rack is the main feature of the frame, stretching out about 50% of the length of the bike. It comes fitted with wooden boards to strap luggage two or carry a seated passenger with the addition of footpegs or runner boards.
It can carry up to 350lbs (159kg), with a rear rack capacity of 120lbs (54kg). The frame includes integrated brake lights plus a powerful 20 lux front LED light that gives out 200 lumens for safer night cycling. This is about 1/4 the brightness of a standard 60W light bulb, more than enough to light up the road for night cycling.
Telescoping Seat Post
The telescoping seat post on the one-size-fits-all frame can be adjusted to accommodate a range of riders of different heights, helped by the adjustable handlebars to put you in a comfortable position.
22×3″ tires
The RadWagon ebike features custom 22″x3″ tires, perfect for carrying heavyweight and absorbing vibrations on the road. They are fitted to extra-strong Shinning DB-X50 alloy rims with 36 spokes for added strength.
Gearing & Braking
---
7-Speed Shimano Acera 11-34 Tooth Freewheel
The 7-Speed Shimano Acera drivetrain features an 11-34 tooth freewheel hub which offers just enough gear ratio to manage mild hills while heavily loaded. Fortunately, the electric pedal assistance will make any hill climb a hassle-free experience.
Tektro MD-M300 Mechanical disc brakes with 180mm rotors
For stopping power, the RadWagon electric cargo bike is fitted with Tektro MD-M300 mechanical disc brakes using 180mm rotors. While not as powerful as hydraulic disc brakes, few cyclists will notice any difference.
---
2

. RadWagon Accessories
Any electric cargo bicycle should have plenty of add-ons to really use its whole purpose and the RadWagon is no exception.
Dual Battery
Bags: Handlebar, Saddle & Top Tube
Saddle
Handlebar Mitts
Bike Adapter for hauling
Pet Basket Carrier & Liner
Pet Water Bowl
Pet Kerchief
Pet Chew Toy
Ebike Hitch Rack
Front-Mounted Basket
Reflective Safety Sticker
Water Bottle & Holder
Rad Colored Grips
Rad Mirror
Passenger Pegs
Caboose rack
Running boards
Deckhand
RadWagon rear deck pad
Premium Headlight
Small & Large Insulated Delivery Bags
Baskets both metal and made of canvas
Platforms
Front Rack
Thule Yepp Maxi Child Seat
Pannier Bags
---
About Rad Power Bikes
RadCity – RadMission – RadRover – RadRunner – RadMini – RadWagon
Seattle-based Rad Power Bikes is North America's largest electric bike brand, with a wide range of e-bikes for every type of cyclist.
The brand was founded in 2015 by Mike Radenbaugh and Ty Collins, two innovative cycle enthusiasts who saw the future of e-bikes.
The team works toward caring for the environment, being inclusive of all backgrounds and skills, challenging the status quo, collaborating with others, and constantly improving their skills.
Where does the RadWagon bike reside in the cargo bikes range?
One of the key features you'll notice that makes the RadWagon stand out from similar cargo bikes is the price. For as little as $1,500 you can get a top-quality electric cargo bike for half the price that competitors are asking. The low price might make some of you wonder – where has Rad Power cut corners to keep costs down? Well, if you find out, let us know because we only see good quality parts here.
With a 750W Shengyi direct-drive hub motor, a rock-solid frame, Shimano gears, integrated lights, and a large LCD display, there is little to fault about the RadWagon. The disc brakes are mechanical rather than hydraulic, and you only get a 7-speed drivetrain but these small details will make little difference to most riders.
Customer Feedback
---
"Easy assembly, great fun to ride especially if you have hills to contend with!"
"Overall a great replacement for a car – The real question is why not to buy one?"
"Well designed. Very good quality. Great support. Possibly better than I expected"
> 14 Day Free Trial 🏆
> 1 Year Warranty 🏆
---
Blix Packa vs RadWagon
Blix Packa is RadWagon's #1 competitor, and here we'll make a quick comparison to make choosing a bike easy for you.
RadWagon
Price: $1,999
Fits riders: 5'2″ – 6'2″
Motor: 750W
Battery 46V 14Ah (672Wh)
Range: Up to 20-45mi
Throttle & Pedal-assist (Class 2)
Brakes: Mechanical, 160mm rotors
7-Speed Shimano Acera derailleur
Payload capacity. 275lbs (Total 350 lbs)
7-Speed
22″x3″
Total length: "
Weight: 77lbs
Blic Packa
Price: $1,699
Fits riders: 5'1″ – 6'3″
Motor: 750W (Peak 1,350W)
Battery: 1,228Wh in total (Dual-battery)
Range: 80mi with a dual-battery
Throttle & Pedal-assist
Brakes: Hydraulic, 180mm rotors
7-Speed Shimano Acera derailleur
Payload capacity: 200lbs (Total 400lbs)
24″x
Total length: 81″
Weight: 79 lbs
---
3

. Conclusion – Is it worth it?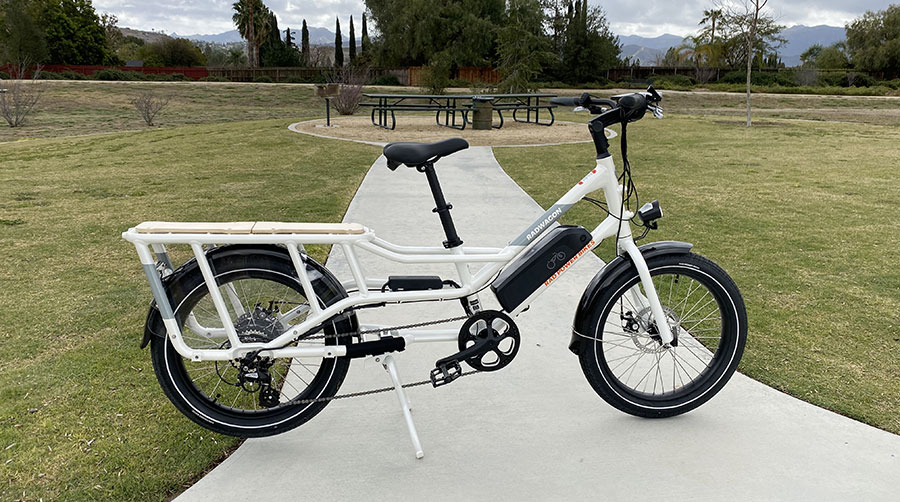 Electric bicycles have exploded in popularity lately, with lots of manufacturers jumping on the bandwagon, producing cheap products to undercut the market. However, when it comes to cargo bikes you can't mess around with quality, especially not if you plan on transporting your kids or pets.
The RadWagon is one of the best quality electric cargo bikes on the market, and yet it manages to retail at a very affordable price. Sure, there might be a few better cargo e-bikes out there but for the price, you'll struggle to find a better value than the Rad Power RadWagon.
RadWagon eBike holds the '2023 Best Value Electric Cargo Bike' for sure, no questions asked. It is their whole branding strategy, a wide variety of reviews, and a positive score that matters the most. Besides, RadWagon was the brands' first conception when they first started out.