Best Electric Bikes Under $1,500 to Consider in 2023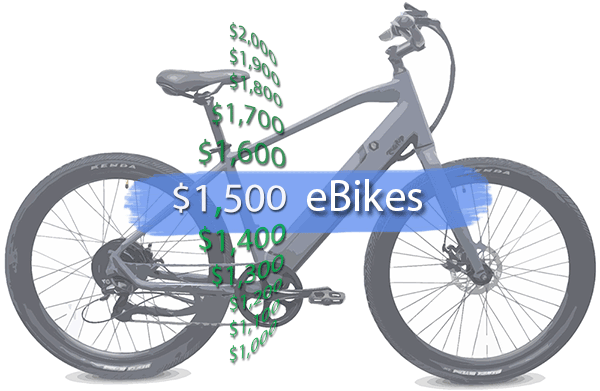 What is the sweet spot for an affordable eBike in 2023 – Is it $1,000, or $2,000? – How about we cut it in half?
$1,500 is a highly competitive price range to be in for an e-bike. Therefore, there is quite a good selection of high-value bikes. It also happens to be one of the more common amounts that potential buyers are looking to spend on an e-bike.
$1,000 vs. $1,500 vs. $2,000: What do you get?
$1,000 eBike – Hub motor, Mechanical disc brakes, Single-speed/low-quality derailleur, aluminum/steel frame.
$1,500 – Hub/Mid-drive motor, Mechanical/Hydraulic disc brakes, aluminum/steel frame, improved derailleur.
$2,000 – Hub/Mid-drive motor, Hydraulid disc brakes, better quality derailleurs & components.
---
Best Electric Bikes Under $1,500
---
Rad Power Bikes RadRunner 2
Best utility electric bike under $1,500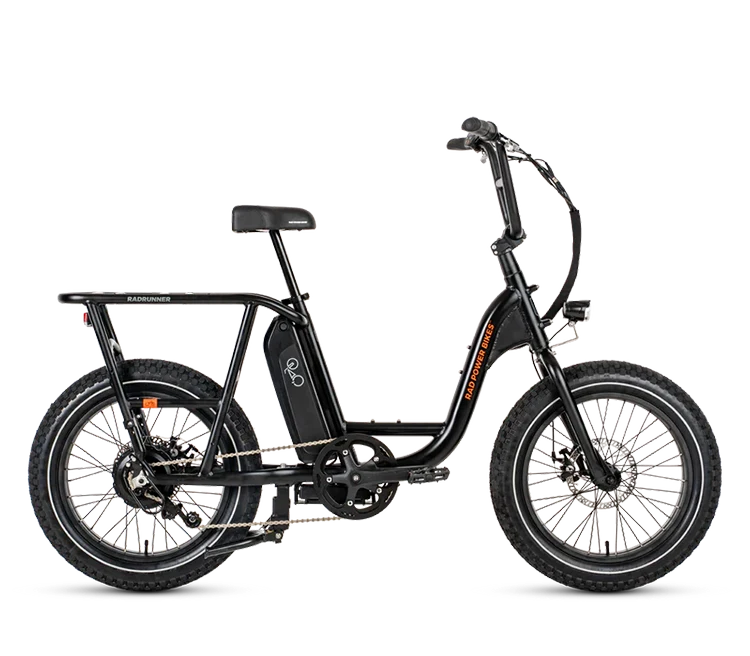 Weight – 65 lbs | Battery – 48V 14Ah (672Wh) | Motor – 750W | Range – 25-45mi | Torque – 80Nm
MSRP: $1,499
Tektro Aries mechanical disc brakes
Rigid steel fork
Single-speed gearing
20″ x 3.3″ puncture-resistant Kenda K-Rad tires
The RadRunner 1 may not be the cheapest but it's probably the best value electric bike from Rad Power and provides excellent utility. The extra-strength frame and rear rack can be fitted with a multitude of accessories, allowing you to carry children, passengers, or luggage in many different ways.
As a single speed, the RadRunner 1 doesn't include any extra manual gears, so you have to rely on the power of the motor to tackle hills.
Fortunately, the 750W motor kicks out 80Nm of torque, so you can transport your family or friends around town without trouble. The 48V battery has a 672Wh life, lasting 800 charge cycles and delivering up to 45 miles (72km) from a single charge.
Some nice extras include both front and rear headlights, a kickstand, and an intuitive LED display showing you pedal assist level, charge level, and light indicator. The Tektro Aries mechanical disc brakes are a popular addition on eBikes, delivering sharp and quick braking power to the 20″ wheels.
Plus, the puncture-resistant 3.3″ Kenda K-Rad tires will ensure you won't be left repairing inner tubes on the roadside very often. For small families, market stall owners, or weekend campers, the RadRunner 1 is a great utility eBike that will solve all your transport requirements.
---
VVolt Alpha
One of the cheapest Gates Carbon belt drive e-bikes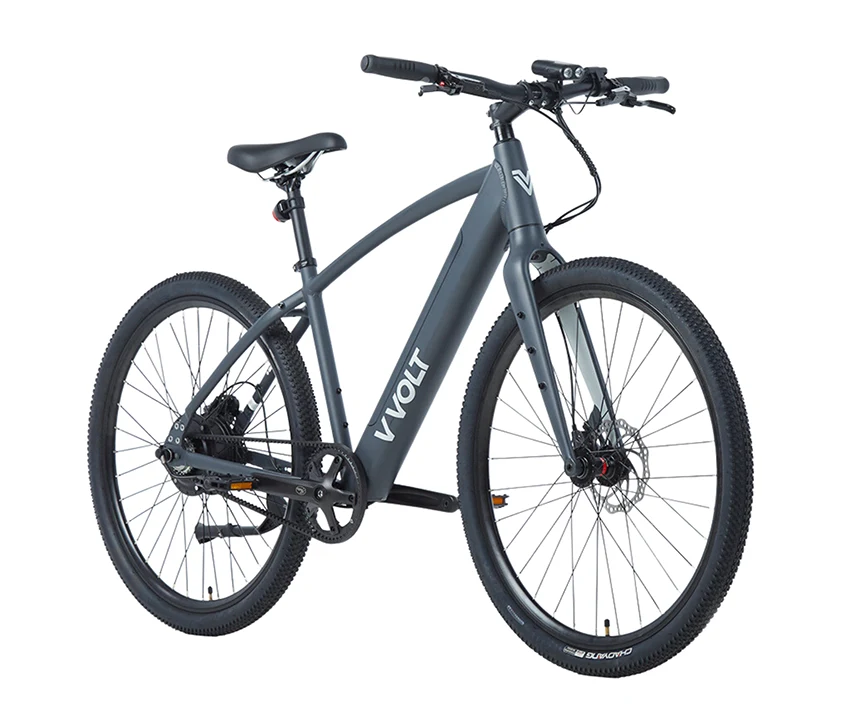 Battery – 375Wh | Motor – 350W | Range – Up to 60mi
MSRP: $1,399
Class 1 eBike
Hydraulic Disc Brakes, 160mm Rotors
Single-Speed Drivetrain
Quiet Gates CDN Belt Drive
Rechargeable Lights Included
The Alpha by V Volt is an affordable e-bike with premium features that are rarely seen in bikes at this price range.
Firstly, this bike has a Gates CDN belt-drive system with internal gearing which makes for a quiet, smooth, efficient, and maintenance-free ride. Additionally, this single-speed drive system has five levels of pedal assistance so you have plenty of options for varied terrain.
The battery itself provides 350W of power and will last up to 60 miles using a 375Wh battery for juice. Another notable component is the hydraulic disc brakes which are also uncommon at this price range.
Finally, the Alpha also comes with rechargeable lights, USB charging, and a three-year warranty.
---
Buzz Cerana
A mid-drive eBike under $1,500 – Score: 4.5 / 5 out of 45+ reviews
MSRP: $1,499
BUZZ is a simple electric bike brand as they have only two bikes in varied color schemes in their listings. Besides the trike, the Buzz Electric Bike (above) is a great commuter eBike at under $2,000.
For $1,500 you'll get a mid-drive motor which is quite unseen at this price range, 24″ wheels that fit the whole family, and provide an easy on/off the bike thanks to the step-through frame.
Their bikes are also distinguished by the integrated front basket that speaks for the main purpose of its design – an eBike for commuting.
---
Lectric XP 3.0
One of the highest-rated cheap e-bikes

Weight – 64 lbs | Battery – 500 Wh | Motor – 500W | Range – 45 miles
MSRP: $1,099
Class 2 eBike
Mechanical Disc Brakes
Foldable Frame
7-Speed Drivetrain
20″ x 3.0″ fat tires
Backlit LCD Easy Read Display
The Lectric XP 3.0 foldable e-bike is a product with thousands of positive reviews by both riders and cycling blogs.
For the XP 3.0, Lectric's focus was comfort and convenience with a little touch of power. To do so they started with a lightweight aluminum frame with a low step-through foldable design and upright geometry. Additionally, they included a padded seat, adjustable handlebars, and smooth-rolling 3″ fat tires.
For power, you have a 500W rear hub motor and a fast-charging 500 Wh battery. Using the five levels of pedal assistance available to you, expect up to 45 miles of range. If the battery dies, you can take advantage of a 7-speed drivetrain to keep riding with relative ease.
Of course, the highlight is the compact design and foldable frame, so get Lectric XP 3.0 if you need a fun little e-bike that's easy to ride and even easier to store and transport.
---
Ride1UP Core-5
Best electric bike under $1,500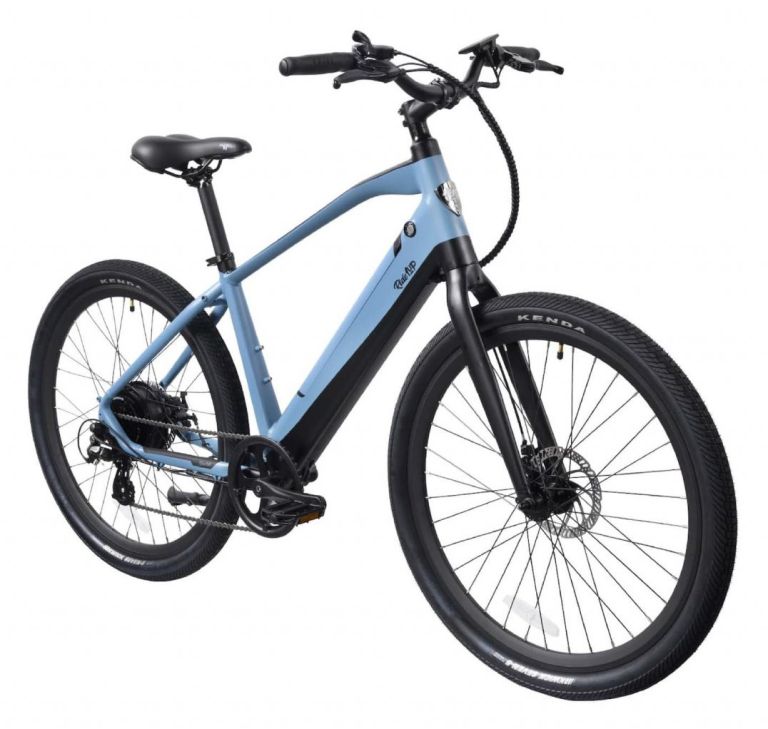 Weight – 49 lbs | Battery – 48V 10.4Ah (500Wh) | Motor – 500W | Range – 20-40mi | Torque – 60Nm
MSRP: $1,195
Shimano 7-speed shifters
Tektro mechanical disc brakes
Adjustable LCD display
27.5″ x 2.2 Kenda tires
Class 3 eBike
The Ride1UP Core-5 is our best electric bike under $1,500, offering a very similar but more affordable version of the LMT'D. It's also a Class 3 pedal-assist bike with a 750W geared hub motor and a top speed of 28mph (45km/h).
However, the Core-5 has a solid fork and a smaller battery more suited to short missions around town, achieving up to 40 miles (65 km) per charge. The torque on the Core-5 is a bit lower, topping out at 60Nm – still more than enough to attack hills with a heavy load.
At only 49 lbs (22.2kg), the Core-5 is one of the lightest aluminum framed electric bikes available, making it ideal for home storage or public transport. Despite the low cost, the Core-5 makes use of a decent 7-speed Shimano Altus drivetrain combined with Tektro mechanical disc brakes, making for a relatively good groupset.
The standard-issue Kenda Kwick tires are sufficient for most surfaces and you get a kickstand included but otherwise, extra features are limited. All in all, the Core-5 is an affordable, lightweight hybrid electric bicycle that does what it says on the box.
It'll get you around town and then some, but I wouldn't take it for long weekends camping in the woods.
Core 5 Size Recommendations
XR – 5'6″ – 6'4″
ST (Step-Thru) – 5'0″ – 6'1″
More Ride1UP Models

| | | | | | | | | |
| --- | --- | --- | --- | --- | --- | --- | --- | --- |
| RIDE1UP | TYPE | MSRP $ | FRAMES | SPEEDS | TIRES | WEIGHT | COLORS | TORQUE |
| Roadster V2 | Single-sp | 1,095 | S-L | 1 | 700x28c | 33lbs | 3 | 40Nm |
| Core-5 | City | 1,195 | XT/ST | 7 | 27.5″x2.2 | 49lbs | 2 | 60Nm |
| 500 Series | City | 1,295 | XT/ST | 8 | 27.5×2.2″ | 55lbs | 2 | 60Nm |
| 700 Series | Hybrid | 1,695 | XT/ST | 8 | 27.5×2.4″ | 62lbs | 2 | 60Nm |
| LMT'D | Mountain | 1,895 | XR/ST | 8 | 27.5×2.4″ | 53lbs | 2 | 100Nm |
| Prodigy | Hybrid | 2,295 | XR/ST/XC | 9 | 27.5×2.0″ | 48lbs | 1 | 90Nm |
---
State Bicycle Co. 6061 E-Bike Commuter
Weight – 38 lbs | Battery – 360 Wh | Motor – 250W | Range – 24-100 mi
MSRP: $1,500
Mechanical disc brakes
Fast 700C tires
Single-speed drivetrain
At just under $1,500, you'll struggle to find a more stylish electric bike on the market than the State Bicycle 6061 E-Bike Commuter.
This neat bit of machinery from an industry leader is quite impressive for the price. A 250W hub motor combined with a 360 Wh battery makes up the electronics, giving you up to 100 miles of range in PAS level 1.
However, some caveats keep the price so low: the single-speed drivetrain means you don't get any easier options when you hit the hills or high range for speed. Mechanical disc brakes give you plenty of stopping power and more than most other bikes in this range.
Moreover, 700C tires are great for city streets and commuting, providing excellent grip in wet or dry weather. Unfortunately, there are no accessories, but you can retrofit whatever you need.
Overall, the 6061 E-Bike commuter is an excellent budget electric bike that's great for work commutes and short missions around town.
---
Aventon Pace 500.2
Best electrical comfort bike under $1,500
Weight – 52 lbs | Battery – 614 Wh | Motor – 500W | Range – Up to 48 mi | Torque – N/A
MSRP: $1,299
Aluminum frame & fork
Ergonomic shock-absorbing saddle
Class 3 eBike
8-speed
27.5″ x 2.2″ tires
Hydraulic disc brakes
This version of the Aventon Pace 500.2 is a comfort-cruiser eBike.
The Class 3 pedal-assist bike has a 500W Hub motor powered by a 614 Wh removable battery, delivering up to 48 miles worth of cruising energy throughout the day.
The designers of the Pace 500.2 put a strong focus on comfort, including an ergonomic shock-absorbing saddle and thick 2.2″ tires that swallow up vibrations. We can't also overlook the upright riding position, mainly thanks to the swept-back handlebar.
For people who are new to cycling, the Pace 500.2 is a great bike that almost everyone will enjoy a relaxed session on. Being a Class 3 e-bike, you are still going to need to pedal for the motor to work, so this makes the bike great for light exercise as well. Thanks to that, Class 3 eBikes have the best power-to-range ratio out of the 4 eBike classes.
Aventon Pace 500.2 size recommendations
Regular: 5'3″ – 5'10"
Large: 5'10" – 6'4″