Ride1UP 700-Series Review: Well-Equipped Electric Hybrid Bike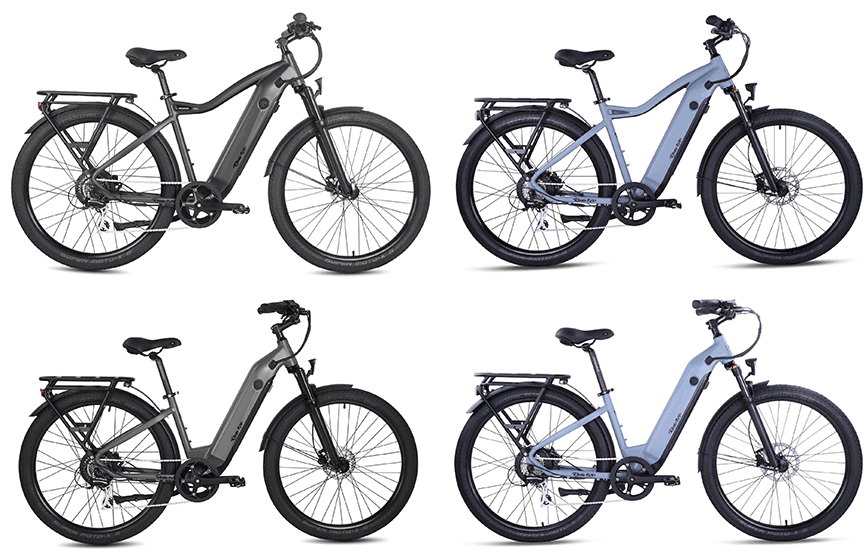 The Ride1UP 700 Series is an electric bicycle sold with a mid-range spec at an impressive price, only slightly above entry-level e-bikes.
From the first ride, it is clear that this bike is high-quality and built to last. It also has an impressive list of features and premium components that we will cover in-depth in this article. Ride1UP's 700 Series is a perfect match for any riders looking for a comfortable, yet high-performing electric bicycle to accompany them on any type of journey.
If you were looking for a functional comfort e-bike with a budget of less than $2,000, then you need to look no further than the 700 Series, this bike over-delivers in almost every way.
Ride1UP 700 Series Full Specifications
| | |
| --- | --- |
| Brand | Ride1UP |
| Model | 700 Series |
| Type | Electric, City, Commuter |
| Model Year | 2020-2021 |
| Price (USD) | 1,695 |
| Designed For | Urban commuting, light gravel roads |
| Frame Types | XR / ST |
| Frame Size & Recommendation | XR – 5'5″ – 6'4″ ST – 5' – 6-2″ |
| Wheel Size | (650b) 27.5″ |
| E-Bike Class | Class 3 |
| Max Speed | 28mph |
| Range (mi) | 20 – 45+ |
| Motor | 750W – 60Nm |
| Motor Type | 48V Geared Hub Shengyi Motor |
| Battery | 48V 14ah (672Wh) Retention Rhino, 52x Samsung 35E Cells, Smart BMS |
| Modes | Integrated Sensitive Cadence Sensor PAS |
| Controller | 48V 22A Lishui Sine-wave (potential peak output of 1000w) |
| Charger | 48V 2A, 100V-240V |
| Throttle | Left side thumb throttle |
| Display | KD218 Adjustable Speed Color Display |
| Derailleur | 8-speed Shimano Acera RD-M3000 |
| Wiring | IP65 water-proof rating |
| Frame Material | Lightweight 6061 aluminum |
| Front Suspension | 100mm Mozo fork, Hydraulic Lockout |
| Rear Suspension | – |
| Brakes | Tektro Dual Piston Hydraulic Brakes w/ Electric Cut-Off Sensor |
| Rotors (mm) | n/a |
| Tires | 27.5″ x 2.4″ Schwalbe SUPER MOTO X |
| Max tire width | n/a |
| Handlebar | ST – City/Café Upright Handlebars XR – Riser Bars, 31.8mm Bar, with 25mm Rise |
| Saddle | Selle Royal Freeway Plush Gel |
| Grips | VELO Faux-Leather Grips |
| Weight (lbs) | 55 lbs without racks & fenders |
| Max weight (lbs) | 275 |
| Rear rack capacity (lbs) | 50lbs |
| Warranty | 30 Day Free Trial / 1-Year Warranty |
Size Recommendation
XR – 5'5″ – 6'4″
ST – 5′-6'2″
---
Ride1UP 700 Series Review
Ride1UP's 700 series arrives with hydraulic front fork suspension, Schwalbe puncture-resistant tires, and hydraulic disc brakes on a lightweight aluminum frame. This impressive list becomes even more potent as it is driven by the powerful motor and battery setup that Ride1UP has integrated into their bike.
The 700 Series is also fixed with a huge 750w motor combined with a large battery. All of these features, along with ergonomic upright geometry, make the it an absolute pleasure to ride on any terrain.
Who Should Buy the 700 Series?
Ride1UP has designed this bike to be suitable for a broad range of users.
They have done this through the aforementioned comfort-style geometry, along with padded comfort-focused components, thick absorbent tires, suspension, and a step-through top tube option.
This means that no type of cyclist is ruled out from using the 700 series, any rider looking for an e-bike can consider this bicycle an excellent choice.
Motor and Battery
---
Because of its large 750W rear-hub motor and considerable battery size (672Wh Reention Rhino, 52x Samsung 35E Cells, Smart BMS), the 700 Series can achieve speeds of up to 28mph on pedal assistance mode, or 20mph if you get tired of pedaling and just want to use the throttle.
The bike can maintain this remarkable power for distances of between 30 to 50 miles depending on some variables such as terrain, gradient, rider weight, and wind. Additionally, the battery powers integrated front and rear LED lights and an LCD display. The battery powers all of the above while being carefully integrated into the frame and accessible only by key.
Brakes and Gearing
---
The 700 Series comes fitted with high-performance Tektro Dual Piston Hydraulic Brakes, designed specifically for powerful 28mph e-bikes. These powerful disc brakes also include a sensor control
design which makes braking even more precise. You can be confident in the effectiveness of these brakes in any weather and at high speeds.
For the drivetrain, this bike comes with the reliable and functional Shimano Acera RD-M3000 derailleur and 8-speed Acera trigger shifter for accurate gearing. This combination means riders can enjoy an ample range of gears while riding unassisted or assisted.
Rims and Tires
---
One of the most notable features of the 700 series is the puncture-resistant Schwalbe SUPER MOTO-X 27.5″ x 2.4″ tires. These tires allow riders to ride comfortably and with control on both tarmac and trails. The Super Moto-X tires are made with 3mm "Green Guard" puncture protection material and the sidewalls are also reinforced to deliver maximum protection on any terrain.
Along with reinforced tires, this bike comes with wide double-wall rims. These rims have the best strength to weight ratio of any bike rim are high-quality and durable when compared to single-wall rims.
Ride Quality
---
This bike rides like a bicycle with a far higher price tag. Ride1UP's thoughtful design and component choice mean that their 700 Series performs above and beyond that of a bike of equal value.
Two components that really help to deliver an enjoyable ride are the inclusion of suspension and a premium comfort saddle. The Selle Royal Freeway combines a soft-to-touch cover with memory foam technology. This innovative memory foam material molds to your body shape and delivers a balanced weight distribution creating an almost weightless experience.
The suspension on the 700 Series is Mozo Hydraulic Lockout Suspension (100mm travel). This suspension is optimized with a fast hydraulic response on light trails, provides a super-smooth ride. When you hit the tarmac, you can then switch off the suspension with the lockout feature, allowing higher performance when the suspension isn't needed.
---
Design and Features
---
Display and Lights
The 700 Series comes conveniently fitted with a Blaze-lite headlight and a Spanniga Luceo taillight. Both lights are powered directly by the bike battery so you do not have to worry about charging the lights separately, and the wiring is neatly integrated into the bike.
Mounted on the handlebars is a computer with an LCD screen and three buttons to control it. On the screen, you can find your ride metrics such as distance, speed, battery level, and power. Additionally, you can operate the bicycle lights from the computer, and choose from 9 levels of pedaling assistance (PAS).
Dimensions and Sizing
---
Ride1UP uses brand-specific model types, XR and ST. These models are the exact same aside from differing frame dimensions.
The XR is a more performance-focused geometry. While still being comfortable and relatively relaxed geometry, it is a more traditional mountain bike style. This model uses a regular step-over top tube and riser handlebars which are in line straight across. This is best for riders with heights of between XR 5'5″ to 6'4″.
The ST model has a more upright and comfort-style geometry compared to the XR. It features the step-through top tube common among comfort bikes. In addition, the handlebars have a cruiser look to them, pointing slightly back toward the rider for easier reach. This model is best for riders 5′ to 6'2″.
To compare, the stand-over height of the XR is 29.5″ vs 17″ in the ST. The handlebar reach, another feature of comfort bikes is 18″ on the ST, four inches less than the XR at 22″.
Size Recommendation
XR – 5'5″ – 6'4″
ST – 5′-6'2″
Build Quality
---
This e-bike is certainly built for durability and functionality. The frame is made from a strong but lightweight alloy so that it can resist the demands of the trail while maintaining a base weight light enough to maximize the power of the battery and motor.
The choice of double-wall rims and internal battery storage also contribute greatly to the quality of this bike. Other riders who have reviewed the bike note the sturdy and well-built feel of the bike and its sustained performance over time. The bike is rated 4.9/5 stars with 355 reviews.
Extras
---
Ride1UP offers a range of easy-install bike accessories that fit all of their bikes. These include double-sided, water-resistant pannier bags, a handlebar phone mount, a rear-mounted cargo trailer with 85lbs carrying capacity, and larger capacity batteries. The company also sells replacement parts for the ones that come with the bike.
---
Ride1UP 700 vs Rad Power Bikes RadCity 4
The differences and similarities between the RadCity and 700-series
As seen in the table below, both the 700 Series and The RadCity 4 are very similar in their components, pricing, and ratings among users. That being said, there are a couple of differences worth noting that make us lean towards the 700 Series, given that the prices are almost identical.
The 700 Series comes with an integrated battery system. This, and the overall sleek design of the 700 Series mean it has a slight edge in the looks department.
Additionally, powerful hydraulic disc brakes are a superior technology to the mechanical disc brakes that come on the RadCity. While the motor of the RadCity is larger, the 700 Series makes up for it by being slightly lighter and having a wider gear range (8 vs. 7-speed bike) and more levels of pedal assistance (9 vs. 5).
700 Series
RadCity 4
Price
$1,695
$1,599
Weight

62 lbs

64 lbs
Weight Capacity
275 lbs
275 lbs
Motor
48V 500W
48V 750W
Battery
48V 14Ah
48V 14Ah
Gears

8

7
Rims
3D double wall
Alloy, double wall
Tires

27.5 x 2.4

Schwalbe Super Moto
26 x 2.3 Kenda K-Rad
Brakes

Tektro Dual Piston hydraulic brakes

Mechanical disc brakes
All in all, both bicycles would be an excellent choice for anybody looking to upgrade their e-bike without paying more or buy their first one. Both bikes outperform similarly priced models from larger manufacturers, without sacrificing durability and functionality.
---
Ride1UP 500 vs Ride1UP 700
The differences between these bikes are minimal. Both are built with very similar level components. The 700 Series has a larger battery, which greatly increases the range, although it cannot be extended because it is integrated.
The 500 Series is lighter which makes it easier to handle compared to the 700 series, but the 700 is definitely the more aesthetically appealing of the two. See the full overview of Ride1UP bikes.
Is Ride1UP 700 electric bike waterproof?
Rated at IP-65 this bike isn't waterproof, it is water-resistant. The company doesn't recommend leaving the 700 series out during rain or riding in the rain because of personal safety issues. However, the e-bike can sustain water exposure.
Conclusion
Ride1UP's 700 Series is an excellent e-bike choice that can perform well as a commuter bike or a touring bike. The bike also arrives equipped with everything you need to ride, meaning you don't need to fuss about extra gear, just pop on your helmet and you're ready to go.
If you are in the market for a bargain e-bike with premium features, then look no further than the 700 Series. Even though it's not the lightest e-bike out there, it makes up for it in comfort, power. and durability.