The 11 Best Electric Bikes – Under $1,000
Electric bikes have enjoyed a massive surge of interest lately as an increasing number of commuters turn to cheaper, more efficient means of travel. However, the addition of a motor, battery and all the necessary electrical parts has pushed the price up, making ebikes considerably more expensive than traditional bikes.
Don't be disheartened though, as several manufacturers are now attempting to make ebikes more affordable by using cheaper parts and materials. Although this brings down the overall quality of the bikes, you can still find some decent offerings for under $1,000. They may not have the same speed or range as the expensive models, but most suffice for short trips and occasional usage.
Convenience of eBikes
The added pedal power that an e-bike provides opens up the market to a huge section of the population that would otherwise never cycle. Many simply aren't fit enough, while others don't want to arrive at work sweaty from a long cycle. With an electric-powered bike, you can glide to work almost effortlessly and arrive sweat-free and ready to go.
Even experienced cyclists have found that e-bikes help to minimize muscle fatigue and joint strain, reducing the risk of injury later in life. No matter what your fitness or skill level, everyone can benefit from the convenience of an e-bike.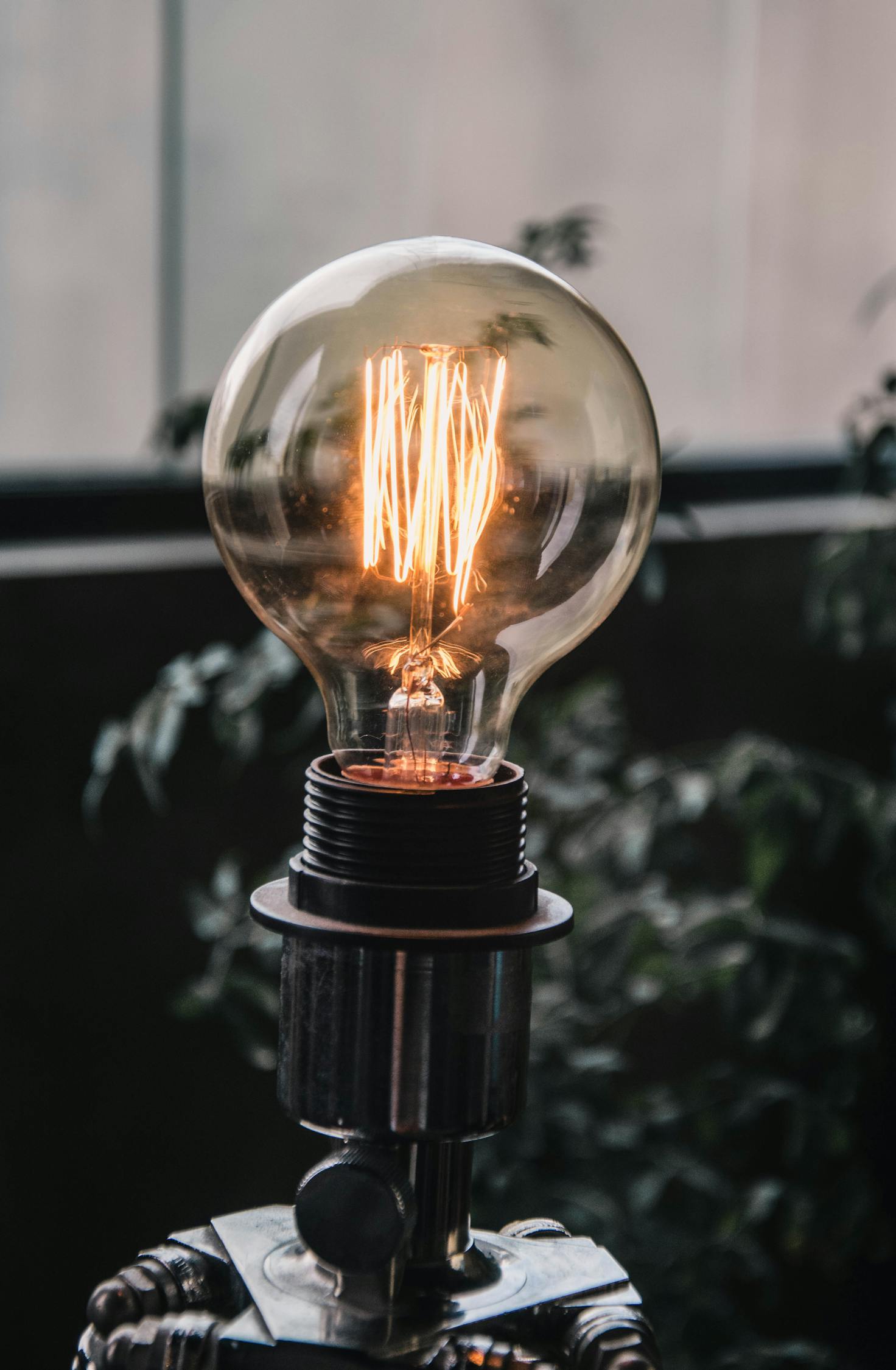 ---
The 12 Best Electric Bicycles Under $1,000
1. Lectric XP 2.0 – $1,099 $999
2. Rad Power Bikes RadMission $999
3. Ride1Up – Roadaster V2 – $1,095 NEW!
4. Engwe X5 – $999
5. Ancheer 12″ – $360
6. Swagtron 20″ –$500
7. Hyper E-Ride – $648
8. Ancheer 27.5″ – $775
9. Ancheer 26″ – $800
10. Ecotric 20″ – $815
11. Macwheel 27.5″ – $900
12. Ecotric 26″ – $919
---
Related E-Bike Reviews
7 Best Foldable Electric Bikes
---
🏆Best folding electric bike under $1,000🏆
1

. Lectric

XP 2.0

Foldable fat-tire eBike
MSRP: $1,099 $999
Lectric Bikes
A tiny city-hopper with a fat-bike attitude, this folding electric bike from Lectric is both a stylish and functional machine. The geared hub motor pumps out a huge 800W of power at its peak and will go for 45 miles (72km) on a single charge of the 48v removable battery.
The fat 20×4″ CST tires are great for tackling rough city streets or dirt paths, and the Tektro disc brakes won't let you down. The Lectric XP includes a rear rack, fenders, lights, and charger so you're ready to go straight out the box.
Lectric XP 2.0 Review – Specs & Comparisons
500W
Range: Up to 45mi
Folded dimensions: 37″ x 18″ x 27″
Two frame types – for men and women
Rear rack, fenders, kickstand
Mechanical disc brakes
Total weight: 63lbs
---
2

. RAD POWER BIKES

RadMission

Ideal for urban commutes

MSRP: $999
Rad Power Bikes

Rad Power Bikes has well established its name in the electric bike brands, which also got nominated by TIME Magazine as one of 100 top brands that make an extraordinary impact around the world. Their rear-hub motors are proven to stand the test of time, there's no doubt as the rating and feedback on their bikes is outrageous.

The RadMission is known as an electric metro bike that can be used for other purposes as well. Although it is the cheapest bike in their range, and is equipped with a 500-watt motor instead of the 750W, it is still a banging bike at this price range. Imagine how hard it would be for such a known eBike brand to release an eBike at just three digits, and expect the customers to trust on.

We can't also forget the wide variety of colors, and two frame types as well. There's literelly nothing to add or remove the bike to make it more suited to its price range, even though Rad Power Bikes offer quite a selection of accessories on their bikes.
Size Recommendations
Step-through – 5′" – 6'2″ | 28″ standover height.
Standard – 5'7 – 6'4″ | 31″ standover height.
---
3

. RIDE1UP

Roadster V2

🏆

Belt-drive – silent, clean, and maintenance-free

MSRP: $1,095
Ride1UP (Discounts may apply)
The Roadster V2 is well equipped for a thousand-dollar mark. There's a 350W pedal-assist motor that helps to speed up the bike to 24mp/h and provides a whopping range of 20-35miles! At only 33lbs, it really is fast even with the (pedal-assisted) single-speed drivetrain. Not to forget one of the best-selling points – the clean, silent, and maintenance-free drivetrain! Belt-drive bikes are known for their longevity, silence, and of course the maintenance-free belt itself!
The only downside to the bike is probably the V-brakes, but hey, brakes are the death to speed anyway, so good luck with choosing the color and size of this bike! Read more about Ride1Up brand to get a better view of their motto and bikes range of 6 models.
Max Weight Capacity: 275lb
---
4

. ENGWE

X5
MSRP: $999 $560
Engwe-bikes
Also featured in – Best Electric Mini Bikes
If you are looking for a high-performance electric bicycle to use for everyday commutes, RV camping trips, etc. The Engwe X5S mini is a great all-around choice.
This bike has a huge 20Ah battery with up to 74 miles of range to power the 240W/400W (peak power) motor. The X5S also uses maintenance and lube-free shaft drive to replace the standard chain drive.
When you want to go off-road the 2.1″ tires and front fork suspension will allow you to do so in comfort. Finally, this lightweight bike has a rear rack and fenders which make any commutes more convenient.
240W motor (400W max) high-speed brushless gear motor.
Max speed: 35km/h
48V 20Ah battery (960Wh!)
Range Up To: 37mi (throttle), 74mi (pedal-assist)
Charge time: 6-10 hours
14×2.1″ tires (Recommended tire pressure: 44PSI)
Folded dimensions: 29″ x 14″ x 22″
Max capacity: 330 lbs
Weight: 63.5 lbs
---
5

. ANCHEER

12″ / 350W

Folding Electric Bike
The Ancheer 'Dolphin' folding electric scooter is a miniature ebike with a small motor that can provide 15mph (24kph) speeds for a range of 12.5 miles (20kms). This ebike doesn't have any pedals or drivetrain and runs purely off the motor which is controlled via a smartphone app.
It has a tiny frame and wheels with a handlebar that folds down to resemble a giraffe with a broken neck. Although very compact and convenient, the design quality is low and you're likely to run into some problems with heavy use. For a fun weekend bike it may be sufficient, but it's unlikely to fulfil the needs of a daily work commute.
350W Hub-motor
Range: 15mi
Speed: 15mp/h
Charge time: 3hours
Max capacity: 265lbs
Disc brakes, kickstand
Extremely portable, fold-in handlebar
Max weight capacity: 260lbs
---
6

. SWAGTRON

14″

250W S

wagcycle EB5
This folding ebike from Swagtron uses a common straight-bar folding aluminum frame on two 20″ wheels. It's a tiny, lightweight vehicle that doesn't feel particularly strong but will get you from A to B. However, the gear range is not great so when the battery runs out, pedaling becomes difficult.
Best electric bike under $500
It features a small motor and battery like those typically found on low-cost ebikes. The motor can reach speeds of 15mph (24kph) and the battery will last about 15.5 miles (25km) on one charge. To go further, you can buy an extra battery to carry on you and swap it out during your trip.
Related: Ancheer Bikes Overview
250W Motor
14″ wheels
Range: Up to 15miles
Max Speed: 15mph
V-brakes
Fully foldable!
Fits riders 4'10" – 5'10"
---
7

. HYPER

E-Ride Electric Mountain Bike
Best cheap electric mountain bike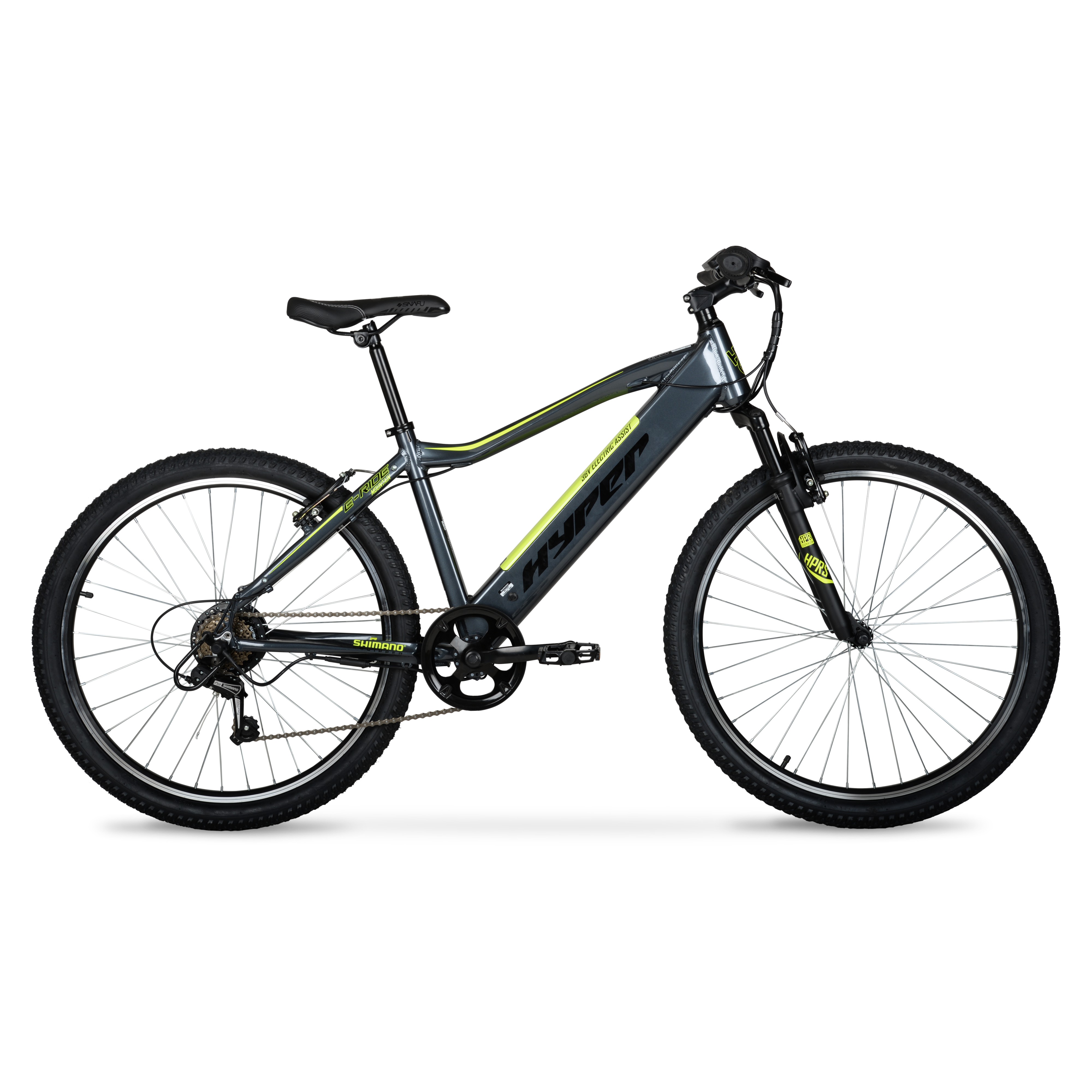 Who would've thought that you can get an E-MTB at such a low price tag?
Hardtail mountain bikes seem to gain popularity again, and the price tag for mid-range MTB's have dropped to three-digits in the past few years. What we have here is a super cheap electric mountain bike at under $700! Let's take a look and see what to expect:
26″ wheels
6-Speed Shimano drivetrain
V-brakes
Alloy wheels & 3-piece crank
250W hub motor
Max speed: 20mp/h – Class 1 Pedal-assist
Battery: 36V 7.8Ah – 281Wh
Max weight limit: 275 lbs
Weight. 46.3lbs
To conclude, this is a super basic mountain bike what we'd really recommend for light commutes on slightly uneven terrains. V-brakes and bottom-line components are not as suitable for any trail riding, but it can be suitable for someone who is on a low budget and looking to get a cheap electric bike.
Fits riders 5'2″ – 5'10"
MSRP: $578
Check Availability at Walmart.com
---
8

. ANCHEER – 27.5" Electric Mountain Bike
This Ancheer electric hybrid bike includes a front suspension and thick 27.5″ treaded tires so you can take it off-road along dirt or gravel tracks. The large capacity battery will take you on average 30 miles (48km) on a single charge and the 350W motor can reach speeds of 20mph (32kph).
The 24-speed drivetrain makes cycling uphills easy, even if the battery dies! Plus, you get mechanical disc brakes for excellent stopping power in any weather conditions. The removable 36V Li-Ion battery takes about 6 hours to charge and you get an LCD display meter with speed and battery time.
350W
Max speed: 20mp/h
Range: Up to 25mi
27.5″ Wheels
Disc brakes
Weight: 53lbs
24-speed
Recommended for riders between 5'1″ – 6'4″
---
9

. ANCHEER – 26″ Electric City Bike
Best women's electric city bike under $1,000
This attractive hybrid bike is great for city commute, shopping, or visiting friends. The included rear rack holds the removable battery and can support two pannier bags on the side and luggage on top. You can safely hit speeds of up to 18mph (30kph) on the anti-slip, wear-resistant 26″ tires.
The upright seating position means you'll be comfortable throughout the day, and the pedal-assist motor will take you up to 35 miles (56km) on a single charge of the 12.5Ah Li-Ion battery. If the battery dies you still have a 6-speed drivetrain to keep you going until you get home and powerful disc brakes to ensure you always stop safely.
Amazon score: 4.2 / 5 out of 96 ratings!
250W
Mileage: Up to 35/45mi
Charge time: 6-8h
Max speed: 19mp/h
Wheel Size: 26″
6-speed
Disc brakes
Weight: 50lb
Max weight capacity: 330lb
---
10

. ECOTRIC – 20″ Fat Tire Folding Electric Bike
Fat bikes, ebikes, and folding bikes have become all the rage recently, and this offering from Ecotric combines all three. The extra-wide 20″ x 4″ tires will handle all kinds of terrain, from sand and mud to snow and sleet. The tiny alloy frame folds in the center for easy transportation and storage, and the powerful 500W motor will keep you rolling at 20mph (32kph).
For pedal-assistance, you get a 7-speed Shimano internal gear hub that gets an extra kick from the 36V Li-Ion battery that lasts a huge 23 miles (37km) without assistance on a single charge.
500W
Range: 18-23mi
Max speed: 20mp/h
Disc brakes
20″ wheels
7-speed
Fenders, kickstand
---
11

. Macwheel – 27.5″ / 500W Electric Mountain Bike
This 27.5″ electric hybrid bike has thick-treaded tires and a front suspension fork, so it could easily double as an electric MTB. The 500W motor cruises along at 20mph (32kph) and will help you cycle up hills with ease. The extra-large Li-Ion battery provides up to 62 miles (100km) on a single charge with pedal assistance and conveniently slides out for indoor charging overnight. 
The drivetrain is a 7-speed Shimano Tourney set and Tektro dual disc brakes provide stopping power. An intelligent LCD display helps you keep track of your speed, distance, and battery power.
26″/27.5″/700C bikes available in their listings

Removable Lithium-ion battery
7-speed
Tektro mechanical disc brakes
---
12

. ECOTRIC – 26″ Electric
Fat Tire Bik
e
Best electric fat tire bike under $1,000
This beast of a bike with its thick 26×4″ tires looks more like a motorbike than a bicycle! You'll feel confident taking on all kinds of terrain with this machine, tearing through sand and over snow with reckless abandon.
The powerful 500W motor keeps you rolling along at 20mph (32kph) and the removable lithium cell battery can go for 19 miles (30km) without any assistance (steep uphills may require some pedal power though). Solid disc brakes stop instantly even in wet weather, and the 7-speed Shimano drivetrain gives you that extra boost when needed.
500W
7-Speed
Weight: 58lbs
Range: 20mp/h
26″ Wheels
Max load capacity: 260lbs
Disc brakes
Load capacity: 260 lbs
---
FAQ
Do We Recommend Electric Bikes Under $1,000?
Yes, you might just get lucky with an electric bike from Amazon, but it comes with a price!
Buying an electric bike in 2021 is not an easy task, especially when you don't have too much experience in cycling. It might seem too tempting to order a bike solely based on the price or reviews, but something that you should also know is that adding that extra $500 can save you a bunch in the long run. Getting a bicycle is a long-term investment, especially when we are talking about electric bikes – which 'age' quicker than your normal bicycles.
In short terms: We recommend bikes by well-known brands, which tend to start from the $1,300 mark. The range of electric bikes gets wider at around $2-3,000 line.
$2,000 vs $1,000 electric bike – What is the difference?
It's very hard to find a decent electric bike for under $1,000 so when buying one you need to be more careful and accept that you may run into some issues. When compared to an electric bike that costs $2,000, you will quickly notice the difference in quality.
A $2,000 electric bike will include name-brand parts that have a proven history of reliability. The batteries on these bikes will usually last several years before needing replacement, and you will seldom have trouble with the motor or controller.
An electric bike under $1,000 will usually have no-name brand Chinese which might work but don't have any guarantee. Customers often cite issues with batteries dying after a few months and problems with the cheap display units breaking. Sometimes, the manufacturer rectifies these issues, but most times, the warranty doesn't cover them and it leaves you forking out your own cash for replacements.
If you can afford to spend more, most people would advise a bike closer to the $2,000 price range. However, even with some part replacements, you could still end up with a decent, working eBike for around $1,000.
---
RELATED Reviews
7 Best Foldable Electric Bikes