Ride1UP Prodigy Review
Ride1UP is a relatively new direct-to-consumer manufacturer of great quality electric bikes at budget-level prices.
The company is based out of the US and prides itself on designing and building some of the best value e-bikes on the market. As Ride1UP doesn't have any physical stores, they have the ability to sell their products at lower prices than the competition.
Additionally, their commitment to world-class support gives them a great edge in the market. Their range includes various styles and prices of e-bikes in a range of roughly $1100 to $2300. Amongst the range, customers will be able to find the perfect bike for their needs.
With the Prodigy, you will see the best of what Ride1UP has to offer. This bike is available in three models and two distinct styles: Urban (XR and ST) and Off-road (XC).
Each model is fitted with the best components and materials available for this price range and takes advantage of careful attention to detail and design excellence. Whether you're a casual urban rider or an extreme trail adventurer, the Prodigy has got you covered.
Quick Ride1UP Prodigy Specs:
Price: $2,295
Class 3 eBike, Max. assisted speed 28mph
250W Brose Mid-Drive Motor, 90Nm
504Wh Phylion BN21 Battery, Range – 30-50mi
Bike Weight: 48 lbs (without rack and fenders), Max Payload: 300 lbs
Tires:
XR & ST – 27.5″ x 2.0″ Maxxis Refuse
XC – 27.5″ x 2.4″ Maxxis Forekaster
Hydraulic Brakes, Tektro HD-M290, 180mm rotors
1×9-speed Shimano Alivio, Electric Shift Assist Sensor
---
1

. Ride1UP Prodigy Review
The XC electric trail model is the off-road optimized version of The Prodigy. It excels in harsh environments with varied terrain, surfaces, and gradients. This bike is designed to handle well no matter where the trail goes.
To do so, it strips back the extra components seen on the urban models and adds wider off-road Maxxis tires, MTB geometry, and 120mm travel fork suspension.
The urban models (ST and XR) are clearly designed to be comfortable in a more relaxed city environment. These bikes have upright comfort bike geometry, thinner Schwalbe G-ONE tires, and rider-facing handlebars..
Of the three, the XC is the lightest as it doesn't have a rack and fenders. Each model, however, has a punchy 250W/90Nm mid-drive motor, powerful hydraulic disc brakes, a large 14Ah battery, and ergonomic touchpoints to boost comfort.
With that in mind, let's take a closer look at the specs of this great e-bike.
Electronics
---
Brose TF Sprinter Mid-Drive Motor
The Brose TF Sprinter mid-drive motor is an aluminum-based motor that delivers exceptionally smooth power output, providing exactly the right amount at all times due to the torque sensor.
Despite having just 250 watts of power, the TF Sprinter has a huge 90Nm of torque, meaning it is very quick off the line, an excellent advantage for riders tackling steep gradients or stopping regularly on city streets.
The motor itself runs whisper-quiet with almost no vibration and has no pedaling resistance when the motor is switched off. Finally, this motor integrates seamlessly with the rest of the Brose controller and control system for perfect coordination.
504Wh Battery
Phylion is a global leader in lithium-ion batteries for electric vehicles and the BN21 is a fully integrated downtube battery with plenty of juice to power the Prodigy.
This 36V battery has 14Ah meaning it lasts between 30 to 50 miles depending on the level of pedal assistance being used (of which there are 9 available to choose from on the Prodigy).
This battery locks into the frame using a set of keys for additional security. Other notable features are a useful automatic charging shutoff feature and Smart BMS which increases battery efficiency and extends the lifetime.
LCD Display
The Brose LCD display has an easy-to-read 2.2″ color screen. This system is fully integrated with the motor and controller meaning you get advanced ride metrics such as current speed, distance, trip time, and average speed.
Additionally, you can use this screen to monitor battery levels and control the 9 levels of pedal assistance.
Frame & Geometry
---
Aluminum Frame
The frame on each of the three Prodigy models is a lightweight hydroformed 6061 aluminum alloy that is both durable and responsive.
This frame was chosen to help this bike retain a low base weight while maintaining performance. Additionally, aluminum is less susceptible to corrosion.
3 Frame Types
XR – This version of the Prodigy is best suited to those riders who value performance and comfort off-road. The components on this bike make it handle better, ride faster, and feel smoother when the trail gets rough or the terrain is soft or loose. This is a true adventurer's e-MTB.
ST – Although very similar to the XC, the ST is further optimized for comfortable urban riding. Using a step-through frame, this e-bike is more accessible for riders with mobility issues, those who want extra comfort, or perhaps women wearing dresses while running errands or on their commute to work.
XC – Almost identical to the ST is the XC with its step-over frame. This model features the same list of great components just with a standard top tube. Perfect for anyone who doesn't need the added convenience of the step-through frame design.
2 Different Color Options
To round out a sleek, integrated frame design, the prodigy comes with two unique paint options. The matte grey is a simple and timeless option that fits perfectly with the bike's style. The Gloss Chameleon, however, is a bolder, more adventurous finish that will surely turn some heads.
Gearing & Brakes
---
9-Speeds
With 9 different speeds to choose from, you will always be able to find the perfect gearing while riding your Prodigy e-bike. This wide gearing means you can tackle very steep gradients with ease.
When paired with the super-smooth torque-sensing mid-drive, this Shimano Alivio 9-speed groupset definitely overperforms.
Hydraulic Disc Brakes
You can rely on powerful and reliable Tektro HD-M290 hydraulic disc brakes for great stopping power at high speeds. As this is a powerful class 3 e-bike, these brakes are necessary for adequate control. The rotors used on this brake set are 180mm which also boosts the overall stopping power.
Ride1UP Prodigy is the company's first model with hydraulic disc brakes.
Additional Features and Accessories
---
Integrated Lights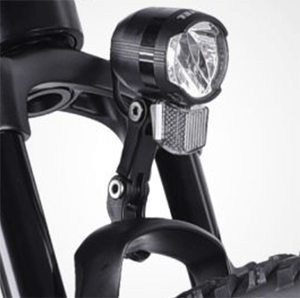 Each of the three models of the Prodigy has a Buchel Shiny ultra-bright 80 lux headlight to illuminate city or urban roads and produce sufficient visibility to keep you safe.
The Buchel Edge taillight comes installed on both urban models, but there is no taillight on the XC. This Edge taillight also features brake light activation that responds to deceleration, keeping you even safer while out on the roads. Both lights are fully integrated with and powered by the battery.
Kickstand
Finally, each of the Prodigy models comes with a heavy-duty kickstand. This is mounted conveniently on the chainstay and has an adjustable arm to change the length if needed.
---
2

. Ride1UP Prodigy vs Other Models

With the Prodigy, Ride1UP has made a strong statement in the e-bike market. Their previous models, while all great value bikes, all lacked a little bit of spark.
This new electric bike demonstrates what a company like Ride1UP can truly offer by incorporating premium features like a German engineered mid-drive motor and Tektro hydraulic disc brakes.
They did this while also keeping the weight of the bike lower than most e-bikes, not just those models in the Prodigy's price range of $2300. It's no surprise that this bike is completely sold out with roughly four months of wait for shipping.
With this kind of technology trickling down to "budget" e-bikes, it won't be long before each of the Ride1UP bikes gets overhauled with these great components.
| | | | | | | | | |
| --- | --- | --- | --- | --- | --- | --- | --- | --- |
| RIDE1UP | TYPE | MSRP $ | FRAMES | SPEEDS | TIRES | WEIGHT | COLORS | TORQUE |
| Roadster V2 | Single-sp | 1,095 | S-L | 1 | 700x28c | 33lbs | 3 | 40Nm |
| Core-5 | City | 1,195 | XT/ST | 7 | 27.5″x2.2 | 49lbs | 2 | 60Nm |
| 500 Series | City | 1,295 | XT/ST | 8 | 27.5×2.2″ | 55lbs | 2 | 60Nm |
| 700 Series | Hybrid | 1,695 | XT/ST | 8 | 27.5×2.4″ | 62lbs | 2 | 60Nm |
| LMT'd | Mountain | 1,895 | XR/ST | 8 | 27.5×2.4″ | 53lbs | 2 | 100Nm |
| Cafe Cruiser | Cruiser | 1,595 | XR/ST | 8 | 26×3″ | 65lbs | 3 | 60Nm |
---
4

. Conclusion – Is the Prodigy Ride1UP's Best eBike so Far?

There's no doubt in our minds that the Prodigy is the best e-bike we've seen from Ride1UP to date.

A premium mid-drive motor with torque-sensing completely changes the feel of e-biking. Super-smooth power transfer from this type of system definitely makes riding less demanding and more enjoyable.

Additionally, slight improvements to other components across the board and the choice of three distinct models make this bike perfect for a wide range of riders.

The Prodigy certainly gives e-bikers a lot to be excited about and we can't wait to see what the electric bike brand has in store for us in the near future.