Rad Power Bikes RadRunner Review: Top Value Electric Utility Bike
Rad Power Bikes is one of, if not the leading manufacturer of electric bikes in the USA.
Rad Power bikes consistently compete for top awards due to their exceptional price and quality, resulting in over 17,000 positive reviews across their range.
The company's mission is to deliver bikes that can do everything at prices that everyone can afford.
With the RadRunner, they offer the most customizable electric bike on the market. This versatile ride can be personalized with 330 different accessory combinations, allowing users to completely change the functionality and make the bike uniquely their own.
This innovative utility bike performs well above its entry-level price tag because of its long list of helpful components with boatloads of power and range. If you need a workhorse electric bike to make your life easier and more enjoyable, look no further than the RadRunner bike.
---
Table of Contents
1. RadRunner Review
2. PROs and CONs
3. Accessories
4. RadRunner vs RadRunner Plus
5. Conclusion
---
1

. RadRunner Review
The RadRunner eBike is a commuter's dream due to the incredible amount of accessories it comes with and can be customized with post-purchase.
Riders can undertake any commute with a fully loaded bike (up to 300lbs), without breaking a sweat.
The bike also features 3.3″ wide tires and a huge 750W motor which allow it to perform well anywhere, such as on rough trails or loose terrain. Any riders that cross a mix of terrain and conditions throughout the year will love this bike's diverse performance.
One notable downside to the RadRunner is the lack of suspension which makes riding on rough terrain a little less smooth. However, RadRunner Plus is the upgraded version that comes with more and better components, one of which is fork suspension.
Rad's utility bike is perfectly suited to any rider that demands a lot from their bike without sacrificing comfort and durability. This e-bike is best for someone who wants comfort and convenience over performance. The RadRunner uses upright geometry and handlebars, a comfy saddle, and soft shock-absorbent tires to do this. The price is also a big factor, making this bike accessible to most new e-bikers who have high standards but a lower budget.
750W Brushless Geared Hub Motor
The RadRunner comes with a powerful 750W rear brushless geared hub motor which can bring users up to the max speed of 20mph in just a few seconds.
This type of motor is the lightest hub motor available, contributing to the big 45-mile range of this bike. Geared hub motors do sacrifice some power and torque compared to gearless hub motors, however, this motor is more than sufficient to tackle any terrain or gradient.
A brushless motor is also the premium choice when compared to the alternative brushed motor. They require less maintenance, have a longer lifespan (balances out the faster wear time of a geared hub motor), make less noise, and are more efficient.
Up to 45+mi Range
Rad Power's battery (the same on all their bikes exepct the RadTrike 1) can last between 25 and 45 miles on a single charge, with RadRunner top speeds of 20mph with pedal assistance or throttle.
The range depends on a number of factors including rider weight, gradients, pedal assistance level used (there are four to choose from), terrain, wind, and riding style. The company also sells extra batteries for those who want to ride for longer distances.
20mph Top Speed
The inclusion of the throttle and limitation of 20mph makes the RadRunner utility bicycle a Class 2 e-bike. This means that the motor will stop when you reach that speed, so if you want to go faster than 20mph, you need to pedal.
RadRunner is a Class 2 e-bike with a top speed of 20mph.
To operate the motor you can either begin pedaling or use the throttle. The throttle doesn't require pedaling at all. It is a twist-grip throttle that rotates halfway around for full power and is located on the right side handlebar. This type of throttle is similar to those seen on mopeds or scooters.
When you begin pedaling with pedal assistance activated, the motor uses a cadence sensor (how fast you're pedaling) to detect how much assistance to generate, offering more assistance when your cadence drops due to difficult terrain.
672Wh Lithium NMC Battery
The RadRunner uses a large 48V, 14 Ah Lithium-Ion battery, which is much bigger than similarly priced competitors.
RadRunner is equipped with water-resistant connectors and a wiring harness.
The battery should last upwards of 800 charge cycles, an impressive amount considering the battery's large range (45mi) and power output (20mph). To fully charge the battery, it takes between about 5 to 6 hours and does not lose much charge while not in use.
The unit itself weighs just under 8lbs, making it one of the best batteries for its weight to size ratio. This also contributes to the low base weight of the bike.
LED Control Panel
This bike comes with an LED control panel which is simple and easy to operate while riding. It has large buttons and turns on and off with a single click.
While it is not as fancy as other e-bike LCD screen panels, this one is easy to operate in any weather or time of day, giving it an advantage for usability. One disadvantage is that you cannot see your ride metrics such as distance traveled and speed, etc.
The other functions include buttons for pedal assistance which is indicated by LED lights, control of the integrated head and taillight, and more LEDs to tell you how much battery is left.
Integrated Lights
One excellent feature of this budget e-bike is the inclusion of integrated front and back LED lights. These lights are perfect for use during the day or at night to "be seen" by other road users.
The taillight also comes with extra features including a brake light, auto-adjust brightness, and flash mode. When you apply the brakes, the taillight activates to warn other road users you are slowing down. Additionally, when it begins to get dark, your light will automatically increase the brightness to make you more visible.
Tektro Mechanical Brakes
The RadRunner uses high-quality Tektro mechanical disc brakes. Tektro is a top manufacturer in this category and builds one of the most reliable mechanical disc brakes available.
One advantage of mechanical brakes is that they can be serviced more easily than hydraulic alternatives, although they do offer slightly less stopping power.
To boost the stopping power of the brakes on this bike, Rad Power Bikes RadRunner has chosen to use 180mm brake rotors which offer better stopping time. This is especially helpful when the bike is fully loaded, or when traveling at the max speed of 20mph.
Single-Speed Drivetrain
To cut down on maintenance and part replacements, the RadRunner comes with simplified single-speed gearing. This drivetrain is excellent for those who are new to e-biking and don't need advanced gearing for the rides they do.
RadRunner has an intelligent 4 level pedal assist with a low profile cadence sensor.
Although the single-speed slightly limits the functionality on more extreme gradients, with a 750W and 80Nm motor and four pedal assistance levels, there is still enough power and versatility to tackle most obstacles.
Frame and Geometry
Aluminum frame
Frame size: 18″
Rigid fork
Weight: 65 lbs
Payload Capacity: 300 lbs (including 120 lbs on the rear rack)
Recommended rider height: 4'11" – 6'2″
Seat height: 25.25″ – 36.5″
Wheels and Tires
Kenda tires work directly with Rad Power Bikes to create the perfect tire for each of their e-bikes. The RadRunner comes fitted with Kenda K-Rad 20″ x 3.3″ tires which offer excellent control and stability on loose or rough terrain.
These tires also have K-Shield reinforcement which makes the tires puncture-resistant, and when paired with double-wall wheel rims, makes this wheelset one of the most durable and resistant to wear out there.
Fat Tire PROs
Absorb vibration
Smoother ride
Better cornering confidence
Fat Tire CONs
More traction = decreased speed
Racks
This bike comes with an integrated rear pannier rack already installed. Rad Power also has a huge list of potential accessories available to purchase from their store that allow you to utilize the rack in various ways.
These accessories include pannier bags, baskets, cargo strap/net, larger platform, passenger seat, pet carriers, child bike seats, and more. Almost anything is possible with the highly customizable RadRunner utility e-bike.
---
2

. RadRunner Pros and Cons

PROs:
Price – The level of components and versatility of this bike make it one of the best value buys among budget e-bikes at only $1,299
Same battery pack across the series – This shows that the battery pack is one of the best components on this bike, and is interchangeable if you decide to upgrade to a better Rad Power bike
Large disc brake rotors – Larger rotors mean better stopping power, and these are close to the largest you can get, especially on 20″ tires
Very good maneuverability – The base model of the RadRunner is quite compact and easy to handle in tight spaces, it's Rad Power's lightest bike
Huge selection of accessories – 330 accessory combinations make this bike completely customizable for any type of riding
Available outside the USA – Rad Power bike now has dedicated online stores for Canada, the EU, and the UK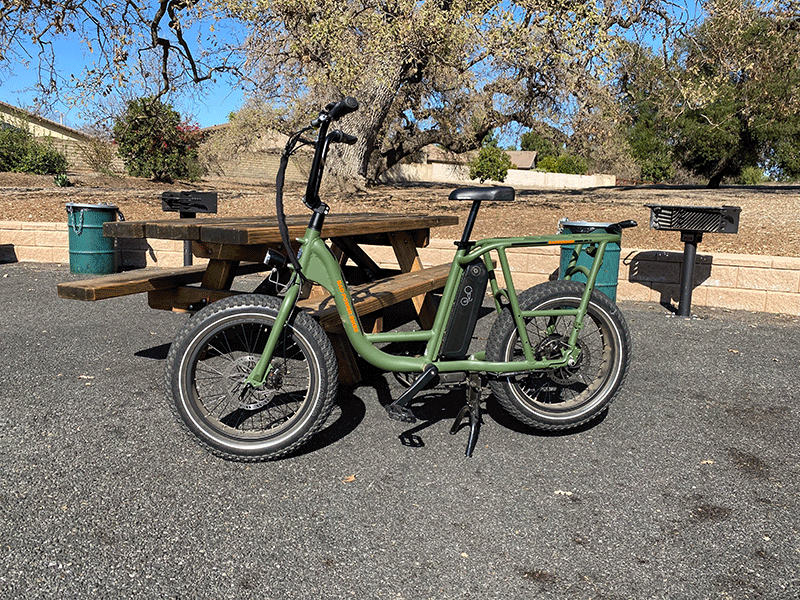 CONs:
No suspension on the standard model – This takes away from the smoothness of the ride, although the fat tires do help a lot with comfort
Not much information on the display – The display is quite basic, only indicating battery and pedal assist level with LED lights
No USB port to charge your electronics – Riders have to make sure they charge up in advance of the ride
Quite heavy – Although it is Rad Power Bikes lightest model, at 63lbs, the RadRunner is quite heavy, so don't get caught out without battery unless you want a tough workout
Only one frame size – This makes it harder to get the perfect fit, although this is the most adaptable bike Rad Power have, fitting inseams 23″ to 34″
---
3

. RadRunner Accessories
As mentioned above, Rad Power has a wide range of accessories to choose from for your electric bike. They have 64 different items to choose from in nine categories on their store, including:
Fenders
Locks
On-Bike Storage
Passenger Comfort
Pet
Rear Racks
Rider Comfort
Safety
Upgrades
Let's take a closer look at some of the RadRunner's optional accessories:
RadRunner Center Console
The RadRunner center console is the standout accessory because of its functionality. It has a cup holder and phone mount and is water-resistant. The center console has a weight capacity/volume capacity of 22 lb/12L. Additionally, you can use it with or without the lid.
Passenger Package
The passenger package allows you to turn your RadRunner e-bike into a scooter-style passenger bike. Along with the seat, in the package, you also get foldup footpegs and a clear protective wheel skirt to stop any clothes from getting caught. The seat is elevated so that the passenger can see what is going out front.
Full Fenders
Any commuters or urban riders who want to stay dry and clean from road spray will enjoy the full extra-wide fenders. They help block anything coming from the road including snow, water, and sand.
They are made with durable plastic and use stainless-steel brackets to secure easily to your bike. It is recommended to allow your mechanic to install the fenders, although they come with the hardware necessary to do it at home for skilled home mechanics.
Front Rack
If you need extra cargo carrying capacity you can rely on Rad Power's front rack that mounts directly to the frame. It is compatible with a number of other accessories including the baskets, large platform, or as-is.
The rack is very stable and doesn't move when you turn the bike. It's made from lightweight aluminum and comes with a headlight extension cable.
Front-Mounted Basket
The front-mounted basket is another great tool to boost the carrying capacity of the RadRunner. It's perfect for carrying cargo that you want to keep an eye on. It holds up to 22 lb and is made from aluminum with dimensions of 11″ x 15″ x 4.75″.
---
4

. RadRunner vs RadRunner Plus Full Specs
---
RadRunner Plus' main advantages over the standard RadRunner:
7-speed drivetrain
Suspension fork
Full fenders
Premium headlight
LCD Display
USB Port
Lightweight Kickstand
Passenger package
In our opinion, if you have the budget, upgrading to RadRunner Plus is a no-brainer. The bike is significantly better with eight individual upgrades adding up to well over the $500 price difference.
Adding the fenders, premium light, LCD screen, and passenger package from the store would cost almost $340 alone. In addition to that, you get premium front fork suspension, a 7-speed Shimano Acera drivetrain to boost the bike's capabilities, and the ability to charge your devices on the go.
The suspension and the LCD screen really boost the enjoyment you will get from your bike. Fork suspension greatly improves ride comfort, and the screen shows you all your interesting ride metrics including a speedometer, odometer (for distance traveled), and wattmeter (power generated).
If all you need your bike for is getting from A to B, and you don't plan on riding off-road, with passengers, or on difficult terrain very often, you will be happy with the basic model, but the Plus model is definitely worth it if you do want to do those things.
---
Other Rad Power Bikes Models
RAD POWER BIKES
PRICE
TYPE
MOTOR
FRAMES
SPEEDS
TIRES
FORK
RadTrike 1
2,499
Single-speed
500W
ST
1
18″
Rigid
RadExpand
1,299
Utility
750W
ST / Standard
7
20×4″
Rigid
RadRunner Plus
1,899
Utility
750W
ST / Standard
7
20.3.3″
80mm
RadMini 4
1,499
Folding
750W
ST / Standard
7
20×3″
80mm
RadCity 4
RadCity 5 Plus
1,599
Hybrid
750W
ST / Standard
7
26.2.3″
100mm
RadWagon 4
1,799
Cargo
750W
Step-through
7
22×3″
Rigid
RadRover 5
1,699
Fat
750W
ST / Standard
7
26×4″
80mm
RadRover 6 Plus
1,999
Fat
750W
ST / Standard
7
26×4″
60mm
5

. Conclusion – Is RadRunner a Best Value Electric Bike?

The RadRunner utility bike is certainly the best budget electric bike we've found when it comes to the versatility of its functions. It also competes well in other areas such as weight, ride quality, range, and power when compared to the competition of around $1,299 or below.

Even the base model has most of the necessities to make this bike excellent for first-time e-bikers, and if there is something else you need, you can guarantee Rad Power has it in their accessory selection.

It's worth noting that a cheap electric bike usually doesn't come with customer support from the manufacturer. With any Rad Power bike, you can expect equally world-class customer support for the cheapest or most expensive bike they have.

Finally, Rad Power makes it super easy to get any spare or replacement parts for their bikes straight from the online store, with free deliveries in the USA for orders over $150. The RadRunner really is an all-around e-bike choice for utilitarian riders.