The 14 Best Electric Mountain Bikes of 2023: Top-Rated e-MTBs for All Riding Styles
Electric mountain bikes have revolutionized off-road cycling, combining traditional pedal power and MTB components like suspension with a burst of electric energy.
As they grow more and more popular, the market is getting flooded with a variety of options from different brands.
Whether you're eyeing XC, Trail, Enduro, hardtail, or full-suspension types, the choice can be daunting.
In this comprehensive review, we'll explore the 14 best electric mountain bikes, helping you get the most bang for your buck and choose the best model for your needs.
Plus, with our detailed buying guide at the bottom, you'll have everything you need to make an informed decision.
Dive in and electrify your mountain biking experience!
---
---
1. Rad Power Bikes RadRover 6 Plus
Most Versatile Fat-Tire Electric MTB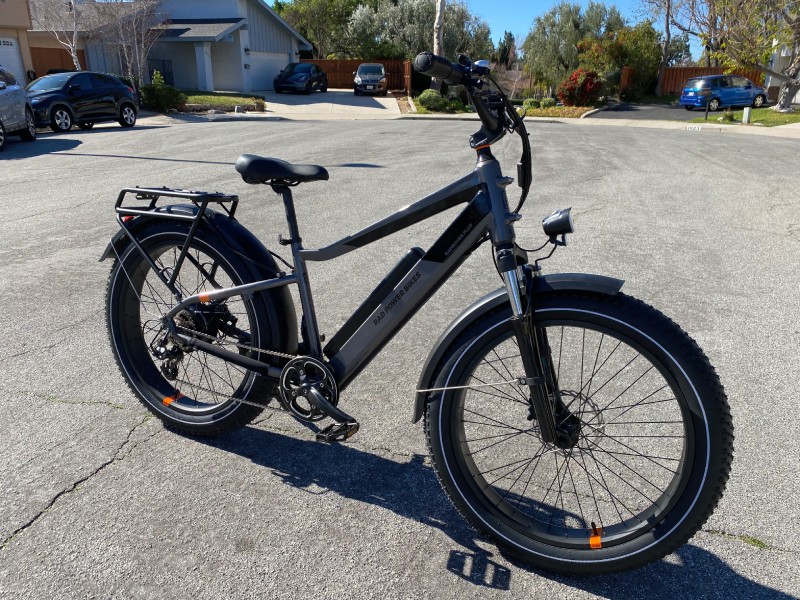 MSRP: $2,099
Motor: 750W, 80 Nm geared rear hub
Battery: 672 Wh
Fork: Rad Power Bikes RST, 60 mm travel
Drivetrain: Shimano 7-speed
Tires: 26 x 4.0″
The Rad Power Bikes RadRover 6 Plus is more of an urban fat-tire bike compared to most other mountain bicycles on this list. We've decided to include it because of the versatility it offers, especially for novice riders.
Although this is a short-travel hardtail ebike, it still offers plenty of freedom in terms of choosing where you want to ride.
It has 26″ x 4.0″ fat tires that are perfect to ride along the beach, on snow, or on muddy trails. However, the 750W motor and 672 Wh battery are powerful enough that you can ride this ebike on paved roads and bike paths and not feel any sluggishness.
The riding position is relatively upright and comfortable, which makes the RadRover 6 Plus ideal for riders with cycling-related pains and aches.
This is also one of the only bikes on this list that features lights, a kickstand, and fenders, so it's an excellent choice for anyone who likes commuting daily and taking an occasional detour off the beaten path.
Rad Power Bikes offers a great selection of bikes at reasonable prices, so it's worth checking out the rest of its lineup as well!
---
2. Trek Rail 5 Gen 2
Winner! Best Enduro Electric MTB
MSRP: $5,650
Motor: Bosch Performance CX 250W, 85 Nm
Battery: 500 Wh
Fork: RockShox 35 Gold RL 160 mm
Rear Shock: RockShox Deluxe Select+
Drivetrain: Shimano Deore 12-speed
Tires: 29″ x 2.6″
Trek Rail 5 Gen 2 is a high-end dual-suspension e-MTB built for enduro and rough singletrack riding that prioritizes agility. It's equipped with a RockShox 35 Gold RL 160 mm front suspension and a RockShox Deluxe Select+ rear shock, along with Mino Link adjustable geometry.
When it comes to electronics, the Rail 5 boasts a Bosch Performance CX 250W, 85 Nm mid-drive motor, and a 500 Wh battery. Together, they'll assist you up to 20 mph for up to 6 hours of riding, depending on how much assistance you use.
Trek Rail 5 also comes with a Shimano Deore 12-speed rear derailleur and Shimano MT4100 four-piston hydraulic brakes, so it's capable of serious climbing and descending. However, the Deore rear derailleur is slightly underwhelming at this price point.
Its 29″ x 2.6″ tires are massive and effortlessly roll over obstacles, and you even get a dropper post for enhanced control on descents.
To sum up, if you're looking for a truly capable electric mountain bicycle that will elevate your skills instead of hampering them, then the Trek Rail 5 Gen 2 is the one. Make sure to check the rest of Trek's electric lineup as well, especially the Trek Fuel EXe series.
---
3. Giant Talon E+ 3
Second Choice! Affordable Electric Hardtail MTB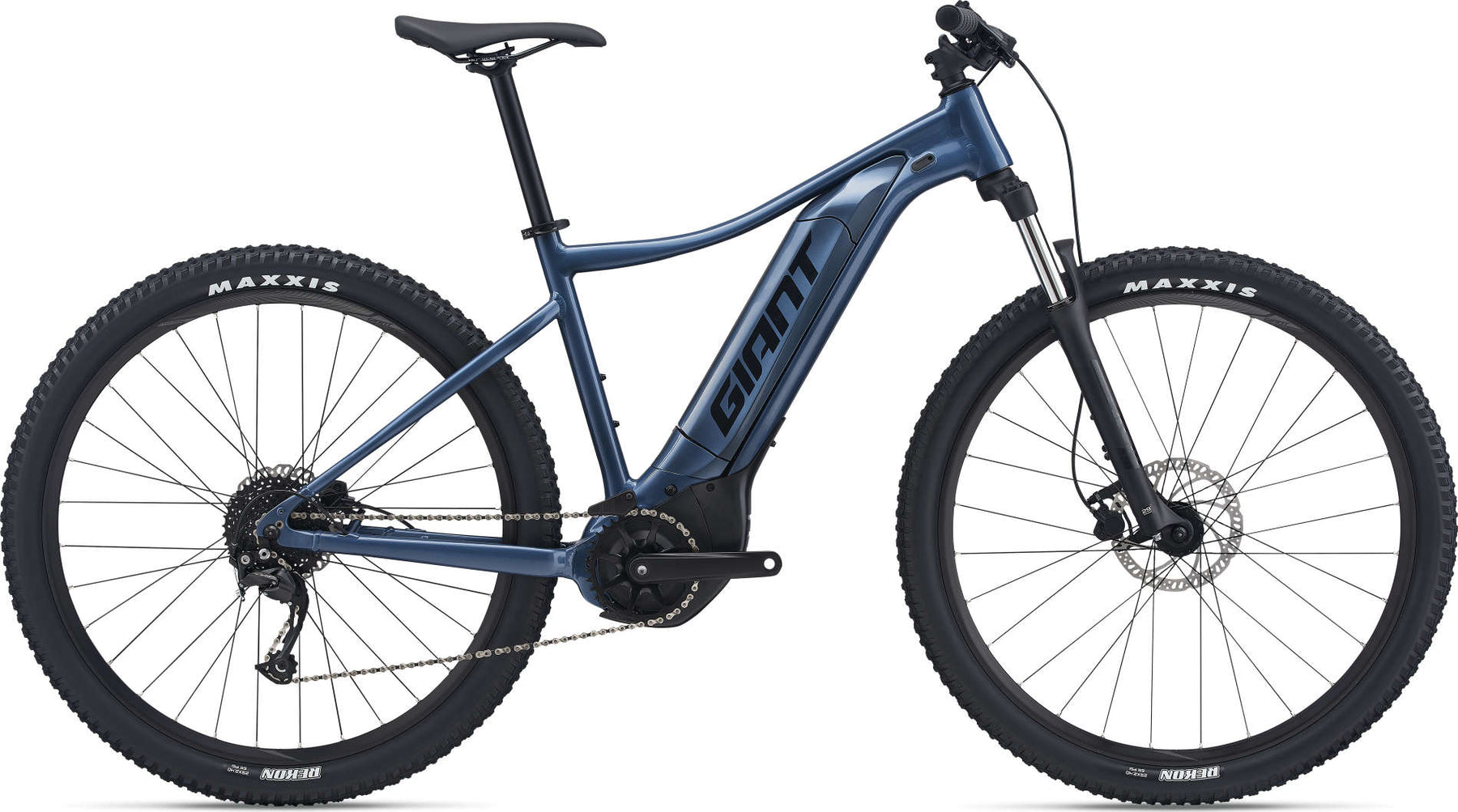 MSRP: $2,900
Motor: Giant SyncDrive Core, 50Nm
Battery: 400 Wh
Fork: SR Suntour XCM ATB Coil, 100 mm
Drivetrain: Shimano Alivio, 9-speed
Tires: 29″ x 2.4″
Giant doesn't need much introduction as it has been one of the top brands worldwide for many years.
The Talon E+ 3 is one of Giant's most affordable hardtail mountain ebikes with great components for the money, full integration, and a sloping top-tube that makes it suitable for shorter riders.
In general, this bike does not differ much from a regular mountain bicycle as it has 100 mm of front suspension and a 9-speed Shimano Alivio MTB rear derailleur that make it trail-ready.
The Talon E+ 3 e-bike also boasts a Giant SyncDrive Core 250 Watts motor that peaks at 50 Nm of torque and boasts a 400 Wh battery. Together, they provide you with a 20 mph top speed and a decent range to explore local trails or commute on unpaved roads.
Is the Giant Talon E+ 3 worth the almost $3,000 price tag? In our opinion, it is. There aren't too many hardtail e-MTBs around, and this is a great option for a large range of recreational mountain bikers who want a model from a reliable brand.
---
4. Aventon Aventure.2
Third Place! Best Beginner-Friendly Fat-Tire E-MTB
MSRP: $1,999
Motor: 750W rear hub
Battery: 720 Wh, 60-mile range
Fork: Front suspension with 80 mm travel
Drivetrain: 8-Speed
Tires: 26 x 4.0″
The Aventon Aventure.2 is a hardtail fat-tire e-MTB designed to be equally capable on the mountain as it is in urban environments.
At 77 lb, we can't really say it is lightweight. However, it has a powerful 750W motor and a 720 Wh battery that will propel you up to 28 mph and provide a maximum range of 60 miles per charge thanks to an efficient and smooth torque sensor.
Aventon chose a simple 8-speed rear derailleur and Tektro hydraulic disc brakes to ensure you have reliable shifting performance and plenty of stopping power in varied conditions.
The Aventure.2 also has 26″ x 4″ fat tires that provide comfort and traction no matter what terrain you encounter, including snow, sand, and mud. In addition, this bike comes with excellent accessories, including a rear rack, kickstand, fenders, and integrated lights for urban riding.
Don't miss out on the Aventon Aventure.2 electric bike if you're in the market for an affordable and versatile model that you can ride anywhere. Check out the step-through version as well if you want a model that's easier to mount and dismount.
---
5. Ride1UP Prodigy XC
Best Mid-Drive Hardtail Electric MTB
MSRP: $2,395
Motor: Brose TF Sprinter, 90 Nm
Battery: 504 Wh, 30-50-mile range
Fork: 120 mm Air Suspension
Drivetrain: microSHIFT Advent 9-speed
Tires: 27.5 x 2.4″
We chose to add the Ride1UP Prodigy XC ebike to this list because it offers a great setup for its price, outperforming many bikes that cost almost double.
The Prodigy XC is powered by a 500W Brose TF Sprinter mid-drive motor that generates up to 90 Nm of torque, which is ideal for a proper electric mountain bicycle. A 504 Wh battery is stowed away in the downtube, offering a 30-50 mile range, depending on the type of assistance you use the most.
The Prodigy XC has a pedal-assisted max speed of 28 mph and a throttle-powered speed of 20 mph, so it's classified as a Class 3 ebike.
It also has a 9-speed microShift Advent rear derailleur, hydraulic disc brakes, and trail-ready 27.5″ x 2.4″ tires, so you can ride it like any other normal mountain bicycle.
The Prodigy XC also boasts 120 mm of air front suspension with a hydraulic lockout that's not ideal for rough singletracks but is more than suitable for light trails and bumpy dirt roads.
All things considered, the Ride1UP Prodigy XC is a surprisingly capable option, considering it comes from a brand that focuses on urban commuter ebikes.
---
6. Marin Alpine Trail E

Best Mullet Electric Mountain Bicycle
MSRP: $4,499
Motor: Shimano EP6 250W, 85 Nm
Battery: 504 Wh
Fork: 160 mm X-Fusion Trace 36
Rear Shock: 150 mm X-Fusion 02 Pro RXC
Drivetrain: Shimano Deore 10-speed
Tires: 29″ x 2.5 (f) & 27.5 x 2.5″ (r)
The Marin Alpine Trail E is the electric version of the company's flagship dual-suspension MTB. This is a solid e-bike with a mullet setup made by experts in mountain bike design.
Take your enduro rides to the next level with Shimano's EP6 e-bike system. The 250W, 85 Nm motor delivers buttery smooth power that ensures you can ride all day. This motor pairs with Shimano's 504 Wh battery, providing several hours of riding.
The most impressive part of this bike is the MultiTrac suspension platform. It's designed to balance pedaling efficiency with support and consists of a 160 mm X-Fusion Trace 36 front suspension and a 150 mm X-Fusion 02 Pro rear shock.
The build kit for this bike includes a Shimano Deore 10-speed derailleur with an 11-46t cassette and TRP Slate Evo four-piston hydraulic disc brakes to round out the groupset. A TranzX dropper post is there as well to get the saddle out of the way on technical descents.
All things considered, this is a high-level electric enduro bike designed for riders with big ambitions and a decent budget to match.
---
7. Orbea Rise M20
Lightest Carbon Fiber Frame
MSRP: $6,999
Motor: Shimano EP8-RS 250W
Battery: 360 Wh
Fork: Fox 34 Float Performance 140 mm
Rear Shock: Fox Float DPS Performance140 mm
Drivetrain: Shimano SLX 12-speed
Tires: 29″ x 2.4″
Full-suspension e-bikes don't get much better than the Orbea Rise M20. This premium E-MTB has all the power and performance to ride farther and harder than ever before.
The Rise M20 has an excellent foundation with a light and responsive OMR carbon fiber frame. This frame has 140 mm of travel on the Fox Float 34 Performance front suspension and 140 mm on the Fox Float DPS Performance rear shock.
For power, you can rely on a high-performance, customizable Shimano EP8-RS mid-drive motor paired with an internal Orbea 360 Wh battery.
To assist the motor, you also have a Shimano SLX 12-speed groupset. This rear derailleur combines with premium Shimano M6100 hydraulic disc brakes, RaceFace AR 30c rims, and tubeless-ready Maxxis Dissector and Rekon 2.4″ EXO+ tires.
If you want a real mountain biking experience with an extra push, get the Orbea Rise M20.
---
8. Norco Sight VLT A1 29″
The Most Fun and Playful Mountain Ebike
MSRP: $5,999
Motor: Shimano EP8 250W
Battery: 450, 720, or 900 Wh
Fork: Fox Rhythm Float 36, 160 mm
Rear Shock: Fox Float X2 Performance Elite
Drivetrain: Shimano SLX 12-speed
Tires: 29″ x 2.5″
When it comes to high-quality, full-carbon MTBs, Norco is known for several top-class models.
Their new Sight VLT range won The Loam Wolf's 2019 e-MTB of the Year award for its excellent balance, versatility, and performance.
The Sight VLT A1 is a potent, lightweight all-mountain bike that boasts a premium Shimano EP8 mid-drive unit and a 450, 720, or 900 Wh battery (you can choose at checkout).
In terms of real MTB components, the Sight VLT A1 sports a Shimano SLX 12-speed groupset paired with Shimano's MT520 4-piston hydraulic disc brakes and Fox Float 160 mm front and rear suspension.
At $6,000, this carbon ebike is a bit pricey, but if you can afford it you won't regret the purchase when you put it to the test on proper MTB trails.
---
9. Cannondale Moterra Neo 4
Best Aluminum Electric Trail Bike
MSRP: $5,900
Motor: Shimano EP8 250W
Battery: 630 Wh
Fork: RockShox 35 Silver R 150 mm
Rear Shock: RockShox Deluxe Select R 150 mm
Drivetrain: SRAM SX Eagle 12-speed
Tires: 29″ x 2.6″
The Moterra Neo 4 is a dual-suspension electric bike from the high-end bike manufacturer Cannondale. This model comes with an aluminum frame, but you can also get a Moterra Neo Carbon if you are willing to spend more.
This is an e-MTB built for hard trail riding, with a powerful Shimano EP8 85 Nm motor dedicated to launching you up the steepest gradients. The 630 Wh Shimano battery is neatly hidden inside the downtube but can be easily removed for charging or replacement.
The responsive RockShox 150 mm suspension is complimented by Maxxis Rekon 29 x 2.6-inch tires that provide ample traction even on rock gardens or slippery berms.
The Moterra Neo 4 also features a mid-range SRAM SX Eagle 12-speed groupset and TRP Slate G4 4-piston hydraulic disc brakes with 200 mm rotors front and rear.
With progressive frame technology, raw power at the flip of a switch, and silky-smooth gear changes, the Cannondale Moterra Neo 4 dual-suspension electric bike is an absolute pleasure to ride.
---
10. Co-op Cycles DRT e3.1
Best Value Aluminum Electric Mountain Bike
MSRP: $4,999
Motor: Bosch Performance Line CX 250W
Battery: 625 Wh
Fork: RockShox Recon Silver RL Solo Air 140mm
Rear Shock: RockShox Deluxe Select Plus RT
Drivetrain: SRAM SX Eagle 12-speed
Tires: 27.5″ x 2.6″ (XS, S) or 29 x 2.6″ (M-XL)
Co-op Cycles' DRT e3.1 electric bike is a mid-range dual-suspension bicycle that performs equally well going up or downhill.
For power, riders can rely on a Bosch Performance Line CX 250W/85 Nm motor and a large 625 Wh battery. This combo delivers an excellent range while easily tackling steep gradients and technical terrain. Additionally, the DRT e3.1 is equipped with a SRAM SX Eagle 12-speed drivetrain so you can always find the perfect gear.
For suspension, the DRT e3.1 uses a RockShox Silver RL Solo Air 140 mm travel front suspension and a Deluxe RT rear shock.
Finally, you can be sure of excellent performance thanks to Tektro 4-piston hydraulic disc brakes, an X-Fusion Manic remote dropper post, and premium Kenda Nevegal tires.
Keep in mind that this is a mountain bike will size-specific wheels, so the XS and S frames roll on 27.5″ wheels, whereas all larger sizes come as 29ers. This ensures that all riders enjoy the perfect fit, no matter their height.
One slight disadvantage of this dual suspension ebike is that it is entirely made of aluminum, though a carbon frame would significantly increase the price tag.
---
11. GT E-Force Current
Budget-Friendly Aluminum Trail E-Bike
MSRP: $4,600
Motor: Shimano STEPS DU-E7000 250W
Battery: 504 Wh
Fork: SR Suntour Zeron 35, 150 mm
Rear Shock: X-Fusion 02 Pro RL, Rebound/ Lockout
Drivetrain: Shimano Deore, 10-Speed
Tires: 29″ x 2.6″
Built to take on all mountainous terrain, the GT E-Force Current electric mountain bike is a trail-blazing beast ready for adventure.
Considering the wealth of high-quality components on the E-Force Current, it clearly belongs on the top shelf of aluminum e-bikes.
A durable aluminum alloy frame with a 150 mm R Suntour Zeron 35 fork and a 140 mm X-Fusion 02 Pro RL rear shock is all you need for most trails and singletracks.
On top of that, a quality Shimano Deore 10-speed groupset means you will be able to keep pedaling even if you run out of power.
Talking about power, the GT E-Force Current boasts a Shimano STEPS DU-E7000 mid-drive motor paired with a 504 Wh battery. As a Class 1 ebike, you can expect it to reach 20 mph before the electric assistance shuts down.
The head tube angle on this hardtail is quite slack, which gives you better stability going downhill and fast-rolling 29″ wheels help you cover ground quickly. The E-Force also has premium Schwalbe Nobby Nic Performance 29 x 2.6″ tires that provide traction in all trail conditions.
To sum up, the GT E-Force Current is the perfect electric mountain bike for trail riding. Add it to your shortlist if you have a moderate budget and want solid performance.
---
12. QuietKat Jeep E-Bike
Best Hunting Electric Mountain Bike

MSRP: from $4,999
Motor: Shimano STEPS DU-E7000 250W
Battery: 504 Wh
Fork: 140 mm KKE Inverted Air Fork
Rear Shock: 200 mm x 57 mm RockShox Monarch RL
Drivetrain: SRAM 9-Speed
Tires: 26 x 4.8″
QuietKat partnered with Jeep to develop one of the most advanced electric off-road bicycles available, designed with full suspension to keep you stable on tough ground.
It does splendidly as an electric winter bike, a full suspension hunting bike, or a no-compromise electric trail rig.
The Jeep ebike comes with a 1000W mid-drive motor, but the motor power and top speed can be adjusted to comply with Class 1, Class 2, and Class 3 regulations. However, unrestricted, the Jeep has a 30+ mph top speed.
With a 140 mm KKE Inverted Air Fork and RockShox RL rear suspension, the Jeep is a rugged bike that rolls over all kinds of terrain with silent power.
For hunters and anglers, the QuietKat Jeep can take add-ons like racks and bags to help carry gear out into the backcountry.
QuietKat is a brand that specializes in powerful rear-hub motors, and the Jeep shines on off-road terrain as more weight on the rear wheel means there's more traction and torque when going up steep hills.
If you have been looking for a rugged mountain e-bike that can carry up to 300 lb of cargo, you should definitely shortlist the QuietKat Jeep.
---
13. NS Bikes E-Fine 2
Best Mullet Enduro Ebike
MSRP: $6,500
Motor: Shimano STEPS E7000
Battery: 504 Wh
Fork: RockShox 35 GOLD RL, 160 mm
Rear Shock: X-FUSION H3C Trunnion 205 x 62,5 mm
Drivetrain: Shimano Deore, 11-speed
Tires: 29×2.4″ (f) & 27.5×2.4″ (r)
NS Bikes is a lesser-known brand that specializes in high-quality trail mountain bicycles, so it's no surprise that the E-Fine 2 electric mountain bike is a well-designed and fine-tuned piece of machinery.
The high-quality full suspension aluminum frame glides effortlessly over rough terrain, leaving the fully integrated motor and battery barely noticeable to both you and any onlookers.
With a punchy Shimano STEPS E7000 drive system and a 504 Wh battery, it's the perfect bike for those who need some extra uphill power without losing the raw feeling of a standard mountain bike.
The E-Fine 2 also sports a Shimano Deore 11-speed rear derailleur and Shimano Deore 4-piston hydraulic disc brakes, so you'll have all the capability you need when the trails become technical.
Finally, as a mullet enduro ebike, the NS E-Fine 2 rolls on 29×2.4″ (f) & 27.5×2.4″ (r) Schwalbe Big Betty BikePark tires, which means you'll enjoy both the efficiency of larger 29er tires and the playfulness of the 27.5″ diameter.
---
14. Devinci eTroy
A great trail-ready full suspension e-MTB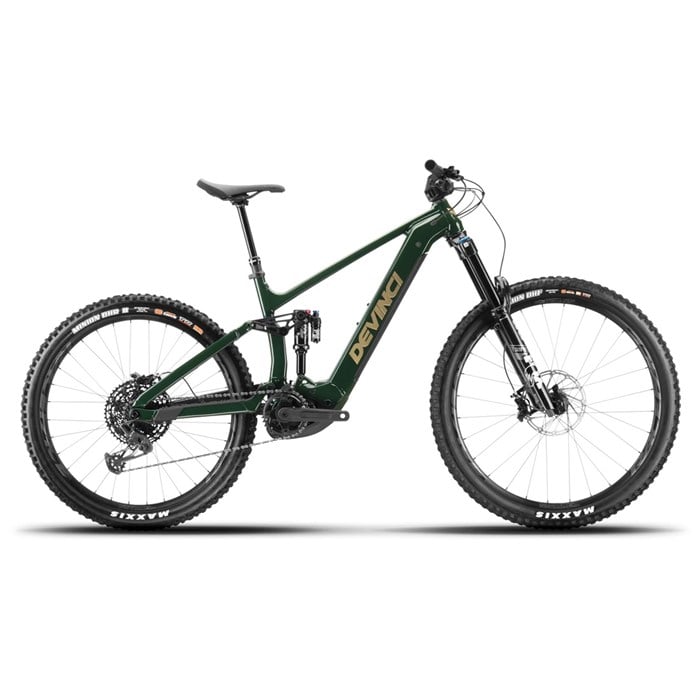 MSRP: $7,699
Motor: Bosch Performance Line CX
Battery: 635 Wh
Fork: Fox 38 Performance Elite 160mm
Rear Shock: Fox Float X Performance Elite 150 mm
Drivetrain: SRAM GX Eagle
Tires: 29 x 2.5″ & 27.5 x 2.4″ (Mullet)
This Devinci eTroy electric mountain bike is one of the best aluminum models in this price range.
The eTroy comes with a fully integrated battery that fits seamlessly into the frame giving the bike a clean and professional-looking finish, while the powerful 85 Nm Bosch Performance Line CX motor makes short work of steep uphill efforts over loose, rocky surfaces.
Devinci has managed to deliver premium performance by using high-quality suspension components including a Fox 38 Performance Elite fork and a Fox Float X Performance Elite shock linked by their Split Pivot platform.
The SRAM Code R hydraulic disc brakes have four pistons, while the SRAM GX Eagle rear derailleur offers 12 wide-range speeds that will come in handy when the trails become steep.
Additionally, the Davinci eTroy rolls on tried-and-true Maxxis Minion 29 x 2.6″ and 27.5″ x 2.4″ mixed tires that leave no room for unpleasant surprises.
Consider the Devinci eTroy electric trail mountain bike if you want a fast and fun ride with tons of juice for a long day on the trails.
---
Things to Consider When Buying an Electric MTB
---
Electric Bikes Price Range
The average price for a decent electric mountain bike typically falls within the $3,000 – $6,000 range.
The pricier e-bikes are often pro-level carbon fiber MTBs, which come with a premium price tag even before adding the motor and electric battery.
However, the amount you should spend also depends on your needs and preferences.
If you're a beginner or plan to use the e-bike for casual rides, you might not need a high-end model.
On the other hand, avid mountain bikers or those looking for advanced features and durability might consider investing more.
Always consider factors like build quality, battery life, and the bike's intended purpose before finalizing a budget and making the purchase.
Speed and Range of Electric MTBs
Modern e-bikes use high-torque motors to reach speeds of up to 28 mph (45 kph) and long-range batteries that will go up to 100 miles (160 km) on a single charge.
However, more affordable pedal-assist bikes usually only go about 20 mph (32 kph) and cover about 62 miles (100km) on a single charge.
Some budget-friendly models have even lower ranges of around 40 miles, but the real-world mileage always depends on how you ride and how much assistance you use.
If you feel that you're lacking mileage, range extenders are a good idea, though it's not always practical to carry a second battery with you.
Likewise, you won't always be able to reach your ebike's top speed, as most ebikes struggle to reach their maximum speeds on steep climbs.
Ebike Classes Explained
Electric-assist mountain bicycles fall into two categories:
Those with pedal assistance only.
Those with pedal assistance and throttle.
As the name suggests, pedal-assist e-bikes require you to pedal in order for the motor to turn on and supplement power. On the other hand, a throttle allows you to activate the motor without turning the pedals at all, much like an electric scooter.
It's worth noticing that most high-end electric MTBs are equipped with pedal assistance only, while cheaper models also include a throttle.
In terms of the maximum speed and type of assistance you get, e-bikes are divided into three official classes:
Class 1 eBike: Pedal assistance only, limited to 20 mph. (Most common class for high-end e-MTBs)
Class 2 eBike: Throttle and pedal assistance with a 20 mph top speed.
Class 3 eBike: Pedal-assist and an optional throttle with a 28 mph top speed.
> Related: E-Bike Rules & Regulations in the US
Choosing the Best Electric Mountain Bike
The best mountain eBike is the one that fits your budget and has the right geometry and level of components for your riding needs. Mountain biking has many different disciplines, and all of the bikes here are fully ready to hit the trails, to say the least.
We are not big fans of the supermarket or Walmart electric mountain bicycles. In general, mountain biking is something where you really don't want to cut corners in terms of your own safety, so it is better to consider Mountain bike-specific brands and e-bike-specific brands.
Is an electric mountain bike worth it?
These days, e-MTBs are gaining mainstream appeal, making them more affordable and more widely accepted.
In particular, older riders or cyclists with injuries can enjoy cycling again with electric bikes. They can also save a lot of time and energy going up a mountain.
If you wish to dedicate more time to enjoying the fast-paced, downhill sections of a mountain you'll find an e-MTB to be an invaluable resource.
Electric Mountain Bike Safety
With speeds seldom breaching the 28 mph mark, electric mountain bicycles don't pose any more risk than a standard bike. In most cases, the small motors only provide minor assistance and aren't powerful enough to cause any real danger on the roads.
So long as you familiarize yourself with the controls, use a helmet, and follow proper traffic laws, you should be as safe as you would be on a normal bike.
Full-suspension electric mountain bike vs. hardtail eMTB
There's no question that full-suspension MTBs offer better comfort, while there are a variety of hardtail models available as well. As the bikes are already assisted by electric motors, it is way more convenient to climb with a dual-suspension mountain bike, while on the other hand in some cases should the battery run out, it is way easier to pedal with a hardtail mountain bike.
Electric MTBs' Climbing Ability
Almost all best electric bikes will be able to climb steep hills but usually, you will still need to provide some pedal assistance. Only Specialized e-bikes in a class similar to that of light motorbikes will be able to climb steep hills on their engine power alone. The higher the torque of the motor, the less amount of effort you will need to exert when pedaling uphill. Also note that the more uphills you do, the quicker the battery will run out.
Durability of Electric Mountain Bicycles
Electric bikes have come a long way in the past decade and nowadays you can get excellent products that will last years without trouble. However, the growing popularity of electric bikes has also spurned many cheap manufacturers. Some cyclists who have purchased lower-quality electric bikes complain of motor failures and short battery life so it's best to go with mid to high-quality products.
As there is higher torque and weight to be thrown around the trails, components on electric bikes are made of stronger and more durable materials.
Weight of Electric Mountain Bikes
An average, electric mountain bike weighs around 50-70 lbs, with a max capacity of 300 lbs for the rider. Matter of fact, that extra weight (motor & battery) on an e-MTB might be a good thing as extra weight gives the bike more stability and traction.
Mid-drive or hub drive motors on Electric MTBs?
Related: Mid-drive vs Hub motor
Most of the bikes reviewed in this article use a mid-drive motor, which is generally used on higher-end e-bikes. However, less expensive off-road electric mountain bikes such as the Rad Power Bikes RadRover use a hub-drive motor which is still suitable for steep climbs and towing extra luggage.
Here are the main differences between the two types
Mid-drive motor – Most common among high-end & mid-range eBikes. Best weight distribution, most optimized power output.
Hub motor – Found on most off-road ebikes. Cheaper, but offers more torque on the rear wheel which is useful for heavier bikes.
Where to purchase the best off-road bikes online?