Best Electric Mountain Bikes in 2022
The history of electric bicycles goes back further than most would expect. Way back in the late 1800s, American inventor Ogden Bolton Jr patented a battery-powered bicycle with a hub motor on the rear wheel. This early invention and other similar ones were often slow, clunky, and didn't include any gears.
An Electric Mountain Bike is also known as an E-MTB or E-Mountain Bike
Only toward the end of the 1900s did modern components like torque sensors and power controls begin appearing on electric bikes. Around the same time, 'e-bikes' began gaining popularity in the Far East when the first pedal-assist electric bike was manufactured in Japan.
By 2007, e-bikes had become a common sight on the streets of major Chinese cities and slowly began finding more favor in the West. Since 2013, sales of e-bikes in Europe have more than doubled to the point that many manufacturers struggle to meet demand.
Main Features of Electric Mountain Bikes
---
Cost
An average price for a decent electric mountain bike tends to stay in the $3,000 – $6,000 range. The most expensive e-bikes are usually pro-level carbon fiber mountain bikes that would cost a lot even without the extra motor and electric battery.
Speed and range
Modern e-bikes use high-torque motors to reach speeds of up to 28 mph (45kph) and long-range batteries that will go up to 100 miles (160km) on a single charge. However, more common pedal-assist bikes usually only go about 20 mph (32kph) and cover about 62 miles (100km) on a single charge.
Pedal Assistance and Classes
Pedal Assistance
Electric-assist mountain bikes fall into two categories – pedal-assist and power-on-demand. As the name suggests, pedal-assist e-bikes require you to pedal for operation, whereas power-on-demand bikes can be controlled from a handlebar-mounted accelerator. In some cases, an e-bike will have both pedal assistance and a handlebar-mounted throttle. Most high-end MTBs are equipped with a pedal-assistance only
E-Bike Classes

Class 1 eBike: Pedal assistance limited to 20mph. (Most common among high-end eMTBs)
Class 2 eBike: Throttle (plus optional pedal-assist). Speed is still limited to 20mph.
Class 3 eBike: Pedal-assist (optional throttle) limited to 28mph.
Class 4 eBike: Any electric bike with a max speed of 28mph and over, or motor power over 750W.
>>> Related: E-Bike Rules & Regulations in the US
Motor Types
Mid-drive motor – Most common among high-end & mid-range eBikes. Best weight distribution, most optimized power output.
Hub motor – Found on most off-road eBikes. Cheaper, while there's more torque on the rear wheel which is useful for heavier bikes.
---
These are the Best Electric Mountain Bikes of 2022 🏆
1. Ride1Up – Prodigy XC – $2,295
2. Yeti – 160E C1 SLX – $10,700
3. Orbea – Rise M-LTD – $9,999
4. Norco – Sight VLT C1 – $8,999
5. Santa Cruz – Bullit – $9,999
6. Niner – RIP E9 3-Star – $6,295
7. Haibike – FullSeven 5 – $4,650
8. Rocky Mountain – Growler – $4,199
9. QuietKat – Jeep E-Bike – $7,099
10. Rad Power Bikes – RadRover 6 Plus – $1,999
11. Specialized – Turbo Kenevo SL Expert – $10,999
12. Norco – Charger HT VLT – $3,999
13. Liv – Tempt E+ 3– $2,799
---
#1

. Ride1UP – Prodigy XC

Best electric mountain bike under $3,000 for lighter trails and gravel roads

Aluminum / 27.5×2.0″ / 48 lbs / 9-speed / Class 3 eBike / 90Nm

MSRP: $2,295
Ride1UP

We have chosen this Ride1UP bike as it features quite a good set-up for its price range compared to most other bikes that cost nearly twice as much!

At just under 50lbs, the bike has a pedal-assisted max speed of 28mp/h and a throttle-powered speed of 20mp/h. The Prodigy XC runs on a 500W motor and that boosts up to 90 Nm of torque! That's quite a lot from a mid-drive motor.

It's got a 9-speed 'transmission' by Shimano Alivio, a sporty yet comfortable Selle Royal Viento saddle, and integrated front light. Although the tires are not the widest at just 2″, the bike feels comfortable on lighter trails that are ridden by recreational urban riders. The Prodigy XC is best suited for commuters who are eager to explore the horizons further they could've thought of before!

Ride1UP has electric step-through mountain bikes in their lineup as well for anyone who is looking for a easy-access frame.

Can this bike take the beating on rough trails?
– No.
Can this bike be used as an all-around commuter with off-road capabilities?
– Yes!

Max weight capacity: 275lb

Ideal for riders 5'6″ – 6'4″
---
#2.

Yeti – 160E C1 SLX

Yeti's first full suspension ebike!

MSRP: $10,700

Yeti TURQ C1 carbon frame
170mm fork – Fox Performance 38, Travel E-Tune
160mm rear shock – Fox Performance Float X

Shimano SLX 12-speed drivetrain
SRAM Code R brakes – 220/200m rotors
29″ DT Swiss EX1900 wheels

Did you know that Yeti Cycles was one of the first mountain bike brands to introduce a modern-technology full-suspension MTB back in 1993?

Today, Yeti's boutique mountain bikes range consists of (TURQ frame) carbon bikes only. The 160E is their first-ever (probably a legendary) mountain bike we are fortunate to lay our eyes on. If you'd have all the money in the world and you happen to ask 100 MTB-enthusiasts about the bike e-MTB out there – this is the latest gossip for sure.
---
#3

. Orbea – Rise M-LTD SE

MSRP: $9,999
Jenson USA

Carbon OMR
12-speed Shimano XTR
29″ x 2.6/2.4″
60Nm – 250W – 20mp/h
Weight: 36 lbs

Full suspension ebikes don't get much better than the Orbea Rise M20. This premium E-MTB has all the power, performance to ride farther and harder and weighs a mere 36lbs.

The Rise M-LTD has excellent foundations with a light and responsive OMR carbon fiber frame. This frame has 140mm travel on the Fox Float 34 Factory fork and 140mm on the Fox Float DPS Factory rear shock.

For power, you can rely on a high-performance customizable Shimano EP8-RS mid-drive motor with a torque sensor, paired with a fully internal Orbea 360Wh battery.

To assist the motor, riders have a Shimano XTR 12-speed drivetrain. This is combined with premium Shimano XTR M9100 180mm hydraulic disc brakes, Race Face Turbine rims, and tubeless-ready Maxxis Rekon 29 x 2.6/2.4″ EXO TLR tires.
Fork – Fox 34 Float Factory
140mm travel
Rear shock – Fox Float DPS Factory
140mm travel
Motor – Shimano EP8-RS 250W
Class 1 eBike
Battery – 360Wh
Derailleur – Shimano XTR
12-speed
Range extender available – 360Wh + additional 252Wh
---
#4

. Norco – Sight VLT C1 29″

Rides light & springy

Carbon / 12-speed / 29×2.5″ & 2.4″ / Choose between 450-900W battery / Weight: 50 lbs

MSRP: $8,999
Jenson USA

When it comes to high-quality, full carbon mountain bikes, Norco is one company that is known to deliver the goods. Their new Sight VLT e-MTB range continues this legacy – with an added boost of power. The Sight VLT range won The Loam Wolf's 2019 e-MTB of the year for its excellent balance, versatility, and liveliness.

They are potent, lightweight all-mountain bikes that live up to their purpose – there are very few places in nature you won't be able to visit with these bikes. The Sight VLT C1 is a full-carbon, full-suspension e-MTB with top-quality components in its range – and the price tag to match.

Yes, this full suspension ebike is a bit pricey but if you can afford it, you won't regret it when you trust your investments in Norco's hands.
Drivetrain: SRAM X01/GX Eagle
Fork: Fox Performance 36 GRIP 2
160mm travel
Rear shock: Fox Performance Float X2
150mm travel
Brakes: SRAM Code RSC 4-piston hydraulic disc brakes
220/200mm rotors
MOTOR – Shimano STEPS EP8
BATTERY – Norco BMZ
---
#5

. Santa Cruz Bicycles – Bullit

One of the best full suspension electric mountain bikes- Carbon CC, GX Eagle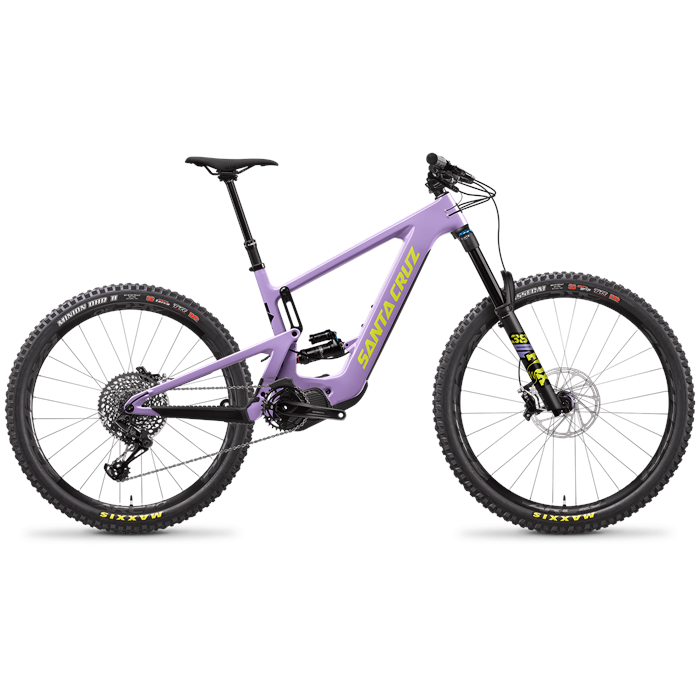 Carbon CC / 12-speed / 29×2.5″ + 27.5×2.4″ / 85Nm – 250W – 20mp/h
MSRP: $9,999
Evo.com
The Santa Cruz Bullit could quite possibly be the best electric mountain bike in the world!
The eye-watering price tag will have some questioning if they've read it correctly but rest assured – this bike cuts no corners when it comes to quality. It's packed from head to toe with some of the best components available, from the full carbon frame to the high-end SRAM GX drivetrain.
Surprisingly light for an e-MTB, it offers super-smooth gear changes and ultra-responsive suspension. From the e35 carbon handlebar to the Shimano EM600 cranks, each component is specially selected for its high strength and lightweight attributes. It's truly a work of art.
The only negative we could find about this full suspension ebike is how long you'll have to save to buy one. Sure, you may need to take out a second mortgage but hey – it'll be worth it!
SRAM GX Eagle derailleur & shifters
Fork: FOX 38 Float Performance, 170mm
Shock: RockShox Super Deluxe Select+, 170mm
---
#6

. Niner – RIP E9 3-star

A high-end electric enduro bike

Aluminum / 12-speed / 29×2.5″ / 625Wh battery – 20mp/h / Range: Up to 47mi / Weight: 55.5 lbs

MSRP: $6,295
Backcountry

The RIP e9 3-Star is a full-suspension electric bike from the high-end outdoor cycling specialist – Niner. It's an imposing piece of machinery that will certainly turn heads both in cities and on the mountain. The striking frame design has a futuristic appearance that is only amplified by the complex rear suspension geometry and sharply inclined down tube with an integrated battery pack.

This is an e-MTB built for enduro riding of the most aggressive kind, with a powerful motor dedicated to launching you up the steepest gradients. The incredibly soft and responsive suspension is complimented by instantaneous braking power and tactical precision on the handlebars.

With adjustable frame technology, raw power at the flip of a switch, and silky-smooth gear changes, the Niner RIP e9 full-suspension electric bike is an absolute pleasure to ride.
SRAM SX Eagle derailleur
12-speed
29″ Stan's NoTubes Flow D Formula wheels
Fork: RockShox Yari RC
160mm travel
Rear shock: RockShox Super Deluxe Select Plus
150mm travel
SRAM Guide RE hydraulic disc brakes
w/ 200mm rotors
RaceFace cockpit
---
#7

. Haibike – FullSeven 5

Aluminum / 11-speed Shimano Deore / 27.5 x 2.8″ / 500Wh battery – 20mp/h

MSRP: $4,650
JensonUSA

Haibike's FullSeven 5 electric bike is a mid-range full-suspension trail bicycle that performs equally well going up or downhill.

For power, riders can rely on Yamaha's PW-ST System, 250W/70Nm motor, and large 500Wh battery. This combo delivers excellent ranges while easily tackling steep gradients and soft terrain. Additionally, this bike has a Shimano Deore 11-speed groupset so you can always find the perfect gear.

For suspension, the FullSeven 5 uses a RockShox FS 35 Silver Coil 150mm travel fork and a Deluxe Select Plus Air rear shock with 150mm of travel.

Finally, you can be sure of excellent performance thanks to Tektro M745 hydraulic disc brakes, an XLC AllMTN, 31.6mm dropper post, premium Schwalbe Nobby Nic Evo SnakeSkin 27.5 x 2.8″ tires, and durable Rodi Tryp 35.

One slight disadvantage of this dual suspension ebike is that there isn't any carbon in the frame construction despite its price.
6061 aluminum frame
27.5 x 2.8″ Schwalbe Nobby Nic Evo SnakeSki tires
250w mid-drive motor – 70Nm torque
Yamaha PW-ST System
Yamaha 500Wh
Fork: 150mm
RockShox FS 35 Silver Coil
Rear Shock: 150mm
RockShox Deluxe Select+
11-speed Shimano Deore
11-51T cassette
Tektro M745 brakes – 203/180mm rotors
---
#8

. Rocky Mountain – Growler Powerplay 30
Aluminum / 12-speed / 27.5″ x 2.8″ / 108Nm / Range – N/A / 20mp/h
MSRP: $4,199
Jenson USA
Built to take on all kinds of mountainous terrain, this Rocky Mountain electric mountain bike is a trail-blazing beast that's ready for adventure.
Considering the wealth of high-quality components on the Growler Powerplay 30, it definitely resides on the top shelf of eBikes. A durable aluminum alloy frame with 130mm fork suspension and a quality Shimano Deore groupset makes this an excellent MTB in its own right. Add a powerful motor and long-range battery pack and you have a killer electric MTB that can easily compete with the best.
The head tube angle on this hardtail is quite slack, which gives you better stability going downhill but a bit less power on long flats or uphill sections. Nimble 27.5″ tires help you rip around and accelerate out of corners while plus-size tires make you feel like you're riding on clouds.
It's the perfect electric mountain bike for hilly, undulating terrain with a lot of technical sections.
Shimano Deore 12-speed
Fork – Suntour XCR34 Air LOR 130mm Travel
Shimano MT4100 2-Piston hydraulic disc brakes 203/180mm rotors
Dyname 3.0 Class 1 eMTB Drive 250W/108Nm
643Wh Fully Integrated Li-Ion
---
#9

. QuietKat – Jeep E-Bike 🏆

Electric mountain bike for hunting

Aluminum / 26×4.8″ / SRAM 9-Speed / Weight: 70 lbs / Range: Up to 58mi (Extra batteries available)

MSRP: from $7,099
QuietKat

QuietKat partnered with Jeep to develop one of the most advanced electric off-road bicycles available, designed with the full suspension to keep you stable on tough ground.

It does splendidly as an electric winter bike, full suspension hunting bike, or as a no-compromise electric trail rig. It's possible to get the Jeep in both 750W and 1000W motor builds, depending on how much power you need. With a custom QuietKat air fork and RockShox RL suspension, the Jeep is a rugged bike that rolls over all kinds of terrain with silent power.

For hunters and anglers, QuietKat offers add-ons like racks and bags to help carry gear out into the backcountry.

QuietKat is a brand who has specialized in torquey rear-hub motors, and the Jeep shines on off-road riding as more weight on the rear wheel means there's more traction and torque when going up steep hills. If you have been looking for a rugged mountain e-bike, you should definitely look into what this bike is capable of.
10 levels of pedal-assistance
Configurable as Class 1, 2 and 3
Thumb throttle (removable)
Torque / Speed sensors
160Nm torque (1,500W max output)
Weight capacity: 300lbs
>>> Related: 2022 Hunting Electric Bikes Roundup
QuietKat Jeep Size Recommendations
S – under 5'6″
M – 5'6″ – 6′
L – 6′ over
---
#10

. Rad Power Bikes – RadRover 6 Plus

Fat-tire e-bike with front suspension – great for snow, sand, and mud exploration.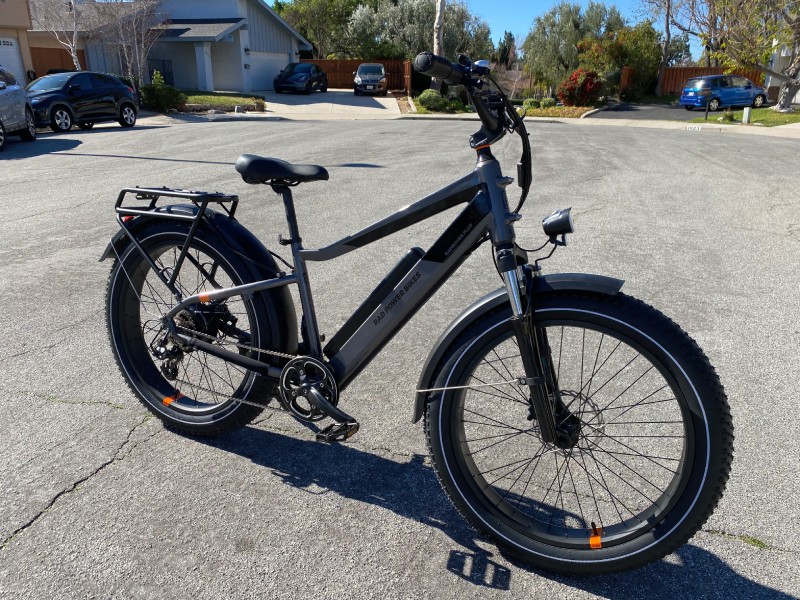 Aluminum / 7-speed / 26×4″ / 25-45+ miles range / Weight: 72.5 lbs
MSRP: $1,999
Rad Power Bikes
RadRover is more of an urban fat-tire bike compared to most other mountain bikes on this list.
Although this model is not built on a full-suspension electric bike frame, it still offers plenty of freedom in terms of choosing your trails. Matter of fact, the RadRover 6 is pretty much the only eBike in this list that could conquer sandy or snowy trails with ease. 4″ wide tires are more than enough to use it on beaches, snowy, or muddy trails.
Available in step-through and step-over frames.
The riding position is rather upright and comfortable. This is also the only bike on this list that features lights, kickstand, and fenders! An awesome choice for anyone who likes to commute daily through various terrains. Rad Power Bikes offers a great bunch of bikes at reasonable prices, so it's worth checking out the rest of the range as well!
Drivetrain: Shimano 7-speed
Motor: 750W geared hub
Battery: 672Wh
Fork: Rad Power Bikes RST, 60mm travel
Hydraulic disc brakes, 180mm rotors
---
#11

. Specialized – Turbo Kenevo SL Expert

Carbon / 12-speed / 29×2.3″ / 35Nm – 240W /

MSRP: $10,999
Mikes Bikes

Specialized is a brand known for its precision and attention to detail, so it's no surprise that this Specialized electric mountain bike is a well-designed and fined-tuned piece of machinery. The high-quality full suspension frame glides effortlessly over rough terrain, leaving the fully integrated motor and battery barely noticeable to both you and envious onlookers.

One of the most searched e-mountain bikes online

Even the Bluetooth-enabled speed controller is cleverly hidden in the top tube, hiding any sign that this is an electric bike. It's the perfect bike for those who need some extra uphill power without losing the raw feeling of a standard mountain bike.

Lightweight, responsive, and tough – the Turbo Kenevo is a very enjoyable full suspension ebike to ride.
Rear derailleur: SRAM X01 Eagle
Fork: Fox Float 38 Performance Elite, 170mm travel
Rear Shock: Fox Float X Performance
SRAM Code RS, 4piston hydraulic disc brakes with 220/200mm rotors
---
#12

. Norco – Charger

An electric hardtail mountain bike by Norco
MSRP: $3,999
JensonUSA
Norco mountain bikes don't need much introduction as they have been one of the best-selling brands among North American buyers.
The brand has now released this high-quality electric hardtail mountain bike – the Charger e-Bike. This bike does not differ much from a regular mountain bike as it's got a 120mm front fork, an aluminum frame, and the total weight is nothing over the top.
The Charger E-Bike Rocks a Shimano STEPS 250W motor with a 504Wh battery and 29 x 2.25″ tires. Their mid-drive Bosch motor puts out 60Nm, which is great for this lightweight bike!
Is it worth the 4k price tag? It sure is. There aren't too many hardtail e-MTBs around, and this is a great bike for a large range of recreational mountain bikers who want a known brand.
Max speed: 28mp/h
120mm SR Suntour XCM32 DS
6061 T6 Aluminum
Shimano Acera 1×9-speed
>>> Related – Best Hardtail Electric Mountain Bikes of 2022
---
#13

. Liv – Tempt E+ 3

A great women's hardtail electric mountain
Aluminum / 10-speed / XS-S: 27.5″, M-L: 29er / 50Nm – 20mp/h / Range: 60-90mi
MSRP: $2.799
Mikes Bikes
This Liv electric mountain bike is one of the best in this price range. The Tempt E+ 3 looks and feels like it should cost a lot more than it does. The fully-integrated battery fits seamlessly into the frame giving a clean and professional-looking finish, while the powerful 50Nm motor makes short work of steep uphill scrambles over loose, rocky surfaces.
Liv has managed to keep costs down by using cheaper fork and brakes and the Microshift Advent 9-speed drivetrain but injects some extra quality with high-quality Maxxis Rekon tires. Sure, it might not be a professional-level MTB but only the most discerning cyclists will notice the difference. For some exciting weekend fun in the mountains, you'll struggle to find anything better at this price.
Derailleur: Microshift Advent 9-speed
Tektro HD-M275 hydraulic disc brakes, 160/180mm rotors
Fork: SR Suntour XCM ATB Coil 100mm travel (depending on frame size)
---
FAQ
What is the best electric mountain bike?
The best mountain eBike is the one that fits your budget and has the right geometry and level of components for your riding needs. Mountain biking has many different disciplines, and all of the bikes here are fully ready to hit the trails, to say the least. We are not big fans of the supermarket nor the Walmart electric mountain bikes. As in general, MTB is something where you really wouldn't want to cut corners in terms of your own safety anyway, so it is better to trust MTB/E-Bike specific brands.
Is an electric mountain bike worth it?
These days, electric mountain bikes are gaining mainstream appeal, making them more affordable and more widely accepted. In particular, older riders or cyclists with injuries can enjoy cycling again with electric bikes. Furthermore, they can save a lot of time and energy going up a mountain. If you wish to dedicate more time to enjoy the fast-paced, downhill sections of a mountain you'll find an e-MTB to be an invaluable resource.
Is it safe to ride an electric mountain bike?
With speeds seldom breaching the 28mp/h mark, electric mountain bikes don't pose any more risk than a standard bike. In most cases, the small motors only provide minor assistance and aren't powerful enough to cause any real danger on the roads. So long as you familiarize yourself with the controls, use a helmet, and follow proper traffic laws, you should be as safe as you would be on a normal bike.
Where to purchase the best off-road bikes online?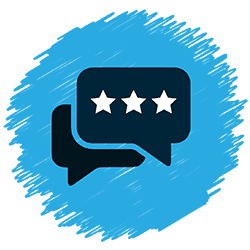 JensonUSA – Norco, Marin Bikes, Niner, Intense Cycles, Devinci
BackCountry – Santa Cruz Bicycles, Pivot, Niner e-mountain bikes
Aventuron – A small selection of Cannondale Electric Mountain Bikes
Trek, Specialized, other main brand official sites!
How fast does an electric bike go?
The stock-setting fastest electric mountain bikes can reach up to 28 mph (45km/h) but most don't go above 20 mph (32km/h) on flat terrain. In many cases, a fit cyclist will be able to outpace the motor just by pedaling alone, so you can go as fast as you would on a normal bike. Electric bike motors are more focused on providing pedal assistance to save on energy rather than achieving high speeds.
Are motorized bikes worth it?
Electric bikes offer a great alternative to traditional bicycles, and the trend nor the demand hasn't seen a decrease so far. The affordability of electric bikes has improved well over the past 5 years, but there's still a lot of time before we could say that about electric-assist mountain bikes. It's just that mountain bikes in general tend to cost more due to their stronger component being used! motor-assisted bikes are the future!
Full-suspension electric mountain bike vs hardtail eMTB?
There's no question that full-suspension mountain bikes offer better comfort, while there are a variety of hardtail models available as well. As the bikes are already assisted by electric motors, it is way more convenient to climb with a full-suspension mountain bike, while on the other hand in some cases should the battery run out, it is way easier to pedal with a hardtail mountain bike.
Can electric bikes go up steep hills?
Almost all electric bikes will be able to climb steep hills but usually, you will still need to provide some pedal assistance. Only Specialized e-bikes in a class similar to that of light motorbikes will be able to climb steep hills on their engine power alone. The higher the torque of the motor, the less amount of effort you will need to exert when pedaling uphill. Also note that the more uphills you do, the quicker the battery will run out.
How durable are electric bikes?
Electric bikes have come a long way in the past decade and nowadays you can get excellent products that will last years without trouble. However, the growing popularity of electric bikes has also spurned many cheap manufacturers. Some cyclists who have purchased lower quality electric bikes complain of motor failures and short battery life so it's best to go with mid to high-quality products.
As there is higher torque and weight to be thrown around the trails, components on electric bikes are made of stronger and more durable materials.
How heavy are electric mountain bikes?
An average, electric mountain bike weighs around 50-70 lbs, with a max capacity of 300 lbs for the rider. Matter of fact, that extra weight (motor & battery) on an e-MTB might be a good thing as extra weight gives the bike more stability and traction.
Mid-drive or hub drive?
Related: Mid-drive vs Hub motor
Most of the bikes reviewed in this article use a mid-drive motor, which is generally used on higher-end e-bikes. Although, many expensive off-road electric mountain bikes such as the Quietkat Jeep uses a hub-drive motor which is suitable for steep climbs and towing extra luggage.
Derailleur / Internal gearing?
Although there are electronic shifters and derailleurs available on the market, we haven't noticed any internal-geared electric mountain to review so far.
Chain vs Belt
Electric mountain bikes all come with a specific e-bike chain and a derailleur system, where there's a single cog in the front. Although there are considerable benefits to belt-drive bikes, unfortunately, we haven't seen belts being used in the electric mountain bike industry so far.
How much to pay for an electric mountain bike?
The lowest electric bikes by known brands start out as $999 (RadMission), and a complete entry-level mountain bike start out as low as $500.
There are electric mountain bikes starting out from $900 on Amazon, but we wouldn't really recommend anything below $2,000 for a hardtail electric mountain bike. If you are planning to use the bike on demanding trials, you'd want to look into the $3,000+ price range since that's where the mid-range non-electric full-suspension mountain bikes start to get around.
Again, there are also folding electric fat tire mountain bikes on the market with a three-digit price tag, but if you'd ask from us – we believe that folding- and mountain bikes don't get together as well.