Best Downhill Mountain Bikes
The mighty speed demon in the world of mountain bikes – Downhill bikes are purpose-built machines.
Having the slackest of geometry and the most durable set of components to withstand the harshest ruts, jumps, and rocks, DH bikes are not for the fainthearted, that's for sure.
The mountain biking industry is an advancing field, and there is no room for errors. We have selected some of the best, well-made, and durable mountain bikes around, have a look!
What Is Downhill Riding?
The first downhill race started on a fire road in the early seventies. Riders used rigid frame Schwinn bikes (bicycle suspension hadn't been invented yet).
Since then the technology in downhill bikes and the courses that go with it have rapidly evolved. Now professionals are riding things that would have never been considered possible 50 years ago: scree fields, mountainsides, and even moderate rock climbs.
Downhill mountain bikes are also known as Gravity bikes due to the momentum provided by the gravitational direction from high elevations. Therefore, downhill mountain bikes are exclusively used to ride down the hill which makes riding those bikes on the horizontal ground rather difficult.
Downhill mountain bike must-have components
Double-crown fork
Coil-shock with 180mm+ travel
Super slack geometry
4-Piston hydraulic disc brakes with 203mm rotors
A chain guide
Dual Crown Fork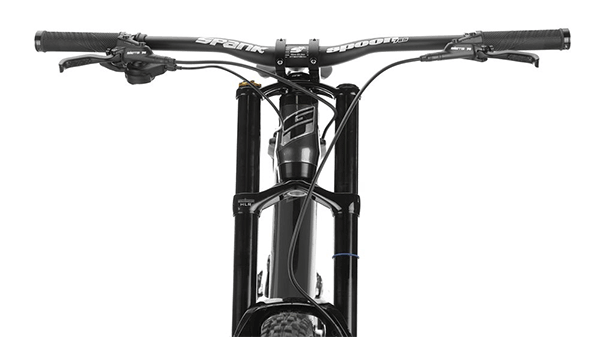 One of the key features of the majority of DH bikes is a dual crown fork. Instead of connecting to the bike via one junction on the underside of your frame's head tube, a dual crown fork runs parallel to the head tube and makes an extra connection via a second junction above the head tube.
Dual crown forks are more rigid and heavy-duty than regular single crown forks, and they typically provide more travel as well.
27.5″ or 29″ Wheels
It is possible to pick up downhill bikes built around both 29 and 27.5 wheelbases.
The size you choose will affect the performance of the bike in different ways. 29-inch wheels roll over obstacles more easily while 27.5-inch wheels provide better handling around sharp corners and are more nimble on jumps.
Ultimately, there is no consensus on which wheelbase is better as it entirely depends on your personal preference and riding style. Back in the day 26″ was a standard size, and 27.5″ has been the most popular so far.
Enduro vs. Downhill Mountain Bike Differences
Why is Enduro better than the Downhill bike?
– Enduro and Gravity/Downhill bikes share the same purpose of descending those fast, steep, and technical tracks. Although, an enduro bike has the advantage on the climbs, and it rides well on flatter / horizontal tracks.
Why is a downhill bike better than an enduro?
– A coil rear suspension and double-crown fork are the main differences between DH and Enduro bikes. Also, the overall robust and ultra-durable build quality to withstand the stress the DH bikes are built for.
---
10 Best Gravity / Downhill Bikes of 2022
#1. Yeti – SB 165
#2. Santa Cruz Bicycles – V10 Carbon CC
#3. Santa Cruz – Nomad C R
#4. Niner – WFO RDO 4-Star
#5. Intense – Tracer
#6. Devinci – Wilson A29
#7. Transition – Spire
#8. Norco – Shore A1
#9. Specialized – Enduro Expert
#10. Scott – Gambler 910
---
1

. Yeti – SB 165 2021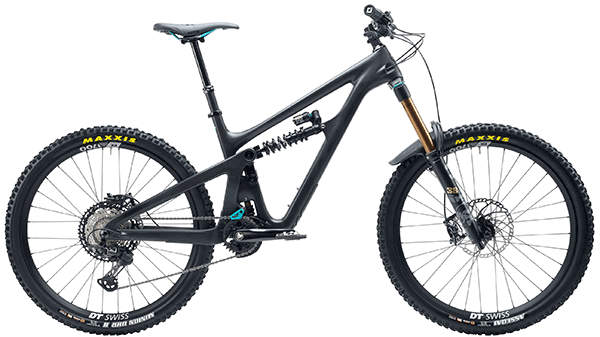 Enduro / DH
MSRP: $7,400
Yeti is known for two things – funky turquoise powder-coatings and exceptionally made mountain bikes. The SB165 ticks both these boxes.
The Fox Factory single crown fork provides an ample 180mm of travel, and a Fox Factory DHX shock has been paired with a world-class linkage design. The carbon construction of the frame keeps everything playful.
With a wide range Shimano XT drivetrain, the SB165 is ready to climb and adapt to different types of riding. Shimano XT four-piston brakes add legendary stopping power and reliability.
As a pure DH bike, the SB165 isn't as burly as some of the other bikes on this list. However, for enduro-style riding and more casual downhill, it outperforms other single crown MTBs and takes drops with ease.
HT – 63.5° / ST – 77° / Chainstay – 433mm
12-speed Shimano XT
Fox Factory 38 GRIP 2 fork, 180mm
Fox Factory DHX2 rear shock, 165mm
TURQ Carbon frame
27.5×2.5 & 2.4″ Maxxis Assegai & Minion
---
2

.

Santa Cruz Bicycles –

V10 Carbon CC S Mountain Bike

Best 29er downhill mountain bike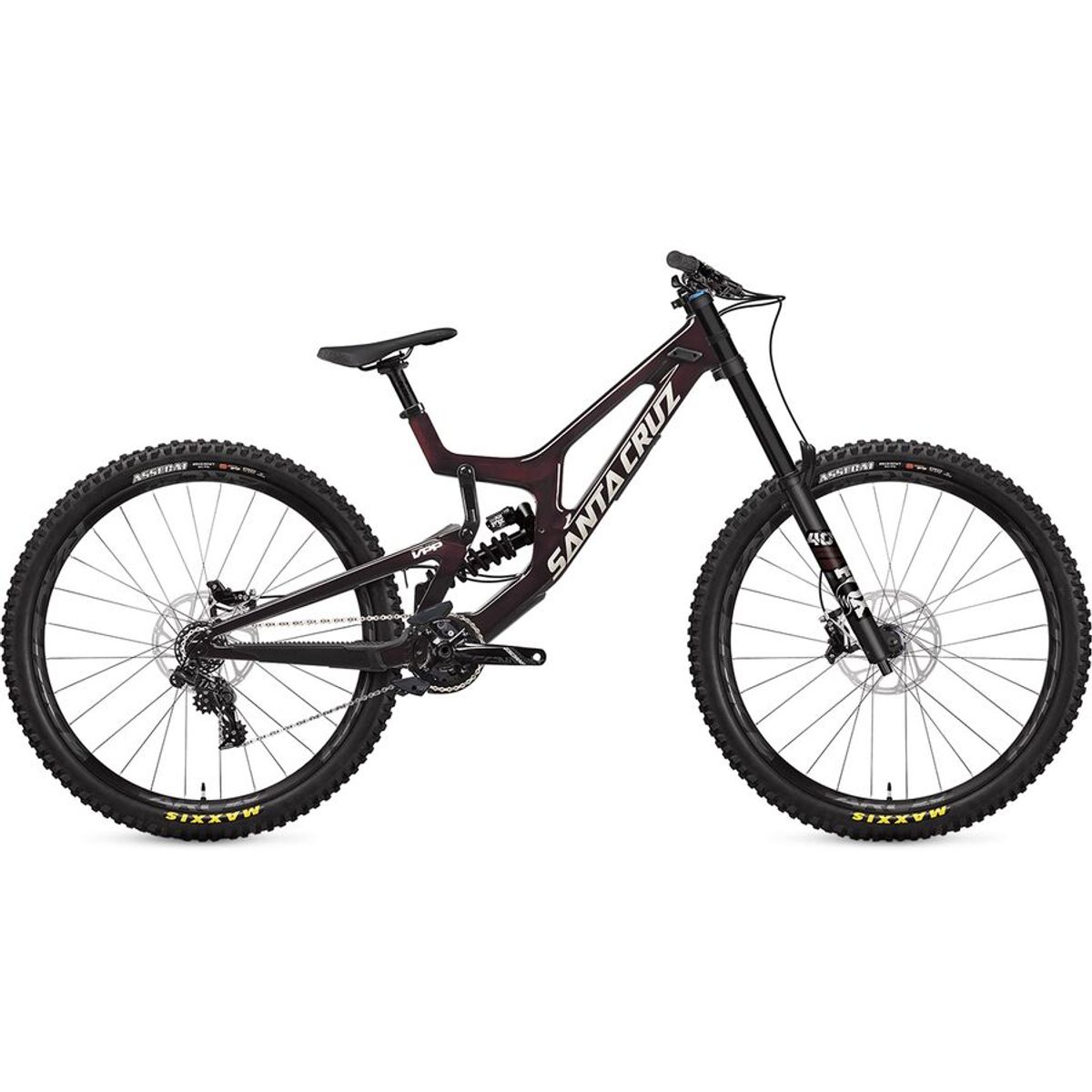 MSRP: $6,699
Competitive Cyclist | Backcountry
The V10 from Santa Cruz Bicycles comes in several versions. You can get a V10 with 27.5 wheels, 29, and a mixture with 27.5 in the back and 29 in front.
This bike has a storied history in different World Cup competitions and comes with an impressive parts build. A Fox 40 Performance fork provides 203mm of travel in the front, and a Fox DHX2 Performance Elite Coil softens things up in the rear.
An SRAM GX derailleur, SRAM Descendant crankset, and E*Thirteen chain guide keep everything running smoothly. A monster for park riding, the V10 performs as the flagship DH bike from a brand like Santa Cruz ought. A good choice for those searching for a bike that's burly, bold, and capable of handling the hairiest of descents.
Carbon CC
Fork: FOX 40 Performance 203mm
Rear Shock: FOX DHX2 Performance Elite Coil 215mm
29.5×2.5 Maxxis Assegai
SRAM GX DH 7-speed drivetrain
Buy from BackcountryBuy from Competitive Cyclist
---
3

. Santa Cruz – Nomad C R

A 27.5″ downhill bike
MSRP: $5,149
The Nomad is a versatile DH bike with top-shelf components ready to shred hard and adapt to variable terrain.
Santa Cruz designed the frame for 27.5″ wheels offering riders a super nimble and versatile ride. A RockShox Zeb fork graces the front of the bike and provides top-quality suspension.
RockShox also provides the Nomad with a Super Deluxe Select shock, making for a great suspension system all around, especially when you factor in Santa Cruz's premium VPP suspension linkage. Other cool features include wicked strong SRAM Guide RE 4 piston brakes and an SRAM NX drivetrain that's built to shrug off high-impact collisions.
The Nomad is fast, confident, lightweight, and still super burly strong. It is the result of years of design evolution and a lot of DH bike wisdom.
RockShox Super Deluxe Select 170mm
RockShox Zeb 170mm
Brakes: SRAM Guide RE 4-Piston
Tires – Maxxis Assegai 27.5″x2.5″ (f) / Minion DHR II 2.4″ (r)
HT – 64° / ST – 76°
---
4

. Niner – WFO 9 RDO 4-Star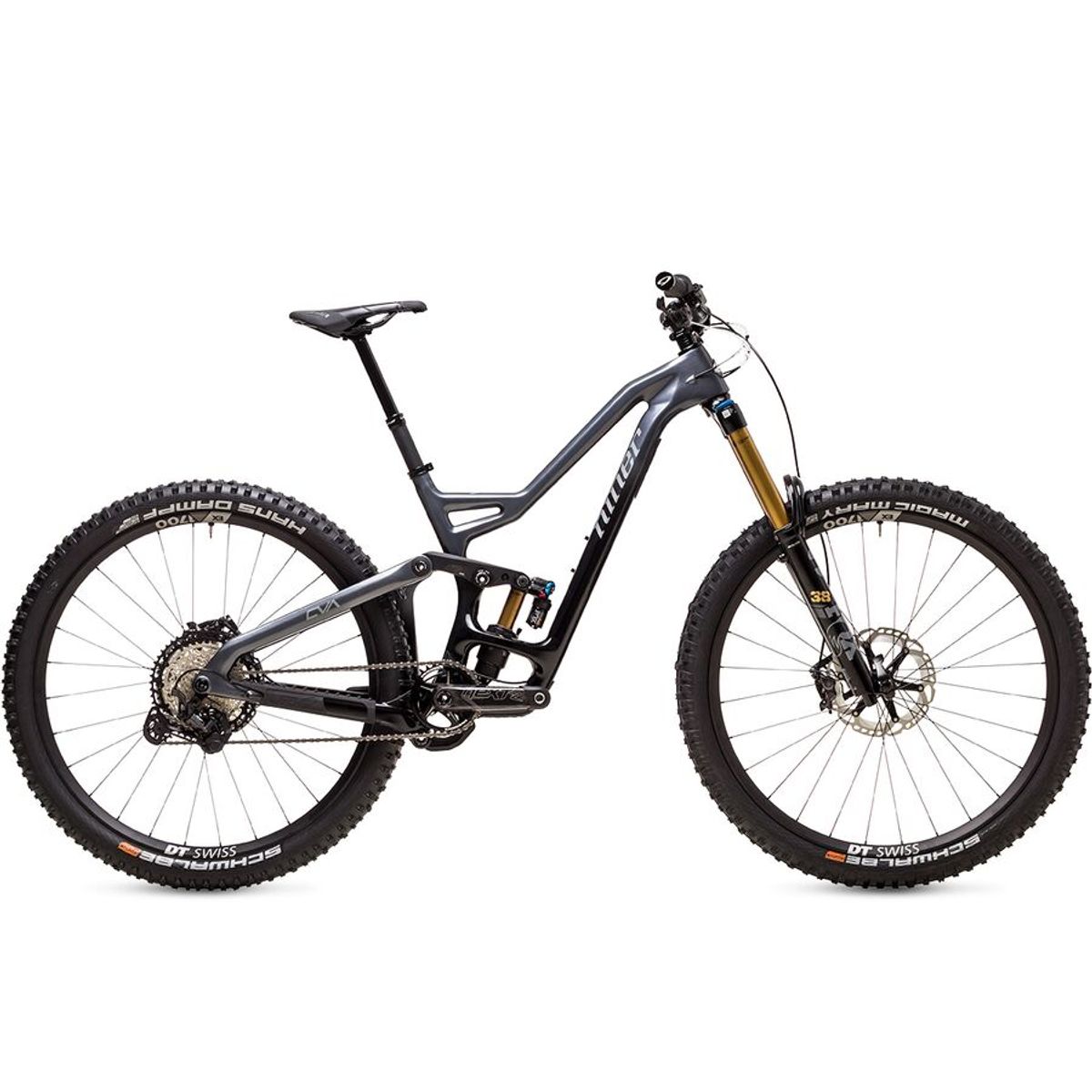 MSRP: $6,950
Competitive Cyclist | Backcountry
When Niner first came on to the scene, they quickly revolutionized DH geometry and appeared on many podiums across the globe.
They are offering their iconic WFO RDO 4-Star with 29-inch wheels and a super sleek carbon frame. The time-tested geometry allows for tight cornering and great stability, made lighter and faster by the inclusion of carbon in the frame and handlebar.
Shimano XT components provide quiet, bomber shifting as well as immediate braking power designed around the needs of downhill MTB riders. The 29-inch WFO 9 has a tweaked geometry and CVA suspension that encourages riders to tackle the climbs whenever necessary.
If you're in search of a machine that straddles the line between DH and enduro geometry, look no further than Niner's WFO 9.
Rear Shock: FOX Float X2 Factory, 170mm
FOX 38 Float Factory GRIP2, 180mm
Shimano XT 12-speed drivetrain

Suspension type: CVA

29×2.6″ Schwalbe Magic Mary EVO / Hans Dampf EVO
Buy from BackcountryBuy from Competitive Cyclist
---
5

. Intense – Tracer Pro
MSRP: $5,199
Oftentimes the highest quality bikes don't come from the biggest or most well-known brands. Such is the case with Intense Cycles, who have been quietly making some of the world's best mountain bikes since 1993.
The Tracer is a downhill/enduro carbon 29er, built with mostly aftermarket parts. Like any legendary DH bike, the Tracer frame has an impressive linkage system that has been repeatedly improved after years of feedback from professional riders. If you are a serious park rider or racer who wants top-of-the-line parts across the board, the Tracer more than fits the bill.
Travel: 170mm (f), 165mm (r)
HT angle: 65.5 ̊
---
6

. Devinci – A29
MSRP: $4,299
The Devinci Wilson A29 is one of the most bombproof designs for a DH mountain bike around.
One look at the crankset configuration and you can see that Devinci was serious about creating a ride that can handle huge impact forces with ease. Both the fork and rear shock come from RockShox and are standout features amongst many great components. SRAM provides drivetrain components, with DH-specific cranks.
The Wilson A29 is rounded out with high-end features like the flip-chip adjustable geometry, SRAM Code RSC hydraulic disc brakes, and Split Pivot suspension linkage.
There is a good case to be made that Devinci is producing one of the world's best value DH bikes with the Wilson A29.
HT: 62° / ST: 76.8°
RockShox BoXXer Ultimate RC2 Worldcup, 200mm
RockShox Super Deluxe Coil Ultimate DH shock
Race Face Atlas 30 DH Rims
Maxxis Minion DHF 29×2.5″ / DHR 2.4″
---
7

. Transition – Spire Alloy NX
MSRP: $3,999
A podium-worthy style bike, the Transition Spire boasts an array of high-quality components alongside frame upgrades that set it apart in the world of DH/enduro bikes.
An adjustable Fox Float X Performance shock is paired with a 170mm Marzocchi Bomber Z1 Air fork with Transition's GiddyUp 2.0HH suspension system for great handling and a satisfying squish to ease hard landings. An adjustable flip-chit also allows you to fine-tune the frame geometry to fit the needs of the moment.
A 12-speed drivetrain made up of select SRAM NX Eagle components provides the perfect amount of flexibility for riding up and down different grades. The underside of this bike's frame has a replaceable rubber casing that protects against scratching and dents.
This bike rates well on value for money, as you get some of Transition's exclusive features at a highly competitive price.
HT: 62.5°
Fox Float X Performance 170mm
Marzocchi Bomber Z1 Air fork 170mm
Stans Flow D rims

Front tire: Schwalbe Magic Mary Super Trail Soft 29×2.4″

Rear tire:

Schwalbe Big Betty Super Trail Soft 27.5×2.4″
---
8

. Norco – Shore A1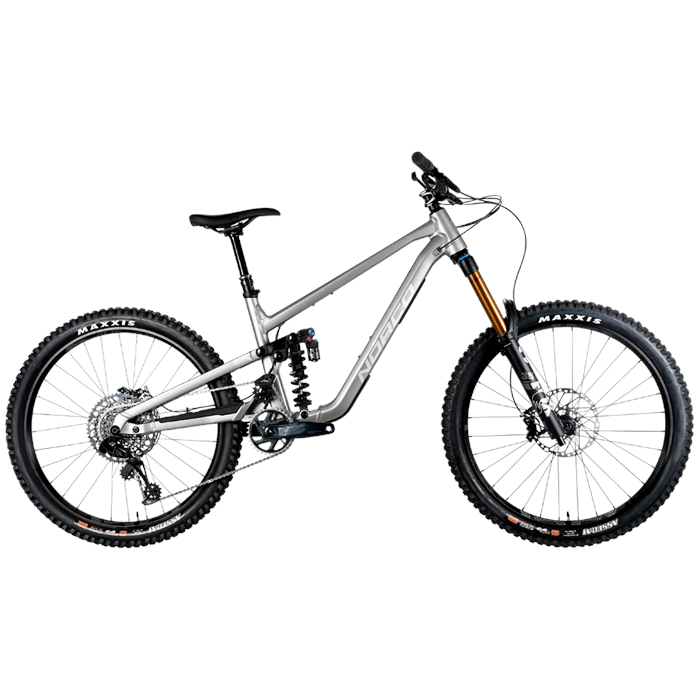 MSRP: $5,999
A park-style downhill bike packed full of features that help you pull off big jumps, the Norco Shore A1 offers a good balance of value and tech.
The Shore A1 uses a Fox 38 Factory 180mm fork in combination with a 180mm Fox DHX2 Factory Coil shock for great suspension. SRAM GX drivetrain parts put this bike on the same level as many other high-end DH bikes in terms of bomber shifting. The same goes for SRAM Code RSC hydraulic disc brakes.
While not optimized for DH racing, the Norco Shore bridges the gap between entry-level and professional downhill mountain bikes.
SRAM GX Eagle 1×12-speed
Fox 38 Factory fork 180mm
Fox DHX2 Factory Coil shock 180mm
---
9

. Specialized – Enduro Expert
MSRP: $6,299
The Enduro Expert from Specialized is an aggressive downhill capable enduro bike that happily eats up park courses and maneuvers swiftly through rough terrain.
The frameset is full-carbon providing an incredible ride feel. An SRAM X01/GX 12-speed drivetrain allows for more versatility on uphill and flat rides, and Code RS 4-piston hydraulic disc brakes give great braking power on steep and technical trails.
For those who are interested in all-mountain riding but still want to retain the functionality of an enduro build, the Enduro Expert provides a great combination of DH and enduro capabilities.
SRAM X01/GX 12-speed drivetrain
Fox Float 38 Performance Elite 170mm fork
Fox Float X2 Performance 170mm shock
Butcher GRID TRAIL casing, GRIPTON® compound 29×2.3″ tires
---
10

. Scott – Gambler 910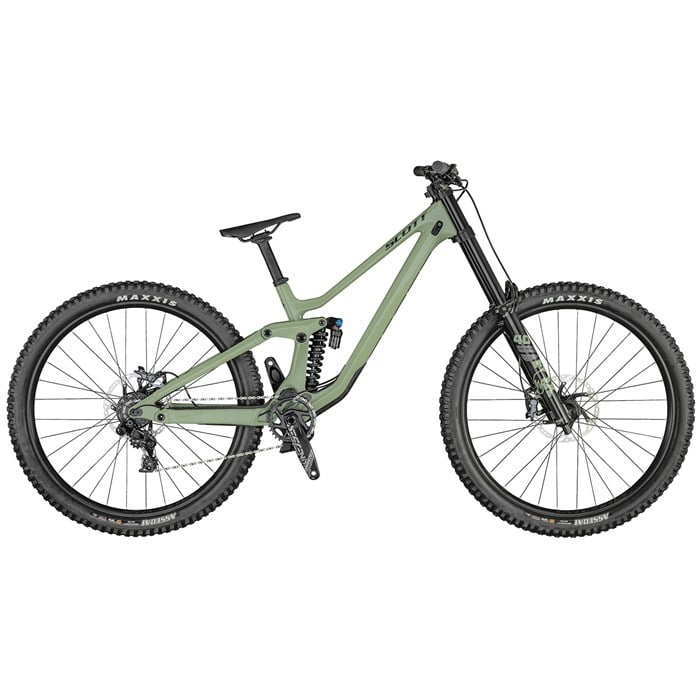 MSRP: $6,000
If we are not mistaken, the first Scott Gambler was introduced in 2003 which makes it one of the oldest downhill mountain bike manufacturers on this list. The Gambler is a go-to choice for those who like traditions and prefer a product made by a mountain-specific brand.
The 2021 model meets high-end standards and geometry, and the availability to convert it into a mullet, or a 27.5″ bike.
As the name 'Gambler' goes, this bike offers a one-way ticket to the ride of your life – it is up to you to show its way. The devil on the left shoulder says it is built for speed, and the angels on the right shoulder speak for the brakes, ultra-durable yet lightweight carbon frame, wheels, and all the rest.
Long story short – Scott is a name you can count your money in, and they haven't cut any corners on the construction.
Gambler carbon frame
SRAM GX DH 7-speed, 200mm
Brakes: Shimano XT 4-Piston hydro
Front fork: Fox 40 Performance, 203mm
Rear Shock: Fox DHX2 Performance Elite
29×2.5″ Maxxis Assegai DH TR 3C Maxx Grip 2x60TPI
---
FAQs
What is Downhill Mountain Biking?
Downhill mountain biking (DH for short) is the practice of riding down steep and technical terrain, often with large drops. Many ski parks operate as MTB downhill courses during the summer, and other DH parks operate year-round.
There are also downhill races on singletrack, as well as in urban settings. As the technology of DH components evolves, professional riders are pushing the limits of what can be ridden on a downhill mountain bike towards ever steeper and more treacherous terrain.
What is a downhill mountain bike?
Modern downhill bikes are all dual suspension, with shock absorption on both front and rear wheels. The design of DH bikes is focused on maximizing stability, allowing you to ride them faster over rough terrain with less vibration coming through to the saddle and cockpit.
Because of their intended purpose, DH bikes are overbuilt when compared to other mountain bikes, and are heavier as a result.
Is downhill mountain biking a dangerous sport?
Every type of cycling comes with a certain amount of risk. However, because downhill riding involves large jumps and high speeds, it is certainly more dangerous than other types of riding. Virtually all DH riders use full-coverage helmets, knee pads, shoulder pads, and armored gloves.
Many downhill parks require riders to have this personal safety equipment to use their lifts. Luckily, there are many different levels of downhill runs to choose from. Modern 4-cylinder hydraulic brakes remarkably elevate the level of safety and confidence on steep trails.