Ibis Ripmo Review
The Ibis Ripmo is a 29″ carbon or aluminum MTB with a long, slack frame ideal for trail riding. It features a 76-degree seat tube angle with extended reach to position the rider more directly over the pedals.
The suspension includes Ibis' Traction Tune Technology for fast compression and damping, delivering a smoother ride over rough terrain.
Our Ibis Ripmo review will tell you everything you need to know about this trail ripper and help you make an informed decision if you choose to buy it.
Also Featured in: Best 2022 Mountain Bike Release
---
Ibis Ripmo Review
'Big wheel, big travel speed demon'
Head Tube Angle 64.9° // Seat Tube Angle 77-76° // Chainstays 435mm
Best for All-Mountain // Enduro // Trail
Suspension Travel 160mm(f) // 147mm (r)
Wheel Size 29″
The frame has wide tire clearance and connects the front and rear triangle via stiff and light low-maintenance IGUS bushings. It comes standard with a DVO Topaz T3 Air shock and an Onyx D1 fork. You can upgrade these to Fox Float Factory series parts and you can choose between a Shimano groupset (Deore, SLX, XT), or SRAM (GX Eagle, XX1).
The Ibis bicycle company started life in Mendocino, California, in 1981 when founder Scot Nicol began building custom bike frames. It remains an employee-owned company to this day and produces a range of outdoor and adventure bikes.
Ibis focuses almost exclusively on all-mountain, enduro, and trail bikes. Besides its rigid frame 700c Hakka MX gravel bike, all Ibis bikes are dual-suspension with either 27.5″ or 29″ wheels.
Related: Ibis Mojo 4 Full Overview
---
Ripmo AF Quick Specs
Metal (Matt finish) / Red Savina (Gloss)
Frame: Aluminum

Wheels: 29″
Max Tire Width: 2.6″
Suspension: 160mm / 6.3″
Rear Shock: 147mm / 5.8″
DW Link Suspension
Head Tube: 64.9°
Seat Tube: 76°
Chainstays: 435mm
Boost Axles: 148mm (r), 110mm (f)
Headset: ZS44 (upper), ZS56 (lower)
Chainline: 52mm, 168mm Q Factor
Frame Warranty: 7 years
RIPMO AF BUILDS, starting from:
Frame – $1,799
Deore – $3,199
Deore w/ Coil Spring – $3,299
SLX – $3,999
GX Eagle – $4,299
---
Ibis Ripmo AF Deore Coil Review
Trail, All-Mountain, Enduro

MSRP $3,299
The AF Deore model is an aluminum Ibis Ripmo with a coil shock and 12-speed Shimano Deore groupset. Some cyclists prefer coil shocks over air-sprung, depending on your riding style and discipline. In this case, the DVO Jade X Coil is an adjustable enduro-specific shock with 147mm of travel and a stiction-free compression bladder.
The fork on the Ibis Cycles Ripmo AF is a DVO Onyx D1 with 160mm of travel, high/low-speed compression, and volume adjustment. Combined this with the KS Rage-i dropper post and you have a bike with some serious downhill capabilities. For hardcore grip and traction while cornering, you get fat 2.5″ Maxxis Assegai tubeless tires and 4-piston Deore hydraulic disc brakes, a solid pair of confidence-inspiring components.
The combination of larger 29″ rims with a wide gear ratio and excellent downhill suspension make this the ideal enduro bike. The carbon frame version sheds a bit of weight – from both the bike and your wallet – but overall the Ripmo AF will not disappoint.
Main features
Shimano Deore Derailleur – 10-51T Cassette
DVO Onyx D1 Fork – 160mm travel
DVO Jade X Coil Shock – 150mm travel
WTB 142mm Silverado Saddle & Lizard Skins Charger Evo Grips
---
Ibis – Ripmo V2 Quick Specs
Bug Zapper Blue / Star Destroyer Grey
Frame: Carbon
Wheel: 29″
Suspension: 160mm / 6.3″
Rear Shock: 147mm / 5.8″
DV Link suspension
Head Tube: 64.9°
Seat Tube: 76-77°
Chainstays: 435mm
Bottom Bracket: Threaded, 73mm BSA
Chainline: 52mm, 168mm Q Factor
Headset: ZS44 upper / ZS56 lower
Frame Warranty: 7 Years
RIPMO V2 BUILDS, starting from
Frame – $2,999
Deore – $4,399
SLX – $5,199
GX Eagle – $5,499
XT – $5,899
XX1 Eagle – $10,999
---
Ibis Ripmo 2 XT Review
Trail, All-Mountain, Enduro

MSRP $5,899
The full carbon Ibis Ripmo 2 is the company's flagship product and offers excellent value for money with a Shimano XT groupset. (SRAM XX1 AXS is also available but at almost double the price.)
What makes this bike special is the unique Ibis Ripmo geometry that combines longer reach with a steep, 76-degree seat tube angle. This places you higher over the pedals and puts you in a better position to navigate steep, tricky descents. Add a slacker 64.9-degree headtube angle with 44m reduced-offset fork for easier climbing and you have a versatile trail bike with enduro capabilities.
The Ripmo V2 comes standard with a DVO Onyx D1 fork and DVO Topaz T3 Air shock, both of which can be upgraded to Fox Float Factory parts or a DVO Jade X Coil on the rear. The Topaz T3 features a triple compression adjustment lever that you can easily change for ascents, flats, or descents. Other components include a Bike Yoke Revive dropper post and excellent Maxxis Assegai 29″x2.5″ tires with EXO+ casing.

1. Fox Float DPX2 Performance, Bike Yoke Dropper Post
2. Maxxis Assegai, World Cup Champion Greg Minnaar's signature tire
3. Internal Cable Routing, loads of attention to detail
4. Shimano XT M8210 4-Piston brakes, Shimano SM-RT86 200/180 rotors
---
Options to Upgrade:
FORKS
2021 Fox Float 36 Grip 2 Factory Series + $290
REAR SHOCK
DVO Jade X Coil + $100
2021 Fox Float Factory Series, X2 with EVOL + $290
RIMS
Ibis S35 Carbon Rims (Ibis Logo hubs) + $800
Ibis S35 Carbon Rims (Industry 9 Hydra Hubs) + $1,300
Ibis S28 Carbon Rims,
TIRES
29 x 2.6″ Schwalbe Hans Damph/Nobby Nic Apex TL-Easy + $0
---
Ibis Bike Size Chart
Ibis Ripmo sizing recommendations
S 5'0″ – 5'5″ / 152 – 165cm
M 5'4″ – 5'9″ / 163 – 175cm
L 5'8″ – 6'1″ / 173 – 185cm
XL 6'0″ – 6'6″ / 183 – 198cm
---
FAQ
What is the difference between Ibis Ripmo 2020 and 2021 models?
2018-2020 Ibis Ripmo (V1) – Headtube: 65.9° / Rear Travel: 145mm
2021 Ibis Ripmo (V2) – Headtube: 64.9° / Rear Travel: 147mm
Color designs
Where to buy Ibis Ripmo AF?
Most of the Ibis Ripmo 2020 and 2021 models are in stock at:
JensonUSA – Widest selection of different builds
What to think of DVO forks/suspension?
DVO is a relatively new company and not as well-known as more common suspension manufacturers like RockShox and Fox. However, it's headed up by several experts with decades of experience in cycling technology is quickly solidifying its place as a leading manufacturer of bicycle shocks.
Coil vs Air Shock on a full-suspension MTB?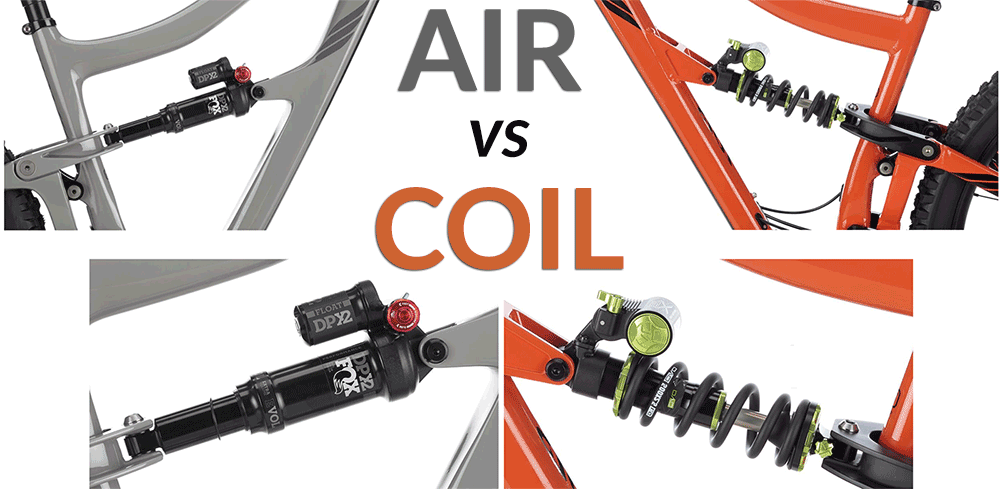 Coil shocks involve a spring of a set size to absorb impact whereas air shocks have a compressed air chamber that is more easily adjustable. While coil shocks were traditionally heavier, the introduction of modern materials means there is now little difference in weight.
The fundamental difference is in the compression vectors, which on air shocks is progressive whereas on coil shocks is more linear. This means coil shocks compress at a set rate, while the compression on an air shock increases as the stroke follows through.
How to set up the forks and rear shock
Check out the Ibis Ripmo Manual for the suspension setup recommendations. Instructions start from page 37.
How well does the Ibis Ripmo climb?
With a well-balanced geometry including a 76-degree seat tube and a 65.9-degree headtube angle, the Ibis Ripmo places the rider in an excellent position for climbing. This helps maintain traction on the rear wheel while keeping the front wheel firmly on the ground, resulting in a smooth and consistent climb.
Ibis Ripmo wheels
Ibis works in conjunction with tubeless pioneers Stans NoTubes, the company that first designed tubeless rims and tires in the early 90s, to develop its lightweight, carbon fiber S-wheels. Utilizing Stan's patented Bead Socket Technology (BST), Ibis has created a stronger and lighter rim that resists impacts 9% more effectively than other models.
Ibis riders have found that running wider rims with large, low-pressure tires improves traction, braking and rolling resistance.
Ibis has been experimenting with wide rim wheels since 2014, helping to accommodate the new wave of 2.4″ and 2.6″ tires that are popular on MTBs today.
Ibis Ripmo with 170mm fork / with 150mm fork?
Although the geometry of the Ripmo is built around the 160mm front travel, several owners have fitted both the 170 and 150-mil front suspension on the bike. If you know what are you doing, you might get a better set-up by slightly changing the geometry of the bike. Although, with a 150mm fork the bottom bracket might get too low.
Ibis Ripmo cons
According to some users:
The internal cable routing entrance is too far too back on the frame which leads to cable rub and paint damage
Color has sort of a wavey texture
Rear linkage collets various rocks and mud
Chainstay rubber collector has a better aesthetic purpose instead of a practical one
How much does the Ibis Ripmo weight?
Ibis Ripmo bike weight starts from 28.2lbs
Alternatives to Ibis Ripmo
Evil – Offering
Yeti – SB130 and SB150
Santa Cruz – Hightower
Transition – Sentinel
Pivot – Switchblade
Revel – Rascal
Ibis Ripley vs Ibis HD4 vs Ibis Ripmo
| | | | |
| --- | --- | --- | --- |
| IBIS | Ripmo | Ripley | Mojo HD5 |
| Best for | All-Mountain | Trail | Enduro |
| Wheel Size | 29″ | 29″ | 27.5″ |
| Front Travel | 160mm | 130mm | 170mm |
| Rear Travel | 147mm | 120mm | 153mm |
| Headtube | 64.9° | 66.5° | 64° |
| Seat tube | 76° | 76° | 76° |
| Bikes start from | $3,199 | $4,199 | $4,399 |
| Max tire width | 2.6″ | 2.6″ | 2.6″ |
| Chainstays | 435mm | 432mm | 430mm |
Oval chainring compatibility
Ibis Ripmo mountain bikes are compatible with a max oval chainring size of 32T, although not all chainrings are the same so it'd be best to check clearance before installation.
Missing gussets
All Ripmo bikes photographed have a gusset between the down tube and seat tube which were discontinued after Ibis engineers chose to. They stopped welding them on after the first batch of (photographed) frames.