Marin Rift Zone Series Review
Marin's Rift Zone series bikes are built for mountainous of trails, and the lineup includes models for both beginners and experienced cyclists.
Featuring front & rear suspension, these bikes are perfectly within their price range. With their low and aggressive geometries, Marin has crafted a line of bikes that withstand the pressures of a personal endurance ride, while also being comfortable enough to bounce around the woods with your friends on the weekends.
---
Marin Rift Zone Lineup
Aluminum
Marin Rift Zone 1 – MSRP: $1,899
29″ / 27.5″
Marin Rift Zone 2 – MSRP: $2,199
27.5″ / 29″
Marin Rift Zone 3 – MSRP: $2,849
29″ / 27.5″
Marin Rift Zone JR 24 – MSRP: $1,899
24″
Rift Zone Carbon
Rift Zone Carbon 1
Rift Zone Carbon 2
All three aluminum models feature a Series 3, 6061 aluminum frame which helps in making the bicycle stiff, responsive, and tough as nails when tackling rough terrain.
Marin also included their proprietary MultiTrac Suspension Platform, which they first included back in 2017 on their Hawk Hill models. While not as sensitive as some of the company's other designs, the single-pivot MultiTrac is a lot easier on the wallet, along with being quite a bit easier to maintain.
On the front end, the aluminum Rift Zone 1 & 2 both come equipped with RockShox Recon RL 29″ forks, featuring 130mm of compression and a wide amount of rebound adjustment. These forks also come with a RockShox Maxile front thru-axles, to compensate for wider, more rugged wheelsets.
Marin's Rift Zone series includes several models with both aluminum and carbon frames, featuring affordable price tags and respectable components.
The Rift Zone 3, on the other hand, comes with a high-end Marzocchi Bomber Z2 29″ fork paired to a Kabolt axle, a high-end option that weighs a bit less than the RockShox options.
All three of these trail monsters come standard with 29″ Marin-built wheels. They're double-walled, and all come ready to be run tubeless. These forged alloy wheels run on sealed-bearing, 32H hubs and are built specifically for center lock disc brakes.
Looking at tires, all three models use Vee Tire Co. tires, which are known for proprietary compounds, customized tire segments, and unique tread patterns. The Rift Zone 1 & 2 come with Vee's Crown Gem 29×2.3 tire, with grooved tread blocks which make them perfect for keeping your steering nice & stable on the dirt.
---
Marin Rift Zone 1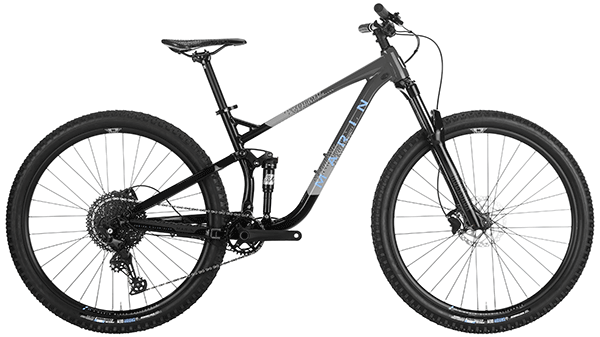 MSRP: $1,899
Frame: Series 3, 6061 aluminum
Drivetrain: 11-speed Shimano Deore Shadow Plus SGS
Cassette: SunRace 11-51T
Brakes: Shimano BR-MT 201 hydro
Tires: Vee Tire Crown Gem, 29×2.3″
This impressive aluminum trail bike offers excellent value for money, with dual-suspension, a Shimano drivetrain and hydraulic disc brakes. The 11-speed Shimano Deore gearset is a popular tried-and-tested part with a low-profile, slap-reducing Shadow Plus derailleur. The disc brakes are fairly stock standard for a trail bike but they're more than sufficient if you aren't doing extreme downhill racing.
The 6061 aluminum frame is rock solid, with internal cable routing and a mid-range RockShox Recon Silver fork. With 130mm of travel, it's perfect for some fast-paced trailblazing and mild rock-hopping action. Naturally, Marin has had to cut costs in some areas and this is most notable with the relatively low-quality X-Fusion rear shock, but fortunately, Marin's MultiTrac frame suspension helps to smoothen out the ride. Some discerning riders might also want to upgrade the Vee Tire Crown tires but overall, for the price, this is a very decent full suspension MTB.
---
Marin Rift Zone 2
MSRP: $2,349
Series 3 6061 alloy frame
12-speed Shimano Deore
Shimano MT201 hydro disc brakes
TranzX dropper post
29×2.5″ tires
The Rift Zone 2 is a significant upgrade in this series, especially with the RockShox Deluxe rear shock. This quality component really smoothes out the ride, creating an overall feeling of solid dependability. Combined with the impressive MultiTrac suspension on the 6061 aluminum frame and you will feel confident taking on some serious offroad trails.
You get an upgraded 12-speed Shimano Deore drivetrain, including a Shimano cassette and Shadow Plus derailleur. Again, we see Marin go with Shimano's MT201 disc brakes, a functional choice for less aggressive trail riding. You get the RockShox Recon Silver fork up front with 130mm of travel, more than enough for some steep, agile descending.
One very nice addition is the TranzX remote dropper post, something any serious rider will consider a vital component on their MTB. Again, I would upgrade the Vee Flow Snap tires but other than that, this is the full package ready to attack the most brutal of mountain trails
---
Marin Rift Zone 3
MSRP: $2,999
Series 3 aluminum frame
Fork: Marzocchi Bomber Z2, 130mm travel
Rear Shock: Fox Float DPS
12-speed Shimano SLX
Shimano MT420 4-piston brakes w/ 180mm rotors
X-Fusion Manic dropper seat post
On the flagship Zone 3, Marin decided to install Shimano SLX 12-speed shifters tied to Shimano SLX 12-speed SL-7100R derailleurs. This groupset has only been out for around 6 months but has seen extremely positive reviews across the board, thanks to its stellar build quality.
If the quality wasn't enough, Shimano made these components cross-compatible with their XTR & XT 12-speed series hardware, meaning that finding replacement parts is incredibly easy.
Regarding drivetrains, Zone 3 went for broke, deciding to include an FSA GRID, Modular 1x, 32T chainring, which features MegaTooth Technology, perfect for added chain security on tough trails. This runs over a SunRace 12-speed, 11-50T cassette, which means that steep climbs are yours for the taking.
Marin Rift Zone 3 is the most expensive model in the lineup, aimed at more experienced trail riders and those who want to become so.
The Zone 3 opted for an even more rugged option, choosing to pair these with Shimano's MT420, 4-piston brakes running dual 180mm rotors. The added pistons make these last quite a bit longer than their 2-piston counterparts while adding a fair amount of braking power in the process.
One notable difference is that Zone 3's wheelset comes with a sleeve joint, while the 1 & 2 come with a pinned joint. Sleeve joints tend to be a bit more cost-effective and fit precisely into a rim's cavity, which increases brake smoothness & overall durability.
The Zone 3 also gets a bit of an upgrade with its Flow Snap 29×2.35 tires. These are built to handle all types of terrain & all types of weather on the race track. Whether you're looking for speed, braking, or corner traction, these tires do it all.
---
Marin Rift Zone 24 JR
MSRP: $1,899
Series 3 – 6061 Aluminum frame
120mm travel (f & r)
Fork: X-Fusion velvet RLC 26″
Rear Shock: X-Fusion =2 Pro R
Shimano Deore 11-sp derailleur
Sunrace 11-46T cassette, microSHIFT SLM895 shifters
24×2.4″ Vee Tire Flow Snap
If you want to spoil the young, budding mountain biker in your life, the Marin Rift Zone junior is a great place to start. This is not just any kid's bike but rather a high-quality trailblazing machine that sets the foundation for a pro-riding career. Built around Marin's Rift Zone Series 3 6061 aluminum frame, it includes an X-Fusion Velvet fork with a massive 120mm of travel. This is the perfect entry-level fork and combines with an X-Fusion rear shock to provide excellent all-around suspension.
Keeping with Marin's dedication to quality, you get an 11-speed Shimano Deore groupset with SunRace cassette and MT201 hydraulic disc brakes. The 24-inch aluminum rims are wrapped in fat 2.4" Vee Flow Snap tires, excellent lightweight tires for mild offroad riding. It's not cheap for a junior bike but it's packed full of high-quality components that you'd not usually find at this age level.
---
Rift Zone Carbon
Rift Zone Carbon 1
Rift Zone Carbon 2
The two carbon models, Rift Zone Carbon 1 & Rift Zone Carbon 2 are quite a bit more expensive, but they offer a lot more in terms of components and performance as well.
Both have the same Unidirectional Carbon Fiber Front Triangle and Series 4 Alloy Rear End. The combination of carbon and aluminum makes the bike sufficiently stiff but also pliant when the trail requires it the most.
These models use Maxxis Minion tires, 2.5 (F) and 2.4 (R) inches wide, Shimano MT401 (Carbon 1) and SLX (Carbon 2) hydraulic brakes, and front suspension with 130 mm of travel. The front suspension differs, whereas the rear is the same.
There's also a difference in shifting, since Carbon 1 uses a 12-spd SLX derailleur, whereas Carbon 2 relies on a 12-spd XT mech.
Next, we'll get into the specifics of the different Rift Zone models.
---
Rift Zone Carbon 1
Shifting
Rift Zone Carbon 1 uses the same shifting components as its more affordable aluminum brother Rift Zone 3.
It has a 1×12 drivetrain and shifts gears using the reliable and bulletproof Shimano SLX SGS rear derailleur. This is not a top-of-the-line rear mech, but it's as close to the top as you can get with this amount of money.
It's paired up with Shimano SLX SL-7100R levers which are precise and easy to use even with winter gloves on. The main difference between Shimano SLX and higher-end groupsets such as XT is mainly in the overall weight. In terms of performance and shifting, you will not see that much of a big difference.
Drivetrain
The drivetrain on the Rift Zone Carbon 1 is carefully put together to allow you to tackle steep hills and walk as little as possible. The Crankset is an FSA GRID, featuring a 32T Direct Mount Chainring with Boost Spacing that will improve the efficiency of your pedaling and prevent the chain from skipping.
On the other end, there's a 12-spd SunRace cassette with an 11-50T range, which is massive enough to keep the cadence high at all times.
Wheelset & Tires
Marin did not want to take any chances when it comes to the wheelset and tires on their Rift Zone Carbon models. Both models roll on Maxxis Minion DHF front and Maxxis Minion DHR II rear tires. The front tire is 2.5″ wide, whereas the rear is 2.4″ wide. This way, you will get a maximum grip when cornering and maximum speed when hitting flat straights.
The rims are made in-house by Marin. They are built from aluminum and have a double wall structure which makes them strong enough to survive jumps, drops, and bunny hops. Most importantly, they're tubeless compatible.
---
Rift Zone Carbon 2

Shifting
Rift Zone Carbon 2 offers a big improvement when it comes to shifting. It uses a 12-spd Shimano XT rear derailleur which is one of Shimano's most high-end options.
However, it combines it with the same Shimano SLX 12-speed shifter. This is not a problem though since they are fully compatible and work like a charm together.
Drivetrain
The good news is that the drivetrain on Carbon 2 is completely different from Carbon 1, so you know exactly where your money is going. On the front, you get an FSA Gradient crankset with a 32T chainring. On the back, your rear mech will be working up and down a Shimano SLX M7100 cassette with a 10-51T profile. That's even more gear range which means more possibilities on the trails.
Suspension
Marin Rift Zone Carbon 2 bounces on a Fox Performance 34 Float suspended fork with 130 mm of travel. It can be adjusted in three different positions, to accommodate different needs and styles of riding. It also features rebound adjustment and a 44 mm offset.
On the rear, you get an equally capable Fox Float DPX2 rear shock, with an EVOL Air Spring and 3 position compression adjustment. You can custom tune it whichever way it suits you.
Brakes
Rift Zone Carbon 2 might seem unstoppable, but when you need it to slow down, you can simply engage the Shimano SLX hydraulic disc brakes. They clench on massive 203 mm (front) and 180 mm (rear) rotors and stop the bike on a dime.
---
Where to Buy Marin Rift Zone?
Buy on evo.com Buy on JensonUSA.com