Best All-Mountain & Enduro Bikes with 150-180 mm Travel
Enduro-style mountain bikes are relatively new to the MTB scene, with the discipline only gaining widespread popularity over the past five to six years. The earliest recorded enduro-style race was in France in 2003 but MTB bikes with enduro-specific geometry and suspension were only developed later.
An enduro MTB race usually consists of all competitors riding up a mountain and then racing down the other side in a timed event. The concept was apparently influenced by rally car and motorbike racing and often includes up to 6 timed downhill stages plus several uphill 'transfer' stages.
---
---
1

. Yeti Cycles SB165 T1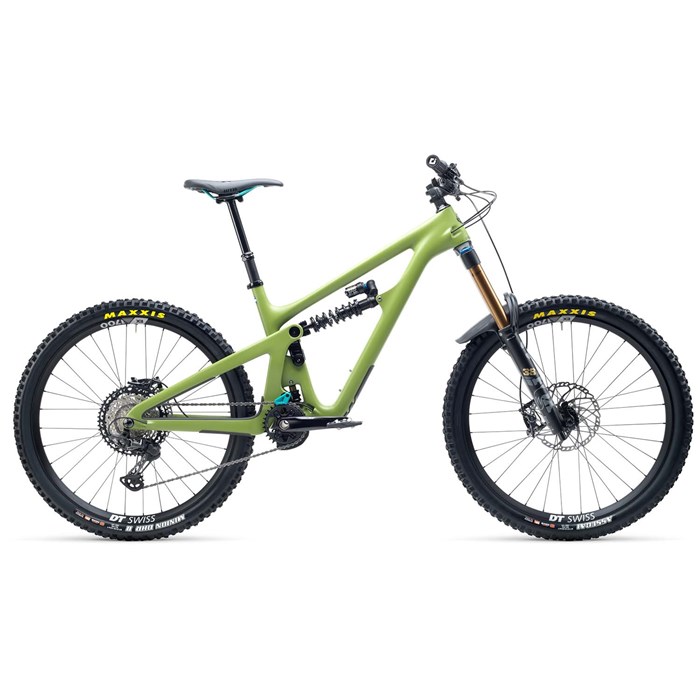 MSRP: $8,600
Evo.com
Best for enduro, freeride, downhill – this 27.5″ from Yeti cycles is an upgrade from the Enduro World Series winning SB6, designed with longer, slacker geometry for better downhill handling and speed.
It features a Turq-grade carbon frame and a Fox 38 Factory fork with 180mm travel, running on DT Swiss EX1700 rims and Maxxis Assegai 2.5″ and Minion DHR II 2.4″ tires.
The frame incorporates Switch Infinity rear suspension with 165mm of travel and a Fox DHX2 Factory shock with a refined leverage ratio for better heat management and small-bump compliance. If you're a downhill MTB fan, you'll find the Yeti SB165 an excellent descender with the added advantage of some decent climbing skills, making it a solid enduro bike.
Fork – 180mm, Fox Factory 38
Shock – 165mm

Fox DHX2 Factory

TURQ Carbon
Shimano XT
27.5 x2 .5″ & 2.4″
---
2

. Ghost Riot Enduro Essential
MSRP: $3,899
REI.com
With 170mm of travel on the front and 160mm on the rear, the Ghost Riot Enduro Essential is a full-suspension enduro mountain bike that means business. The aluminum frame keeps it as affordable as possible without sacrificing durability.
The Shimano Deore M6100 12-speed drivetrain and 10-51t cassette will get you up any mountain required, with solid Shimano BR-MT500 203mm-rotor brakes to keep you safe on the way down.
The wheelset includes Ghost's stock alloy rims wrapped in Maxxis Minion DHR and DHR II tires. This bike also has a high-travel KS RAGE-I dropper post to help you descend like a beast.
Fork – Fox 36 Rhythm Float 170 mm
Shock – Fox Float DPS Performance 160mm
Aluminum
S

himano Deore M6100 12-speed

Maxxis Minion DHF 2.5″ and DHR II 2.4″
---
4

. Knolly Warden V2 LT
MSRP: $5,399
Jenson USA
Knolly Warden is a high-quality, competitive-level enduro bike kitted out with only the best components and technology, which explains the slightly high price tag.
Not only does it benefit from SRAM's killer GX Eagle drivetrain and Code R brakes, but it's also decked out with a top-shelf RockShox Super Deluxe shock and RockShox Lyrik Ultimate fork, providing 165mm of the rear and 170mm of front travel.
The frame is molded from aluminum and features complete internal cable routing, Fourby4 suspension, and flip-chip technology. The 27.5″ wheels are combined with 2.5″/2.4″ wide Maxxis Assegai tires that ensure both speed and control.
Fork – 170mm, RockShox Lyrik Ultimate
Shock – 165mm, RockShox Super Deluxe
Aluminum frame
SRAM GX Eagle components
27.5 x 2.5″/2.4″ tires
---
5

. Ibis Mojo 4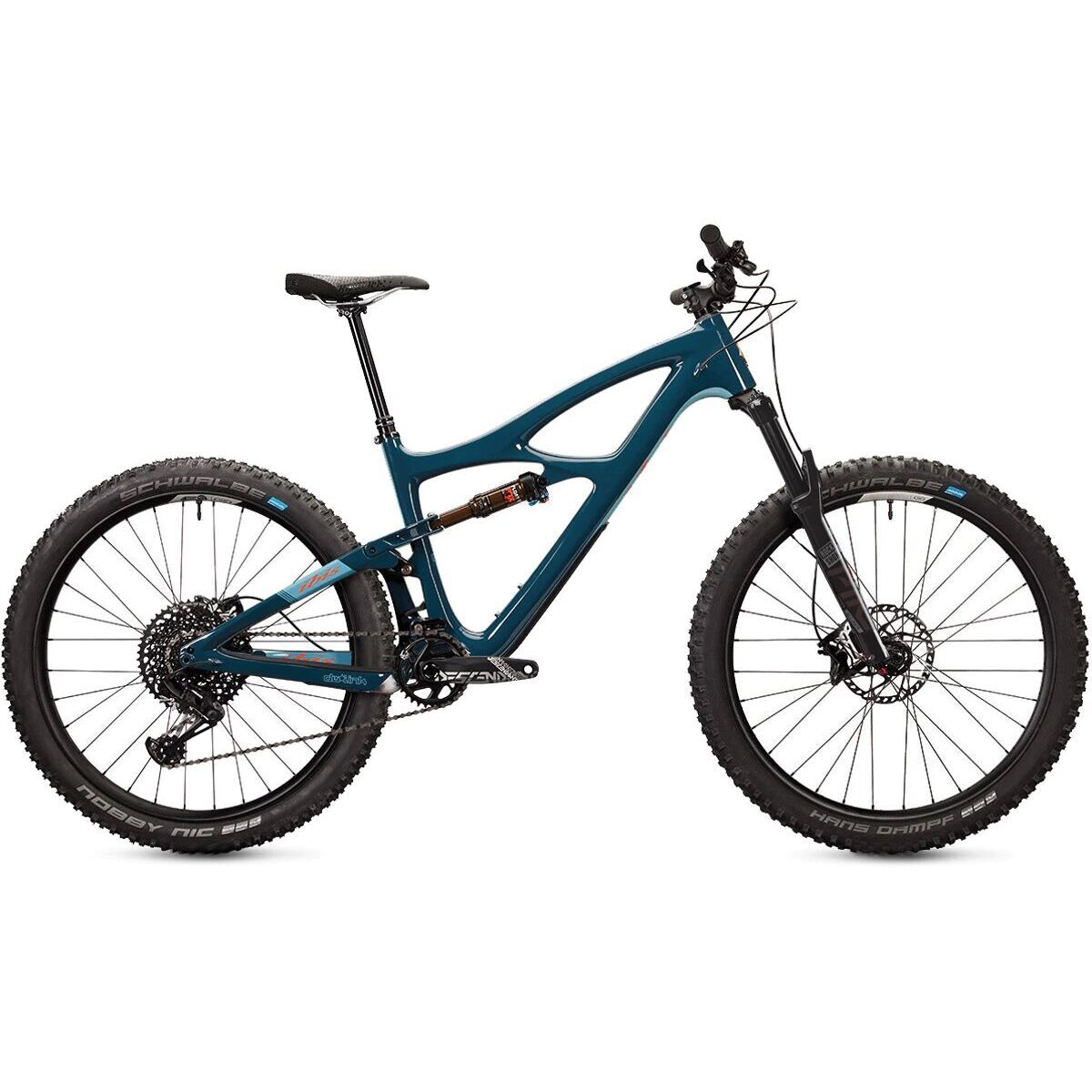 MSRP: $6,041
Competitive Cyclist
The new and redesigned version of the Ibis Mojo 4 has a longer reach and wheelbase than before, with an even slacker head tube and shorter seat tube angle. It combines a Fox Float DPS Factory shock with a RockShox Pike Ultimate fork, using SRAM's GX Eagle components for the 12-speed drivetrain and 2-piston Shimano SLX hydraulic brakes.
Ibis Mojo 4 is clearly intended for some extreme downhill riding, but it also doubles as a versatile trail machine. This is backed up by the DW-Link rear suspension system, further supported by Ibis' excellent Traction Tuning for high-speed compression and rebound.
Fork –

RockShox Pike Ultimate

Shock –

Fox Float DPS Factory

Carbon frame
SRAM GX Eagle components
27.5×2.6″
---
6

. Pivot Firebird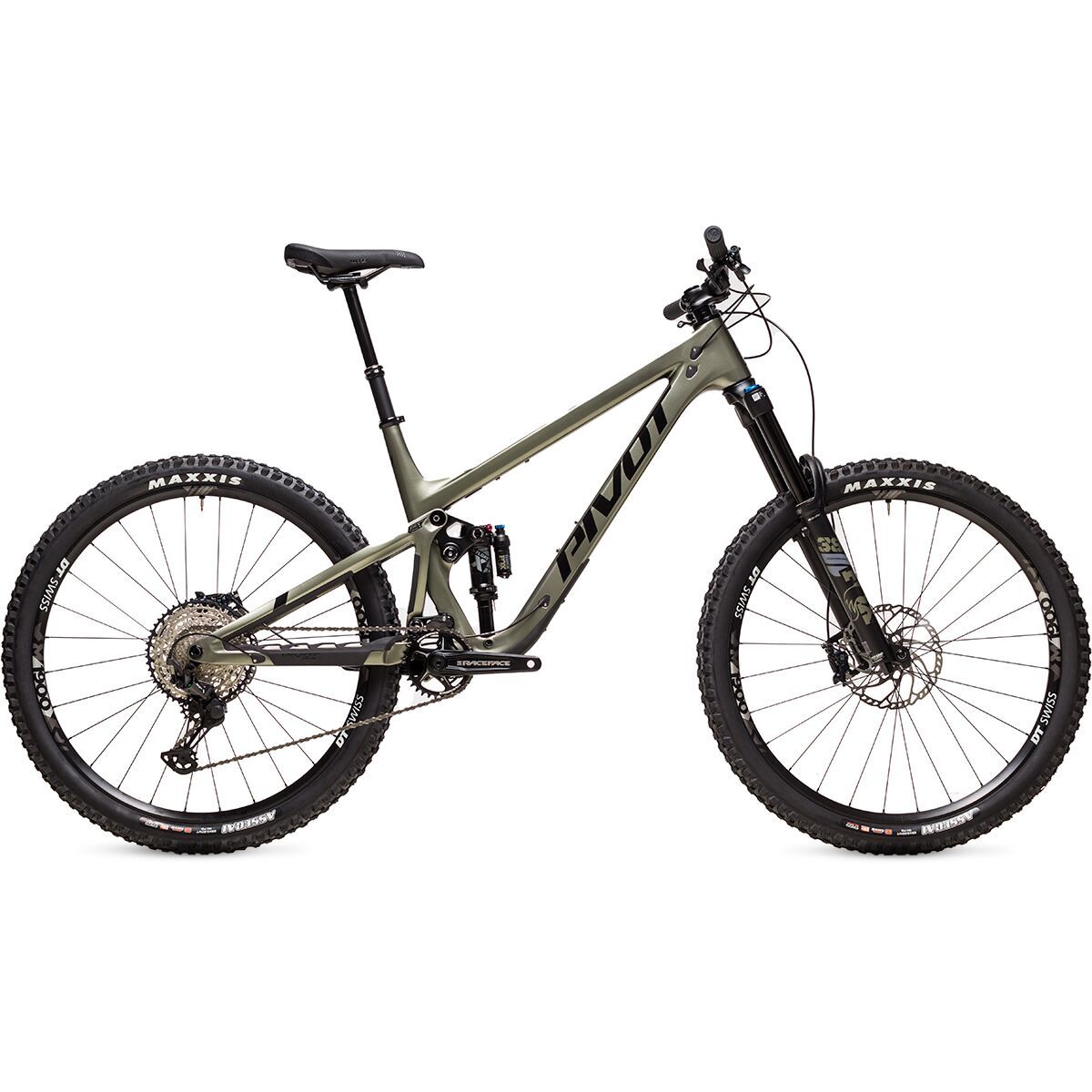 MSRP: $6,599
Backcountry
With a massive 165mm of rear travel and 170mm of fork travel, you'd be forgiven for thinking the Firebird is a downhill MTB. However, with the supportive DW-Link suspension, 29″ wheels, and super-short chainstays, this beast can climb hills just as well as it can charge down them.
Despite a slack 65-degree head tube, the front wheel maintains solid traction when climbing, thanks to a 44mm offset that keeps it closer to the steering axis. With a carbon frame, Fox Float Performance suspension, and a Shimano Deore XT drivetrain, it's clear to see that Pivot hasn't cut any corners on the Firebird.
Fork – 170mm, FOX Float 38 Performance
Shock – 165 mm, FOX Float X Performance
Carbon frame
Shimano Deore XT components
29×2.6″
---
7

. Devinci Spartan

Carbon fiber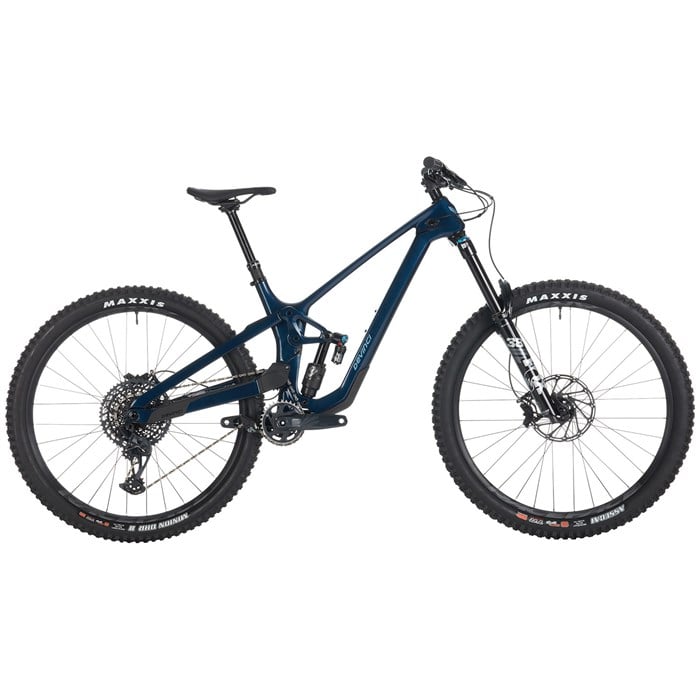 MSRP: $6,149
evo.com
Devinci incorporates a range of modern technologies into this carbon 29er, including Split Pivot suspension and geo-adjust flip-chip technology, and modern geometry with rider-optimized chainstays. This, combined with a Fox 38 Performance fork and Fox Float X2 Performance Elite shock, means the Spartan delivers firm suspension with 170/160mm of travel and just enough bottom-out support to maintain stability and pedaling efficiency.
Additionally, you get a high ratio SRAM GX Eagle drivetrain, making this enduro riding MTB a solid climber and a drop-swallowing beast. Not only that, the SRAM Code R disc brakes and Maxxis Assegai/Minion tires ensure you descend with confidence and agility.
Fork – 170mm, Fox 38 Performance
Shock – 160mm,

Fox Float X2 Performance Elite

Carbon
SRAM GX Eagle
29×2.5″ & 2.4″
---
8

. Orbea Rallon M20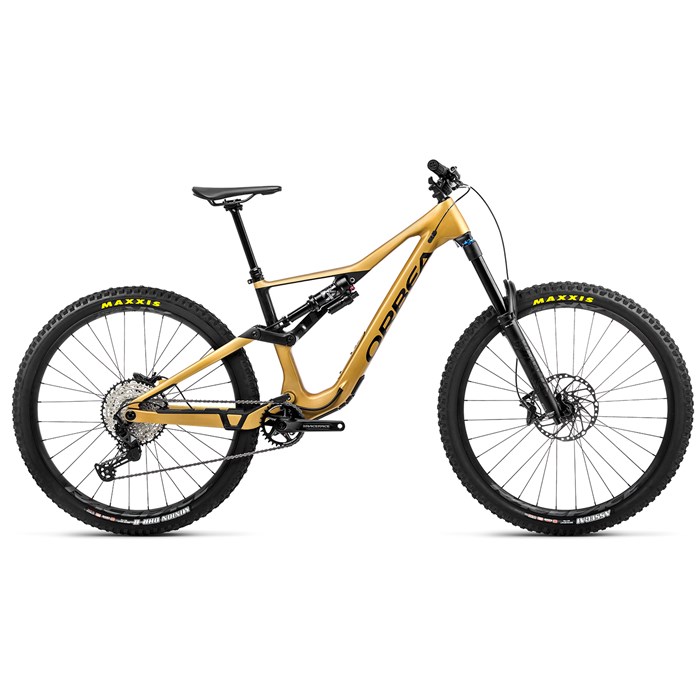 MSRP: $5,499
Fortunately, the only bad thing we can say about this 160mm travel mountain bike is the price. The Orba Rallon M20 is a collection of top-quality parts that make up one of the best mid-range enduro bikes available. With Orbea's Pure Enduro geometry, this bike is tuned to allow you to tear down the mountain with ease and charge to the top again after.
Race Face AR 30 29″ wheels combined with high-level Shimano SLX M7100 12-speed gearing make hill climbs a breeze – not to mention the OC2 dropper post.
Fork –

Fox 38 Float Performance 17

0mm
Shock – Fox Float X Performance 160mm
Frame – Carbon Fiber OMR
Drivetrain – Shimano

SLX M7100

12-speed
Tires – Maxxis Assegai 2.5″ / Minion DHR II 2.4″
---
9

. Intense Tracer Pro
MSRP: $5,899
Aventuron
Intense Cycles' Tracer is an enduro bike with an Optimized Carbon frame and a stronger focus on downhill charging than other bikes in this category. The long, slack geometry makes it great at handling sharp corners on steep declines, while a high ratio 12-speed Shimano XT drivetrain allows for easier hill climbing.
Pedaling and braking are carefully separated from the suspension by a JS Tuned Enduro Link, allowing the 4-piston hydraulic brakes to lock in traction without compromising stability. The high-end E*Thirteen LG1 Enduro Race carbon wheels are a notable addition, giving the Tracer Pro a highly professional feel.
Fork – 170mm, Fox Performance Elite Float 38
Shock – 165mm, Fox Performance Elite DHX2 Coil
Carbon
Shimano SLX/XT
27.5×2.5″ & 2.4″
---
10

. Yeti Cycles SB150 T1

High-performance, professional enduro race bike
MSRP: $8,600
Evo.com
The Yeti SB150 is a popular, podium-winning enduro MTB racing bike with a super-long wheelbase and massive amounts of travel. You get a full 170mm upfront and 150mm rear, which when combined with the 29″ wheels and extended reach makes this the 4×4 of MTBs. It's a very big, very fast bike that amateur riders might find difficult to control.
Yeti's industry-leading Switch Infinity precision dampening system is paired with Fox Factory suspension to make a bike that sails past the competition. Steep, rocky mountain passes fade away below you as the 1×12 Shimano XT drivetrain carries you upwards with ease.
Yeti has always managed to put out one of the best enduro mountain bikes for the market, hence the reason why many riders say that Yeti is the brand they'd get once they'd hit the jackpot and could afford one!
Fork – 170mm, Fox Factory 38 GRIP 2
Shock – 150mm, Fox Factory X2
Carbon
Shimano XT
29×2.5″ & 2.4″
---
11

. Niner WFO RDO 2-Star
MSRP: $5,199
Jenson USA
The WFO RDO 2-Star is an enduro-specific MTB racing bike fitted with an ultra-wide ratio SRAM SX Eagle 12-speed drivetrain and SRAM G2 R hydraulic disc brakes. The lightweight carbon monocoque frame and Niner Alloy wheels make for easy hill climbing, while the Fox 38 Float Performance GRIP 180mm fork and 170mm Float X2 Performance shock swallow up any nasty bumps and vibrations, allowing for smooth, agile descents.
One cool thing about this Niner bike is that its suspension is tuned specifically for better stroke efficiency with even more bottom-out support than usual. In addition to that, the steep frame geometry takes on enduro terrain with an aggressive style, supported by a geometry flip-chip and a KS Lev Si dropper post.
Fork – 180mm, Fox 38 Float Performance
Shock – 170mm, Fox X2 Performance
Carbon
SRAM SX 12-speed
29×2.6″
---
12

. Norco Shore A1
MSRP: $6,299
Jenson USA
Norco Shore A1 is a high-end 27.5″ enduro MTB that is built for fast descents and doubles as a DH machine. This Norco bike uses a SRAM GX Eagle 12-speed drivetrain for pro-level performance and a wide 10-52t gear ratio for easier climbing.
Conveniently, the Shore A1 incorporates Norco's suspension system technology into its Fox Factory DHX2 Coil Spring rear shock and Fox Factory 38 GRIP2 Float fork so that it performs perfectly for all rider sizes.
Finally, the Shore A1 uses four-bar linkage which helps improve braking, maintain high traction, and smooth pedaling efficiency.
Fork: Fox Factory 38 GRIP2 Float 180mm
Shock: Fox Factory DHX2 Coil Spring 180mm
---
13

. Ibis Ripmo AF SLX 2022

The best 160mm enduro bike for 2022
MSRP: $4,299
Jenson USA
The Ripmo is an affordable enduro-focused Ibis MTB, keeping costs down with an aluminum frame and mid-range Shimano SLX groupset. It doesn't cut back on aggressive, mountain-taming suspension though, with a 160mm DVO Onyx D1 fork up front and a 147mm DVO Topaz T3 shock on the rear.
The wheels have fairly standard Ibis rims but are fitted with top quality, time-tested Maxxis Assegai tires, ready to tear up the countryside with tight traction and smooth-rolling. At only $4,299 the Ibis Ripmo is a great enduro MTB option for those who want a high-quality bike with a moderate budget.
Fork – 160mm, Fox Performance 38
Shock – 147mm, Fox Performance Elite DHX2
Aluminum
Shimano SLX
29 x 2.5″
---
14

. Santa Cruz Bicycles Bronson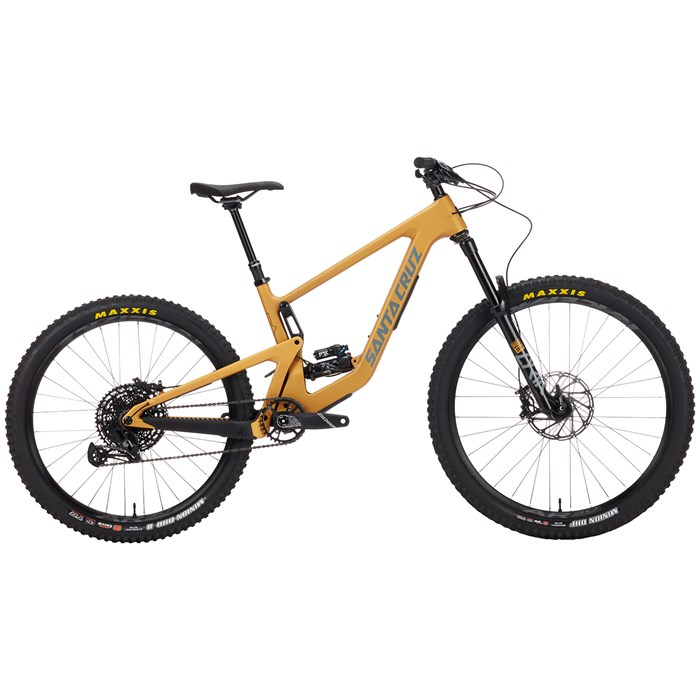 MSRP: $5,399
Evo.com
Santa Cruz Bronson is a mixed-wheel (mullet) enduro bike is the ultimate jack-of-all-trades for charging downhill and uphill. Santa Cruz's VPP suspension platform uses a lower-link shock for better traction and smoother compliance over obstacles, making it ideal for floating along rocky trails at speed.
The RockShox Lyrik Select suspension provides 160mm of upfront travel and 150mm of Fox Float X Performance in the rear. The Carbon C frame includes a FlipChip for slackening the head tube angle even more. The only slight disappointment is the use of an SRAM NX Eagle drivetrain – we would have expected better on a bike in this price range.
Fork – 160mm, RockShox Lyrik Select
Shock – 150mm Fox Float X Performance
Carbon C
SRAM NX Eagle
29×2.5″ & 27.5″x2.4″
---
15

. Pivot Switchblade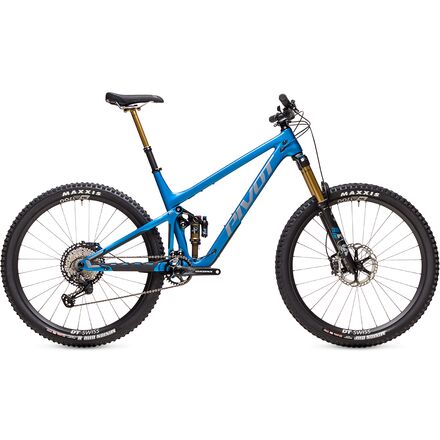 MSRP: $7,699
Backcountry / Competitive Cyclist
The Switchblade from Pivot is a long travel mountain bike with 29″ wheels and progressive, enduro-focused geometry. The carbon frame uses hollow-core molding for lightweight stiffness and DW-Link suspension to ensure no power transfer is lost when pedaling.
The Fox Factory suspension system provides 160mm of front travel with 142mm on the rear, just enough to absorb big drops while also staying tight on hill climbs. When combined with a potent mix of Shimano XT and XTR gearing and braking components, you get a bike that thrashes down mountain trails at speed without losing traction and control.
Fork – 160mm, Fox Factory 36
Shock – 142mm, Fox Factory Float X
Carbon frame
Shimano XT & XTR components
29 x 2.5″ & 2.4″
Buy from Backcountry Buy on CompetitiveCyclist.com
---
16

. Juliana Roubion C S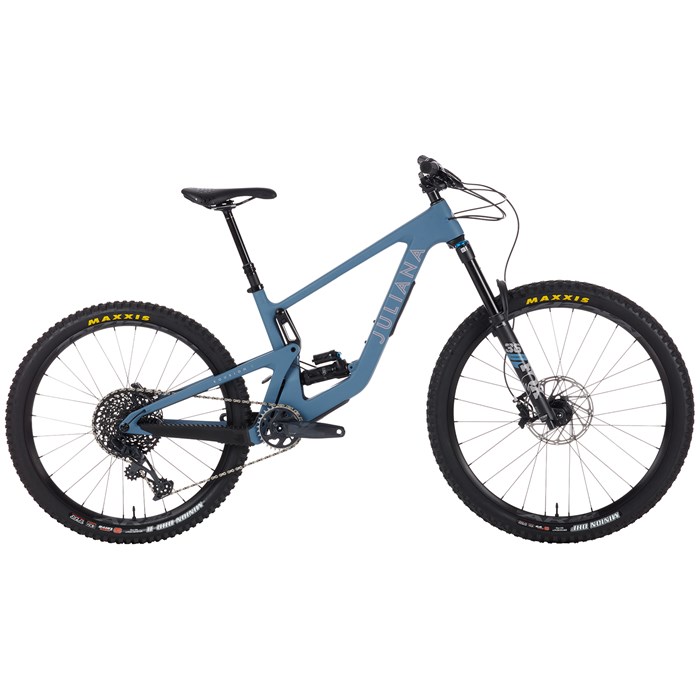 MSRP: $6,349
evo.com
Juliana is famous for its excellent female-specific bike designs, and this women's enduro bike is no exception. With the lightweight Carbon C frame with lower-link mounted VPP suspension and an adjustable Fox 36 Float Performance fork, you get a smooth ride every time, no matter your style.
The wide-ratio 1×12 SRAM GX Eagle groupset needs no introduction, known for its reliable shifting on ascents and superior braking on descents.
For solid grip and traction, RaceFace rims are paired with ever-popular Maxxis Minion tires. It may not be the cheapest women's enduro bike out there but Juliana certainly made sure it's one of the best!
Fork – 160mm, Fox 36 Float Performance
Shock – 150mm, RockShox Super Deluxe Select+
Carbon frame
SRAM GX Eagle
29 x 2.5″ (f) & 27.5″ x 2.4″ (r)
---
17

. Evil Insurgent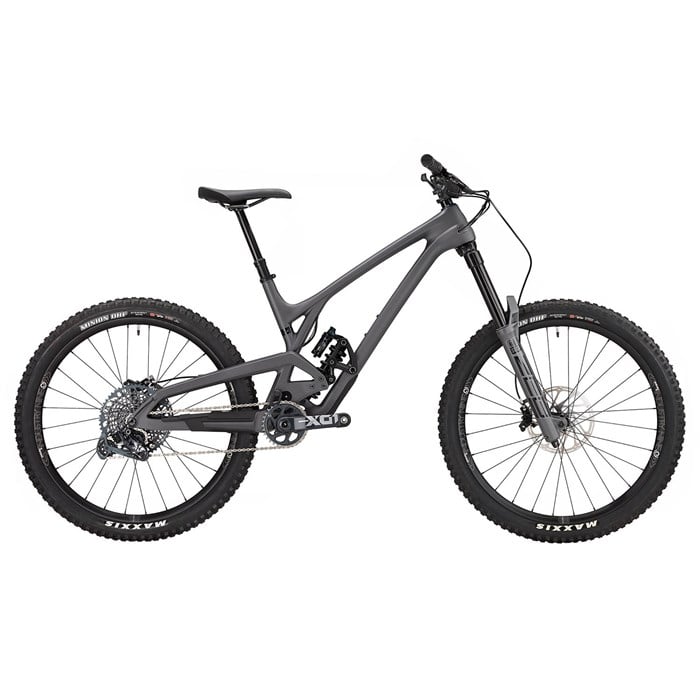 MSRP: $8,350
Evo.com
Evil may be a less-known bike brand but that hasn't stopped them from producing a top-quality carbon enduro ready for racing. The Insurgent uses Evil's own DELTA system for suspension which you can tune for varying track conditions and spring and damper parameters.
The 180mm of fork travel and 168mm of rear travel combined with 27.5″ wheels result in a fun, agile riding experience and the lightweight integrated carbon frame looks awesome! Buyers get a pro-level SRAM X01 Eagle groupset, SRAM Code RSC brakes, and a Bike Yoke Revive dropper.
Fork – 180mm, RockShox ZEB Ultimate
Shock – 168mm RockShox Super Deluxe Coil Ultimate
Carbon
SRAM X01 12-speed
27.5 x 2.5″ & 2.3″
---
18

. Santa Cruz Bicycles Nomad C S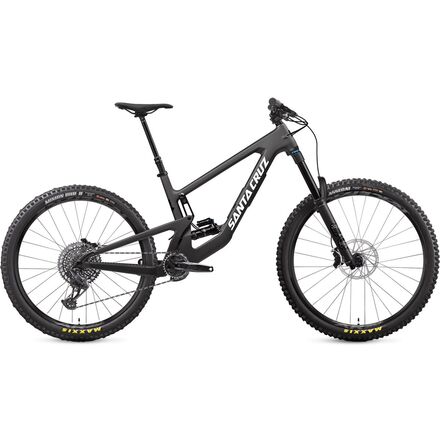 MSRP: $6,799
Backcountry
The Nomad is a carbon-framed Santa Cruz mixed-wheel enduro MTB designed specifically around improved hill-climbing abilities. With a convenient FlipChip adaptor, you can easily adjust it to your preferred cycling style wherever you are on the mountain. The excellent lower-link VPP suspension benefits from a RockShox Super Deluxe Select + shock and is complemented by a Fox 38 Float Performance fork, both with 170mm of travel.
We think that the SRAM GX Eagle drivetrain offers great value for a bike in this price range, especially with a wide-ratio 10-50T cassette, helping to scramble up those steep ascents.
Fork – 170mm,

Fox 38 Float Performance

Shock – 170mm, RockShox Super Deluxe Select+
Carbon
SRAM GX Eagle
29 x 2.5″ + 27.5 x 2.4″
---
19

. Rocky Mountain Altitude
MSRP: $4,739
Jenson USA
This Rocky Mountain all-mountain bike balances lightweight material with an innovative Ride-9 adjustable geometry frame. It utilizes the high gear range of a 10-51T cassette in the 12-speed Shimano SLX/XT drivetrain to provide excellent hill-climbing abilities and solid Shimano SLX 4-piston brakes for confident descending.
The suspension combines a Fox 38 Float EVOL GRIP Performance 170mm fork with a Fox Float X Performance shock, resulting in a smooth, trail-blazing ride over any terrain. Finish that off with a WTB ST i30 TCS 2.0 Tubeless wheelset and Maxxis Assegai/Minion tires and you have a bike that offers incredible value for money!
Fork – 170mm Fox 38 Float EVOL GRIP Performance
Shock – Fox Float X Performance, 230x60mm
Aluminum
Shimano XT/SLX
27.5″ or 29″ x 2.5/2.4″
---
20

. Norco Sight A1
MSRP: $5,299
Jenson USA
Norco has recently emerged as a leading MTB manufacturer, producing several podium-winning bikes and top-class riders. The Sight is an aluminum Norco mountain bike with high-end components at a steep, but justified price.
You get a decent SRAM GX Eagle drivetrain and SRAM Code RSC brakes, paired with E*Thirteen LG1 Rims and the ever-popular Maxxis Assegai/Dissector tires.
It may be a bit heavier than other enduro MTBs but the suspension is still great, with RockShox labels front and back. It has a Super Deluxe Select+ rear shock with 150mm of travel balanced out against the RockShox Lyrik Ultimate RC2 fork with 160mm of travel. A solid piece of machinery for long weekends in the mountains.
Affordable enduro mountain bikes aren't such a common sight just yet, but you can't really go wrong with Norco when it comes to mountain bikes, right?
Fork – 160mm, RockShox Lyrik Ultimate RC2
Shock – 150mm, RockShox

Super Deluxe Select+

Aluminum frame
SRAM GX Eagle
29 x 2.5″ & 2.4″
---
21

. Marin Alpine Trail XR
MSRP: $3,999
GovVelo
If you're looking for an affordable full-suspension trail/enduro mountain bike, the Marin Alpine Trail is worth considering.
This 29er from Marin features a high-performance aluminum frame that isolates pedaling and braking forces to improve traction and control with MultiTrac suspension. The extra-long wheelbase and slack headtube angle inspire confidence when landing a jump or descending at speed.
The Shimano XT gears and MT420 4-piston brakes make up the groupset, providing hassle-free hill climbs and solid, confident descents. With a 150mm RockShox Super Deluxe Coil Ultimate shock and a Lyric Ultimate fork with 160mm of travel, you can't go wrong with Marin Alpine Trail.
Fork – 160mm RockShox

Lyric Ultimate fork, 160mm

Shock – RockShox Super Deluxe Coil Ultimate, 150mm
Shimano XT groupset
Maxxis Assegai 29 x 2.5″ Double Down
---
22

. Cannondale Jekyll Carbon 2
MSRP: $4,550
REI
The Cannondale Jekyll Carbon 2 is a 165mm travel 29er, a solid enduro-style bike with a carbon frame, Shimano M6120 203mm rotor hydraulic disc brakes, and a Shimano Deore M6100, 12-speed drivetrain.
Naturally, it benefits from Cannondale's famous Proportional Response design, complete customization by size, such suspension layout, geometry, and chainstay length.
And that's not all – it comes equipped with RockShox Zeb Select 170mm fork and a Fox Float DPX2 Performance EVOL shock. Throw in a killer TranzX dropper post, WTB STX i30 TCS rims, and Maxxis Assegai/Minion DHR II tires.
Fork – 170mm,

RockShox Zeb Select 170mm fork

Shock – 165mm,

Fox Float DPX2 Performance EVOL

Carbon
Shimano Deore
29 x 2.5/2.4″
---
Top Picks in Different Categories
What are the best 29er enduro bikes of 2022?
Ibis Ripmo – Best all-around mountain bike, a playbike
Yeti – SB165/150 – Best performance bike
Norco Sight – Cheapest aluminum enduro bike
Santa Cruz Bicycles – Most enduro bike models on their range
What are the best 27.5″(650b) enduro bikes of 2022?
Ibis Mojo – Both 4 and HD5 are one the best picks
Revel Rail
Intense Tracer
Best Enduro mullet mountain bike:
Alchemy- Nine7Five is the number one mullet bike in the enduro scene.
What are the best tires for enduro mountain biking?
Maxxis Assegai EXO
Maxxis Minion DHRII
Maxxis Dissector
What is the best drivetrain set-up?
1×12-speed is the most commonly used drivetrain among enduro bikes. 10-50T, 10-51T, 10-52T.
Best brakes for enduro riding?
Most enduro mountain bikes use 4-piston hydraulic disc brakes with 200mm(f) or 180mm(r) rotors. Shimano brakes are known for their progressive on/off feel, while SRAM has quite a progressive engagement.
Best saddle for enduro riding?
Most bikes have been using the WTB Silverado on enduro bikes.
FAQ
---
Is the enduro bike a good all-rounder?
Enduro cycling is more specific than trail or cross country but since they're built to handle both steep descents and hill climbs, they do make great all-rounders. However, unless you plan to do a lot of technical descents at speed, you don't really need to spend the extra for enduro-specific MTB.
What is an enduro mountain bike best for?
Enduro MTB, other times also categorized as the All-Mountain bike is ultimately built to descend. Technically, you can use any MTB to ride an enduro-style course but you'll find it easier on a purpose-built enduro MTB. These bikes typically have longer travel than standard MTBs, slacker geometry, and higher bottom brackets to allow riding over larger obstacles.
What are the top 3 'boutique-type' enduro mountain bike brands?
Ibis, Yeti, and Santa Cruz Bicycles. These three MTB brands have put out the most specific set of enduro, all-mountain, trail, and XC bikes.
What brands belong to the top 10 of full-suspension enduro bikes?
On the top 10 list of enduro bikes, after Ibis, Yeti, and Santa Cruz, we would go for:
Evil
Pivot
Juliana
Orbea
Devinci
Revel
Transition
>>> Related: Best Mountain Bike Brands
27.5″ or 29″ for enduro?
27.5″ bikes are better for either shorter riders or technical sections, while 29″ allows for a better speed and roll-over.
Trail/All-Mountain vs. Enduro
The mixture of the Enduro MTB and trail bikes are better known as the all-mountain bikes. Enduro mountain biking usually tackles more extreme terrain than typical trail or all-mountain riding. To handle this, enduro mountain bikes have more travel on the suspension and a longer wheelbase, making it more stable over obstacles and more agile on steep, technical descents.
Gravity/Downhill vs. Enduro
Downhill, or 'gravity' bikes, are designed specifically for racing down steep descents as fast as possible and have no uphill climbing abilities. Enduro bikes have similar downhill capabilities but with some sacrifices so that hill climbing is possible, like shorter travel and a dropper seat post.
Is 140mm enough for enduro?
140mm on the front might be fine for light enduro racing, while it's recommended to have slightly more.
Is 130mm enough for enduro MTB?
Yes, when it is 130mm on the rear end for a lighter rider, anyone under 160lbs.
What are the best places to find enduro mountain bikes for sale online?
Besides the Facebook marketplace, craigslist, and local bike stores, more and more people are looking for bike stores online to find the most suitable model to fit their needs. Down here you'll find a list of the best places to buy enduro mountain bikes online:
How much does an average enduro mountain bike cost?
Since they usually benefit from advanced suspension technology, and enduro bike price is usually high compared to standard trail MTBs. For a decent enduro MTB, you'll want to spend at least $4,000, although some are available for $3,500. Considering how high some prices are, the average is around $5,000.
Enduro MTB frame materials
Right now there are only two main materials available to get an enduro mountain bike.
Aluminum – A cheaper and more affordable option that's great for intermediate or beginner cyclists. Ibis Ripmo is an ideal example that high-end brands use aluminum frames compared to most other boutique brands that have gone for the carbon only. Alloy enduro bikes are not as common but offer super value for the money!
Carbon – A material that dominates the whole cycling industry for a good reason – it's lightweight and has superb vibration-reducing qualities. Why carbon might not be suitable for beginner cyclists? Although the overall quality of carbon has significantly increased over the years – beginner cyclists must know how to properly handle the bike to and from the trails, and obviously when riding one as well!