A Selection of the Best 130-160mm Travel Range Trail/All-Mountain bikes
Mid-travel full-suspension MTBs tend to cover a broader spectrum of mountain biking than other more specific MTB styles. With front and rear travel in the 130mm to 160mm range, those mountain bikes are usually classed as trail or all-mountain bikes.
These bikes are able to handle relatively mountainous conditions like rocky trails and singletrack but are less agile on descents than dedicated downhill MTBs. The suspension is usually just tight enough that it can still swallow up obstacles and vibration without losing too much speed and momentum while having a comfortable geometry to climb as well.
Luckily, as it been said that 2021 is a great year to mountain bike since there is quite a variety of bikes to choose from for each price range and preferences.
---
Table of Contents
101
Best 26″ , 27.5″ , Size Dependant
---
Trail / All-mountain – What to Expect?
Trail bikes have quickly become the most common form of full-suspension MTBs, designed to tackle all forms of terrain while maintaining comfort over a long distance. Trail bikes fall between XC and Enduro bikes, offering sufficient downhill handling while retaining speed over flatter sections. They usually have a seat tube angle in the 74-75 degree range, with shorter chainstays and longer reach. Travel ranges from as little as 120mm all the way up to 160mm, with both 29″ and 27.5″ wheel sizes popular.
How To Choose One?
You should consider your style of riding before selecting a mid-travel MTB. While they all have similar characteristics, the type of riding you intend on doing will define how much travel is ideal. 
If you enjoy charging downhill or attempting small jumps, you'll want to choose something in the higher travel range. If you prefer racing along bumpy off-road or gravel tracks at high speed, aim for something in the lower travel range.
Other points to consider include wheel and tire size. Larger 29″ wheels are better for speed and absorption, whereas the small 27.5″ wheel size is more agile on downhills and sharp corners. 2.5″ width is somewhat average, while 2.8″ is considered as wide.
XC vs Trail
Cross-country (XC) is generally considered the most traditional mountain bike style with the most versatile usage. Hence the name, Cross-Country Mountain Bikes can handle all types of terrain from smooth singletrack and gravel roads to rocky trails and technical mountain tracks.
XC mountain bikes typically have a shorter wheelbase for agility and steeper geometry for easier hill climbing. Head angles are in the range of 69-71 degrees, with seat tube angles between 74-75 degrees. They usually have the lowest amount of travel, from 90-100mm, and 29″ wheels for a faster, stiffer ride.
Review: Best Short-Travel Mountain Bikes (100-130mm range)
Trail/All-Mountain vs Enduro
Enduro bikes attempt to combine aggressive downhill geometry with uphill climbing ability, resulting in a bike that can tackle highly technical courses over varied terrain. 
They typically have the longest, lowest, and slackest geometry of all MTB styles, making them less comfortable over long distances, but also more versatile. They are both stable on downhills and powerful on ascents, with suspension in the 150-180mm range and tires from 2.3″ to 2.8″ thick.
Review: Best Enduro Mountain Bikes (150-180mm range)

---
27.5″ vs 29″ – The endless battle
Mountain bike wheel sizes have become a hot topic recently, after years of 26″ wheels dominating the market. Since the 29″ wheels began gaining popularity in the mid-2010s, manufacturers began experimenting with different wheel sizes, introducing the mid-sized 27.5″ or also known as the 650b wheel size. Nowadays, almost all MTBs use either 29″ or 27.5″, with subtle but noticeable differences between the two. You'll still find 26″ wheels on smaller frame sizes on some models.
Being larger,

29″

wheels are better for taller riders and while they offer less acceleration, they have better traction and attack angle which eventually means better speed.

27.5″

wheels are faster and lighter, with better maneuverability and greater versatility.
---
BEST

29ER

FULL SUSPENSION
TRAIL MOUNTAIN BIKES
OF 2021
1. Ibis – Ripmo V2 XT DVO '2021 🏆
2. Salsa – Horsethief
3. Salsa – Blackthorn Carbon SLX
4. Alchemy – Arktos 29 ST
5. Pivot – Switchblade
6. Santa Cruz – Hightower
7. Cannondale – Habit 4
8. Juliana – Maverik
9. Specialized – Stumpjumper Comp
10. Revel – Rascal X01
11. Evil – The Following
12. Transition – Sentinel
13. Orbea – Occam
14. Intense – Premier
15. Devinci – Troy
16. GT – Sensor
17. Scott – Genius
---
1

. Ibis – Ripmo V2 XT DVO '2021 🏆

MSRP $5,899 JensonUSA

The new Ibis Ripmo 2 XT is one of the best trail mountain bikes on the market today, featuring a 1×12 Shimano XT drivetrain with 4-piston brakes and DVO suspension. This is all fitted on a full carbon frame with traction tuning, internal cabling, and a removable ISCG mount.

With 160mm of front travel and 147mm of rear travel, the Ibis Ripmo is clearly intended for rougher terrain than most trail bikes. Lower the dropper post and charge down steep declines with stability and confidence, knowing the Maxxis Assegai tires and XT hydraulic disc brakes have your back. Yes, the price is high… but it's worth every penny!
Fork: 160mm, DVO Onyx D1
Shock: 147mm DVO Topaz T3 Air
Shimano XT
Carbon fiber
JensonUSA.com
---
2

. Salsa – Horsethief

29″ Carbon, Shimano SLX
MSRP $4,799 REI
The Horsethief is a full-suspension 29er from Salsa Cycles that combines a lightweight carbon frame with heat-treated aluminum chainstays for added strength. The custom frame includes Flip Chip technology to accommodate 27.5″ wheels and internal cable routing to keep everything clean and neat.
To improve traction and control when climbing or descending, Salsa has added Split Pivot technology to isolate pedaling and braking forces. With a 67-degree head tube angle and shorter chainstays, you now get even better stability while descending without sacrificing speed on the trails.
Fork: 140mm RockShox Pike Select
Shock: 120mm
Shimano SLX
Aluminum
REI.com
---
3

. Salsa – Blackthorn Carbon SLX 🏆

MSRP $4,999 REI

The Blackthorn carbon mountain bike from Salsa is a highly versatile trail charger, designed with upgradeable suspension technology. If the current RockShox suspension with 140mm of rear travel and a 160mm front fork is not enough, the Split Pivot+ frame design can accommodate up to 165mm rear and 180mm front, making for a true downhill mountain bike.

With aluminum chainstays and loads of mount points for water, the Blackthorn is strong and ready for long bikepacking weekends. Shimano provides a 12-speed SLX drivetrain with ultra-responsive 4-piston hydraulic brakes, with Maxxis Assegai tires and DT Swiss rims.
Fork: 160mm RockShox Lyrik Select+
Shock: RockShox Super Deluxe Select+
Shimano SLX
Carbon fiber
REI.com
---
4

. Alchemy – Arktos 29 ST
MSRP from $4,899 Alchemy
The Arktos is a 29" trail MTB from the lesser-known Alchemy mountain bike company. The carbon-framed bikes come with Industry Nine Enduro rims and Maxxis Minion tires finished off with RaceFace and Cane Creek parts. They offer good quality, custom-made bikes at decent prices.
The Arktos collection features several builds, ranging from the affordable SRAM NX and GX Eagle to the high-priced SRAM X01 and Shimano XTR. The SRAM NX Eagle build includes a RockShox Pike fork with 140mm of travel and a Fox DPX2 3-position adjustable rear shock.
Fork: 140mm, RockShox Pike Select RC
Shock: Fox DPX2 Factory Kashima EVOL LV 3-Position Adjust
SRAM SL NX Eagle
Carbon fiber
AlchemyBicycles.com
---
5

. Pivot – Switchblade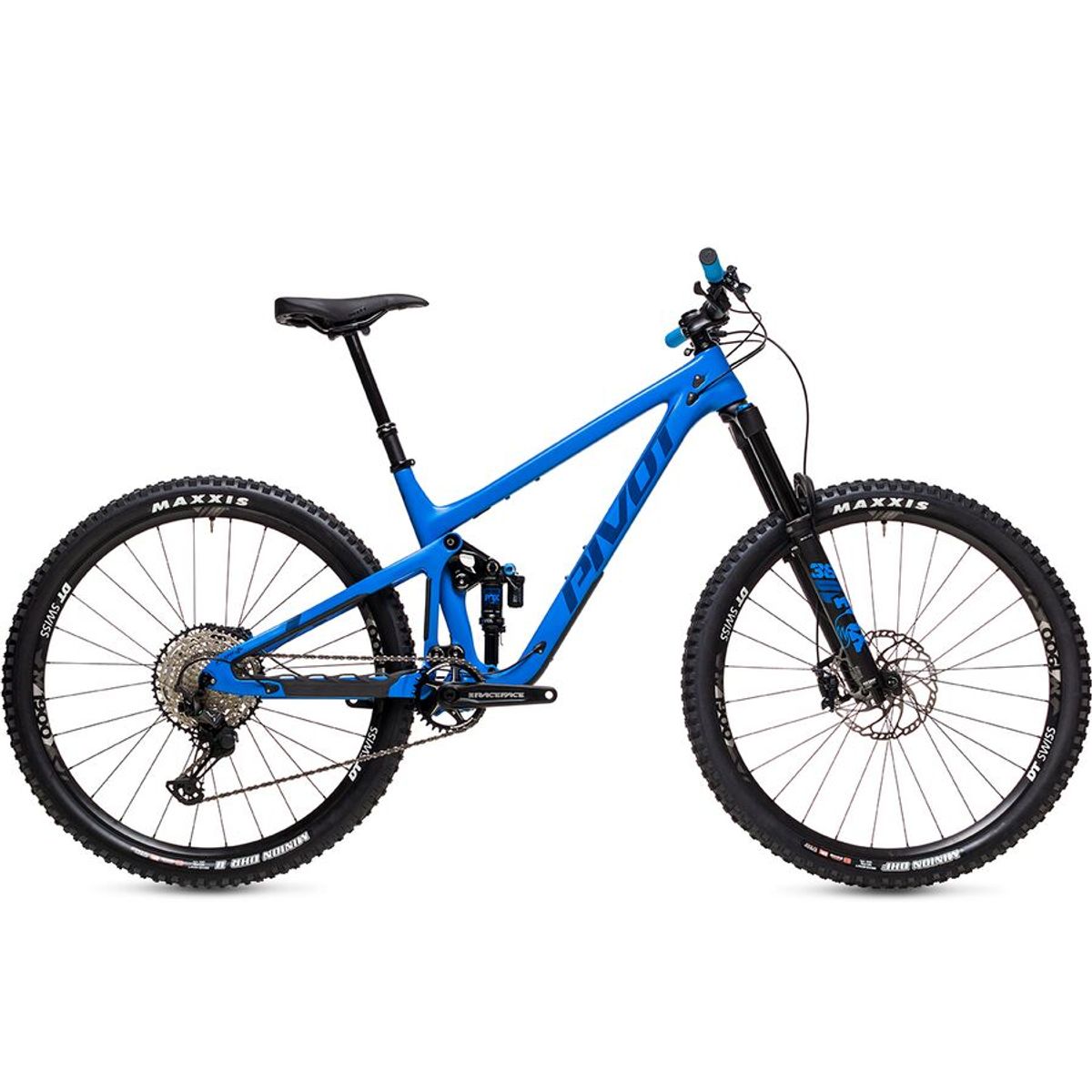 MSRP $5,499 Competitive Cyclist
This top-quality, versatile carbon all-mountain bike from Pivot will take you anywhere you want to go. Whether attacking flat desert terrain or rocky mountain passes, you'll find the Switchblade adapts to whatever you throw at it.
The updated version features advanced geometry with longer travel and space for both 29″ and 27.5″ wheels. With the addition of DW-Link suspension and redesigned shocks to allow for a more compact frame and larger water bottle, the new geometry is tight and aggressive.
Fork: 160mm Fox Performance 36 GRIP
Shock: 142mm, Fox Performance DPX2
Shimano SLX
Carbon fiber
CompetitiveCyclist.com
---
6

. Santa Cruz – Hightower
MSRP $5,199 JensonUSA
As one of the best-rated mountain bikes for trail riding, the Santa Cruz Hightower fits all the needs of a serious MTB cyclist. Hightowers come in both aluminum or carbon frame versions, with SRAM gears, Maxxis tires, and high-quality suspension. Why is the Hightower number one in our list is simple, as this is considered as one of the more popular bikes in its travel range.
The Hightower 2 C S-Kit features a carbon frame with VPP suspension and flip-chip tuning. It has 150mm of front travel on the Fox 36 fork and 140mm on the rear with RockShox Super Deluxe shocks.
Fork: 150mm, Fox 36 Float Performance
Shock: 140mm, RockShox Super Deluxe Select+
SRAM GX Eagle
Carbon fiber
JensonUSA.com
---
7

. Cannondale – Habit 4
MSRP $3,250 REI
These days it's hard to find really good mountain bikes for under $4,000, so the Cannondale Habit offers excellent value for money. It comes packed with groundbreaking technology like Proportional Response for weight-tailored suspension, DirectLine cable routing, and an SRAM Ai offset drivetrain for greater tire clearance.
The aluminum frame uses shorter chainstays and a slack head angle for better flow and more agile handling at speed. With 130mm of rear travel combined with 140mm on the Fox Float Rhythm fork, it's the perfect bike for charging along singletrack and bouncing over rock gardens.
Fork: 140mm, Fox Float Rhythm 34
Shock: 130mm, Fox Float Performance DPS EVOL, 3-pos adj.
SRAM NX Eagle
Smartform Alloy
Related: Cannondale Habit series overview
REI.com
---
8

. Juliana – Maverik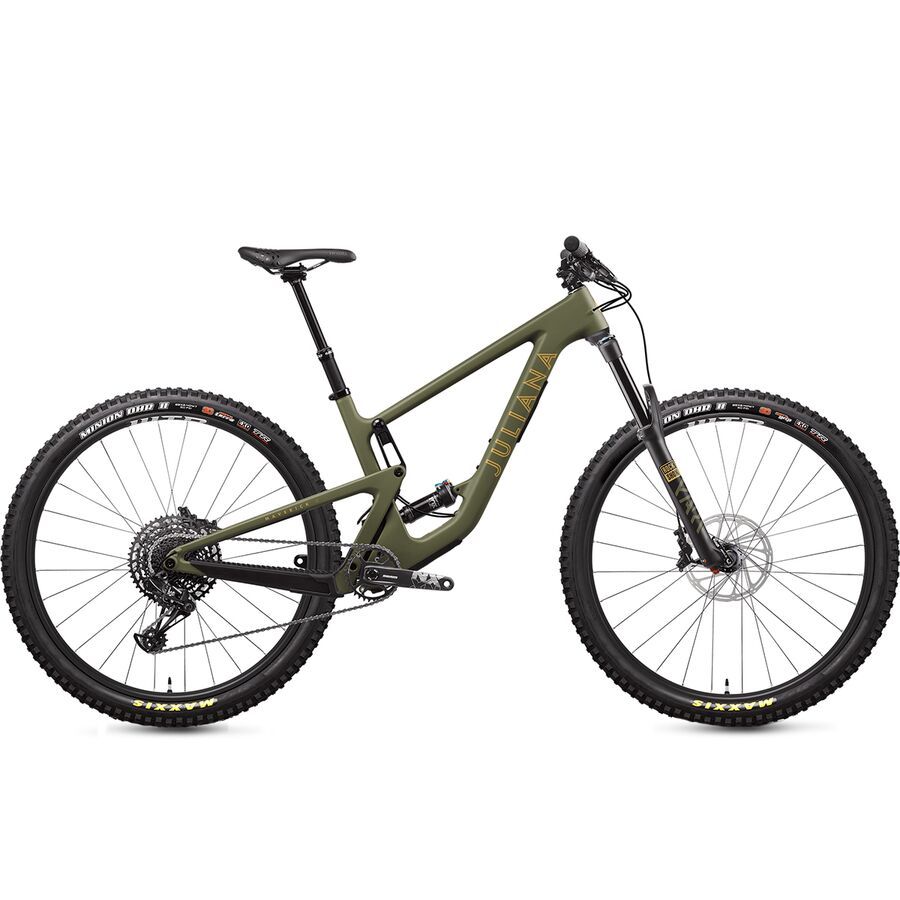 MSRP $4,299 Competitive Cyclist
Juliana is one of the top mountain bike brands for women, having developed the first female-specific MTB back in 1999. The new 29er Maverick is a carbon full-suspension trail bike with long, slack geometry and a low center of gravity. It's built to charge fast along with all types of off-road terrain, whether you're going downhill or uphill.
The Maverick benefits from Fox Float Performance shock with lower-link VPP rear suspension that provides 140mm of travel. Combine this with 150mm of front travel on a RockShox Yari fork and you get a female-specific MTB that closely resembles the excellent Santa Cruz Hightower.
Fork: 150mm, RockShox Yari
Shock: 140mm, Fox Float Performance DPS
SRAM NX Eagle
Carbon fiber
CompetitiveCyclist.com
---
9

. Specialized – Stumpjumper Comp
MSRP $4,000 Specialized
Specialized Stumpjumper delivers an impressive combination of smart design, modern technology, and carefully chosen components. The progressive geometry is low on the ground with a long wheelbase, steep seat tube and slack head angle. This makes for a stable, agile, and comfortable ride that can be finely tuned to suit your needs via the integrated FlipChip adjustment system.
Travel is relatively mid-level, at 130mm rear and 140mm front. This makes the StumpJumper an ideal trail bike, best for charging down the singletrack, popping over rocks, and, well, jumping over stumps. The Fox Float suspension and a Shimano SLX groupset are excellent choices, with Specialized using its own in-house tires and Roval rims.
Fork: 140mm, Fox Float 34 Rhythm
Shock: 130mm, Fox Float DPS Performance
Shimano SLX
Carbon fiber
Specialized.com
---
10

. Revel – Rascal X01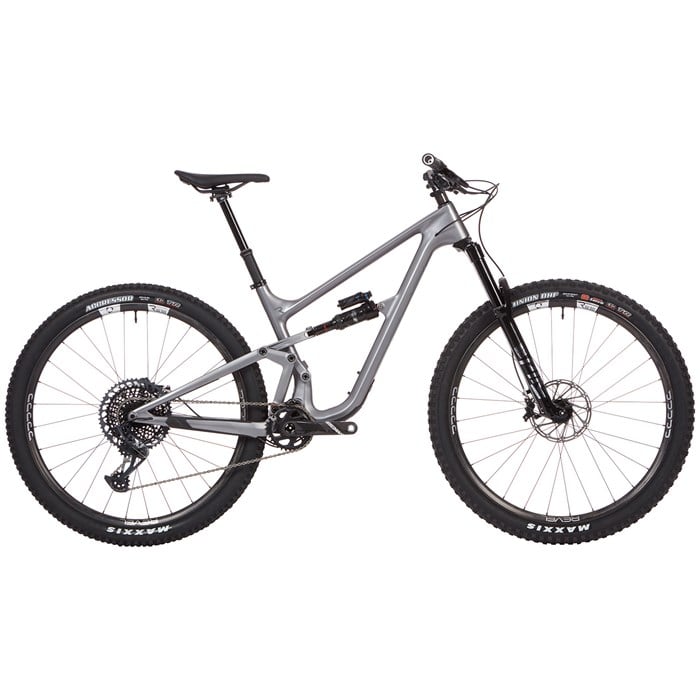 MSRP $7,399 evo
For pro-level competitive riders, Revel mountain bikes have created the Rascal: a full carbon dream team of killer components and groundbreaking technology. For maximum pedaling efficiency, the Rascal's Japanese Toray fibre frame utilizes the Canfield Balance Formula (CBF) to focus 100% of your power into the chainring, providing you with solid, stable speed over any terrain.
Add a RockShox Super Deluxe Ultimate shock and a Pike Ultimate fork, and the ground seems to melt away below while you float around corners and over obstacles with ease. This is all driven by SRAM's podium-winning X01 Eagle drivetrain and controlled by the solid G2 RSC hydraulic braking system. For the trail, all-mountain, or even enduro, you'll struggle to find a better MTB than the Revel Rascal.
Fork: 140mm RockShox Pike Ultimate
Rear Shock: RockShox Super Deluxe Ultimate
SRAM X01 Eagle
Carbon fiber
evo.com
---
11

. Evil – The Following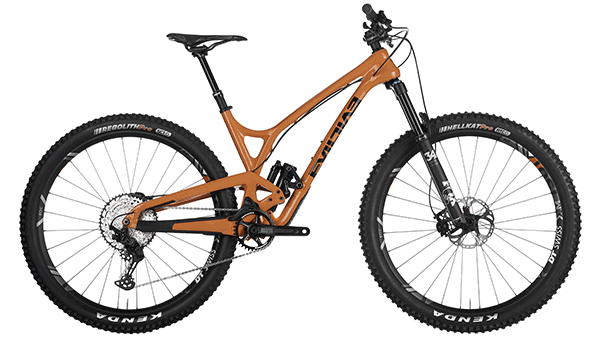 MSRP $6,800 $4,850 JensonUSA
Although lesser-known, Evil is a good mountain bike brand for those wishing to tackle extremely rough conditions. The Following is one of its flagship trail bikes, offering excellent climbing and descending abilities in a single bike. Quality components include a 12-speed Shimano SLX groupset with 120mm RockShox Deluxe rear suspension and Kenda Hellkat and Regolith tires.
With Evil's proprietary Delta Link suspension, you get highly adjustable, multi-link pivots that let you change from aggressive to slacker geometry with lower gravity and longer reach. Combined with a 140mm Fox 34 Float fork, this makes The Following an adaptable all-mountain bike that can tackle every kind of ride.
Fork: 140mm, Fox 34 Float Performance GRIP 29
Rear Shock: 120mm, RockShox Deluxe Ultimate RCT Debonair
Shimano SLX
Carbon fiber
JensonUSA.com
---
12

. Transition – Sentinel X01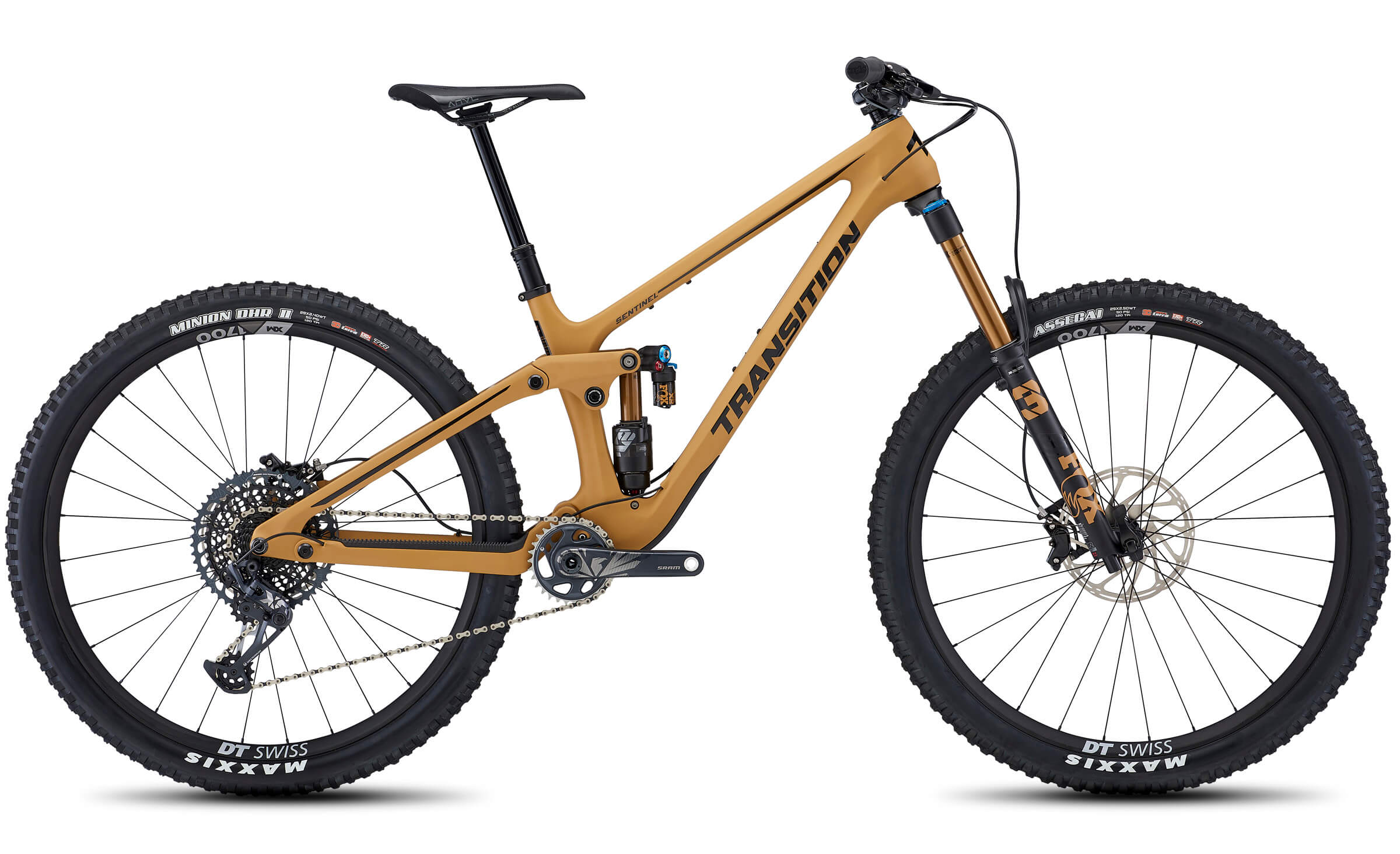 MSRP $5,250 Transition
This 29" beast from Transition bikes pairs 150mm of rear with 160mm of front travel, putting it on the high-end of mid-travel MTBs.  You'll feel just as comfortable hitting jumps or tackling steep drops with this bike, as you will charging over rock gardens and along a single track.
It's the perfect all-rounder and it comes in a range of builds, with drivetrains ranging from SRAM NX Eagle and Shimano Deore XT to the GX Eagle and SRAM's top-quality X01. The top range X01 combines Fox Float suspension with SRAM Code RSC disc brakes, leaving you with nothing but confidence as the mountainside blurs past beneath you.
Fork: 160mm, Fox Float 36 Grip 2 Factory
Rear Shock: Fox Float X2 Factory 2-Position
SRAM X01 Eagle
Carbon fiber
Transitionbikes.com
---
13

. Orbea – Occam
MSRP $5,499 JensonUSA
The Orbea Occam is a high-performance MTB for a relatively low price, considering it boasts a full carbon frame with a Shimano NX Eagle groupset and high-quality Fox Float suspension. You even get an OC2 dropper post and internal cable routing.
The lightweight setup makes for easy, all-day riding, and with 140mm of front and rear travel you can take on a variety of terrain. High gear ration takes the pain out of uphills and solid hydraulic brakes make steep descents easy to control.
Fork: 140mm, Fox 34 Float Performance
Rear Shock: 140mm, Fox Float DPS Performance
SRAM NX Eagle
Carbon fiber
JensonUSA.com
---
14

. Intense – Premier
MSRP $5,699 JensonUSA
For a top-quality and highly versatile all-mountain bike, look no further than the Intense Primer, with a carbon frame built to accommodate both 29 and 27.5-inch tires. Sure, it's not the cheapest on the market, but with a 1×12 Shimano X01 Eagle drivetrain, Tru-Vativ crank, and 4-piston hydro disc brakes, we'd expect nothing less.
The lightweight frame uses Intense's unique VPP-improved JS-Tuned suspension combined with a Fox Factory shock and fork, providing 150mm of front and 140mm of rear travel. You can even mix up the sizes of the E*Thirteen LG1 Enduro wheels, putting a 29″ on the rear and 27.5″ on the front for that professional enduro feel.
JensonUSA.com
---
15

. Devinci – Troy SLX12s

MSRP $3,799 evo

Devinci is a lesser-known bicycle brand that produces highly affordable MTBs and gravel bikes. The Troy 29er SLX uses Split-Pivot suspension on an aluminum frame with 140mm of travel for a customizable feel with better compliance and traction.

As the cheapest full-suspension in this list, the Troy has surprisingly good front and rear suspension, supplied by a Fox Rhythm 36 fork and a RockShox Deluxe Select+ shock. It includes an adjustable Flip Chip for quick changing between Hi/Lo mode. Brakes are Shimano M7100 mechanical discs with Stans NoTubes rims and Maxxis tires.
Fork: 160mm Fox 36 Rythm
Rear Shock: 140mm RockShox Deluxe Select+
Shimano SLX
Aluminum
evo.com
---
16

. GT – Sensor 29″ Expert
MSRP $4,350 JensonUSA
The Sensor is a 29" GT full-suspension mountain bike with carbon frame and alloy stays, providing a stiff and durable ride without sacrificing weight. It rides on top quality RockShox suspension with 140mm front and 130mm rear travel, an ideal balance of speed and absorption. SRAM provides a mix of NX and GX Eagle parts for the 12-speed drivetrain, offering tough components where you need them most and cost-savings on the chain and shifters.
No corners are cut on the wheels though, with Stans NoTubes Flow rims running Schwalbe Magic Mary tires, a combination that is well supported by SRAM G2 hydraulic disc brakes. Overall, the GT Sensor is a killer trail bike that expertly keeps down costs without sacrificing quality, resulting in great value for money.
Fork: 140mm, RockShox Pike Select+
Rear Shock: 130mm, RockShox Deluxe Select+
SRAM NX Eagle
Carbon fiber
JensonUSA.com
---
17

. Scott – Genius 940 '2021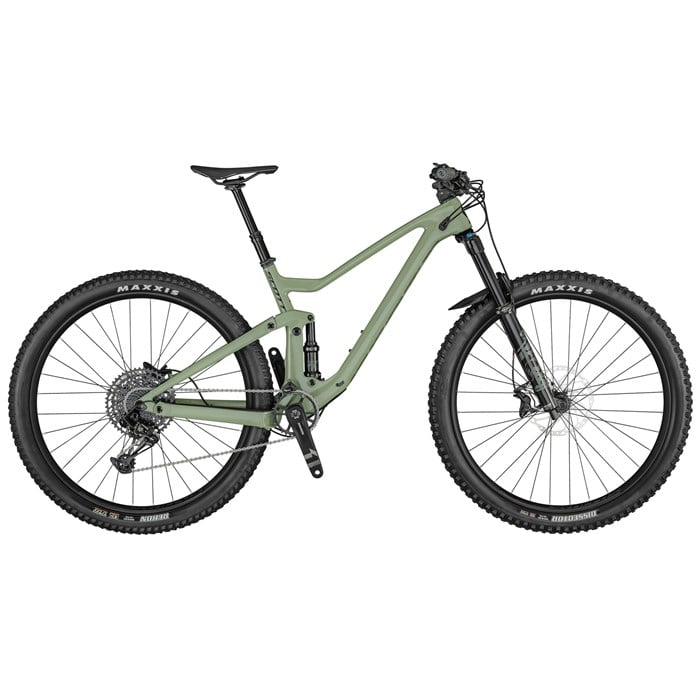 MSRP $4,000 evo
The Genius 940 is a highly affordable carbon MTB from Scott bikes that combines impressive technology with quality components. On the frame, you get stiff, lightweight Evo-Lap carbon with short chainstays and long, slack geometry for killing climbing power and stable descents.
Fork: 150mm Fox 36 Float Rhythm performance
Rear Shock: 150mm Fox Float Performance
SRAM Eagle
Carbon fiber
With a balanced 150mm of front and rear travel that can be tuned via the TwinLoc remote system, you can attack uphills, downhills, or flat terrain with equal vigor. With 4-piston hydro disc brakes and a high-ratio 12-speed SRAM Eagle drivetrain, you won't struggle to keep up with the best out there. You don't need to be a genius to know that this bike offers excellent value for money. 
evo.com
---
6 BEST 27.5″
FULL-SUSPENSION
TRAIL & ALL-MOUNTAIN BIKES
18. Transition – Scout $4,500
19. Salsa – Rustler $2,649
20. Yeti – SB140 $7,399
21. Ibis – Mojo 4 $4,499
22. Norco – Sight $6,399
23. Rocky Mountain – Thunderbolt $4,599
---
18

. Transition – Scout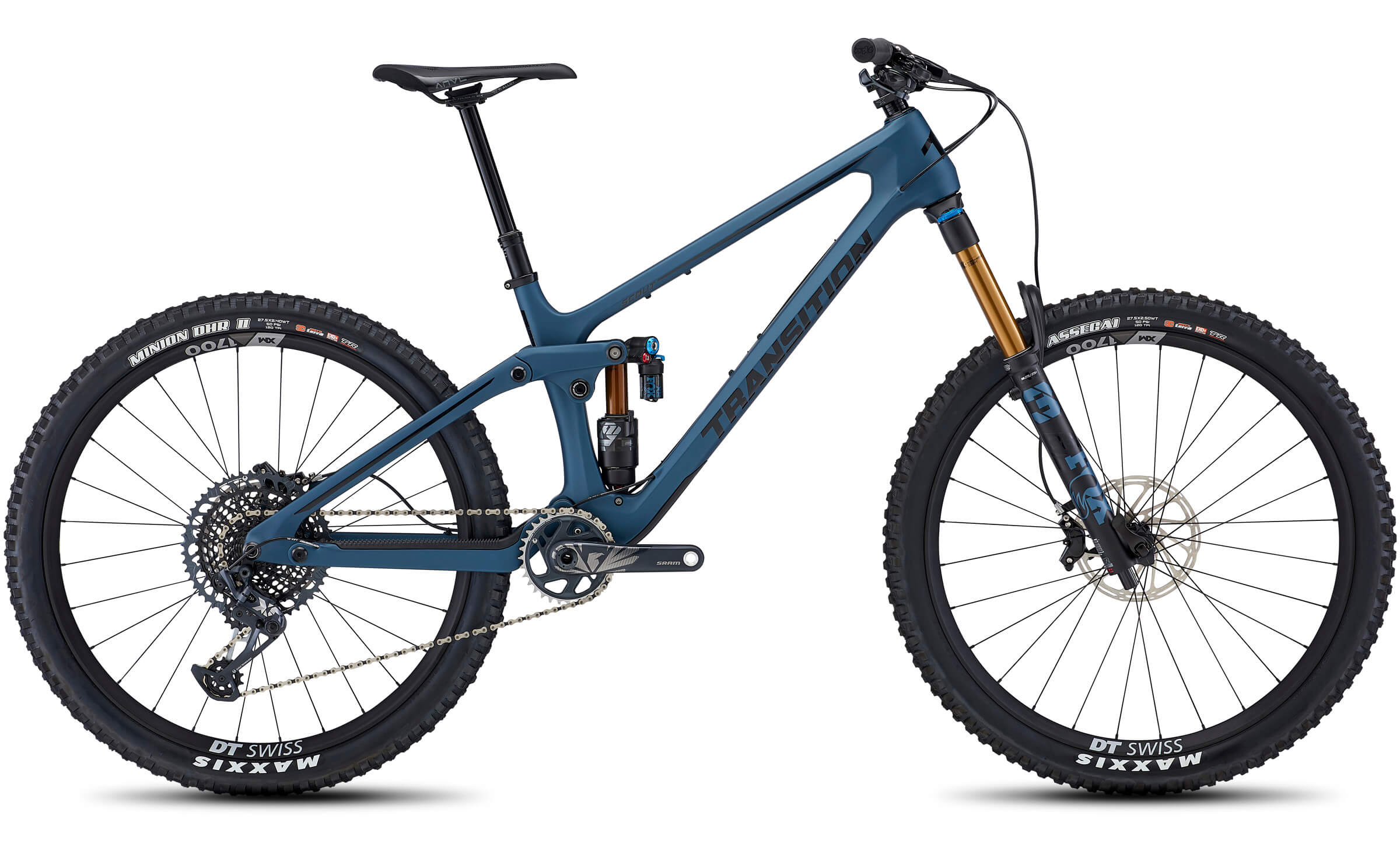 MSRP $4,500 evo
Transition is one of those under-rated mountain bike brands that seldom fail to impress. The carbon-framed Scout comes in various groupset flavors, with the most affordable SRAM NX Eagle running a 12-speed drivetrain with SRAM Code R disc brakes and RockShox suspension.
Fork: 150mm, RockShox Lyrik Select
Rear Shock: 140mm, RockShox Super Deluxe Select+
SRAM NX Eagle
Carbon fiber
It's an agile 27.5" trail charger that can tackle rough terrain with a decent 140mm of upfront travel on a RockShox Lyric fork. The bike has a fun feel to it, bouncing along with confidence and just an edge of excitement. With this setup, the Maxxis Assegai and Minion tires work especially well wrapped on tubeless Stans Flow D rims.
evo.com
---
19

. Salsa – Rustler

Aluminum, SX Eagle

MSRP $2,649 REI

This modern aluminum Salsa 27.5" MTB is a rock-popping machine designed with heavy trail riding in mind. The RockShox fork with 150mm travel allows for some steep drops or park fun and the 130mm Split Pivot rear suspension gives you excellent traction on climbs, corners, and descents.
Fork: 150mm, RockShox Recon RL
Rear Shock: 130mm, RockShox Deluxe RT
SRAM SX Eagle
Aluminum
Neither the SRAM SX Eagle drivetrain nor Shimano MT401 disc brakes are top quality parts but they are trail-proven and will do the job. The integrated FlipChip makes it easy to change between suspension modes so if you're looking for an affordable, versatile bike, this might be the one.
evo.com
---
MSRP $7,399 JensonUSA
A pro mountain bike for pro riders, the Yeti SB140 Turq T2 is as much a mouthful as it is a bike packed full of features. Hop on and feel the ground smooth out before you as the Fox Factory suspension swallows up vibrations and the SRAM X01 drivetrain powers you forward without faltering.
Fork: 160mm, Fox Factory 36 GRIP 2
Rear Shock: Fox Factory DPX2
SRAM GX Eagle
Carbon fiber
With a huge 160mm of upfront travel, you'll have no trouble taking on big jumps or steep drops, with a Fox Transfer dropper seat post giving you the space you need. The stiff SB140 carbon frame complements low-slung stability with an aggressive 65-degree head angle, resulting in a fast and fun all-mountain trail bike that excels in extreme conditions.
JensonUSA.com
---
21

. Ibis – Mojo 4 Deore '2021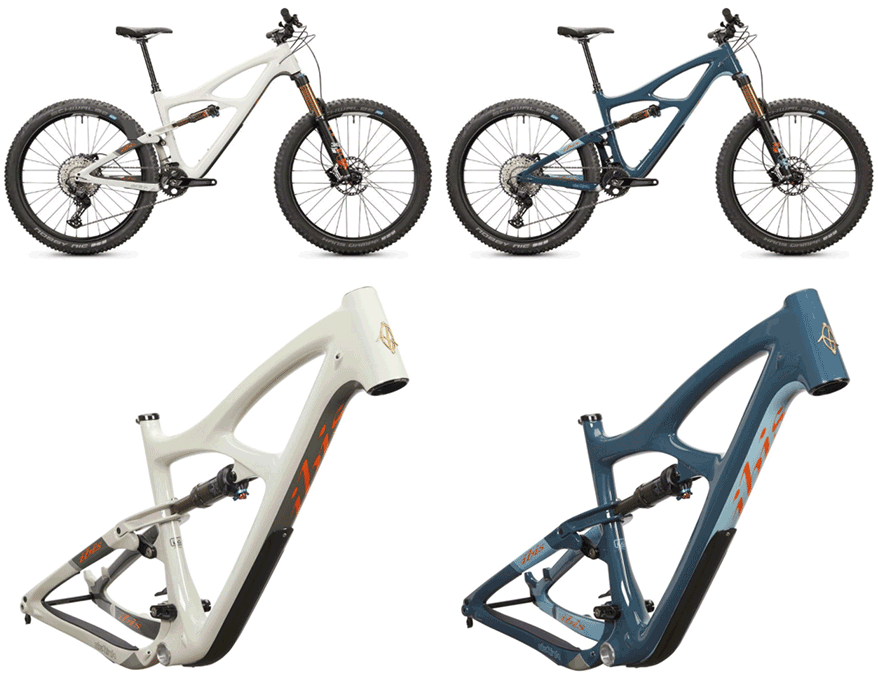 MSRP $4,499 Competitice Cyclist
Ibis has long been touted as one of the best mountain bike brands worldwide and its flagship Mojo carbon trail bike hammers home that truth. With 140mm of front and 130mm of rear travel, supported by DWLink suspension and V5 Kinematics, the Mojo is the perfect all-mountain play bike.
Fork: 140mm Fox Float 35 Factory Series Grip 2
Rear Shock: 130mm Fox Float Factory Series, DPS with EVOL
Shimano Deore
Carbon fiber
The steep 76.6-degree seat tube and high ratio 1×12 Shimano Deore drivetrain make hill climbing a cinch, while M6100 disc brakes combined with thick Schwalbe tires ensure descents are safe and nimble. Notable extra details include internal cable routing and an ISCG mount plus polycarbonate downtube protector.
CompetitiveCyclist.com
---
22

. Norco – Sight VLT C2
MSRP $6,399 JensonUSA
The Norco Sight is a 27.5" carbon e-bike fitted with a Shimano STEPS E8000 pedal-assist motor to provide that extra little push on the uphills. It has the same rock-solid descending capabilities of a top-quality all-mountain trail bike, with 160mm of upfront travel and 150mm of rear travel, supported by RockShox components.
Fork: 160mm RockShox Lyric Select
Rear Shock: RockShox Deluxe Select+ Debonair Trunnion Mount, Custom Tune
SRAM NX Eagle
Carbon fiber
Norco bikes produced the Sight with ease in mind, so you can spend longer in the mountains and charge more trails without running out of energy. The 630Wh battery provides you hours of electrical assistance on a single charge and is supported by a 12-speed SRAM NX Eagle drivetrain should power run low.
JensonUSA.com
---
23

. Rocky Mountain – Thunderbolt Carbon 50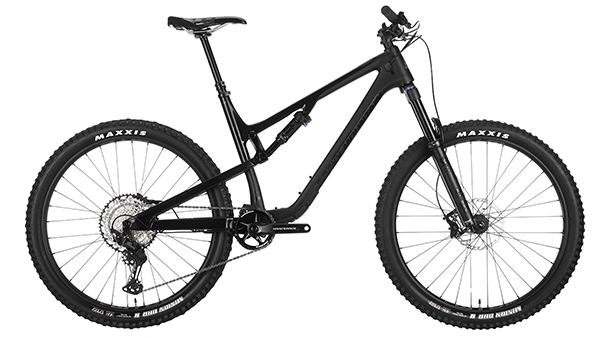 MSRP $4,599 JensonUSA
The Thunderbolt from Rocky Mountain bicycles is a powerful carbon trail bike designed with one thought in mind: speed. The Thunderbolt lives up to its name, with a super lightweight frame that tears through the countryside, powered by a high ratio Shimano SLX/XT 12-speed drivetrain and matching disc brakes.
Fork: 140mm, Fox 34 float Performance
Rear Shock: Fox Float DPS EVOL Performance
Shimano SLX/XT
Carbon fiber
Utilizing Rocky Mountain's proprietary RIDE-9 adjustment system, you can quickly tune the geometry to suit your needs. For any adventurous rock hoppers out there, you get 140mm of front and rear travel to absorb the impact of those, particularly courageous maneuvers. Charge along with confidence knowing the Fox Float suspension and Maxxis Minion tires will ensure you stay on track.
JensonUSA.com
---
BEST 27.5″ AND 29″
SIZE-DEPENDANT
MOUNTAIN BIKES
24. Norco – Instinct Allot 50 $4,299
25. Trek – Fuel $3,500

---
24

. Norco – Instinct Alloy 50 '2021 🏆
MSRP $4,299 JensonUSA
Here we managed to finally squeeze a must-have name in the Trail/AM game – the Norco with their latest 2021 aluminum Instinct.
The Instinct Alloy 50 is a serious alloy beast with more to give than you could read out of the specs. Besides having all the boxes ticked to conquer the rough and smoother trails with ease, what stands out the most is the mixture of solid mid-range components from Race Face Affect dropper seat post, Maxxis Minion tires, and of course, the SLX/XT derailleur.
Although the bike comes with Deore (10-51t) cassette, there's the universally accepted WTB Volt Race 142 saddle and Shimano's 4-piston precise hydro brakes to compensate for that.
Fork – Fox 36 Float, 150mm
Rear Shock – Fox Float DPX2 Performance, 140mm
FORM Alloy frame with RIDE-9 Geometry
Shimano XT/SLX 12-sp
Jensonusa.com
---
25

. Trek – Fuel EX 8 XT
MSRP $3,500 Trekbikes
The Fuel EX 8 XT is an affordable Trek trail bike that combines a top-quality Shimano XT drivetrain with decent suspension and an aluminum frame, resulting in a bike that delivers performance without breaking the bank. It's a great intermediate-level trail bike for all-mountain riding without any extreme jumps or drops.
Fork: 140mm Fox Rhythm 34
Rear Shock: Fox Performance Float EVOL
Shimano XT
Aluminum
The Fox Rhythm fork provides 140mm of upfront travel paired with 130mm of rear travel supported by Trek's excellent RE:activ damper integrated into a Fox Performance Float shock. This is the perfect amount of suspension to bounce comfortably along rocky singletrack and mountainous trails without swallowing up all your power.
Trekbikes.com
---
BEST 27.5″ AND 26″
FULL-SUSPENSION
MOUNTAIN BIKES
26. Co-op Cycles – DRT 3.2 $2,799
---
26

. Co-op Cycles – DRT 3.2

MSRP $2,799 REI

The DRT 3.2 is one of few 26-inch full suspension mountain bikes still available on the market, with almost everyone now using larger wheels. Co-op cycles, part of REI mountain bikes, have also made a larger version available with 27.5" wheels. The small DRT 3.2 has a 66-degree head tube angle and 75-degree seat tube angle, with a long wheelbase and low center, making it stable and agile through obstacles.
Fork: 120/140mm, RockShox Revelation
Rear Shock: 130/120mm RockShox Monarch R Solo Air
SRAM NX Eagle
Aluminum
The components are mid-range but sufficient, including a RockShox fork and shock, a 12-speed SRAM NX Eagle drivetrain, and Shimano hydraulic disc brakes. It's a decent entry-level bike for smaller riders, with the promise of REI's high quality and low prices.
REI.com
---
FAQ
Which are the best mountain bike brand on this list?
Ibis, Yeti, Santa Cruz, Revel, Transition, and Evil are some of the boutique-type brands in the MTB business, while Salsa has the most models available. Cannondale has also done a great job providing online-shoppers a variety of mountain bikes from their fleet.
What is the best all-mountain bike?
The different types of mountain bikes might confuse most riders, but it isn't actually as confusing. An all-mountain bike is basically built 70% for ascending and 30% descending, making it a few notches harder to ride than the regular trail bike.
Do you need the rear suspension lock-up switch?
Climbing is a part of mountain biking, and if you tend to be the climber who climbs while seated, a rear suspension-lock-up switch might be useful for you. The switch works wonders on longer-travel bikes with slacker geometry, while you'll generally see the switches on higher-end models.
Where to buy?
These are the best direct to consumer mountain bike shops to buy mountain bikes online
Competitive Cyclist
Awesome set of high-end and mid-range mountain bikes, both full-suspension and hardtail
JensonUSA
Obviously one of the more known stores that will fix you up a good deal
Backcountry
Bikes & frames by the best brands available
GravityCoalition
You can find pretty sweet last-size deals there on full-suspension and eBikes as well.
REI
Cannondale, Co-op Cycles, and Salsa mountain bikes represented.
---
---
RELATED
Best Short Travel Mountain Bikes     //     Best Full-Suspension Mountain Bikes     //     Best Enduro Bikes
Bicycle Groupset Review     //     Different Types of Bikes
---