Best Electric Hunting Bikes of 2023
For any outdoors person, an electric off-road bike or hunting bike is the perfect tool to support your trips and adventures.
Hunting e-bikes take much of the effort out of the journey, carrying your cargo, allowing you to cover huge distances easily, and across diverse, extreme terrain such as snow, sand, and mud.
Remote bicycle touring, hunting expeditions, angling trips, and cross-country trail riding are just some of the examples where this type of bike excels.
---
Best Electric Hunting Bikes in 2023
---
QuietKat Apex
QuietKat's best electric hunting bike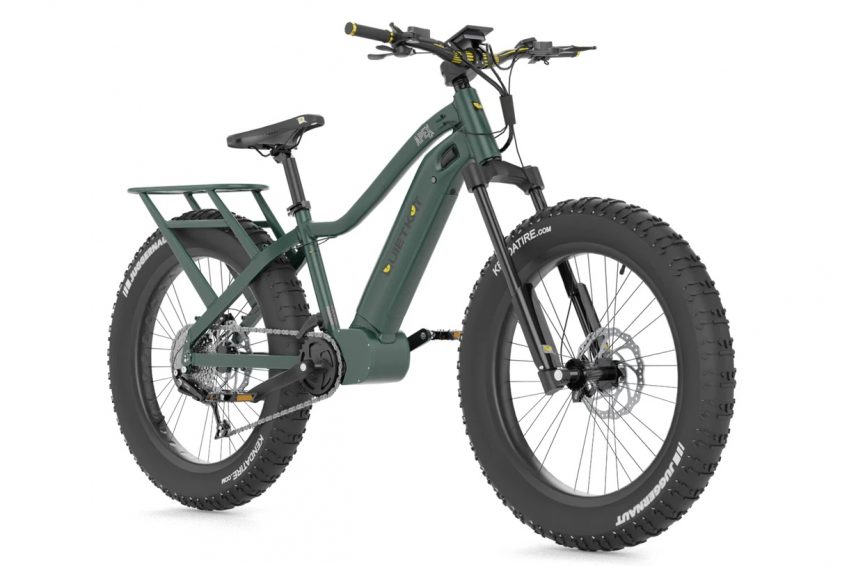 Load Capacity: 325 lbs | Motor Type: Mid-Drive | Motor Wattage: 750-1,500W | Battery: 696/910Wh | Range: up to 58mi
MSRP: from $5,499
Frame: High-quality metal (Lifetime warranty)
Fork: 150mm, inverted air suspension
Tires: 26″ x 4.5″ Kenda Juggernaut
Gearing: 9-speed SRAM
QuietKat Apex is the most advanced hardtail Quietkat electric bike. It boasts top-level components to deliver unbeatable performance and durability in the harshest conditions, backed up by a lifetime warranty on the frame.
In the new model of the Apex, QuietKat has conveniently added a fully integrated pannier rack for improved stability and increased load capacity (325lbs). With this new rack and the powerful electronics, you can comfortably haul large cargo loads to remote locations for hunting or camping trips.
The power on this bike comes from a choice of 750W or 1000W mid-drive motor combined with a 9-speed SRAM drivetrain so you can take on whatever comes your way.
The 768Wh battery will deliver a max range of 48 miles, which is slightly disappointing for a $5,500 bike. However, you can purchase a solar charging station for recharging your Apex on multi-day trips in the backcountry.
Other notable features of this bike include powerful Tektro 4-Piston hydraulic disc brakes, QuietKat 150mm fork suspension, 4.5″ Kenda Juggernaut tires, and sealed bearings on the front and rear hubs. All of these features allow the Apex to handle and ride smoothly even on extreme terrain.
---
Rambo Bikes – Rebel 1000XPC
Load Capacity: 300 lbs | Motor Type: Mid-Drive | Motor Wattage: 1,000W | Battery: 1,008Wh | Range: up to 48mi
MSRP: $5,500
Rambo Bikes
Rambo electric bikes are consistently recognized as some of the best for off-road use like remote hunting and angling trips. With the Rebel 1000XPC, they have designed one of the best extreme performance hunting bikes.
This fat tire e-bike comes with several premium features that allow riders to take on the toughest backcountry trails. These include the widest Maxxis Minion 4.8″ tires, GT 860 air suspension, large rotor Tektro hydraulic disc brakes, and an SRAM NX 11-speed drivetrain.
Frame: Aluminum alloy 6061
Fork: GT 689 air suspension
Tires: 26″ x 4.8″ Maxxis Minion
Gearing: 11-speed SRAM NX
The motor used is a high-end Bafang 1000W BBSHD high torque mid-drive with peak power of 1500W and 160Nm. This is paired with a huge 21Ah battery that lasts up to 48 miles despite the huge power and is positioned lower in the frame to improve handling.
Finally, this 1000W electric bike has an aluminum alloy 6061 frame with a TrueTimber Viper Western Camo finish providing excellent durability to weight ratio.
---
Bakcou – Mule
Top-end motor and battery combination on this e-bike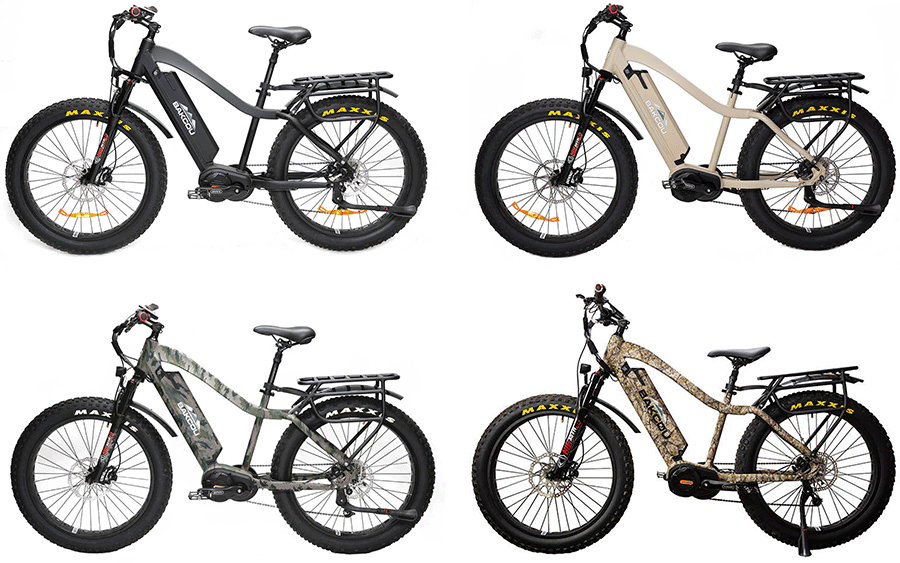 Load Capacity: 300 lbs | Motor Type: Ultra Mid-Drive | Motor Wattage: 1,000W | Battery: 840/922/1,008Wh | Range: up to 82mi
MSRP: from $5,447
EBikeGeneration
Frame: Aluminum alloy 6061
Fork: 100mm, air suspension
Tires: 26″ x 4.0″ Maxxis Minion
Gearing: 9-speed Shimano Alivio
Bakcou The Mule 1000 watt electric bike is another great hunting bike option at a similar price but an excellent range and premium motor compared to its competitors.
The fat-tire Mule most notably comes with a top-end Ultra mid-drive Bafang motor (1000W/160Nm) that intelligently monitors the feedback of speed, cadence, braking, and torque to ensure the most precise and efficient delivery of power at all times.
Ultra mid-drive motors are some of the best you can get.
This bike uses the smaller end of the Maxxis Minion range at just 4″ wide allowing slightly better performance in range and speed like with the 100mm fork suspension, offering a little less shock absorption than other 150mm forks. With all the power in this bike, relies on Tektro hydraulic disc brakes for premium stopping power.
Finally, the bike comes equipped with a rear rack, front and back fenders, a powerful headlight, and a kickstand to make any job more convenient and safe.
---
Rungu – Dualie XR Rubicon Trail Edition
3-wheeled hunting e-bike for the most extreme terrain
Load Capacity: 332 lbs | Motor Type: Mid-Drive | Motor Wattage: 1,120W | Battery: 2,340Wh | Range: up to 254mi
MSRP from $4,599
eBikeGeneration
Frame: Rungu custom aircraft aluminum
Fork: 100mm, custom Rungu aluminum suspension
Tires: 26″ x 4.8″ Maxxis Minion
Gearing: 9-speed BOX Prime
The Rungu Dualie XR Rubicon off-road eBike is a top-end e-bike with a unique design of two front wheels that provide improved traction, stability, and power that allow this bike to go where others cannot including soft snow and mud.
The Rubicon Trail Edition uses a dual battery system with a total of 2,340Wh, doubling the already huge range with up to 254 miles in the most economic mode. Additionally, the batteries are also rapid-charge, filling in just 2.5 hours.
In addition to being able to carry 332 lbs of rider and cargo weight, Rungu Dualie can tow an additional 300 lbs.
The power in this bike comes from a 1120W Bafang mid-drive motor that allows riders to take on maximum gradients of 50% despite the bike weighing a whopping 120lbs (the heaviest e-bike we've seen).
Other key features of the Rubicon Trail are 4.8″ Maxxis tires, 180mm rotor hydraulic disc brakes, a rear pannier rack, and fenders making this bike ready for anything when it reaches your door.
---
QuietKat – JEEP
The most advanced full-suspension off-road e-bike
Load Capacity: 300 lbs | Motor Type: Ultra Mid-Drive | Motor Wattage: 750/1000W | Battery: 696Wh | Range: up to 58mi
MSRP $7,099
QuietKat's Jeep electric off-road bike is a state-of-the-art machine resulting from QuietKat's clever partnership with the world's most iconic off-road motor vehicle brand. In the Jeep, they deliver peak ride performance in extreme terrain and exceptional power to match.
Buyers can choose between a 750W and 1000W motor on the Jeep. At the max performance, it boasts 1500W/160Nm, allowing you to take on intense gradients and difficult trail conditions.
Frame: Lifetime warranty
Fork: 150mm, QK Custom air suspension
Rear Shock: 150mm, RockShox Monarch
Tires: 26″x 4.8″ CST Poly
Gearing: 9-speed SRAM
The focus on handling and control is evident in this e-bike. QuietKat uses huge 203mm rotor Tektro hydraulic disc brakes, durable 4.8″ CST tires, and custom-designed 150mm suspension in the front and back.
When it comes to juice, a premium14.5Ah battery supplies the motor for a maximum of 58 miles along with an SRAM 9-speed drivetrain when you want to spin the legs.
---
Rambo – Roamer
Great mid-range camo hunting e-bike
Load Capacity: 300 lbs | Motor Type: Mid-Drive | Motor Wattage: 750W | Battery: 672Wh | Range: up to 35mi
MSRP: $4,000
Rambo Bikes
The Roamer Rambo hunting bike is the most powerful option in the company's high-performance range.
Despite its slightly lower price compared to the rest of the Rambo lineup, it delivers plenty of functionality and reliable performance that would certainly meet the needs of most hunters.
Frame: 6061 aluminum
Fork: GT MRK air suspension
Tires: 26″ x 4.0″ Kenda Krusade
Gearing: Shimano 8-speed
The Roamer comes with a 750W mid-drive Bafang motor that has a peak performance of 1000W/120Nm. To fuel the motor Rambo has chosen a 672Wh battery with a slightly low range of 35 miles.
This camo bike only needs 2-piston Logan hydraulic disc brakes that provide decent stopping power but lack power at high speeds. Other features include the reliable Kenda Krusade 4″ tires and a high-quality LCD screen that provides all of the important ride metrics.
---
QuietKat – Ranger
Entry-level all-terrain eBike for hunting
Load Capacity: 325 lbs | Motor Type: Hub-Drive | Motor Wattage: 500W | Battery: 499Wh | Range: up to 40mi
MSRP: from $3,499
Frame: Aluminum
Fork: Rigid
Tires: 26″ x 4.0″ Kenda Juggernaut
Gearing: Single-speed
The Ranger 5.0 by QuietKat is the best entry-level hunting e-bike we've seen. It has plenty of power and performance to support a backcountry trip and includes one of QuietKat's exceptionally quiet motors to help with the hunt.
The choice of components on the Ranger means it can withstand harsh terrain. This includes the rugged 4″ Kenda Juggernaut tires, a durable 6061 aluminum frame, 180mm rotor mechanic disc brakes, and a single-speed drivetrain which reduces maintenance and repair needs.
In this article, we cover the best models available for less than $4,000 from top manufacturers in the space. ...
As it is an entry-level bike, the motor and battery are smaller than other hunting e-bikes. However, with 500W you will have plenty of power to take on tough terrain along with an impressive 40 miles of range.
Finally, the Ranger 5.0 has a premium LCD screen similar to the rest of the range and comes with a choice of Sandstone or Camouflage paint finish.
---
Hunting E-Bikes Guide
---

What makes these electric bikes perfect for hunting/fishing/camping?
Very powerful motors – usually over 750W+
Large battery capacities – for extended range.
Fat tire sizes – 3.8″ – 4.8″ width for best traction.
Suspension – for rugged terrain.
Rear rack for cargo hauling – to carry the essentials.
Additionally, these models should have a:
Stealthy camouflage finish
Whisper-quiet motors
Big payload capacities (300lbs+) to ensure your hunting trip has the best chance of success.
Availability for extras such as a gun/bow holder, scent strap, etc.
What are the best hunting bike brands?
There are some companies at the forefront of innovation in this category, including QuietKat Bikes, Rambo Bikes, Bakcou Bikes, and Rungu, all of which you can see in this article.
What to Expect from Electric Hunting Bikes?
The best electric bike for hunting begins with the electronics, namely the battery and motor.
Some of the important factors to consider for how you expect to use your hunting e-bike are the gradients, type of terrain (loose or firm), total payload, and expected riding distances. With those in mind, you can decide the level of components you will need to get the job done.
For instance, you can choose between rear hub-drive, mid-drive, 2WD (front and rear hub motors), and ultra mid-drive motors. The best models will have near-silent motors. Due to the difficult terrain most hunters traverse, it is also important to have a strong, durable frame and reliable components.
Other helpful features of these bikes are the army green or camouflage paint finishes helping you blend in with the environment, as well as a throttle in case of injury and a pre-installed rear pannier rack for cargo.
E-Bike Motor Types
Hub Motor – The motor is located in a hub on the rear wheel axle. These motors are cheaper and offer low to moderate performance. They do not have the same acceleration and power as mid-drive alternatives. The power transfer is also less smooth. Best for varied terrains and steep gradients due to better weight ratio on the rear wheel.
Mid-Drive – Integrated between the cranks, mid-drive motors offer smooth power transfer. These motors are the best for tackling tough gradients (up to 18/20%) or soft terrain with a fully loaded bike for example
Ultra mid-drive – This is the same as a regular mid-drive except with a torque sensor that delivers the most smooth and efficient power output when under high stress, meaning you can take on extreme gradients of over 20% without a hiccup.
All-wheel drive (AWD) – This is when a bike combines a rear hub motor with a front wheel hub motor to power the front wheel. This gives you double the pulling power and allows you to get twice the amount of traction on soft terrain.
Frame
A great hunting bike should have well balanced, sturdy frame design. Poor weight distribution, a sub-optimal center of gravity, and low build quality can lead to poor handling and fast wear because to the heavy demands of hunting trips or backcountry exploring.
It is important for this type of bike to have a large payload capacity of 300 to 400lbs so you can easily load up your bike with all of your gear and pack out any game you have caught.
Suspension
At a minimum, hunting bikes must have good quality fork suspension. Any off-road bike needs to be able to absorb lumps and bumps or else the trip will be extremely fatiguing or your gear could get damaged while traveling.
Some models will come in a full suspension design to maximize performance on extremely rough terrain. However, this will limit the range and top speeds compared to a hardtail.
Fat Tires
Although not essential, almost all hunting bikes have fat tires. In general, these tires have some kind of puncture-resistant lining and are about 4″ to 4.8″ wide. This style of tire provides maximum traction and grip on loose surfaces while also absorbing lots of shocks from rough terrain.
Battery
The battery is the second most important component after the motor. It's not uncommon that hunting trips cover huge distances over the course of several days, so having a large battery capacity from a reputable manufacturer is very important.
If you rely heavily on the higher levels of pedal assistance, are a heavier rider, or regularly ride with a full payload, a big battery becomes even more important.
Finally, companies such as Samsung, Panasonic, and Bosch produce excellent batteries that last longer even with the same Ah/Wh rating compared to lesser-known brands. Additionally, these batteries will last longer overall, saving you money on replacements in the long run.
Benefits of Electric Hunting Bike
Carry a lot of gear – With the high power of a hunting e-bike, you can easily pull a trailer or a fully loaded pannier rack with a backpack too. Walking or riding a regular bike over difficult terrain with lots of gear is extremely taxing and limits your capability
Get farther – As you are essentially weightless with the bike doing the heavy lifting, you can cover large distances and hunt in hard-to-reach places that were previously too far to go if you had to pack out any game
Be stealthy – The best models have whisper-quiet motors that are as quiet as walking. They also reduce the scent that you leave on the trail compared to other vehicles, making it easier to approach your prey
Get easily your harvest out – Packing out large game is an extremely taxing job and requires several laborious trips, especially if you hunt in remote places. With a hunting e-bike (plus a trailer) you can make the work very easy and much less time-consuming
Stay safe – Crossing tough terrain on foot can easily lead to injury or an encounter with dangerous wildlife. One of these bikes allows you to get out of dangerous situations much more easily using the throttle function on the bike
Simple maintenance – Electric bikes are simple and less expensive to maintain and fix compared to ATVs
Electric Hunting Bike vs ATV (All-Terrain Vehicle)
ATVs and electric hunting bikes are both great companions for a hunting trip where you need to reach remote areas, carry lots of gear, and cross very rough terrain.
However, ATVs are significantly more expensive to purchase and require licensing, registration, and fuel costs that e-bikes do not need.
Below is a list of the list of pros (in green) and cons for each type of vehicle. Most importantly, e-bikes are very environmentally friendly, more portable, require less maintenance and ongoing costs, and are more affordable for the average person. Additionally, you can use your hunting e-bike for other day-to-day uses.
| | |
| --- | --- |
| Electric Hunting Bike | ATV/Motorcycle |
| Quiet | Noisy |
| Lightweight and portable | Limited accessibility due to weight & width |
| Limited range per charge | Very good range |
| Scent-free | Burned fuel leaves a scent trail |
| Less power and acceleration | High power, speed, and acceleration |
| No licensing or insurance | Needs licensing and insurance |
| Budget models available | High price tag |
| Easier to maintain and fix | Good knowledge of mechanics needed |
Can I Use Regular Electric Mountain Bike for Hunting?
Yes, you could use a regular e-MTB for hunting purposes. However, the key differences between them mean that mountain bikes may not be a good long-term solution.
MTBs are built to be lightweight and performance-oriented, without the ability to carry large loads over long distances. Hunting bikes are designed to be strong, powerful, and durable under stressful riding conditions. Additionally, electric MTBs don't always have a throttle, which is very important for hunting bikes.
Conclusion – Are Electric Bikes Worth it for Hunting?
With a better understanding of hunting e-bikes and the different models available, it's clear to us that these machines are the best solution for anybody with serious outdoor ambitions.
This type of bike opens up many doors that were previously shut to many hunters who are older in age, have difficulty with injuries, less time to devote to hunting, or need to go farther than their feet can take them.
With a purpose-built electric bike for hunting, you can transport heavy gear with ease, reach remote and challenging locations, and quickly pack out a large game from a successful hunt.
In the end, we cannot see a better alternative for hunting and although one of these bikes is a significant investment, it can make it much easier for you to continue doing what you love for many years to come.